Not My Old Cedar Chest Any More
Simple Cedar Chest Makeover
This isn't my old cedar chest anymore. I like to call things which I've had for a long time, vintage instead of old. It doesn't make me sound as old in my head. Well, this vintage cedar chest was bought in the little town of O'Kean, Arkansas when I was a senior in high school (1975) and I'm thinking it was $40.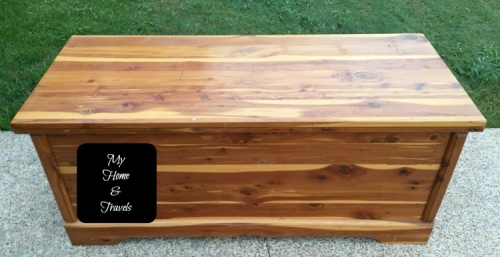 So I finally decided to update it and make it not my old cedar chest anymore.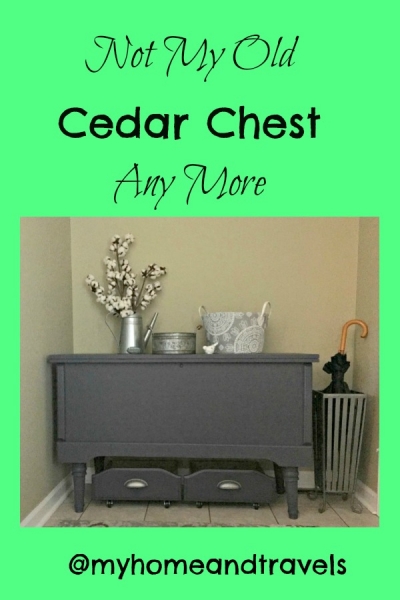 How To Redo A Cedar Chest
It's something which I always wanted to keep, but it's been hard sometimes to fit into a room so many times it has been stored in the garage. Recently, it fits perfectly behind the front door in the foyer but basically became a catch-all. Do you have those places? Shopping bags, those "I'll put it here for now" things, or jackets which never made it to the closet.
After realizing we needed more storage, who doesn't, I wanted to find a way to keep this piece here but use it better.
So a plan was made. Paint, add legs, then baskets underneath. That's pretty much how the project was finished but I had several old drawers on hand which could be used for storage.
My friends at Osborne Wood sent me these awesome legs for this project. They are solid and sturdy and knew they would hold up the cedar chest.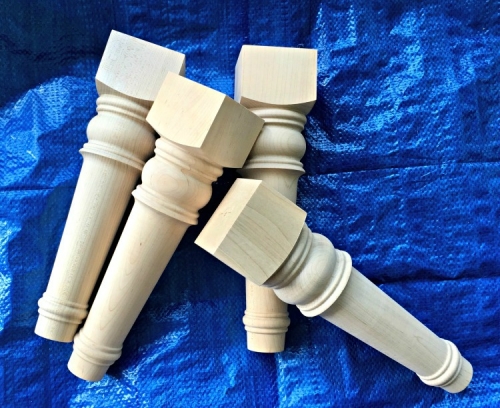 How To Give An Old Cedar Chest New Life
The cedar chest had a few dings and nicks on it, and I noticed the finish, I'm guessing, lacquer, was crazing a bit but those imperfections didn't bother me.
I gave it a light sanding to remove the shine from the lacquer and smooth a few edges to get it as smooth as possible without having to do a lot of extra work. This wasn't going to be a fine piece of furniture.
I'm hoping to get some painting and work done in the living room soon so I wanted this to fit in. My first thought was white with light distressing. Then maybe a grayish-white. I finally decided to do a soft black as I've seen so much black in decor, I want it too.
OK – no paint on hand in that color. I was impatient and didn't want to bother having to get ready and go buy paint, so I would make my own as I have done so much in the past. Here's my recipe for CHALKY TYPE PAINT.
The recipe calls for 1 1/2 cups of paint so I mixed 1 1/4 cup of black and 1/4 of gray to soften the black. Keep old jars on hand for projects like this.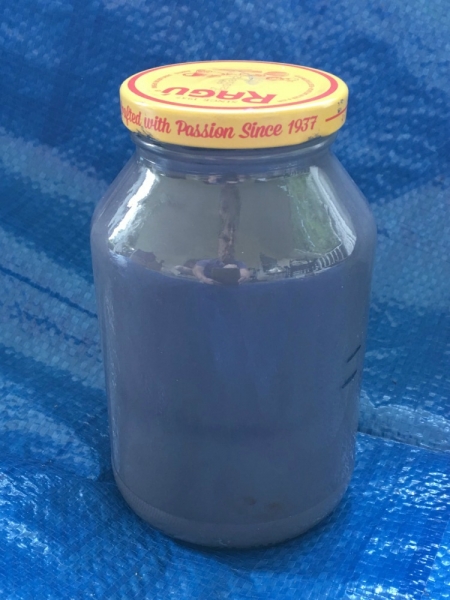 For great coverage, I did do three light coats, sanding lightly between each.
Along with the cedar chest, the legs and drawers were painted the same way. Everything was given a coat of Black Dog Salvage topcoat as a sealer after I let the paint cure 24 hours after final coat.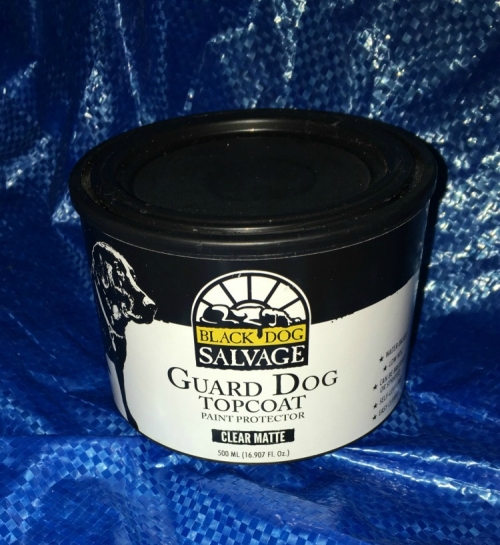 Sorry, no picture but the legs were attached with heavy-duty screws and wood glue. I used two for each leg, drilling a pilot hole in the floor of the cedar chest directly into the legs.
Isn't it great when a project turns out as better than you hoped?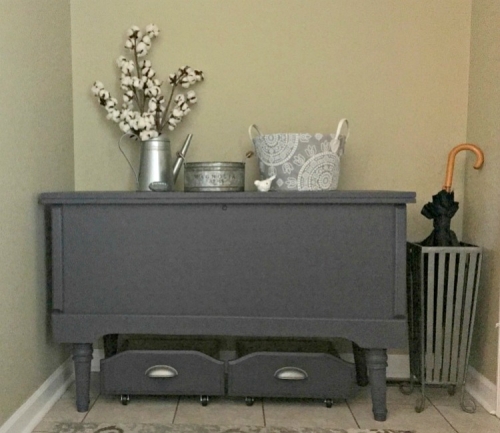 I am so loving these legs. Now I'm thinking about what else I can make and add legs to.
See how I turned the drawers into rolling storage HERE.
These pulls match the ones on my $7 Entertainment Center. D. Lawless Hardware is my go-to place for all hardware.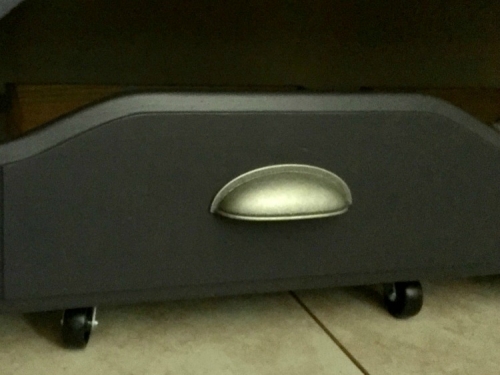 These are now being used for by outside shoes and garden gloves which I use almost on a daily basis – going in and out my front door.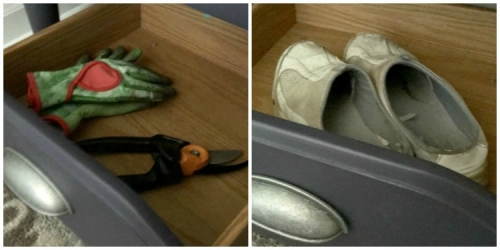 This was also going to help with other storage issues – mail & newspapers.
I added a basket to throw these in along with a galvanized bucket for Derby's leash and collar. These always seemed to end up on the floor before but now there's a place to keep them.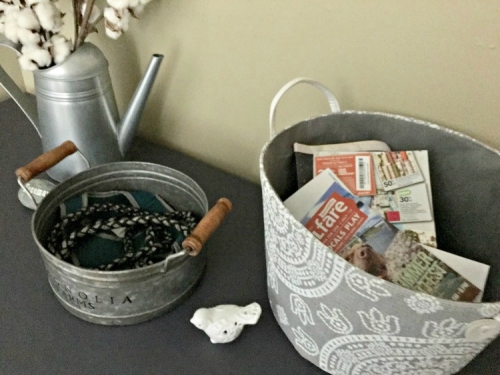 Notice the bucket – it was a purchase from Magnolia Market. Have you read about my visit to Magnolia Market?
The umbrella stand was a great yard sale find for only $3. And so handy I had a black umbrella to match.
Turning my old cedar chest into a functioning piece of furniture has not only made it something I'm proud of, but also a way to keep a little more organization to my entry.
What're some of your favorite projects?
Another project with a major change was this faux apothecary sofa table.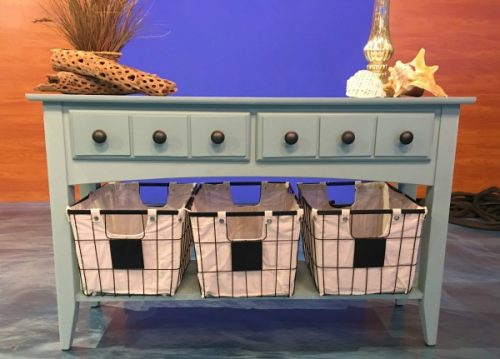 Like this simple DIY project? Check out these as well.
More Easy DIY Decor Projects
I've included affiliate links to Amazon for you to find some products easier. I may receive a small commission, but the price is the same for you. It just helps my blog out.
Happy Travels,
Rosemary