My Top 7 Items For Organizing Around The House
I will give you my top 7 items for organizing around the house. Some you may have on hand or if not, they aren't very expensive to purchase.
Make sure you click on the link below to see my latest appearance on 3 Plus You.
As I talk about a little later, time is money and if you are constantly looking for things, it's costing you time. And probably money as if you can't find it, you buy another one.
OVER THE DOOR SHOE ORGANIZER


I have three of these and none of them have shoes.
Bathroom – I have it hanging on the back of the door to hold extra items which I want to get to easily or won't fit in the wall cabinet. Items such as hair spray, extra lotion, and sunscreen.
Craft studio – again, one hangs on the back of the door holding tools from paper crafting and scrapbooking. Hole punches, adhesives, paper punches, and scissors.
Hall closet used as an extended pantry – this is handy for those extra utensils which you only use randomly like cookie scoops, meat thermometers, and potato masher. A couple of pockets also makes a great place for straws since they tend to fall out of my cabinet.
Other ideas include:
Packets of spice or soup mixes
Bottles of spices or condiments
Scarves & gloves
Small clothing items
Paint supplies
Small tools
Cleaning and laundry supplies
Cord & chargers
Not all shoe organizers are the same. You can find cheap ones at dollar stores for lightweight items to a heavier quality at discount stores. The sizes can vary as well, but most will always fit on a standard door.
Over the door hooks will come with your organizer, but check to see if the door will close properly. If not, Command Brand Hooks will work but make sure you check the weight limits for these as there are different sizes available.
If you need to use these in a smaller space, most can be cut to fit, then hang according to your space.
And if nothing else, use these to store your shoes – especially your out of season sandals and flip flops.
PLASTIC DRAWERS
Another versatile item for all areas of the house.
Pantry – Great for storing soup & spice mixes, cocoa mixes, cake/cookie decorating supplies, take-out condiments, plastic silverware, and k-cups.
Bathroom – nail polish, nail clippers and files, first aid supplies, extra makeup, and samples from hotels.
Garage – small tools, paint supplies, sand paper, glues, and rags
Craft room – paint, paint brushes, scrapbook supplies, projects in the works
WIRE BASKETS
I have these hanging on my pantry door using cup hooks, but you could again use Command Hooks.
This picture was another door I used these on.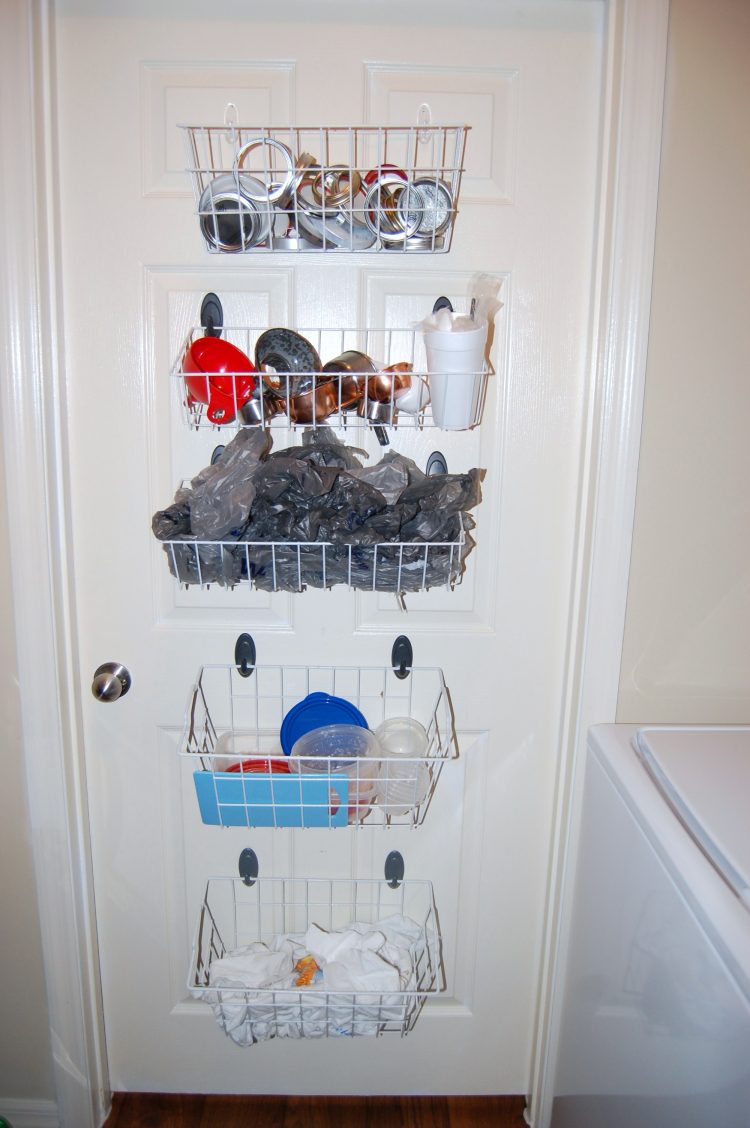 There's so much space available on this door and great for storing items.
Mine are used for extra plastic bags, napkins, cutting boards and pot holders, plastic silverware, and disposalable gloves.
It's also helps to contain the amount of items – when the basket is full of plastic bags, it's time to take to recycle.
Smaller baskets can be placed inside the wire baskets to hold the smaller items.
These work well on shelves also as you can see what you have. Dog food is one thing I especially like to have in a wire basket so I know when I need to restock.
Here's how I did these baskets on the door.
MASON JARS
Whether in the pantry, craft studio, or garage – these are so useful for most items.
Especially in my pantry, I like to have everything sealed because a few times a year ants seem to like my pantry.
Not only can you see what you have on hand easily, they are sealed.
PLASTIC BASKETS
For drawers, these are great. This was my junk drawer before and after.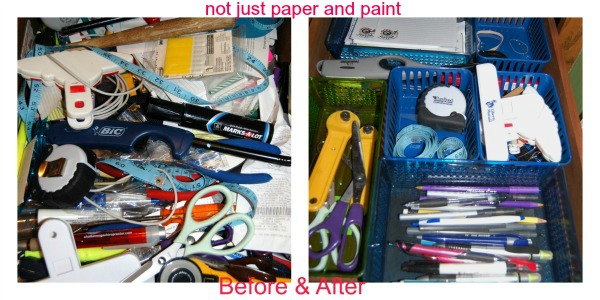 Here's some hints about my junk drawer organizing.
GLASS AND PLASTIC CANISTERS
For some of the same reasons I like using mason jars in the pantry, I like clear canisters. Some can even be stacked for more space efficiency.
RUBBERMAID CONTAINERS
For leftovers and lunches, I use all Rubbermaid in 3 – 4 sizes. This makes it easier for storage and also to find the right size lid. I just find it a mess to keep other containers such as sour cream or butter bowls for this. I do keep a few in the garage so if I need to pour a small amount of paint to use, then it's tossed.
What's some of your favorite organizing items?
Before you go out and buy a lot of things to help you organize, declutter and clean out the area you are working on.
Think about how you use these items, and how often. Measure the space where a new container will fit. Check out places such as Dollar Tree first for plastic baskets.
As you are decluttering and organizing "stuff" in your house, think about other areas too where you need help. Remember time is also an area where we could all be a little more organized.
Having your meals and groceries organized, not only saves you time, but a lot of money.
Groceries – consider using a grocery delivery service.
Meals – do you end up spending a lot on groceries and never cook? If you are local to Chattanooga, Fit+ is a great meal service.
You can pick up meals (or some shipping is available), check fitplusmeals for all details and contact information. So many varieties of meals – and they are really good. And healthy.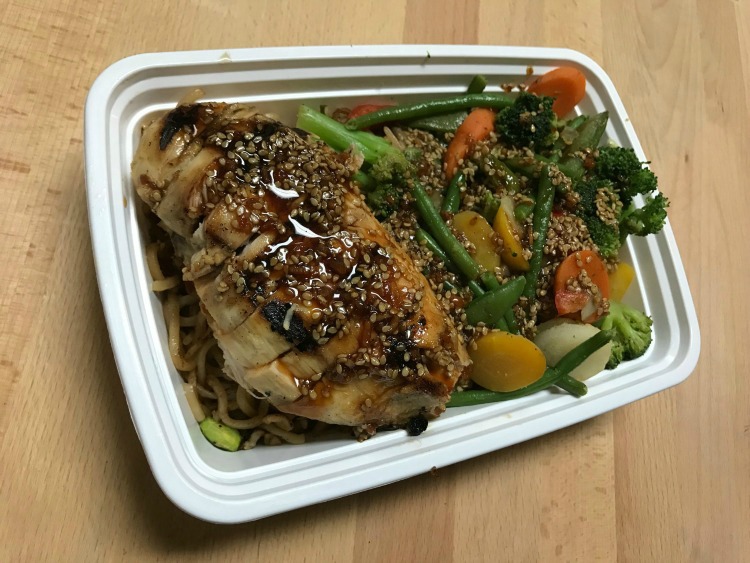 3 Plus You appearance – link expires in approximately 30 days.
I've included affiliate links to Amazon for you to find some products easier. I may receive a small commission, but the price is the same for you. It just helps my blog out.
Happy Travels,
Rosemary