From Changing Table to Coffee Bar
A design feature which has been very popular over the past couple of years is a coffee bar. This can range from an area on your counter, to a special set up in a non-kitchen room, to an actual "bar" area. I am very limited on kitchen counter space so I decided to make a piece turn from changing table to coffee bar.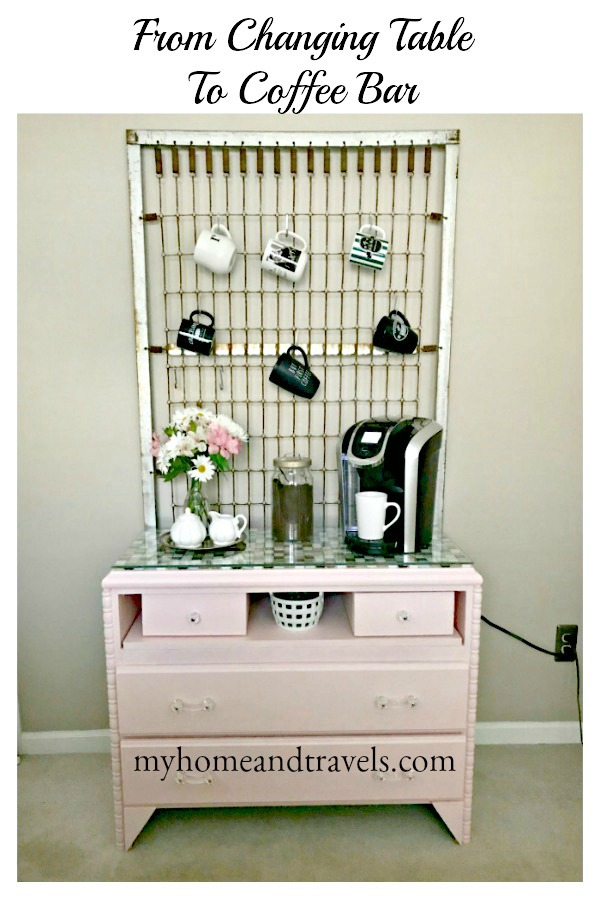 The original piece was a changing table/dresser from my son's nursery, and he is now thirty-one years old. One of those those things I just never wanted to get rid of even though it wasn't a great piece of furniture.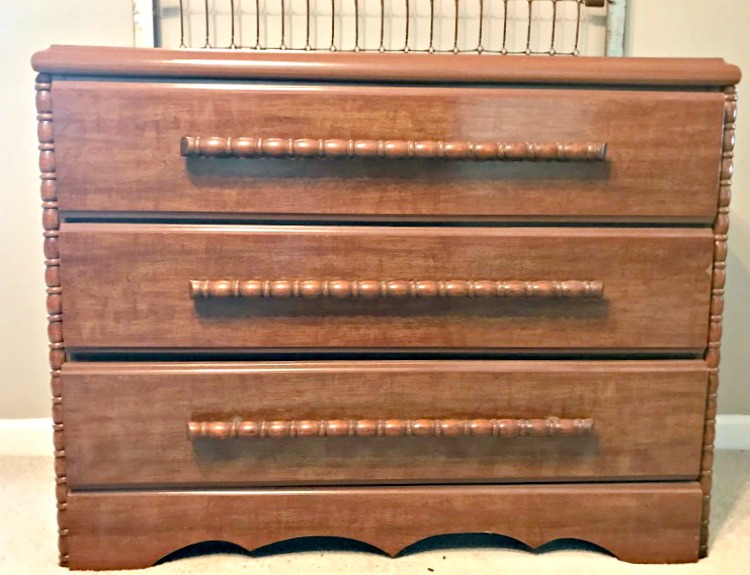 The brand new crib, changing table/dresser, and chest was bought for about $150 from an individual selling furniture out of his garage. This was long before buying used furniture was a thing. At that time, a lot of furniture was either passed down to other family members or thrown away. It's made of particle board so there wasn't a lot of choices in refinishing, but I knew I could paint it.
This new coffee bar is in the dining room but it's just around the corner from the kitchen so it's not out of the way for my coffee. My coffee can't be too far away, or inconvenient.
I moved this piece into the dining room around Thanksgiving to see if it was going to work in the space, or if not, what would I need. Luckily it worked.
I needed something to go above it and remembered my friend Karianne from Thistlewood Farms had an old gate above a chest in her hall. So I was on the hunt for one because I wanted to hang mugs from it.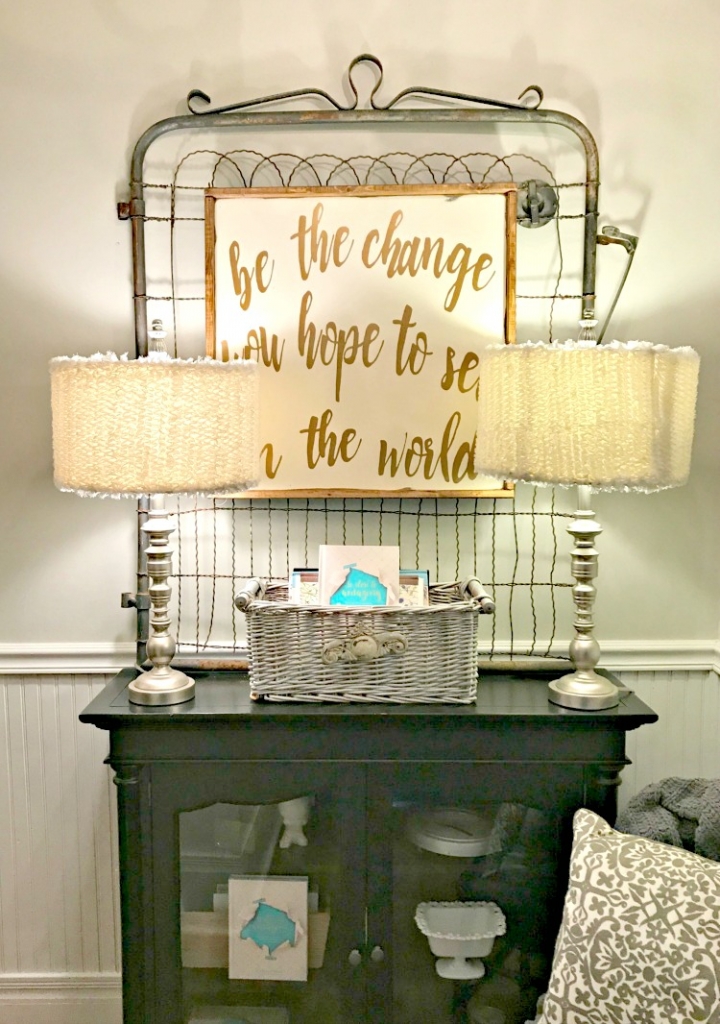 Then I had a light bulb moment of something I had bought a few years ago at an estate sale and it never worked where I wanted it. This old twin bedsprings fit just right behind the dresser. I'm glad the hoarder was in me and I didn't get rid of it.
I had it decorated a little for Christmas.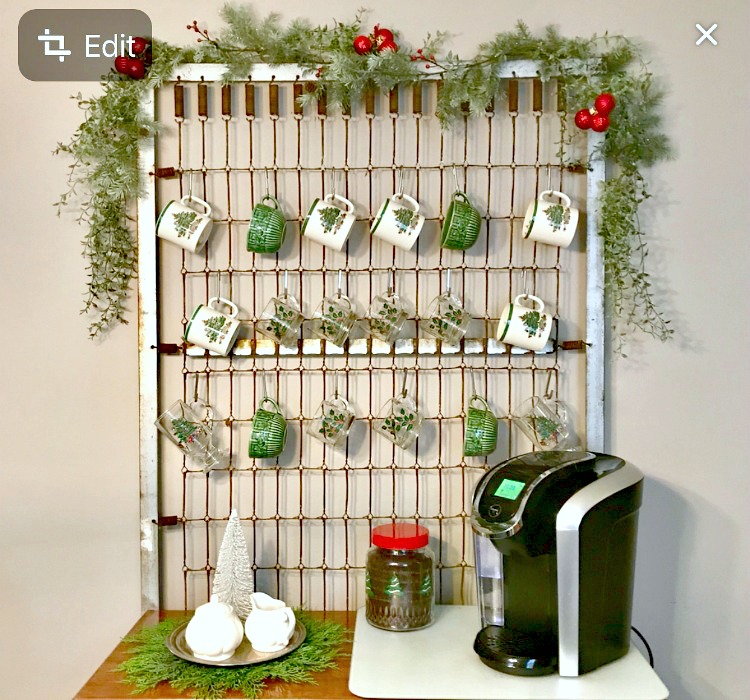 There was plans for the dining room to get a makeover but no real design had been set so I was waiting on painting the piece. I don't have a certain style or theme in my home, it's more of just what I like and think will work for us.
A design and colors were chosen, although I still don't have an official name – for now I'm calling it my Shabby Chic Glamourous French Country Farm House. That's a mouth full and maybe not a true style, but I've never been one to always follow the trends.
I knew one thing from the beginning, the ceiling would be black. I was at a Show House last year with a soft black ceiling and immediately knew I wanted one. I have painted several ceilings before in a shade of the walls, but never black. I'm in the process of finding a chandelier now.
Now with using black and white, I wanted to incorporate softer colors into the mix of things, and chose a soft pink and green. So pink it was for the coffee bar.
Before painting anything, whether it's a piece of furniture or a picture frame, a little prep is always needed. I don't go by the saying of "no prep needed", yes some is always needed.
I removed the drawers, handles, bottom scallop piece, and drawer glides from the top drawer only. A good cleaning and sanding was done. The sanding was especially needed since it had a very shiny and slick finish so the paint would have something to adhere too. I can't recommend having a power sander, even a smaller one like this Ryobi Corner Sander makes any project go easier. And quicker.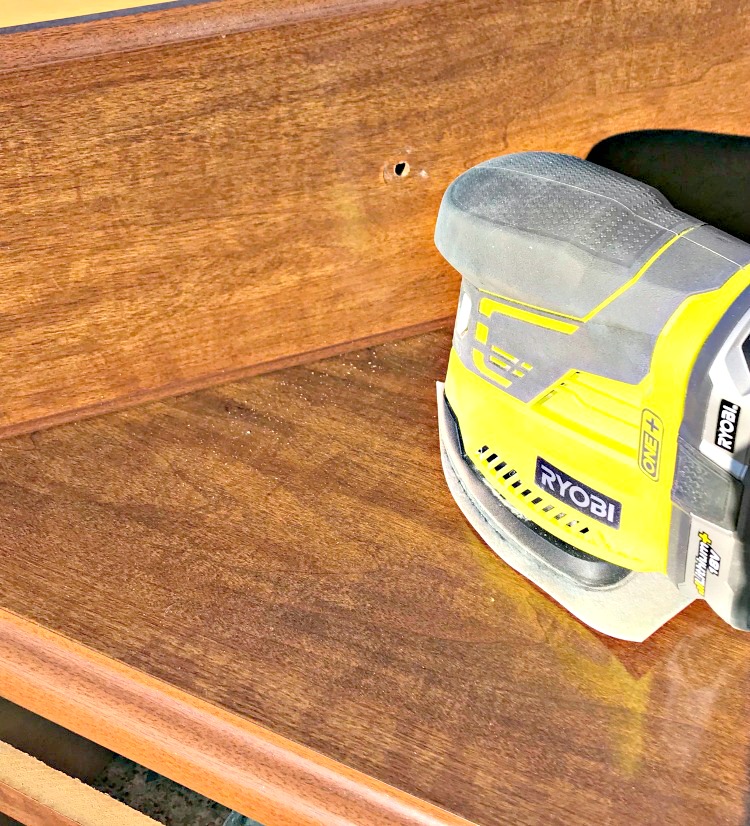 Sometimes you have plans for a piece but then things can change and or maybe not work out.
I had planned on removing the corner trim for a more streamline look but when trying to do so, the stability of the piece was being compromised so it had to stay.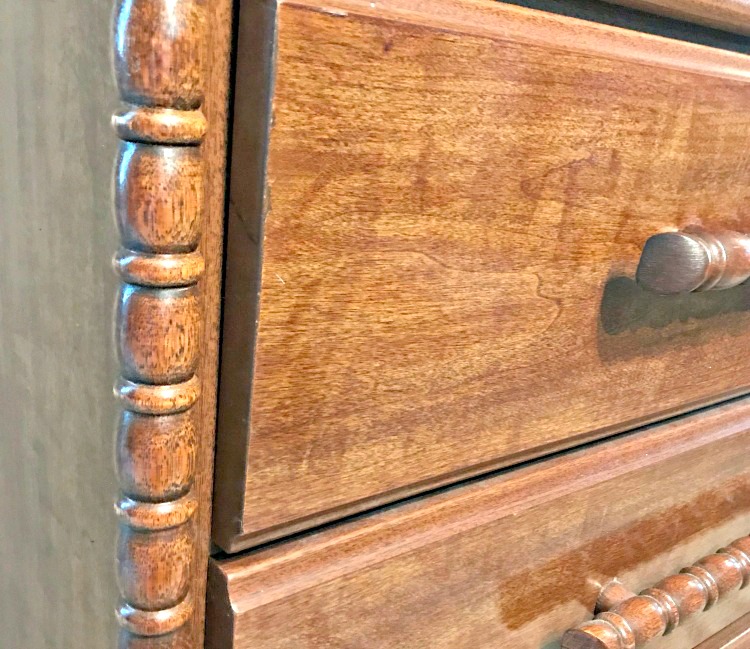 I thought if I replaced the scallop bottom with a straight edge, it wouldn't look like bedroom furniture so much. But when I placed a straight piece on it, it looked too much like another drawer on bottom and flat on the floor. So that was a no.

I liked the open look of the bottom but the corner braces showed. I cut a small triangle piece of wood and it worked great.
The top drawer was being removed and replaced with an open shelf. I picked up a piece of shelving at Home Depot to fit the measurements.
Now I was finally ready to paint.
My favorite paint for most projects is Black Dog Salvage Furniture Paint. They have 15 colors but no pink but I could easily mix my own custom color. They do have recipes for many colors but the watermelon pink recipe seemed a bit bright.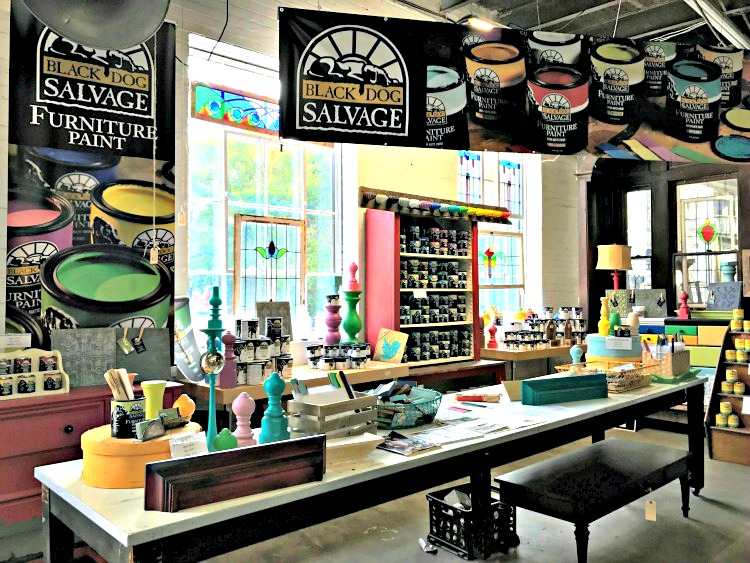 Whether you are you using this paint, or even a spray paint – always read and follow the directions on the can. For Black Dog Salvage Furniture Paint, it's very important to stir the paint, not shake it. The pigments just aren't going to get thoroughly mixed by shaking.
Another hint for this paint – the day before, or even a few hours before using, turn the can upside down to let those pigments mix a little.
For making the Watermelon color it was 2 parts Clean Canvas (white) to 1 part I Need a Bandage (red) so I tried half part red. You can find the recipes here to download or print a copy.
It turned out to be a very pretty pink and I gave everything a light coat. Black Dog Salvage has a round brush which holds a lot of paint and gives good coverage since this paint is considered to be self leveling, less brush marks, to hardly any, will show. I love that smooth surface you get.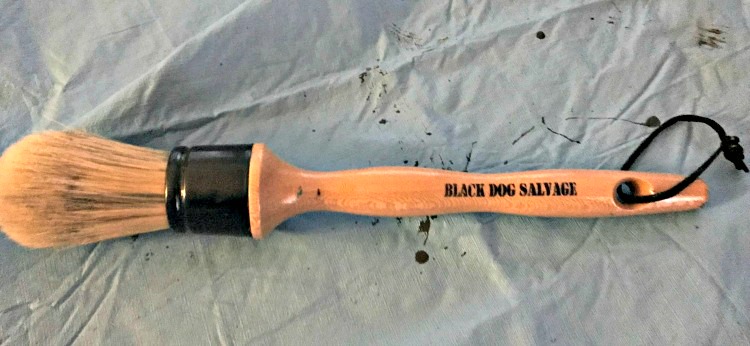 By the next day, I knew it was too bright. I actually had a feeling while painting, but thought maybe it would be ok. WRONG!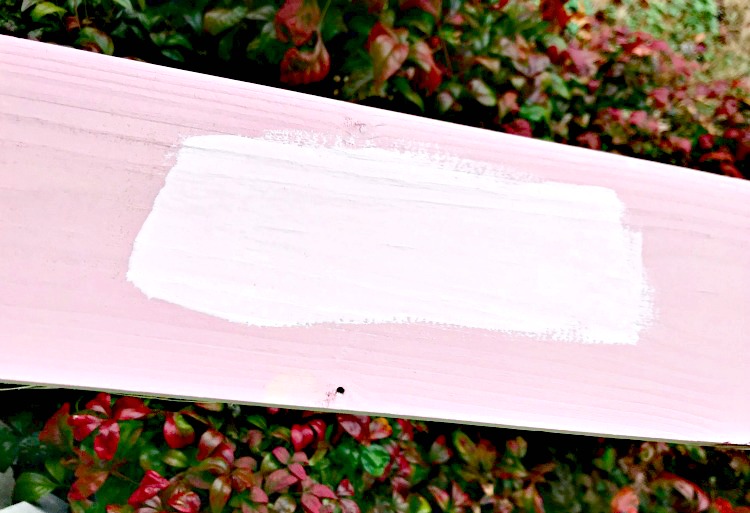 The red has very strong pigments so I knew it wasn't going to take much to get my pale pink.
No measurement here, I just drizzled a small amount of red into the white and once I could see pink, I stopped, especially since most paints are going to dry a bit darker. I tried it and was very pleased with the color.
I would guess there wasn't even a teaspoon of red to a cup of white. That's one of the great things about this paint is the ability to make your own colors as you need them. But I do suggest to always mix enough for your project you are working on and store in an air-tight container.
The new pink went on and I loved it. After the paint cured for 24 hours, a topcoat of Guard Dog Topcoat in matte was added. It also comes in a satin finish.
After deciding on pink, I knew it had to have some pretty jewelry these glass pulls and knobs from Liberty Hardware did the trick. A lot of Liberty Hardware can also be found at Home Depot. I just had to drill one extra hole in the drawer fronts.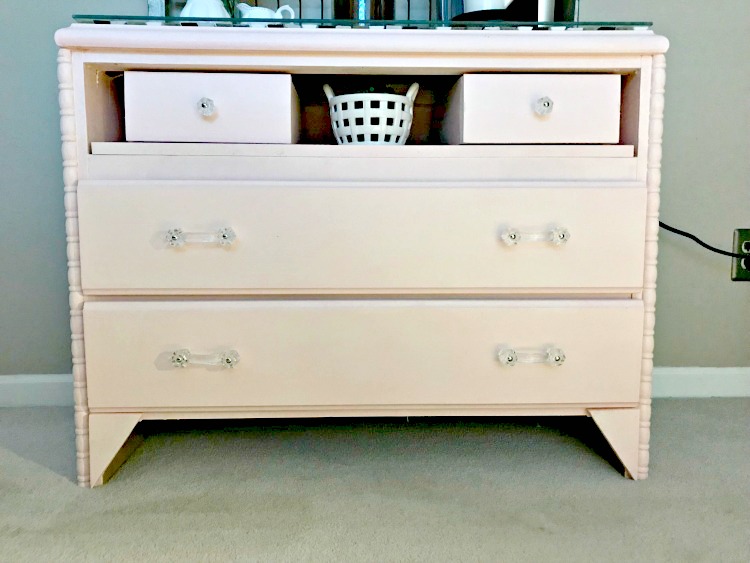 For the top shelf, it needed some extra storage but I couldn't find baskets which either fit or I liked so I decided to make a box drawer. Mine were 10.5″ x 14″ but you would make them to fit your piece.
They were made like I did these decorative boxes. I made sure the front piece was solid so seams wouldn't show. I have upgraded a couple of my tools since then. The Ryobi Brad/Nail gun makes the work easier too.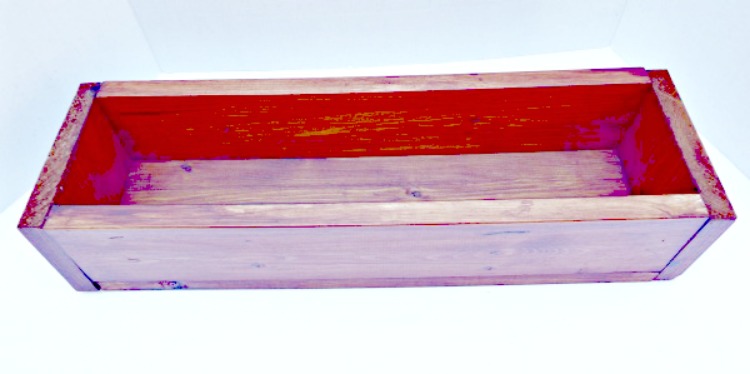 A glass knob to match the pulls were added along with felt pads on the bottom so they would glide a little easier.
The top went through many thoughts and this is the result for now. I had several sheets of this glass tile from a conference I attended and loved the colors of the white, silver, clear and concrete look.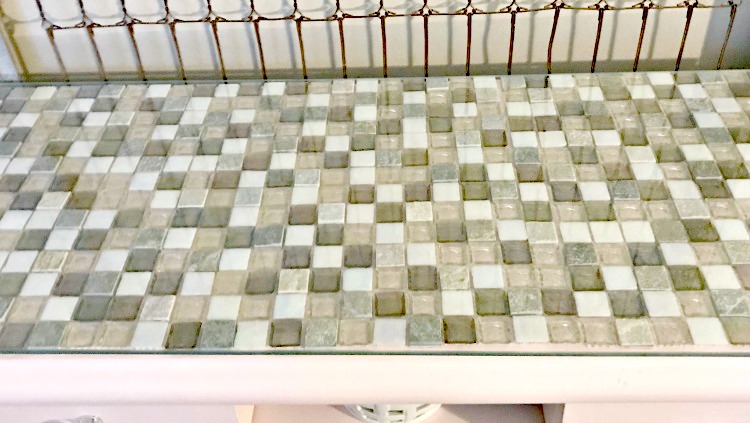 Since I was using this as a coffee bar and water would be around it a lot, I decided to add a piece of glass to the top, plus the tiles were a bit uneven. I got this cut at a local glass store, and had the edges polished so no sharp edges are on it.
There will be more styling and decorating after the makeover is done. Also, I'm starting a collection of mugs, mostly black and white. Hoping to find more also during my travels.
Now only if Keurig and other appliance companies would have longer cords.
This is one of those pieces I have done that I'm really happy with the outcome. Some might be ok and I can live with it, but then some you are proud of.
I hope you enjoy this project and here's a few more I have done.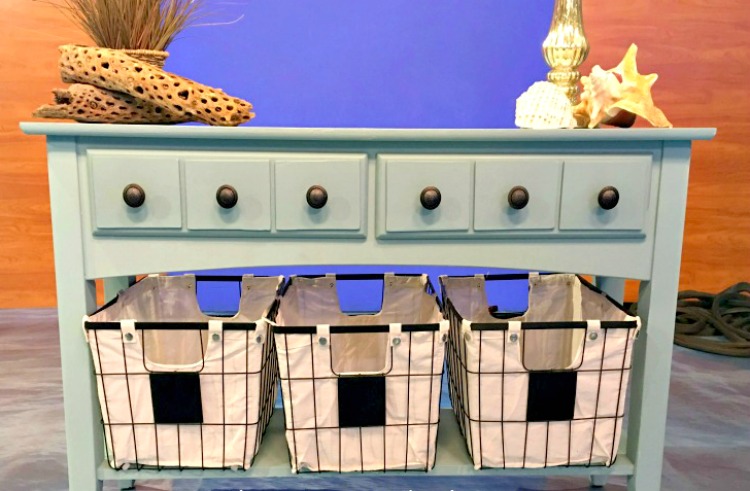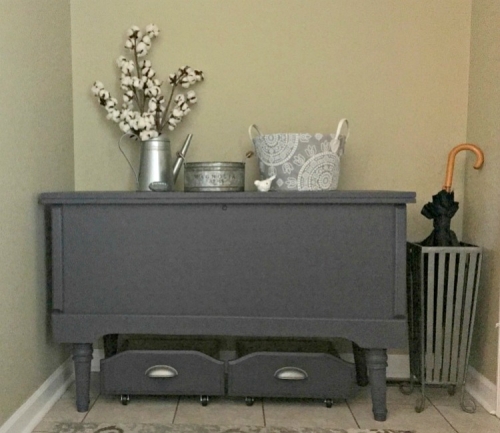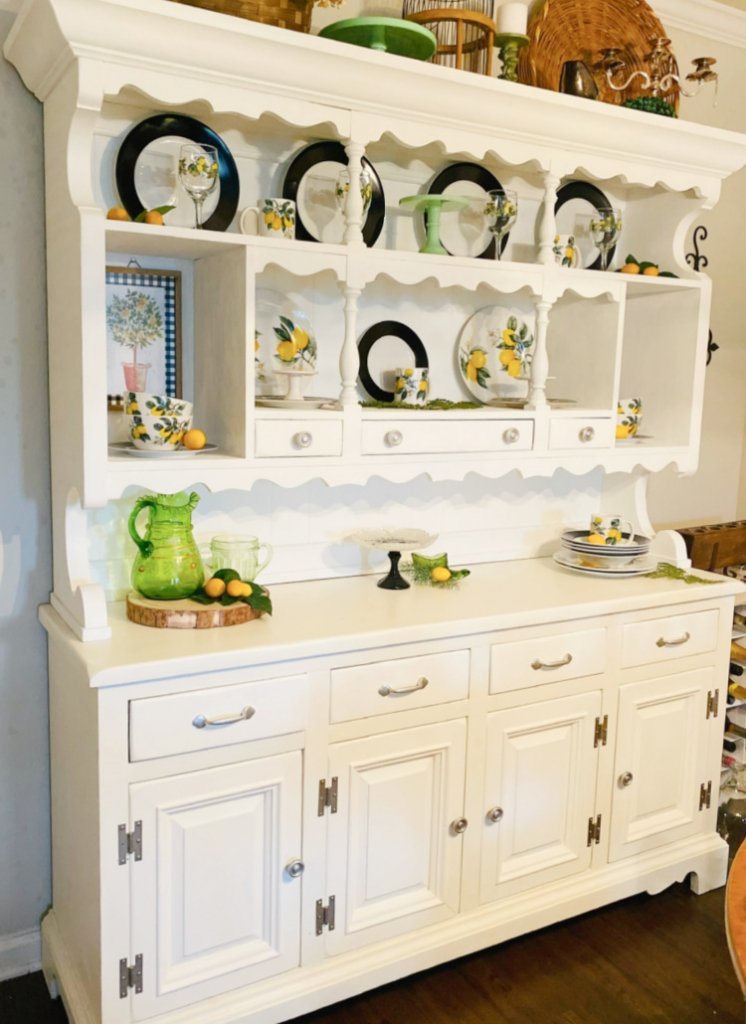 What kind of projects are you working on? Do you have a coffee bar? I'm thinking I might just need to make another one for my bedroom. Why walk to the other end of the house first thing of the morning?
I've included affiliate links to Amazon for you to find some products easier. I may receive a small commission, but the price is the same for you. It just helps my blog out.
Happy Travels,
Rosemary