My Gallery Wall Made With Salvaged Frames was a great way to use up part of the stack of frames from my collection. Seems like I always find frames at yard sales and flea markets which are cheap. I'm always looking for odd sizes or shapes and ornate designs for projects.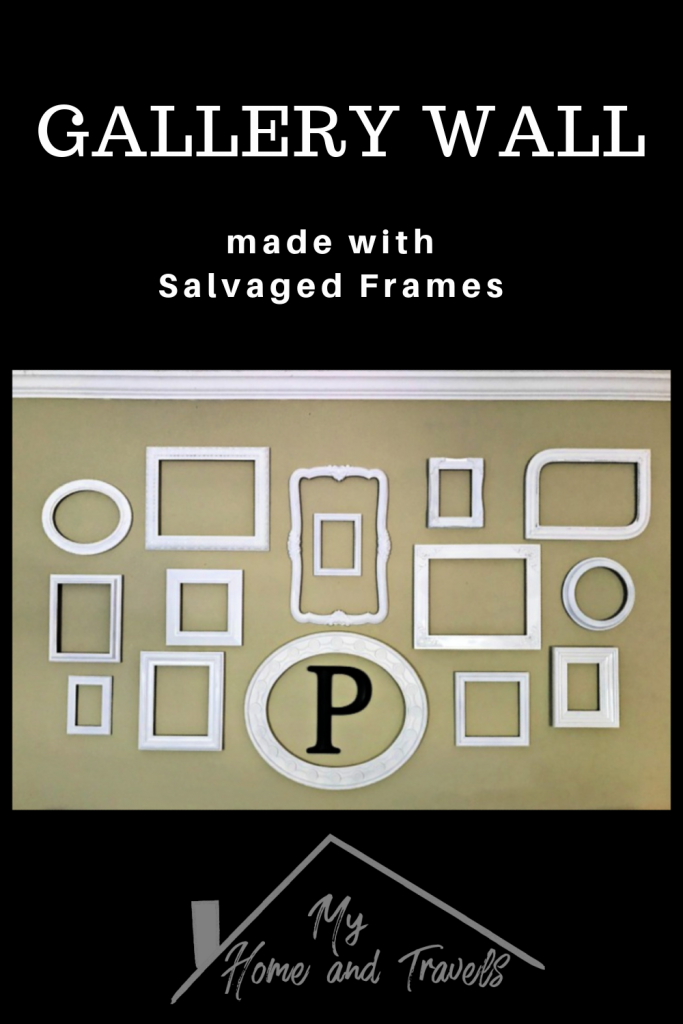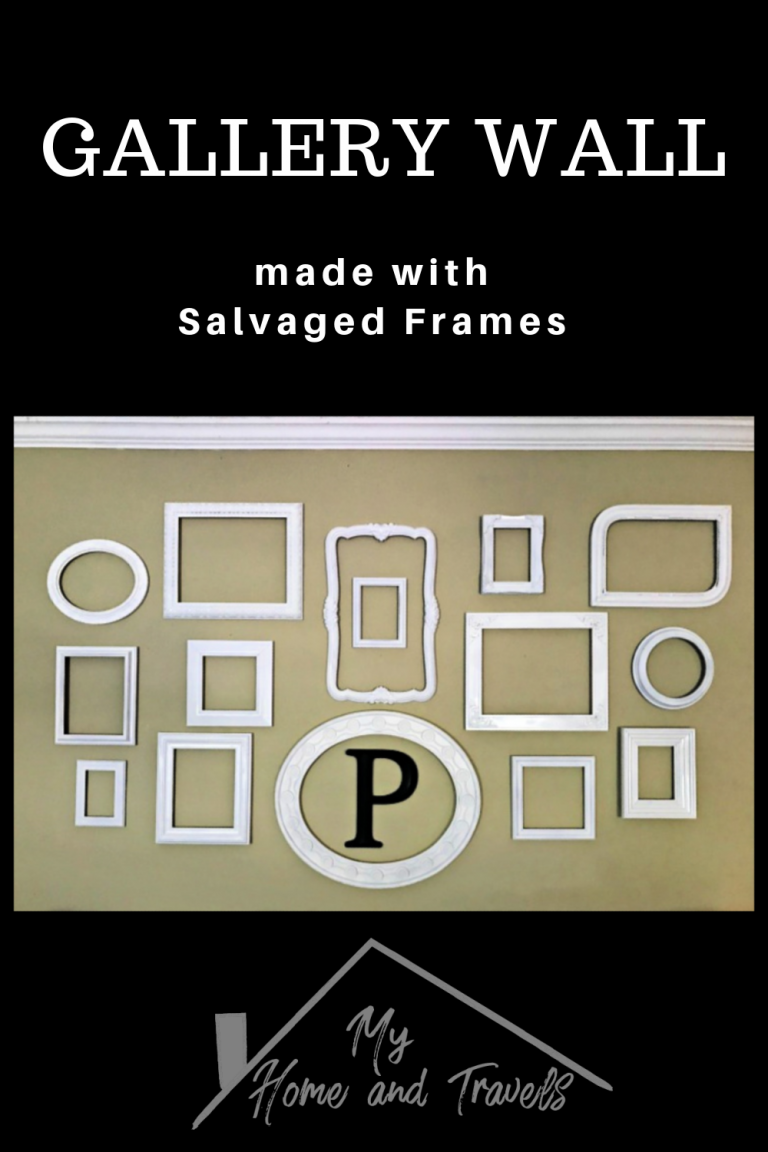 Do you have a stack like this? Get them out and give them a new home.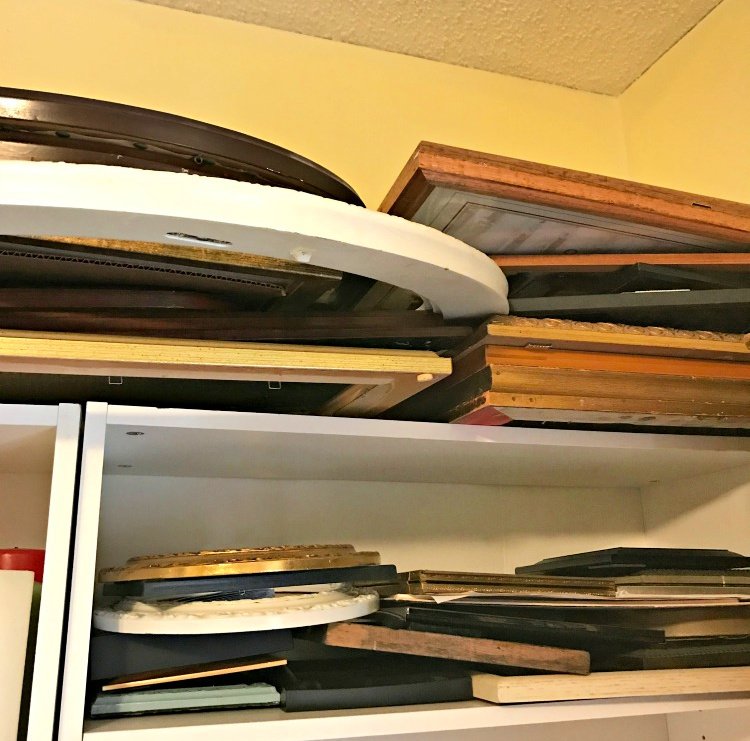 Why I Love My Gallery Wall Made With Salvaged Frames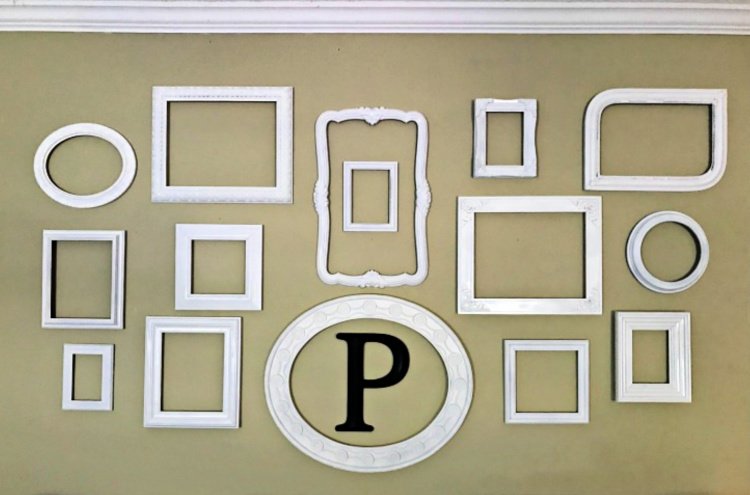 It fills up a large wall
Makes a great focal point
Adds architectural details to a room
It's easy
It can be done fairly cheap, but might take a bit to collect enough for a large wall
Some think empty frames are a passing trend, but I still love them
I had actually been collecting (or maybe hoarding) frames for a while for another project, but that big wall was calling my name. Note – this was in our former home but thinking it might get a new life in our apartment.
I didn't worry about the color or wood it was made from, knowing they would all end up white.
Here's some easy steps to begin:
Go through all the frames and choose your favorites. Remember to pick different shapes, sizes, and textures.
Measure the area of the wall you want to cover with the frames.
Tape off an area on the floor with painter's tape to match those measurements.
Start laying out a design beginning with a few of your larger frames. I found it easier to place these in the middle and working my way out.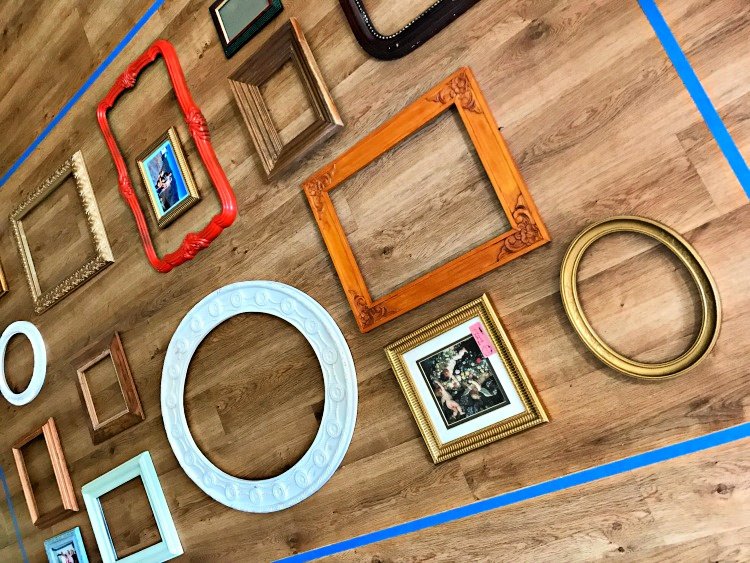 It was then just adding your frames to fill in the spaces.
After a good layout, take a picture.
Walk away and come back and look at it a couple times to see if you want to make any adjustments.
Remember make sure you take a picture.
NOTE: After I had planned a layout and painted all my frames, I found the round frame which I wanted to include so it was painted then added to the wall.
How to hang your frames
Tape the wall with the same dimensions of your trial layout.
You can measure (roughly) where a few of the pieces will be placed to make it easier but I wasn't going for the exact measurements. Eyeball it.
After all the frames are painted, hang them as you would a normal picture. I used a combination of small hooks, small nails and Command Strips.
None of these frames were heavy and didn't require an anchor.
You know projects are constantly changing like adding the round frame.
The large oval needed something inside of it and after trying multiple frames, none seemed to work.
Light bulb moment – a large "P" might work. I already had it, it fit, and I liked the contrast with all the white.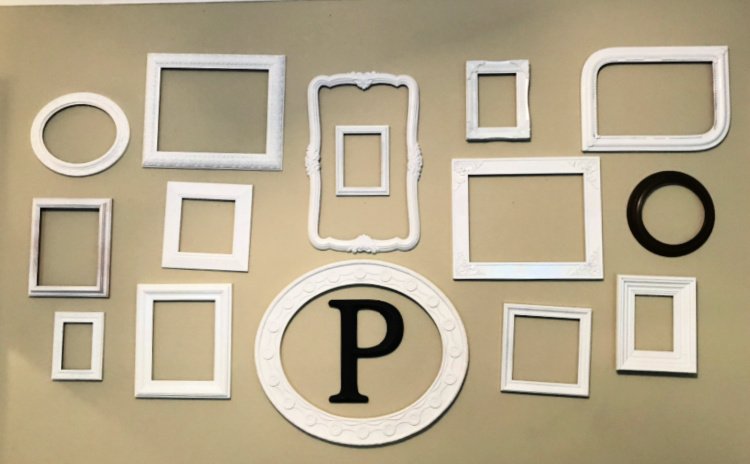 Choosing the paint
All was white – but not the same type or sheen. This is a great way to use up that little bit of house paint, wall paint, craft paint, or chalk paint.
When I'm painting a dark object going to light, I will do a primer coat of either a normal primer or even just a lighter color.
Example would be from going from darker wood or color, have a coat of gray paint, then to white. You will find it covers so much better and smoother.
Extra notes for a gallery wall of salvaged frames:
Oval and rectangular frames can be placed horizontally or vertically.
I waited until after the layout was done to paint frames.
Although I was working in a rectangular area, I wasn't worried about it be symmetrical.
A round frame had been found after project started, and knew I wanted to add it.
Paint inner edges of frames as these may show also.
If you have an odd-sized frame which doesn't want to hang straight, use a Command Strip to hold it in place.
Have you ever made a gallery wall or used blank frames? If not, give it a try.
A few painted projects for you to check out: