Faux Succulents To DIY For Home Decor
Using Faux Succulents
Do you love the look of faux succulents? The good news is that faux succulents to DIY for Home Decor can be for everyday decorating or just even seasonal. With these simple DIY craft projects and ideas, your home can easily be decorated in all different types of faux succulents.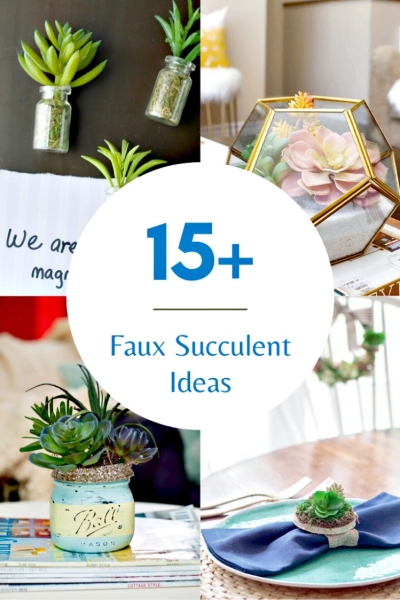 Many of you might be like me and not have the greatest luck with live plants, so using any faux plants can be a game changer in decor – inside and out.
The only hard part about creating all these simple homemade crafts is that you're going to have to find the time to get them all done!
If you're ready to up your home decor with some simple DIY ideas, get ready to fall in love with these easy faux succulents for home decor.
15 Faux Succulents In Home Decor
While each of these is unique in their own way, they'd all look great together in your interior space.
Succulent Magnets by The Country Chic Cottage
Spruce up your kitchen, or anywhere magnetic, with these simple DIY magnets. They're so easy and cute to make!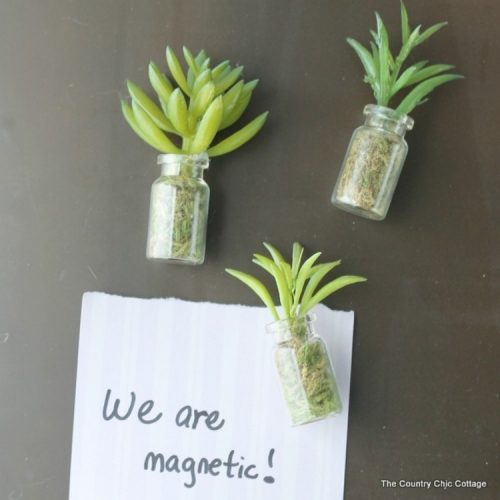 Foil Geometric Planters by Mad in Crafts
Talk about an easy craft that will really draw in the eyes. Give your plants a facelift easily with this simple craft.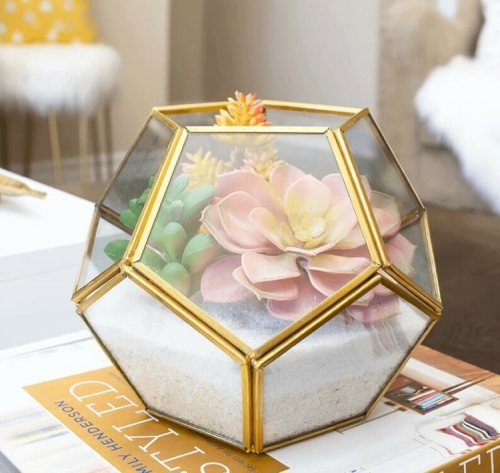 Faux Succulent Planter by Pastels and Macroons
These planters are great to have around your house because they add a little fun to the rooms!
Grapevine Succulent Wreath by Atta Girl Says
Wreaths are always a great addition to any home decor and can easily be hung anywhere in your house. The front door is a great choice but so are interior doors, too.
Faux Succulent Planter by Domestically Creative
The great thing about making faux planters is that they're all different and unique from one another.
Vertical Succulent Pine Cone Succulent Planter by Kennary
Take a look at this! It's a different way to create a fun focal point in your room without hardly any effort on your part.
Flora Craft Succulent Planters by Crafting in the Rain
Add a few of these to your home decor and see how they change the look!
Mason Jar Succulent Planters by Mod Podge Rocks
I love these because they have such a farmhouse home decor look to them that really looks rustic as well.
Tea Cup Succulent Planters by Hello Creative Family
These teacup planters are just the cutest! You just need a few simple supplies to make them and then you'll have them forever.
Succulent Topiary Turtle by Drought Smart
This is such a mighty turtle. The overall look of this turtle is certain to be a fun spot in your home decor.
Jute Wrapped Succulent Planters by Confessions of an Overworked Mom
If you're looking for some fun planters to craft and make over the weekend, look no further than these planters. They're simple and adorable.
Coke Can Succulent Garden by Polka Dot Chair
Talk about an upcycling project! Who knew that you could take something used and turn it into something that looks like this!
Fake Succulent Craft by Pillar Box Blue
Fake or not, this craft is one that you really do need to try. It would be a great addition to any type of home decor.
Succulent Planters by Organized Island
Don't miss out on creating these succulent planters. They're festive and simple and will bring together a room.
As you can tell, faux succulents in home design are quite popular – and for good reason! They're a simple craft project that anyone can do and they are actually quite affordable as well.
Do you have a favorite faux succulent from the list above?
More craft ideas to try including my Faux Pumpkin with Succulents
Use this idea with any vase for year round decorating.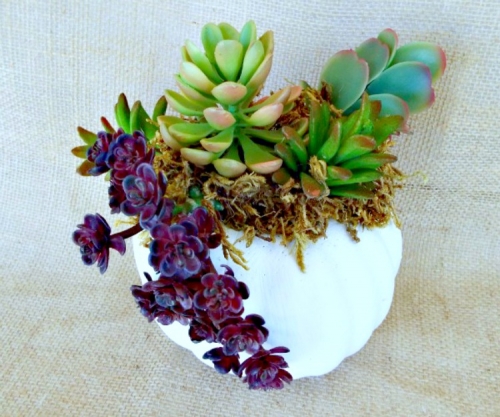 I've included affiliate links to Amazon for you to find some products easier. I may receive a small commission, but the price is the same for you. It just helps my blog out.
Happy Travels,
Rosemary