How To Dye Beans For Centerpieces and Decor
How To Dye Beans For Centerpieces and Decor
You know I love to use things which I have on hand, or can be purchased easily and cheaply. So this is a perfect project for all of your upcoming spring and Easter centerpieces. We are going to use them for decorating and learn How To Dye Beans For Centerpieces and Decor. These items can easily be found at any Dollar Tree or other discount stores.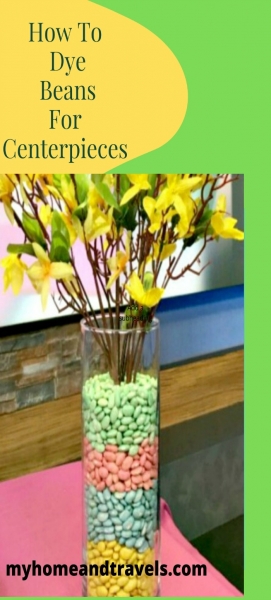 What Kind Of Paint or Dye To Use For Beans?
A friend of mine posted something like this but she had spray painted them which turned out great as well. With paint you would get a more consistent color on most, but as with any natural item such as beans, they can have their own idea. That has given me ideas for a few future projects which can't be done with food color.
Using Food Color to Dye Beans
Most of my decor is on the natural, muted tones but I thought it would be fun to add that pop of color with the traditional Easter colors everyone thinks of. Your basic food coloring will achieve these colors. Or think about mixing the colors. Blue and red makes purple.
How To Determine Number of Beans
Before you begin, you need to decide what colors, how many colors, and what size the vase will be. You can just use water poured in the vase then divide it by the number of colors. Mine was easy. Approximately 4 cups needed, 4 colors = 1 cup per color. NOTE HERE – make sure the vase is completely dry before adding any dry beans.
What you need:
Great Northern (white) dry beans
Food color – your choice
Ziplock bags
Vase
Flowers
Gloves
How To Dye Beans For Centerpieces and Decor with these Easy Directions
Using the standard red, yellow, blue and green liquid food colors, let's color the beans. Did you know they make neon color now?
Place the desired amount of beans in each bag.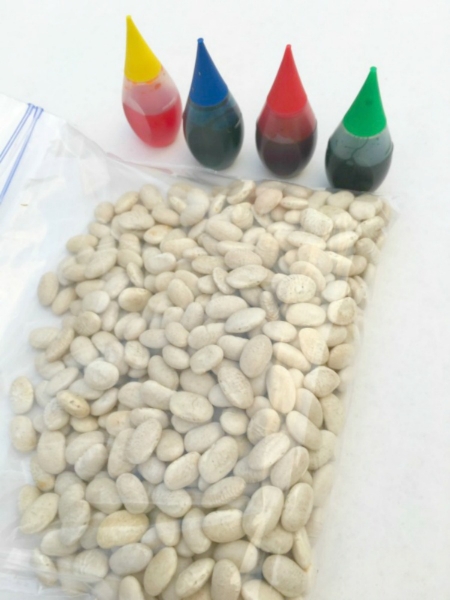 Add food color. I used 6 drops per color and found if you use the same amount per color, it comes out in the same color tone. How light or dark, is entirely up to you.
As with any time you are using dye or food color, start with a lesser amount and you can always add a bit more.
These will dry just a bit darker, but not much.
After adding the food color, zip the top closed – and check it.
Squish and shake the bag until you see the color distributed evenly.
Pour these onto a paper towel lined baking sheet in a single layer and allow to dry.
Depending on your home, this could overnight. Plan your colors for filling.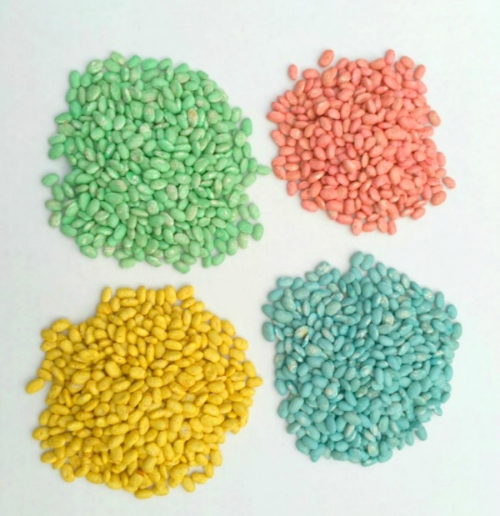 Pour each amount into the vase and shake to level.
Continue adding each color until you are done.
I added silk forsythia to mine.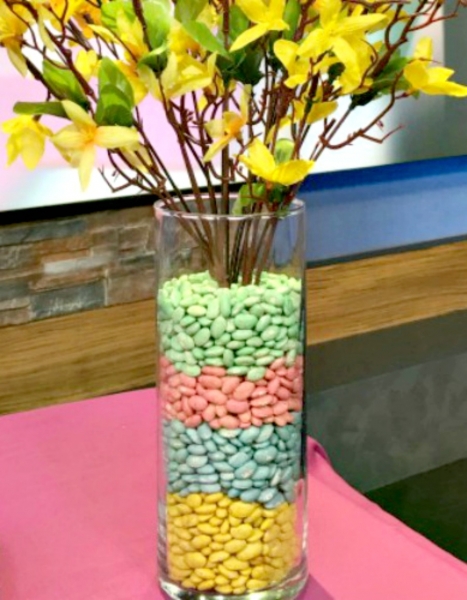 If you are adding real flowers, you can add a glass or smaller vase inside the larger vase then fill the beans around it.
I even thought that later this fall, why not use pinto beans for a vase full of cotton stalks.
How To Dye Beans For Centerpieces and Decor for other Occasions
Think about these as for baby or bridal showers and parties.
If you are wanting to make and use right away, you could put them in a warm oven for a few hours. I would say no warmer than 250.
When they are dried, you don't have to worry about color coming off on your hands. Wearing gloves anytime you are using food coloring, is always a good idea.
These are small items so could be a choking hazard
WARNING – these are small objects so they could cause a choking hazard to pets or children. Always carefully supervise and store in safe areas.
Easter Treats
After you get all your crafts done, maybe a few treats are in order:
A couple more Easter and Spring ideas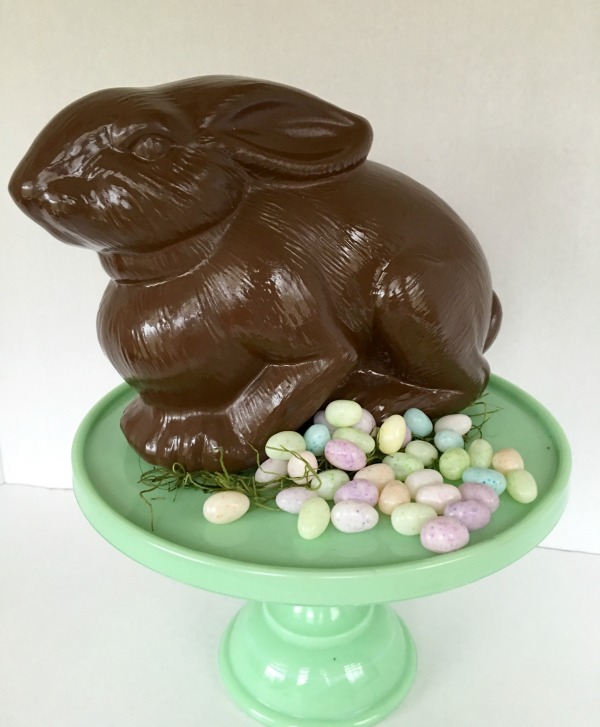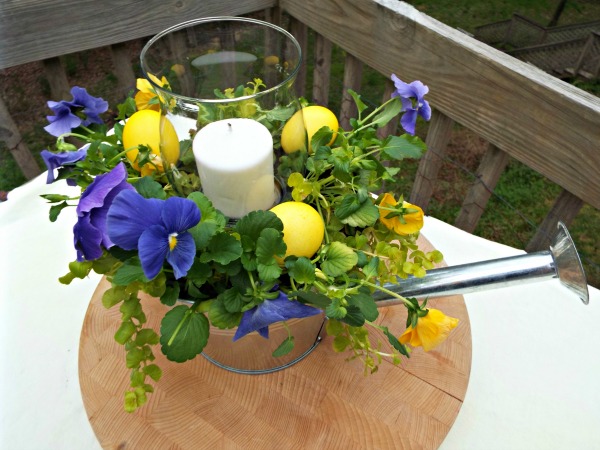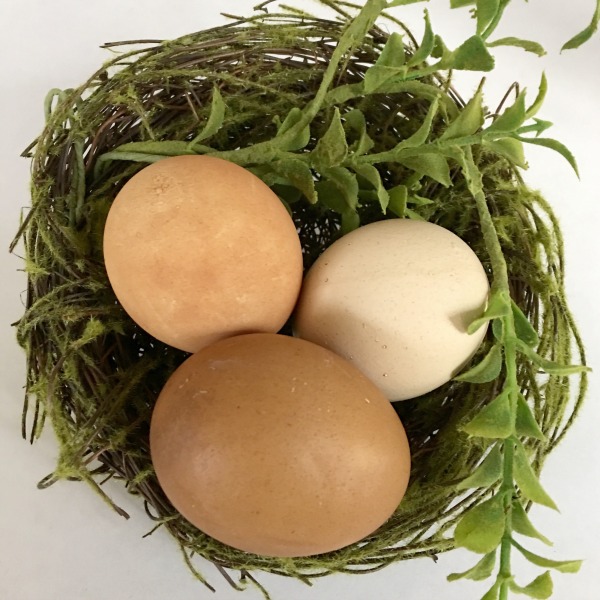 Have you decorated for Easter yet? Made plans? It will be here before you know it. Making Easter dinner plans too.
I've included affiliate links to Amazon for you to find some products easier. I may receive a small commission, but the price is the same for you. It just helps my blog out.
Happy Travels,
Rosemary