An Owner's Story Of Being On HGTV's Home Town TV Series, The Littlest House
Are you familiar with the HGTV's Home Town TV Series show? It's one of my favorite shows of all time! I recently had the pleasure of interviewing one of the homeowners that had their home updated entirely by HGTV Home Town!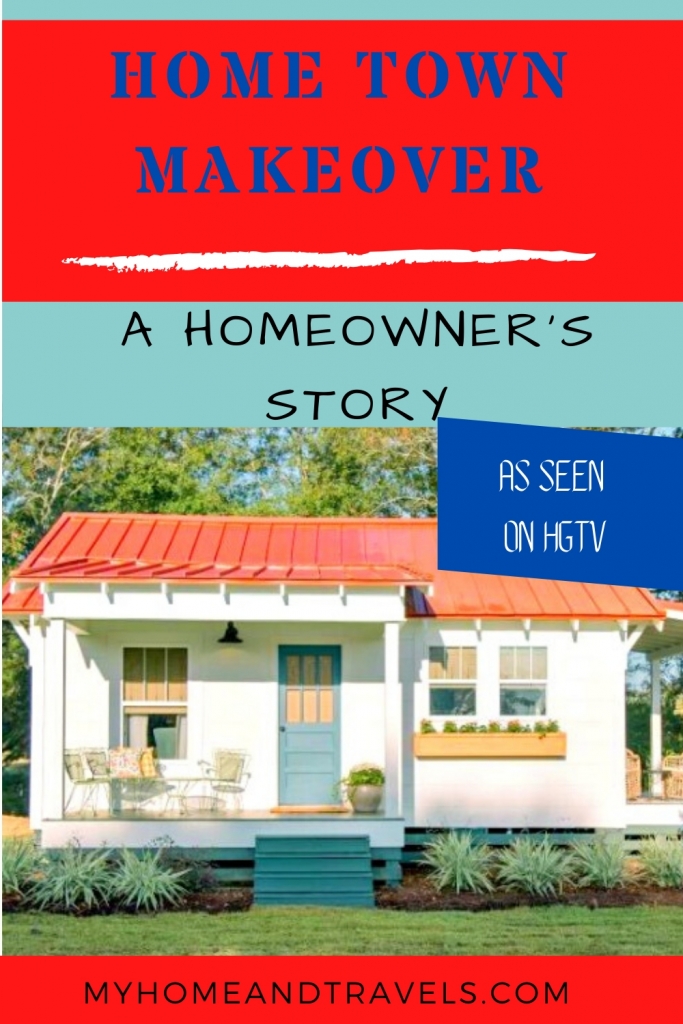 How many of you have watched one of the many "makeover" shows and wondered what it would be like? I recently met Rena Register in Laurel, Mississippi. She can tell you what her experience was like appearing on HGTV's hit show, Home Town, starring Ben and Erin Napier. I'll give you an owner's story of being on HGTV's Home Town TV Series, The Littlest House.
While on a recent visit to Laurel, I met up with Rena at Southern Antiques, a favorite shop to wander through. They also provide items for the show quite often and have had scenes shot inside the shop. Rena was as nice and friendly in person as she appears on her episode. I could tell she was still in love with her new home and quite proud of it.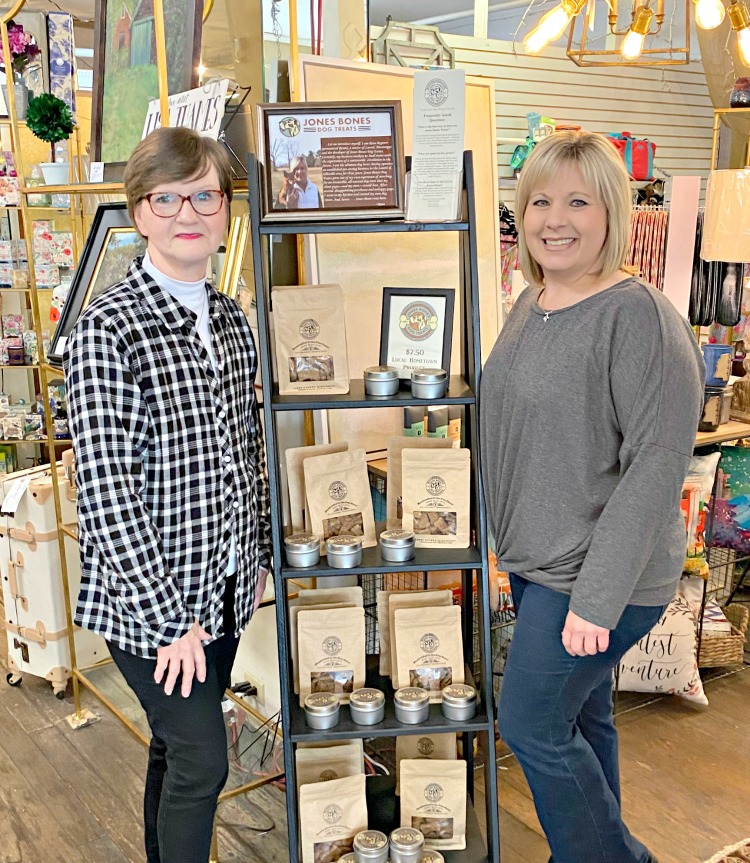 An Owner's Story Of Being On HGTV's Home Town TV Series, The Littlest House
We talked about her experience on the show, her renovated home, and what keeps her busy besides her regular career. A little more about Jones Bones Dog Treats a little later.
A little reminder of the show or if you have missed it. Rena was looking to be a homeowner for the first time. Although she loved the idea of living "in town", her great grandmother's house had been sitting empty for 30 years and it was available for her. The drawback, it was within a few feet of her Mother's house, and just too close.
Before being on HGTV's Home Town TV Series – The Littlest House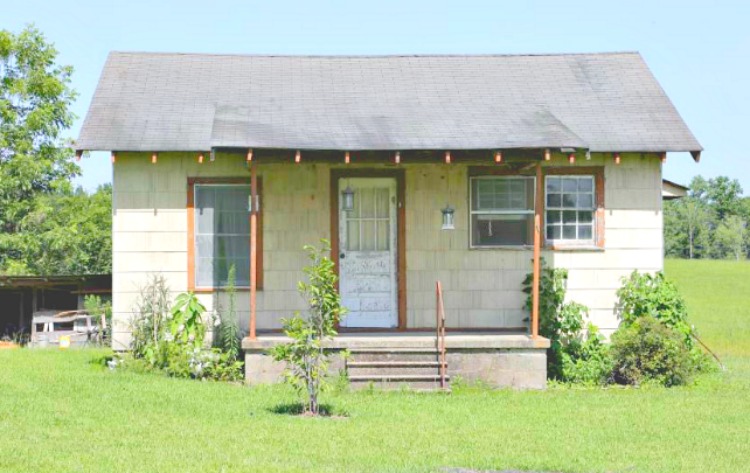 There was a perfect spot still on the land owned by the family to move the house then renovate. She loved the idea of living in the house which held so many memories and history for her.
After the makeover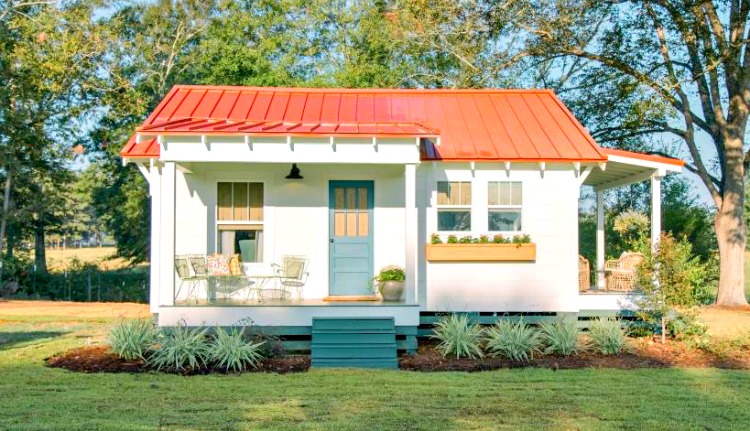 What did Rena have to say after her experience starring in the Home Town TV Series?
RP: What made you want to apply to be on Home Town?
RR: I was excited to be a new homeowner in our town, but knew I didn't want the headache of remodeling a home with updates and renovations. I've watched the show since it aired and I had a dream of doing a house every time I saw a new episode. I was also hopeful that I could save my great grandmother's house in the process. I knew Ben and Erin and their team would give excellent attention to details and do what they could to restore the housekeeping the old good things and adding some new fresh touches just for me.
RP: Were you encouraged by anyone?
Yes! Several of my close friends and even some of my pet clients kept nudging me along.
RP: Were you considering other houses before deciding to move and renovate?
I always liked the idea of living in town? I love sidewalks, street lamps, nearby neighbors, and the idea of walking to our downtown, so YES I did. But in the end, my Great Grandmother home made the most sense and it held the best memories.
RP: How long was the application process?
I inquired about the process from someone that knew someone that worked at RTR Media, the production company. Within a few days, I was talking directly to someone that handled the application process. The Home Town team directed me step by step on how to proceed. I filled out an application and things began to unfold. Soon I was answering questions from Erin about my style and preferences. For me— start to finish for me was April until October.
RP: Did you really not see the house before the reveal?
I did not see the house at all during the renovation process? My house and pet sitting service kept me in someone's home for the entire process with the exception of one week. That week I took advantage of my dad's camper and camped for a week at a campground in our county. One time I had to go to my mom's house, which of course was right next to the little house. It was my niece's 16th birthday. I was picked up about a mile away from the house and blindfolded and driven to the party that was hosted at my mom's. All the curtains were closed and I never saw the little house while I was there.
When I left the party I was again blindfolded and driven back to my car. I was excited to see the house in its completed stage so I didn't' want to spoil my reveal day. I also wanted to honor the contract that I signed with the network to not drive by the house during renovations.
RP: How much input did you have?
I was asked some very detailed questions from Erin's survey and questions. There were some things that I was certain that I wanted and didn't want and was able to express that. I wanted an outdoor space and they accommodated me with that. There is a scope of work that is given to you before they start doing the renovation to make sure you are ok with certain things.
RP: Did you let them have your own items so they could be put into the renovation?
Yes, they had access to my things and could use what they wanted. I loved walking into my house and seeing my personal things. It certainly made it feel like home. I knew the ceiling was going to be vaulted so I did reach out to Erin and told her that I had an old Library Ladder that I wanted her to use if at all possible. When I opened the front door on reveal day there was my ladder standing tall. It was an amazing sight to see.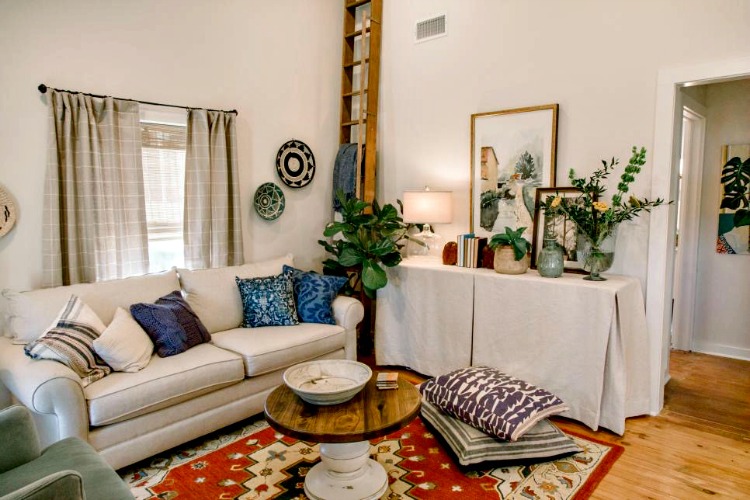 RP: Are you recognized now around town?
Our town is a small town and I already felt like folks knew me because of my involvement. I'm in full-time ministry and work with 52 churches in the area. My dog treats are known around our town, and I have many clients that live in the downtown area that use my house and pet sitting service. It's been awesome for friends, family, and strangers to be excited for me and share a kind word when they see me. I have had a few strangers stop me in town because they recognized me on the show. It's been fun to share with them when they ask about my house and some have even wanted an autograph. I've laughed about that but obliged.
RP: Has this opened any doors for you with your other business Jones Bones has taken a boost since the show?
We had several businesses in Mississippi eager to carry our product in their stores. We were also able to launch a website and people all around the county have been able to purchase Jones Bones. Jonesbonesdogtreats.com
RP: How long was it between when it was finished and it aired?
My reveal was October 1, 2019 and my episode aired Jan 27, 2020
RP: Were you friends with Ben and Erin before the show?
Erin and I actually share an uncle so we have a family tie. I also have cared for Erin and Ben's dogs, Chevy & Baker.
RP: What do you get asked the most?
I get asked, do you LOVE your house, and my answer is ALWAYS yes.
RP: Have you changed anything in the home?
I've not made any changes, I've only added a few things to make it a little more mine. I've added some outdoor lights, landscaping trees near my drive, and some outdoor yard furniture.
RP: How many times do you meet with Ben and Erin before and during filming?
I didn't meet with them before we looked at houses, but they were well informed about what I was looking for. When we were filming we were with them from start to finish. We were able to talk and share life as we filmed throughout the day.
During The Renovation on HGTV Home Town TV Series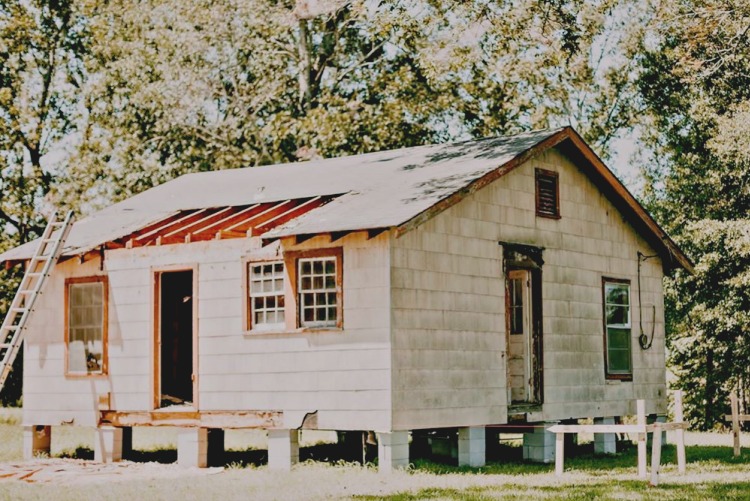 RP: How many times do you meet with the producers before and during filming?
Karen Walters is the most amazing person to work with from RTR Media, the production crew. She communicated so well and walked me through every detail. We were interviewed several times. Personal interface, email chats, and then a cell phone video interview that gets sent to the network. I had endless communication with the production company, and for that I was grateful.
The Cozy Bedroom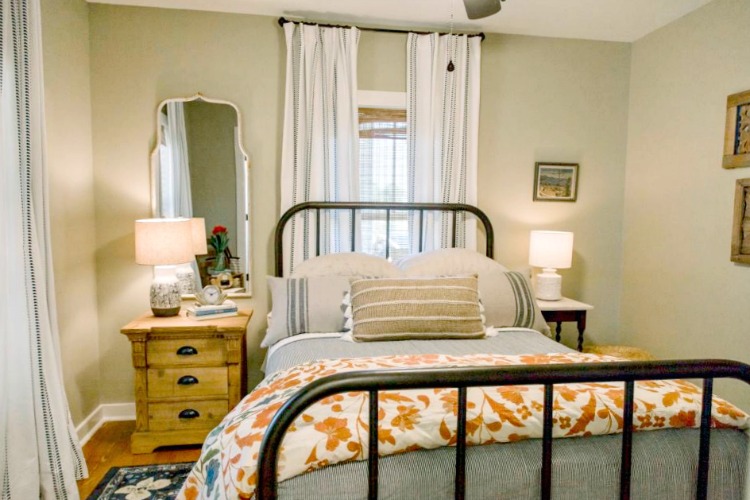 RP: What does your first home mean to you and what makes this home in general mean to you being a family home?
WOW, I dreamed of owning a home for years, but I never felt settled enough to purchase one. I loved the idea of being a homeowner, but the thought of it was scary too. Even before there was a Home Town show, I had thoughts of the "little house" as being my home one day. I knew she had good bones and I even loved the idea of remodeling. I just didn't have the time or the knowledge to do so. So with all of that said, my first home means that a past dream of mine came true and that a piece of family history will live on for generations to come. That little house always held a special place in my heart and as I grew up and it grew old, I was sad to see it fading away. The fact that the "little house' was my great grandmother's homemade my desire to save it even stronger.
The Kitchen Before
I loved the original sink and the refrigerator was saved.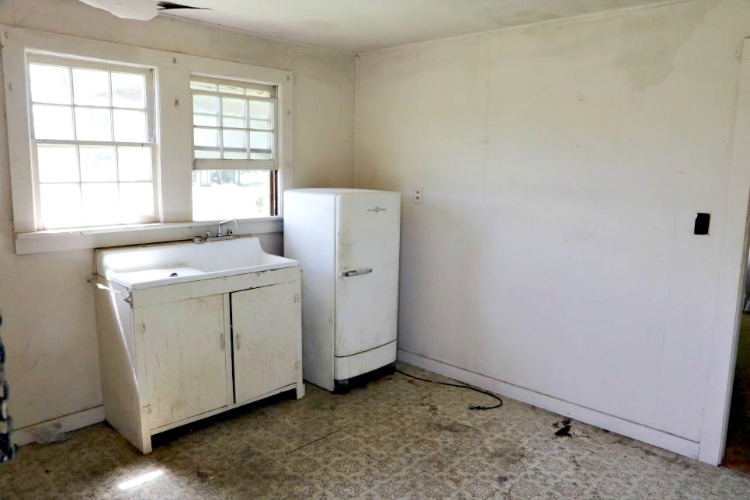 Kitchen After
The table was custom built by Ben in his workshop.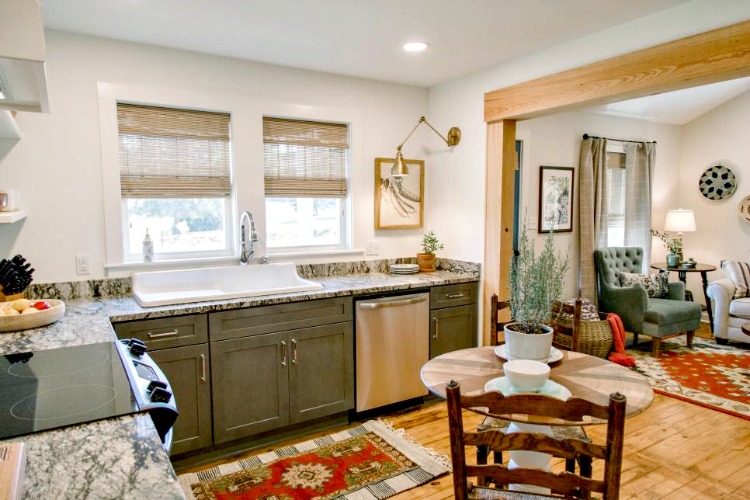 Living Room Before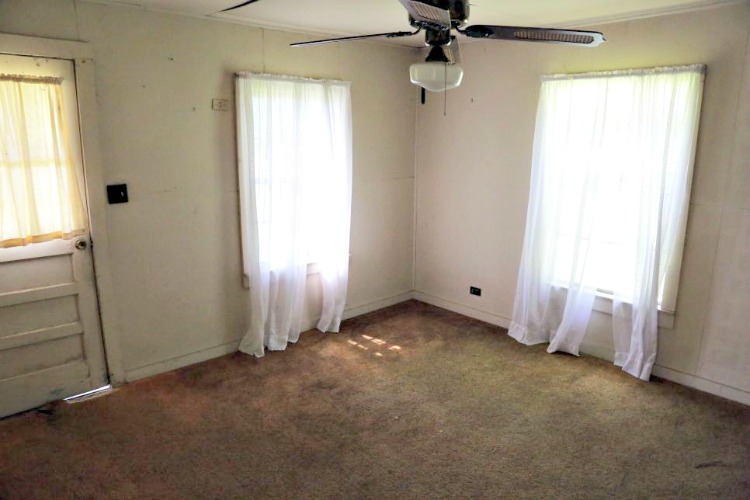 Living Room After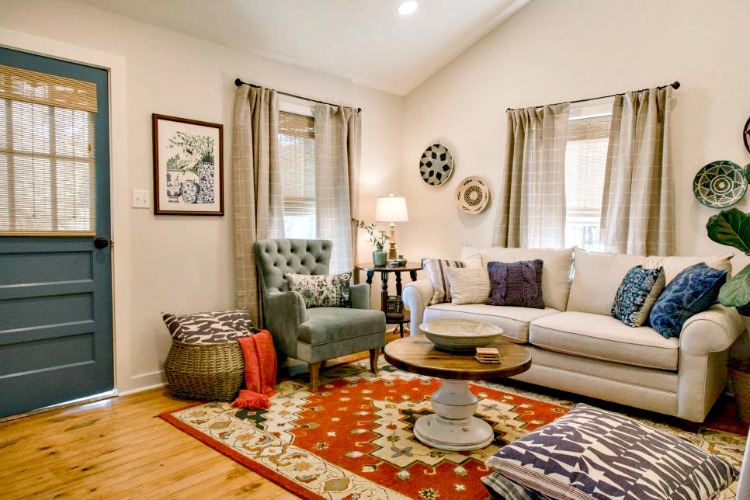 RP: Besides your full-time ministry, you have a love of pets and this produced a few businesses for you.
I married my love of pets to the need that our town had for a Pet Sitting service so Rena's House and Pet Sitting Service was born.
Jones Bones Dog Treats started out of my need to create and do something new. I was excited about what was happening in our town and small businesses were popping up all around and I wanted to be a part of that.
RP: Was it easy to start a dog treat business and create Jones Bones?
I wanted pups to have a healthy, delicious dog treat and I couldn't find one on the market that I was satisfied with, so I spent time in my kitchen, creating the perfect dog treat using quality ingredients and locally sourced spent barley from our small town's brewery. And there you have it, Jones Bones Dog Treats began.
If you are interested in finding Jones Bones Dog Treats, check out the website for stores in the Laurel area, including Mercantile and Scotsman, to how to order.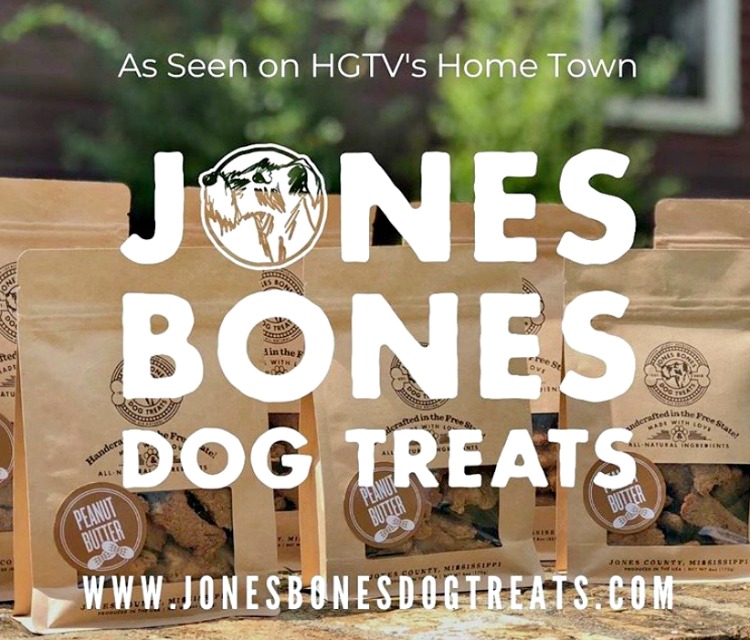 Make sure you also follow Rena and Jones Bones Dog Treats on their FaceBook page.
A little follow up about Rena and Laurel. Many of you know the Jones County area was hit with tornadoes recently.
As the volunteer coordinator for Jones County Tornado relief, she has seen the impact of the community needs following a natural disaster. Recovering and rebuilding after the tornado, is a project with no end date in sight. Things take a long time to return to somewhat normal.
From RTR Production:
Rena was an absolute pleasure to work with! Ben and Erin and the crew had an amazing time customizing her house for her and just hanging out during the long, hot shoot days. She and her best friend had us in stitches all the time.
Rena's house remains the Littlest House we've ever done until you see the episode on May 25th. This is the first of the three episodes remaining in season 4 and two of them are 90 minutes! The COVID-19 pandemic has stopped most productions in the country, so we are working on how to shoot safely. I am hoping there will be news on season 5 soon! June 1st and 8th will be the final episodes of this season.
Upcoming HGTV Home Town TV Series Episodes
Make sure you watch also on May 18 for a special "watch-along" episode of Home Town. Get an update of the Littlest House while sheltering in place and how Mr. Lucky goes from a shelter dog to famous.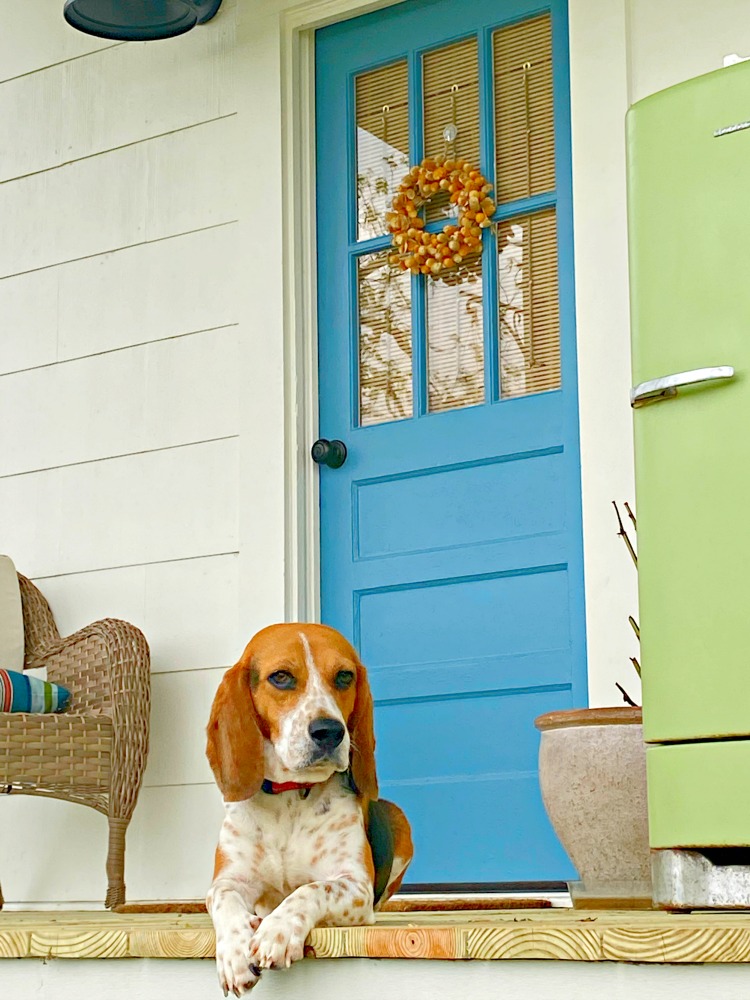 Laurel is a great destination for a few days, or maybe along the way for a road trip when this starts happening again.
I would have loved to see the house but I didn't want to invade Rena's privacy. I hope some of these pictures she provided, and along with Angela of RTR, will bring back memories of The Littlest House episode.
Here are a couple of posts about past visits and watch soon for several more to include where to stay, eat or shop. And what's near Laurel.
More Home Town TV Series Posts to Discover
I've included affiliate links to Amazon for you to find some products easier. I may receive a small commission, but the price is the same for you. It just helps my blog out.
Happy Travels,
Rosemary