Anymore there are as many brands and types of paint out there for home décor and furniture as there are opinions on which is the best. This DIY Chalk Paint Recipe can give you options for color and amount of paint you need. You can now buy these types of paint at art centers, Home Depot, Ace, and any craft store. Each can produce a different effect or finish depending on application.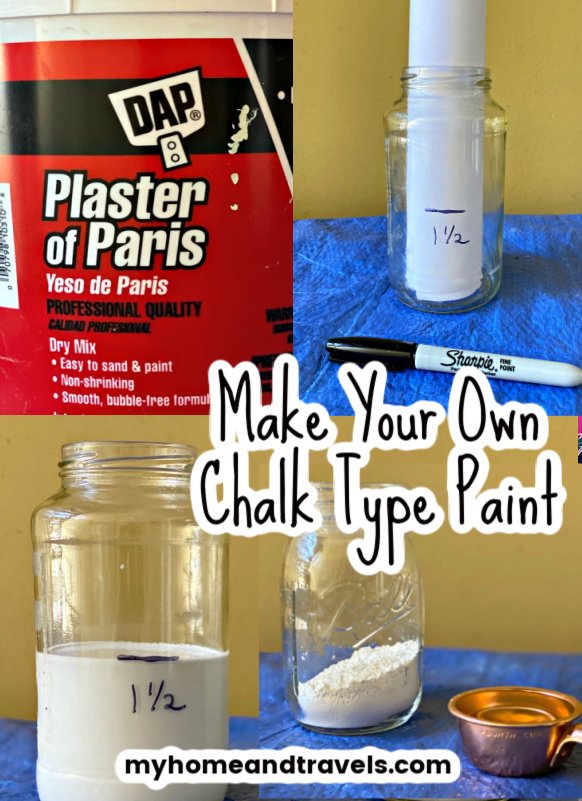 Although the term "chalk paint" has been trademarked, most people refer to any of these paints which area almost a no prep – chalky finish as chalk paint as I refer to any soda as a Coke.
Most don't actually have chalk in them as most "milk" paints don't have milk in them either.
I have purchased many brands of these paints and usually find them easy to use and have good results.
So why make your own? Some factors can be the cost. A quart of the name brand chalk paint can be around $38. There are limited colors. Sometimes you can't find local to you.
Again, you will find several different recipes out there for making your own paint. This is the recipe I came up for myself and have been perfectly happy with it.
What you need:
½ Cup Plaster of Paris
¼ Cup Water – room temperature
1 ½ Cup Latex Paint
I have used flat, eggshell and semi-gloss and get the same results with each.
This large bucket of Plaster of Paris was only about $10 at Michaels but of course I used my 40% off coupon.
I like to use an old spaghetti sauce jar for mixing this up, plus you can store it for a few days. This isn't meant to be paint to be stored long term since the Plaster of Paris can sometimes start to set up.
Clean the jar and lid well.
Pour 1 ½ C water in empty jar and make a line.with a Sharpie. Paper is for photo only.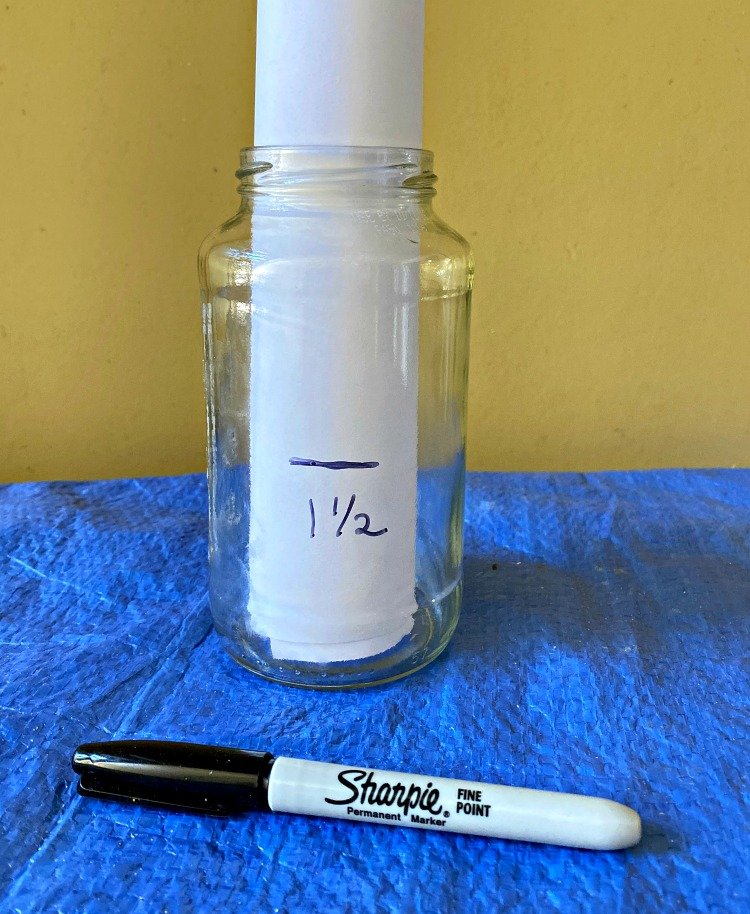 Empty water out and fill with your paint to the line.
In a separate clean jar, mix your water and Plaster of Paris. Shake vigorously for about 30 seconds. This mixture should be lump free and about the consistency of pancake batter. If lumpy, shake a little more.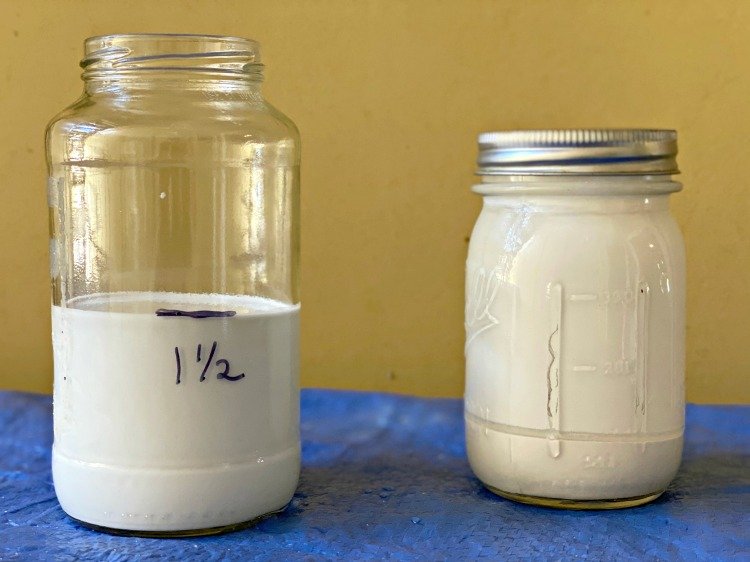 Pour this Plaster of Paris mixture into the jar with paint. Again, shake vigorously for about 30 seconds. This mixture will still be just slightly thicker than normal latex paint. If it seems too thick, you can add a little water to reach a normal consistency. Sometimes the weather and humidity can play a factor on how your paint mixes.
You will need to stir or shake this paint as you are using it, maybe about every 15 minutes. Also, after it has set, you need to stir or shake again, and possibly add a bit of water.
Prepare your piece for painting as usual. Now you can proceed to paint your project as you would with any other paint,
Use a brush designed for latex paint for best results. You may see some brush strokes, but after your second coat it should even out. Depending on what you are painting over, usually 2 coats will cover, but sometimes a third might be required, for good coverage.
Drying time will be about 1 – 2 hours per coat, again depending on where you are painting and weather. You would never want to paint out in hot, direct sunlight as it might cause drying too quickly.
Sanding – most of the time this won't be required between coats, or after the final coat, but if you are looking for an ultra smooth finish, you can use 360 – 600 grit sandpaper. Or, I have found a piece of brown paper bag works well too.
Let this dry and cure overnight before proceeding to any finishing steps whether it's waxing, staining, distressing, or glazing for best results.
PLEASE NOTE …
Preparing the piece to paint. No prep can sometimes be misleading. First and foremost it has to be clean and dust free. Really rough surfaces or chips, can be sanded lightly.
**Plaster of Paris can be dangerous if inhaled, so wearing a mask is suggested while mixing
Since the Plaster of Paris is white/cream in color, it can affect the finished color of your paint. Black will become a very deep gray so you may want to test your color before painting. Remember to let it dry, as it will have that chalky, flat finish.
This post is concentrated on making chalk type paint, not how to paint and finish your furniture pieces. This can vary also depending on what type of piece you are doing plus how you are using it.
A DIY Chalk Paint Recipe can be made for large or small projects. Decrease by half or double a batch. You always want to have enough for a completed project since each batch of DIY Chalk Paint Recipe could mix a bit differently.
Need a few painted pieces to be inspired – not all was done with my own paint.