MY $7 ENTERTAINMENT CENTER
Who knew I would be able to make my $7 entertainment center and love it so much. To start, find an old dresser – easier said than done. Well, sometimes. This time it was pretty easy and so happy with my final results. I thought I would share this again as it will soon have a makeover although I still love it, time for a change. Please excuse the older photos.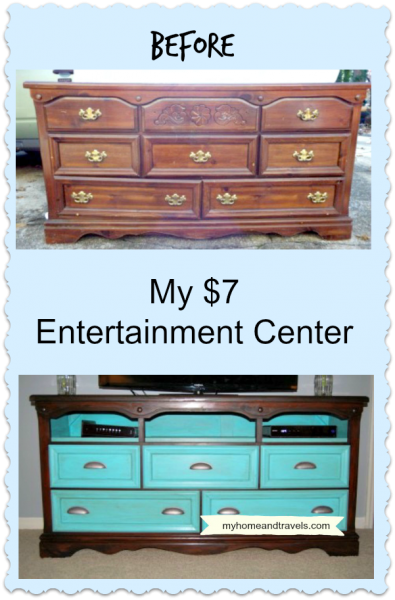 I had told my husband to be on the lookout for a dresser which was sturdy and all wood. To my surprise the next morning he called and said he found one at a church sale, described it (he was not in a good location for messages so no picture could be sent), then I asked the price – $7. Was he sure? Was there a missing zero? Nope, $7 – grab it. For that price, if I couldn't use it, I could always donate it or sell it. For this price, it was worth the risk.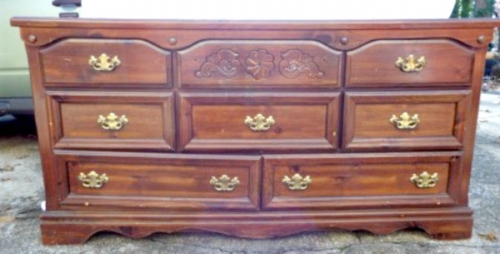 To my surprise when he drove up with it I was thrilled with his find. I already had a plan in mind on color and stain, so now to get started.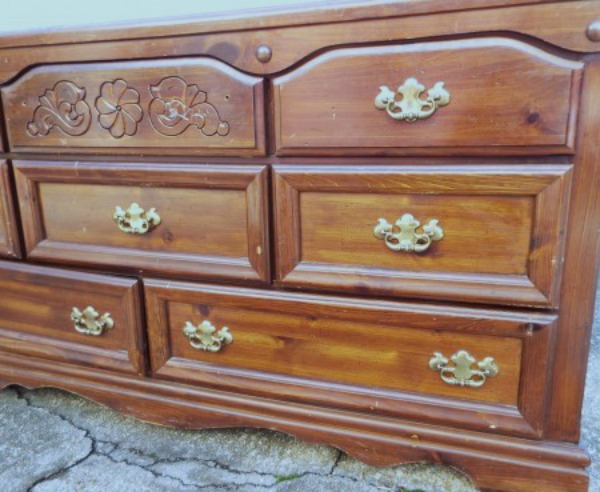 After removing the hardware, I gave it a good cleaning with a non-oily wood cleaner, then hit it with a sander to smooth out a few rough spots. It was going to be stained and painted, maybe distressed, so I wasn't worried about it being in perfect condition.
After sanding and dusting, it was wiped down with a tacky cloth to remove any other dust.
Original plan – top would be stained and base and drawers painted. Remember, plans can change.
I started painting the drawers with General Finishes Patina Green, my favorite color of theirs at the moment. But, it was a bit bright, even after adding a top coat of General Finishes Van Dyke Brown it wasn't the color I was going for.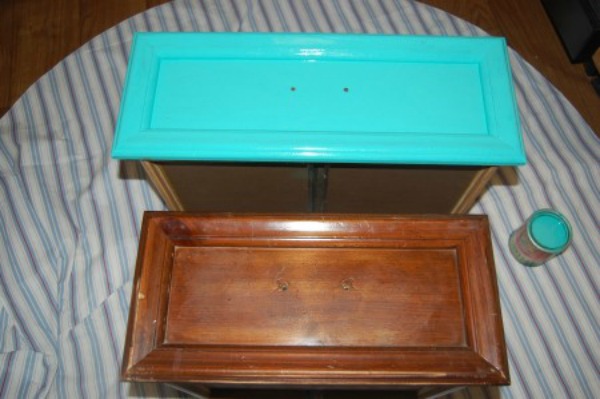 I added ½ C Snow White to 1 C Patina Green, but still too bright. Now another ½ C Snow White but also added ½ C Seagull Gray to take some of the brightness away. Loved it – ready to paint.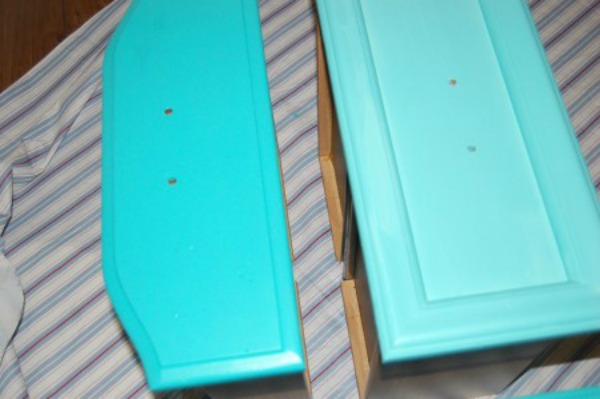 After all the drawers were painted with my paint mixture, and allowed to dry overnight, I applied a coat of Van Dyke Brown. It was rubbed on fairly thick with a soft cloth, then immediately wiped off. Again, the longer it's left on, the darker it dries.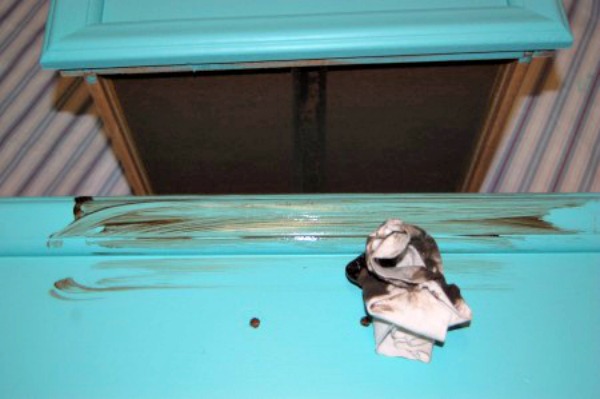 Also, with this being a water based product, it will dry rather quickly while applying.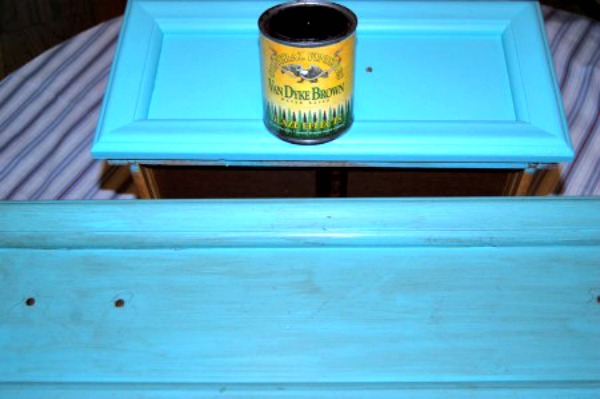 NOTE – Painting can be a bit of a science just like baking, adding a few ingredients until it's just right. Always start with your original color in a small amount as to not waste any of your product. But in doing this, you do want to mix enough of this to complete your project.
Another change – after loving the General Finishes Java Gel on top, I decided to do the entire base in it also, leaving just the drawers painted. To apply the Java Gel, I wiped on a heavy coat with an old cotton rag, then wiped this off with a second cloth within about 15 – 20 seconds. The longer you leave it on, the deeper and richer the color will be.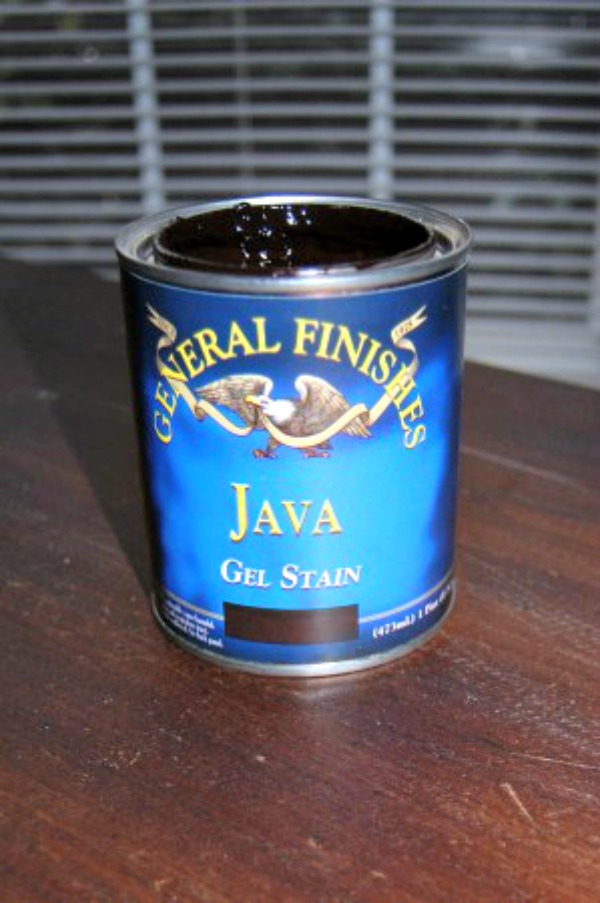 Work in small areas so the Gel won't dry too quickly but always going with the grain of the wood. After allowing to dry (follow directions on can – I let each coat dry overnight), I used a #320 grit sand paper to give it a very light sanding. This step was repeated a second time and allowed to dry overnight.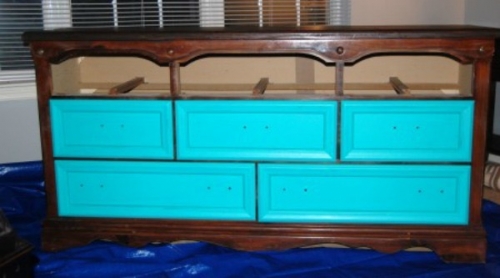 To make this into an entertainment center the row of top drawers won't be used. The glides were removed and inside area painted and stained. This picture was taken before the stain was added to the drawers. Always look closely at your project as you go along, easier to make changes as you go, instead of waiting til the end.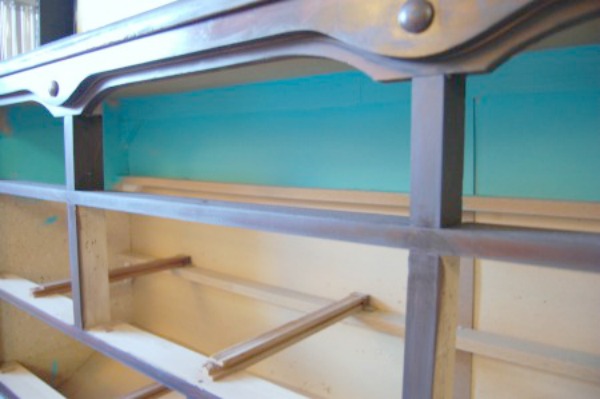 Plywood was cut to fit to make shelves. In order to get the proper size shelves to fit inside, I did have to cut them in 3 pieces. Again, these were painted and stained.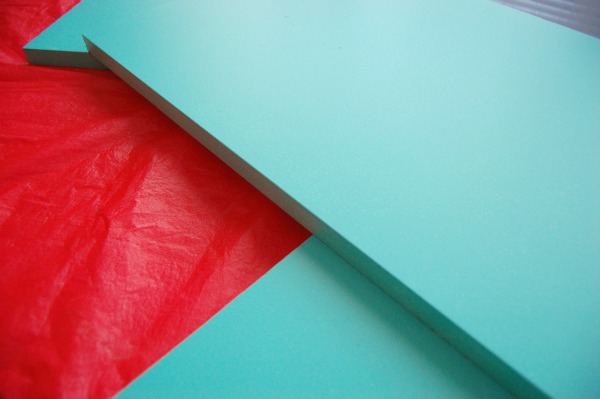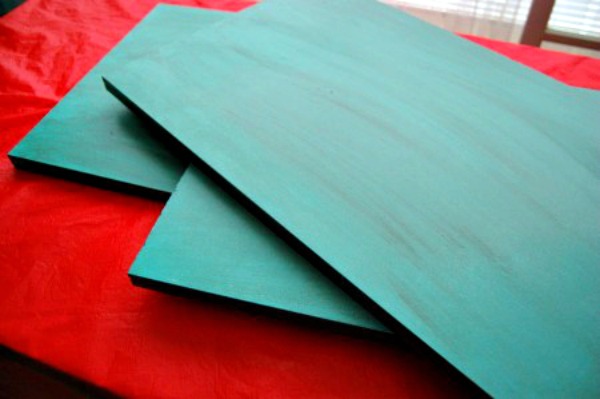 Holes were drilled through the back so cable wires could be run through. Using my Ryobi drill and a paddle bit, made this an easy job.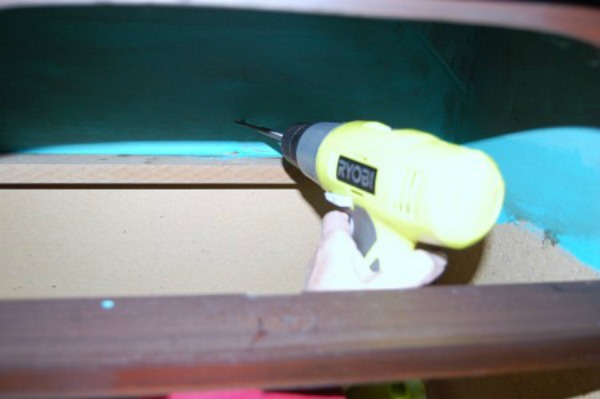 Because this piece would be used a lot, I did a top coat of General Finishes High Endurance using a small foam roller and foam brush. A soft cotton rag was used to wipe away any excess to give it a smooth coat. This had to dry almost 3 days for me to use. One reason for this long of a time is the High Endurance is water based and the Java Gel is oil.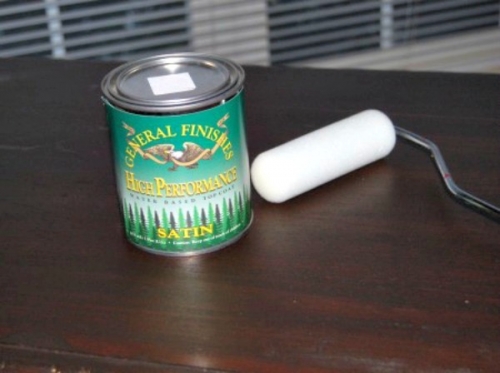 As in all painting and refinishing there can be many factors on drying times – how thick it's applied, heat and humidity. Just don't rush this process.
D Lawless provided me with these Tumbled Pewter Plain Cup Pulls.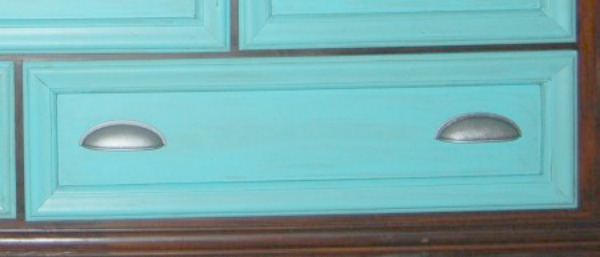 I love how the Pewter color also adds a softness to the drawers since I wasn't going for a high contrast.
In about a week I took this $7 yard sale dresser into a fantastic entertainment center.
This proves to always look for a diamond in the rough.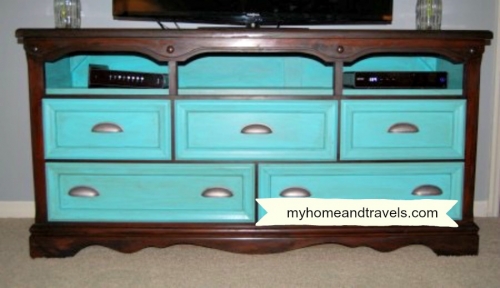 If you like to bring new life to old pieces, you might enjoy these makeovers also.
I've included affiliate links to Amazon for you to find some products easier. I may receive a small commission, but the price is the same for you. It just helps my blog out.
Happy Travels,
Rosemary