Homemade Cleaning Products
GLASS CLEANER
Another way to reduce cost of cleaning supplies plus bringing a few less toxins into my home, I have started making a few more household cleaning items. I had always used a mixture of water and vinegar on large windows or in my car as it doesn't streak as many of the store bought types do. I would only mix up a small bowl full, but then ended up throwing it out when done.
I have come across a recipe for what I fee is the best glass cleaner. Perhaps it is using the alcohol which makes it dry quicker to prevent streaking. Plus, you probably already have all of these items around the house.
Here's what you need:
1 cup rubbing alcohol
1 cup water
1 tablespoon white vinegar
Just mix all of these items together in a spray bottle. You can either purchase a new spray bottle for only a $1but if you have an empty cleaning bottle you could use it also. If it was a bottle with bleach, I don't recommend using it. For other cleaners, I will remove the top and soak it in a hot, sudsy pan of water for about 15 – 20 minutes. Fill the bottle with the sudsy water and spray it through about 15 – 20 times then rinse the bottle well, and squirt the clean water about 15 – 20 times again to rinse it out.
Make sure you label the bottle well especially since it is clear. Always store out of reach with all other cleaning products.
There are about as many ideas on what to use for cleaning your windows from microfiber cloths, newspapers, to coffee filters. I have used all of them and haven't found much difference in them. I don't recommend most paper towels as they will leave lint on your window.
LAUNDRY DETERGENT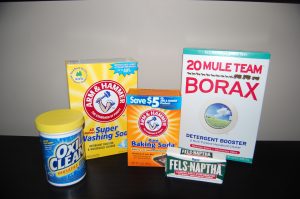 The BEST Homemade Laundry Detergent
Here's what you will need
1 (4 lb 12 oz) Box of Borax
1 (3 lb 7 oz) Box of Arm & Hammer Super Washing Soda
1 (3 lb) Container of OxiClean
2 (5.5 oz) Bars of Fels-Naphta
1 (5 lb) Bag of Arm & Hammer Baking Soda
I normally only make a half-batch due to storage plus, it only takes a few minutes to make.
Using a cheese grater, grate the Fels-Nephta soap on the largest grate avaialable. After it's grated, place in a blender or food processor with blade attachment and pulse until you get a fine powder.
In a large bucket or container, mix your soap with other ingredients and stir well. I use a large stainless steel spoon.
After mixing well, you need to store in air tight containers marking it well.
To use – start the washing machine. After it fills with a little water, add 2-3 Tablespoons of the detergent to the water and let it agitate a minute before adding your clothes. This detergent will not make suds or bubbles as your normal commercial detergent does.
Others have used this in a HE front loading machine. If so, use about 2 T of detergent with 2 T hot water before adding to the dispenser. I have a top loading machine, so I have never tried this. ***NOTE – I don't have a HE machine, and I've seen mixed reviews about using this in them. Check your owner's manual.
Another option if you want a scent to your detergent, is to add about 20 drops of your favorite essential oil. To make mixing a bit easier, after you have all ingredients combined, take about half of your mixture and add the oil to it. It will clump so you will need to use a fork or whisk to get it distributed. You can then add this back into your other mixture. This is strictly how much of a scent you want added so you might even try less in the beginning and add more as desired.
I've included affiliate links to Amazon for you to find some products easier. I may receive a small commission, but the price is the same for you. It just helps my blog out.
Happy Travels,
Rosemary