Turning Trash to A Treasure
If you are like me, you are always on the lookout for new things for your home but don't want to spend a lot of money. When I saw this stool at a neighborhood yard sale for only $2, I knew it was a perfect piece for turning trash to a treasure.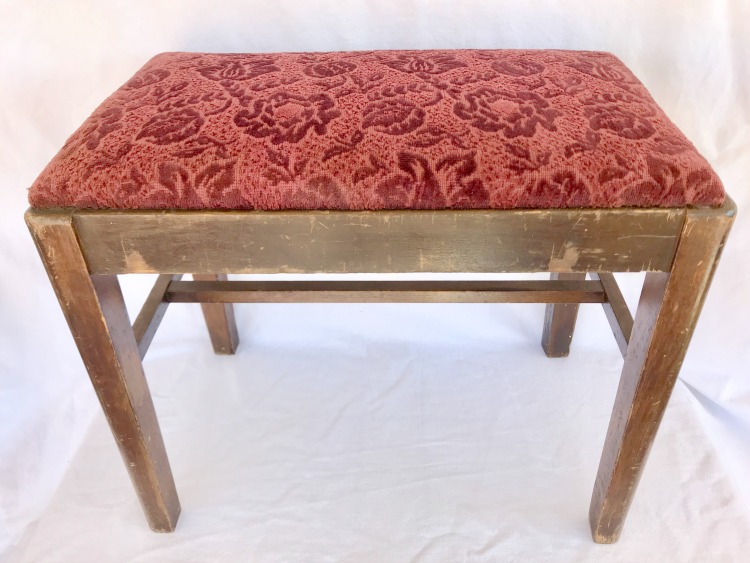 This post is all about the paint. Tomorrow you will see the post for recovering the seat.
I wasn't sure where I would use it, but then after thinking about it, it would be perfect for the desk in my living room. Although I had a chair for the desk, this little stool could be stored under the desk to not take up any floor space. It would also be used for additional dining room seating when needed.
When buying older pieces like this, I look for it to be in good shape and sturdy. I'm not great with repairs even on a $2 piece. This one was in great shape.
The old top was removed by just unscrewing it from the base. More on this later.
Painting a project:
With anything, whether it's a project like this or even a picture frame, the first thing to be done is clean it. My go-to cleaner is TSP. Never use anything which would contain a waxy or oily substance as this can prevent the paint from adhering properly.
After a good cleaning, a little sanding is always on my list of to do for any wood item. Normally sanding down to bare wood isn't necessary for painting, you just want to smooth out any rough edges and remove any shine on the surface.
A small sander like this Ryobi is so handy for all of your DIY projects around the house.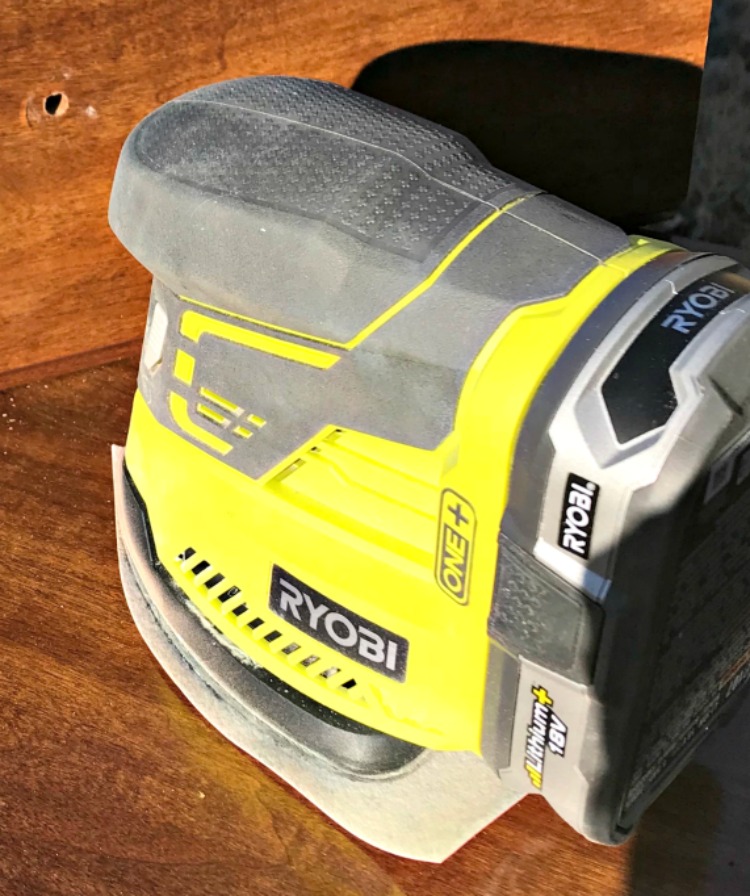 A good cleaning again is needed to remove any dust particles.
Now the paint – make sure you are using a paint suitable for your project, and always read and follow the directions on your paint can.
My favorite paint for most projects is Black Dog Salvage Furniture Paint, but it's not just for furniture. See the details below about this paint.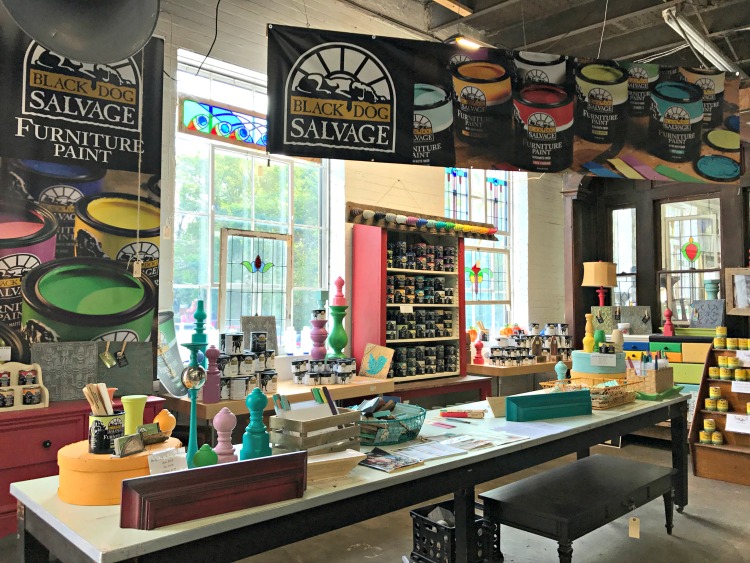 At first I was going to mix some white with the black but then remembered they have custom recipes on the website so I checked it out.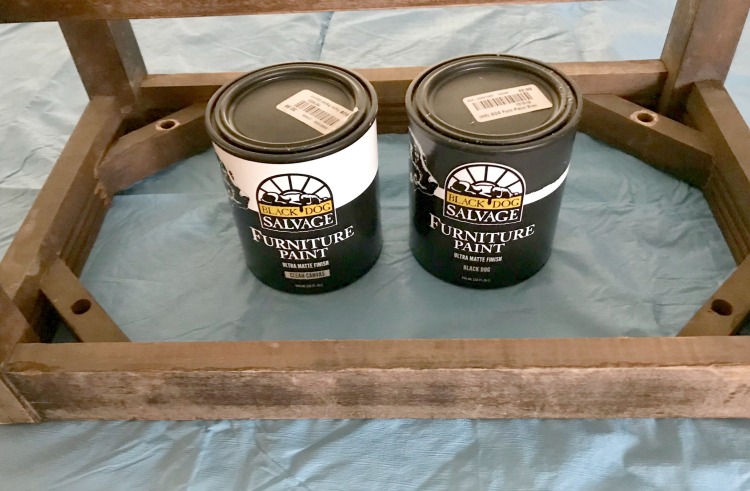 I used the recipe for Coal Dust – which is 2 parts Black Dog and 1 part Galvanized. Don't you love these paint color names?
After stirring both cans well, I mixed the two colors together in a small cup. It's also important to stir your paint during your painting process also. You will find on the directions to stir this paint, not shake.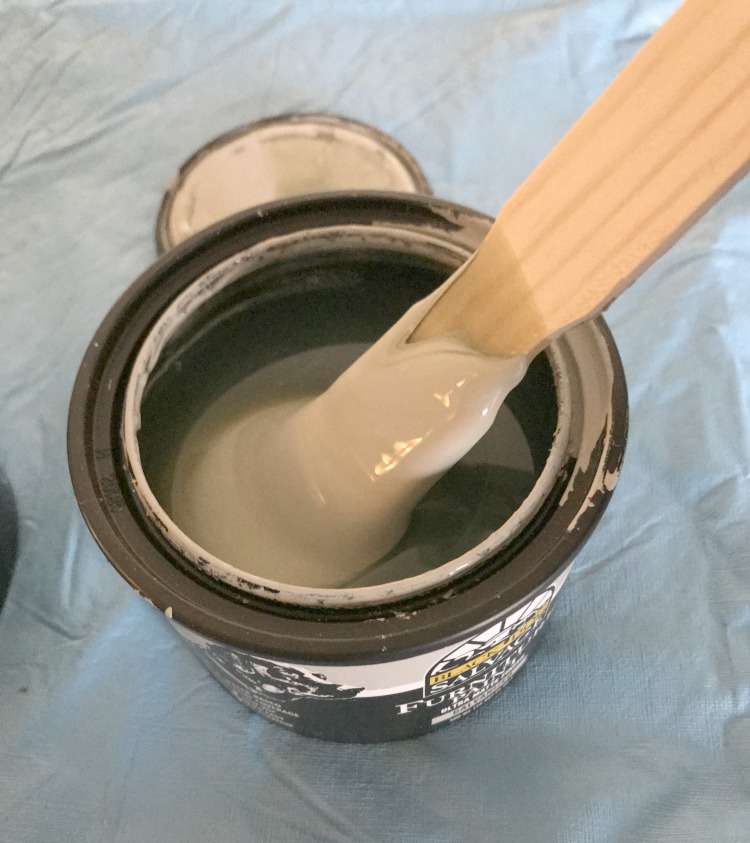 It went on smooth and was that darker gray – soft black color I was looking for but after it dried, it wasn't quite as dark as I wanted. The beauty of this paint was I was able to just add a little more black to the mixture to achieve the color I was going for.
Sorry to say I had a senior moment while painting – no pictures of the process.
When mixing any custom paint colors – always mix enough for your project.
This paint will cover in 1 coat in most cases, but I usually tend to go ahead and do 2, especially since this dries in a couple hours.
Let the paint cure for about 24 hours before applying the topcoat for best results.
Now the painting portion of the project is complete so come back tomorrow to see how easy recovering a bench or chair top can be.
Here's the finished stool – what do you think?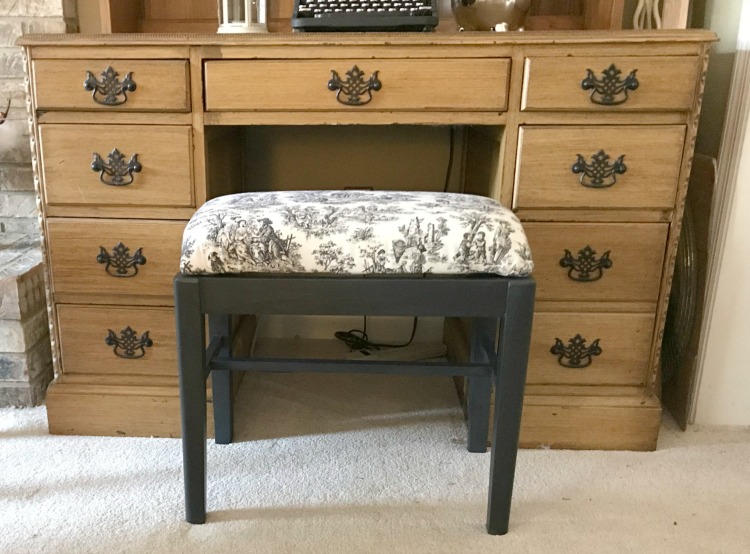 Using a good quality brush for any paint project makes the final outcome better also. These BDS brushes come in three different sizes. The round handle makes holding it for a longer period of time less tiring on my hand too.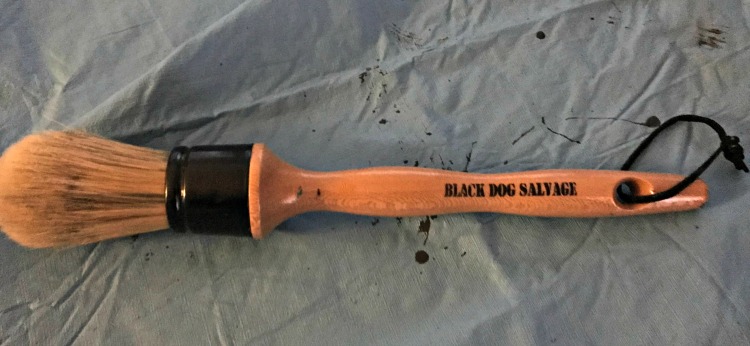 BLACK DOG SALVAGE FURNITURE PAINT
It will adhere to many surfaces including wood, ceramic, glass and metal. It's a low odor and low VOC. The "self-leveling" feature helps to prevent those pesty brush marks.
You can even find custom "recipes" for making your own colors, but any of these paints can be mixed with each other for you create your own color.
For full details about the paint and recipes, see the links here.
A topcoat is required to protect the surface and you have a choice of matte or satin finish. The choice is yours.
You can order direct from Black Dog Salvage or find at any Woodcraft Store.
Robert & Mike from Black Dog Salvage will be appearing in Knoxville on February 17 – 18. More details on that to follow also.
Want to learn more about BDS paint and how to paint, I'll be announcing a couple of workshops for March at Woodcraft here in Chattanooga.
I've included affiliate links to Amazon for you to find some products easier. I may receive a small commission, but the price is the same for you. It just helps my blog out.
Happy Travels,
Rosemary