Striped again – an old nightstand has new life
You may know by now that I love stripes and with a little painters tape, it's an easy way to add dimension to a furniture piece. Being striped again an old nightstand has new life.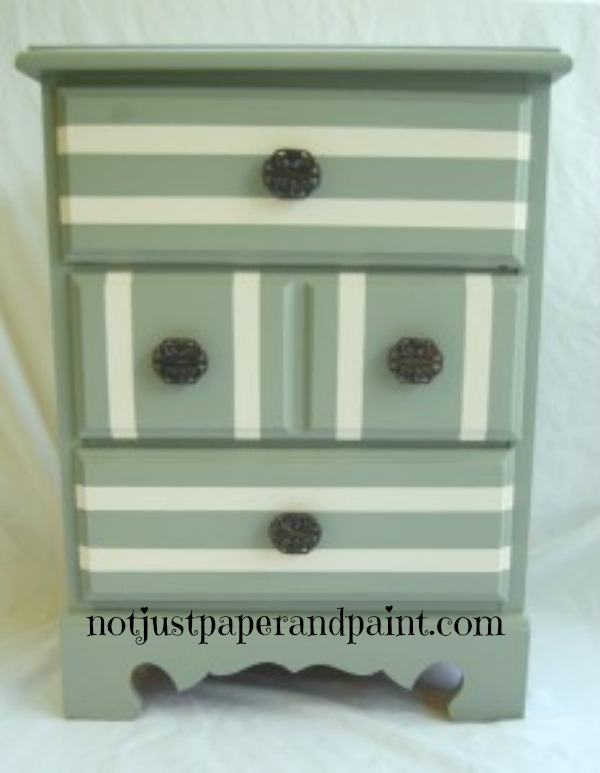 Need to refresh a piece of furniture, or maybe add a piece, consider something you have picked up at a yard sale or thrift shop and paint it. Wanting to refresh a corner in my living room, I had this $5 yard sale night stand and knew it would make a great side table, adding a bit of storage.
My paint of choice was General Finishes Milk Paint.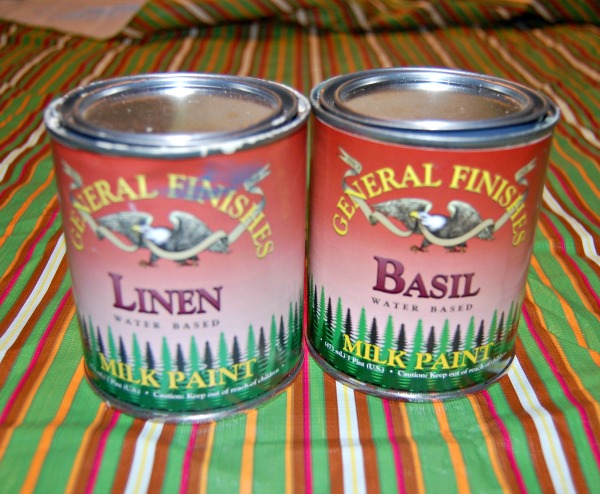 You always want to check the manufactures directions on any product for suggested use and prep work. After removing the hardware, I cleaned it with Murphy multi-use wood cleaner, sanded the entire piece lightly to remove the shiny finish and rough edges. If changing the size or type of hardware, you will need to fill in the holes with wood putty and allow time for this to dry. Follow directions for application and drying. Drill the holes for the new hardware. Wipe down thoroughly to remove any dust particles.
I wanted to add interest to the piece by adding stripes, a process easily done using 3M ScotchBlue Painter's Tape. Coming in a variety of widths, I chose 1". Plan a design before you begin to paint. I actually changed my design up a few times before the final one was chosen.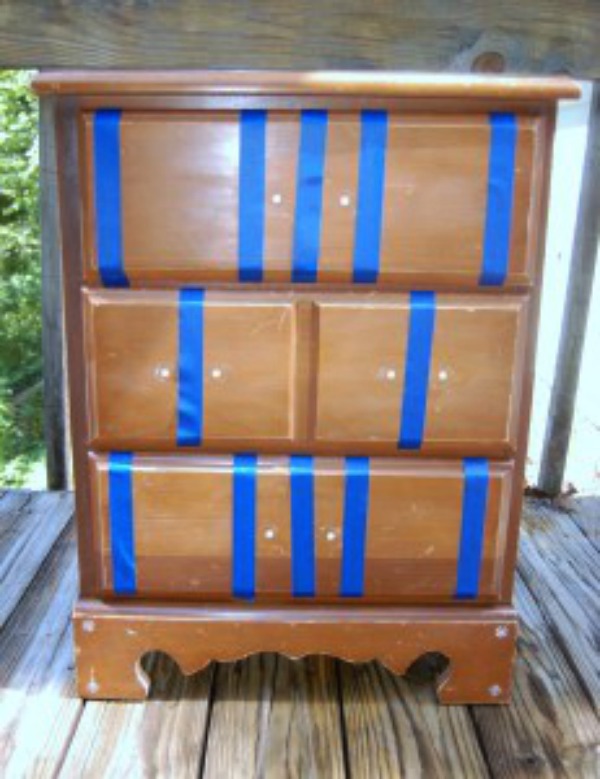 You are now ready to paint. I chose Basil for the base and Linen for the stripes. This is where your artistic and fun side can be shown.
Usually 2 coats of paint will cover most surfaces, but depending on the color you are covering up, it could require additional coats. Thinner coats are better and will dry quicker. Follow the directions for drying times between each coat. Sometimes a light sanding between coats is needed. I allowed this to dry 24 hours before using tape.
Apply the tape in your chosen design. The big secret to getting those clean, crisp lines is how you apply your tape. Use an old credit card to burnish the edges of the tape to prevent paint from getting under the edges. Go over it several times always in the direction the tape is laying.

Using your stripe color, paint a very light coat in the direction of the tape to make sure you have your edges of the tape covered well. Using a 1 ½" angled brush, apply a very light first coat. Allow to dry then paint your second coat. Almost always when I'm doing a light color over a darker color, a 3rd coat is needed, especially since your first coat was just used to secure your tape lines.

Immediately after your final coat is applied, remove the tape carefully pulling in the direction the tape was put down.
No matter how careful you are in all of these steps, you can still get that little uneven edge. Don't worry, it can be fixed easily. You may have to reapply tape in some areas, or using a small artist brush, you can touch it up.
After the piece is dry, you do need a protective top coat. Since I knew this would get a lot of use, I used General Finishes High Performance. Again, follow the directions of the top coat you are using. Let dry then attach your new hardware and admire your finished piece.
I've included affiliate links to Amazon for you to find some products easier. I may receive a small commission, but the price is the same for you. It just helps my blog out.
Happy Travels,
Rosemary