Taking a Molly's Trolley Tour in Pittsburgh
When you're visiting Pittsburgh and want to experience the area to learn more about it and see what it has to offer, it's a great idea to take a ride on Molly's Trolley. The trolley cars have been around since the 20th century, commonly used as a method of transportation to get around in the area. People still love it to this day and enjoy riding on the trolley for a fun and exciting sightseeing adventure.
Always remember to make a PINTEREST BOARD for your travel ideas. Click on the link for mine.
Enjoy a Comfortable Experience
The vintage-style trolleys offer a comfortable and enjoyable experience for everyone. Each trolley can conveniently fit up to 30 people. Padded benches are available for guests to sit on while riding through the city. These vehicles come equipped with heat for cold days and air conditioning for those warmer summer months. They're available all year long and these trolleys are wheelchair accessible, making them pleasurable for anyone to ride in while spending time in Pittsburgh.
Learn About the History of Pittsburgh
Taking a ride on Molly's Trolley is a lot of fun, but it's also an educational experience that allows you to learn more about the city and its history. For example, Klondike Bars, the famous ice cream squares dipped in chocolate, were first created in Pittsburgh.
In fact, these tasty ice cream bars were only available in Pittsburgh and Ohio for a long time, but they're now available in most cities and states. In addition to learning about the Klondike Bar and who made it, you can learn more about other fun and interesting things that have taken place in the city.
A large Polish Community still exists in the area. This St. Stanislaus Kostka Church is a historic landmark and open for tours, although not on our day to visit. Isn't the architecture just breathtaking?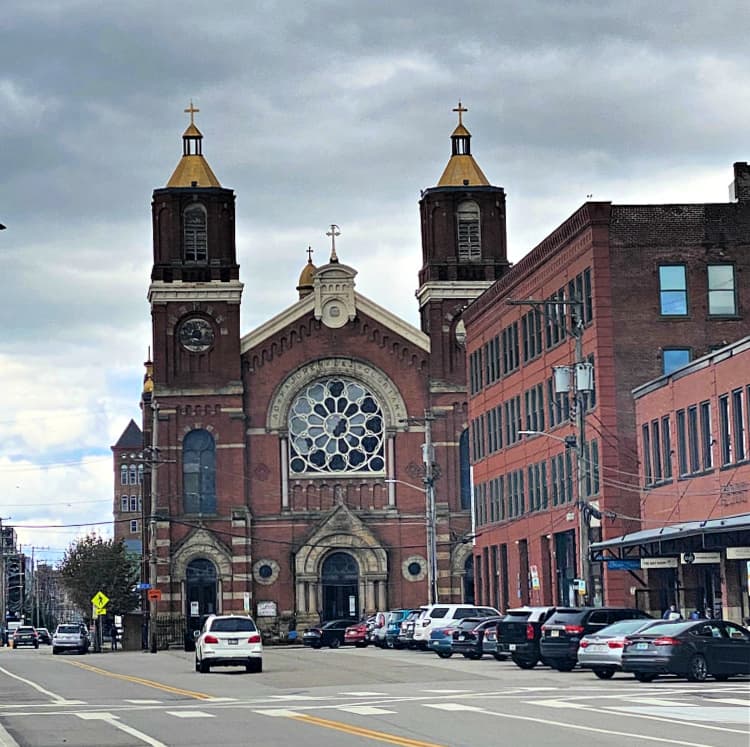 Get the Perfect View
If you'd like to have an incredible panoramic view of the city and the three rivers, be sure to ride the Duquesne Incline.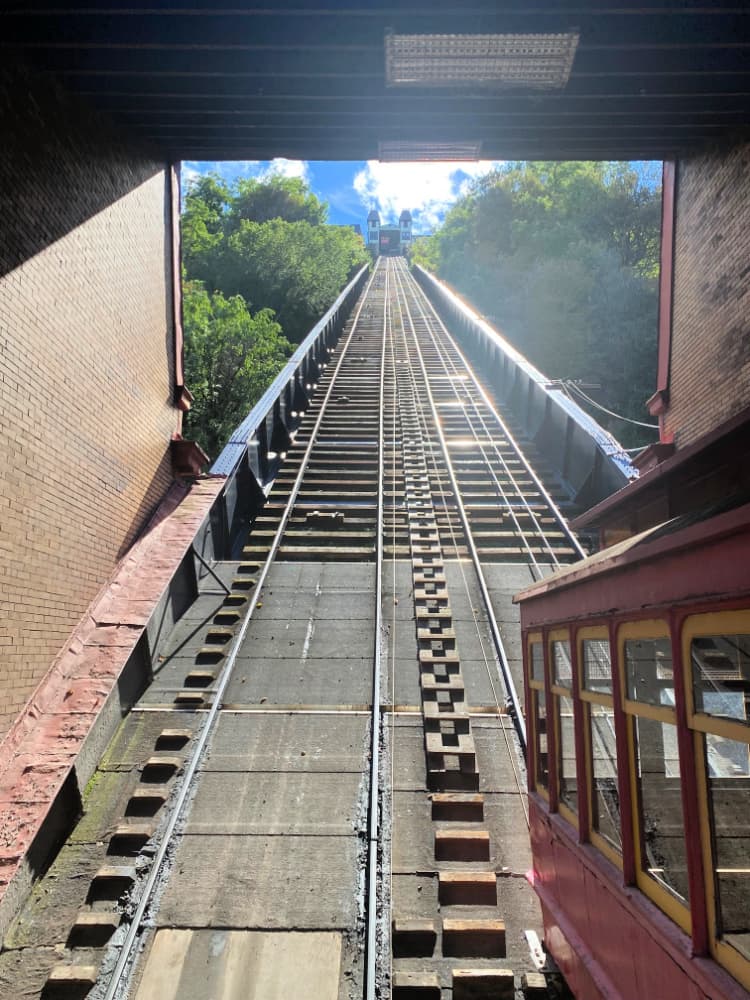 The inclined railway station is a top-rated destination for tourists who want to have incredible sights to see from different angles. This ride was included with the trolley ticket.
The incline was built out of necessity: to transport "the cleaning" people up the mountain to the estates where they were employed. That's very much like the incline here in Chattanooga on Lookout Mountain.
Not only can you see some of the most stunning sweeping views of the city, but you can also visit the history museum that goes over more important information on the city. If you want to see some great sights and learn more about what Pittsburgh has to offer, be sure to check out this local hot spot.
Notice the riverboat – I had a friend visiting Pittsburgh at the same time as we were. They were taking a tour on that riverboat. On my list for next time.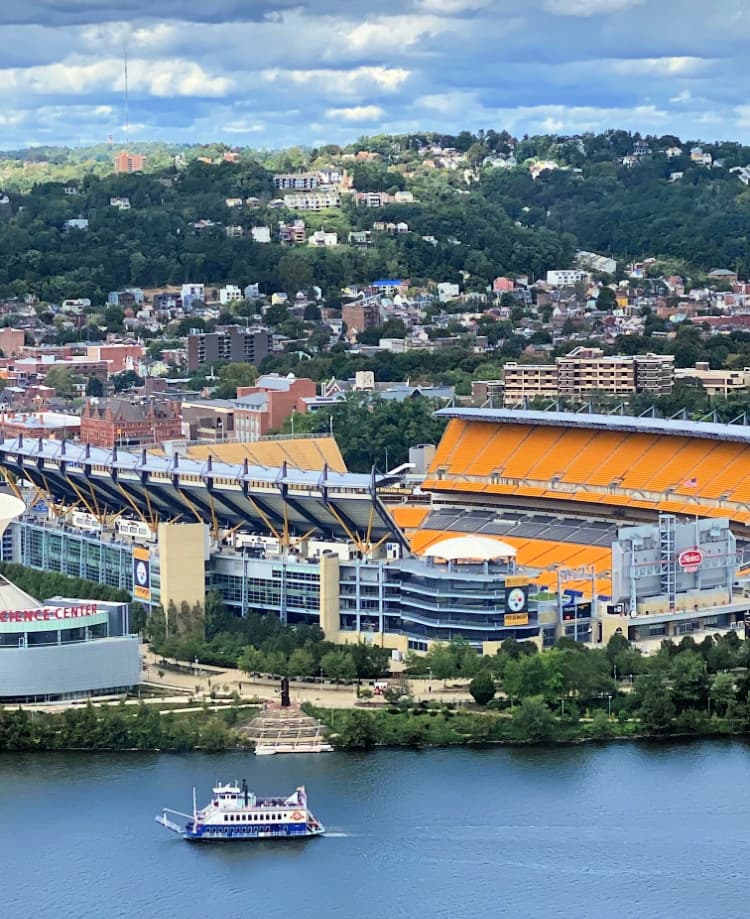 A Few Things You See While Taking a Molly's Trolley Tour in Pittsburgh
Check Out the Many Bridges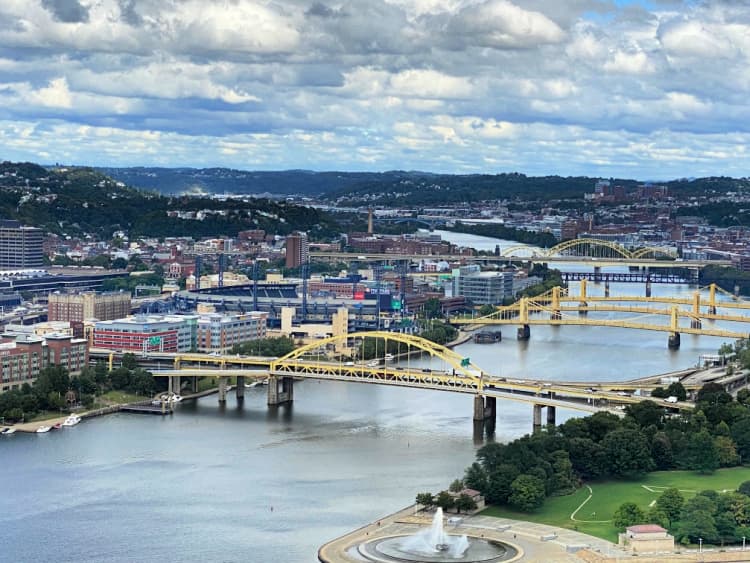 Don't forget to check out the many bridges! Pittsburgh is home to more than 440 bridges, which is a lot more than most of the other cities in the United States. With hundreds of bridges available, you can expect to see a lot of great sights from new heights that are sure to leave you feeling amazed.
The trolley takes you through a lot of the city, including seeing The University of Pittsburgh.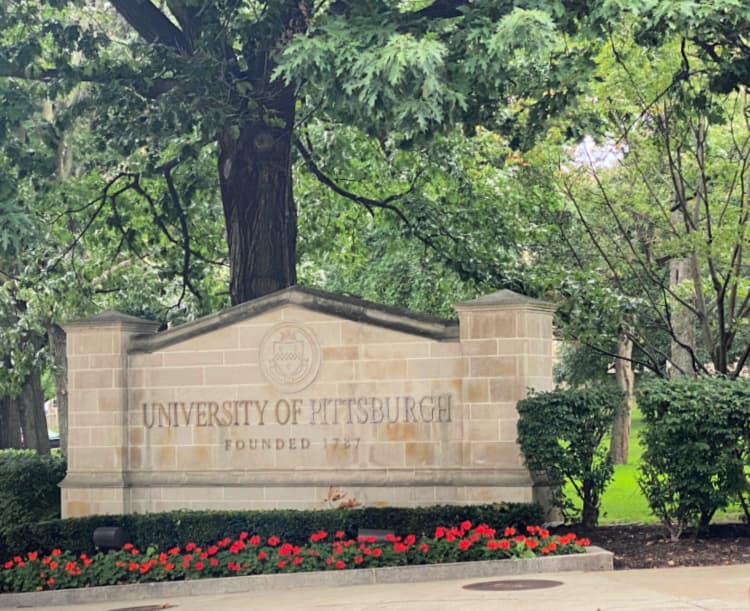 Their resident dinosaur gets decked out for the local teams and seasons.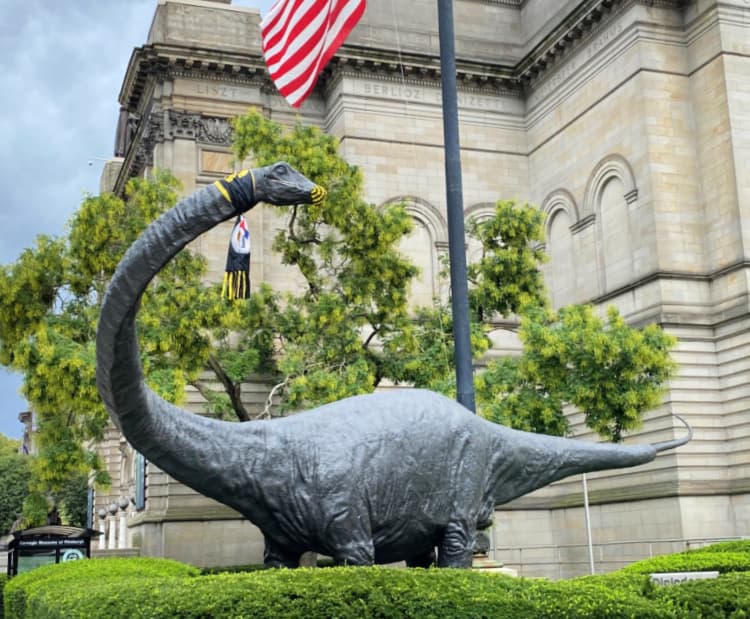 You can get a great view of PNC Park where the Pittsburgh Pirates play their baseball games. Unfortunately they weren't in town during out stay.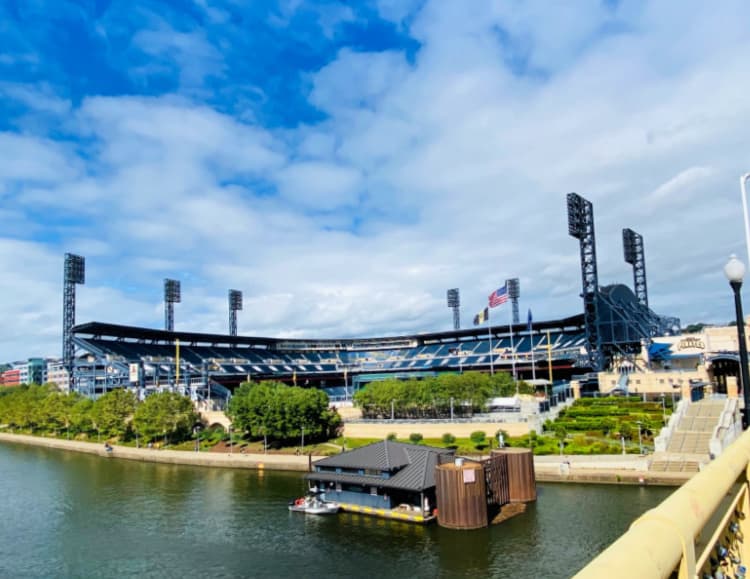 One thing I have always enjoyed about taking a trolley tour, along with learning a bit of history, the guides know some of the best places to visit and to eat.
A stop along the riverfront is a statue of Mr. Rogers. Did you know he's from Pittsburgh?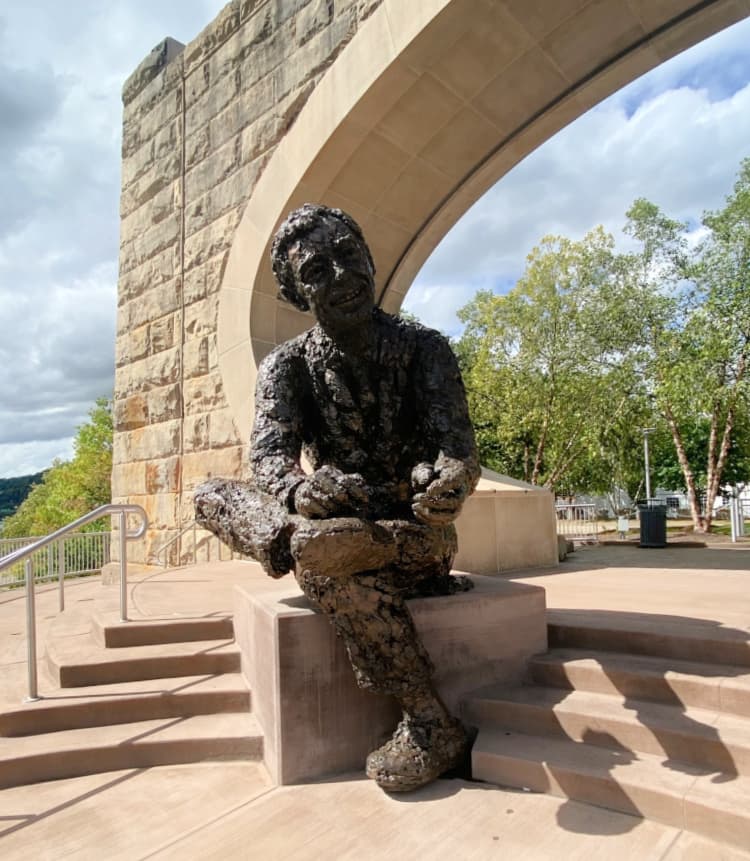 While driving through the Strip District, a few places recommended included Roland's Seafood Grill and Primanti Bros. to eat, Grandpa Joe's Candy Shop for your sweet tooth, and Pennsylvania Macaroni Company for almost any shape of pasta you can think of.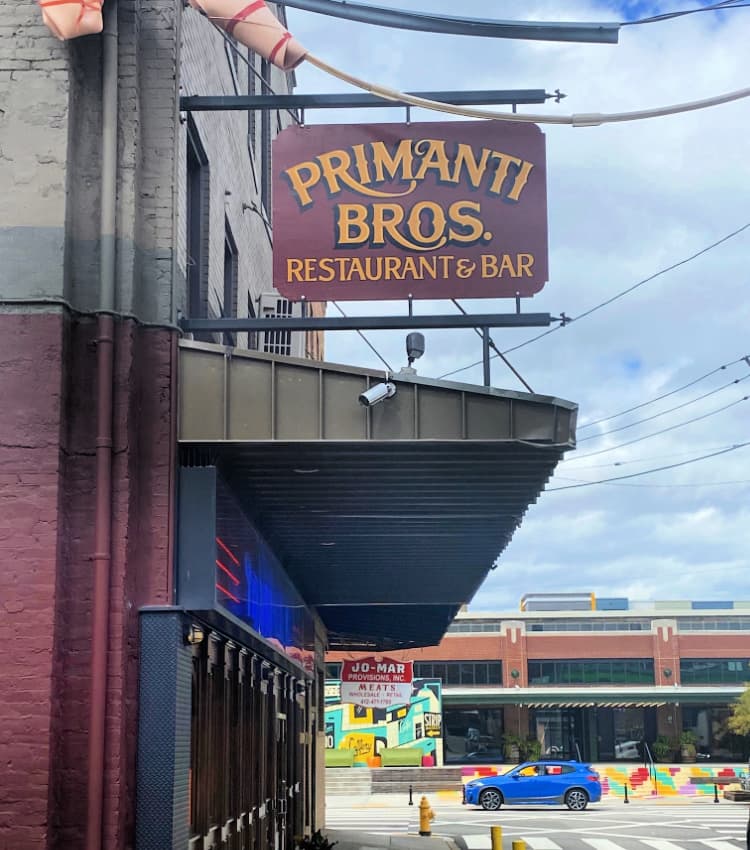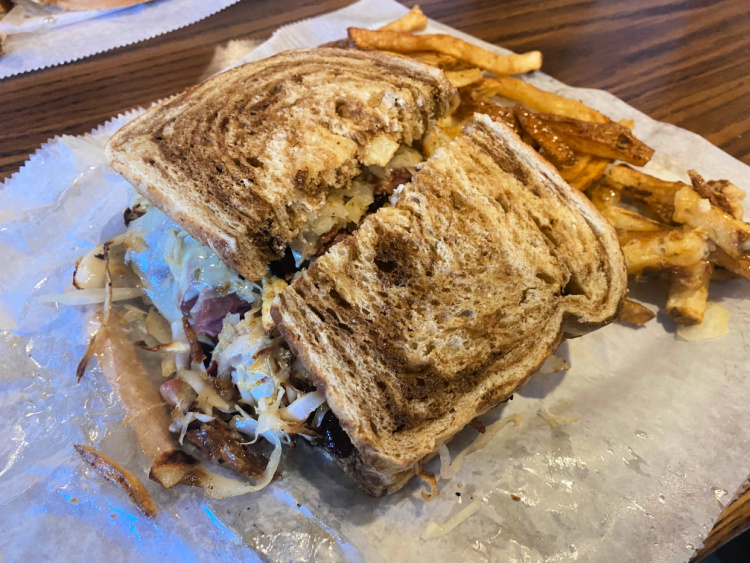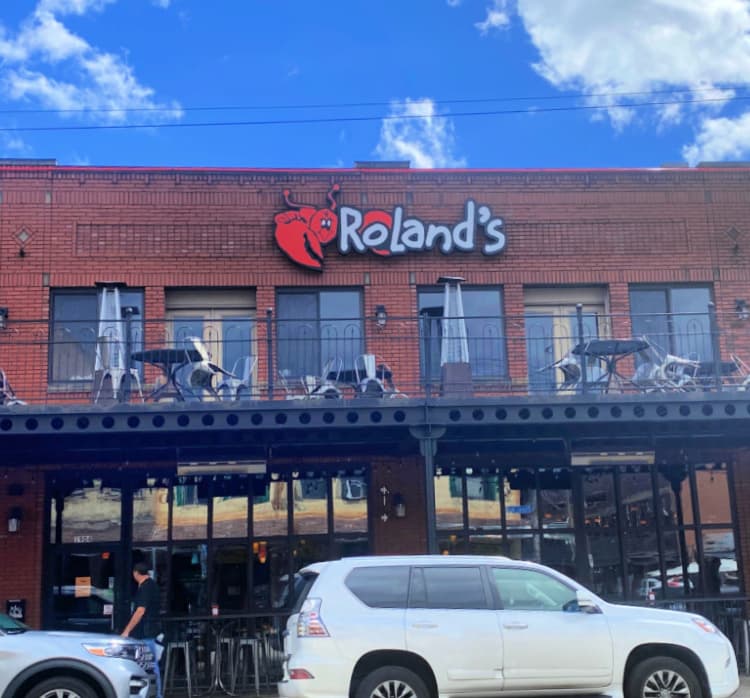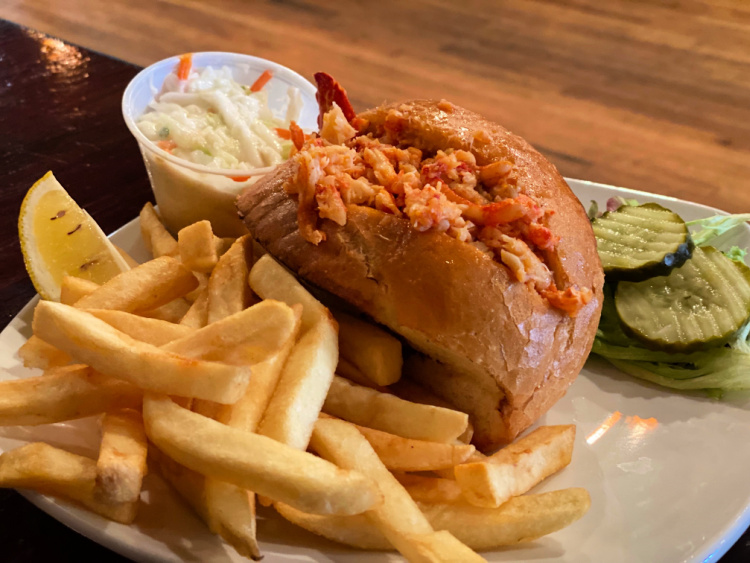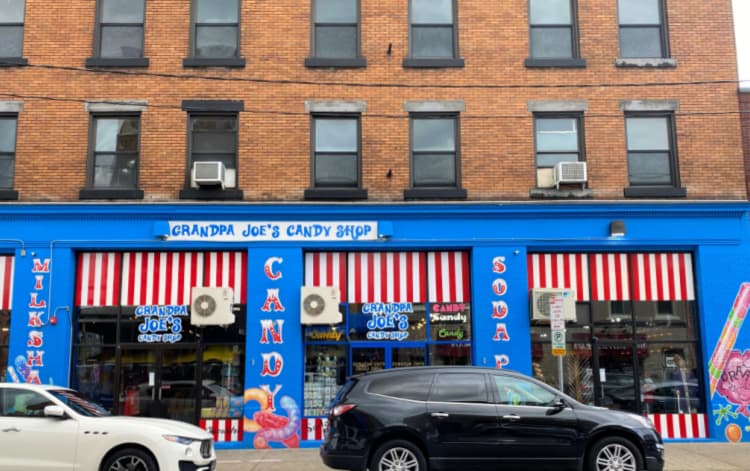 The Senator John Heinz History Center was highly recommended for the whole family. It's full of sports, history, and a display of Pittsburgh favorite son – Mr. Rogers.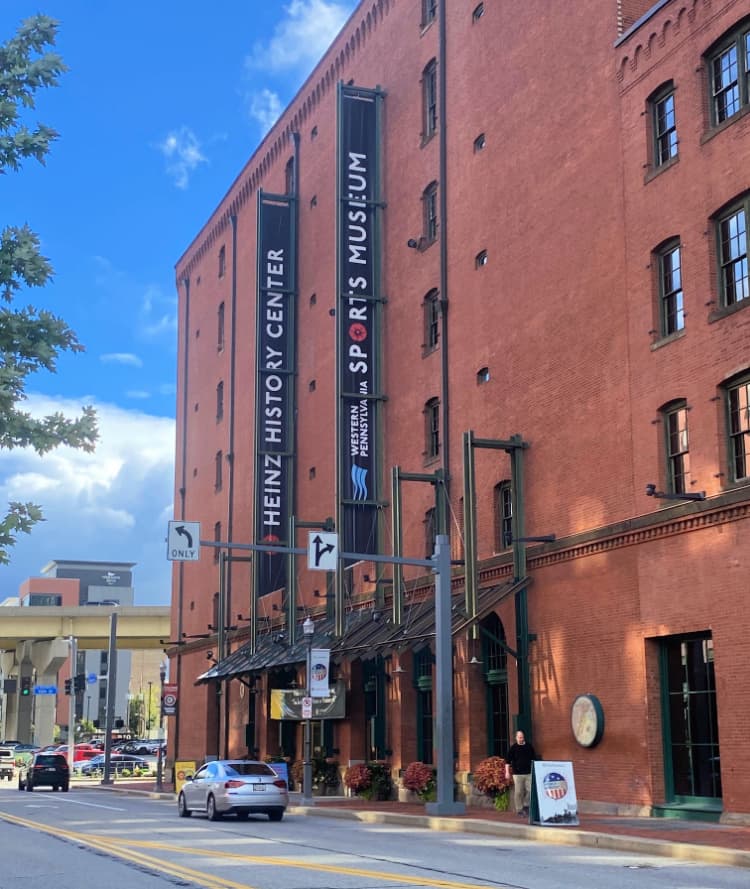 Have a Memorable Time While Touring Pittsburgh
Be sure to take the Molly's Trolley Tour in Pittsburgh to have an unforgettable time with the family. The trolley is comfortable and spacious enough for up to 30 passengers, giving you and your loved ones enough room to sit and take in all the scenery while moving around the city. You never know what you'll see or learn next, but you can expect to have a fun and educational time during the tour.
Other things to check out around Pittsburgh
Staying at the Historic Drury Plaza Hotel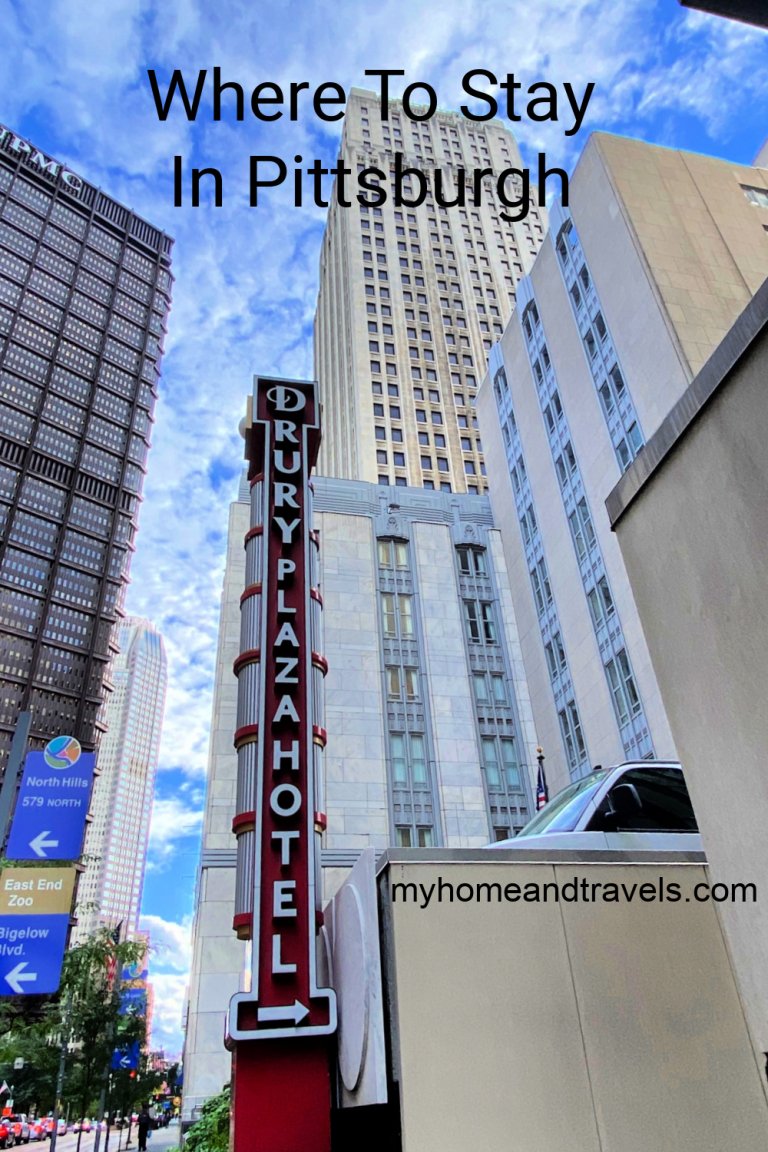 Touring Frank Llloyd Wrights Fallingwater
Chocolate World and Hershey Hotel in Hershey, PA
Want to learn more about VISITING PITTSBURGH. You will even find me in their VISITOR GUIDE (page 16).
I've included affiliate links to Amazon for you to find some products easier. I may receive a small commission, but the price is the same for you. It just helps my blog out.
Happy Travels,
Rosemary