Day Four of Twenty Five Days of Christmas. Anything to do with Harry Potter is beyond enchanting, but that goes double during the holidays. Read on for my favorite things about Christmas Magic in the Wizarding World of Harry Potter!
Do you make Pinterest Boards for your travels? Here's one to Pin for later.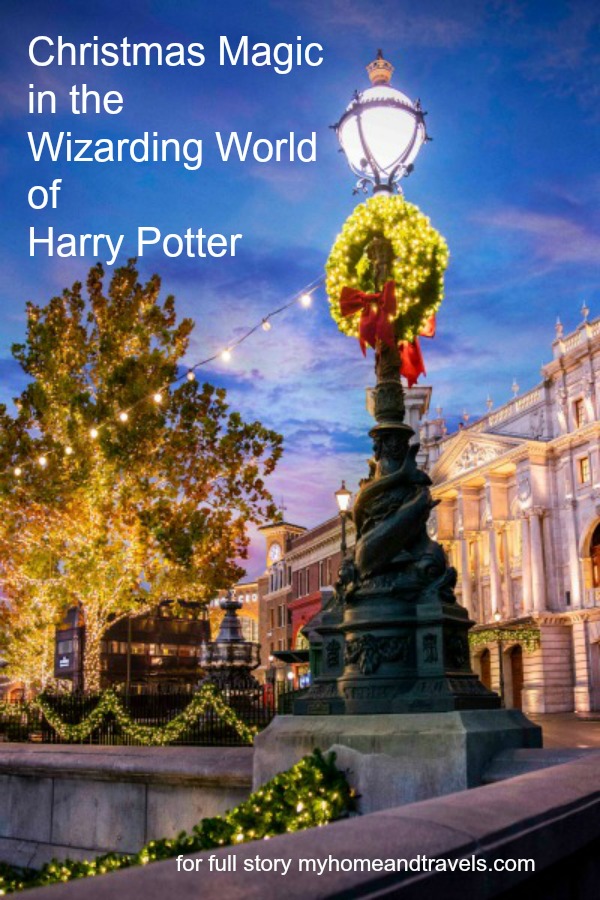 If you aren't a full on Potterhead, I suggest you stop reading now. I'm kidding! Actually, keep reading if, at the very least, someone you love is Harry Potter obsessed. And, frankly, even if you've never so much as picked up a J.K. Rowling novel or watched one of those addicting flicks, you just might find yourself intrigued by the holiday magic that is crammed into every nook and cranny at Universal Studios Florida and Islands of Adventure.
Now, full disclosure, if you haven't read each and every book and if you haven't rewatched the movies a million times, you might not need to visit both parks to get your Harry Potter fix. But if you know, without a doubt, which house the sorting hat would place you in, plan on adding both parks to your holiday agenda because they offer different things! And if I know a fellow Potter fanatic, I bet you won't want to miss out on a moment of wizarding magic filled holiday fun!
Christmas in Diagon Alley
First up, let's talk Christmas on the streets of London and Diagon Alley. Get ready for festive lights and decorations galore. Each wizarding shop has their own special decor unique adorning them. It's hard to catch everything on your first pass, so take your time. This is one case when meandering is more than ok! Your Instagram feed will thank you. Once you've had your fill of those decorations, head to King's Cross Station for cheery Christmas trees and more!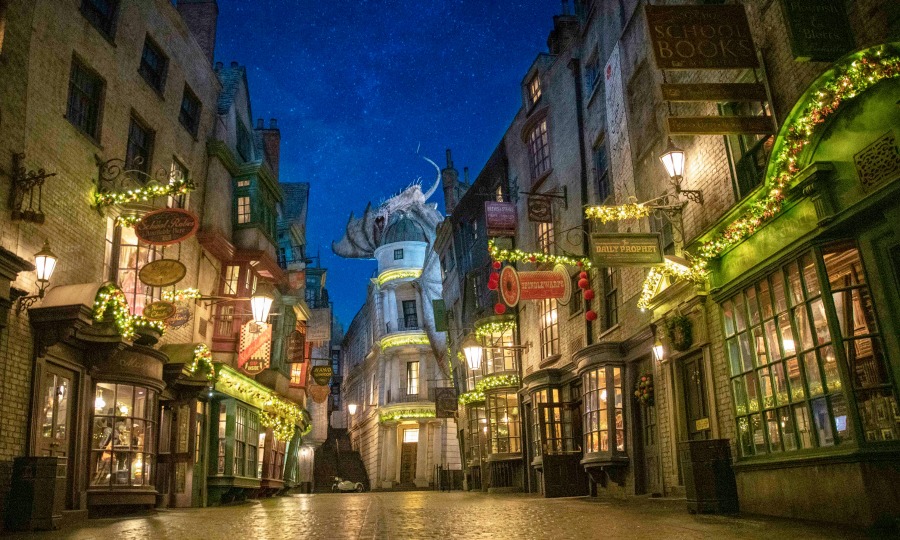 And don't forget to grab a Butterbeer. You'll obviously want to sample other treats too, but a hot Butterbeer is an absolute must! It's only offered seasonally, so don't delay. Grab one at The Leaky Cauldron. If you don't make it there, you can always hit up Three Broomsticks when you head over to Hogsmeade at Islands of Adventure.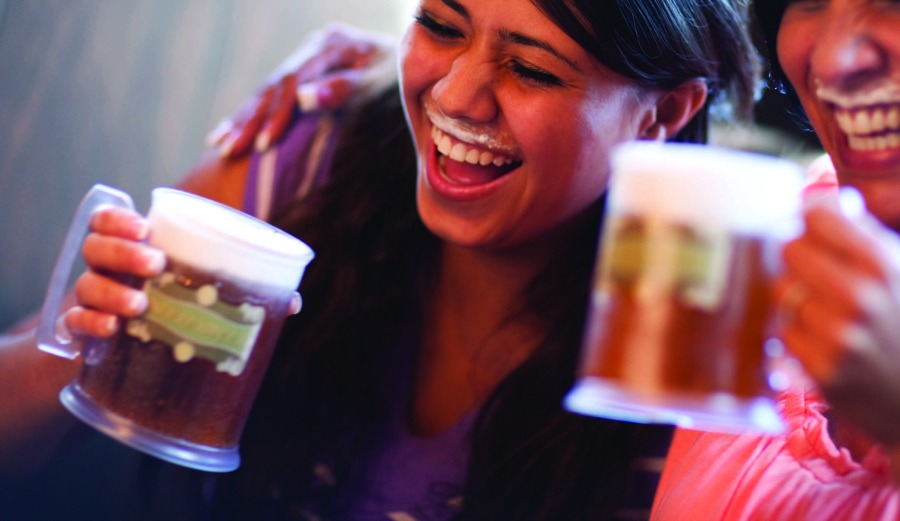 But before you do, make sure you catch the swingin' holiday show from Celestina Warbeck and the Banshees!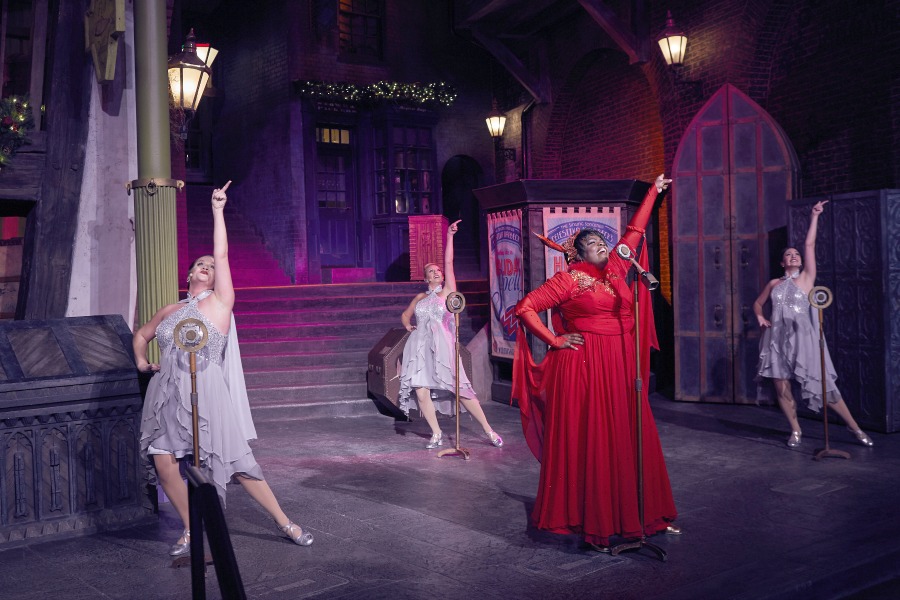 Christmas at Hogsmeade
The projection light show, The Magic of Christmas at Hogwarts, is absolutely spectacular and worth planning your day around. Once that sun drops, you want to make sure you have your show viewing plan in place! Perhaps you'll even take my advice and watch it with a piping hot Butterbeer in hand. I'm confident in saying that you'll thank me. Haha!
During the day you can take in more joyous lights and garlands, along with yuletide tunes from The Frog Choir. There's no such thing as Christmas decorations or holiday music overload, am I right? * And just a tip, if you visit this park more than once during your trip, try riding the most popular rides while the light show is happening. You'll find much shorter lines!
So, are you ready to make your own Christmas magic at the Wizarding World of Harry Potter or what? I knew you would be! Don't forget your wand! Oh, you don't have one? Never fear. You know you can score one in Diagon Alley!
Here's a little more about Christmas at Universal.
What's your favorite thing to see, do, or eat at Universal?
All photos used with permission from Universal Studios.