Tapoco Lodge Robbinsville NC – History, Adventure, and Relaxation
Recently I was asked to be a guest at Tapoco Lodge which is located just outside of Robbinsville, NC it's full of history, adventure, and relaxation. I thoroughly enjoyed the time. Although I was a guest, all opinions are my own. There's something about getting away to the mountains for a few peaceful days to refresh your soul. #hosted
After driving up the infamous Tail of the Dragon and the banks of Cheoah River, you approach the historic Tapoco Lodge. This is the perfect location for anyone making the drive, wanting to enjoy great food, or maybe to explore all the nature around such as the Nantahala National Forest.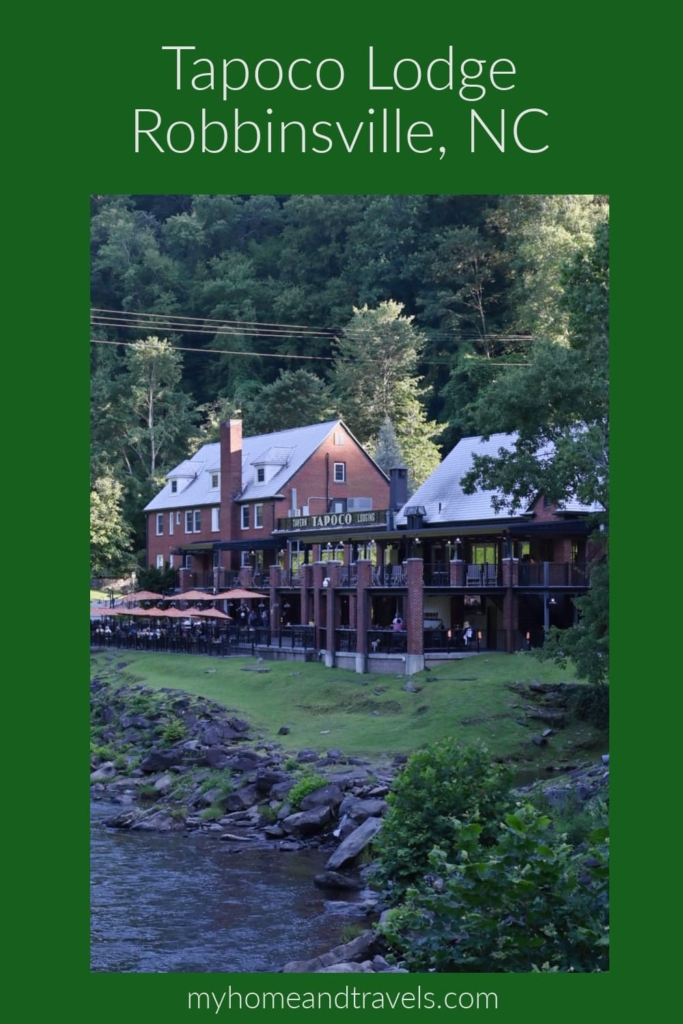 Tapoco Lodge Robbinsville NC – History, Adventure, and Relaxation
I would love to spend a few more days at Tapoco Lodge later in the fall when the air is a bit cooler. Late evenings were the perfect time for sitting fireside and roasting marshmallows but it would even be more fun wrapping up in a blanket and sipping a warm drink and making s'mores.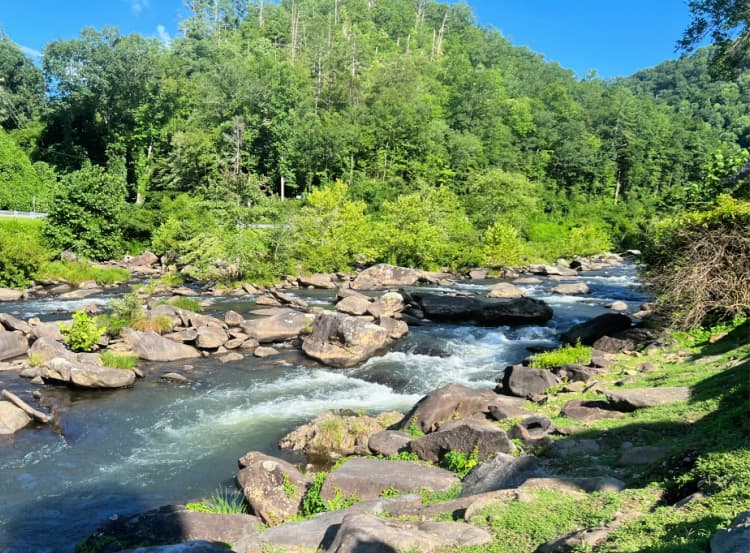 History of Tapoco Lodge
Built back in 1930 by TAllahassee POwer COmpany to house workers for them and other hydroelectric plants in the area. That's not a typo – notice the first two letters make up the name of the lodge.
You will find many of the original parts of the lodge, like a push button light switch, a water fountain, and no elevator.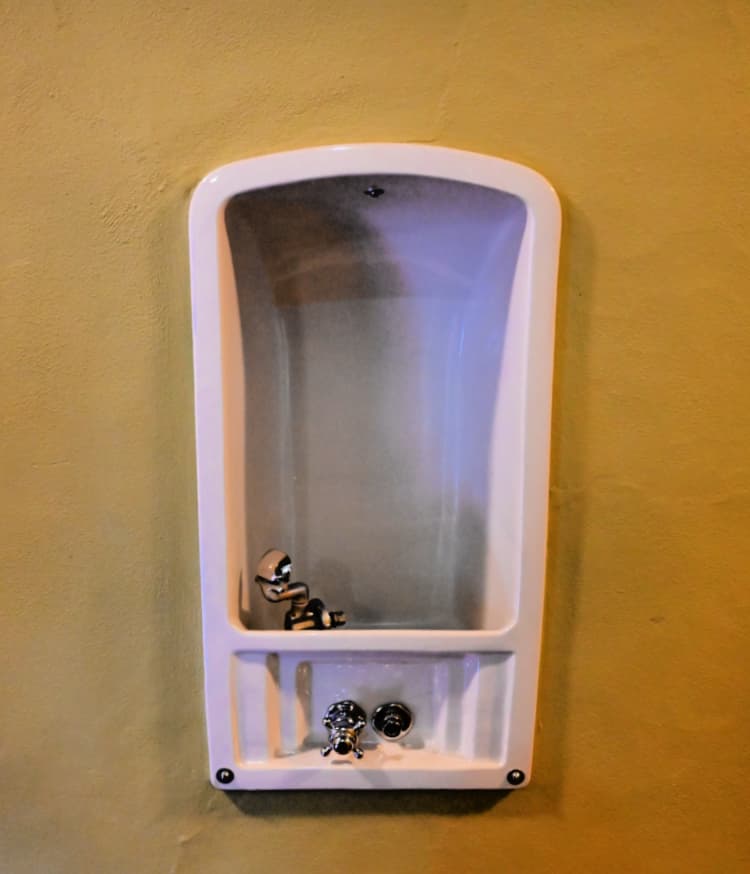 But of course, updated amenities like the patio next to the river and bathrooms. It's some of the old-world charm, just a little modernized. Some floors might be a bit creaky but I loved it.
In 2004, it was added to the National Register of Historic Places.
Accommodations at Tapoco Lodge
You will find 9 rooms and suites in the main lodge and 18 cabin rooms. Some cabins are duplexes.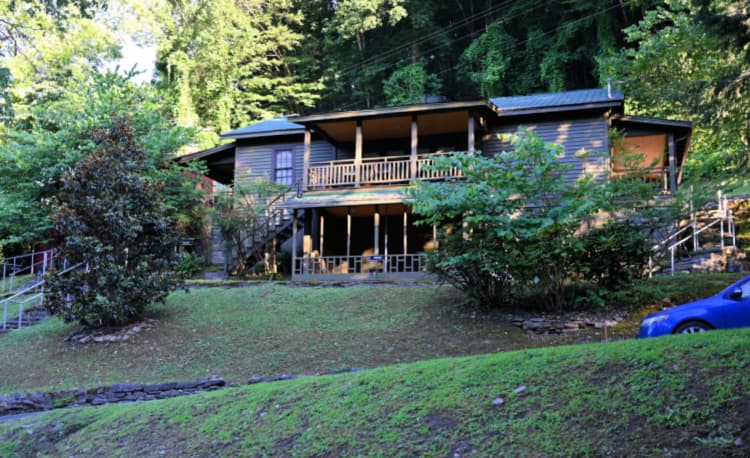 We stayed in the Sunflower Room on the second floor. Our room had a direct view of the river.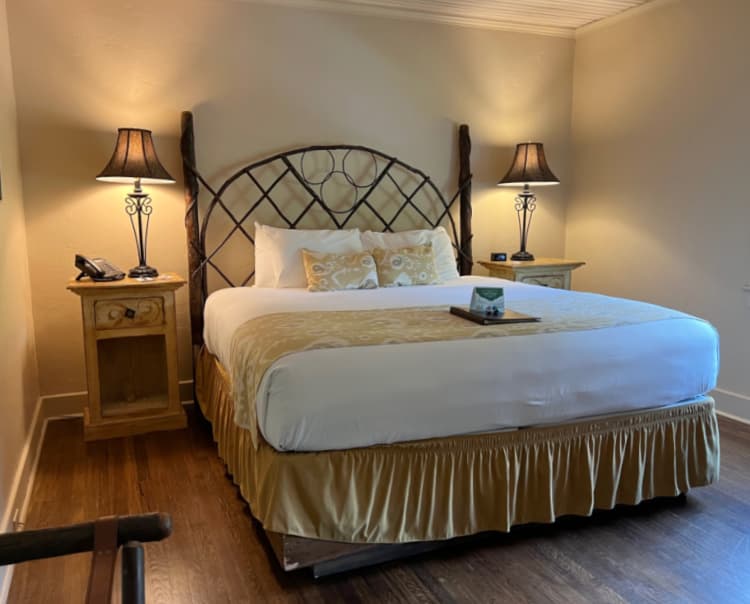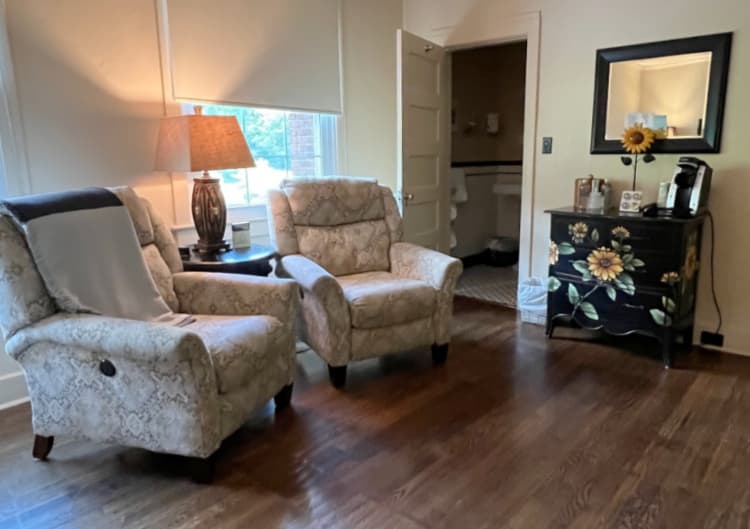 There is a 2-room suite on the first floor so if you can't make it up steps, make sure you book it.
Coffee pots and water are provided in each room.
Something you will find, or won't find, is a TV in the rooms. We didn't miss it. There is free wi-fi but can be a bit slow sometimes. Don did watch some Netflix and he said it was ok.
Enjoying Your Time at Tapoco Lodge
Tapoco Lodge offers many activities and sports, free of charge.
You will find a daily calendar of events in the lobby
Trails to hike, including guided hikes
Campfires at three fire pits
S'mores each evening
Movie nights
Axe throwing
Pickleball, lessons on select days
Tennis
Hammocks
Board games and cards
Books
Spa on select days – there is a charge for this
24 hour coffee bar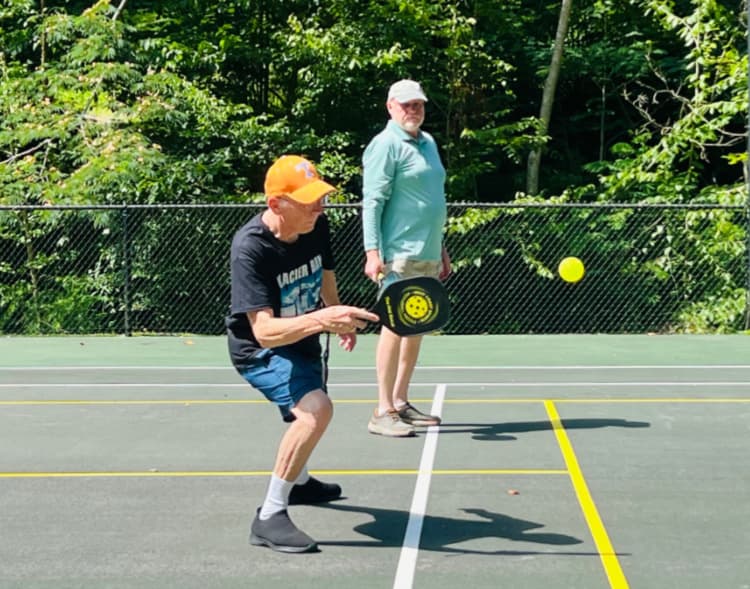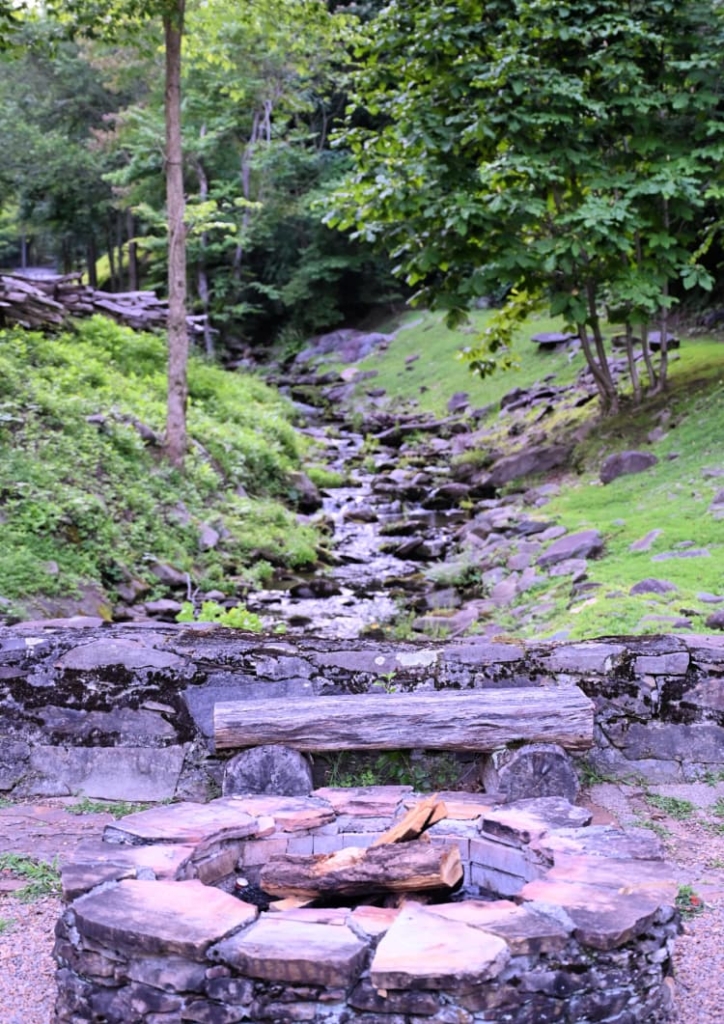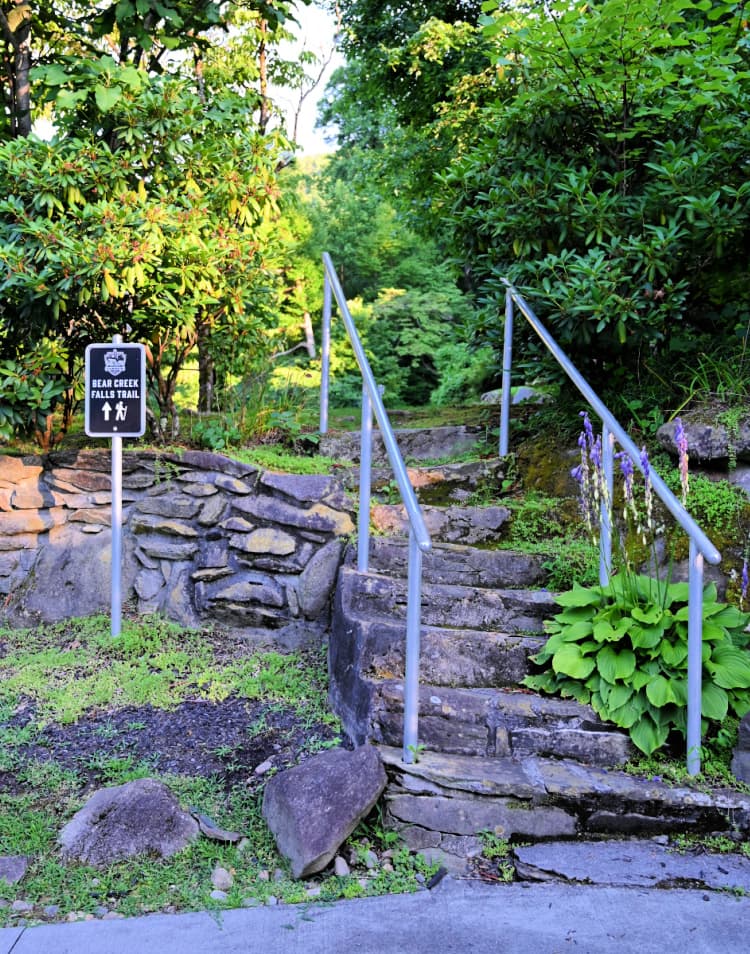 You will find the parking lot filled with all types of autos and motorcycles. Many have driven up the nearby Tail of the Dragon, an 11-mile stretch in Tennessee with 318 curves. It's fun to see the fancy sports cars, classic cars, and motorcycles.
Dining Options
The food at Tapoco Lodge and Tavern was exceptional. Anything trout and pizza was recommended to me by several and they were so right.
Cheoah Dining Room
The Cheoah Dining Room is open for breakfast from 8 – 11. I tried to find out why it didn't open earlier. I was just told that's how it's always been. We almost skipped breakfast the second day as we were on a time schedule, so we just made sure to be there when they opened.
There is some outside seating available, just not down on the river edge. The temperature was very comfortable on day one, but the second day we stayed inside as it was a bit cooler. Really though in mid-July I try not to complain about being cold.
Day One
We each ordered an omelette and one side. One order would have been enough for us to share. The portions are large.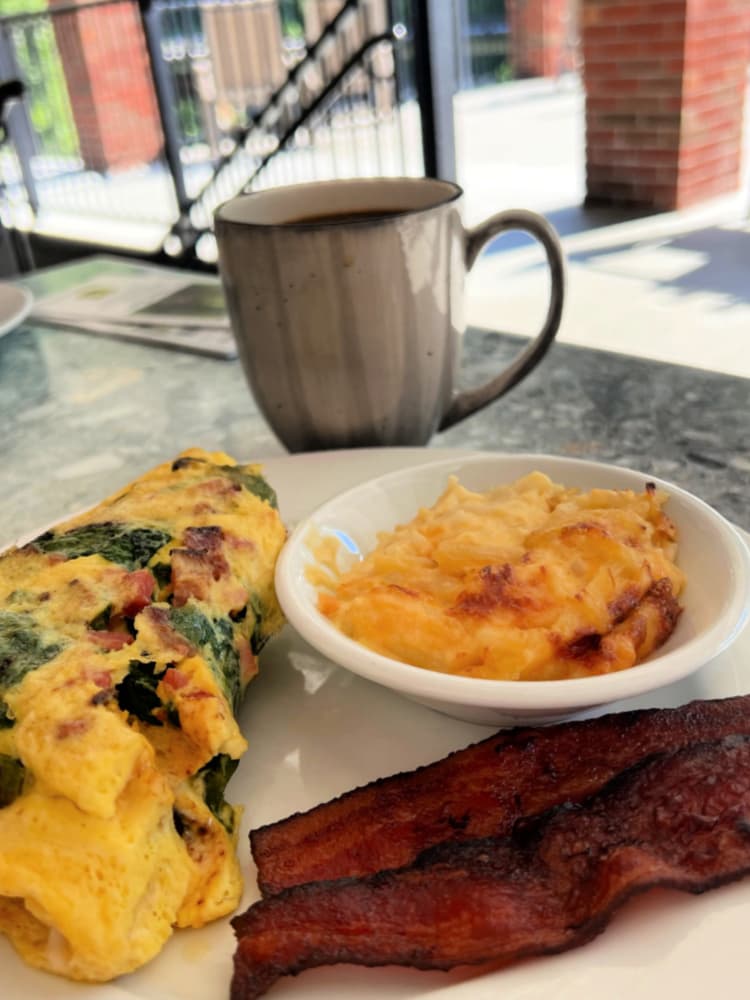 Day Two
We had already decided on waffles, but they were waiting for a new waffle iron to come in so we went with pancakes. Again, the order would have been large enough to share with adding fruit and bacon.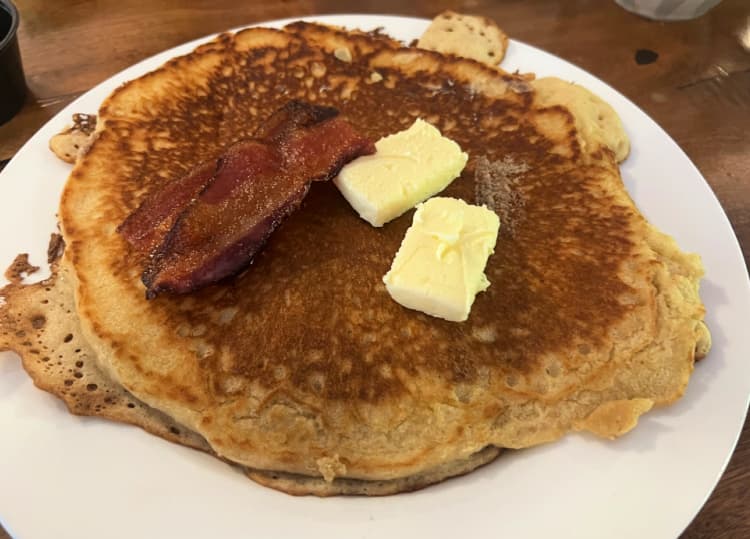 Tapoco Tavern
It's open for lunch and dinner from 11 – 8.
Reservations can be made, which I do recommend, even for early dining. You can pick your table near the river to enjoy an even better view.
We ate both evenings at the lodge for a few reasons. The food was so good and didn't want to drive the 20 minutes into Robbinsville.
Most sauces and dressings are homemade.
Night One
Trout Nuggets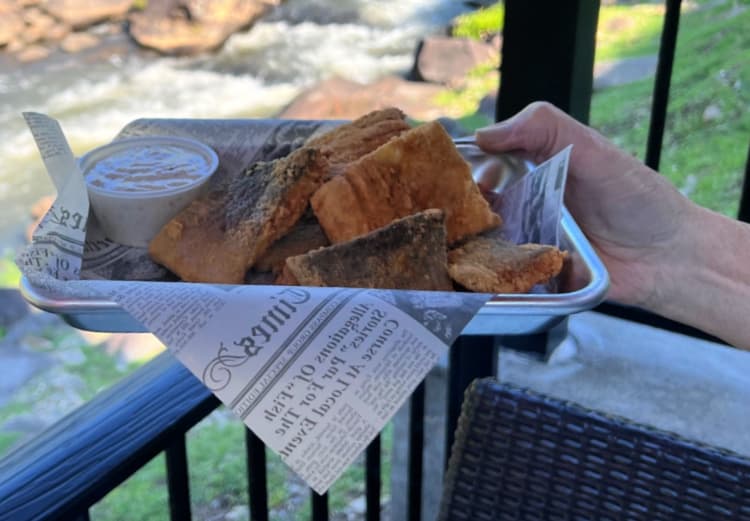 Sherohala Chicken Pizza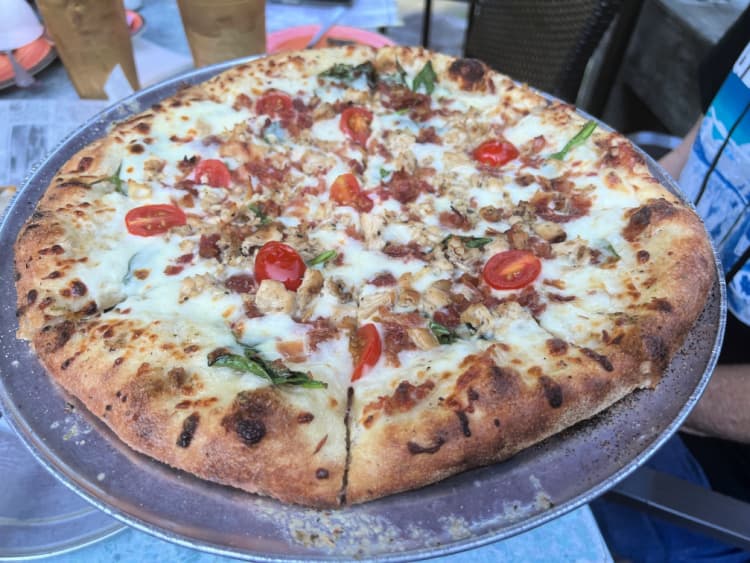 Campfire Carolina Mountain Trout with Sweet Potato Waffle Fries and Smoky Mac & Cheese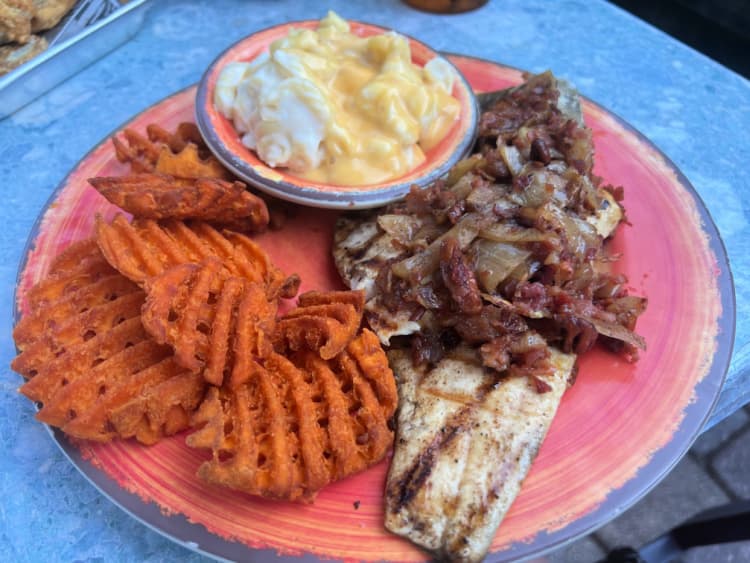 Chocolate Ganache Cake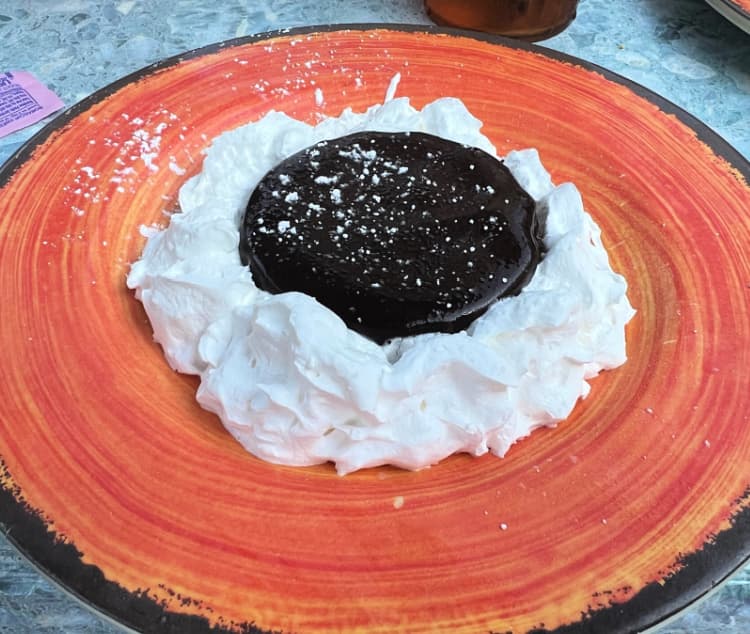 Pizza comes in medium and large sizes, so about half of the pizza wasn't eaten. I did have to snack on the crust a bit. A small pizza option would be great.
Night Two
Build Your Own Pizza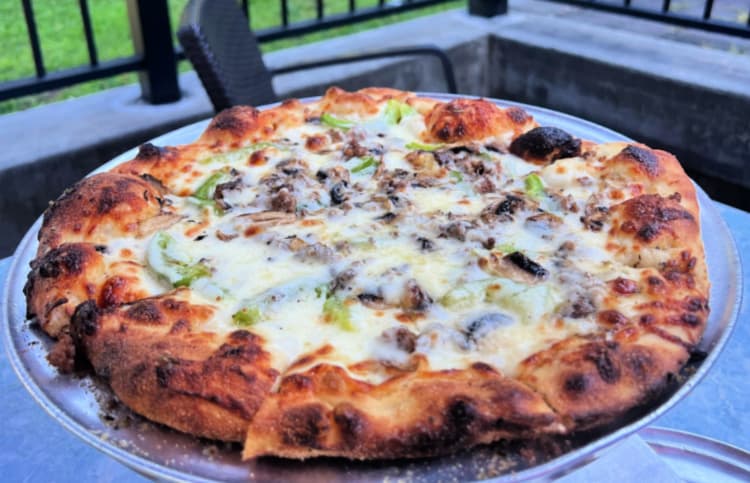 House Salad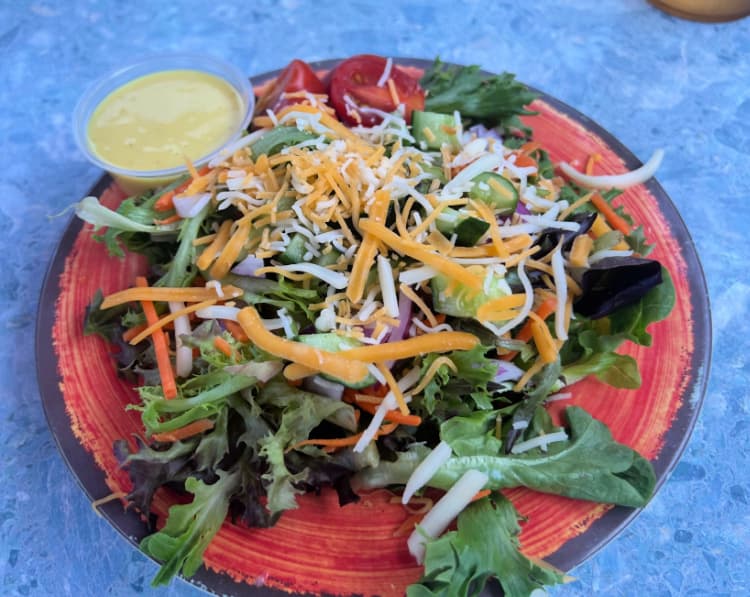 All of our choices were so delicious and I wouldn't hesitate to order again, or recommend to anyone dining there.
Famous for Trout
All their trout comes from a farm about 45 minutes away so it's always fresh.
You have several choices – nuggets, sandwich, taco, fish & chips, and Campfire Carolina Mountain Trout.
Around the Area of Tapoco Lodge Robbinsville, NC
Besides Tail of Dragon I have mentioned, there's many other places to explore within and hour of Tapoco Lodge.
The Smoky Mountains
Nantahala Forest
Robbinsville, North Carolina (home town of Ronnie Milsap)
Fontana Dam and Village
Waterfalls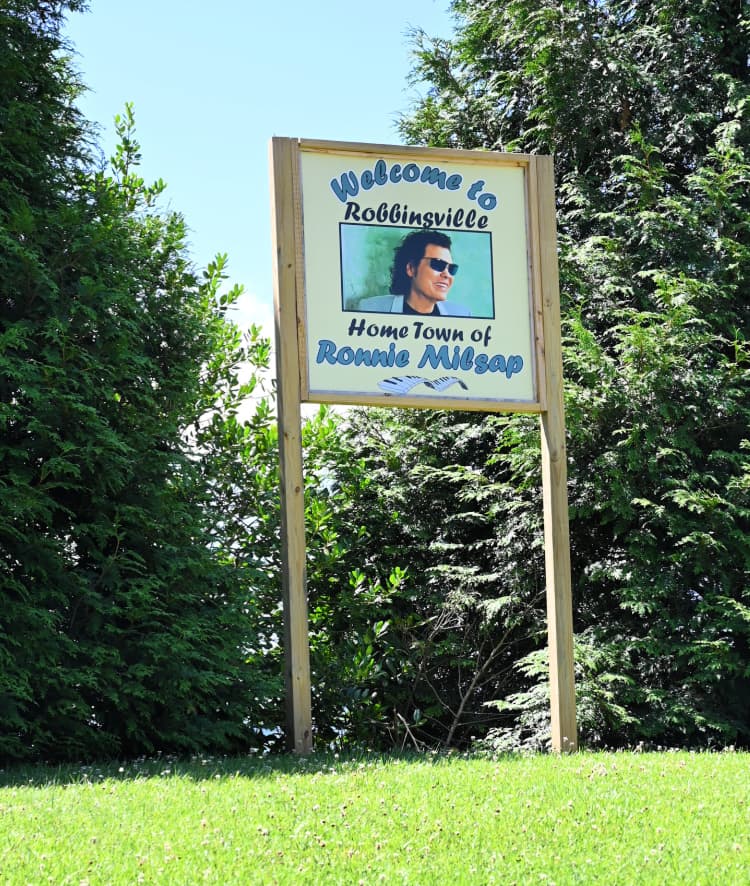 You might even want to make a trip to GATLINBURG – SO MUCH TO DO
I've included affiliate links to Amazon for you to find some products easier. I may receive a small commission, but the price is the same for you. It just helps my blog out.
Happy Travels,
Rosemary