Five Reasons I Loved 1885 Grill In Ooltewah
Sometimes there's comments on why we have another restaurant opening, especially in this area, but with 1885 Grill New Location In Ooltewah, everyone in the Chattanooga and Cleveland areas is happy. The Southern Coastal 1885 Grill is the 2nd location, with the original located at the foot of Lookout Mountain in St. Elmo. Whenever we did visit that location, it was always great. There's more than five reasons I love the 1885 Grill in Ooltewah. The variety of foods offered, location, atmosphere, upcoming specials, and the outdoor areas for warmer weather is reason to visit.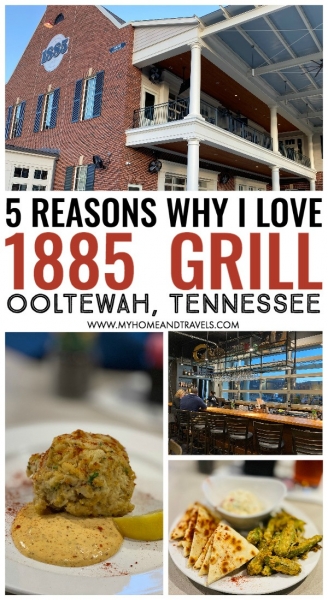 Have you ever wondered how places are named? 1885 Grill took it's name since there's a marker in St. Elmo, stating it was established then. This was just one little fact I learned as I sat down with owner – operator, Miguelo in their new location recently.
Full disclosure, we had enjoyed my birthday dinner just a few days before, all at our own expense. This is just a review of our soon to be go-to place for lunch, dinner, or brunch.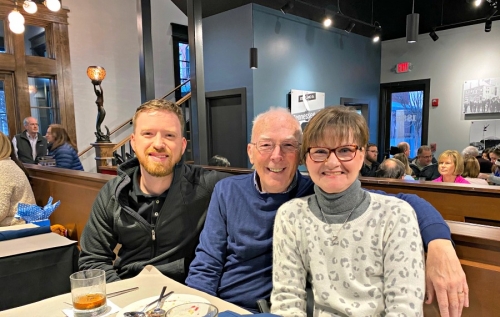 Although there are many things you will find on both menus, the Ooltewah location does have an expanded menu as there is much more space in the kitchen and prep areas. This new location was basically built to many of their specifications from the ground up.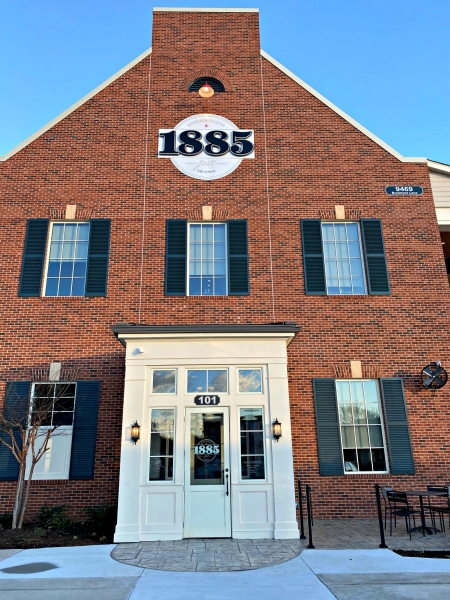 Earlier in the week, and my birthday, of course it was my choice on where to go. Needless to say there are many options, and many favorites around, but thought it would be a great time to visit the new location. Just about a 10-minute drive for us, we were all very happy with my choice. We were seated immediately and taken well care of by Carter. All of the staff seemed friendly and helpful.
My son had never been to 1885 Grill, so he scoped the menu out online before we went. He informed me he found two appetizers and a soup he wanted before he even got to the entrees. We usually end up ordering more than we can eat during dinner just so we can have leftovers to take home. And we did. The portions were very generous. Everything ordered was hot and fresh, and delicious.
Appetizers:
Crab Cakes, Empanadas, Crab Bisque, and Pimento Cheese with Fried Okra.
Pimento Cheese and Fried Okra is always my appetizer of choice. If you haven't had it before, you will notice a big difference when it's brought out with grilled Pita Bread. First the color and texture. It's not the traditional "orangey" color or as creamy as most, but that's ok. You won't be disappointed after taking the first bite. The secret to their's is Sharp White Cheddar Cheese.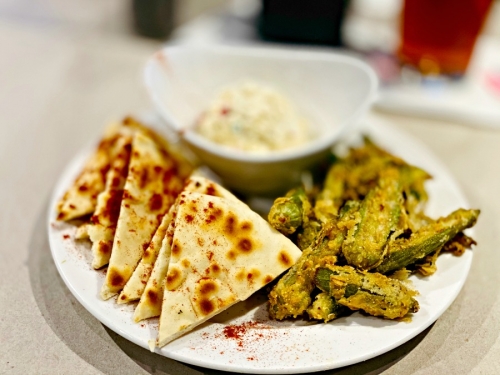 Crab Bisque was enjoyed by Doug and he is an expert on any type of seafood chowders or bisque.
Empanadas was shared. I was deligted when the chimichurri sauce was more tangy than spicy.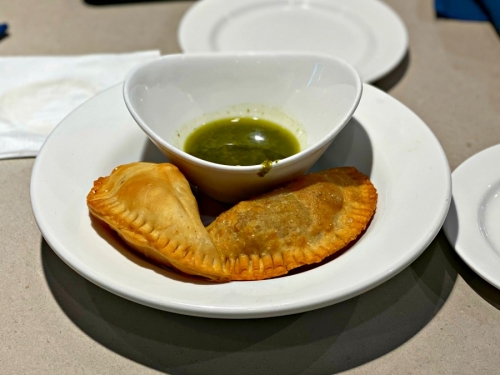 The Crab Cakes were some of the best I've had in a restaurant. I'm pretty picky since the ones I make are killer. These were filled with true Crab meat and not much filler, as many are. Even the remoulade was enhanced the flavor, and didn't overpower it.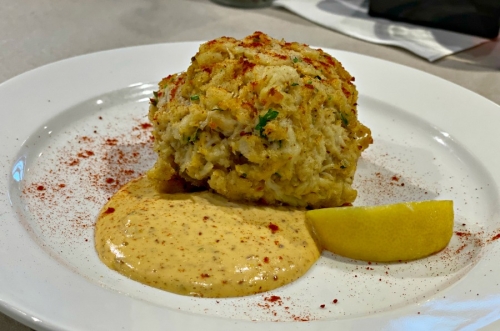 See, with all the choices of Appetizers, it would be easy to just have those, but we moved on.
Entrees
Shrimp and Grits, Cajun Chicken Pasta, and Simple Salad
My favorite is their Shrimp and Grits served over creamy grits. It is offered over a grit cake also. It's not too spicy for me and has a generous portion of fresh shrimp. Now if they would just put bacon on it. Maybe I'll request it next time.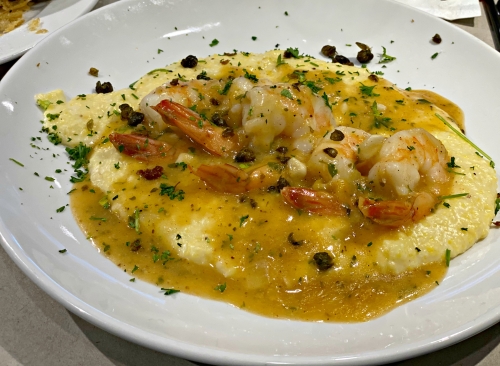 Doug will go for a pasta dish many times and this was another winner. The blackened chicken and creole sauce was right proportions for the pasta. You also have the option of shrimp when you order.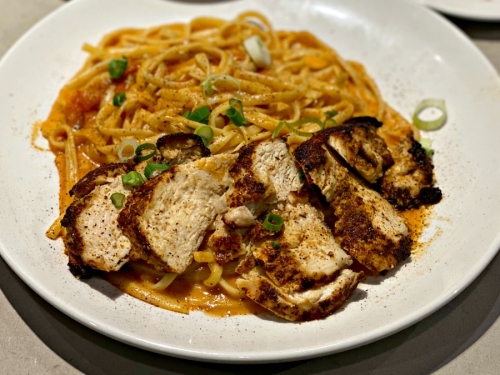 Don went with the Large Simple Salad which is a great size for an entree to go with his Crab Cake. He ordered Ranch Dressing, which is homemade as is all of their dressings.
Remember I said it was my birthday. A free dessert is offered and that evening it was a choice of Pecan Bread Pudding, which sounded delicious, but the other was homemade Key Lime Pie. Since I was stuffed from dinner and Key Lime Pie is Don's favorite, I opted for that. It was not a normal piece of pie, it was huge. Drizzled with Blackberry Sauce, he ate what he could and had plenty left to bring home.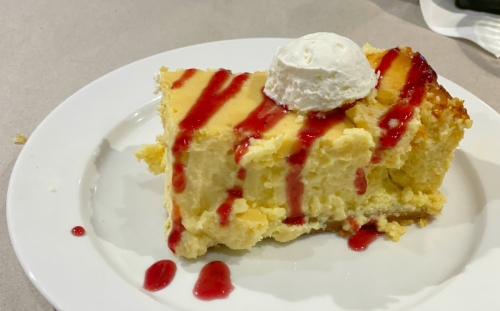 Several desserts are served on a rotating basis.
Lots of leftovers were brought home so we all had lunch the next day.
With their being a separate lunch and brunch menu, I guess that means at least two visits in the near future. Hours do vary by day and both locations so check the website or call ahead to make sure. No reservations are made at this time.
I asked Miguel if someone was visiting for the first time, what would be his recommendations. "For a first time visitor, I'd strongly recommend that they get our Fish Special for that evening. When doing our Specials, we typically make a unique dish with unique items not generally found on our menu. The same goes for our Non-Fish Specials."
They are very much about supporting local vendors and growers. As much as possible is sourced from the Tennessee Valley area, including desserts for the St. Elmo location, and breads from Niedlov and Bluff View Bakeries.
Cambridge Square, where 1885 Grill is located, has been a hub of new businesses and events the past couple of years. The businesses love to work together on promoting each other. I'm looking forward to the Spring and Summer when more outdoor events are held such as music, charity events, and community festivals. You will also find plenty of free parking around Cambridge Square.
Miguel said they are looking forward to continue growing. with a new restaurant and complex in the Acworth area. No name or opening date has been announced as ground breaking was in January. It does sound like it will be in line with the other two 1885 grills. I'll keep you posted.
He and his partner have many years in the restaurant business not only in Chattanooga, but even in areas like San Antonio, which is a great place to visit. And eat.
I can't wait to enjoy the patio and covered porch area when it warms up. This provides an additional seating for 80 people, along with 150 inside.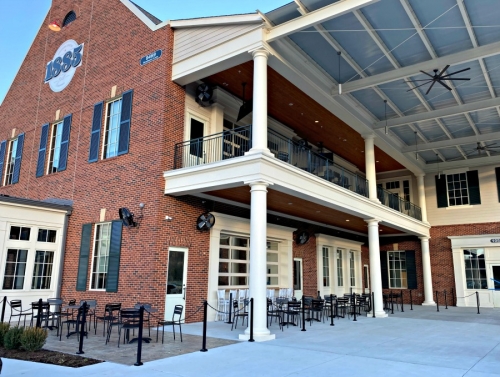 The roll up window will be great for serving the patio.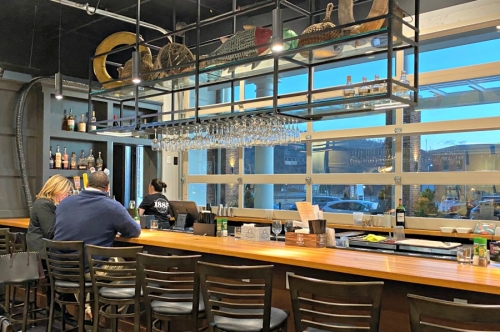 I'm always interested to see what chefs and restaurant owners favorite foods are and with Miguel background in New Jersey, a good New York Style Pizza was his go to.
If you are still looking for a special Valentine's Day dinner, they will accept reservations a feature a 4 course Pre-Fixed menu. This will include an appetizer or soup, salad selection, choice of entree, which will feature 5 entree selections that are not regular menu items, and a dessert to share. The price per person is $45-$60 per person depending on entree selection. A full menu can be found on their FACEBOOK page.
I hope you follow along on FaceBook and Instagram. It's a great way to keep up with the latest menu items and special events. Since opening on January 15, business has been booming with so many previous customers, and gaining new ones in the area.
I highly recommend checking out 1885 Grill – Ooltewah, or 1885 Grill in St. Elmo. I know we will all be going back. Let me know your favorites.
I've included affiliate links to Amazon for you to find some products easier. I may receive a small commission, but the price is the same for you. It just helps my blog out.
Happy Travels,
Rosemary