Touring Fallingwater – A Frank Lloyd Wright Home and Masterpiece
Are you familiar with Fallingwater? Probably the most famous structure by renowned architect Frank Lloyd Wright, Fallingwater is an American icon that's as beautiful as it is timeless. We recently took a tour, and I have to say, it was one of the best travel experiences I've ever had. Touring Fallingwater – A Frank Lloyd Wright Home, is something that everyone should experience at least once.
While Fallingwater itself is gorgeous, touring Fallingwater really begins as you make your way to the iconic structure. There's a reason that Fallingwater is one of Wright's most widely acclaimed structures. It's the perfect union of art and nature. That begins on the way to the home.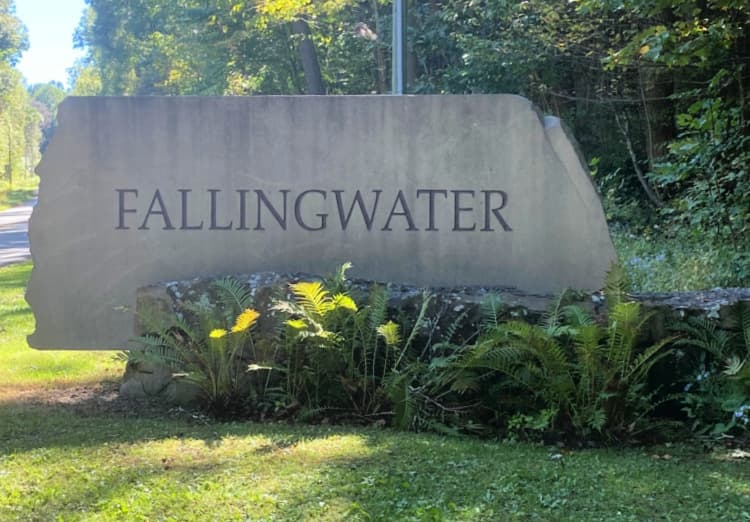 Making a Pinterest Board for your travels is a great place to begin planning any trip.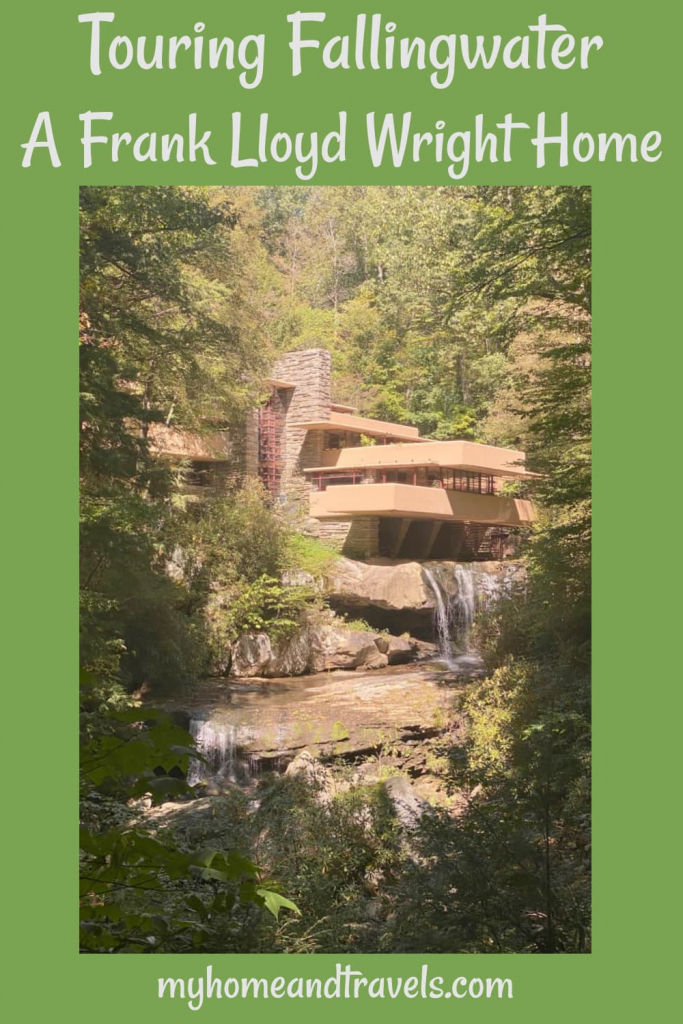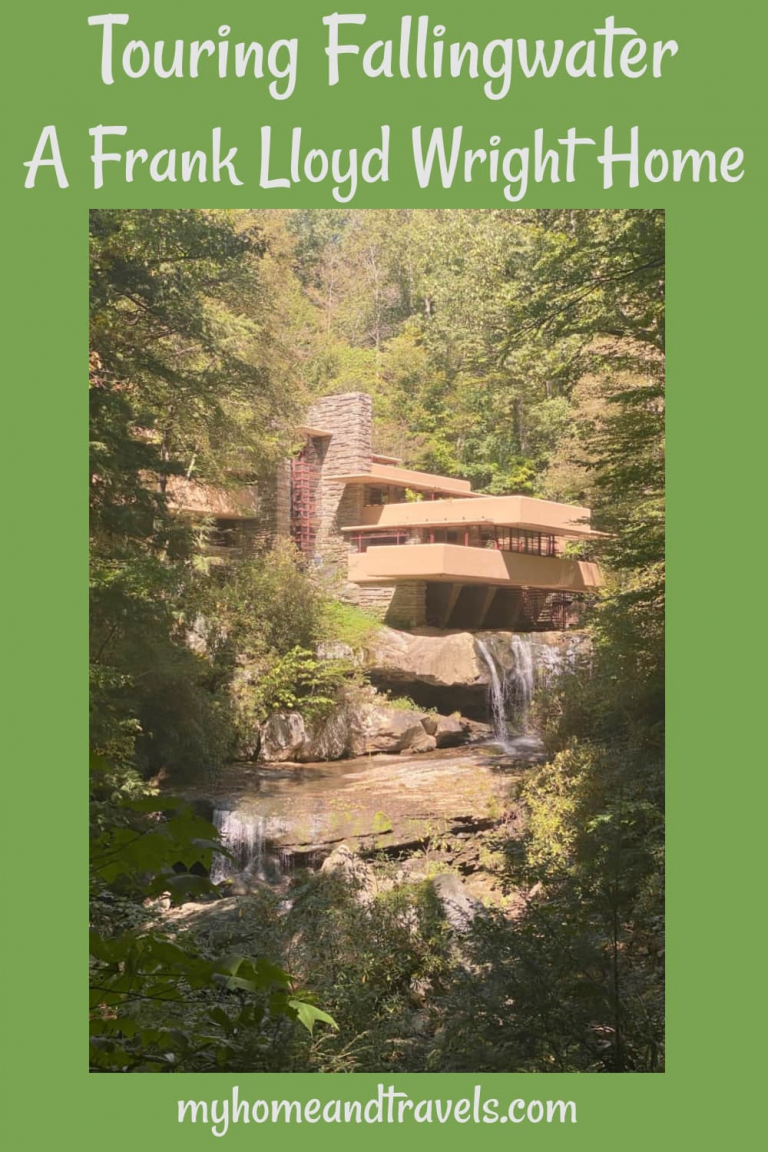 Immersed in Touring Fallingwater – A Frank Lloyd Wright Home and Masterpiece
This home is nestled in the Allegheny Mountains of southwestern Pennsylvania. Travel about 70 miles southeast of Pittsburgh and you'll find yourself in Laurel Highlands in Mill Run. Make your way into the forested mountains, and you'll find a gorgeous waterfall cascading down between a corridor of lush forest.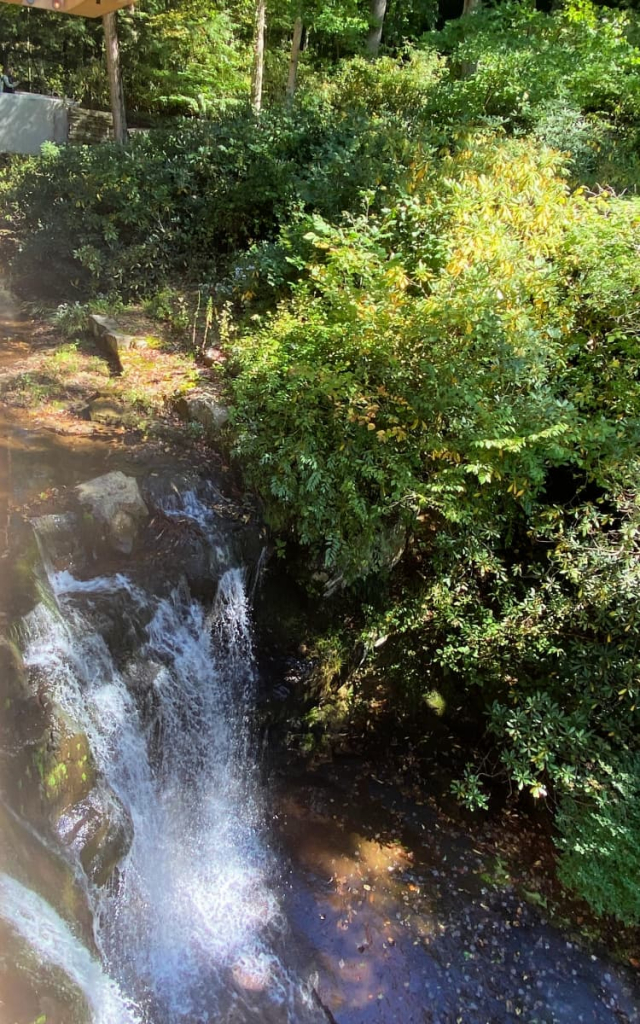 Above that, you'll find Fallingwater itself, a structure that at first glance seems like it should be out of place but isn't.
Fallingwater is all angles. It almost looks like rectangles that were stacked atop one another. You'd be forgiven if your first thought was, "How does this even work?" However, your next thought will be, "It really does work, though." Somehow the stone base and fireplace coupled with the angular nature of the structure marries perfectly with the surrounding wilderness. It's the kind of perfect juxtaposition that you often find in fine art. And that's what Fallingwater is – fine art. Touring Fallingwater brings art, nature, and architecture together.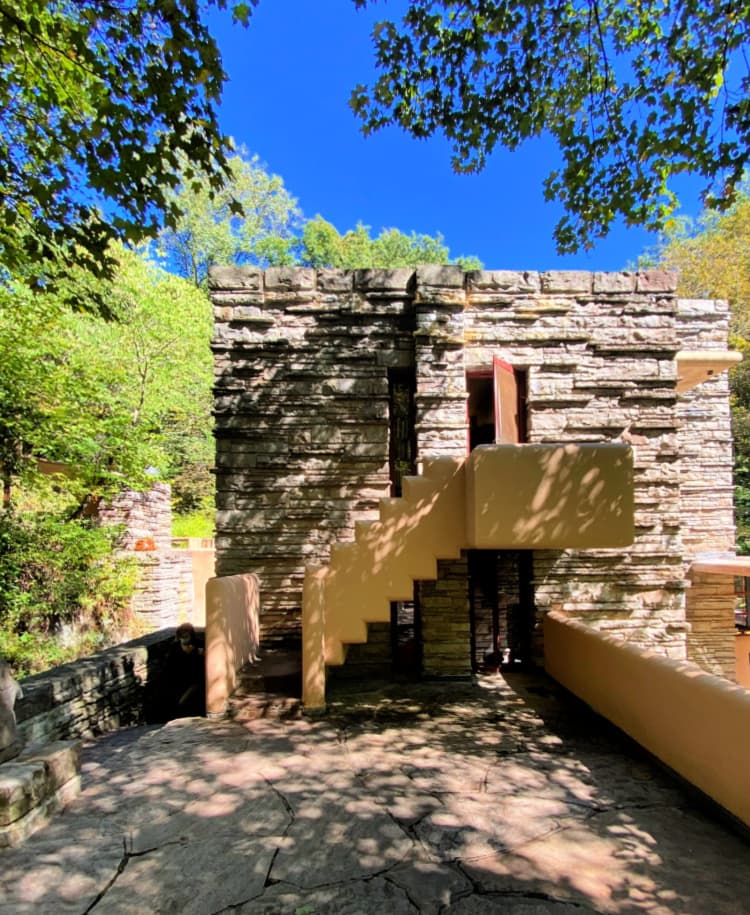 I'm not sure you will find any garages in original Frank Lloyd Wright homes. Most had carports and you can see wasn't built for the larger SUVs of today.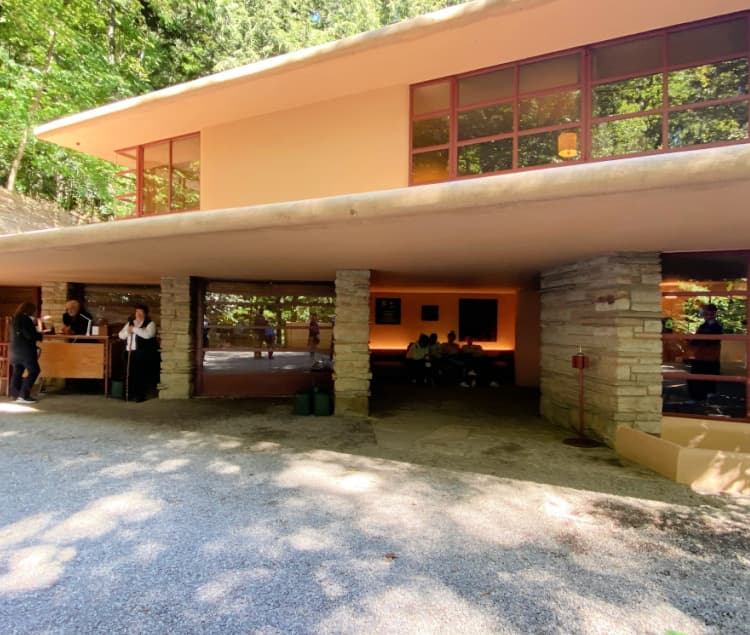 A Little History about Fallingwater
The house is built right above a waterfall, thus the name Fallingwater.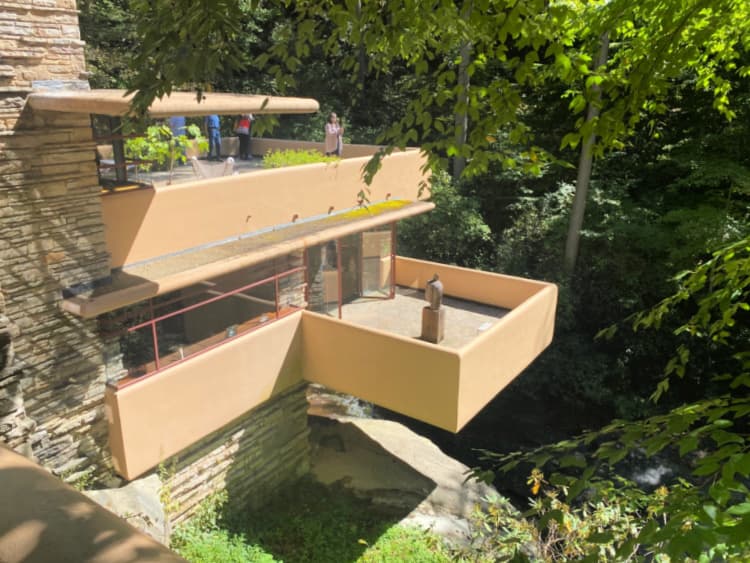 Mrs. Kaufmann and her husband Edgar, who owned Kaufmann Dept Store in Pittsburgh, were people who enjoyed the outdoors. They commissioned Mr. Wright to build them a home that would not only be a mountain retreat, but one that would also blend into its surroundings and landscape. Mr. Wright always considered the setting of the house he designed and wanted it to blend with its environment and never be imposing.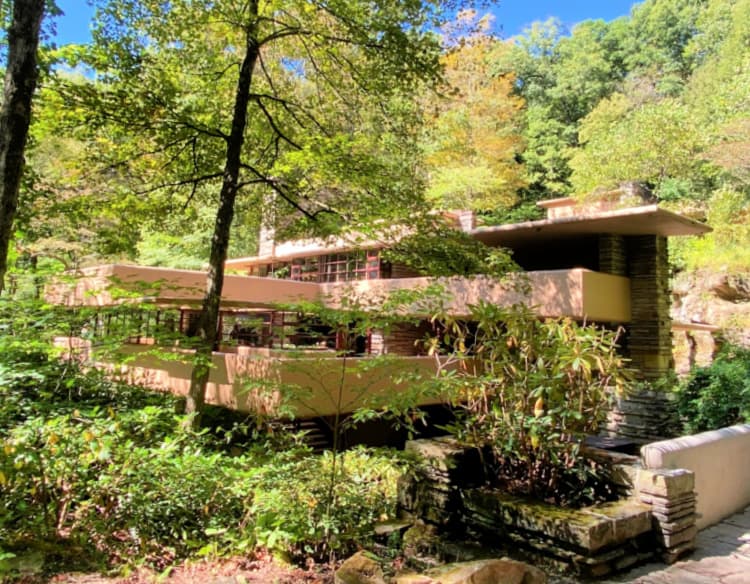 When the construction plans were returned to the Kaufmanns, they naturally wanted a few custom changes. Wright had designed the home to be above the waterfall, but the Kaufmanns had expected it to be situated below the falls. Mr. Kaufmann protested but FLW prevailed. The house does, in fact, sit above the falls.
The Kaufmanns loved to entertain and wanted a larger house than the plans called for. They specified separate bedrooms and a bedroom for the adult son, and an additional guest house, all which Mr. Wright incorporated. The stones used to construct the house came from a rock quarry that had been re-opened nearby
For construction of this home, which was built in the mid 30's, there was an original budget of $35,000 for the house and guest house. But with modifications, it ended up at $155,000. That is equivalent to $2.9 million in today's money.
Touring Fallingwater – A Frank Lloyd Wright Home and Masterpiece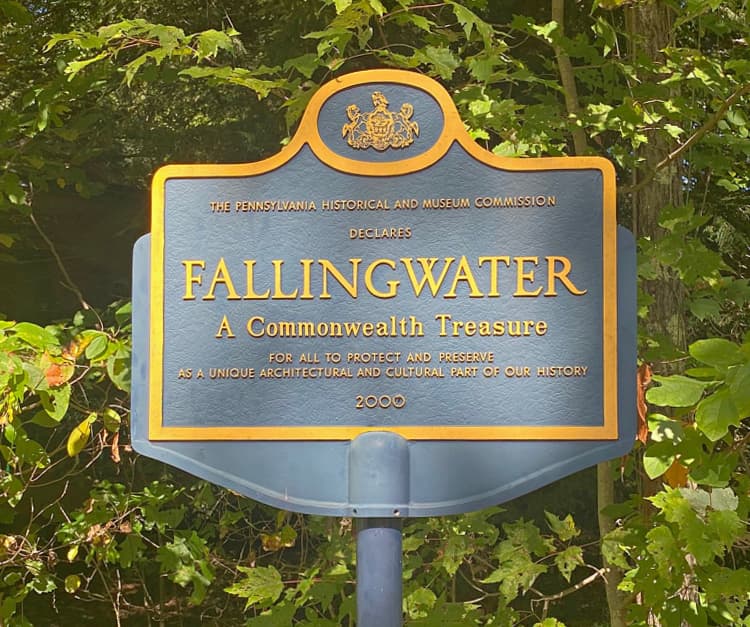 Once you arrive at Fallingwater, you'll be treated to exploring this iconic structure. That's the official start of the discovery of Fallingwater. This beautiful structure is designated as a National Historic Landmark and Commonwealth of Pennsylvania Treasure. It's also named the best all-time work of American architecture by a poll of members of the American Institute of Architects.
The wonderful thing about a Fallingwater tour is that you can experience both the natural beauty of the grounds and the architectural beauty of the home and its interior. You can choose from a guided tour or an in-depth guided tour. The in-depth tour offers an extended interior tour along with access to the grounds and a ton of great information along the way. Aside from those tours, they also offer field trips, brunch tours, sunset tours, focus tours, and even a forest-to-table dinner experience.
Guided tours are the best for when you can take them. The guides will be a wealth of knowledge and give you a few little facts which aren't commonly known.
Our tour guide also told us that Frank Lloyd Wright and the project engineer did not always agree on everything. During restoration in 1995, for example, it was discovered that more reinforcing steel had been used than Frank Lloyd Wright plans had allowed for. The contractor did double the amount of steel. He felt it would make the cantilever design of the house safer. At one-point Mr. Wright wanted to pull out of the project due to the contractor demands, but the Kaufmanns persuaded him to stay on.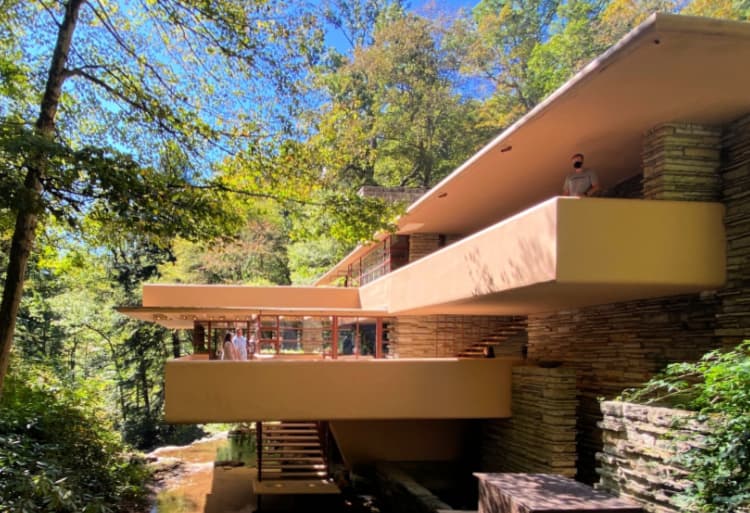 Our Fallingwater Tour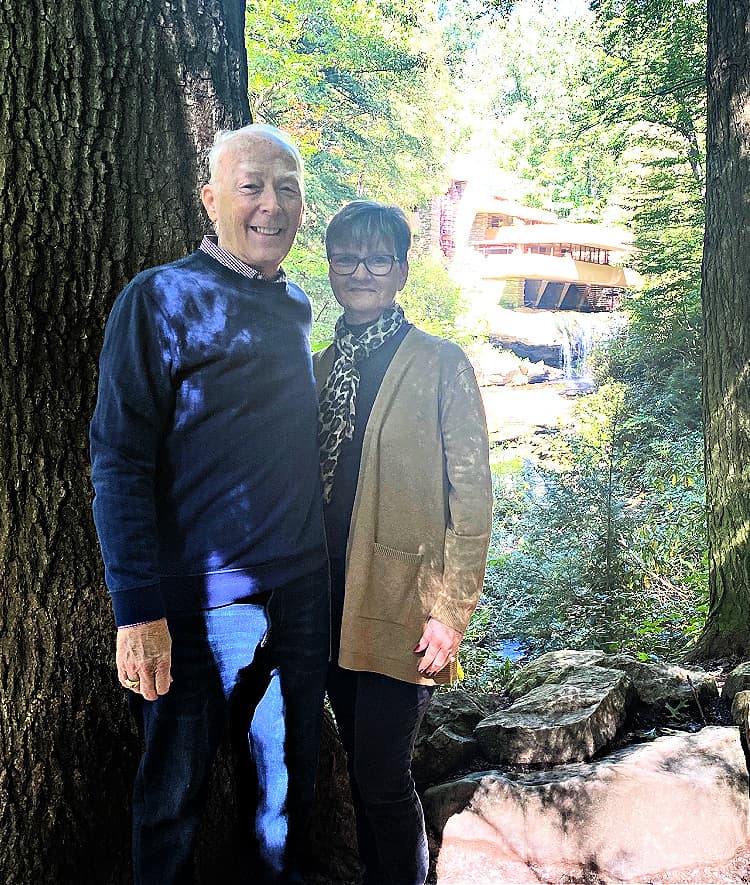 When traveling, I try to do as much homework about places we are going to visit. The more I read about Fallingwater and the Laurel Highlands area, the more excited I became at this iconic place. Many friends say this is on their bucket list one of these days as well.
There's a signature color and style to original homes. Furniture sits lower to the ground and you find many of the oranges and yellows used throughout the home.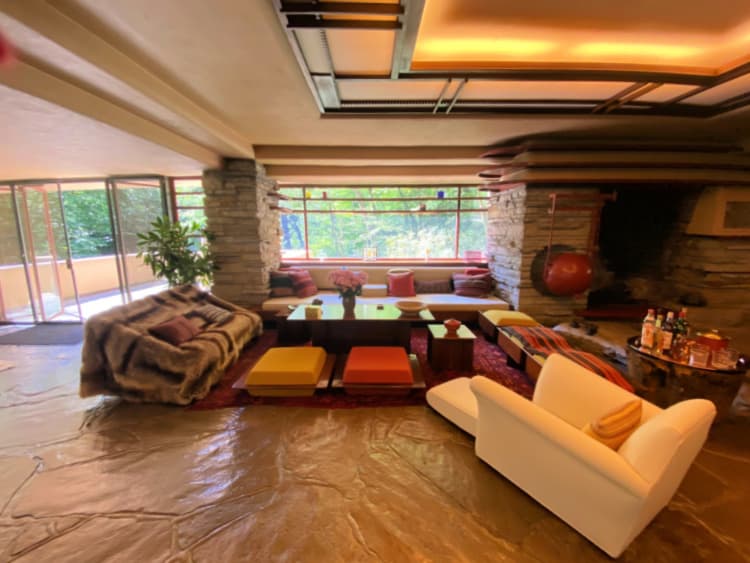 When Touring Fallingwater, you will find native products are used when possible like in this fireplace.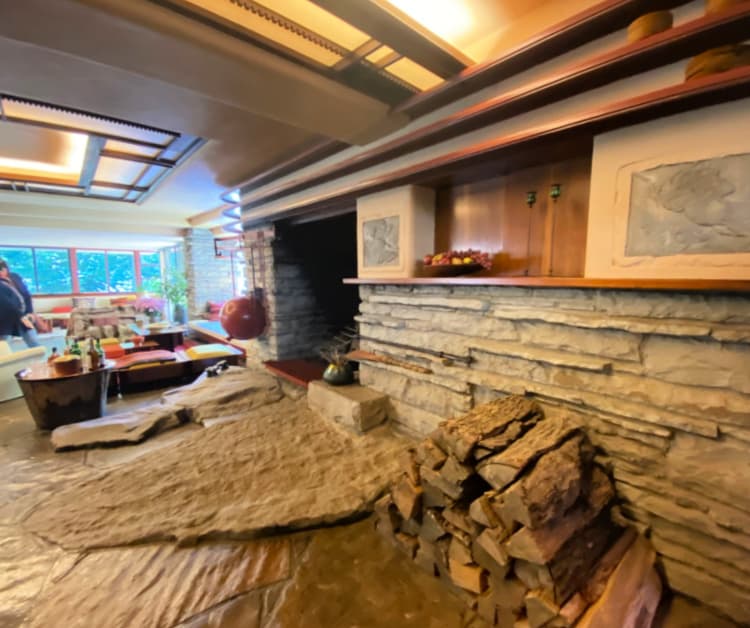 The furnishings also have that minimal feel so you can enjoy the architecture of the home.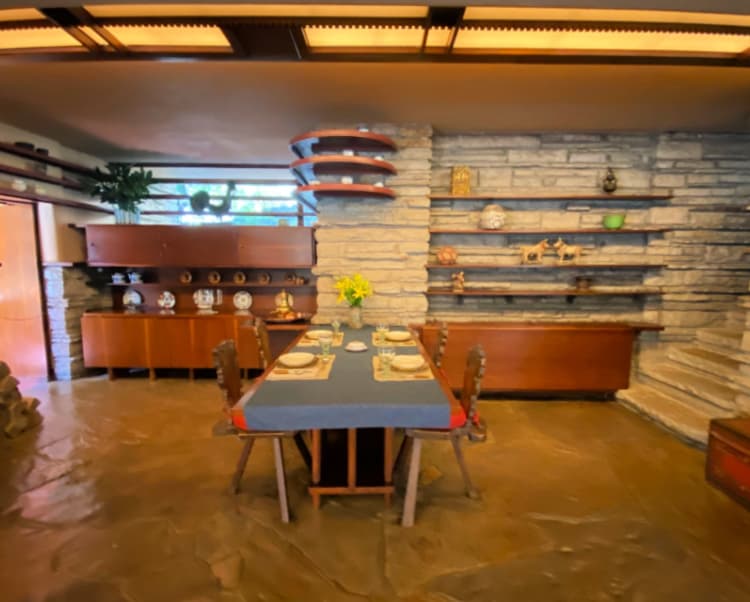 We met up with my cousin Linda from BUSHEL AND A PICKLE for the day of touring. It's always more fun when you can do things with friends and family. For her, it was like living within a few hours of a place like this and never visiting. How many of us are guilty of that?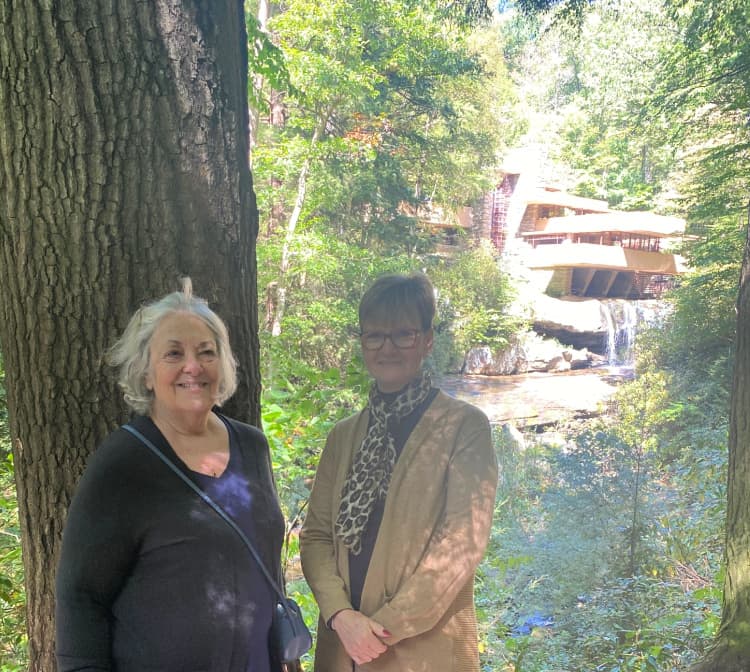 You can hear the water before you see the house. As in any of Frank Lloyd Wright designs, you won't see the grand, over the top, huge mansions like many people would design today.
Many furnishings you find in the home is original, but some have been refurbished so keep keeping with the original look. This rug design can be found in many rugs today.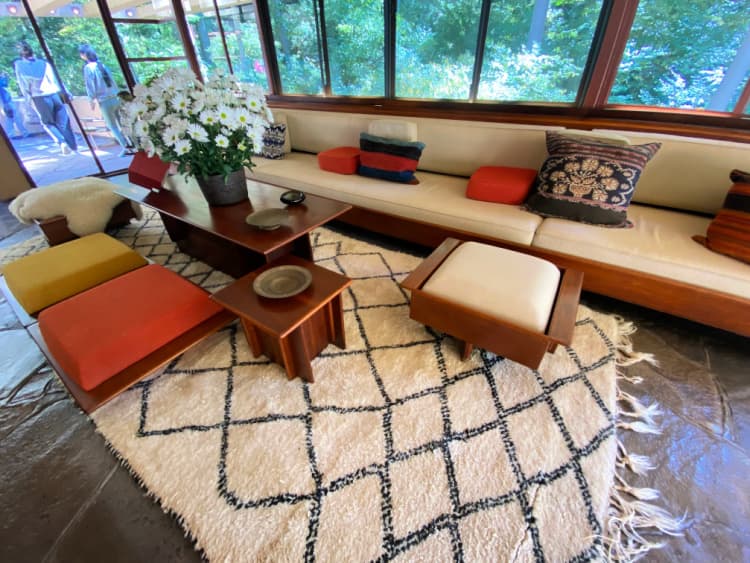 To end our tour, we chose to order lunch ahead of time and reserve a spot in their outdoor seating area. We had a beautiful day to enjoy our experience a bit more with this lunch. It was a perfect day.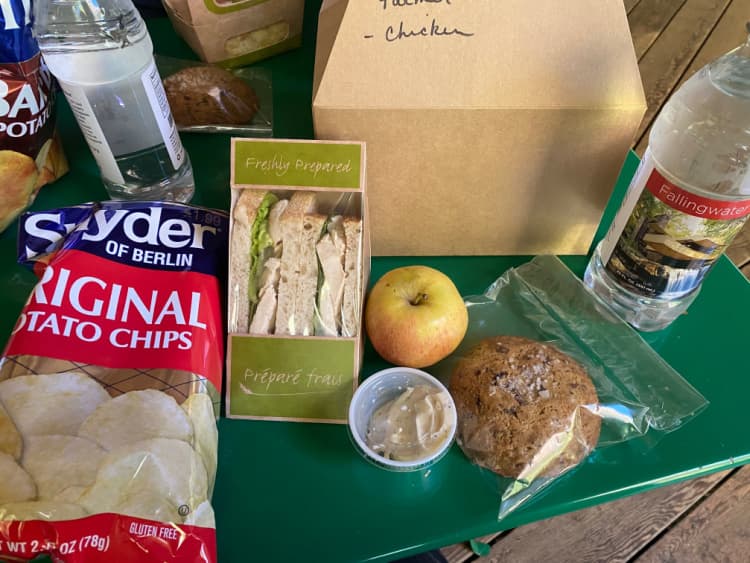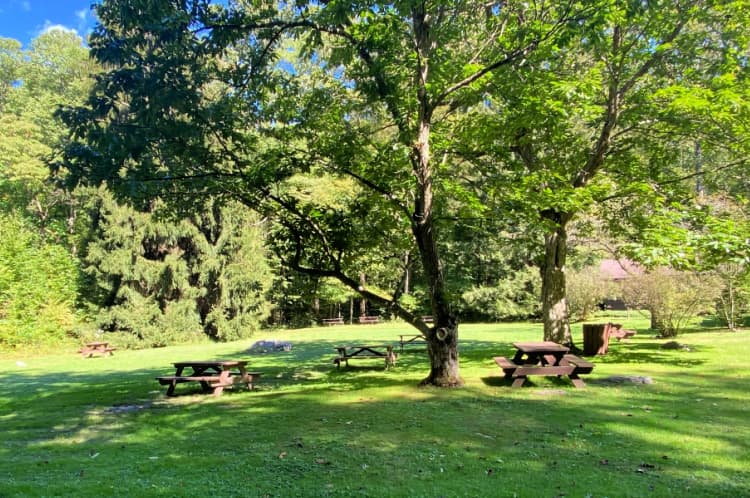 The Grounds
The Fallingwater grounds are just as spectacular as the home itself. In fact, when you take your Fallingwater tour be sure not to overlook them. It's located in the Bera Run Nature Preserve – 5,100 acres of pristine nature filled with forests, streams, and trails. The grounds of Fallingwater were designed to bring that feel all the way to the home, accentuating nature rather than competing with it. The grounds are absolutely as important to the tour as the home. Touring Fallingwater is great for nature lovers too.
Take Your Own Fallingwater Tour
If you're looking for a travel destination or you'll be visiting southwestern Pennsylvania, I highly encourage you to take your own FALLINGWATER tour. This iconic structure is the best example of marrying a modern style with the ancient beauty of nature itself, and I don't think it will ever be duplicated again. It's a structure that will forever be honored in the annals of American architectural history, and it's an absolute must-see for lovers of art, history, architecture, and nature alike.
His Style is Easily Recognized
You will find so many signature styles of Frank Lloyd Wright in almost any structure you visit. A color he used a lot was known as Cherokee Red and it permeates this house, as it does his other designer homes.
While watching a movie "The Summer Place" recently, my husband remarked about the home looking like a Frank Lloyd Wright house. It had the Cherokee red, a lot of wood for the interior, and the unobtrusive windows at the ceiling level to allow for natural light.
Of course, we had to google the movie for information, and it was the Clinton – Walker House in Carmel, CA. The movie was filmed in 1959, not long after Frank Lloyd Wright's death. The house is still owned by the Walker family and sometimes open for tours.
If we had not taken a tour of a few of his homes, we would not have noticed those details.
More Frank Lloyd Wright homes and structures
I will admit I had heard of Frank Lloyd Wright and FALLINGWATER but didn't realize the impact to architecture and design he had during his lifetime and even after. There is a privately owned Frank Lloyd Wright home here in Chattanooga, one of only 5 still owned by the original family. Hopefully a tour will be possible in the next few weeks, and I will bring you along for the tour. I can't wait to share the story.
While in the Laurel Highlands area, we also toured a couple more Frank Lloyd Wright homes, Kentuck Knob and Polymath Park, where you can rent one of the homes to stay in. It wasn't available during our time, but it would be a great experience.
Read about a tour of KENTUCK KNOB from A Bushel and a Pickle.
There are more Frank Lloyd Wright homes and structures on my travel list, hopefully a few this year.
Pittsburgh, A Great Area to Visit
We loved visiting PITTSBURGH and the LAUREL HIGHLANDS area and hope to visit again soon. Consider staying at the DRURY HOTEL PLAZA as we did. You can read about how this old Federal Reserve was turned into a hotel. Make sure you visit the vault in the basement.
Another fun attraction, tour THE ANDY WARHOL MUSEUM OF ART. He was actually from Pittsburgh although he is associated with New York City so much.
Need more ideas? Find PITTSBURGH VISITOR GUIDE online or request one by mail. Oh, and find me on page 16 – 17. What a pleasure it was to share my travels about Pittsburgh. VISIT PITTSBURGH has all the details you need to plan a visit.
I've included affiliate links to Amazon for you to find some products easier. I may receive a small commission, but the price is the same for you. It just helps my blog out.
Happy Travels,
Rosemary