Lodge Museum of Cast Iron
Are you looking for unusual places to check out when traveling? Or even around your own hometown? Here's a place to add to your list – Lodge Museum of Cast Iron. South Pittsburg is hometown to Lodge Cast Iron and now Museum. As in many small towns, and South Pittsburg is celebrating 150 years, you often find many unique places to visit.
This Lodge Museum of Cast Iron isn't just full of Lodge Cast Iron, but also some of the most collectible items from Wagner and Griswold. I'm sure many of you will recognize these names and may even have a few pieces.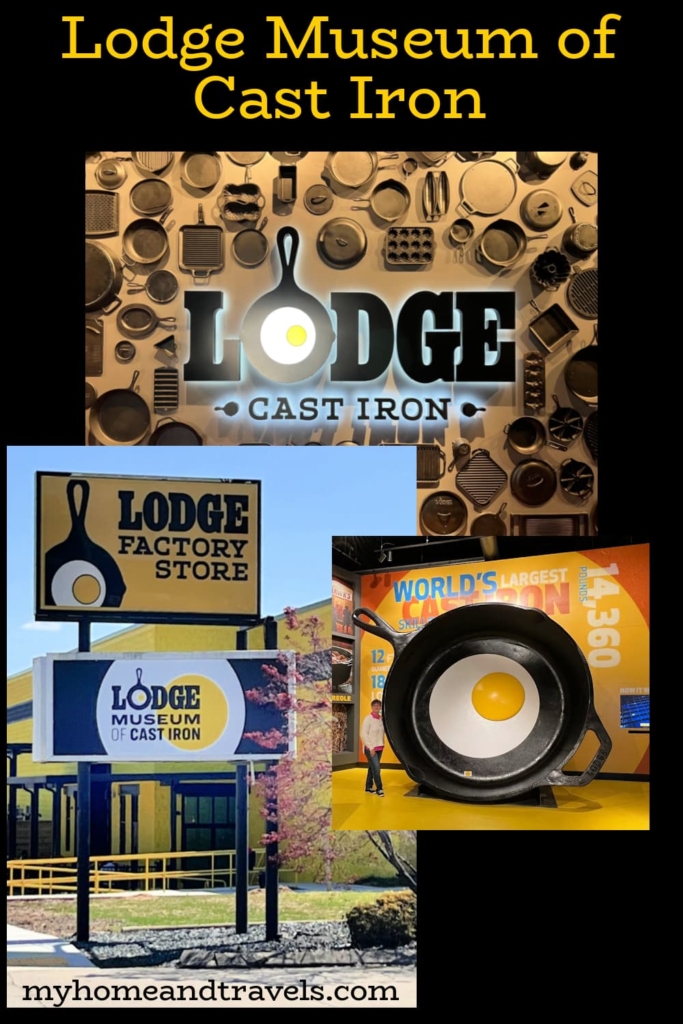 When visiting the museum, not only do you learn about the humble beginnings of Lodge Cast Iron, with a different name, but how it's made. You will also learn why so many love cooking, and camping, with Cast Iron.
When planning your visit, I would plan at least 1 – 1 ½ hours for the museum, then another hour at Big Bad Breakfast, inside the museum. More on that later.
What You Will See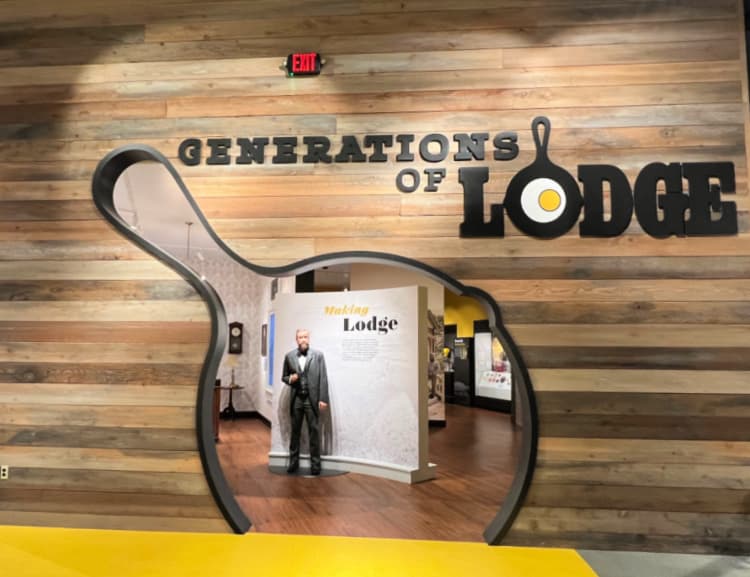 You can follow the conveyor belt of skillets to take you through how the cast iron is formed in the foundry, along with how it has changed in the last 126 years.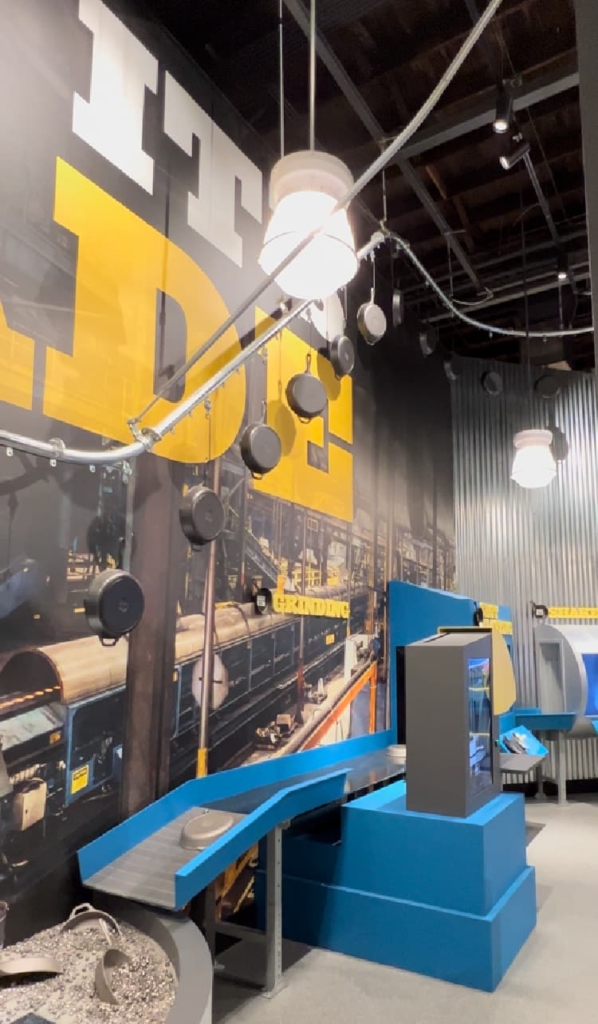 It's very interactive so the whole family will have fun. There are so many touch screens to show you how the foundry works for forging cast iron, to how the skillets are finished, to watching a chef use a product for a favorite dish.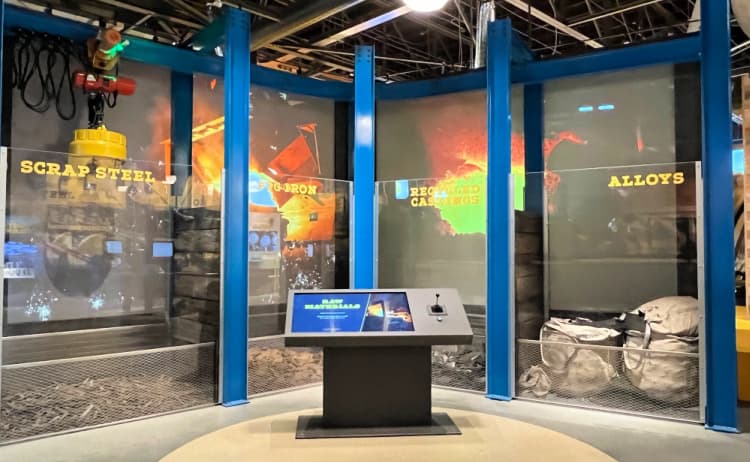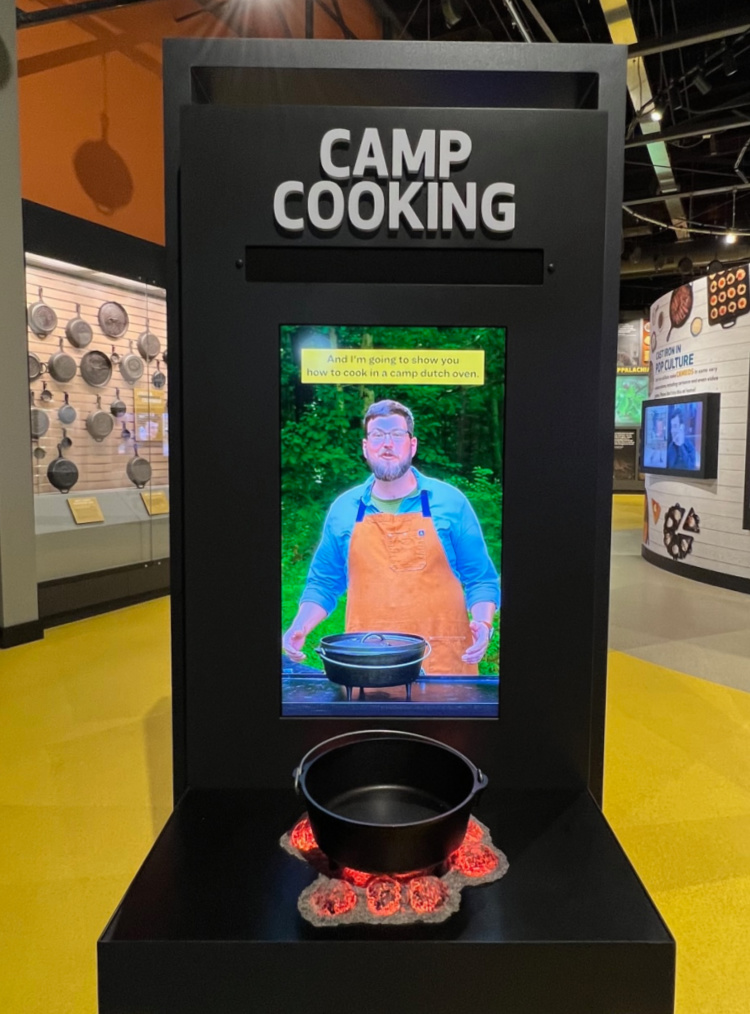 Look for a new area opening soon sharing family collections, sometimes over 10,000 pieces, had been acquired over many years by these individuals.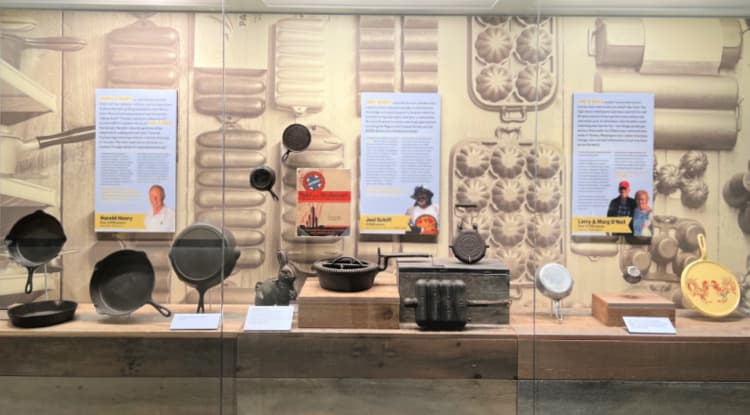 Make sure to check out the wall about myths about Cast Iron, such as how to clean and what utensils to use for cooking.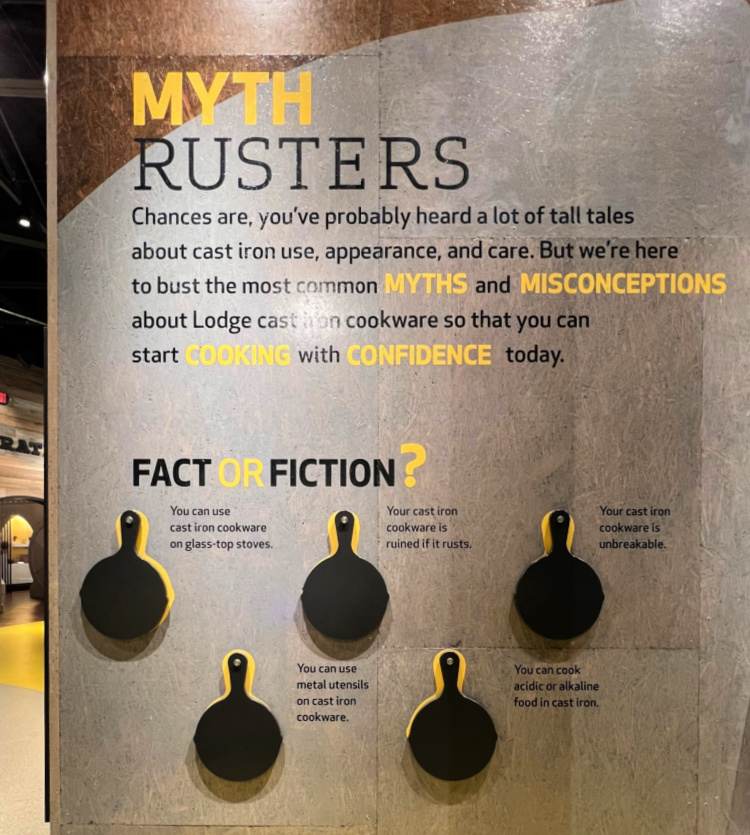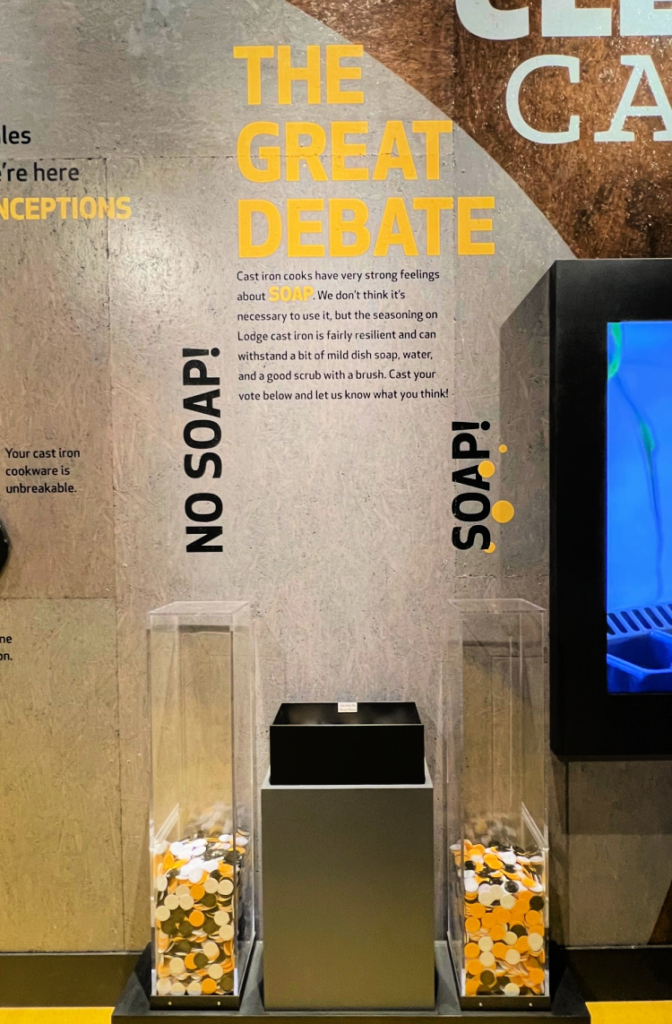 How It All Began
The name Lodge is known worldwide in the Cast Iron community, but the foundry started under the name of Blacklock.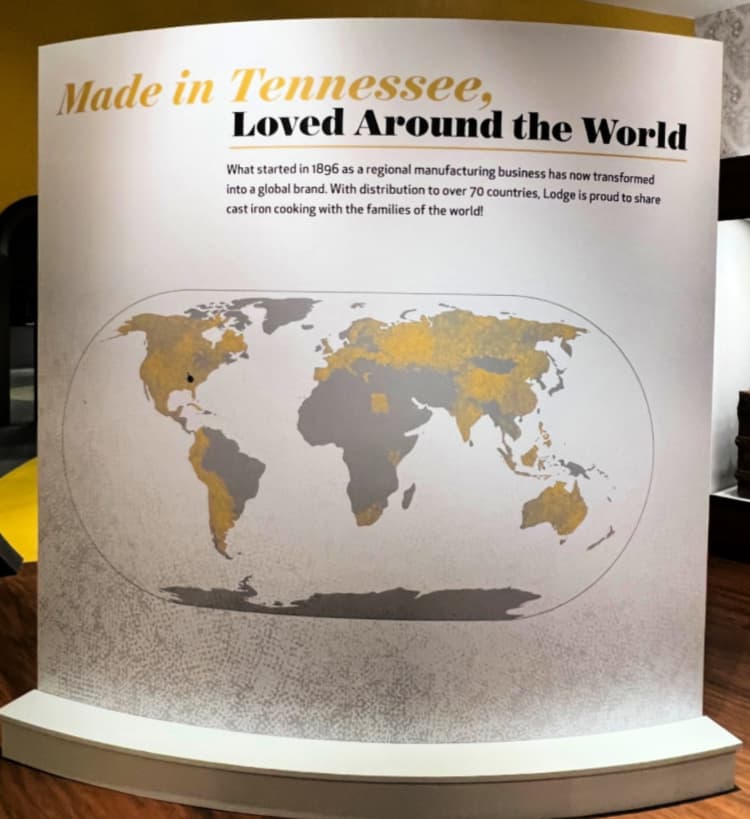 In 1896 after Joseph Lodge had become a world traveler, he walked from Chattanooga to South Pittsburg and decided to settle there and begin his foundry business.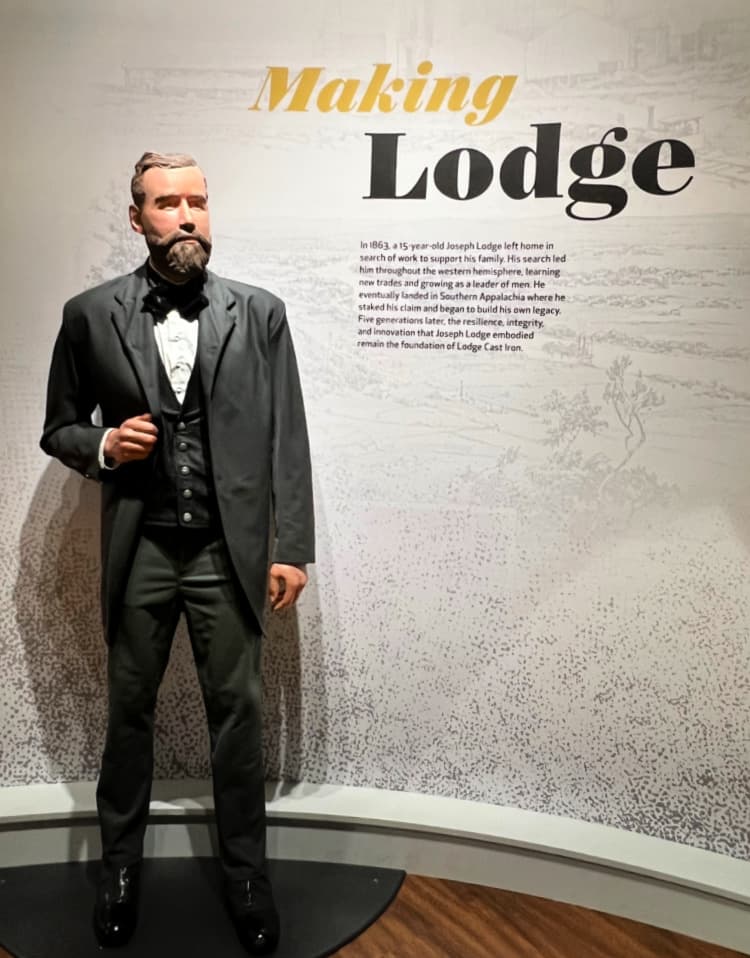 But as most would expect, he didn't name it for himself. Instead, it was named for a close friend and Episcopalian Priest, Joseph Blacklock.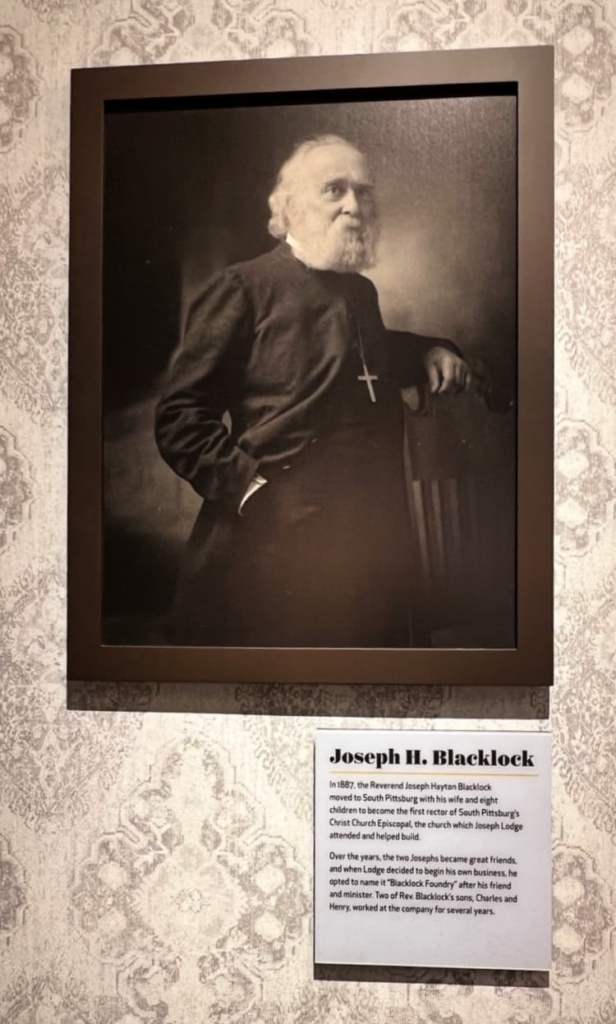 There was a fire in 1910 destroying the foundry, and in just 3 months it was rebuilt, and opened as Lodge. It's still family owned and run, being in its 5th generation.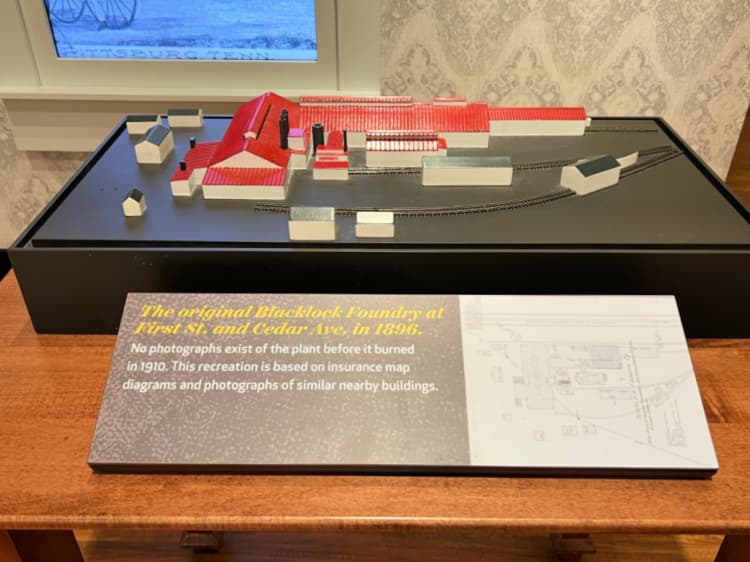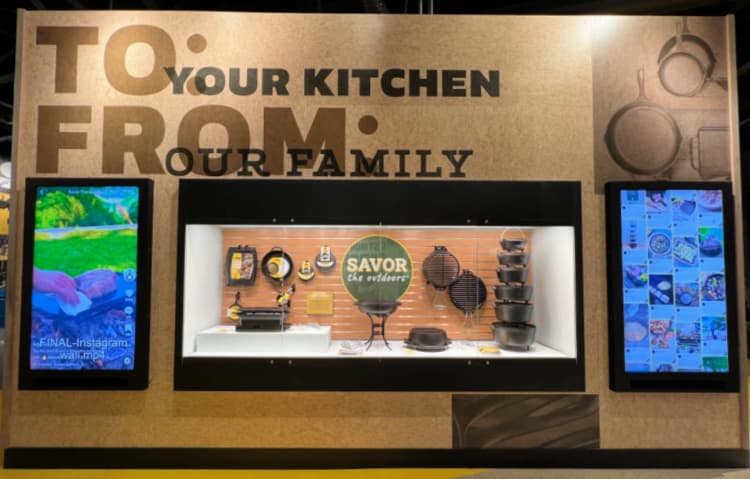 The World's Largest Cast Iron Skillet
When opening the Museum, which had been talked about for many years, this idea came to life. Manufactured in Alabama, then brought to South Pittsburg by truck, it's the best photo op in the Museum.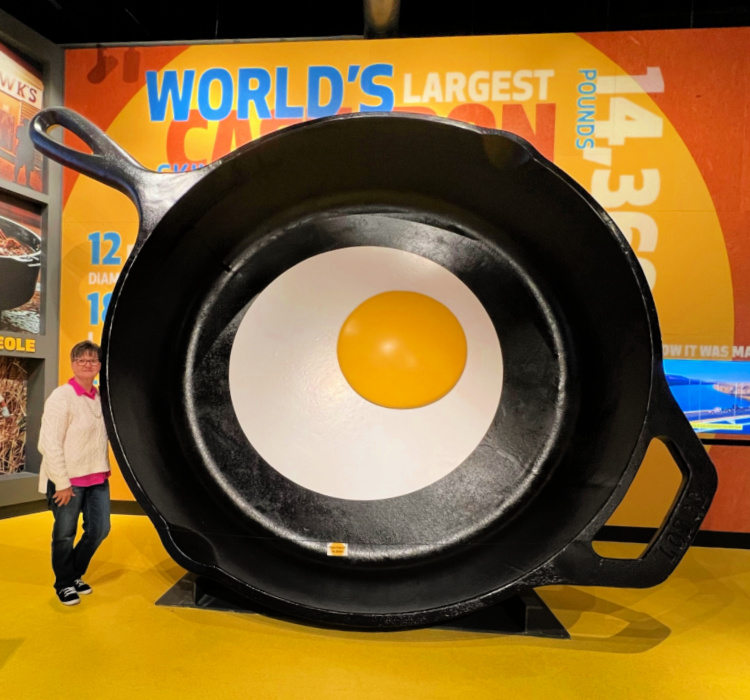 How big is it? B-I-G
Weighing 14,360 pounds and measuring approximately 12' x 18' x 2.5'. That's one giant egg in the picture, but you could fry about 650 eggs. Wonder how big the spatula would have to be?
That giant egg was added to a new logo in 1973 and the yellow color (for an egg yolk) is used throughout their brand.
The Lodge Museum of Cast Iron is open 7 days a week, 8 am – 6 pm Central Time. It's only about 30 minutes from Chattanooga, Tennessee, but remember, it's a whole time zone different (Chattanooga is Eastern Time).
Are you ever in a restaurant and get served a dish in Cast Iron? Do you look to see if it's Lodge? I do all the time. Lodge products are sold all over the world, including Waco, Texas, at Magnolia Table.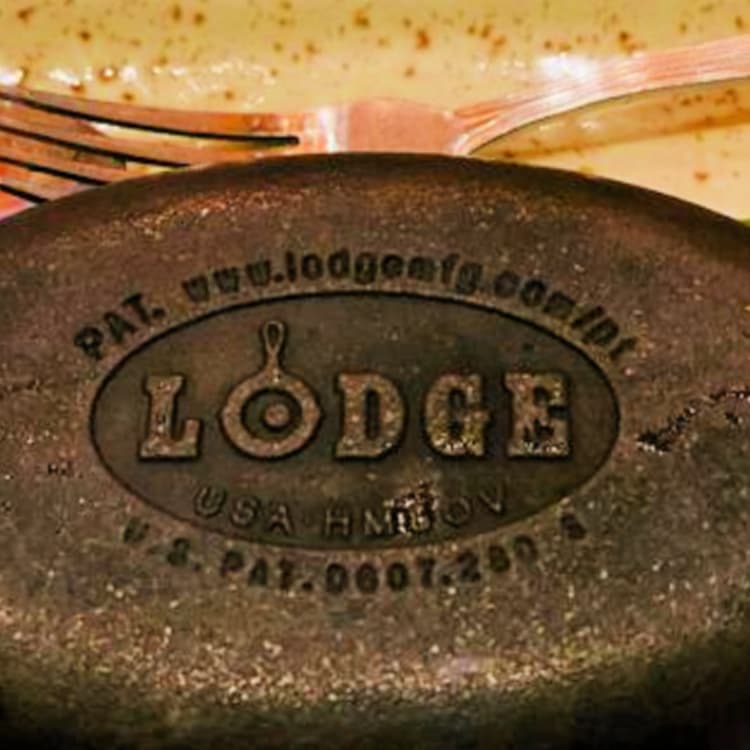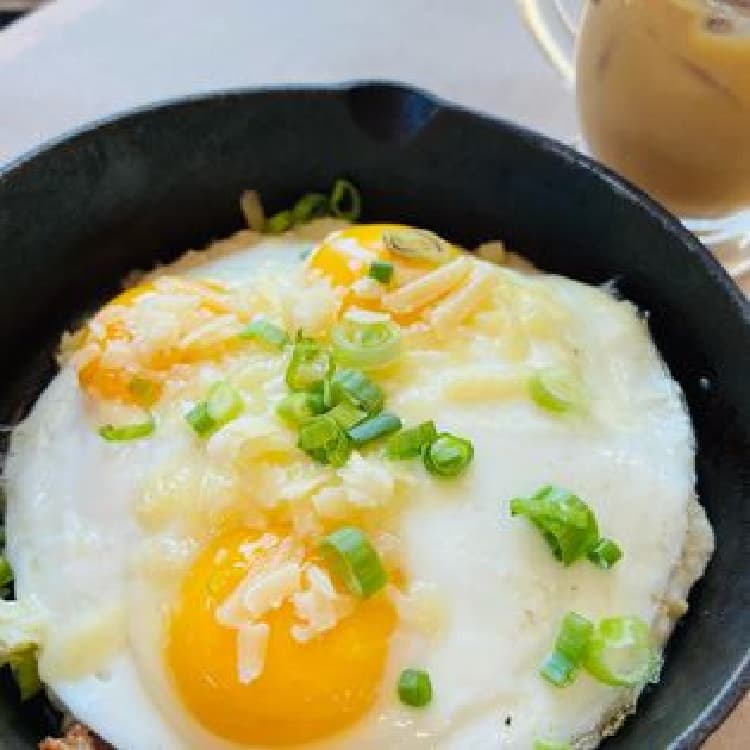 A little secret you might know, I didn't before my trip. On the handle of Lodge Cast Iron Skillets, it has a tear drop shape. You know it's Lodge then.
There's always special editions made by Lodge from the current hit of Yellowstone, to musical groups, to another favorite Tennessee product, Jack Daniels, to South Pittsburg's own National Cornbread Festival. I was gifted one in 2016 for working at the Festival.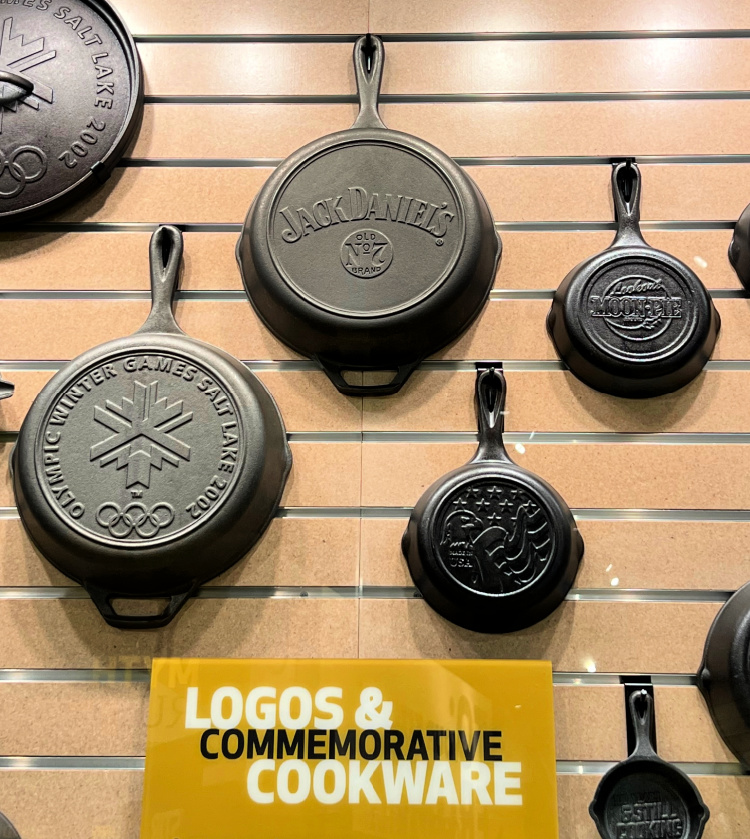 Explosion of Visitors
Opening last fall, the Museum is gearing up for a busy weekend in April. The National Cornbread Festival has been held for 26 years in South Pittsburg. This quaint Tennessee town of about 3,100 people will grow to between 30,000 – 40,000 that weekend.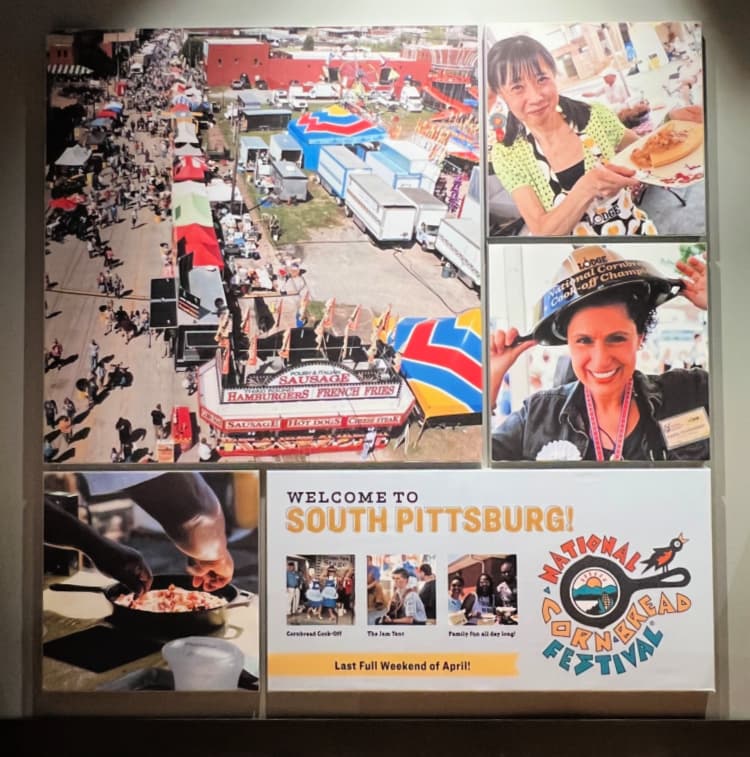 Tours will be available all weekend for the Lodge Museum of Cast Iron. Follow their FaceBook page to keep up with the latest news.
Where Do I Find Lodge Museum of Cast Iron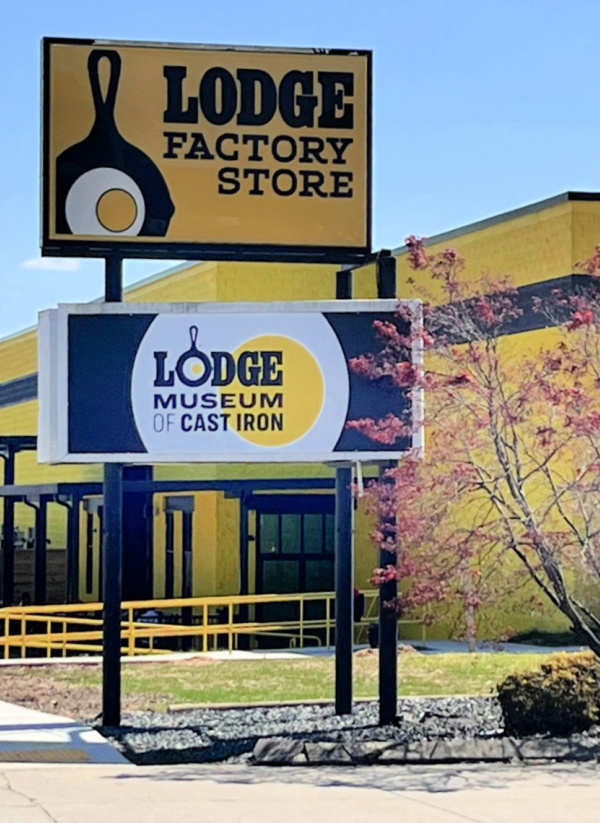 220 East Third St. in South Pittsburg, TN
It's just about 5 minutes off I-24, between Chattanooga and Nashville.
As always, if you are making a special trip, I always check ahead to make sure of hours and ticket prices. Follow them on FaceBook for more information.
Do you have a group? Just call the Museum for group rates.
Don't Stop With a Museum Tour
After touring the Museum, you aren't done. You still have the Factory Store to visit. Not only will you find a wide array of Lodge products, but probably one of the best reasons to shop in a store – Factory Seconds. Most of these are products which won't pass the standards for normal sales, but are perfectly fine for your own use. Some of the reasons are things you wouldn't even be able to tell the difference in what you buy there or order off Amazon. It's a great way to build your collection on a budget.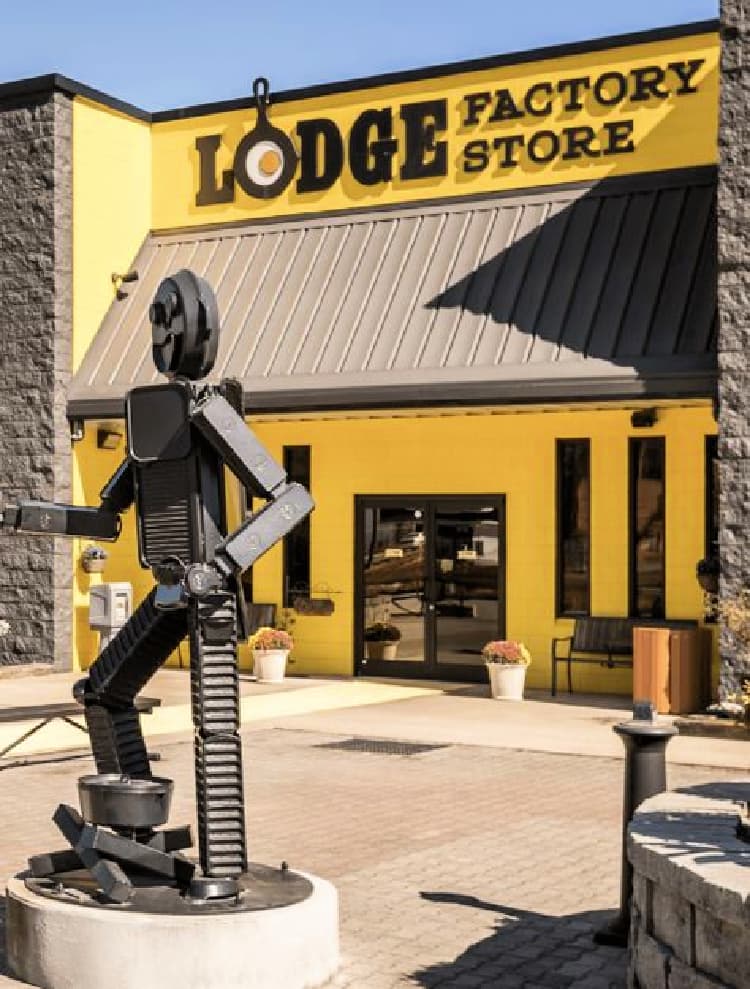 It's still the same great product that will stand the test of time.
And speaking of stores – there's 3 locations besides South Pittsburg – Pigeon Forge (moving next door to a larger space soon), Sevierville, and Concord, NC.
Now Onto The Food
Then onto BIG BAD BREAKFAST. I'll have a full review on my visit in a few days. There will be a new location in Chattanooga soon. I'll keep you posted.
But for now, let me just show you a sample of biscuits and gravy.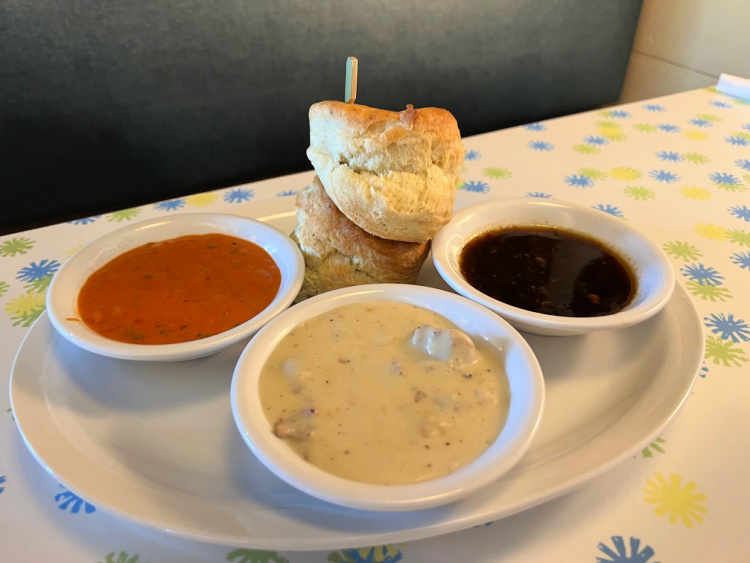 Remember I mentioned the National Cornbread Festival – it's a great family weekend with lots of ways of tasting cornbread. See all the details HERE. It's always the last full weekend of April.
Here's the winner's trophy.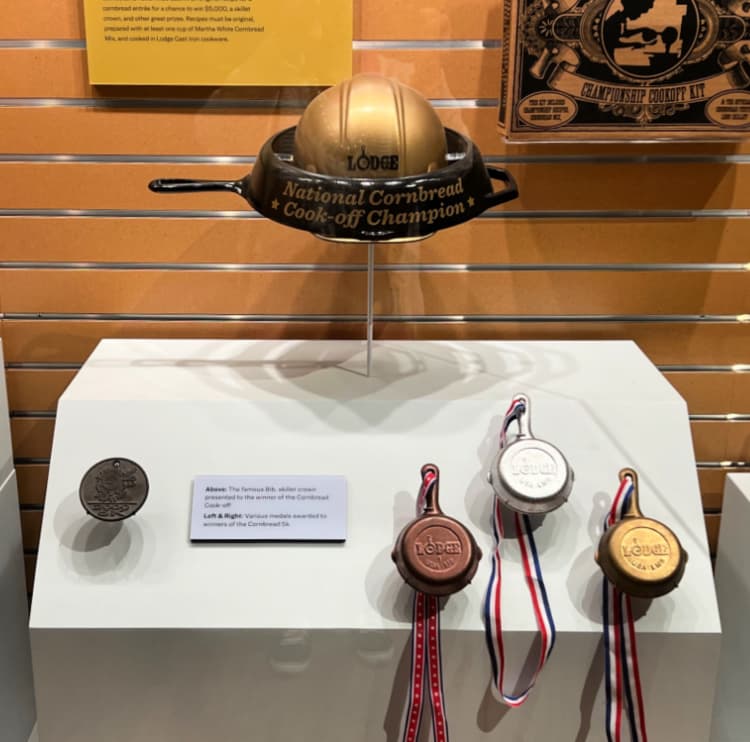 Do you follow me?
To keep up with all my travels, sign up for the e-mail notifications, FACEBOOK, and INSTAGRAM.
More museum ideas when in the area. TOP MUSEUMS IN CHATTANOOGA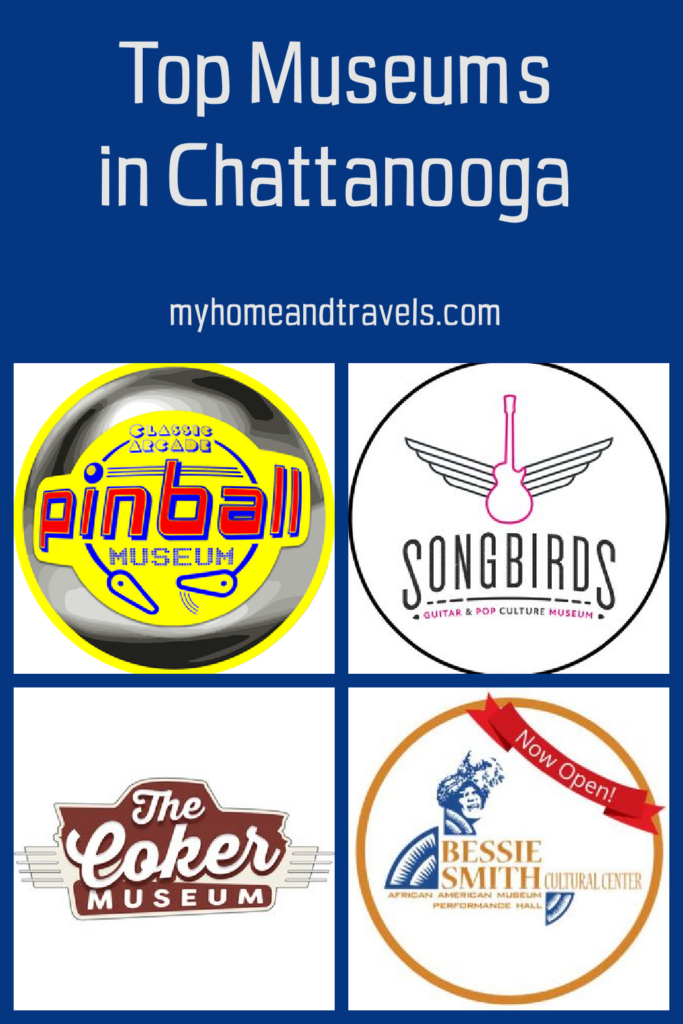 I've included affiliate links to Amazon for you to find some products easier. I may receive a small commission, but the price is the same for you. It just helps my blog out.
Happy Travels,
Rosemary