If you are looking for THINGS TO DO IN MEMPHIS, here's my top ideas to get you started.
When you say Memphis, what comes to mind? Elvis? BBQ? The Blues? That's at the top of most people's list, but I'm going to fill you in on a few more things to do in Memphis.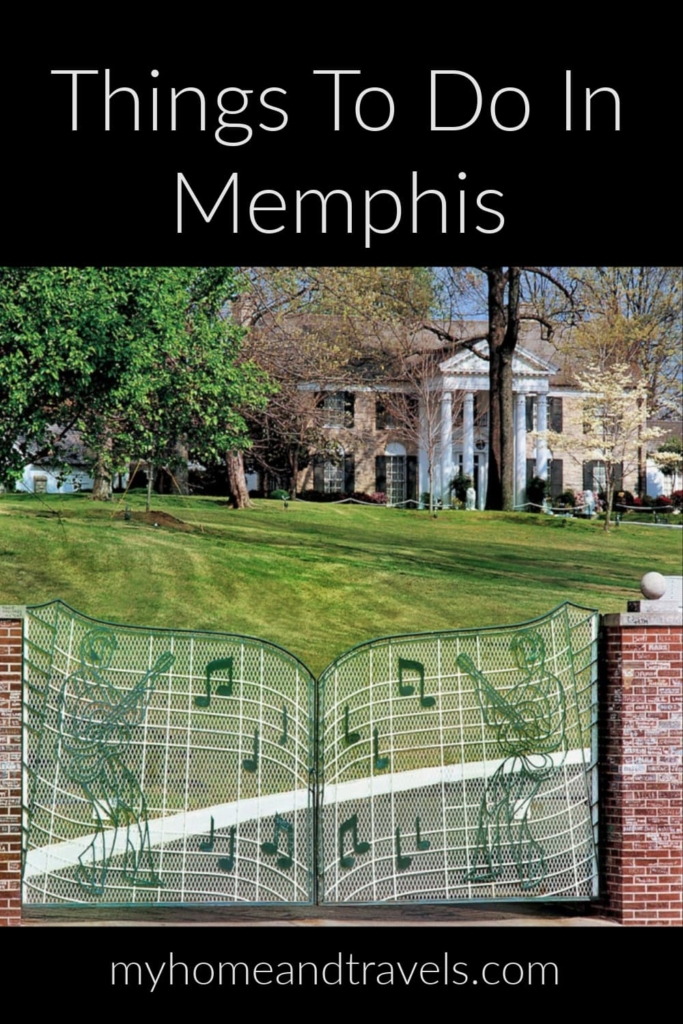 I grew up not far from Memphis and it was our "big town" to go to. One thing, back in those days, shops were open on Sundays and not in Arkansas, and the sales tax was a lot lower. My how things have changed.
A Few Memories of Memphis from the 1970s
Driving by Graceland – this was especially fun at Christmas. Those famous gates and the house were always decorated in blue lights. No Elvis sightings though.
Shopping at Goldsmiths – there were several locations around town, but the best one was called Oak Court. That was my first department store credit card.
Eating at Red Lobster – this was a real treat even if it was just shrimp. It was always our place to go after a day of shopping.
Touring St. Jude's Children Hospital – I was fortunate to be a part of a group touring St. Jude's which sees miracles every day. It was only about 15 years old at that time and so much smaller. I would love to tour again.
When Elvis died – my Mom and I visited Memphis that weekend, drove by Graceland, and visited Forest Hills Cemetery.
Things To Do In Memphis
Here's a few of my favorite places. Of course you know where I'm starting!!
Elvis purchased this home in 1957 for only $102,500 for his Mother Gladys. Then it sat in what would be considered the countryside and now the city has grown around it. Not only will you find the estate in the same décor and style it was when Elvis lived there, but much more.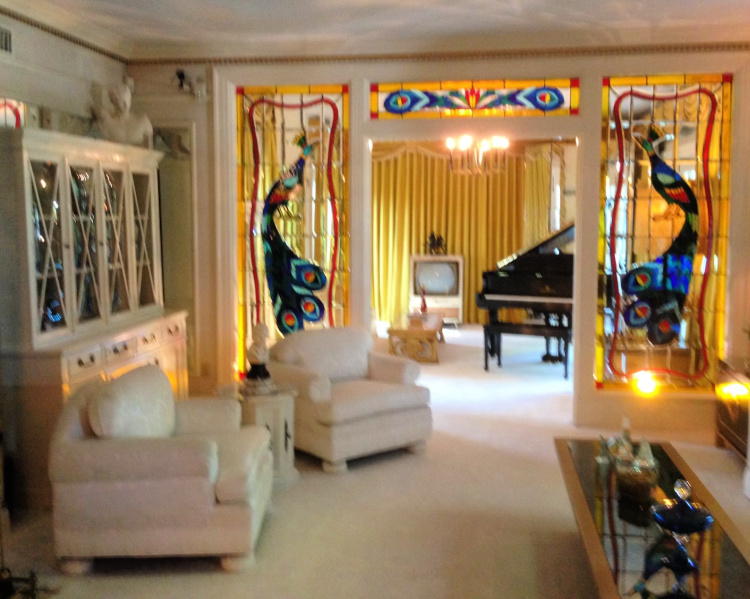 There's a Meditation Garden where you can pause at his grave.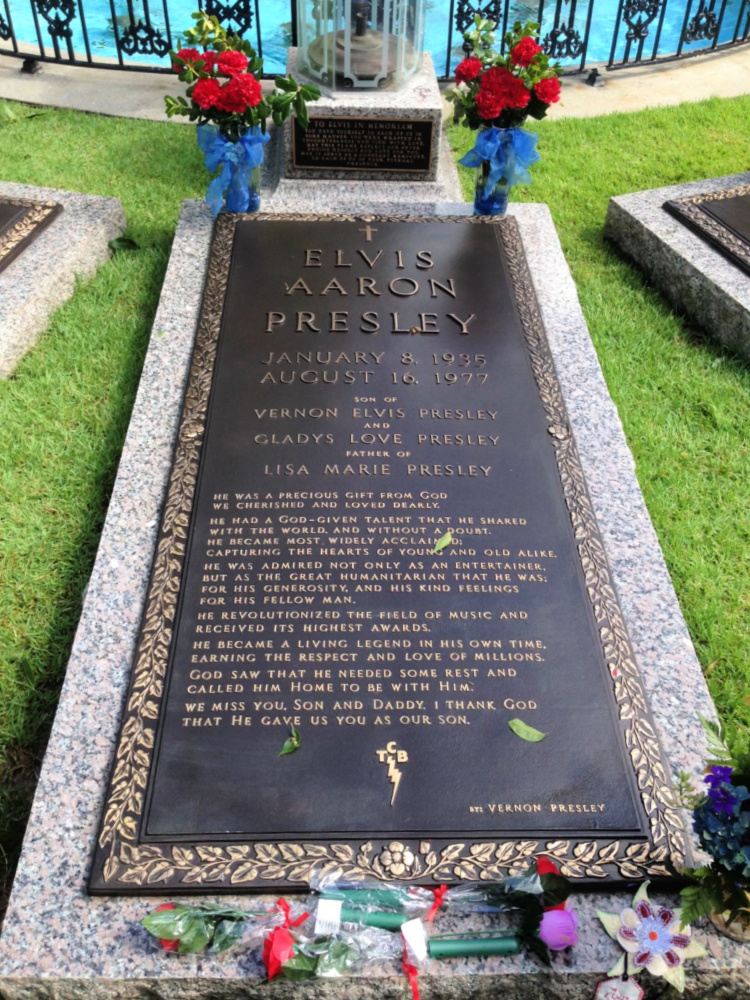 The museum across the street lets you see many of his possessions to include clothing, family photos, his Grammy, and even the Lisa Marie, his private plane.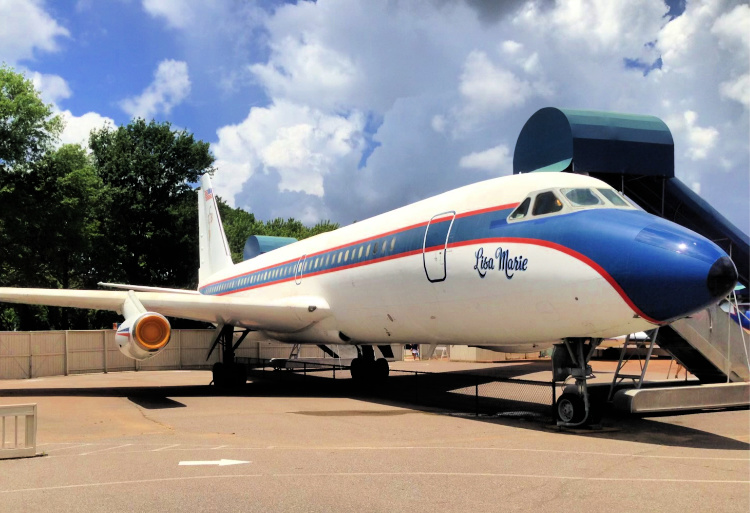 Also, in the museum, is a huge wall displaying all of Elvis' amazing number of gold and platinum records. You just do not realize how many of his records went gold and platinum until you see this huge wall with all his hits displayed. it's pretty mind-blowing, really.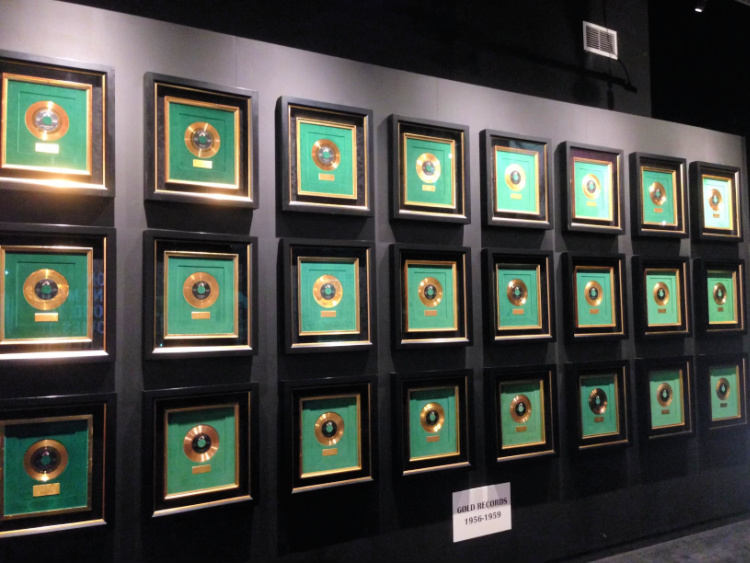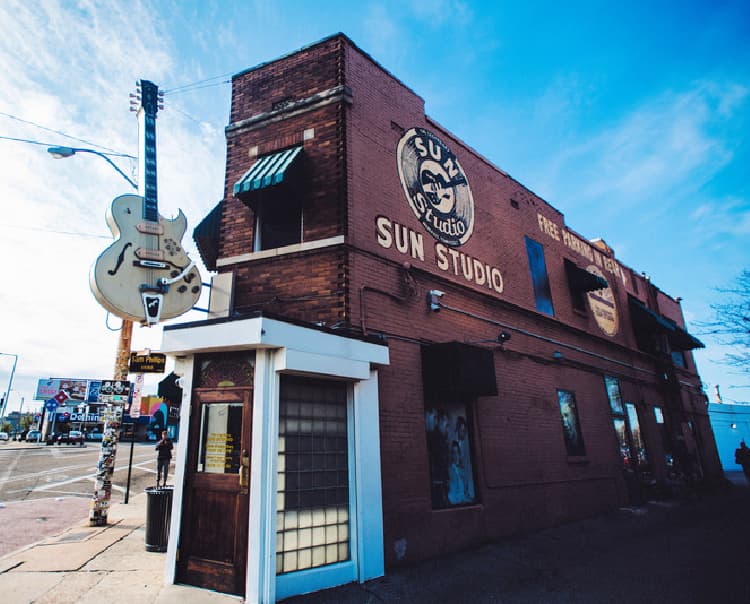 As an avid music lover and record collector, this was on the top of the list for my husband when we visited Memphis a few years ago.
The tour is very insightful on how many legends started their career with the likes of not only Elvis recording his first record, but with names like Johnny Cash, Jerry Lee Lewis, and Carl Perkins playing there.
This spot is where Elvis Presley stood to record. You can stand here to for pictures.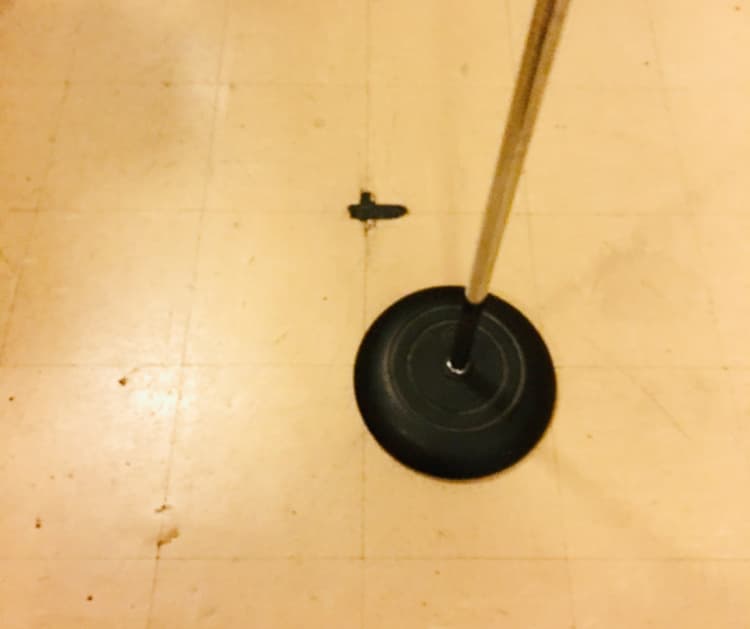 This is a great tour for the whole family.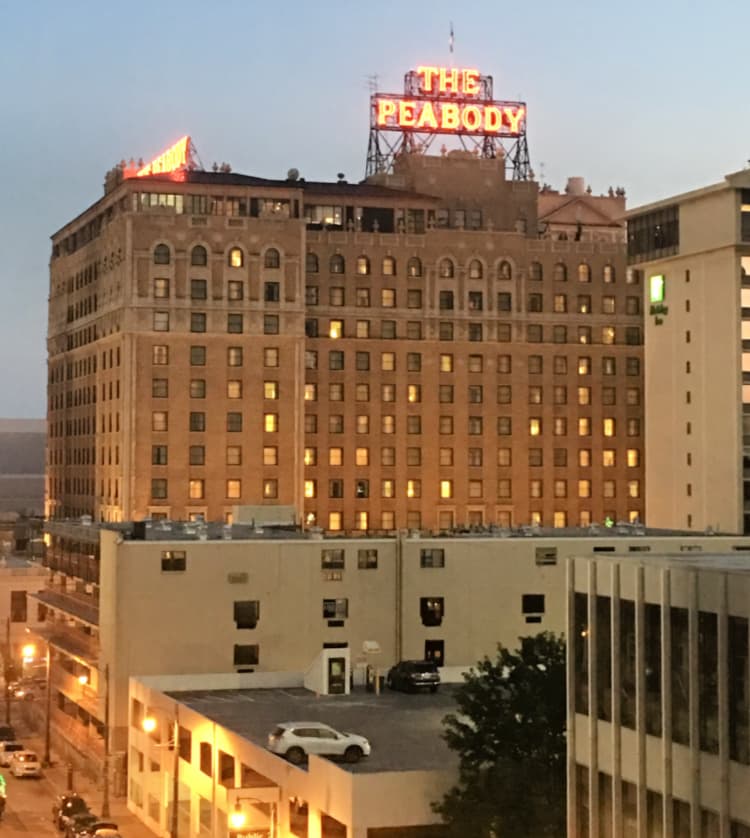 Known as one of the South's Grand Hotels, The Peabody is a place all should experience in at least one way. For the ultimate hotel, book a night, or two, here. If you are only in town for a day, there are several restaurants to try, but something not to miss is the Duck March at 11 am or 5 pm each day. You won't find duck served on any menu in the hotel.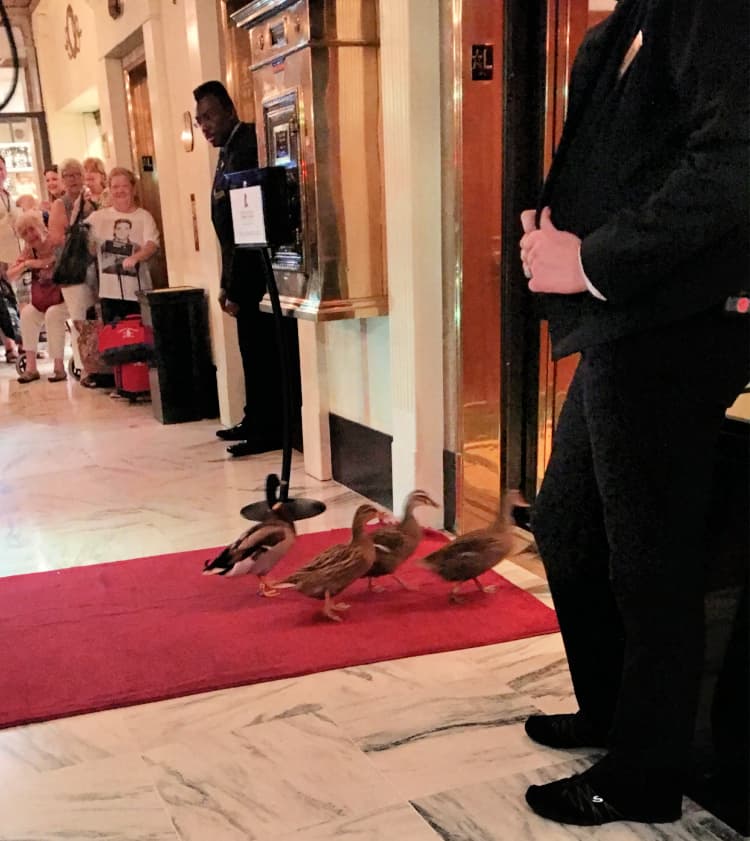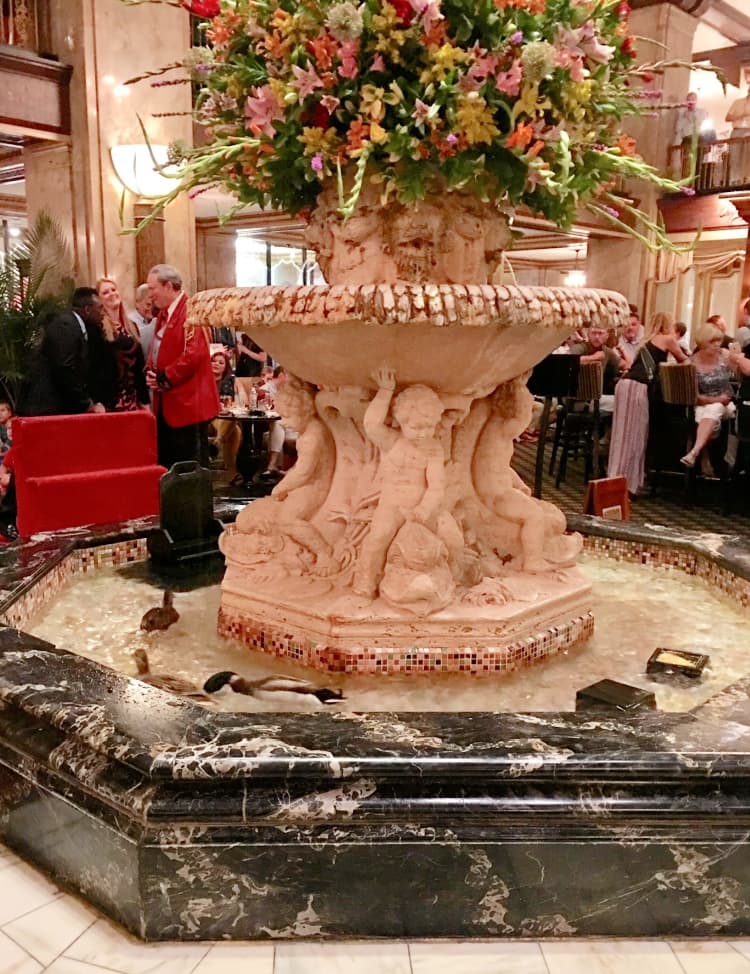 Want to become an Honorary Duck Master? Book a Ducky Day and you can help lead the Ducks to the Fountain and enjoy other treats as well.
There's always a crowd, so arrive a little early to ensure you can snag a great viewing point to see the ducks come down from their rooftop home on the elevator on the red carpet.
After you see the ducks, don't miss dropping by the Peabody Deli & Desserts for a quick lunch or just dessert and coffee.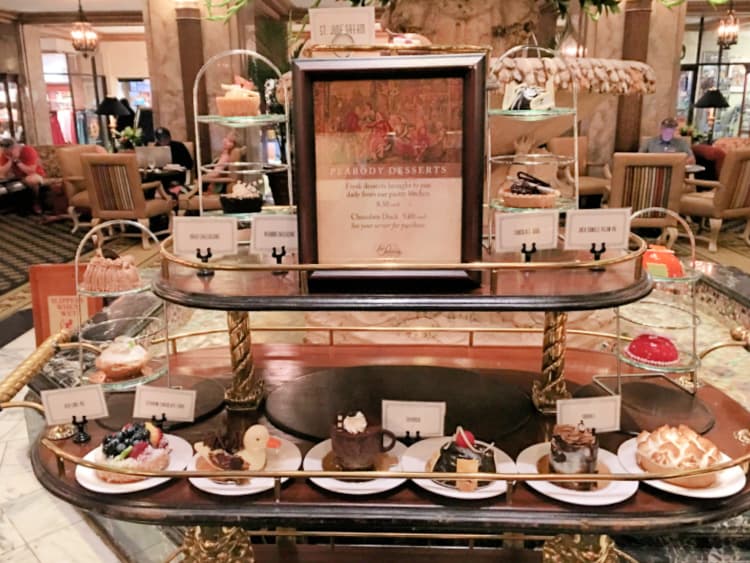 Enjoy dining experiences such as Afternoon Tea, Weekend Brunch, or one of the other restaurants in the hotel. We once did Christmas Day Brunch, and it was the best I've ever experienced. Quite a treat.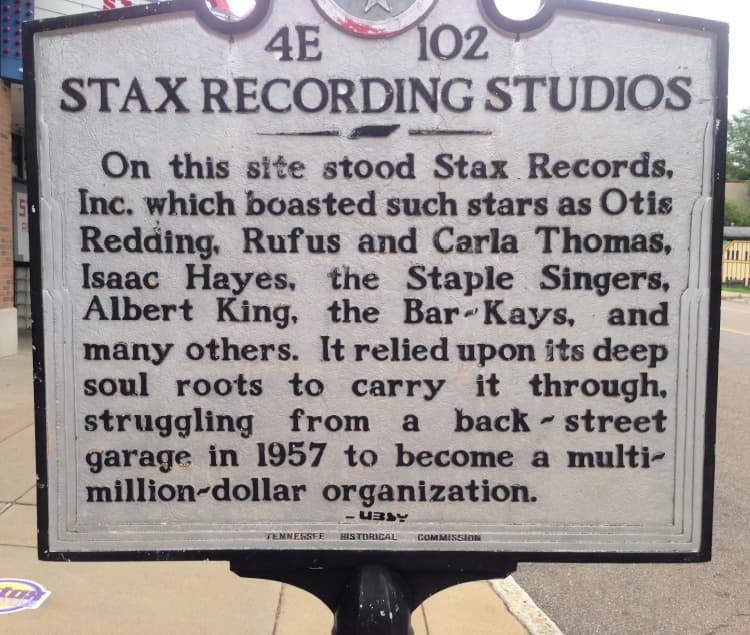 This is a mixture of how Stax and their recording label started along with memorabilia from their artists like Isaac Hayes custom car.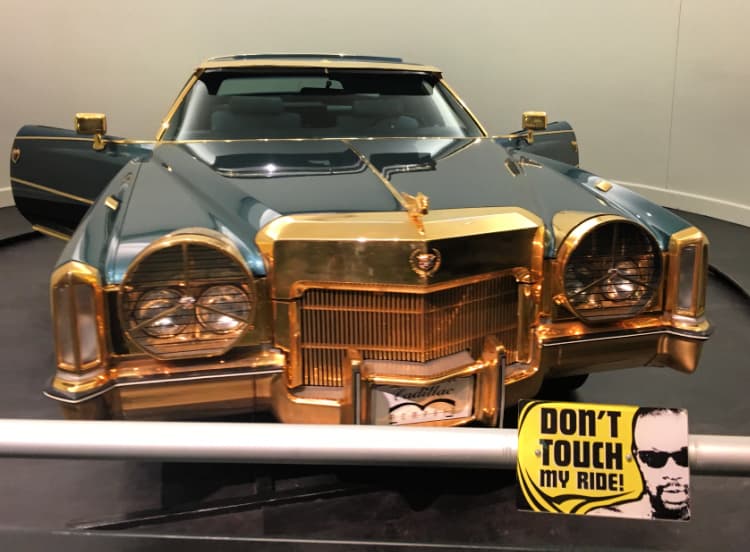 You will also learn about how the racial movement in the 50s and 60s affected Stax and music of the time.
Stax, originally known as Satellite in 1957, was founded by Jim Stewart and his sister, Estelle Axton. In 1961 a new name came from the two letters of the last names of each.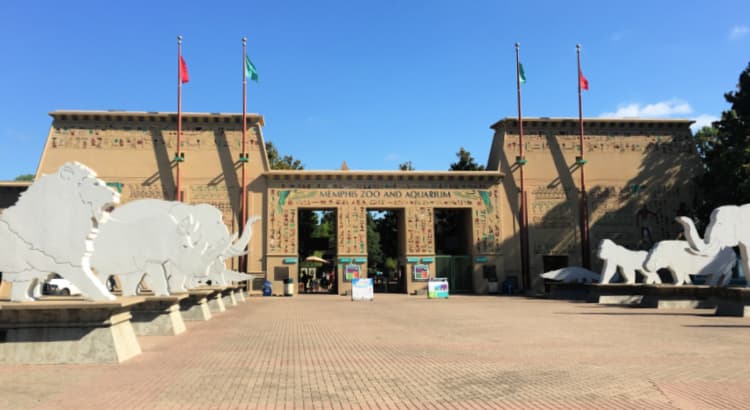 Always something new at the Memphis Zoo. This year a splashpad was added. If you have ever visited Memphis in the summer, you know how hot it can get. What better way to cool off!
You can find the daily calendar on their website to help with your plans.
They have one of the best websites I have seen for a zoo. The daily calendar is posted to help with plans. Several animal webcams are set up so you can let your kids see what's going on before your trip.
There's a new baby hippo named Winnie born recently. We got to see a baby when we were there a few years ago too. Aren't baby animals so cute?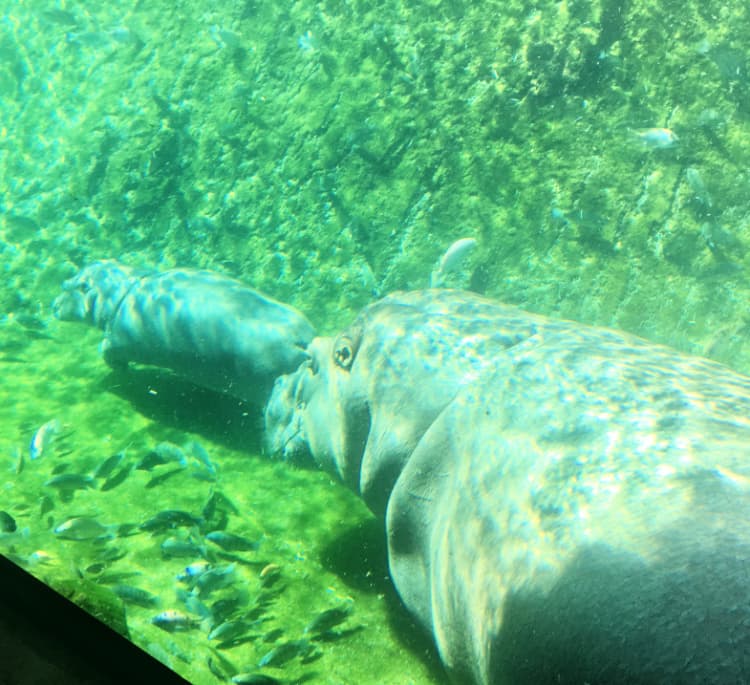 National Civil Rights Museum – Lorraine Motel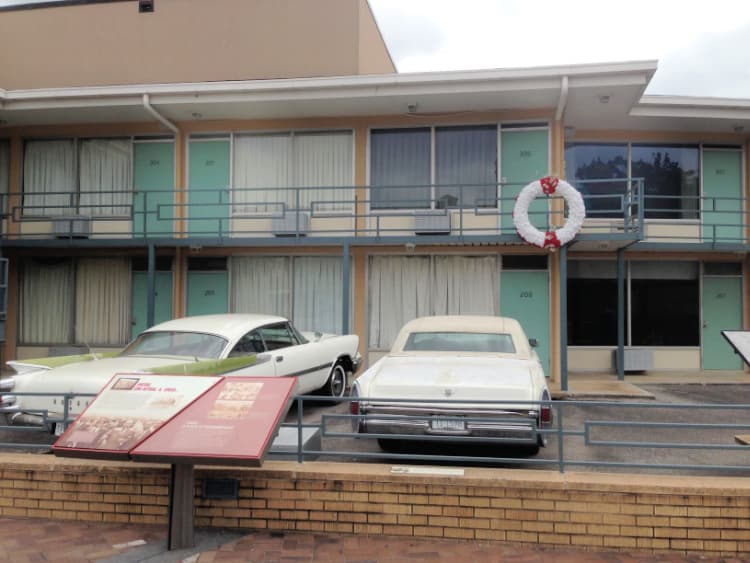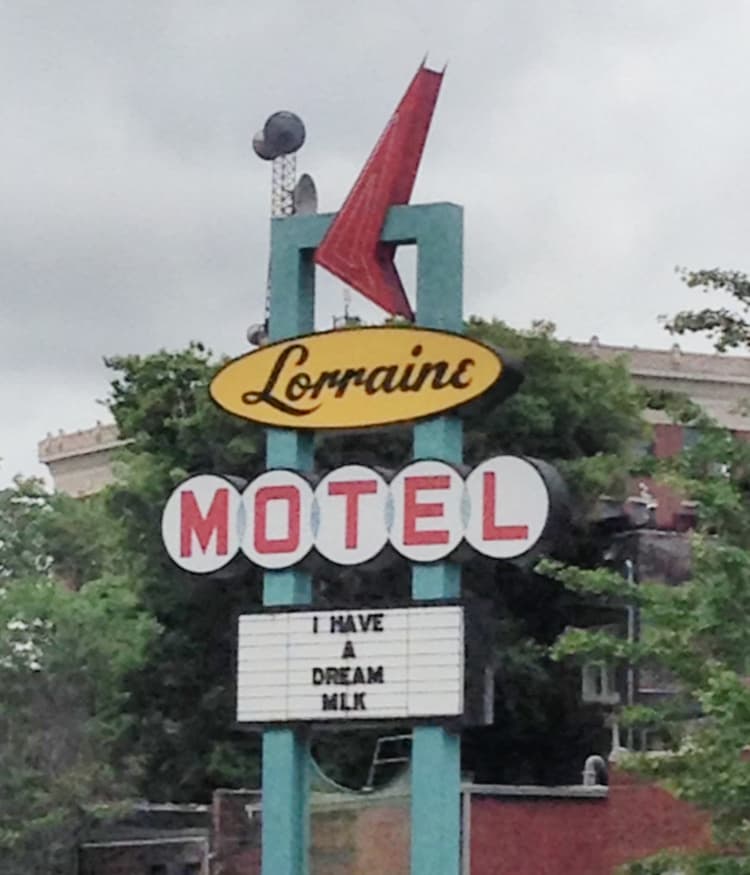 The sight for the shooting of Martin Luther King, Jr. on April 4, 1968.
Along with permanent exhibits, holding over 250 artifacts, there's also a constant play of films.
The museum covers many years and events of civil rights including Rosa Parks, but Sit Ins from the 1960s.
No trip to Memphis is complete without a walk down Beale Street. Whether you are looking for good food, to people watch, or find great music, you will find it all.
A couple of our favorite places to eat include Rum Boogie Café and of course, B. B. Kings. Both not only offer great food, but you will find live music.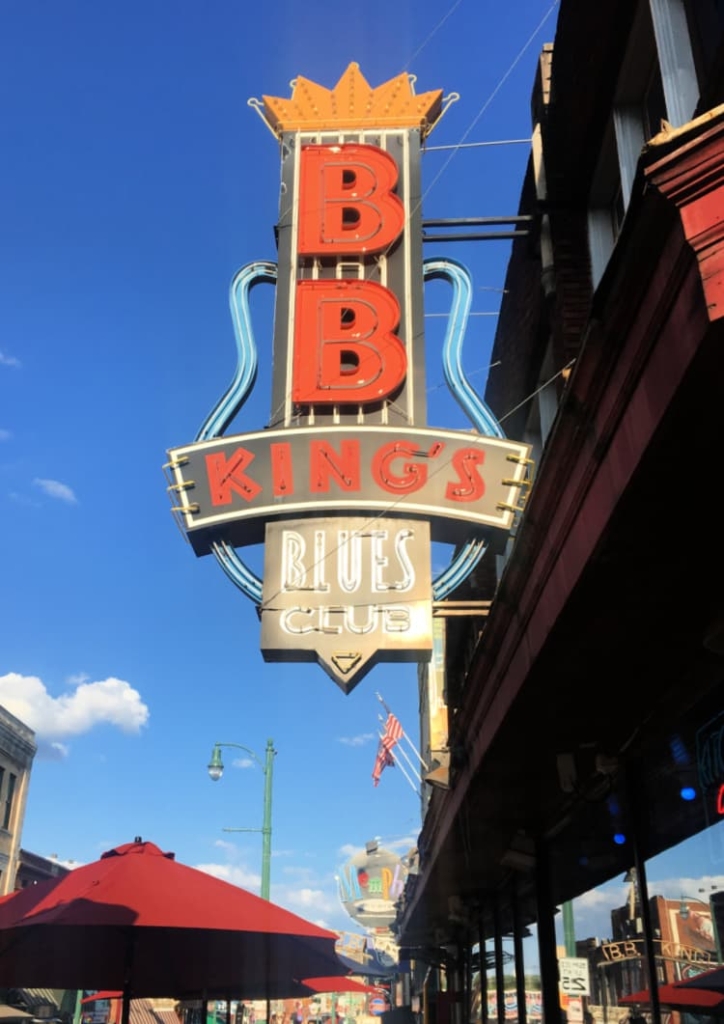 Make sure to stop at A. Schwab, the oldest and longest-standing store in Memphis. There's an old timey soda fountain for your favorite shakes and homemade sodas. It's a great place to pick up your Memphis souvenirs also. Want a replica Elvis jumpsuit?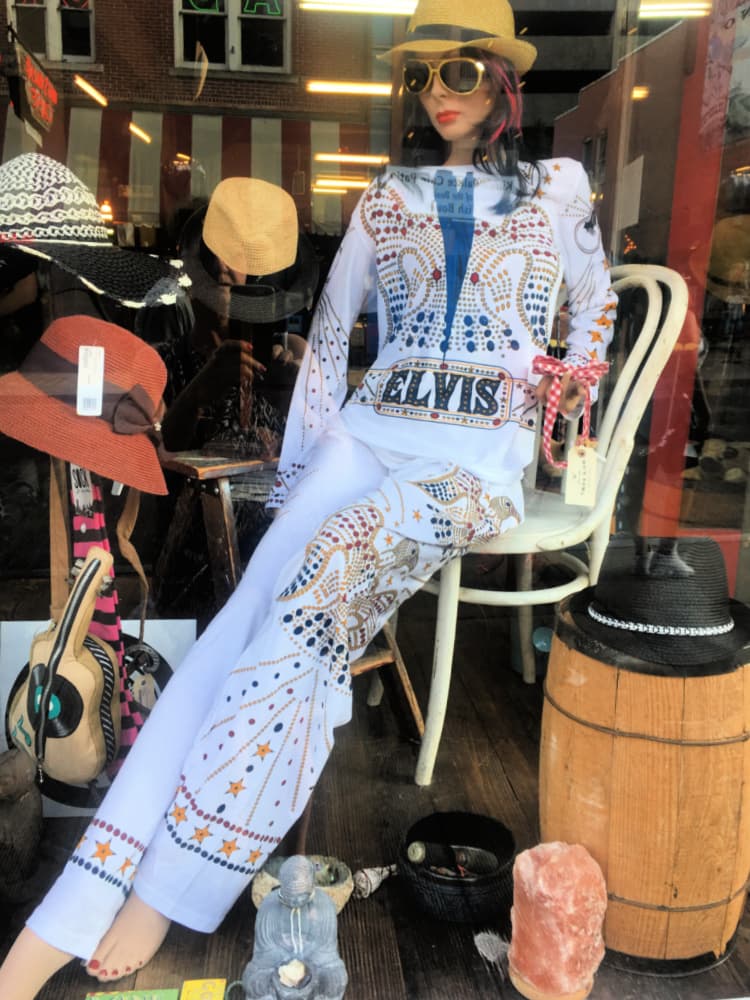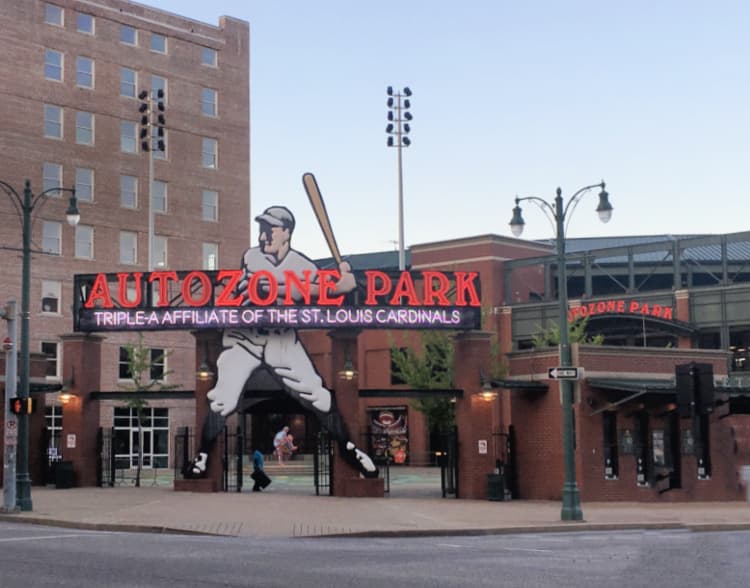 Home to the Memphis Redbirds, a minor league baseball team.
If you are in town between April and September, catch a game. These minor league teams can offer a lot of excitement and fun, You might even catch a foul ball.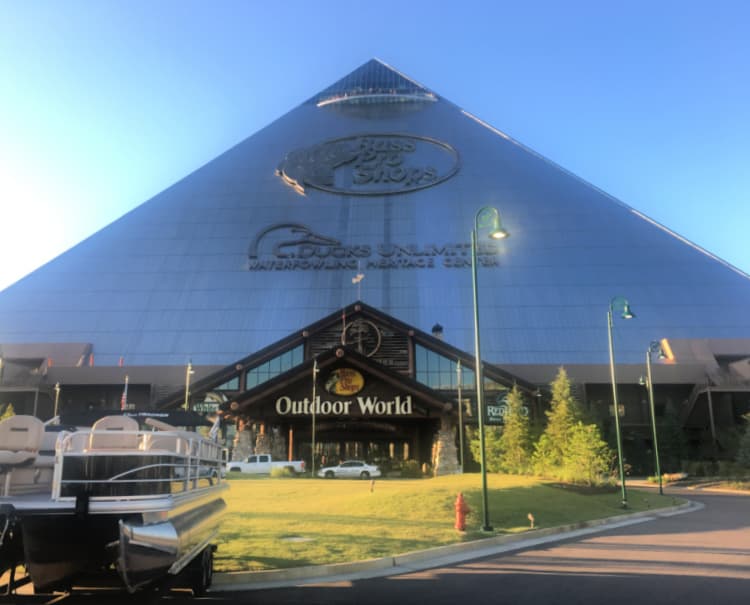 If you have visited any Bass Pro Shop, many look alike. This isn't the case as you are in The Pyramid.
A few other things different at this location, you can book an overnight stay at Big Cypress Lodge. Get that lodge feel while staying in downtown. Dining and spa options are also available with your stay.
Ride the elevator to the top for a view of Memphis and the Mississippi River. I love it close to sunset.
Along with all the normal shopping and exhibits for Bass Pro Shops, you can also enjoy an aquarium while dining.
The Pyramid was built as a sports arena and home to the Memphis Grizzlies and University of Memphis basketball before the Fedex Forum was built.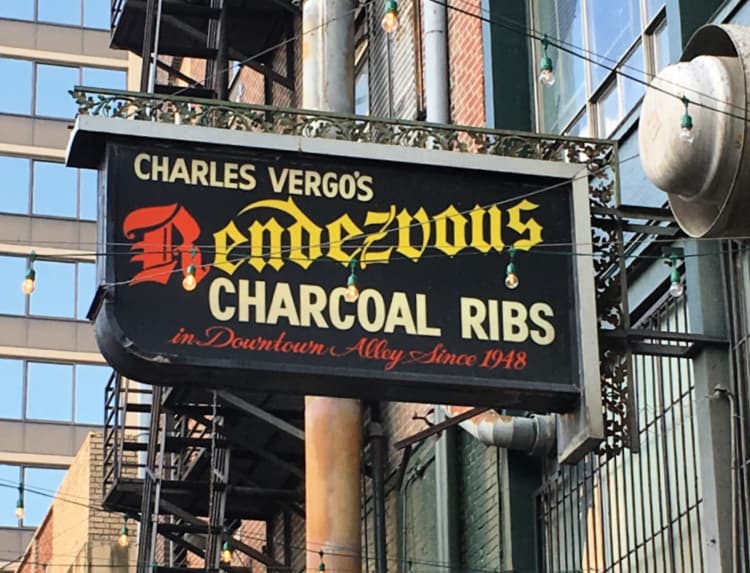 There is no shortage of great BBQ in Memphis, but probably one at the top of everyone's is this place.
When it comes to BBQ – this is a dry rub style, while many swear by a saucy kind. The Rendezvous is a place to try at least once.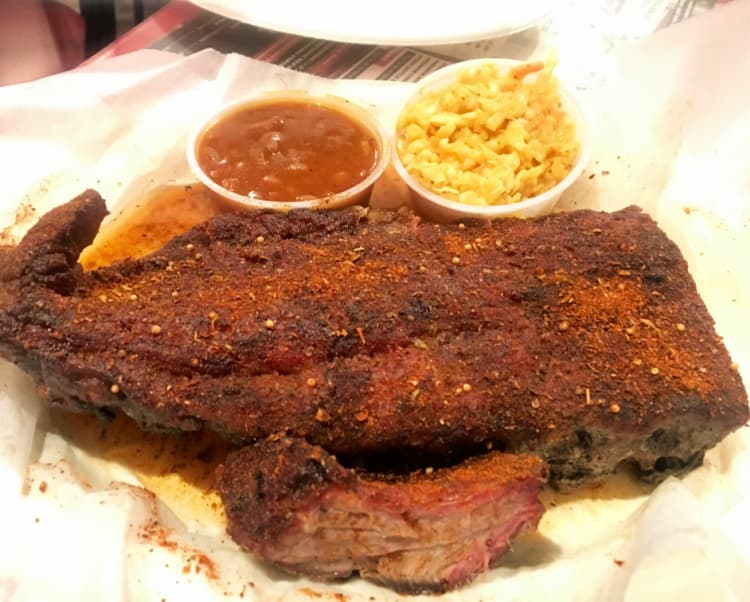 Let me know your favorite BBQ place in Memphis.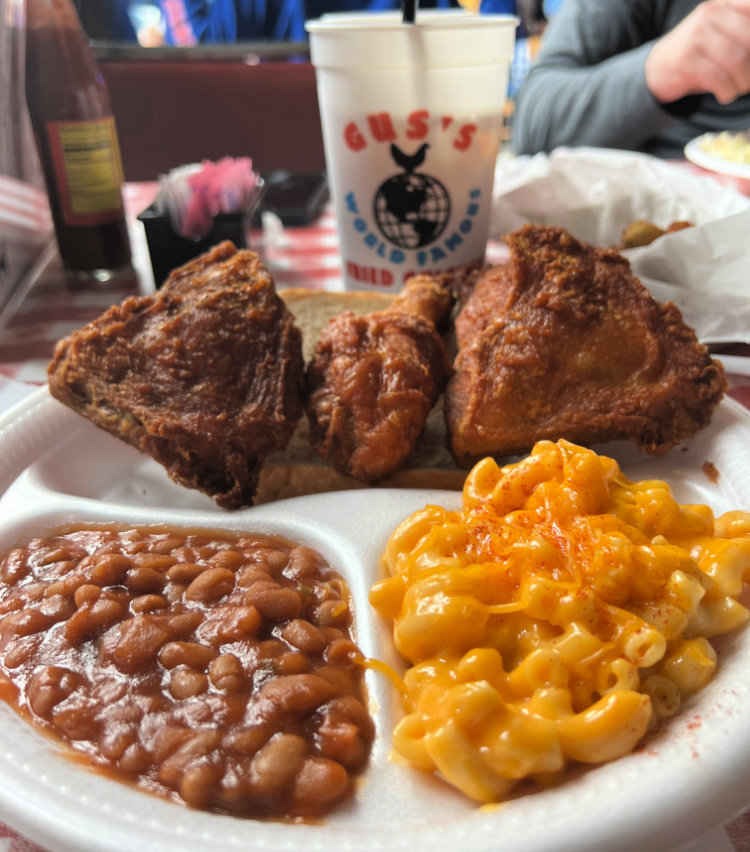 Starting with the Bonner family about 50 miles from Memphis, in 2001 the first location opened and as they say, the rest is history. With 34 locations in 14 states, you find the same great chicken is served along with a slice of white bread, a nod to the original chicken sandwich.
We did eat at the location in New Orleans recently.
Memphis and The Delta was known as the King of Cotton for many years.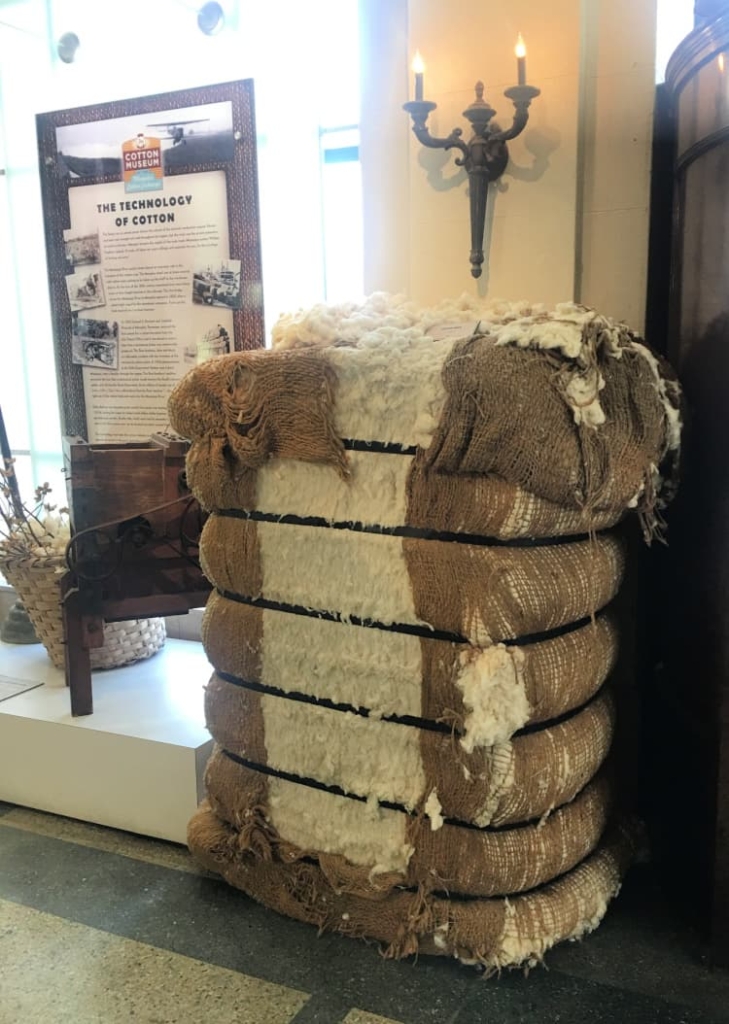 This was especially interesting to me as we grew cotton for a few years on our farm in Arkansas. I even had to chop a little cotton – get the weeds out. Some of our cotton was even picked by hand with local people using their "pick sacks". They were a long canvas bag which could get quite heavy. A hard job to do.
The Cotton Exchange was where cotton was bought and sold. It's a very interesting look into the past of farming.
The saying goes "Cotton, the crop that changed the world".
And speaking of cotton, I recently read the early John Grisham novel "The Painted House," which adequately describes the hard life of the cotton farmer. The story takes place near Memphis, in NE Arkansas, and lays out how unpredictable the farming profession can be, based on the weather, mainly. Rain, flooding, the length of the growing season, how many pickers you have, the machinery you can afford, all these factors affect the crop yield.
Another Elvis Stop To Make
Elvis fans – you might want to make a little side trip to Tupelo, Mississippi to see and VISIT ELVIS' CHILDHOOD HOME.
Memphis is one of those places you won't be able to do everything you want to do in one trip unless you stay for an extended time. Even if you plan a weekend, you can see and do a lot with good planning. Also allow time for a lot of good food.
Let me know your favorite spots so I can include them on my next visit to Memphis.
I've included affiliate links to Amazon for you to find some products easier. I may receive a small commission, but the price is the same for you. It just helps my blog out.
Happy Travels,
Rosemary