When you say Texas, most people think of Cowboys – maybe it's the Dallas Cowboys or the cowboys on horses with their Stetson hats. We saw them both on a recent trip to Texas. Let's just say how about them cowboys and steaks in Fort Worth.
In the next few weeks you will read about our Texas vacation which included a Dallas Cowboys game, a visit to The Star at Frisco (spotted Troy Aikman), and a few sites around downtown Dallas. But first, let's talk about the cowboys on horses – a visit to Fort Worth.
When younger, I grew up around a lot of horses. My dad worked on thoroughbred race horse farms in Illinois, where I was born, then here in Tennessee at Bendabout Farms, where I learned about Polo. Later on we would attend horse shows and rodeos, and have family members who have particiapted, and still do in local rodeos.
As we began to plan a trip to the Dallas area, there was a few things which have been on my bucket list – attending a Dallas Cowboys game, seeing a cattle drive in Fort Worth, and seeing the Christmas decorations at Neiman Marcus. I'm happy to say check, check, check.
Driving out from the Arlington area, we stopped for lunch at Whataburger, our first visit to one of these iconic burger places.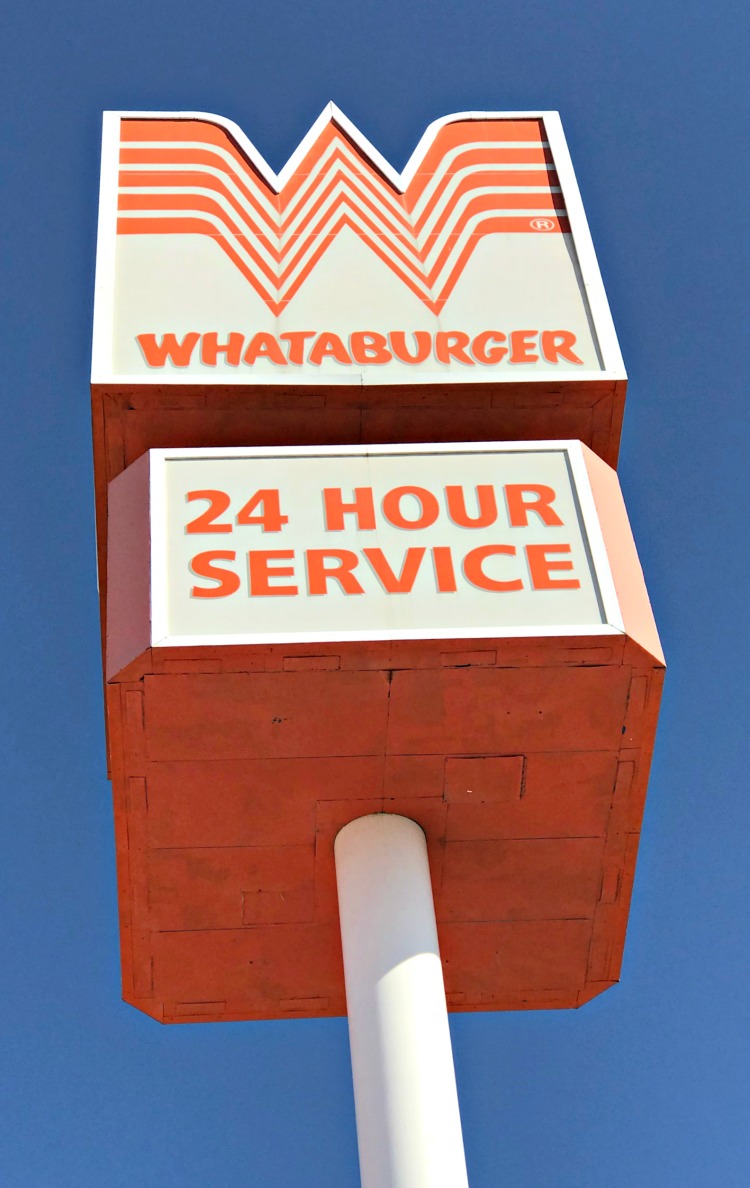 We had tried In-N-Out earlier in the week and I have to say I did prefer In-N-Out over these, but it was a good "regular" burger. Seems like most people have strong feelings on these two places.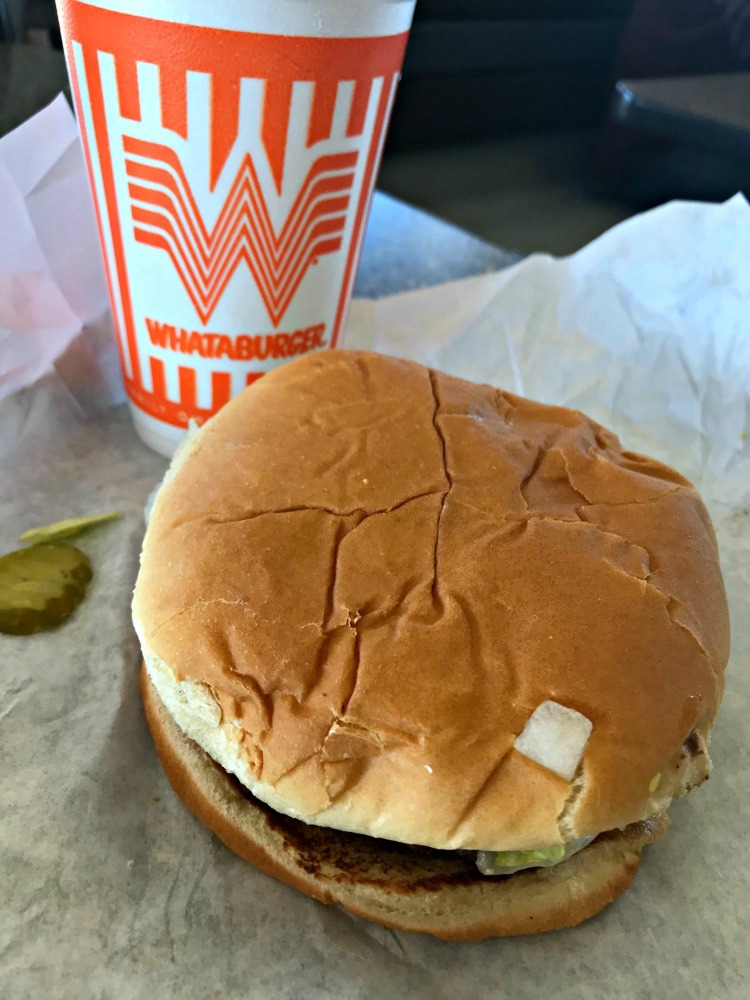 Now onto Fort Worth. As it was just a few days before Christmas, you saw a lot of extra lights and Christmas decor, but as you drove into the Stockyards area, I knew I wasn't in Tennessee anymore.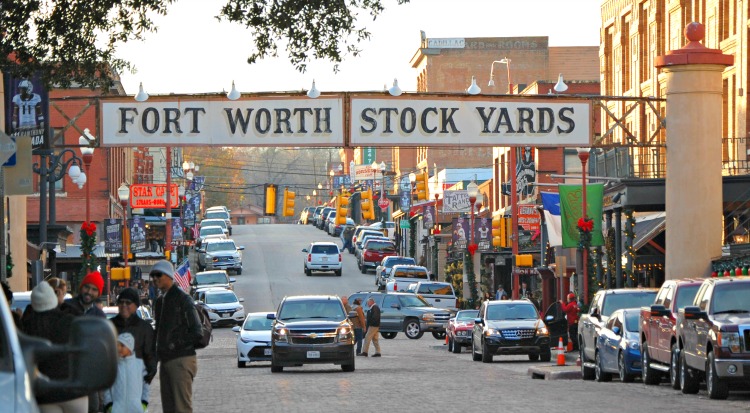 Lots of cowboys hats were seen, and many you could tell were probably just for the day. But hey, when in Texas, do as the Texans do. But then we saw the real deal too on many.
A cattle drive is done twice a day, and it's known you need to line up on a certain part of the street for a good view, but right before it starts, cowboys come around warning you where to stand or not stand as these longhorns come through.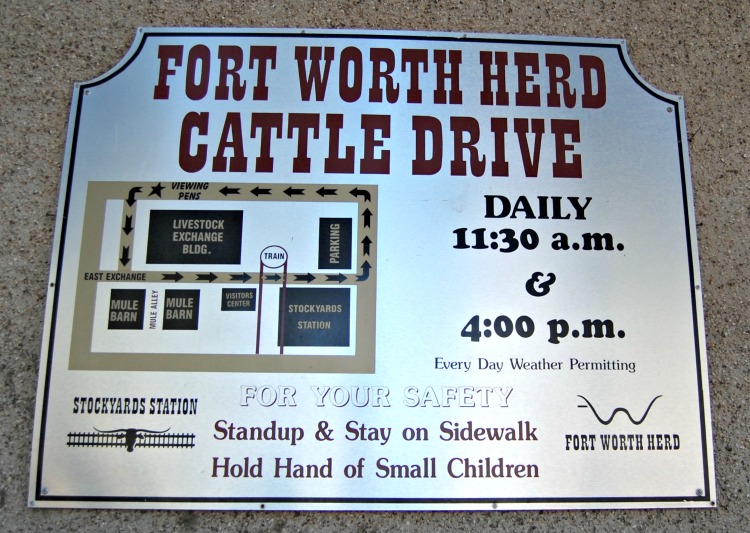 Although these staged cattle drives aren't anything like a real cattle drive would have been, it's still exciting to see these massive longhorns being driven down the street by cowboys. It's kind of like watching a parade, and seeing the excitement in the kids is just awesome. It might be the first time many have seen these so close to them.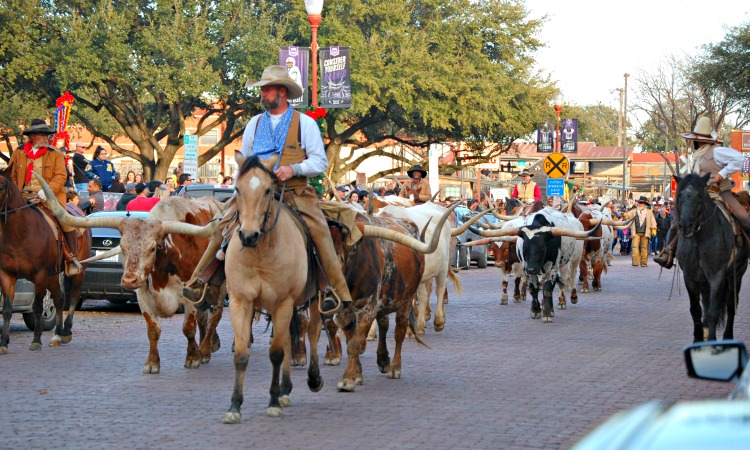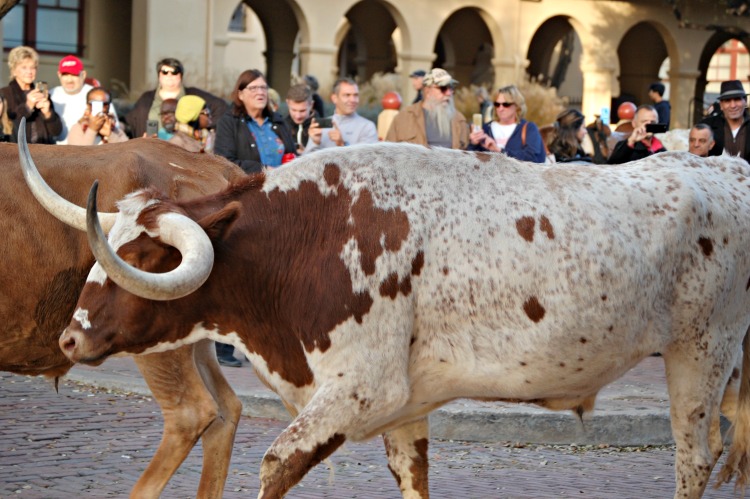 This little guy was all business in telling the crowds where to stand. Isn't he cute?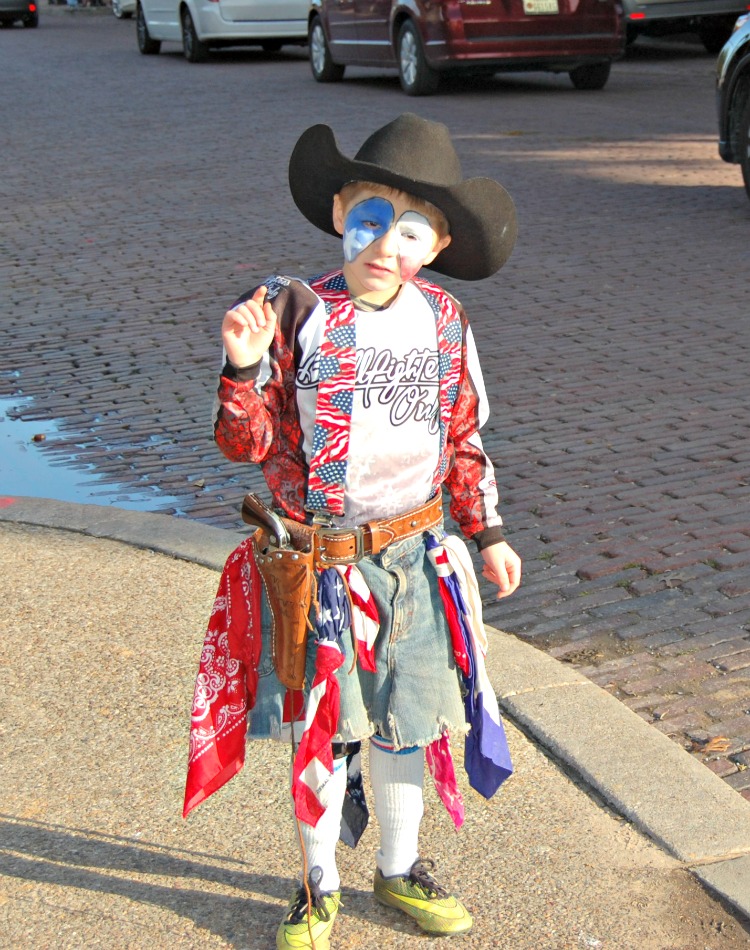 Have you ever wanted to sit on a longhorn? Well, you can – for only $5. My husband was the chosen one for this. We should have bought him a hat before this and maybe he would have looked a bit more authentic. He's just glad this longhorn didn't decide to take him for a "real" ride.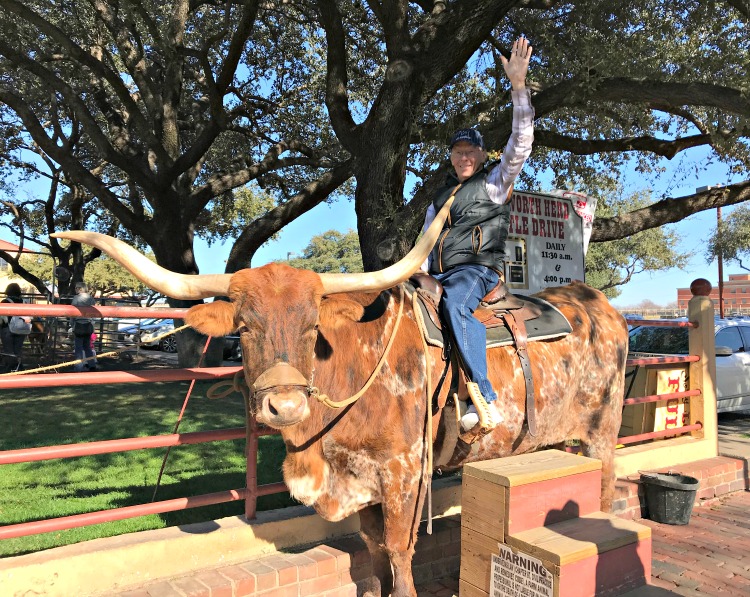 There was a lot of gift shops in the area with typical tourist souvenirs and many Texas items.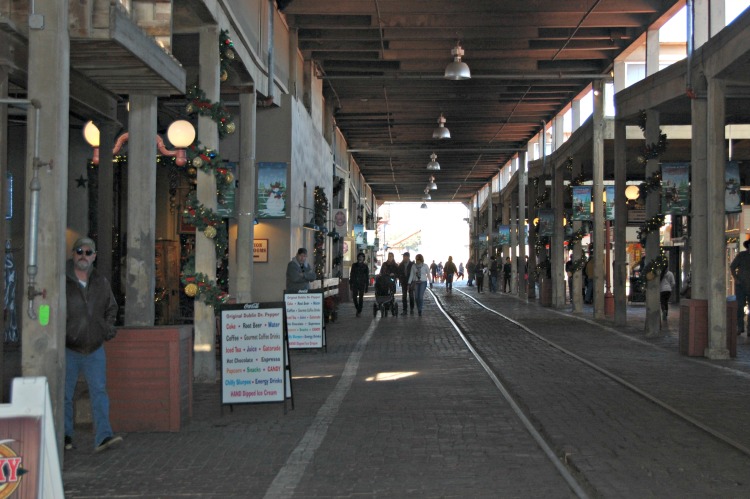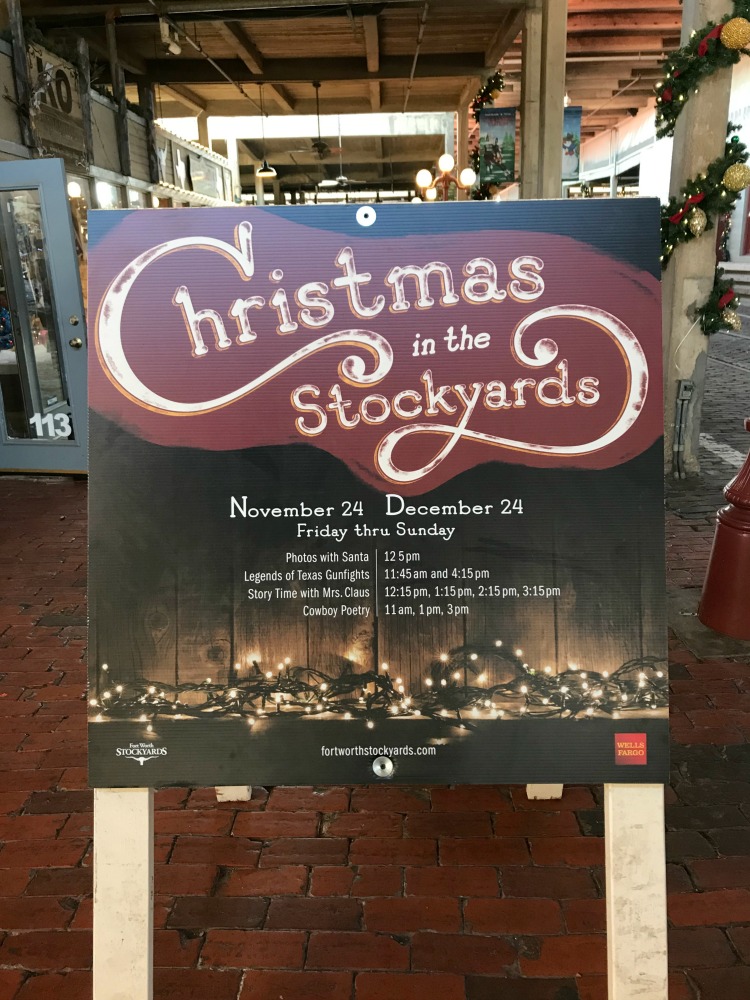 Christmas decorations even look a bit different here too.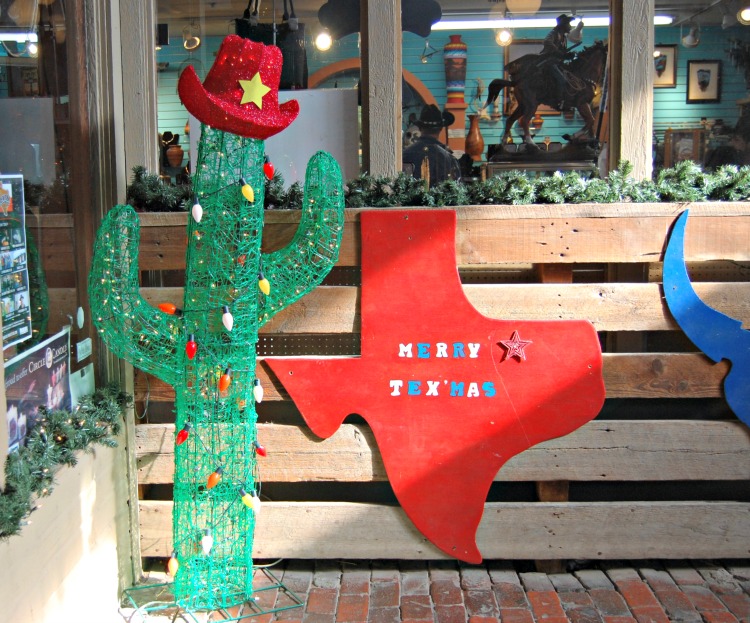 Don was happy there was actually a record shop for him to check out. This was kind of surprising to us, and of course he found something to buy.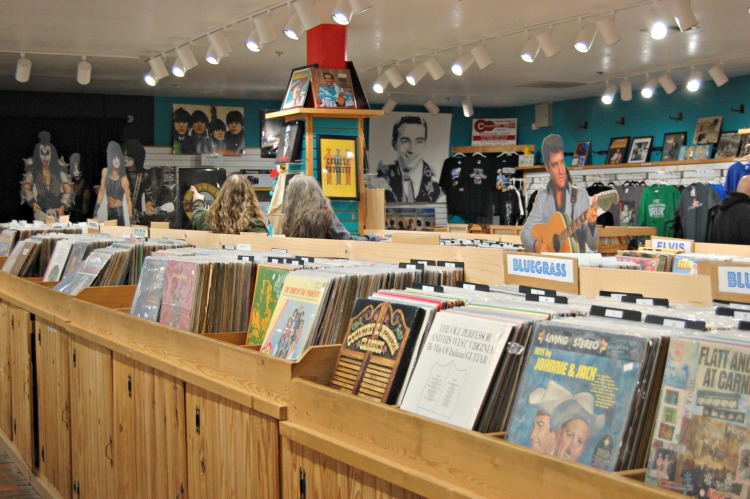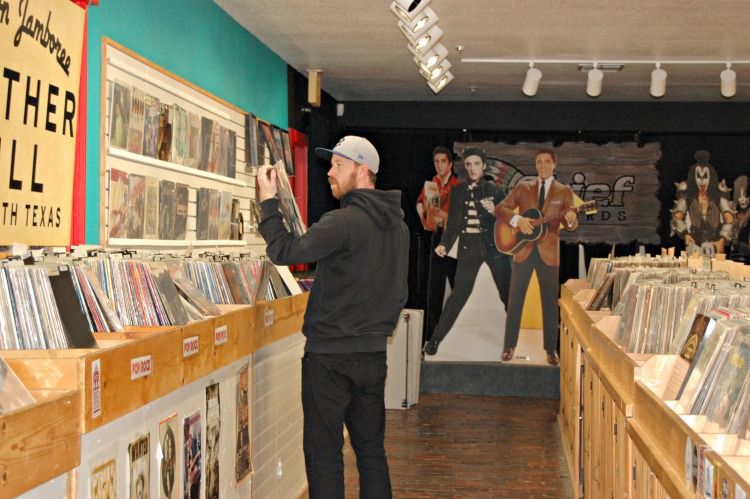 Maybe I will do a tree like this in Don's music room next year. What do you think?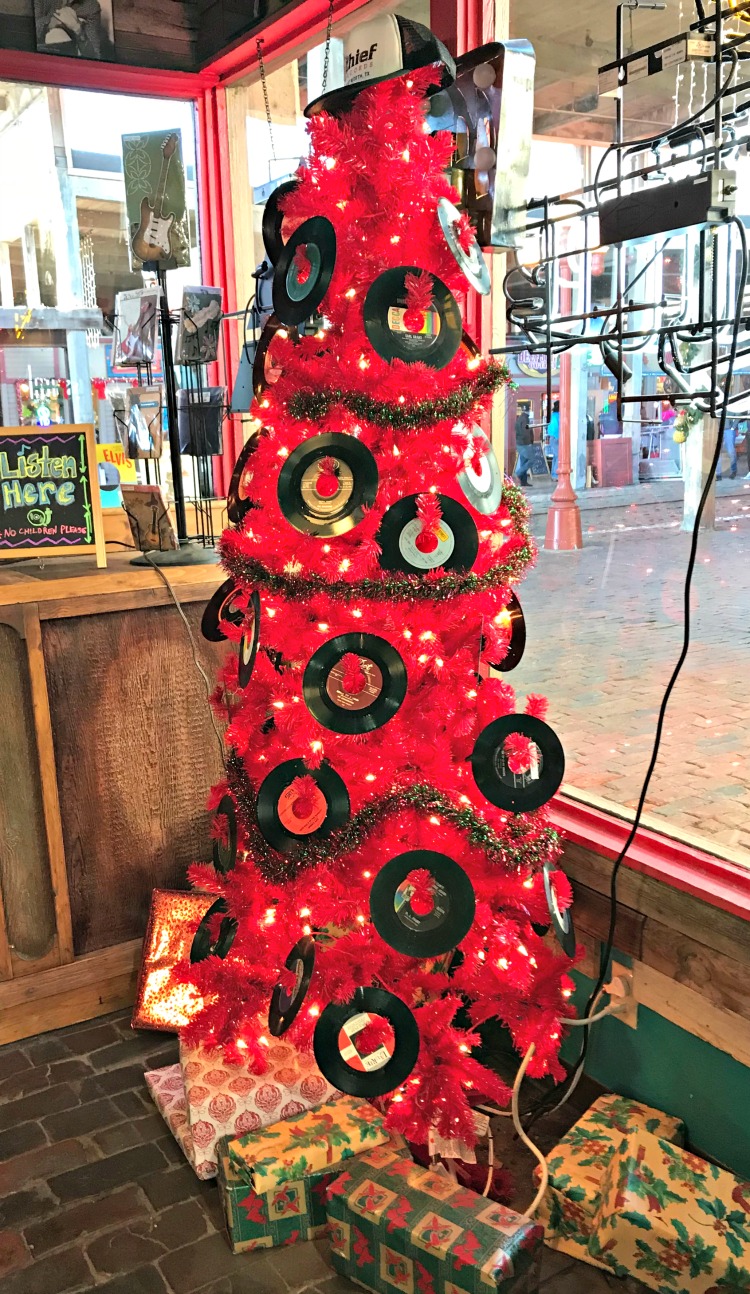 You will also find a few activities for kids of all ages. The Cattlemen's Maze was a bit tricky for me but Doug mastered it in no time. There may or may not be video proof of my lack of direction in this.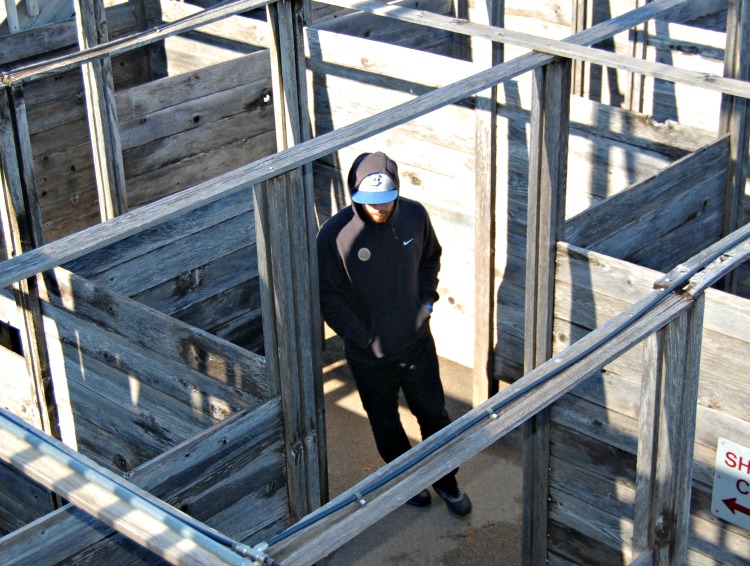 How wide are longhorn horns? This Big!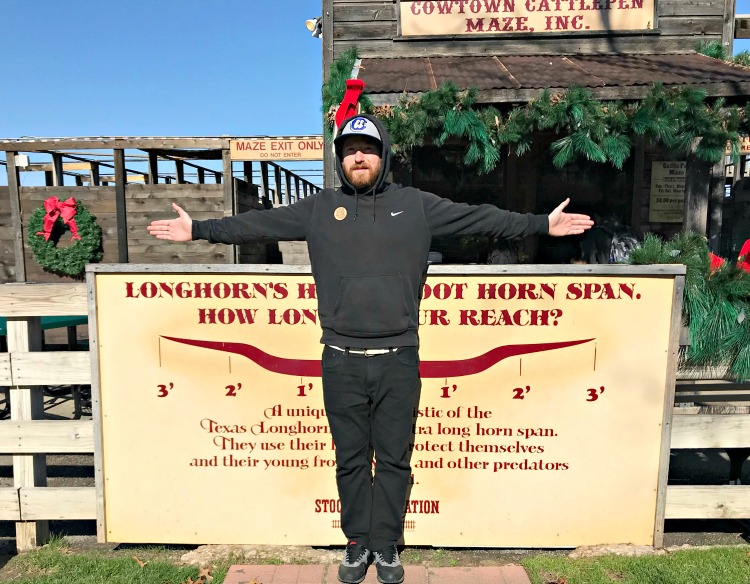 You can take a ride on a horse-drawn stage coach or a kiddie train.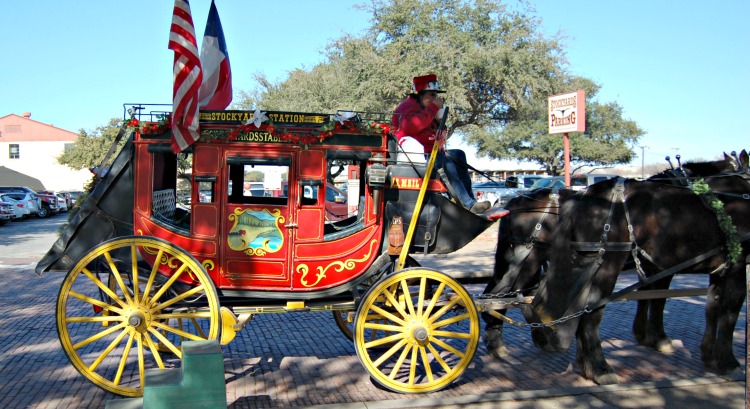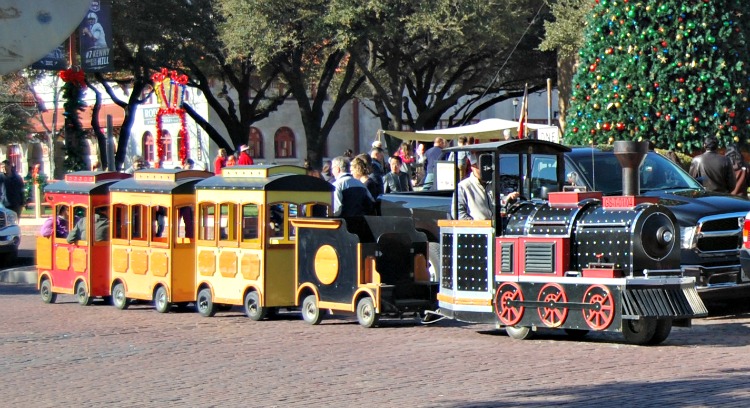 You know one of my things are man hole covers.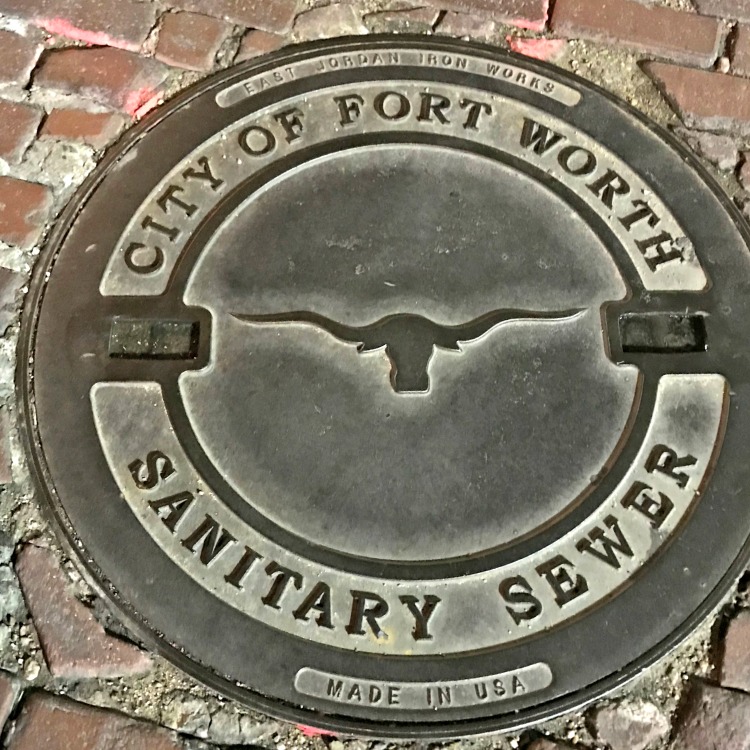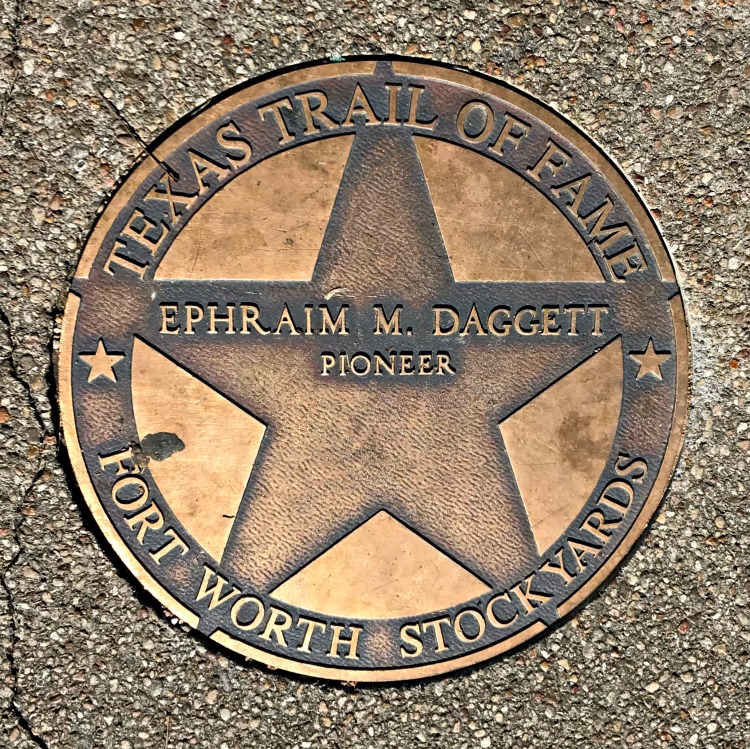 Parking wasn't a problem around the Stockyard area – you could find free in a few spots, but we found a convenient lot and it was only $10 for the whole day.
When in Fort Worth and you are thinking dinner – of course a great steak comes to mind. I had asked a few friends who live in the area for a recommendation and was told Cattlemen's Steak House was THE place to go.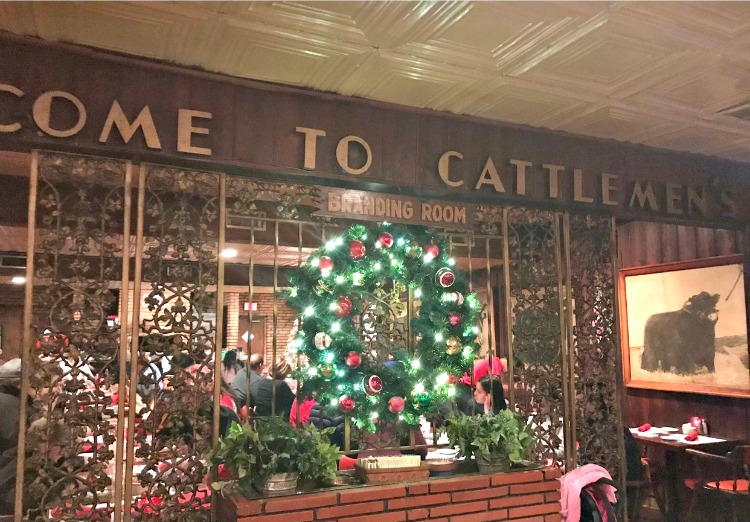 Upon entering Cattlemen's, the decor was pure Texas and Fort Worth with simple tables and chairs.
You didn't find a lot of the modern touches or lighting, which really lead to the atmosphere of dining in an era gone by. I could just imagine all of the deals made at these tables with trading cattle, or maybe a little oil back in the day.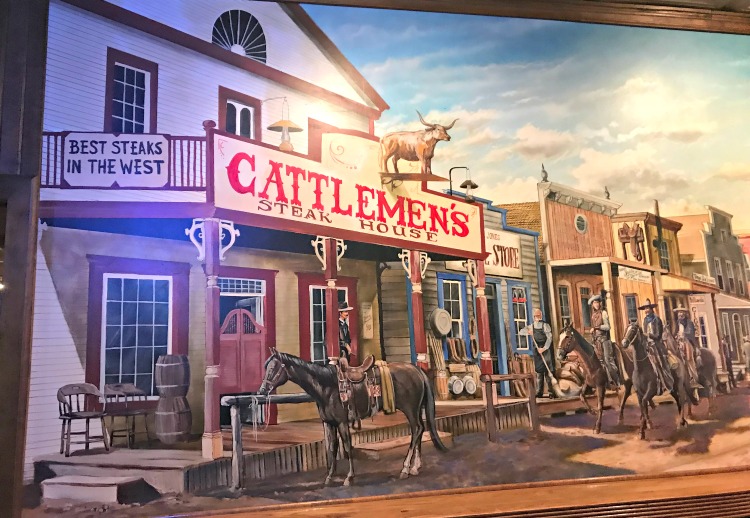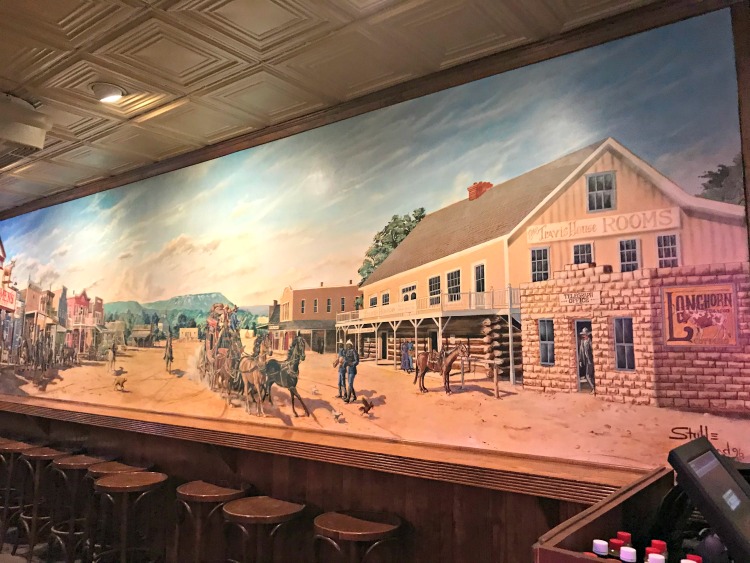 Steaks are cooked over an open flame of charcoal for that extra special flavor. Each dining room had their own Chef and grill. Chef Hector made sure our steaks were just the way we ordered. Gagan, our server was great and very attentive.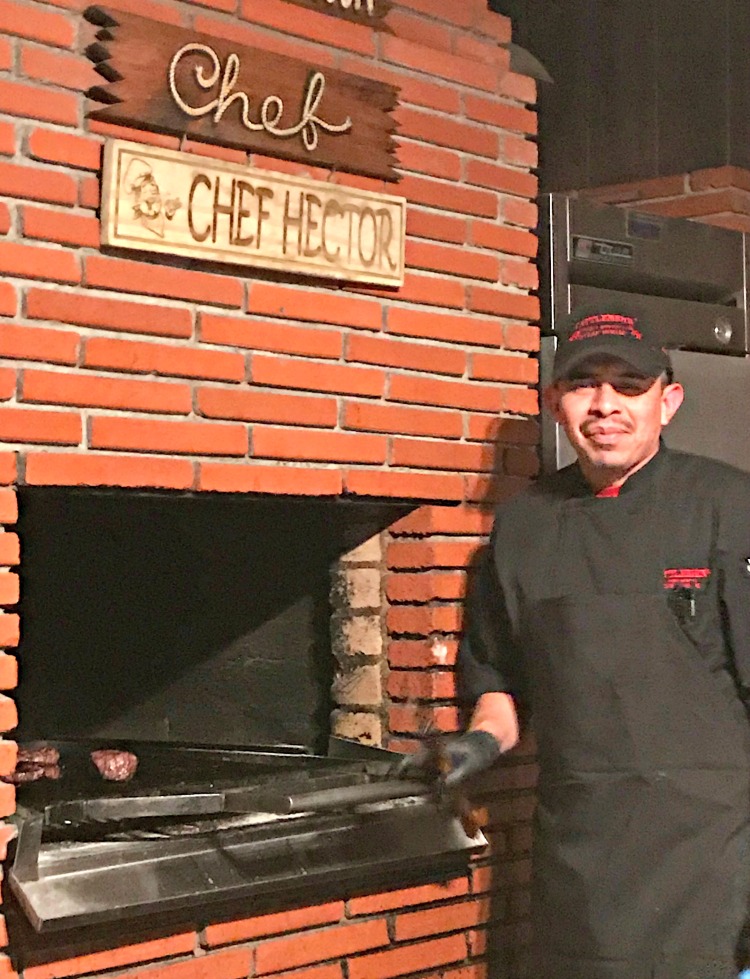 You can even hand pick your steak if you like.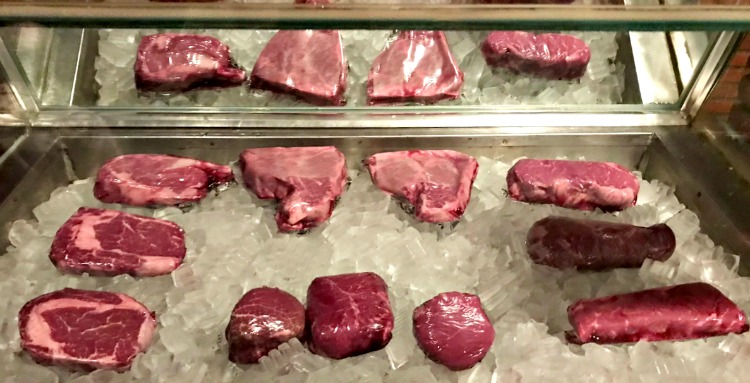 Most anytime we are planning a trip, we check the menus ahead of time to have an idea of what we wanted. When it comes to steak, I'm not much of an added seasoning type as I want to enjoy the flavor of the meat.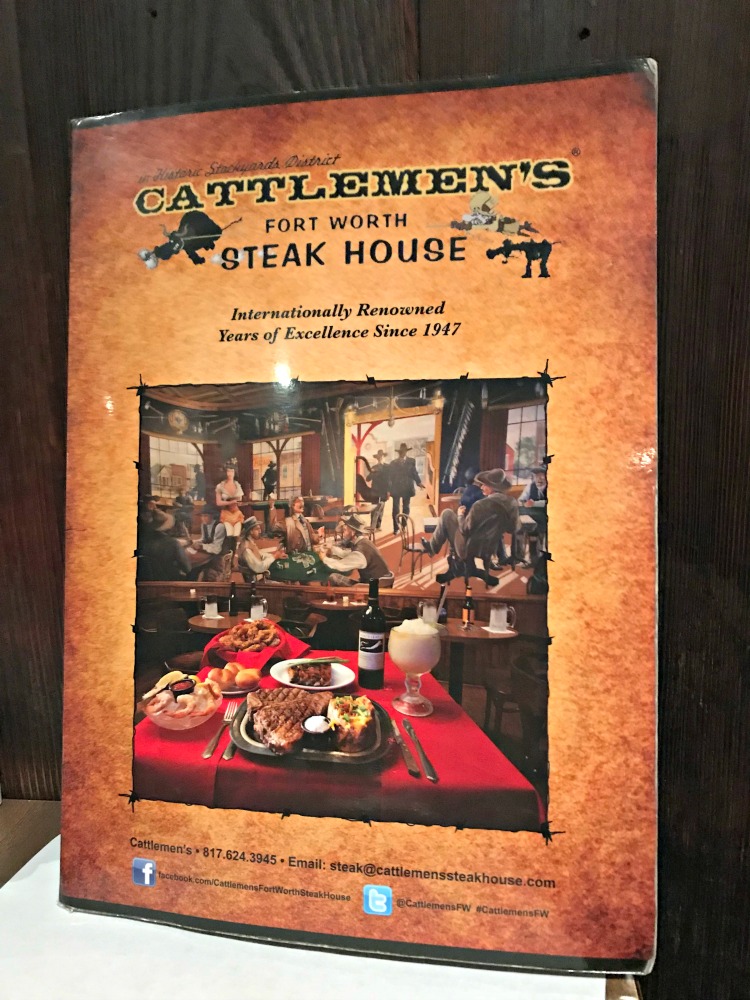 Steak, potato, and salad – what else do you need? The house dressing was a homemade vinaigrette with a hint of bleu cheese and sesame seeds. Very different and so good and went well with the homemade rolls.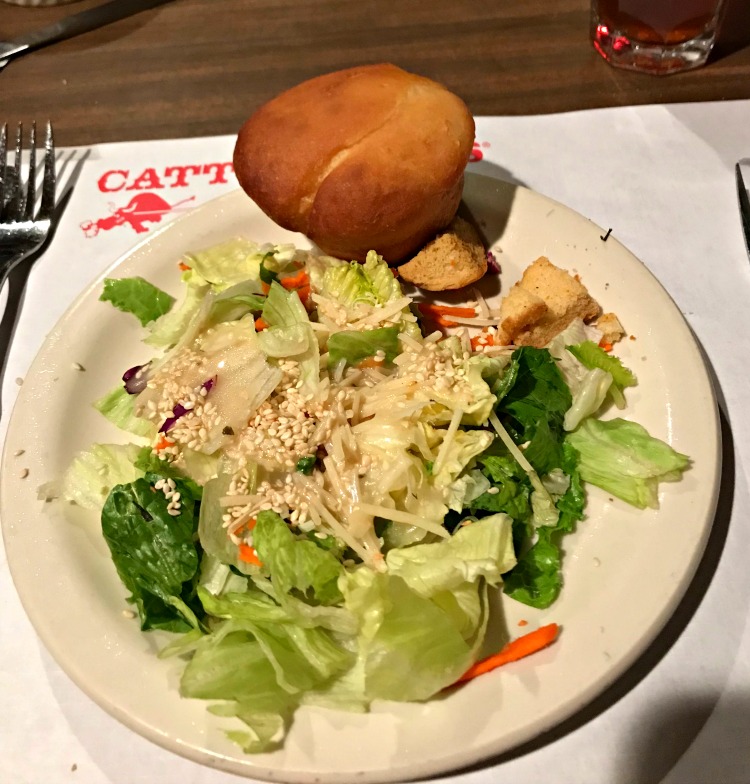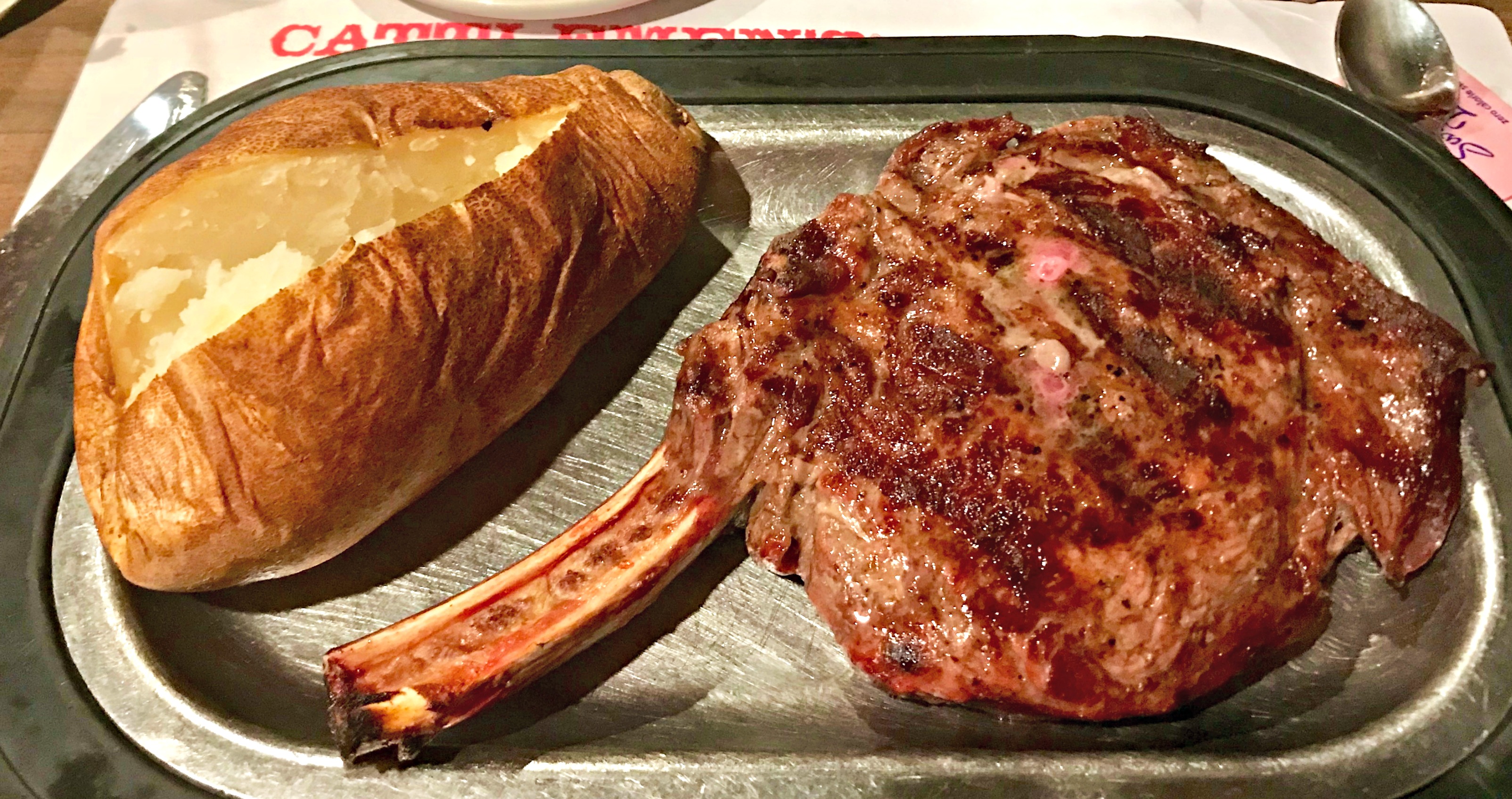 Potato toppings were brought out separate as many restaurants used to do.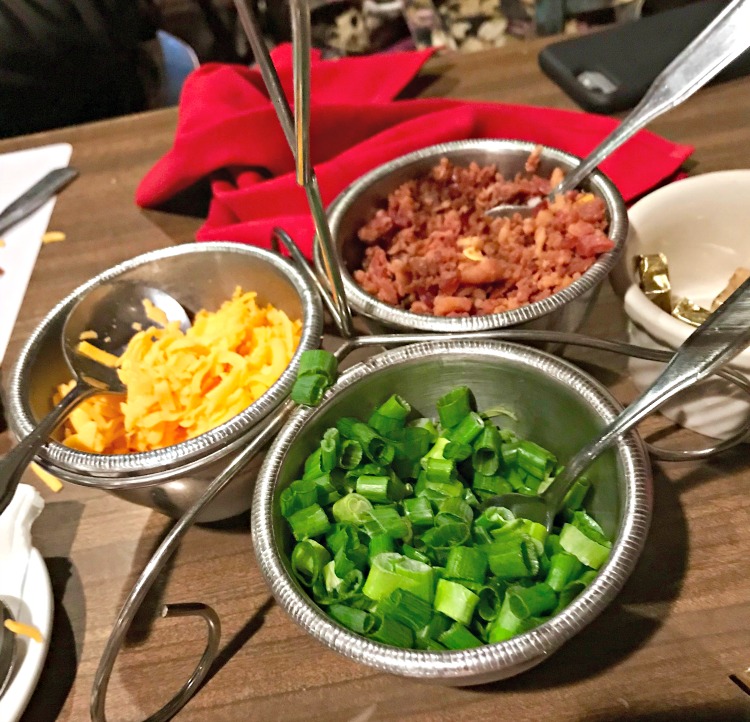 Doug chose the pepper coating and a side of mushrooms.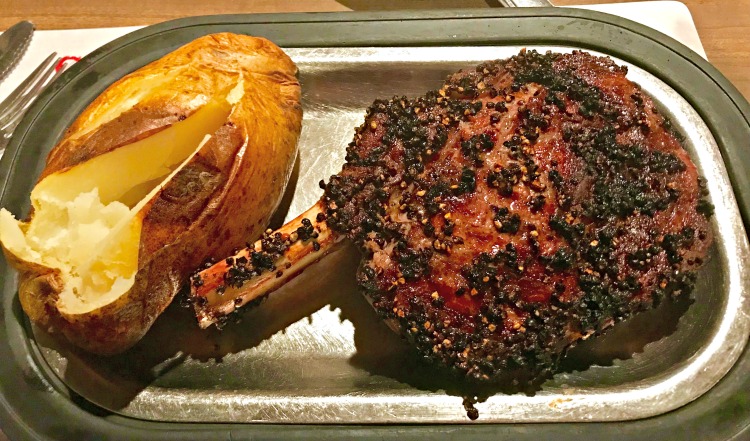 These 18 oz bone-in ribeyes were just what we expected – large and flavorful. With having a microwave and refrigerator in our room, we were able to enjoy the leftovers the next day.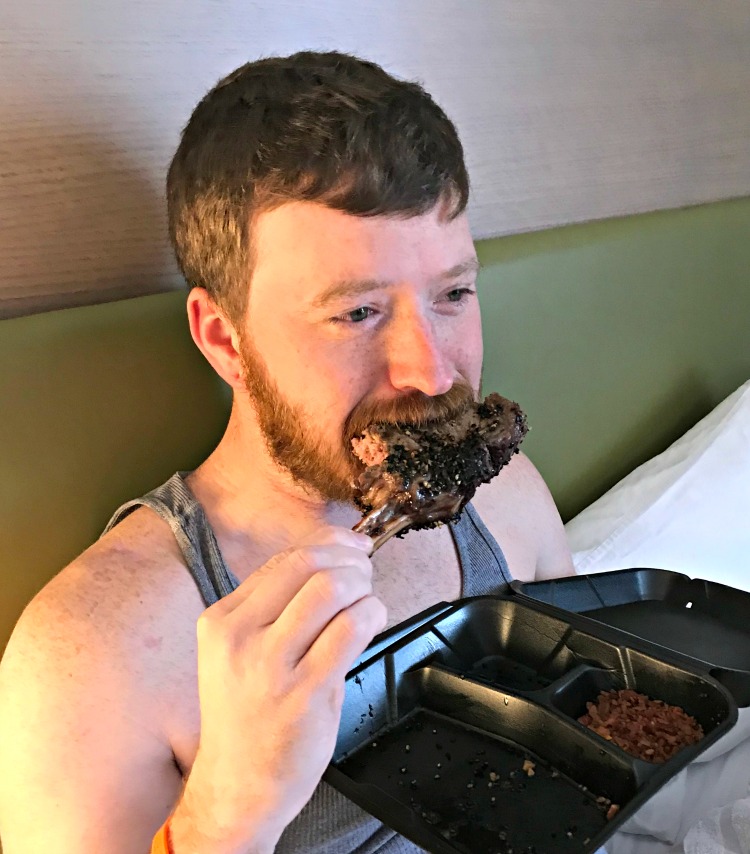 Of course Don had to end the night with home-made Key Lime Pie. He can't pass this up.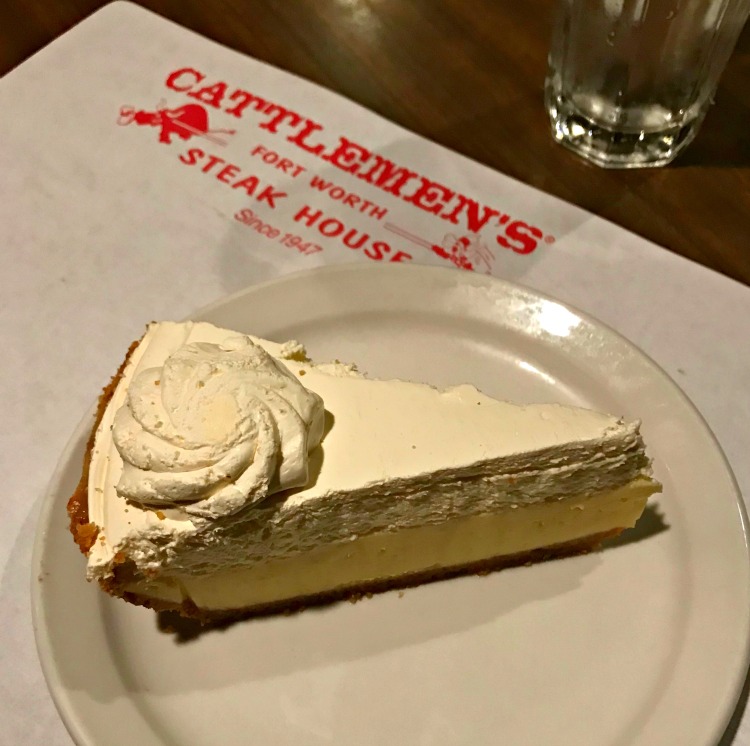 We had time to walk off a bit of our dinner and see some lights before it was time to head to the rodeo.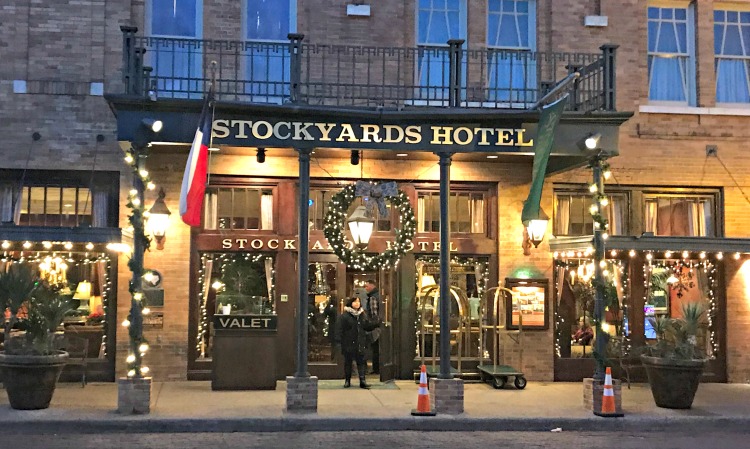 Every Friday and Saturday night you can attend the Fort Worth Stockyards Rodeo at Cowtown Coliseum.
My favorite parts of any rodeo will be the singing of the National Anthem while the flag is flown around the arena, bull riding, and usually some special entertainment. And of course the clowns are there not just for the fun, but provide safety to the riders.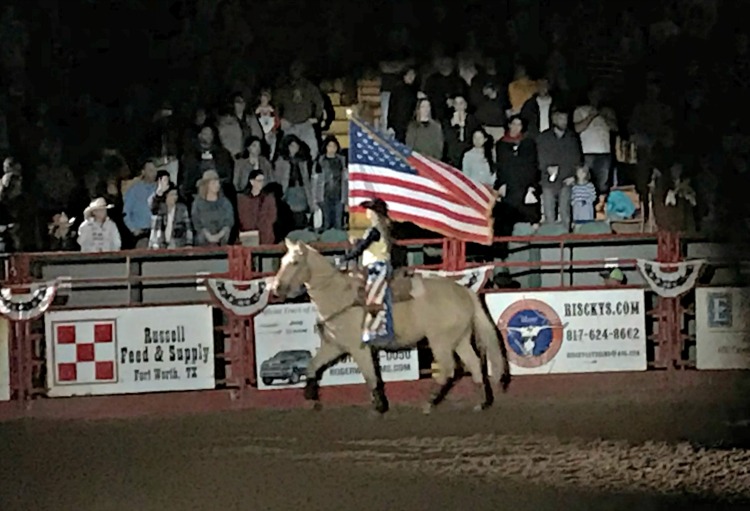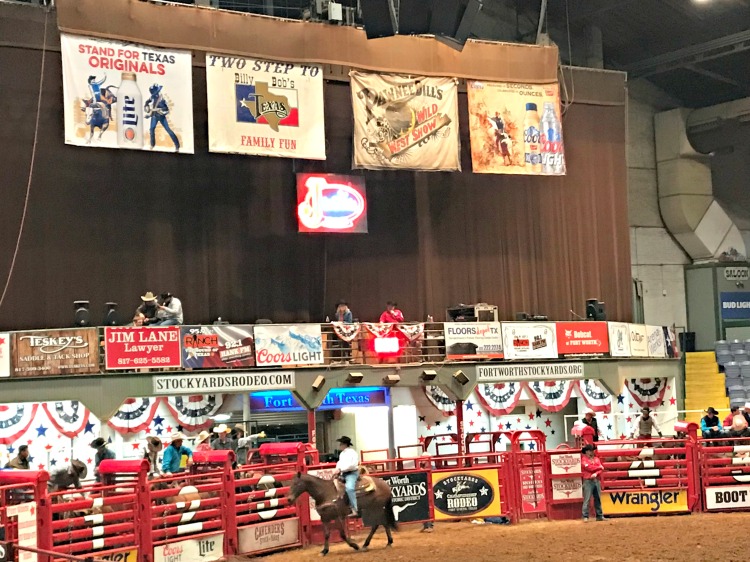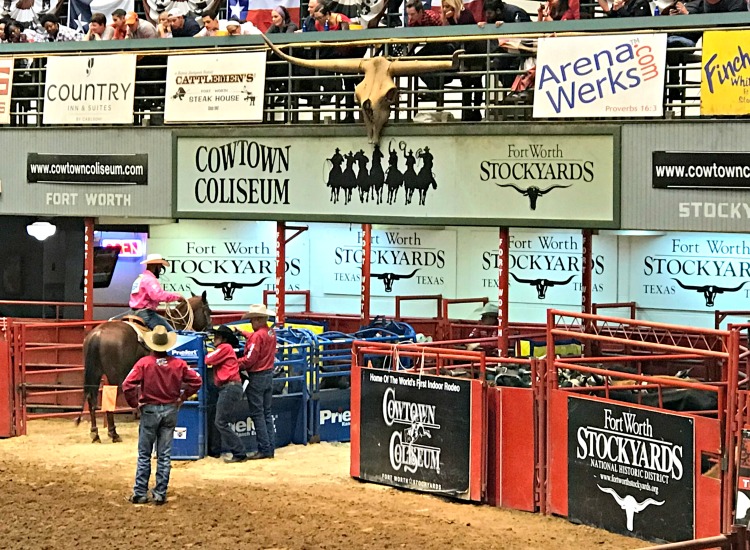 Remember this little guy from earlier in the day?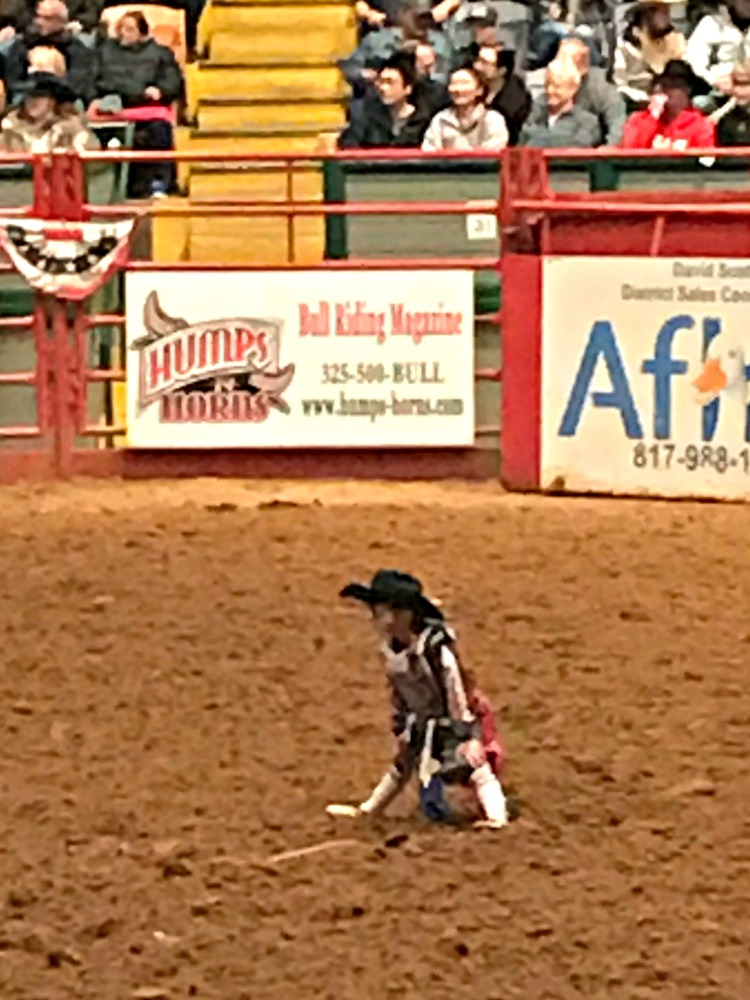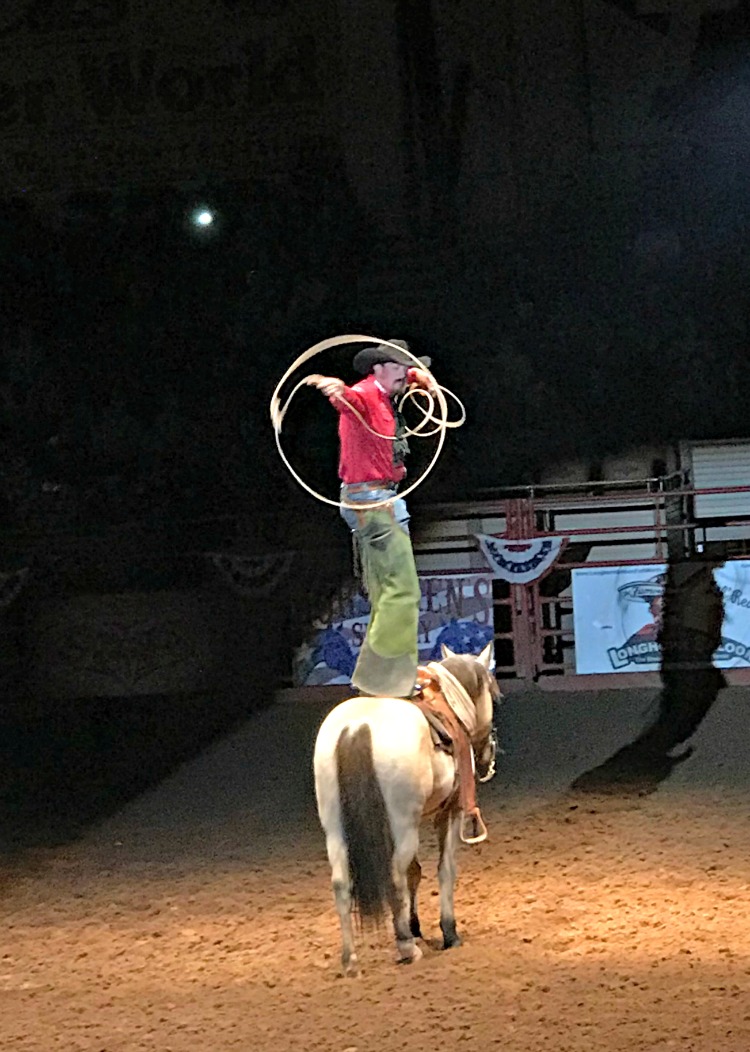 I can't imagine riding one of these 2,000 pounds, or more, bulls for even the required eight seconds. That would seem like an eternity – and very dangerous. I'm thankful to say all was safe.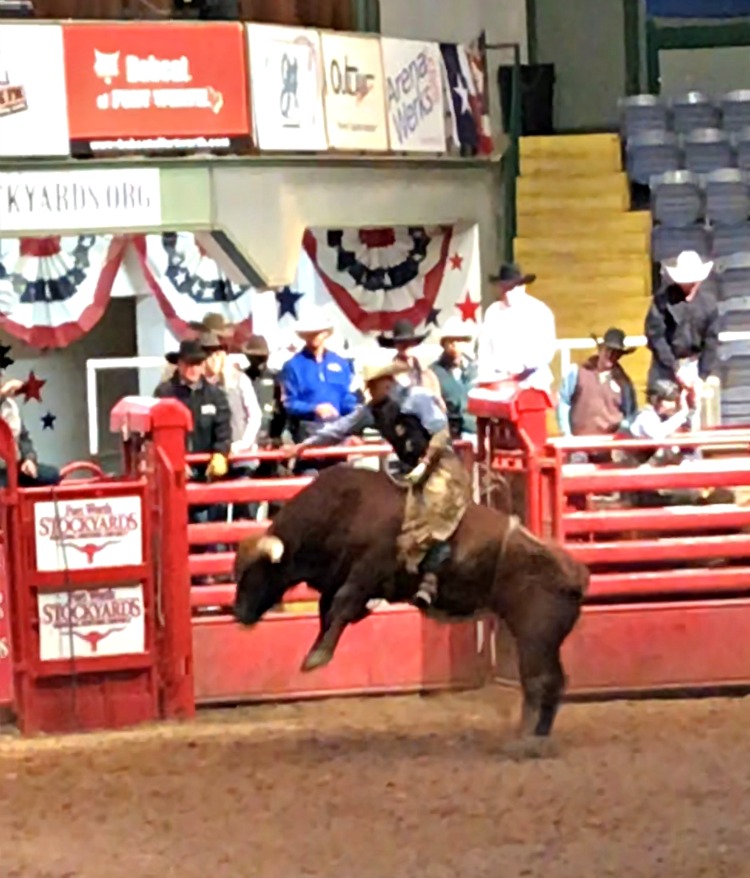 What a fun and long day we enjoyed in Fort Worth. I had been hoping for a little more warm weather, but at least it was dry. Bucket list – cattle drive – checked off.
If you have the chance to visit – please do so. I would gladly go back.
For more ideas on visiting Fort Worth, follow their FaceBook page or check out their website.
Have you been to Fort Worth – or other parts of Texas? This was our second trip of the year, and guess what – we are going back again. You can also find them on Instagram and Twitter.
Another trip to Waco, a visit to Austin, then off to see a couple more parts of Texas, maybe Fredericksburg and Port Aransas is planned for later this spring.
Have you visited Texas or any of these parts? Let me know your favorite places to see – and eat.