My Christmas Breakfast Menu and Table Setting are all planned. Groceries purchased. So I feel ready. Since there's just three of us, it's not a huge meal, but hearty since our Prime Rib Dinner will be later in the day. I hope some of these ideas and hints will help you in planning any meal.
Follow me on PINTEREST.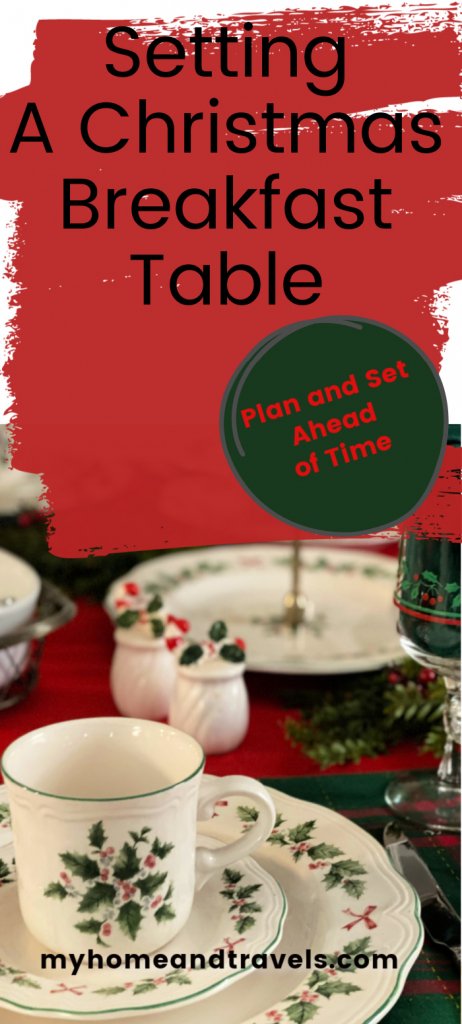 Why plan ahead of time?
Planning your table settings ahead of time will not only save you time when it's time to serve the meal, but can save you time looking for that certain dish or utensil you need.
I love this Festive Holly by Nikko dinnerware because it gives me options. If you look up close it's almost more of hunter green and maroon but I can also make it work with dark green, red and pink. I love having options for table settings and also mixing other dishes.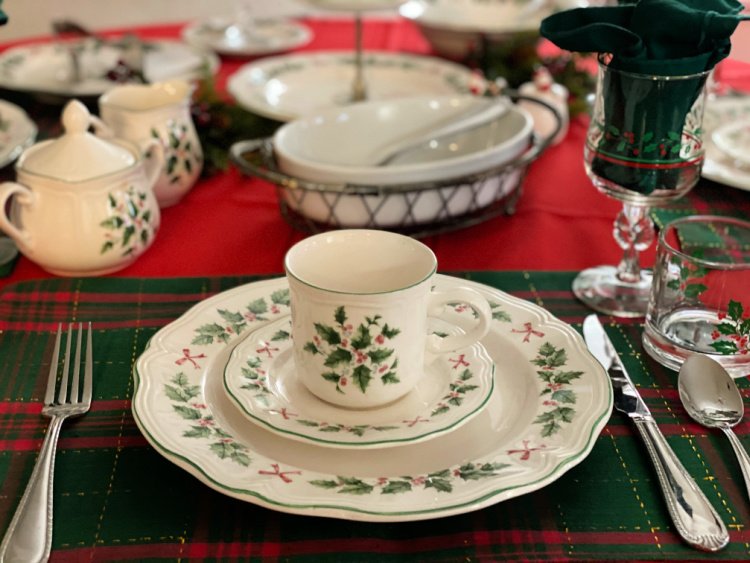 Consider adding Christmas China if you don't own any
Over thirty years ago I decided I wanted to get Christmas China. I was going to host a dinner party for my parents in town, my aunt and uncle leaving for Hong Kong, and a few friends.
Then you didn't find a lot of cheaper sets around like you do now, maybe one reason we didn't have the number of stores we have now.
I got lucky and they were having one of those great types of sales. This was on sale and with purchase you got an extra amount off. I don't remember how much they were but couldn't have been too expensive or I wouldn't have been able to buy them. I was so proud to have a service for twelve along with the completer set.
Setting a table – rules or no rules?
There are rules for the proper setting of a table, which I try to follow some, but not always. Sometimes the size of your placemat, chargers, or stemware can dictate where it can set.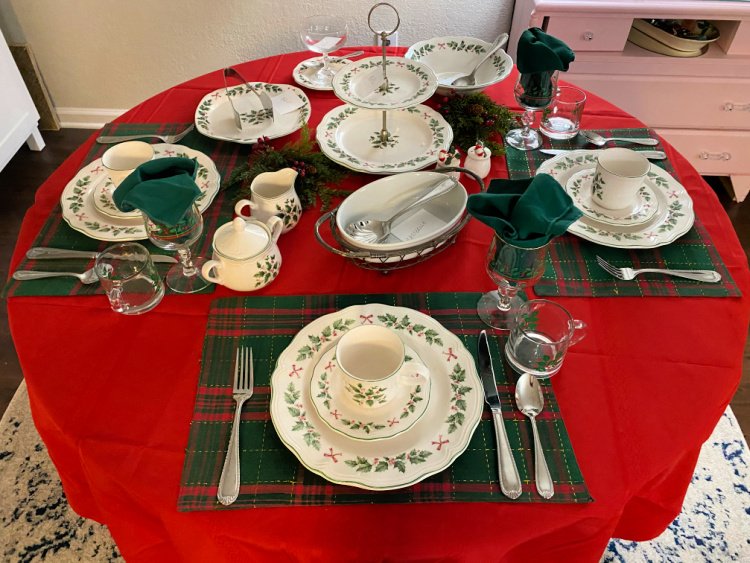 Have you ever watched Downton Abbey? Back in those days, the butlers and everyone had sticks to measure the exact spacing.. I'm kind of glad we don't go quite that far. Some of my placemats are larger and can't fit an inch from the edge of the table without overlapping. But the food is still good and that's all that really matters. And the fellowship at meal time.
A side note, I really wanted Lenox Christmas China. But, it was so expensive and I knew it would take several years to have a set. My husband told me to go ahead and buy what I wanted, but when I pointed out the platter was $200, he was glad I decided against it.
Later years I had collected a few more sets – including my Spode Christmas Tree.
My Christmas Breakfast Menu and Table Setting are close to the same each year, so easy planning. Make sure you take pictures.
Planning My Christmas Breakfast Menu and Table Setting
If placing food on the table or even a buffet, do a mock set up of your table, including the serving dishes.
Use a post-it note to mark your dishes so you remember what you are using. Find your serving utensils too. Snap a quick picture on your phone for later reference.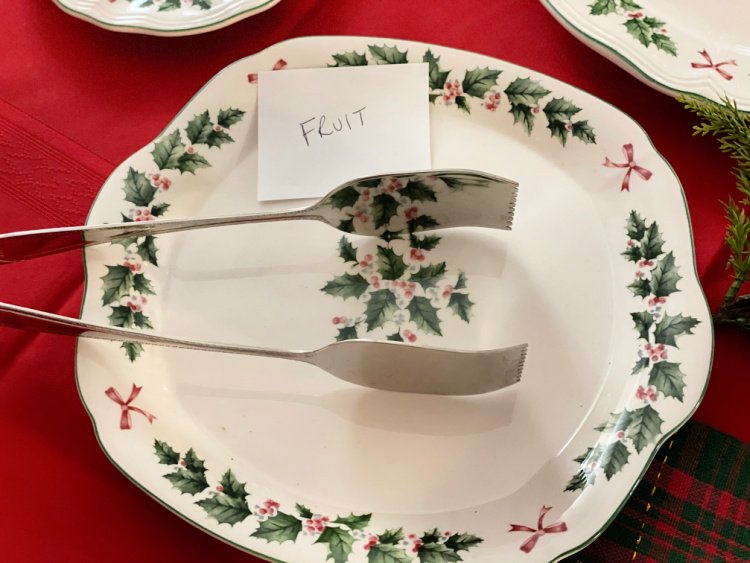 What am I serving?
My Christmas Breakfast menu usually consists of breakfast casserole, muffins, fruit, fruit dip and sometimes cheese grits. Most of this can be made ahead of time. Find a few of the recipes below. Coffee, juice and eggnog is also on the menu.
Centerpieces aren't always needed if you are serving food. The tiered tray full of muffins and a platter of fruit adds pretty color to the table. Mix up the stemware. The stemmed glasses came from Arbys, many years ago. The small eggnog mugs were also a discount store purchase many years ago.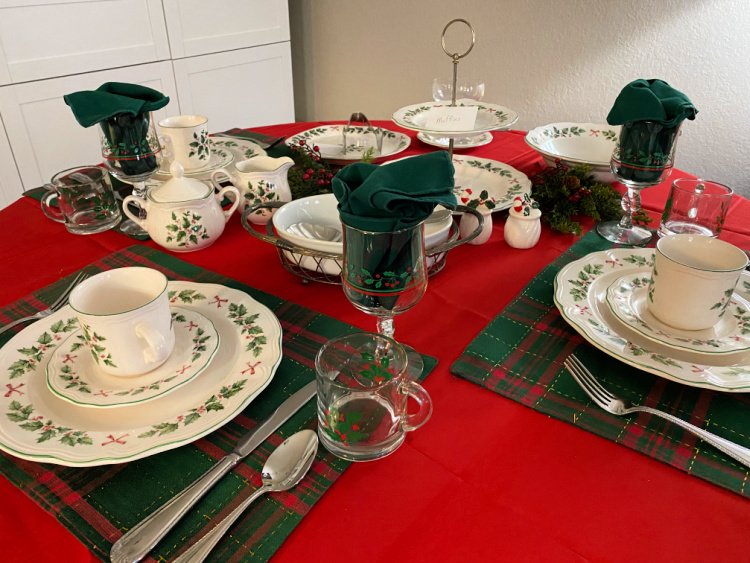 The salt and pepper would be considered vintage as I had bought these for a great aunt, and she passed away 33 years ago.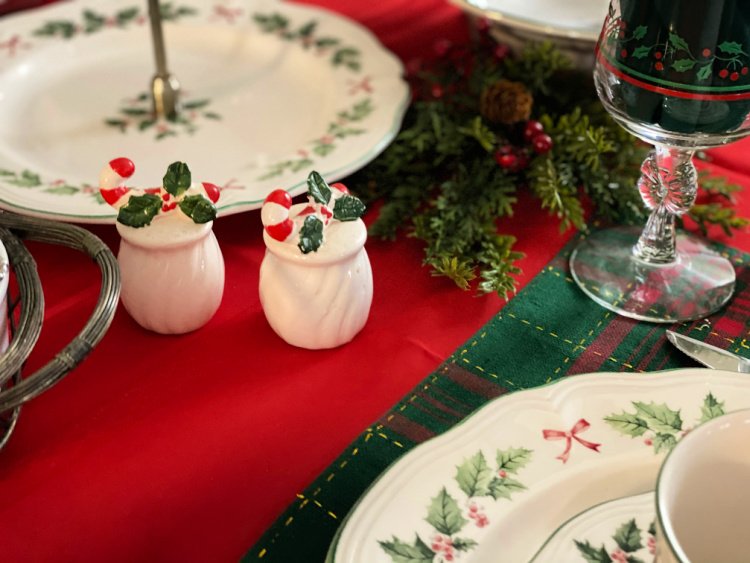 The white dish is a silver wire basket was a department store special purchase several years ago too.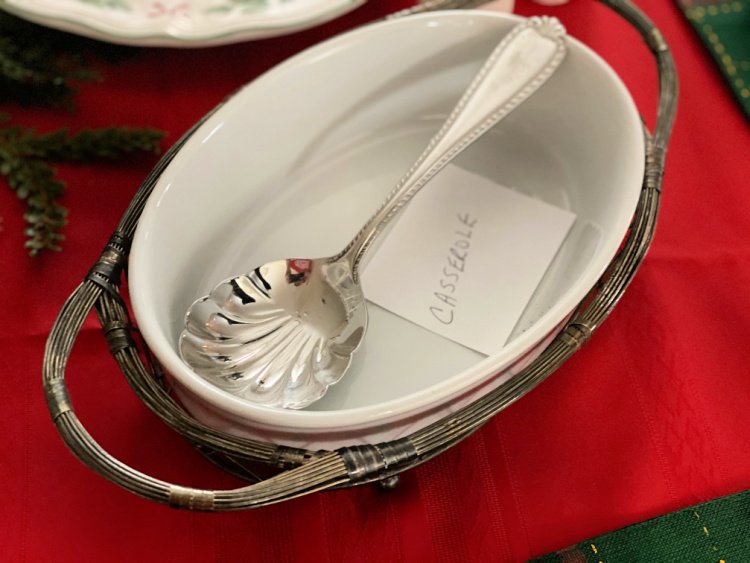 A few faux picks of greenery is good to use. I don't like a lot of fragrant flowers or candles to compete with the food.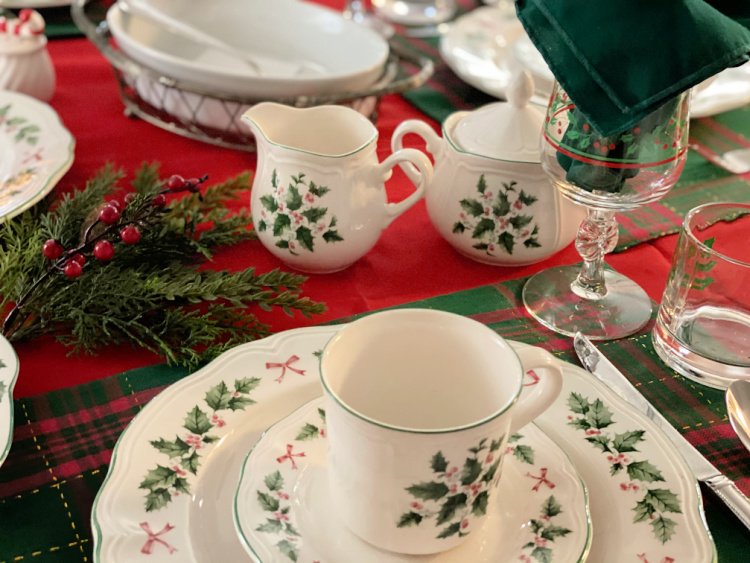 What's on your menu for Christmas Day or Christmas Eve?
Have you picked out your dishes or your menu items yet? You still have a little time to get ready.
Merry Christmas to you all and your family.
Do some collecting over the years, not everything has to be an exact match.
SAUSAGE AND EGG BREAKFAST CASSEROLE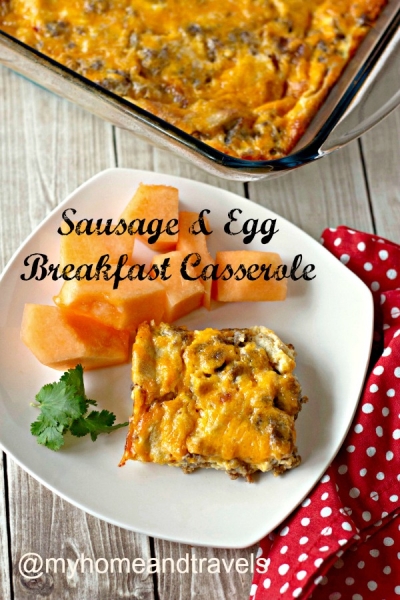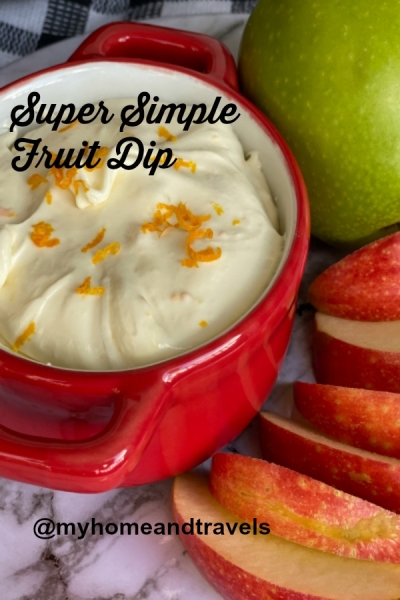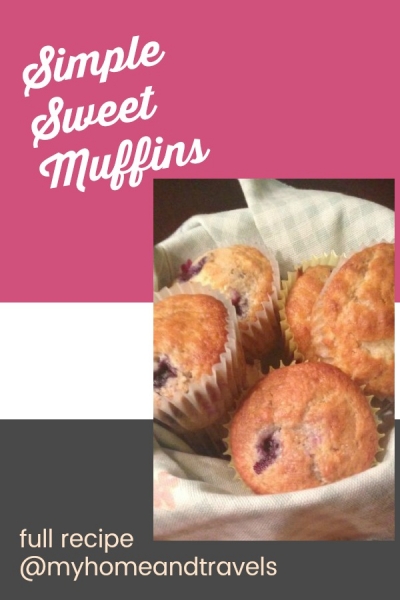 mas
Another option:
SEMI-HOMEMADE CINNAMON ROLL CASSEROLE