I have no idea where this recipe originated as I had clipped it out of a magazine several years ago and it was just titled "chocolate cookies". I renamed it cocoa cookies as with the white chocolate and peppermint, it reminded me of a cup of cocoa. So you can now have the taste of cocoa in a cookie.
Pin this for later.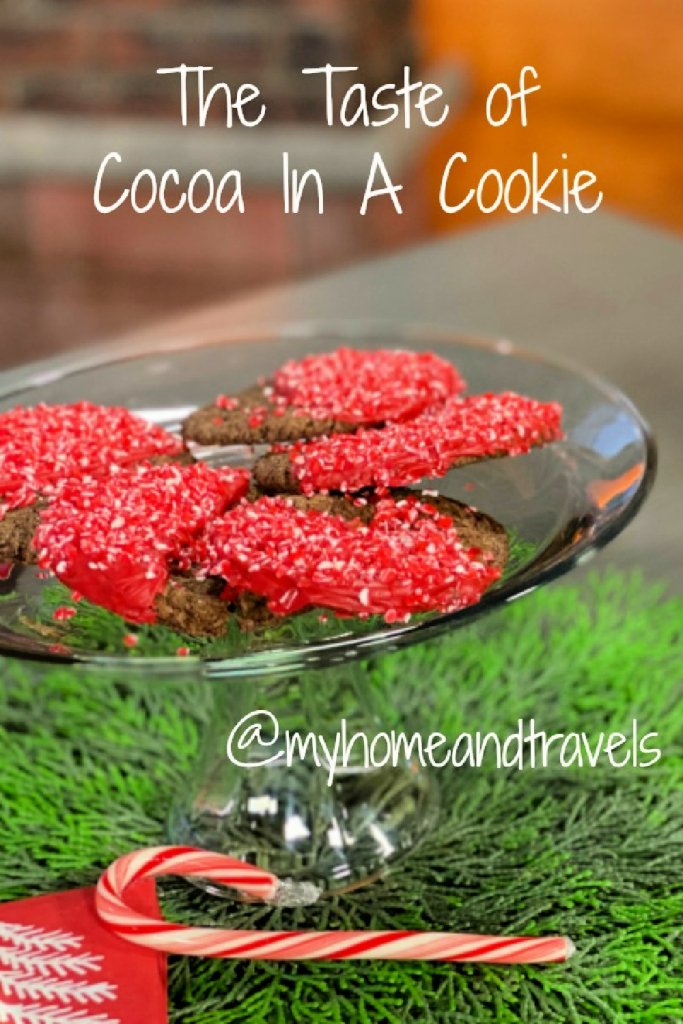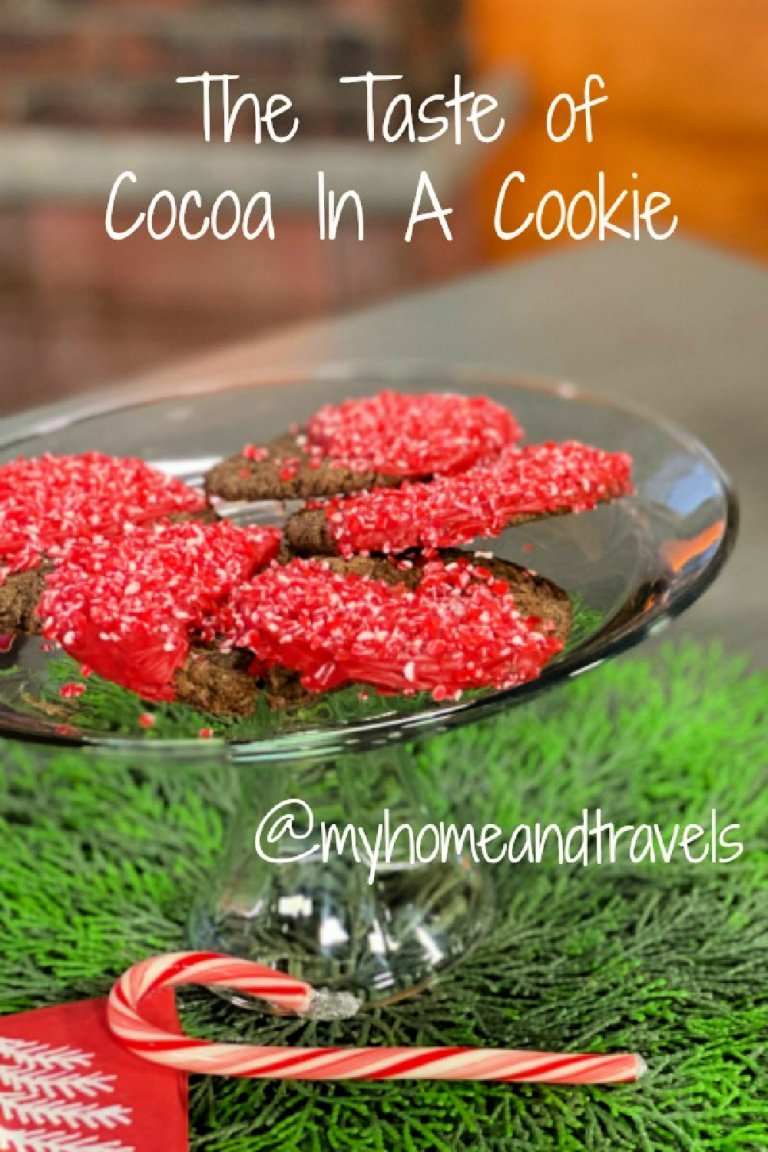 The original recipe was a plain cookie.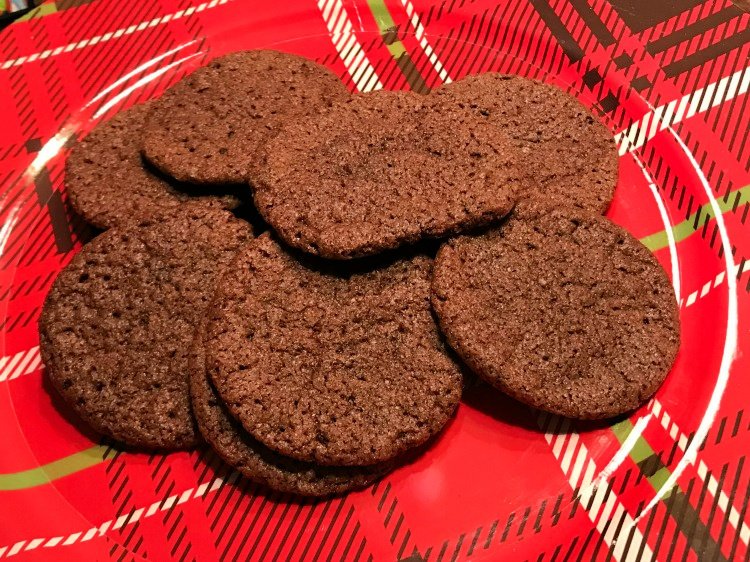 Watch over the next couple of weeks for lots of Christmas Treats.
This recipe makes a large amount, so many times I have done just half of it.
These are a great cookie plain – good and chocolatey.
To makes these a bit more festive, I dipped them about a third of the cookie in white candy melts then sprinkled with crushed candy canes.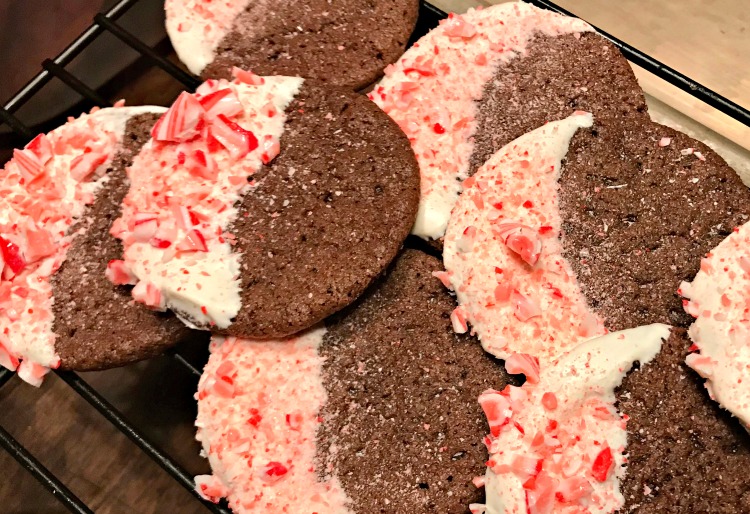 For my most recent recipe, I used red candy melts.
For a few more cookie and treat ideas:
TRADER JOE'S COOKIE BUTTER COOKIES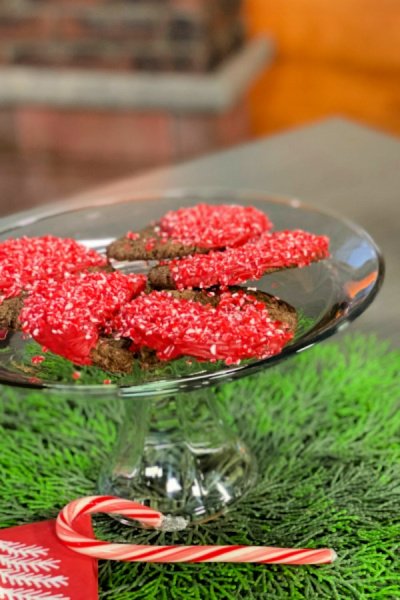 A rich chocolate cookie made even better with white chocolate and peppermints.
Ingredients
2 cups all-purpose flour
3/4 cup cocoa powder
1 tsp baking soda
1/2 tsp salt
1 1/4 cups unsalted butter, room temperature
2 cups sugar
2 large eggs
2 tsp vanilla extract
Additional sugar for dipping - approximately 1/4 cup
White candy melts
Candy canes or peppermints - amount will depend on how many you do.
Instructions
Sift flour, cocoa, baking soda, and salt. Set aside.
Beat butter and sugar until light and fluffy.
Add eggs, one at a time, mixing well after each.
Add vanilla.
Beat additional 2 minutes.
On low speed, add flour/cocoa mixture until well combined.
Don't overmix.
Cover bowl with plastic wrap and chill in refrigerator for 1 hour.
Preheat oven to 350 degrees.
Use Silpats or parchment paper on baking sheets.
Roll dough into 1" balls.
Rolls these balls into your additional sugar.
Place on baking sheet about 1 1/2" apart.
Bake until just firm - about 8 minutes.
Let cool on baking sheets for a few minutes.
Transfer to cooling racks to complete cooling.
Store in air-tight container after completely cool.
For pepppermint accents.
Melt 1/4 bag following directions on bag.
Amount you melt will depend on how many coookies you want to decorate.
Crush candy canes or peppermints in plastic bag.
Dip cookie in melted candy melts.
Place onto parchment paper lined sheeet.
Sprinkle with crushed peppermints or candy canes.
Let set until candy melts have hardened.
Notes
A small cookie scoop works well.
Consider other colors for dipping.
Any sprinkles, nuts, or candies could be used for different holidays.