Sausage and Egg Breakfast Casserole
Day Twenty Four of Twenty Five Days of Christmas. You might just find a new favorite breakfast dish with this Sausage and Egg Breakfast Casserole!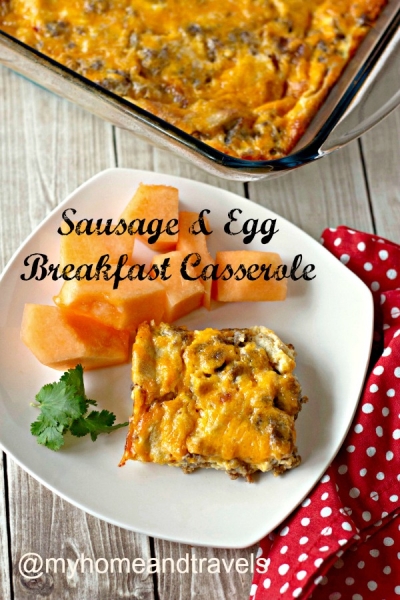 This recipe is so perfect for a make-ahead breakfast option! You can make the casserole then bake it immediately, or put it together the night before and then bake it the next morning. This is a fantastic option for any holiday or vacation cooking when you want to sleep in but still have a yummy breakfast. It's even great when you have overnight guests to feed in the morning!
This recipe can be made gluten-free by swapping out the bread for GF bread. And to cut down on a bit of the fat, the pork sausage can also be traded out for turkey sausage.
Sausage and Eggs Casserole
I love easy, and this recipe doesn't disappoint! All you need are a few simple ingredients to get started!
Ingredients to make this make-ahead breakfast:
16-ounce package mild pork sausage

6 eggs

2 cups milk (whole or 2%)

½ teaspoon salt

1 teaspoon dry mustard powder

1 ½ cup shredded cheddar cheese, divided

6 slices of whole wheat bread, cut into bite-sized pieces, remove crust if desired
Directions to make this breakfast casserole:
Preheat oven to 350 F degrees (skip this step if you will not be baking the casserole immediately).

Crumble the sausage into a skillet and brown the meat over medium heat until fully cooked. Drain off the fat and set the cooked sausage aside to cool.

In a large mixing bowl, beat the eggs together with the milk, salt, and mustard powder. Add the cooked sausage, 1 cup of the shredded cheddar cheese, and bite-sized pieces of whole wheat bread. Mix well.

Grease a 9 x 13 inch glass casserole dish with non-stick cooking spray. Pour the casserole mixture into the dish. Sprinkle the top with the remaining ½ cup shredded cheddar cheese.

If preparing this dish to be cooked later, cover the casserole tightly with plastic wrap and refrigerate for up to 24 hours. To bake, preheat the oven to 350 F degrees. Remove the casserole from the refrigerator and allow to sit on the counter while the oven heats. Once the oven is heated to 350 F, place the casserole in the oven and bake for 40-45 minutes until golden brown around the edges.

If preparing this dish to cook immediately, after step 4, bake the casserole uncovered at 350 F for 40-45 minutes until golden brown around the edges.
Any type of your favorite bread could be used such as white or French.
And there you have it. In no time at all, you'll have an amazing and delicious breakfast that is perfect for all your guests and family members.
Plus, eating the leftovers the next day is really yummy, too!
Do you have a favorite breakfast casserole recipe?
Pair it with these simple muffins, crock pot cinnamon rolls, banana nut bread or fruit dip.
https://myhomeandtravels.com/buttery-banana-nut-bread/
I've included affiliate links to Amazon for you to find some products easier. I may receive a small commission, but the price is the same for you. It just helps my blog out.
Happy Travels,
Rosemary