How To Set A Table For Christmas Without Christmas Dishes
Many think of a beautiful Christmas table full of red and green. That's fine, and I do it often, but what if you don't have Christmas china or dishes? Decorating A Table For Christmas Without Christmas Dishes can be done. Plus never think you have to have expensive dishes or stemware to set a pretty table. Many of my things have been collected over the years or come from places such as outlets and Dollar Tree – yes, Dollar Tree.
Pin for later.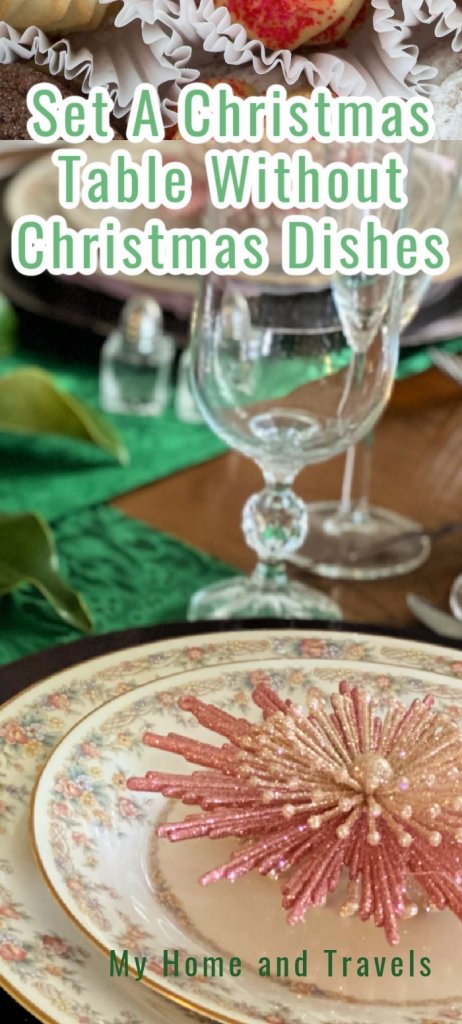 I always say too having a good basic set of white dishes can be used for a fancy dinner or casual breakfast. Then your accent color possibilities are endless.
Look at the china or dishes you have and pick a color to focus on. Although I have a set (or two) of Christmas dishes, I wanted to pull out my Noritake Gallery China and think about a more formal table. This would be great for Christmas Eve or take it on into New Years.
Also, the colors are not a true pink, green, or maroon – more rosey pink, aqua and even a hint of yellow. See you might have several options on what colors you choose to highlight.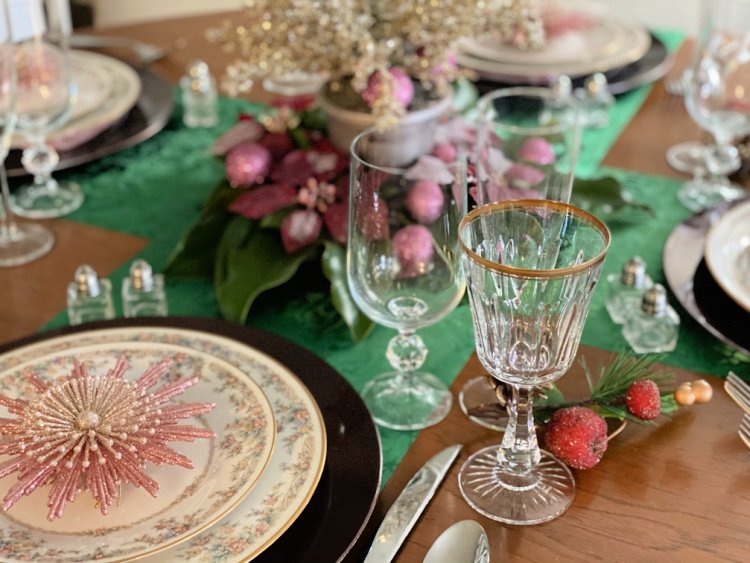 My choice came from linens I had on hand, colors I like, and the star ornaments which I picked up at Hobby Lobby.
I am not a matchy-matchy person as much as I used to be. On this table you will see several shades of pink and maroon. I think it's more interesting to pull things together you have and mix up the colors a bit. And it makes it easier for using what you have.
Getting everything you want to use can take a little planning. I always play around with a few different layouts, linens and decor. If you get a setup you like, snap a picture for reference.
Through the years, you may have a collection of linens to include tablecloths, placemats and napkins. This is something I always look for at garage sales, thrift stores and after holiday sales. Don't think too a black placemat from Halloween can't be used at other times. Black and white are such current colors so don't limit yourself to a particular holiday.
That can also be the case in dinnerware and stemware. Stores have sales now before the holidays. Don't forget to check out Dollar Tree as I said. They will usually have holiday designs out several months in advance. But they also have color and clear stemware for wine, champagne, Margaritas and water glasses. Good thing about these – if a piece gets broken, it's easily replaced – for $1.
Craft stores are also great for finding linens and chargers. Can't find the right color of charger, spray paint it. Just remember to don't let food touch it.
Let's look at what I used on my Noritake table. I will try to link these items, or similar ones for you.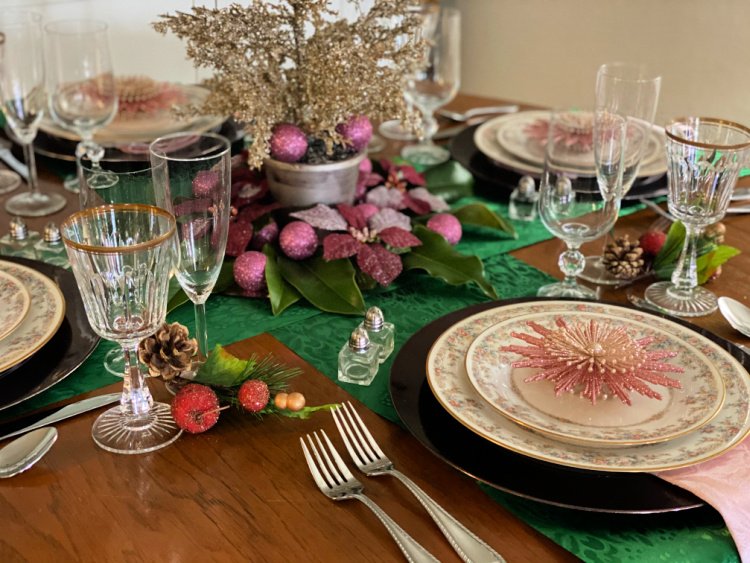 Copper charger – they actually took on a rose/pink gold in the light
Green runners – Dollar Tree
Noritake Gallery – no longer a current pattern
Pink star ornament – Hobby Lobby
Mini salt & pepper – Walmart
Champagne glass – Ikea, but available at Dollar Tree
Gold rim wine glass – Mikasa outlet about 30 years ago (found 10 on Amazon for under $35)
Stemmed glass – local department store about 20 years ago (Dollar Tree has them too)
Silverware – QVC
Pink napkin – yard sale
Centerpiece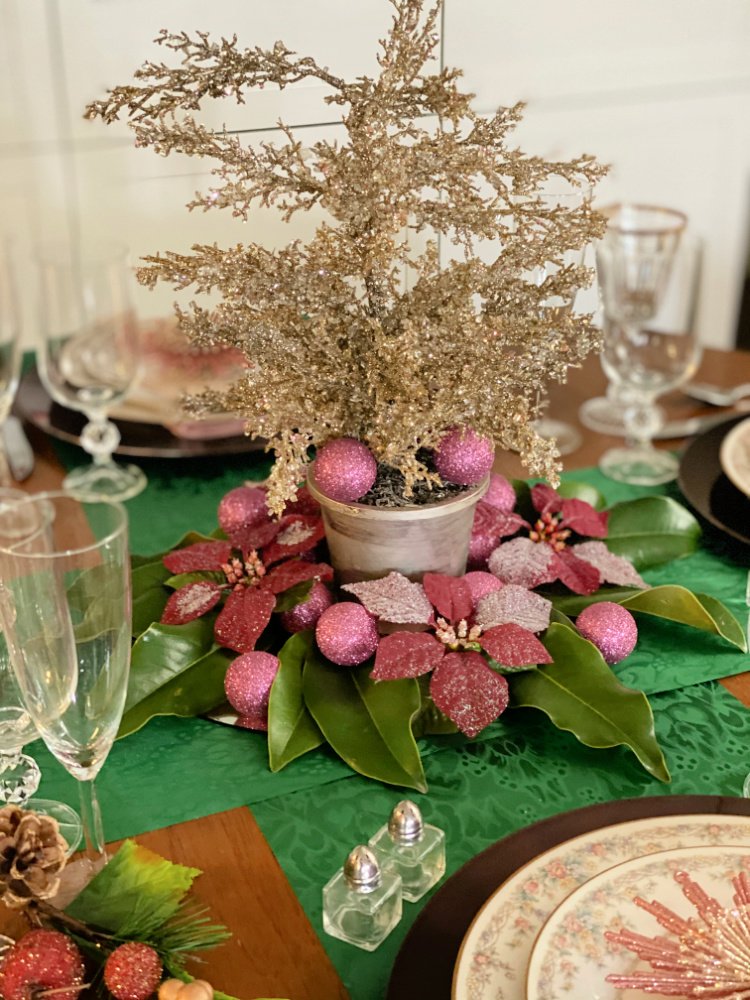 Gold tree – yard sale
Misc picks – various stores
Magnolia leaves – good friend's tree
As you can see, I have collected a lot over the years and love yard sales. And, not all of it has to be expensive.
Now let's see what my CHRISTMAS BREAKFAST TABLE AND MENU will look like.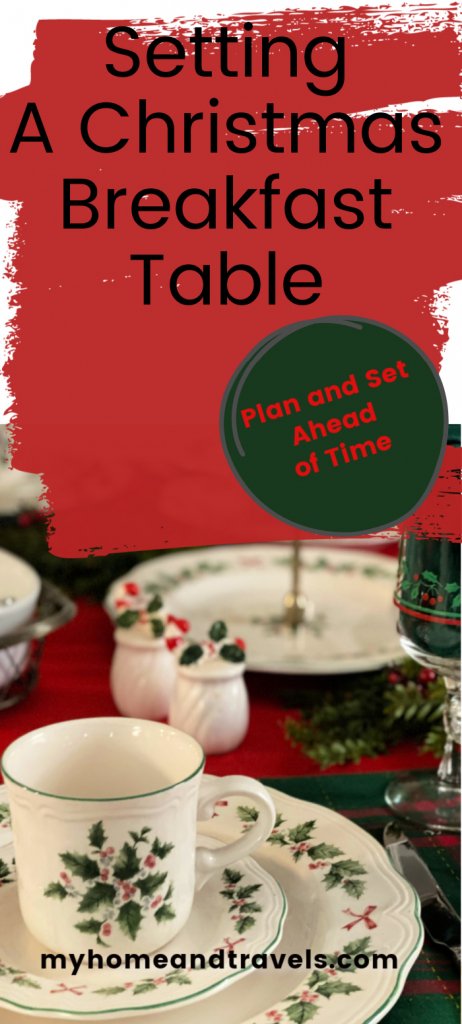 Let's share some of your tables here and see your creativity.
What's on your menu for Christmas and Christmas Eve?
I've included affiliate links to Amazon for you to find some products easier. I may receive a small commission, but the price is the same for you. It just helps my blog out.
Happy Travels,
Rosemary