Yardsale Find Message Board
Sometimes you just need a message board or coat rack near the entryway of your home for convenience and reminders. My yardsale find message board did it's job, but not in an attractive way. You will see pictures of a lot of my favorite products and tools I used in the post along with affiliate links.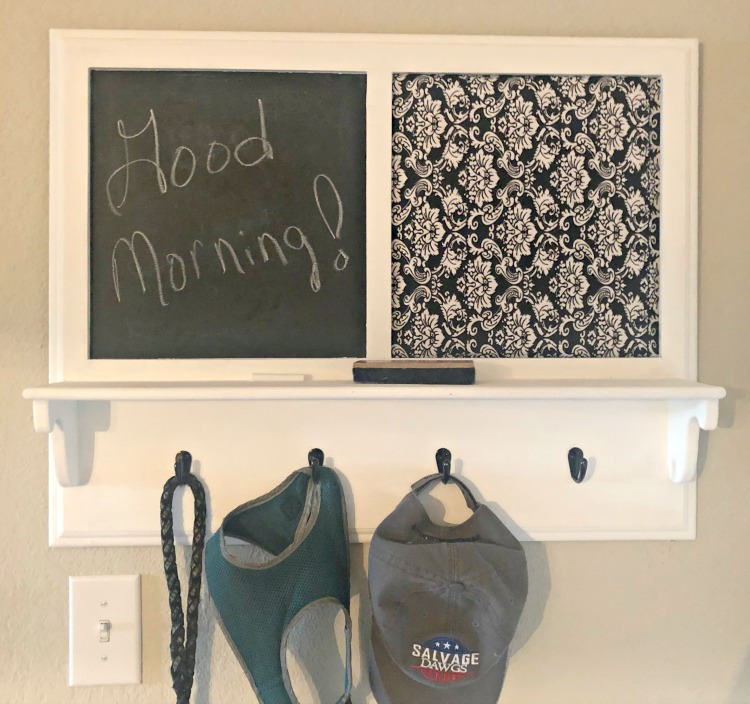 If you don't have a dedicated area for things like your purse, dog leash, or jackets, they tend to get piled on a chair or table. After hanging several years downstairs it was fine, but when it was moved by the front door, it had to have a makeover. This went from dark and dreary to bright and cheery. I was going to see too how cheap I could do this makeover.
Yardsale Find Message Board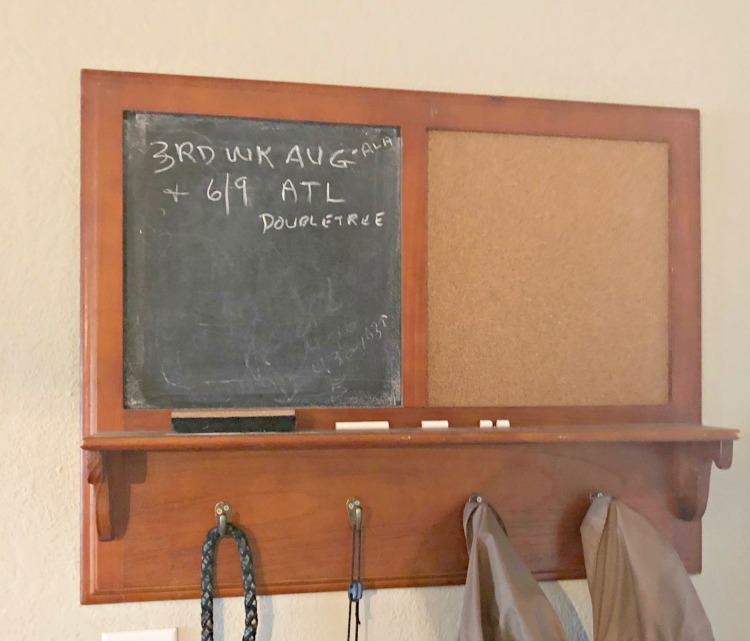 You know me with a stash of stuff on hand all the time, I basically did this for free. My favorite kind of project.
I'm a list maker so figure out what you need. Get all of your tools and supplies together before you start and have a plan. But, you know you need to allow for last minute ideas and changes. It was going to get a quick white paint job, but then I decided to step it up a notch being all black and white.
Here's what I used:
Ryobi Tools –
Frog Painters Tape
Rustoleum 2X Ultra Cover Spray Paint – Gloss Black
Folk Art Home Decor Chalk Paint – Adirondack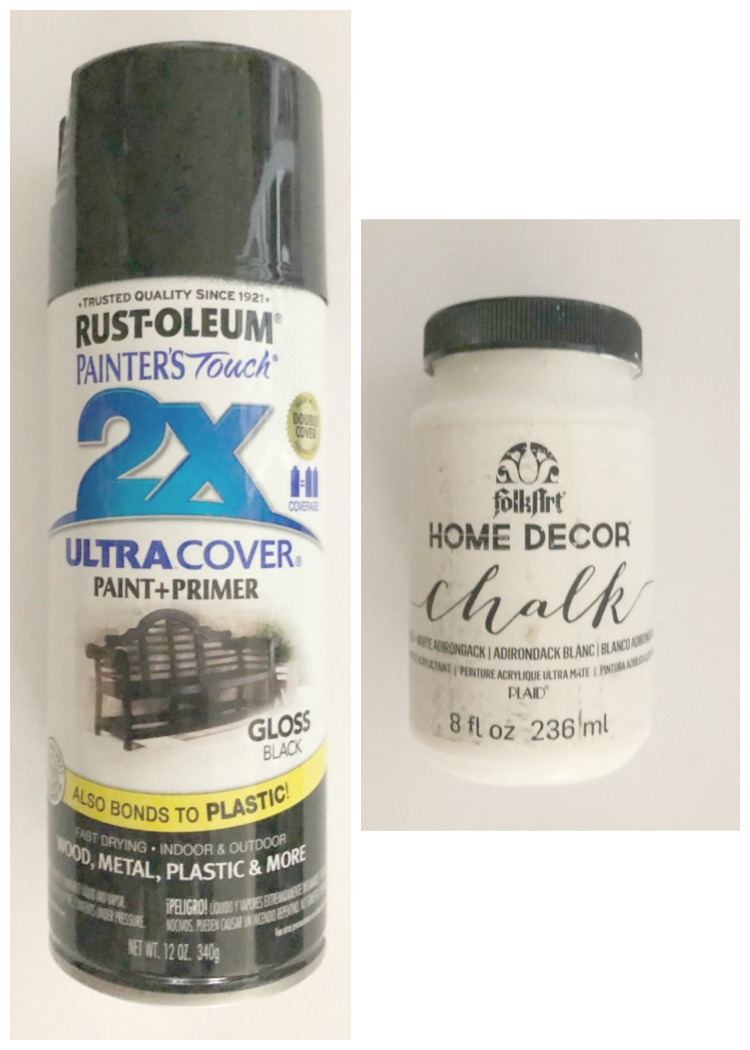 Paint brushes
Drop cloth – see hint below
Wood cleaner
Let's get started –
After a good cleaning, the hooks were removed but saved for later, along with screws.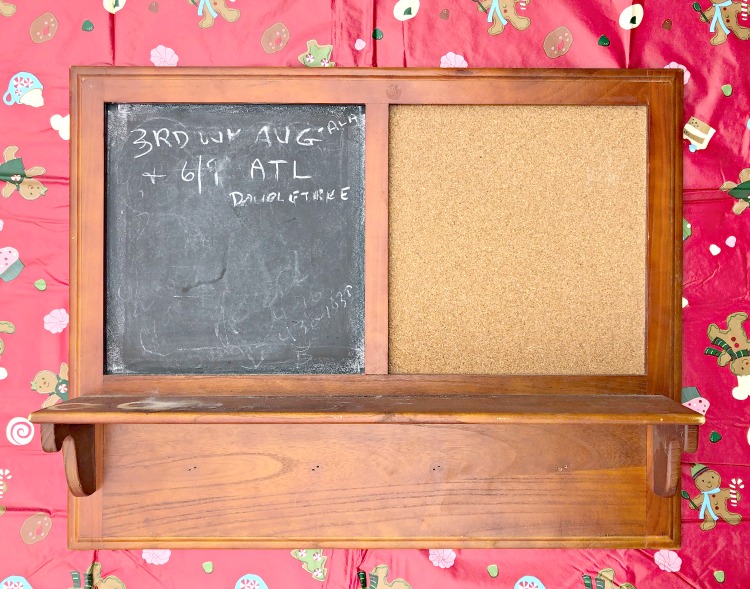 A light sanding was done to remove the glossy finish. Another dusting and cleaning done.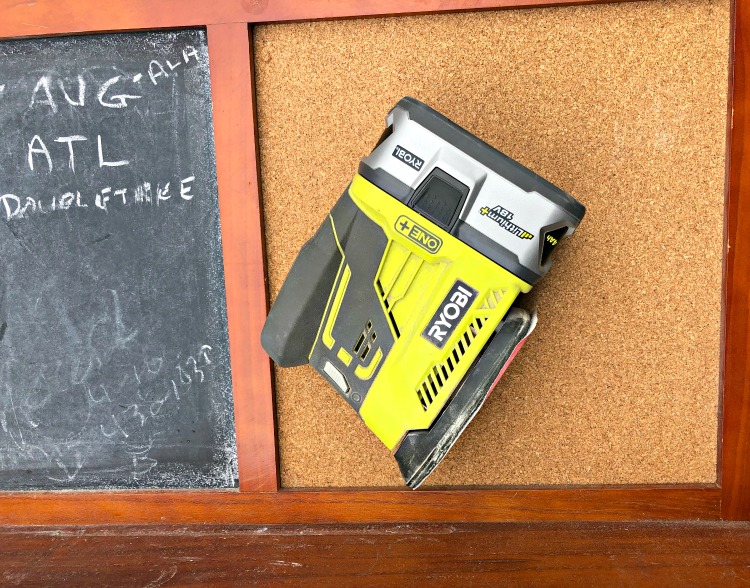 A new thought – The corkboard portion didn't fit into the black and white theme so it was removed and saved.
Since the corkboard would be recovered later, I was careful when removing it. It was held together with tiny staples so a gentle tapping from the front knocked it out.
Did I say tiny staples? Yes about 100 of them I had to pull out with needle nose pliers. Who ever built this was determined the corkboard wouldn't fall out.
The original chalkboard section was taped off with FrogTape painters tape to make my paint job easier.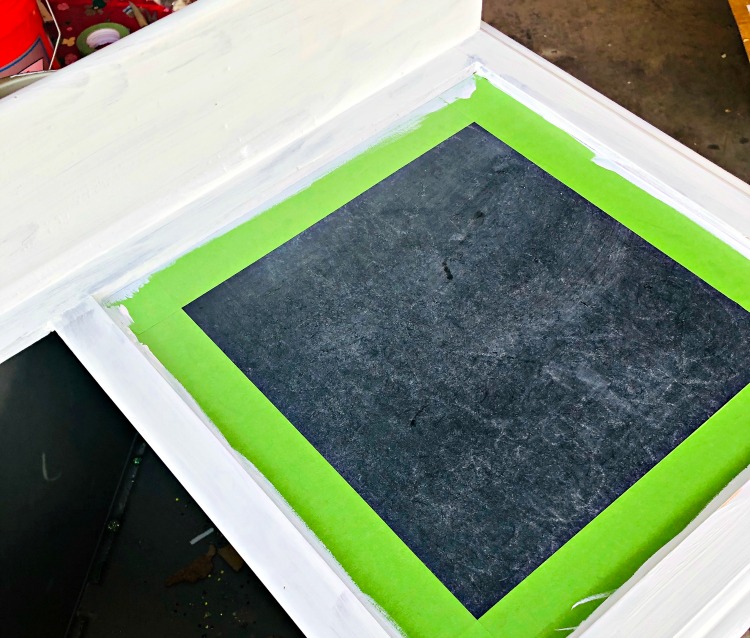 I gave it 2 coats of FolkArt Chalk Paint, letting it dry between each coat. This paint gives great coverage.
The hooks were given 2 coats of Rustoleum Spray Paint, again following directions on the can.
Using fleece lining I had left over from another project, I cut 3 layers just a bit smaller than the corkboard.
The edge of the opening in the back of the message board was shallow so if I had batting to the edge, it would have been to thick to fit.
These types of steps will need to be adjusted to fit your own project.
Very little hot glue was used to adhere the batting to the cork board, just enough so it wouldn't move while working on it.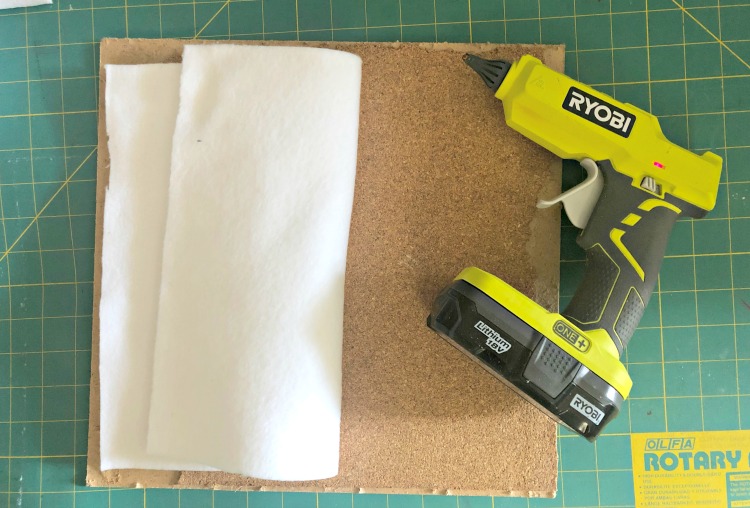 The black and white fabric was also on hand from a project which never happened. It was cut just a little larger than the corkboard.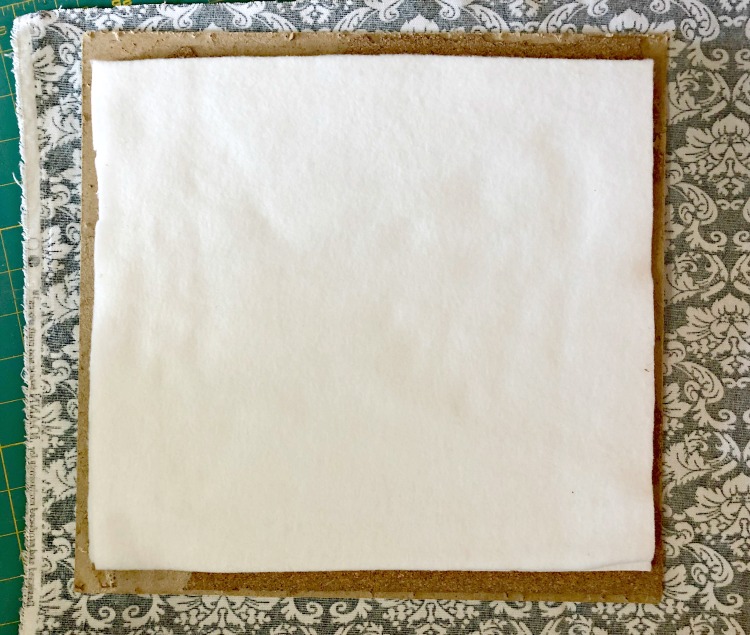 The fabric was then glued to edge of corkboard, not to the batting.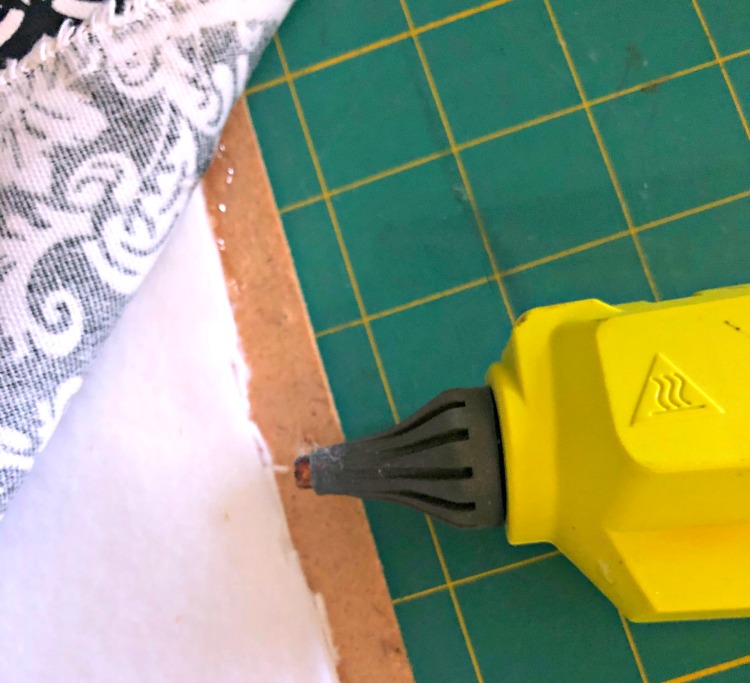 Trim the fabric to fit the corkboard.
The completed fabric board was then glued back into the message center with hot glue.
The painted hooks were replaced.
Yardsale Find Message Board looks good.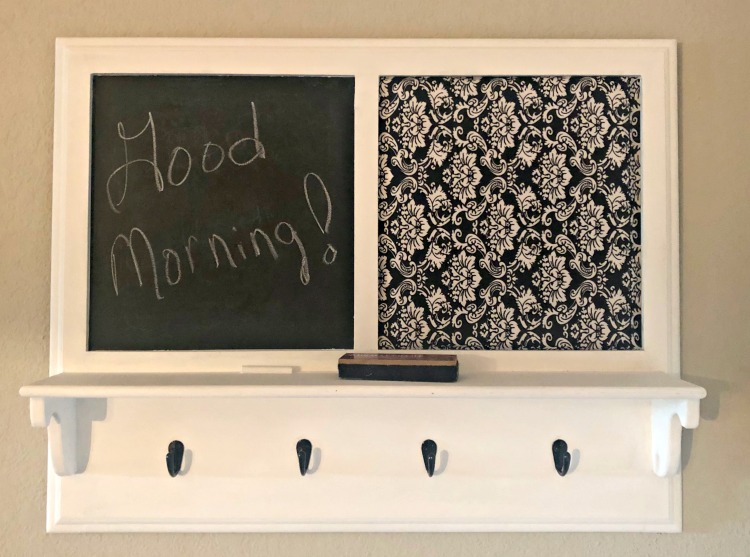 I didn't spray paint the screws with the hooks so I needed to now.
Spray a little of the same spray paint onto cardboard and immediately paint the screws. Using a cheap artist brush which can be tossed makes the job easier.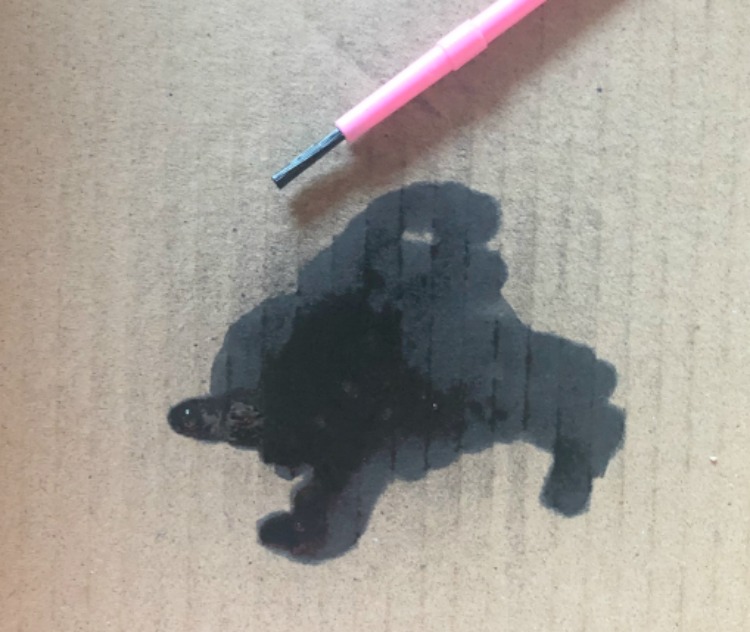 It had hangers on the back so I just placed it back on the wall in the original spot.
I have to say I love how the black and white is so much cleaner and brighter than the wood finish.
The hooks are so useful for the everyday items. At least the jackets can be taken off for a while with this summer time weather.
Here's a few extra hints and tips:
Pick up vinyl tablecloths at yard sales or after holidays to use for painting projects
Another item to keep on hand is cheap artist brushes for touch up items like the screws.
Always read and follow directions on any paint products you use for best results.
Gorilla glue sticks doesn't leave as many of those pesky strings from the hot glue.
Simple projects like this could be done if you don't have power tools, but if you do have them, it just adds to the ease of compleing
I keep a 3″ soft bristle paint brush on hand to help with dusting off after sanding
Always remember to pin ideas for later or to share. Do you follow me on Pinterest?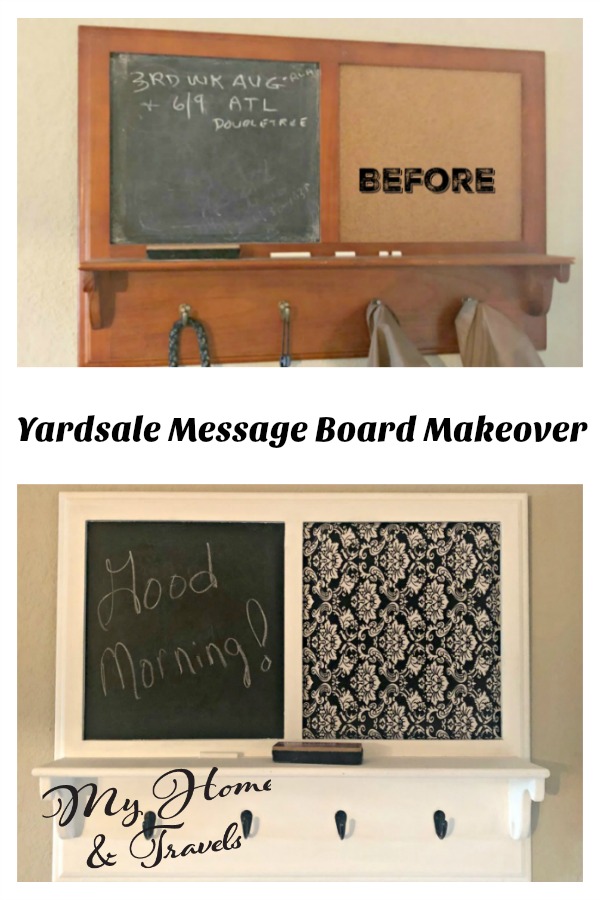 A few of my favorite painted wood projects:
I've included affiliate links to Amazon for you to find some products easier. I may receive a small commission, but the price is the same for you. It just helps my blog out.
Happy Travels,
Rosemary