At this time of year some still have snow and ice, or if you are lucky enough like here in Tennessee, experiencing Spring type weather. A little sun and 73 – I could get used to that. Who has spring fever?
After all of your Christmas decorations are down, sometimes you feel a bit blah with how the room looks. And most of the time you are ready to make at least a little change since you've probably had extra decor up since fall.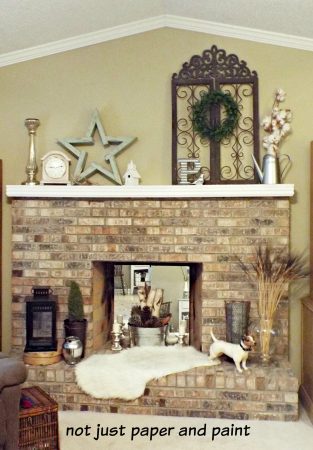 I don't decorate for Valentine's Day anymore so I usually use this time to just pull things together I already have just waiting for spring and Easter. Of course, Easter is earlier this year, so in about a month it will be time for a change. That's about right for me anyway.
Everything I placed on the mantel or hearth was already in my decorating closet (well, room, garage) – close to hoarder, yes. One of the best buys on there is the star. They are made by a local person and sold at shows for $40. I got mine at a yard sale for $5. I recognized it and knew I was getting a good deal.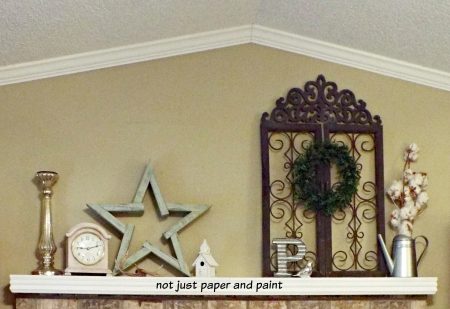 A problem I've always had with the fireplace mantel is the fireplace isn't centered in the room, so the point of the ceiling is to one side. For this I usually don't do a symmetrical look but usually use a taller piece to one side to bring your eye all they way up. This is a piece I picked up from a yard sale for $10. It might even get painted one of these days.
The fireplace itself isn't usable at the moment so I don't have to worry about anything catching fire.
I have tried to clean the black off the back wall, but to no avail so I cover it up with a couple mirrors. Plus I like the way it will reflect light.
The galvanized bucket is holding a few birch logs and pine cones.
Here's a hint if you don't have enough to fill up a bucket – use some household items such as old coffee cans and even an old candle to fill up space.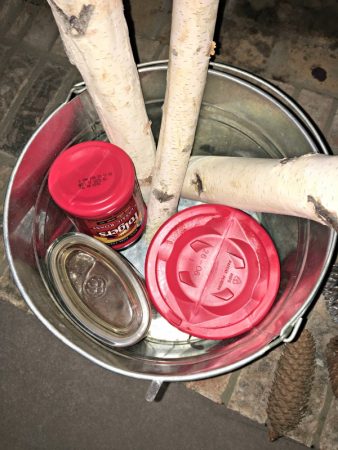 One of my favorite pieces is this carved dog. I purchased it at the Country Sampler show in Nashville about 25 years ago. The gentlemen carved these and painted them to match your dog. I got this for my Dad's Christmas present. It looks so real. I paid about $80 for it and a few years later saw them wholesale for $200. Good deal there.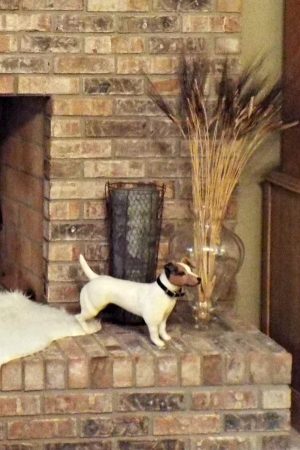 To lighten it up a bit more, the faux fur is a piece from Ikea.
So if you have a mantel, buffet, or side table that needs a little updating, shop your home first before you go out and buy things. Sometimes using pieces from another room gives a whole new look to it.
I really liked how this came out with a little glitz from the silver, rusted look of the basket and bucket, then a nod to the farm life with cotton.
Hope you learn to shop your home for any decorating space.
I can't wait for yard sale season to kick into full gear so I can collect more "treasures" as I tell my husband.