The Best Strawberry Lemonade – Ever
What do you make when you get handed lemons and strawberries? Why you make The Best Strawberry Lemonade Ever. As we are in the heat of the summer days, there's no better drink to cool off and relax with.
This simple lemonade recipe is made with refreshing ingredients and tastes so great. Perfect for a light summer drink but good at any time of the year.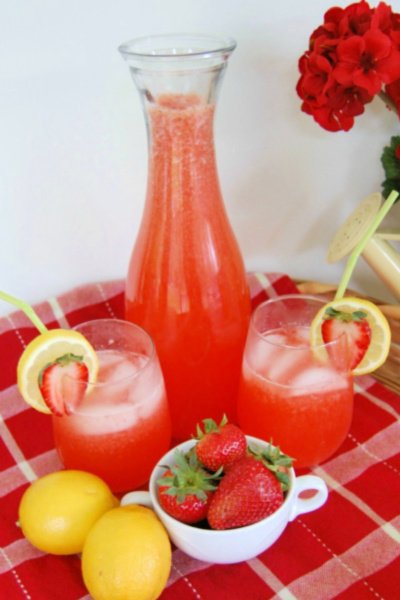 The Best Strawberry Lemonade
Everyone has their own flavor they love – more sweet, extra tart, no pulp. I like mine not too tart and not too sweet. Pulp doesn't bother me, and with this recipe, you have the pureed strawberries so pulp really isn't an issue.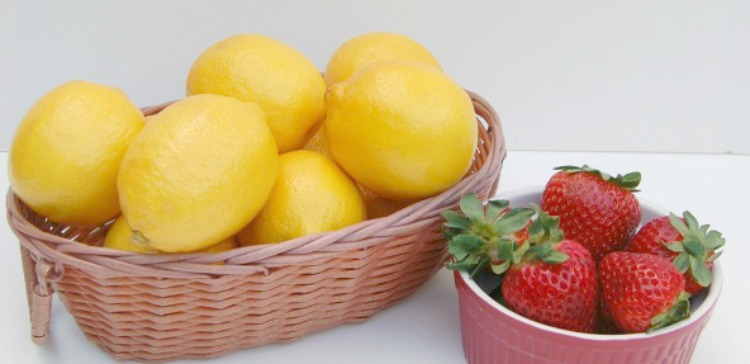 Tips for making lemonade
To get more juice from a lemon, roll it against the counter. It opens the sections to release more juice. I've heard you can put in the microwave for about 20 seconds and let it cool, but I've never tried it that way.
NEVER

use bottled juice.
Fresh is always better and you will notice a big difference in taste.
If you have a juicer or an attachment for your food processor, it goes so quickly. I love my Kitchenaid Food Processor – this attachment came with it. So, so handy.
Are you ready to create the best homemade lemonade ever? You're going to love this tasty drink!
The Best Strawberry Lemonade Ever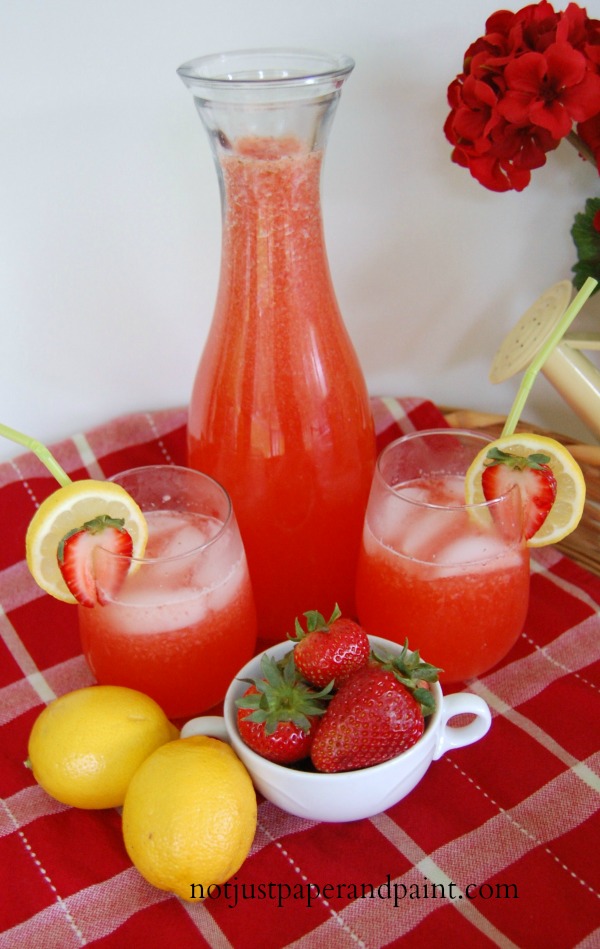 A delicious beverage for not just a cookout or picnic, but enjoy a glass while sitting on your porch.
Ingredients
1 cup sugar
1 cup water
1 pint ripe strawberries - will need about 1 1/2 cup puree
1 cup fresh lemon juice - approximately 8 small lemons
1 - 2 tablespoons almond extract, optional
4 - 6 cups water, use cold water if serving immediately
For garnish
Instructions
Make a simple syrup of water and sugar by cooking this over medium heat for about 4 - 5 minutes, just until sugar is dissolved. Cool before using. Add almond extract.
Clean and hull strawberries.
Puree these in a blender if not in food processor with 1/2 cup water.
Mix together syrup mixture, strawberry puree, and lemon juice.
Great time to taste again to check for sweetness or tartness.
Add water.
Start with 4 cups and adjust to taste.
I like 5 cups.
This will make approximately 1 gallon when using 4 cups of water.
Refrigerate and serve cold, or over ice.
Garnish as desired.
Notes
Do not use bottled lemon juice to have the best flavor

Step by Step photos on how to make lemonade
I love lemonade so much that I just have to show you my process in how I make it! You can visually see the steps and get a few more simple tips as well.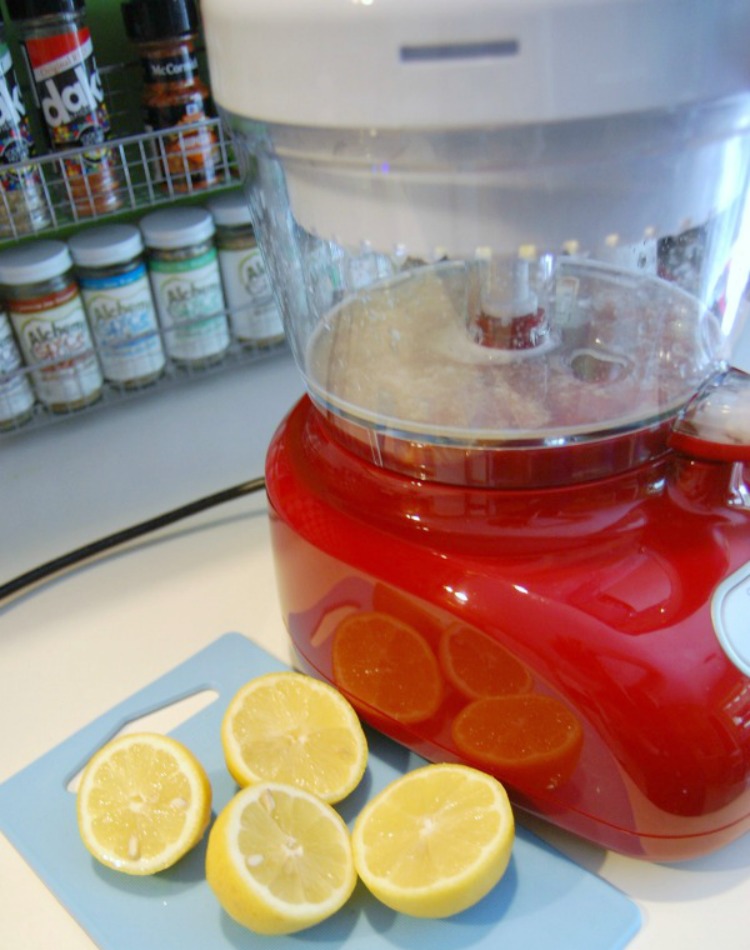 Puree your strawberries in the same bowl of your food processor, saves a dish from having to wash.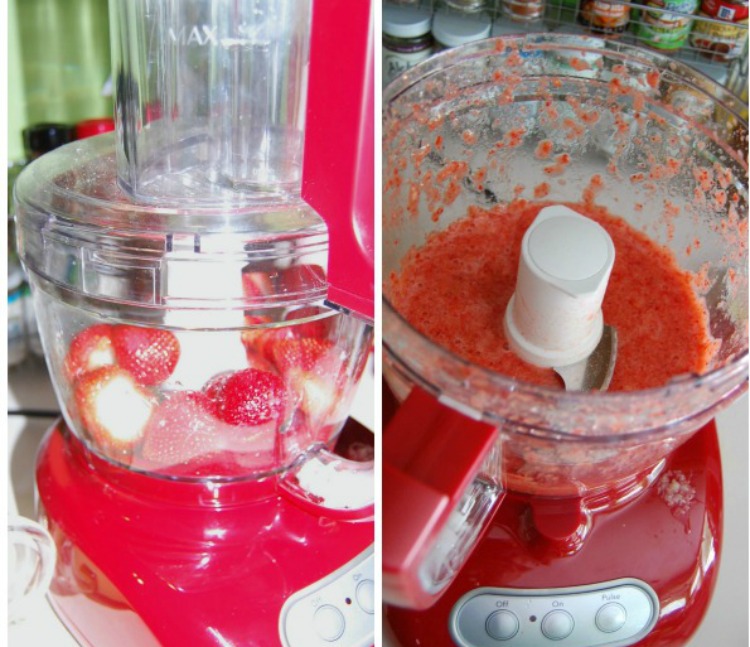 After you have all ingredients mixed and before adding water, this is a great time to taste to see if you want to adjust the tartness or sweetness.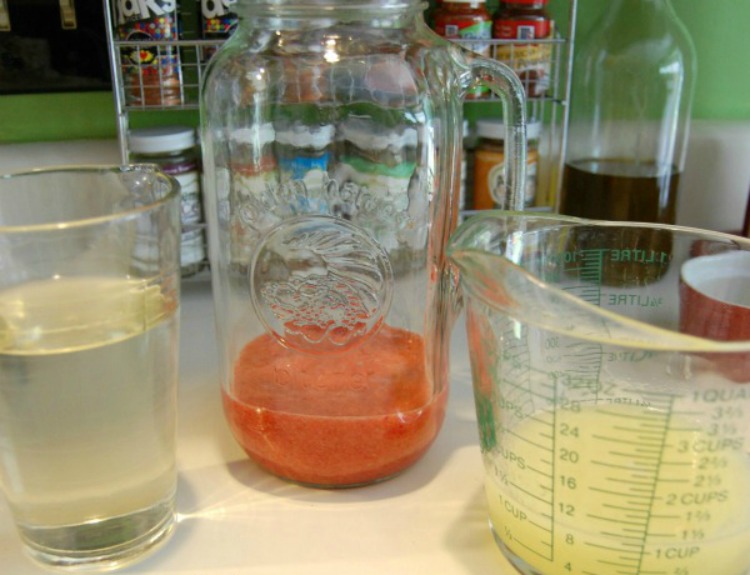 You can add a little more lemon juice to taste.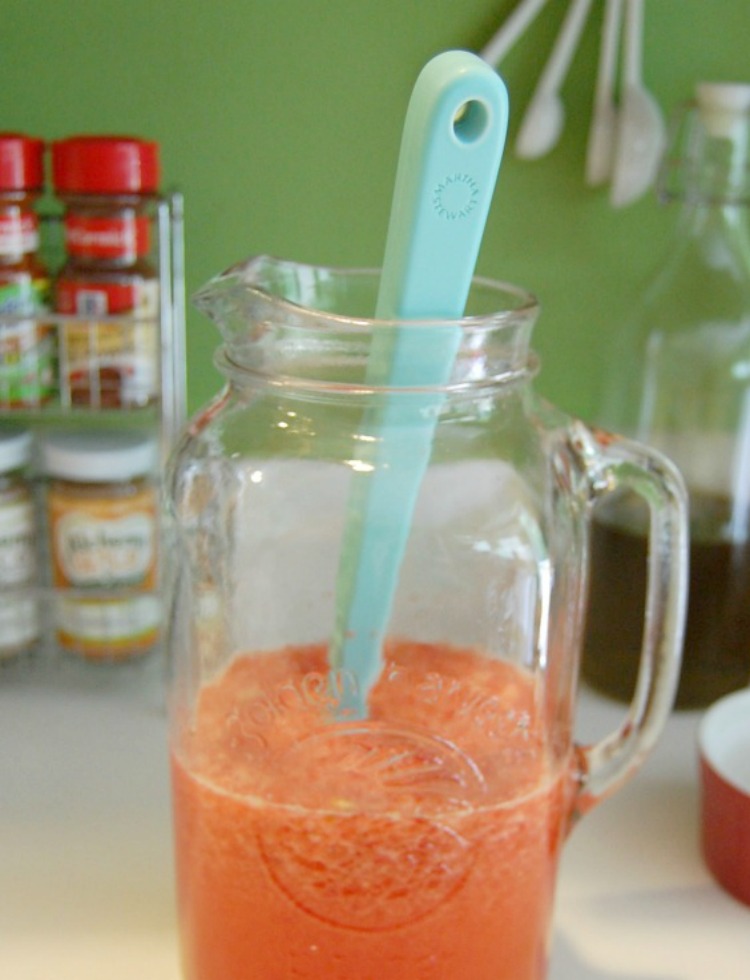 How can you make lemonade taste sweeter?
If you want to make it sweeter, don't add sugar. Microwave a tablespoon or two of sugar with a little water just until sugar dissolves, maybe 30 – 45 seconds. Cool quickly by adding an ice cube.
Some strawberries will have bigger seeds on them and won't puree. After you have completed making this, let it stand for about 5 minutes then pour it into another pitcher. The seeds will settle to the bottom so you can discard them.
Can you use frozen and/or fresh strawberries for this lemonade?
You can honestly use either. You just need to be certain that you have strawberries on hand and anything will work.
How do you store lemonade for later?
All you really have to worry about with lemonade is storing it in the fridge and keeping it cool. You can even store it in the freezer for later and create a type of lemonade slushie as well.
Pin this for later.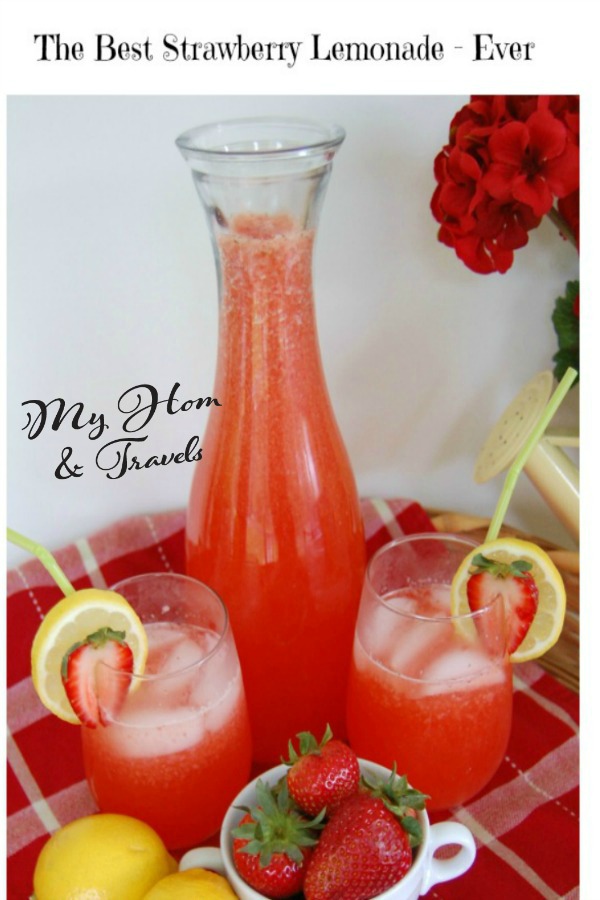 More Fun Picnic and Entertaining Posts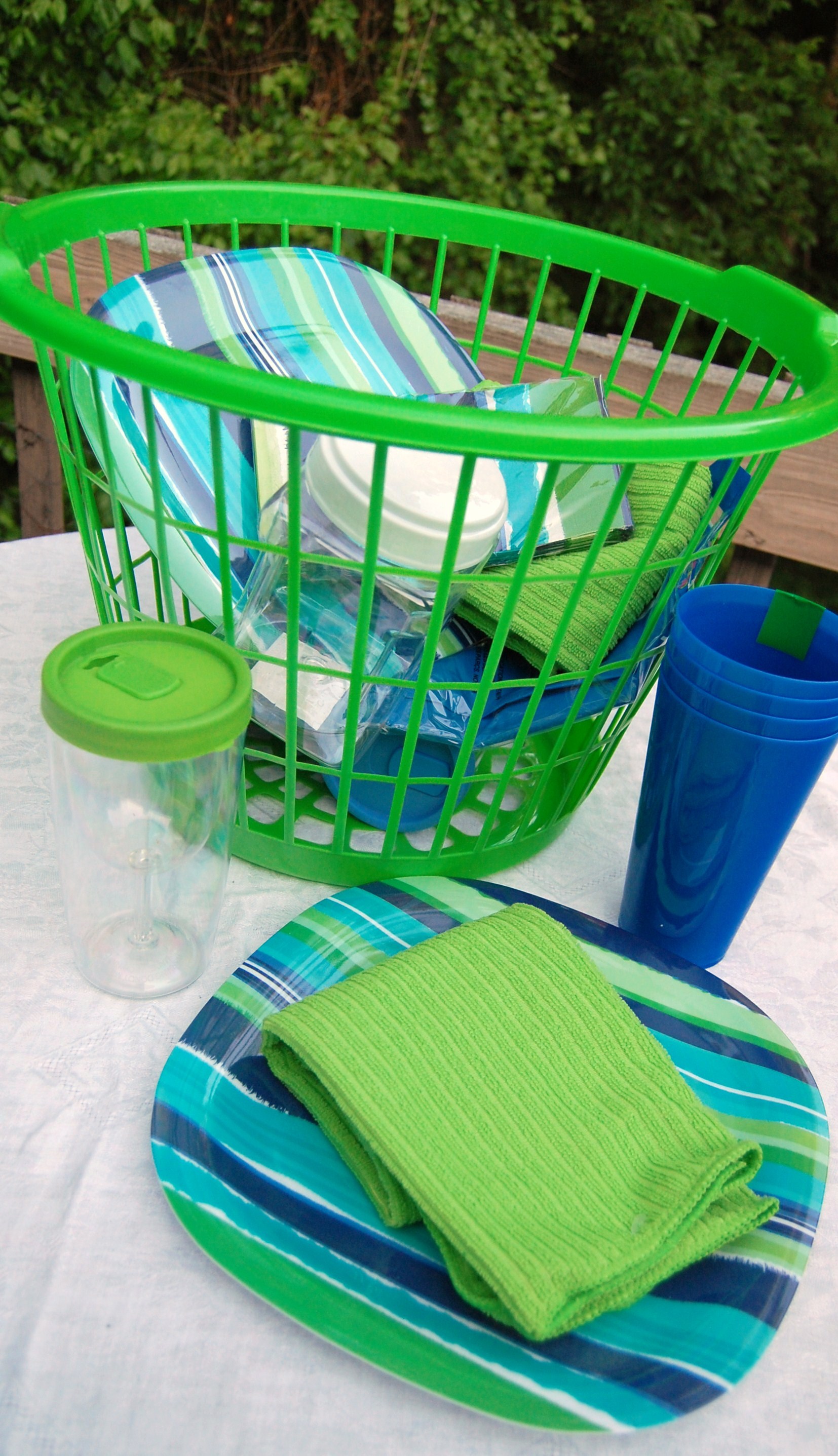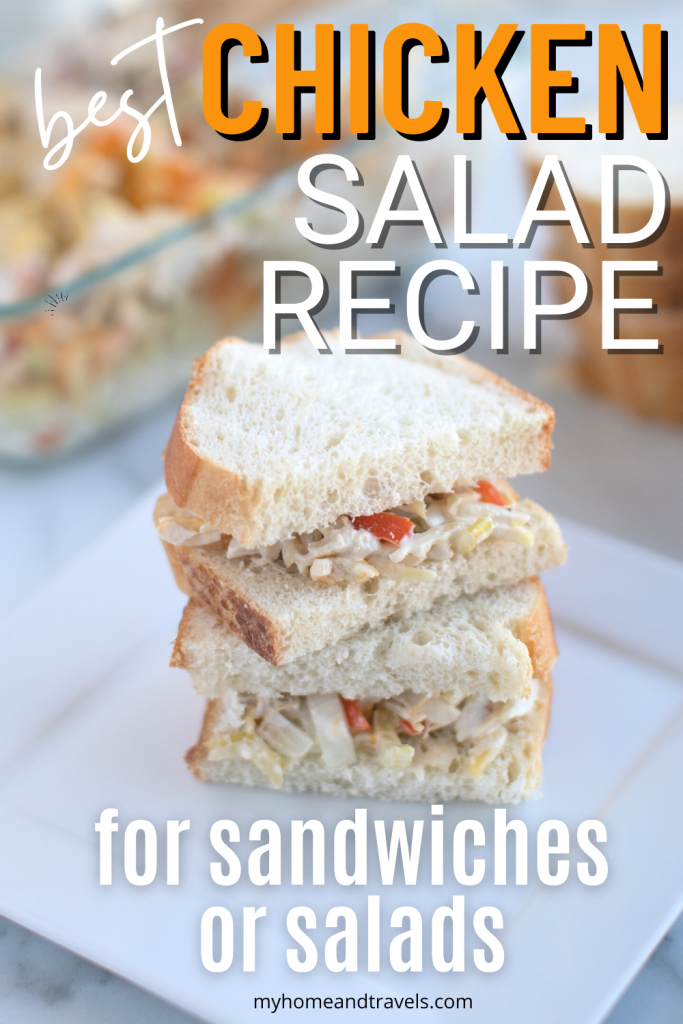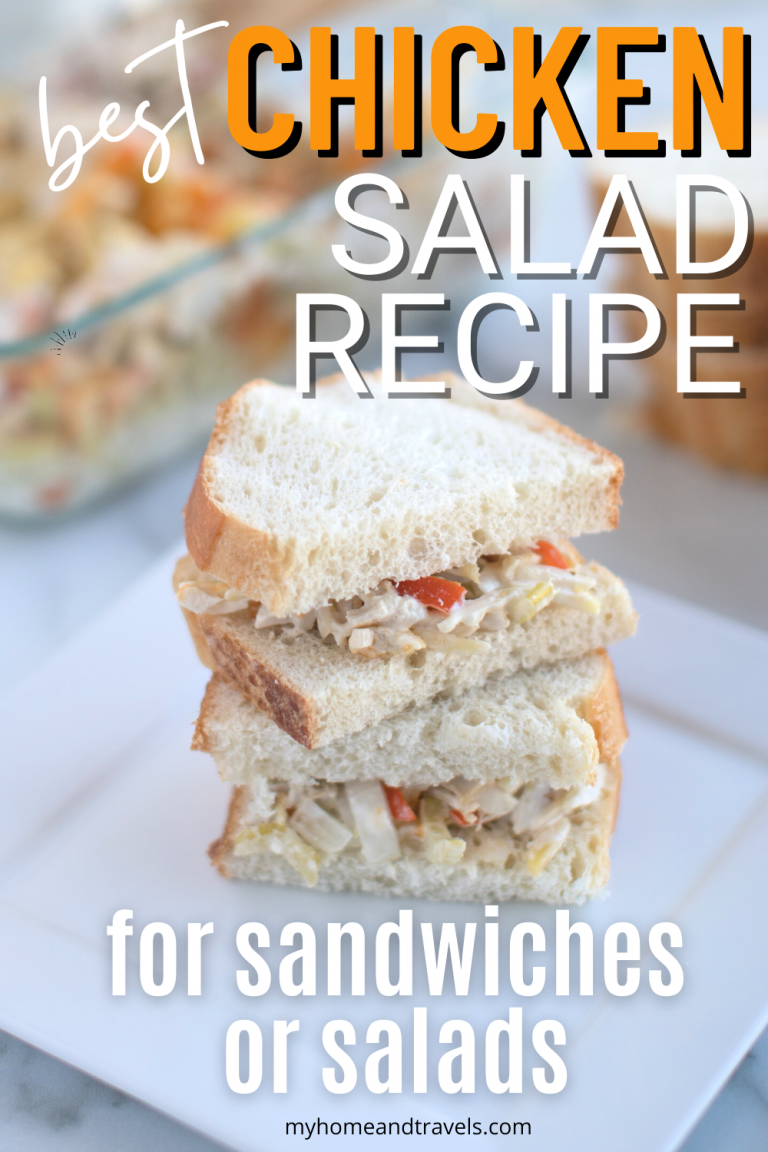 I've included affiliate links to Amazon for you to find some products easier. I may receive a small commission, but the price is the same for you. It just helps my blog out.
Happy Travels,
Rosemary