Why stay at a host hotel for a conference? My biggest answer to this is CONVENIENCE. And The Grand Hyatt happens to make our stay a great experience.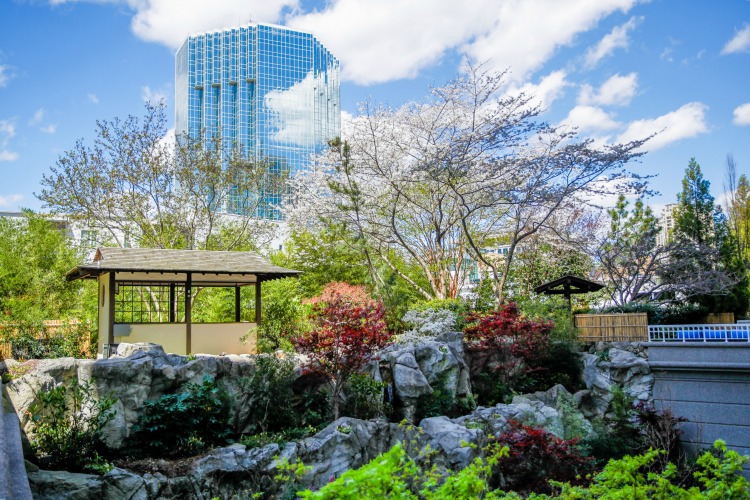 If you have been to Haven, or just an FYI for those newbies, you can come home with a lot of swag. Not only do you receive a great bag at registration, but typically each vendor/sponsor has a giveaway in the booth, and even in sessions, there's handouts or giveaways. You don't want to carry this around all day so it's so convenient to run up to your room to drop off.
With being at the host hotel, it offers many opportunities for networking. You never know who you might be in the elevator with, including a few celebrity sightings.
The hotel usually offer discounts on rooms and parking, which The Grand Hyatt has done. A few are usually shocked at parking prices, but I have learned traveling to any hotel especially in a larger city, most parking lots are run by an third party. We do have a discount. Day parking, Self-Park: $10, Valet $15 and Overnight: $21 self-park and $32 valet. I'm lazy and love Valet Parking.
The hotel offers a shuttle service which goes within a 2 mile radius. There's plenty to find and do, if you do want to get out for dinner, or explore the area. Several places are within walking distance, including StarBucks, and a few favorite restaurants of mine. I've included a list below.
I always travel with my own Keurig. Although there's usually coffee/tea offered in The Living Room* of Haven, or for sale in the Onyx Bar area, I enjoy taking a few minutes as a quite break in my room for a cup of coffee, or have my to-go cup with me. Of course, with my own coffee pot, I can have it first thing in the morning. Gotta have that caffeine to get me started off. Although you are well fed at Haven, sometimes you want a special snack or even chocolate. Let me know if you need coffee or chocolate, I'll share.
*The Living Room is your main area where you find the speakers, a lot of vendors, and some of the nightly events. Always check your schedule for this. It's a great meeting spot too.
There are refrigerators in each room so that's another way to save a little money by bringing your own water or drinks of choice. And of course my favorite Coffee-Mate.
Some have asked about a pumping station and refrigerators. Here is the reply I got from the hotel:
"We do not have a dedicated area for this in the conference space – the best spot is their guest room, there are refrigerators/freezers in each room as well as a dedicated freezer behind the front desk for those who need more space".
There will be a coffee – tea station located in The Living Room which is so convenient. This is another place to make connections with other attendees while waiting. I think this was mentioned with hours in the last update on FaceBook and email from the Haven Team.
There's usually special events or dinners to attend so being able to go to your room and change, makes it so easy. That also allows you a few minutes to relax a bit before heading out for the evening. I have even been know to catch a little power nap.
With Haven, this might be the only time you get to see your friends from year to year, or by making new friends, you may have a little meetup or a late-night party (this is what I've heard anyway). Why not make those relationships more special, or as bloggers, getting new ideas, contacts, or business tips.
I have been attending Haven Conference since the very beginning and The Grand Hyatt Buckhead has been the best by far. After a couple different hotels in Atlanta, then off to Charleston, we are back home in Atlanta. Just from personal experience, the Grand Hyatt is such a great place. The layout of the hotel is easily figured out and convenient for all of the sessions, meals, and breaks.
If you need to catch a meal at the hotel, Onyx at the Grand opens at noon each day for lunch and dinner, or for your favorite cocktail. This is usually the common meeting spot for everyone too. Walk by there at anytime and you can usually find someone to have a conversation with.
The Onyx at the Grand Coffee Bar is open for coffee and pastries beginning at 5:30 a.m. for you early risers.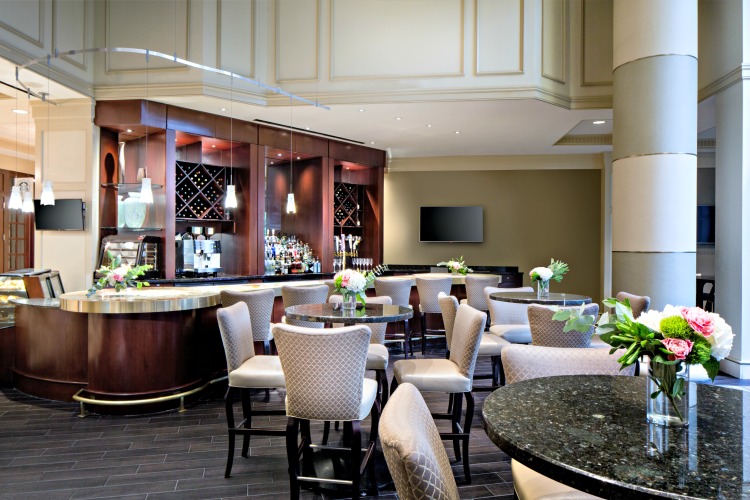 Cassis is opened for breakfast, which has a buffet option, and for lunch. A salad bar is offered too.
Room Service is available 24 hours a day.
The food has always been gourmet quality for Haven at They Grand Hyatt. There's usually a large selection of salads, hot entrees, and desserts offered. By far, not your typical convention or conference meals.
Did you forgot to pack a needed item? Again, if you need to shop, consider the hotel gift shop, the shuttle, or check with the front desk as they offer several items for free. These can include Hair Spray, Sewing Kits, Deodorant, Tooth Brush and Paste, Razors, Shaving Cream, and Combs.
We do have free Wi-Fi in common areas and our guest room. Join Hyatt_Wifi network and no password is required. There is a premium Wi-Fi available for an additional charge. You know us bloggers, we have to have our internet.
The room will fit all of your needs to include a marble bath, USB ports on the night stand, robes, slippers, a hair dryer and a comfy bed to rest for the night. If you need anything you can always call the front desk or text 404-998-5051 with any questions or requests. How convenient is that?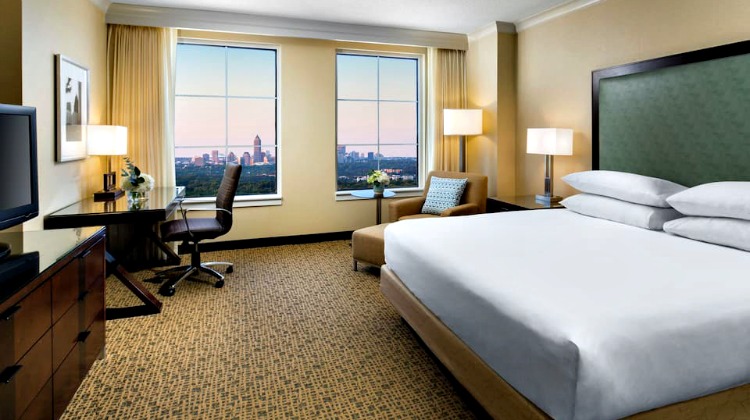 Want to upgrade to a Suite or Club Access, or a High Floor? You can find all the details on the website, or call the hotel direct with any questions since we are less than a week away.
If you aren't staying on an upper floor, ride the elevator up to get a view of Stone Mountain, Downtown Atlanta, the pool area, or Zen Garden. The Zen Garden is also a great area to escape for a quite moment, but remember, it's outside, and Atlanta can be very warm, and humid.
The hotel is actually pet friendly, with fees and limits. So if you are traveling this time, or in the future, you don't have to leave your fur baby at home.
I find with conferences, just like any other travel, the hotel website can be a wealth of information. If you are wondering about the fitness center, a pool, or what's included in each room – you can find it HERE – The Grand Hyatt at Buckhead.
Remember I mentioned my favorite restaurants in the area, and some will make reservations for your convenience. There are many in the area, but these I have visited.
Walking distance to name a few:
StarBucks – 2 locations
Southern Art – just across the street
Maggianos
Gordon Biersch
Ruth's Chris
FarmBurger
By shuttle:
Seasons 52 – my recommendation
Trader Joe's – while technically not a restaurant, a great place for snacks and wine.
Are you wondering what else is in the area? Or bringing your family? I have include a few links from Atlanta Area CVB.
North of Midtown is the ultra-chic neighborhood of Buckhead. Known as the "Beverly Hills of the East," Buckhead is a shopping haven The Shops Buckhead Atlanta, Lenox Square and Phipps Plaza.
50 Fun Things To Do In Atlanta
Now, who's ready for some fun time in HOTlanta? Are you packed?
photos courtesy of The Grand Hyatt At Buckhead