Kinley Hotel is one of those places that seems to welcome you at every turn. From the atmosphere to the staff, and of course, the lovely city of Chattanooga that surrounds it, Kinley Hotel has an incredibly warm atmosphere that draws you in from the moment you step foot on the property. It's a unique hotel that perfectly blends upscale and down-home sensibilities in both its decor and approach to its guests that I've not found at many other hotels.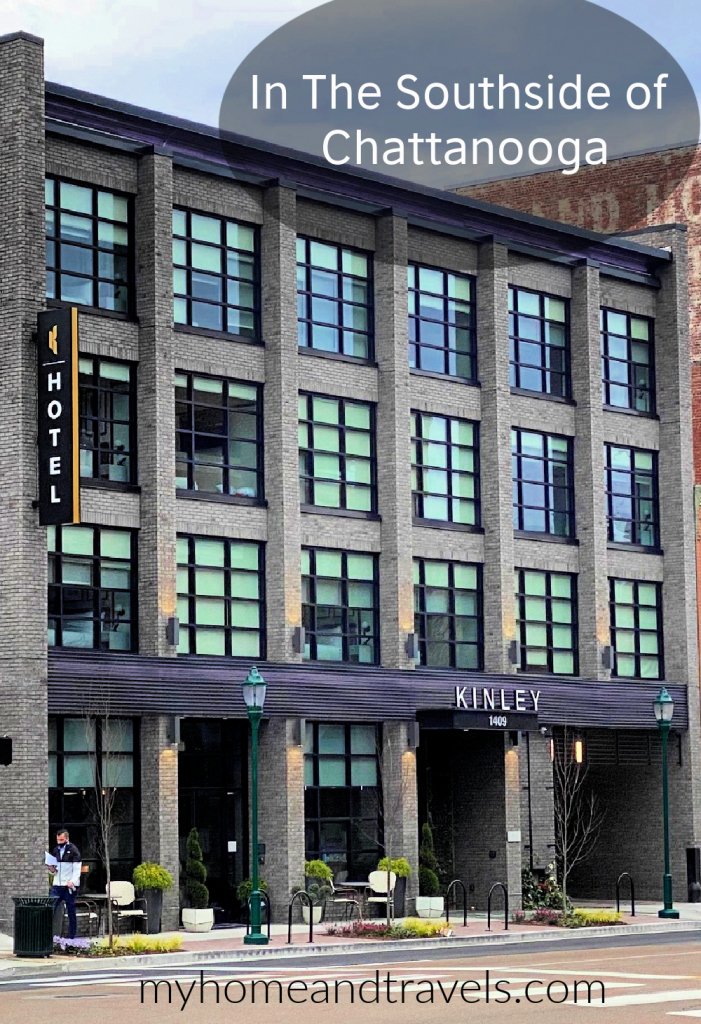 A Boutique Experience at Kinley Hotel
At only 64 rooms, Kinley is a boutique hotel that is both small in scope and large in personality. Step into this beautiful hotel, and you'll find an elegantly decorated interior that you'd expect to see in a hotel ten times its size along with an amazing warmth to the spaces that is owed mainly to the drawing of inspiration from the city of Chattanooga and the welcoming culture of the people who live in it.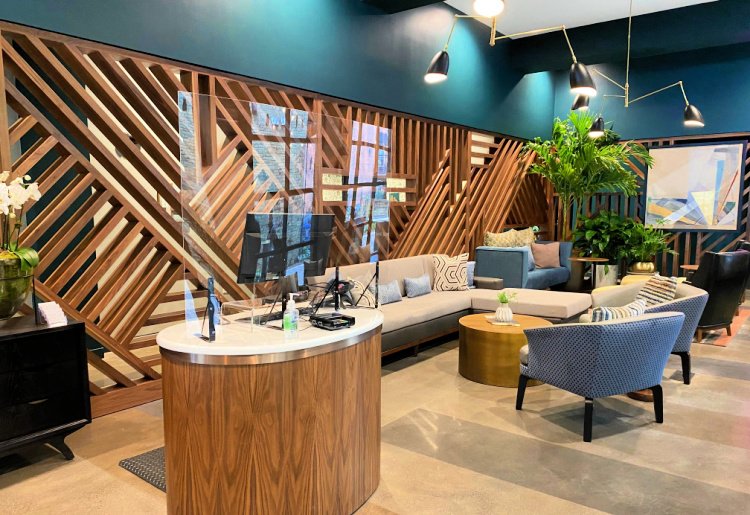 Following that theme, everywhere you look, from the lobby to the guest rooms and ever the exterior murals, you'll find artwork from local female artists. Kinley appreciates both the city in which it resides and the powerful women who also call it home, and it shows in every part of the hotel.
Sleek, elegant lines, modern furniture that is understated but still so comfortable, and black accents to go with warm wood everywhere create an atmosphere that simultaneously proclaims "five-star hotel" and "sit down a stay a while" as soon as you enter the lobby. It's the kind of place that makes you feel immediately at home, which is a wonderful thing when you're away from yours.
Accommodations
If you've already guessed that the rooms at the Kinley Hotel are as inviting as its lobby, then you've guessed correctly. The rooms themselves are even more modern than the lobby, but don't let that fool you into thinking that they're cold. In fact, it's just the opposite. Kinley has somehow managed to combine rooms that are sleek and white with an atmosphere of relaxation and comfort.
This is mostly owed, I believe, to their attention to detail when it comes to creating an inviting environment. How many times have you seen bunk beds at a five-star hotel? Probably never. But you'll see them at the Kinley.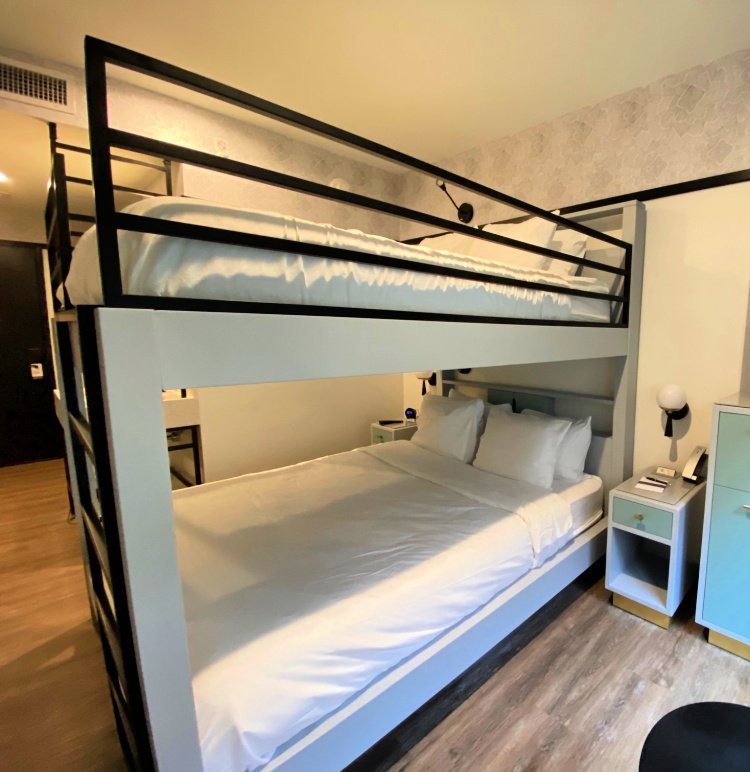 In addition to Queen, King, Executive King, and Market Street Suites, the hotel also offers bunk bed rooms in Twin, Quad Twin, and Queen Bunk layouts.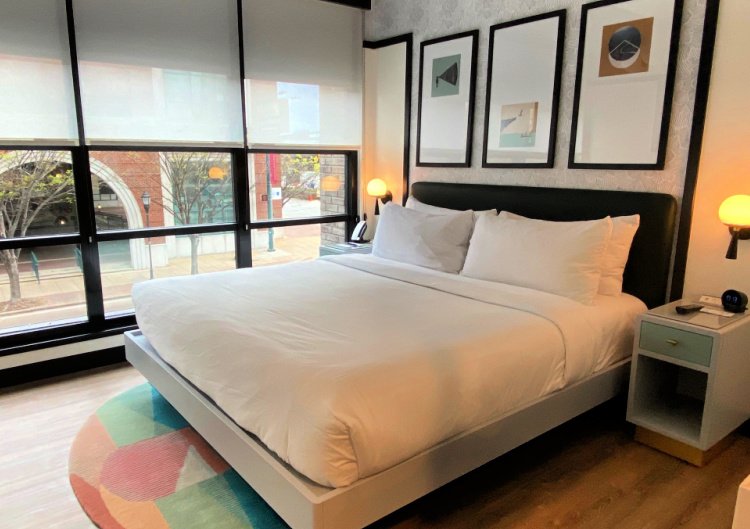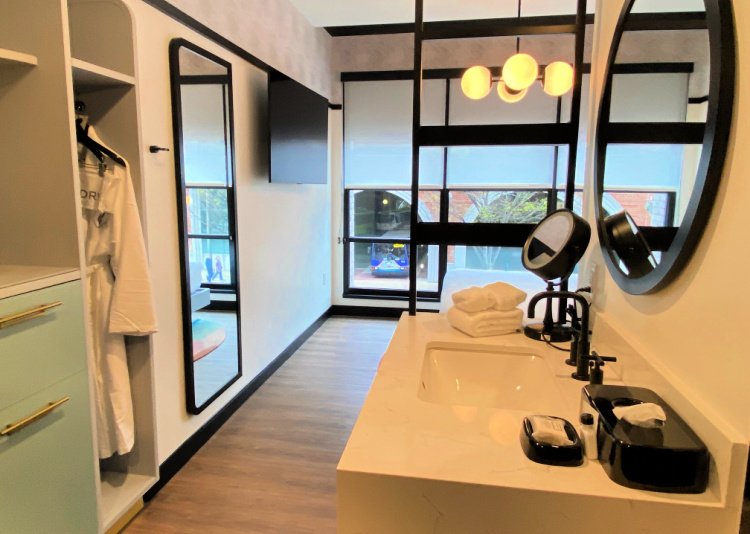 These layouts allow for a relaxing experience for businessmen and women, couples, and families, making the Kinley Hotel the perfect hub for any trip to Chattanooga for anyone.
A state of the art fitness center is available for you.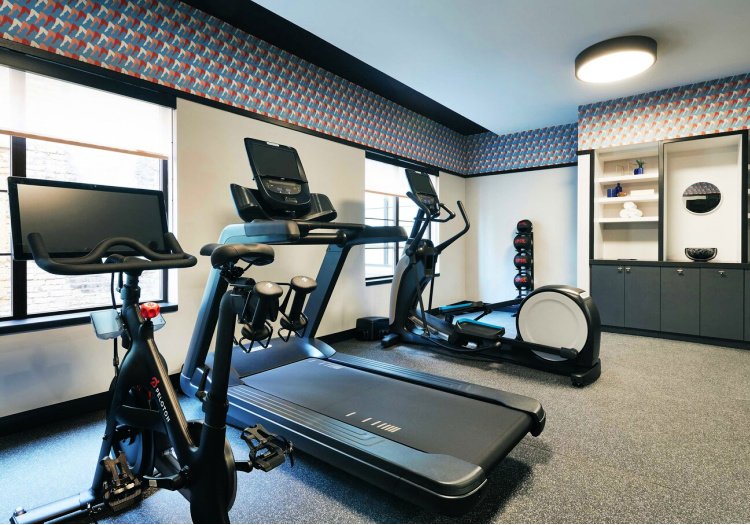 Welcoming to All Family Members
In addition to amazing accommodations that welcome singles, couples, and families, Kinley Hotel has another wonderful thing going for it. If you have a four-legged family member, they can come along. That's right.
This elegant hotel is pet-friendly if you can believe it.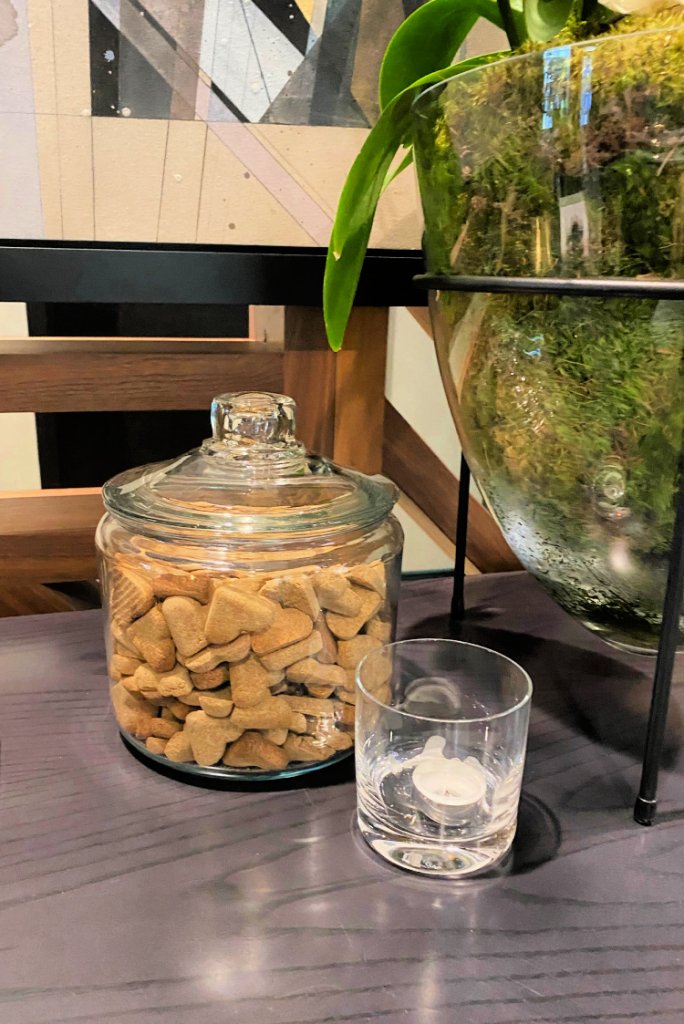 Honestly, with such an elegant hotel, I didn't believe it at first. It's just another example of how the Kinley strives to combine an upscale vibe with classic southern hospitality.
Kinley Hotel – The Best Choice in Chattanooga
I travel all the time, which means I've stayed in hundreds of hotels. I have to say that Kinley Hotel is one of the best I've ever had the pleasure of visiting. The sleek feel of its interiors are softened with warm wood and an even warmer staff. It's the kind of place that makes you instantly feel at home, and that's so important when you're traveling. If you're heading to Chattanooga, I highly encourage you to make Kinley Hotel your place of residence for your trip.
This is just the second Kinley Hotel in the nation, the other being in Cincinnati, Ohio.
As you will notice the large mural outside, to all the art inside, they are all from local, female artists.
Other Amenities and Conveniences
Valet parking is offered whether you are visiting the bar or staying overnight. I love the feel driving up this brick lined alley to drop off your car.
If you want to make trip to the aquarium, or go more downtown, the free shuttle is available just across the street.
There's plenty of businesses near this Southside hotel and make sure to ask for a map and suggestions. Want to try some tea, chocolate, or Chattanooga Whiskey – they are just a few steps away.
Start your day at the Kinley Exchange for a wide selection of breakfast/brunch goodies in the lobby area. It's open all day long to grab a sandwich, salad or burger for a little heartier meal. Although room service isn't offered, if someone is available, as a courtesy they are glad to run it up to you.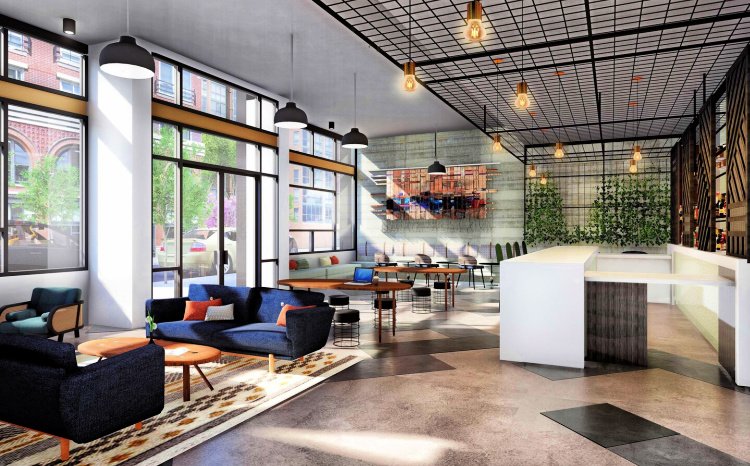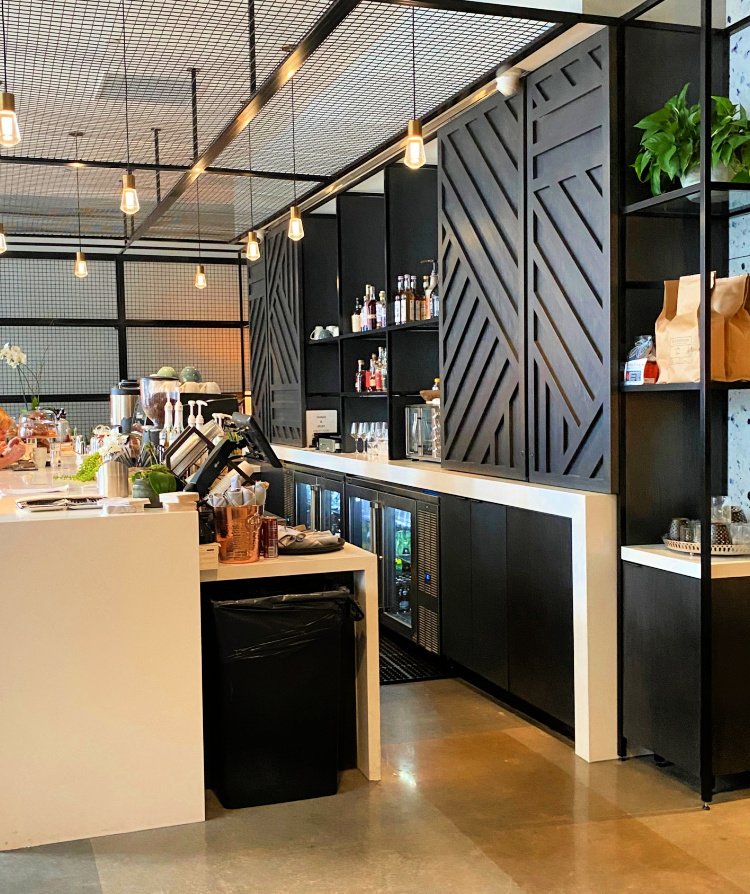 Company, is a New Orleans type Speak Easy in the Southside. As a hidden destination, you have to be in the know for a truly one of a kind experience in Chattanooga.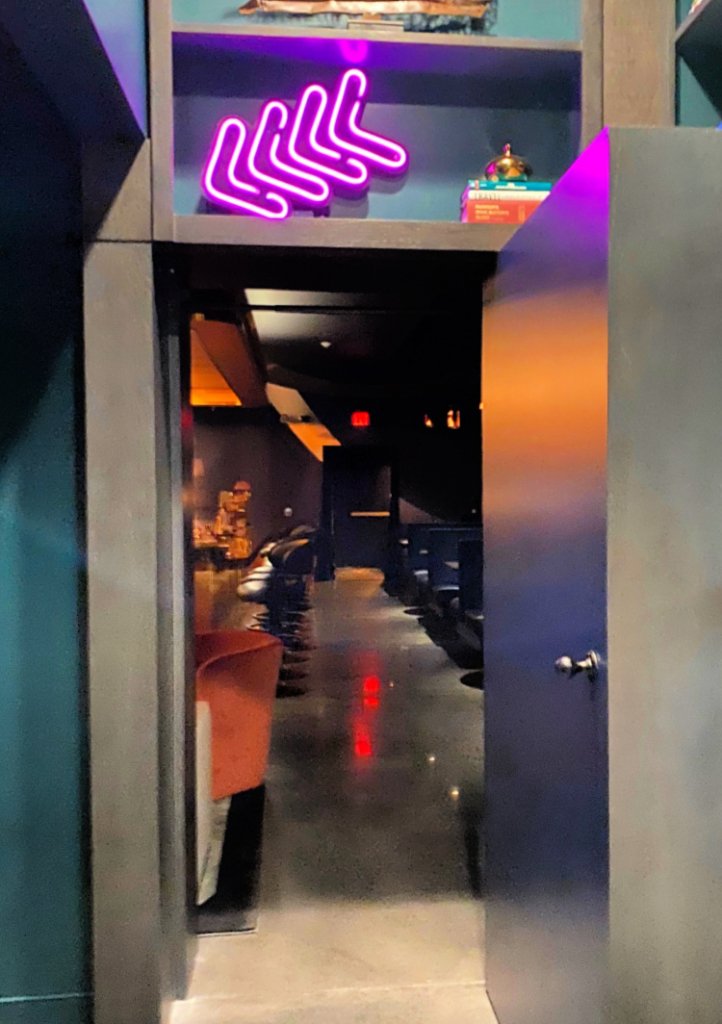 If you are looking for innovative cocktails and fun atmosphere, Company is your place.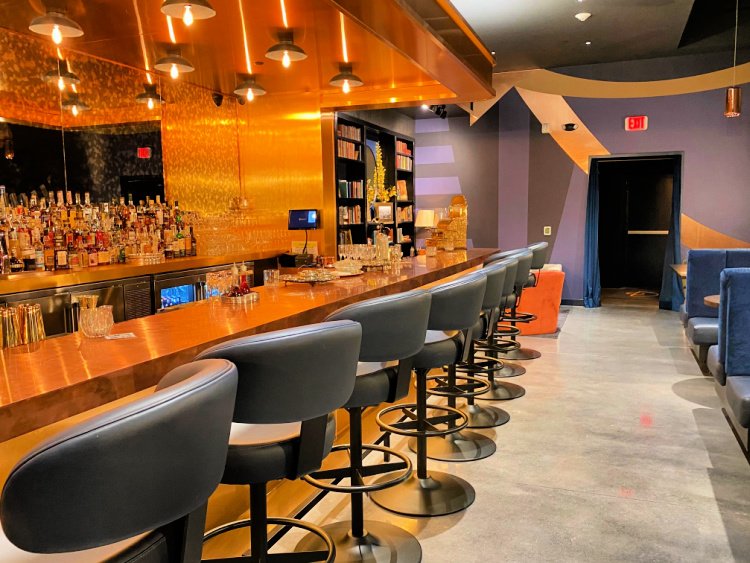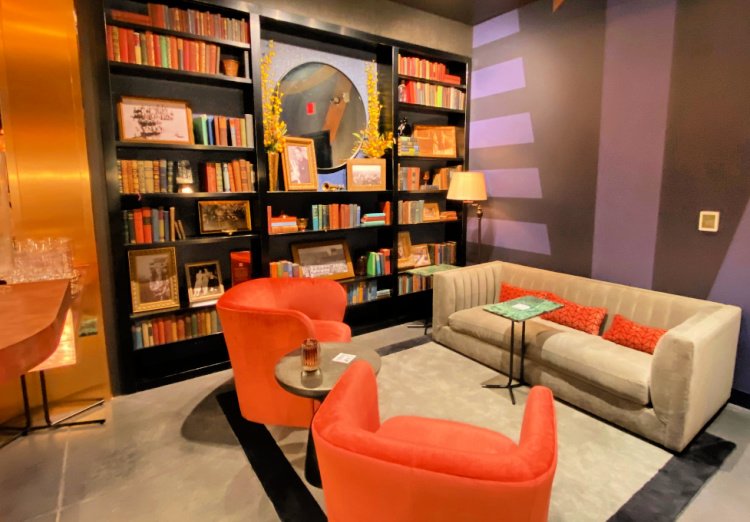 Their Own Scent
How many hotels have you stayed which as their own scent? They have partnered with a local company, Good Fortune Soap Company for this. Candles will be for sale soon in the Lobby of The Kinley.
Make sure to visit Chattanooga Whiskey right down the street for a tasting and tour.