The 90-minute driving experience at the PORSCHE EXPERIENCE CENTER in Atlanta is something that shouldn't be missed. Whether you're a local or visiting the greater Atlanta area, you'll have your need for speed and itch for gorgeous sports cars scratched at this amazing facility that serves as a driver development track, museum, and virtual experience all in one. The Porsche Experience Center is like nothing you've ever experienced before, and I know. I lived it with my son. Well, he did all the driving.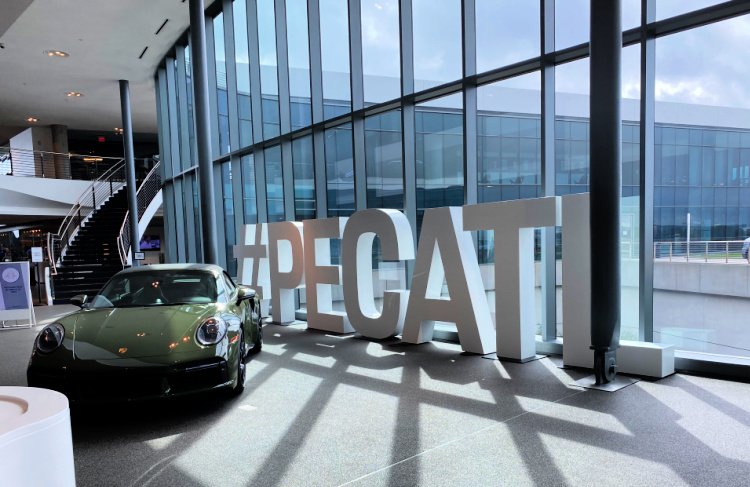 Porsche is synonymous with both speed and amazing looks. Their vehicles have long been known for being able to tear up the pavement and look incredible while doing it. They're one of the most beloved lines of vehicles among sports car enthusiasts worldwide, and their headquarters are in Atlanta, Georgia.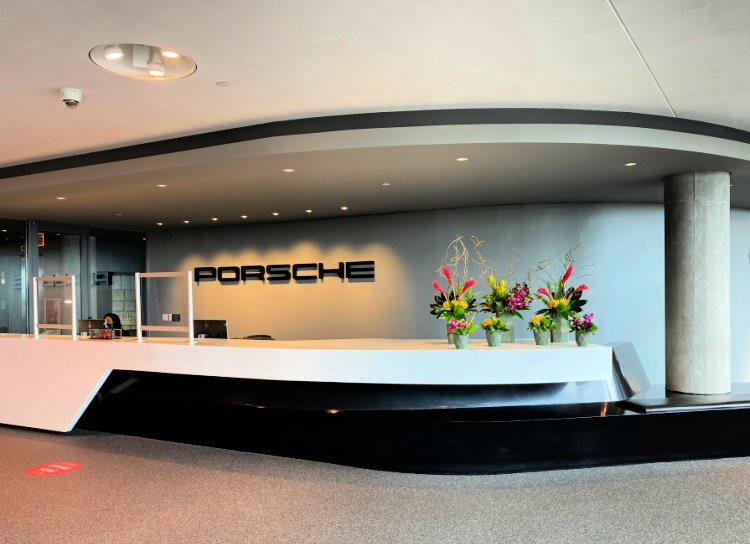 For decades, we've all heard car lovers talk about how gorgeous and fast these cars are, and now there's a place where anyone in the Atlanta area can go to experience that speed and beauty for themselves.
I recently had the opportunity to take advantage of everything the Porsche Experience Center Atlanta has to offer, and all I can say is that I wish I could have taken one of their vehicles home with me. While there, my son and I were able to tour their gallery of cars, and my son – who is a gigantic Porsche lover, by the way – got to experience their driving Simulator Lab for himself. All in all, it was a day full of everything a sports car lover dreams about and then some. Read more about Doug's experience below.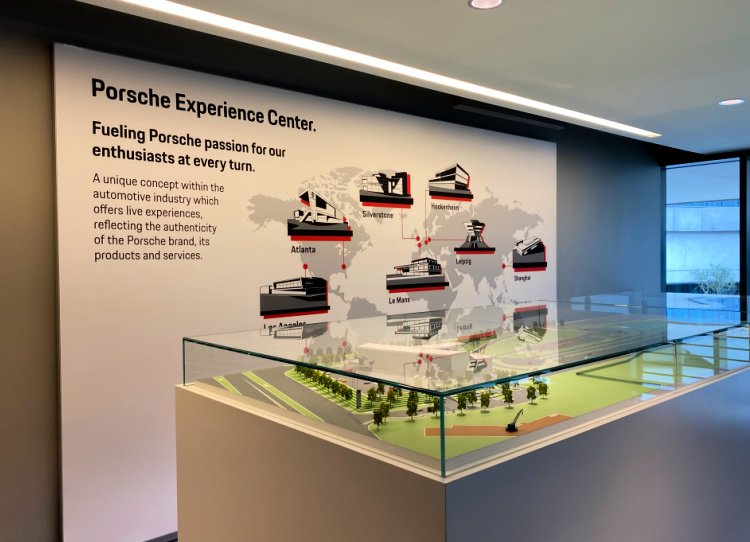 But, the highlight was spending 90 minutes on the speeding around the track in a Taycan Turbo S at up to 100 mph.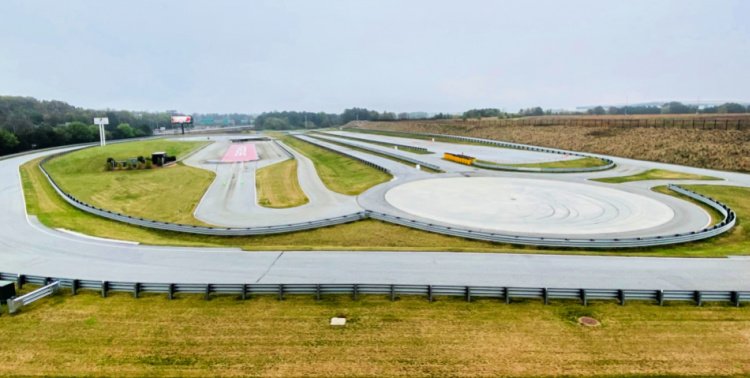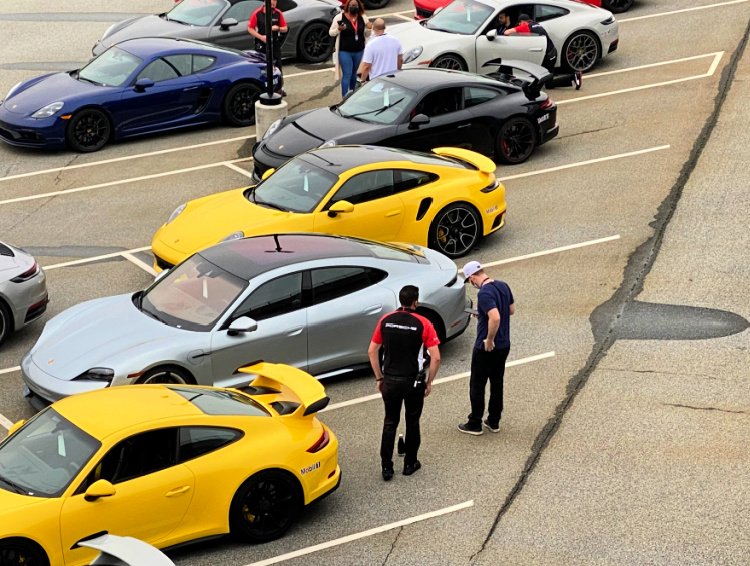 Each driver has their own coach they meet with before the driving experience begins. Due to safety guidelines in place as of now, the coach leads in a separate car but is in constant radio contact with the driver. Sean was great to give pointers on the car, braking before entering a corner, and how to handle the wet areas you drive through. Doug felt it might be a bit better when the coach could be in a car but Sean was great over the radio.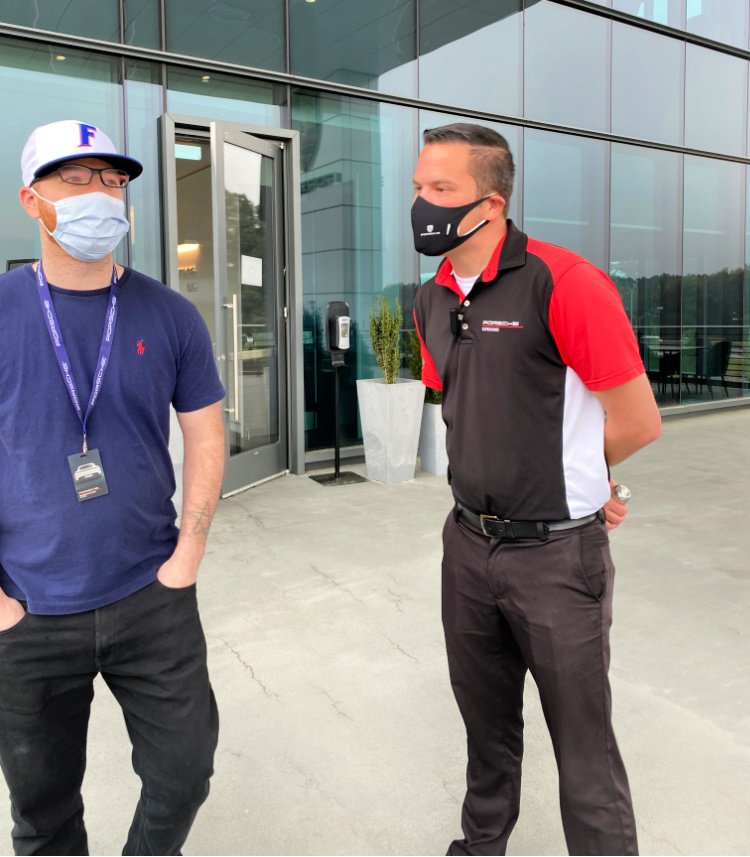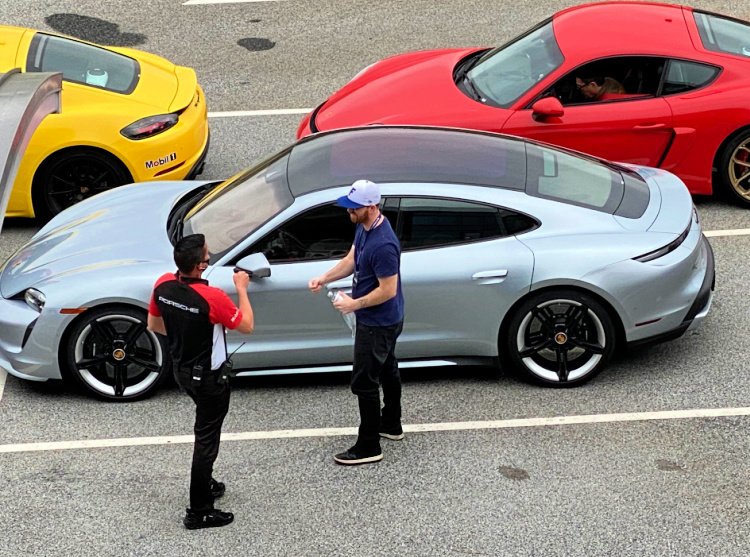 Most cars are automatic so you don't have to worry if you can't drive a manual transmission.
While watching the drivers on the track or taking a tour, grab a cup of coffee or snack in the Carrera Café adjacent to the overlook of the track.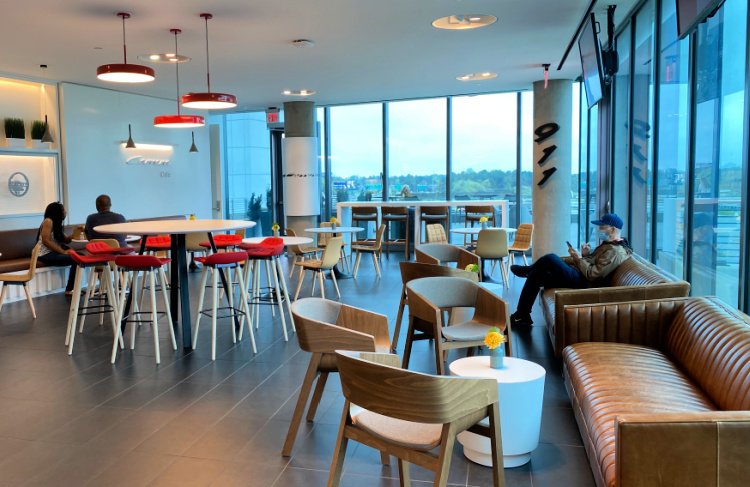 For a more hearty lunch, RESTAURANT 356 is open Thursday – Sunday. Hopefully dinner will resume soon. Do you wonder why it's named 356? Most Porsche enthusiasts would know, but I had to ask. It was the first car to bear the Porsche name was road-certified: the Porsche 356 in 1948.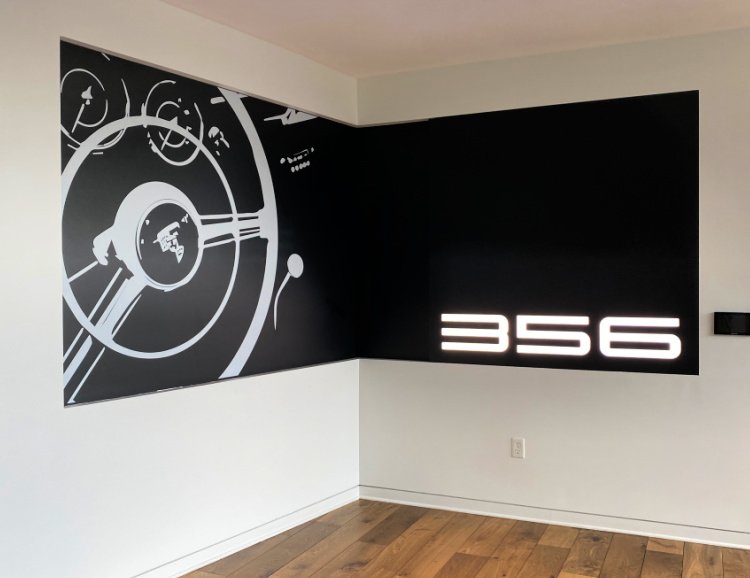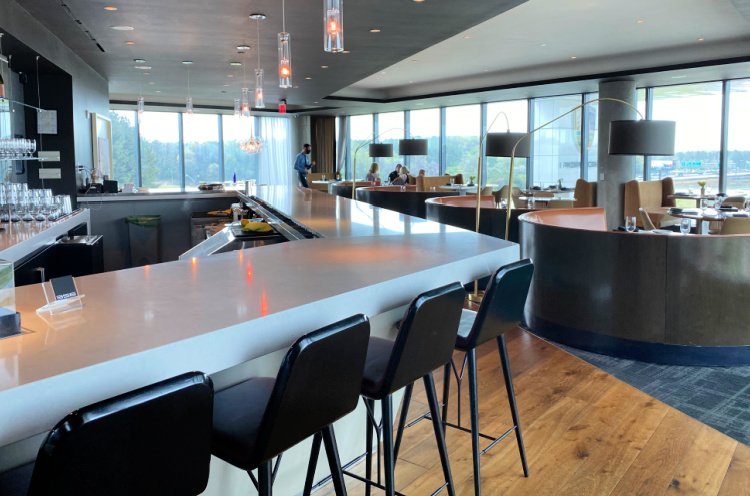 If you love new and classic cars, speed, and beautiful lines, you need to make the 90-minute driving experience a stop on your next trip to the greater Atlanta area. If you're a local, why haven't you gone yet? A day at the Porsche Experience Center is truly an amazing one filled with all kinds of amazing car-related experiences, and it's a must for any car enthusiast.
So Much to Explore at the Porsche Experience Center
Whether you're touring the many cars on display, virtually driving in their simulator lab, or taking a real Porsche for a spin on their race track, the 90-minute Porsche driving experience has something for everyone to enjoy. It's a full day of fun and excitement that everyone should experience at least once.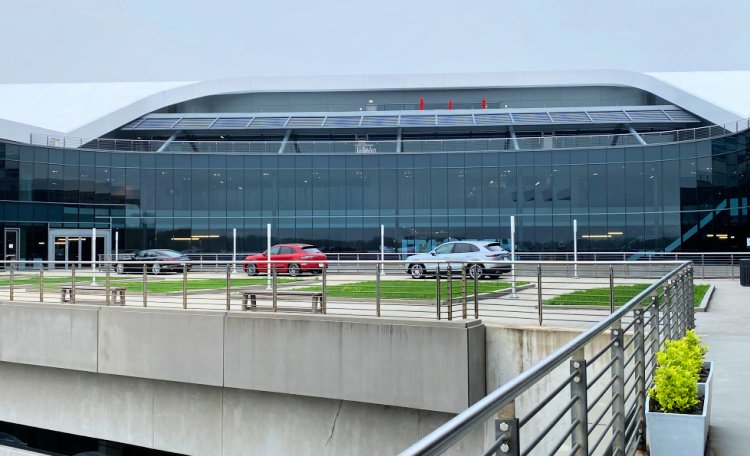 Gallery of Cars
Porsche has been a leading name in the performance car world for six decades. Although Porsche's first sports cars were made in the 1950s, their popularity skyrocketed in the 1960s, and after that, the rest, as they say, is history.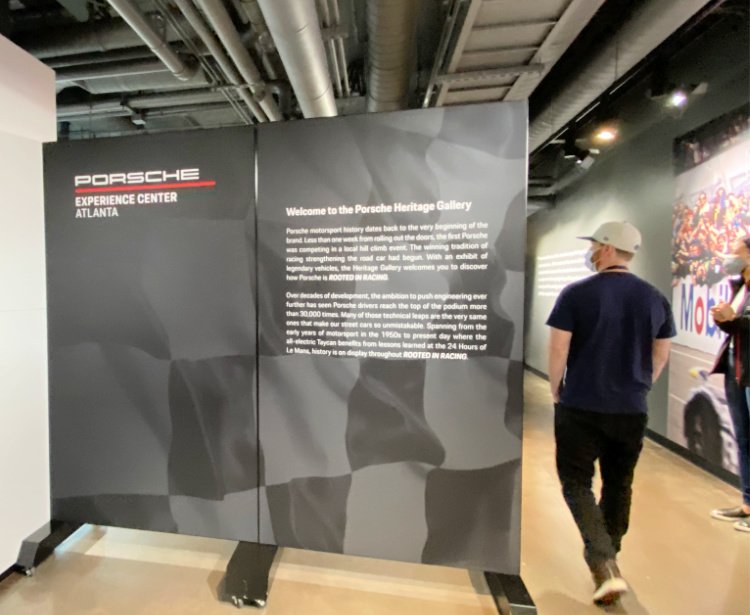 You can schedule a tour of Porsche Experience Center including the gallery, without a driving experience. Reservations are required to enter the facility and taking a tour.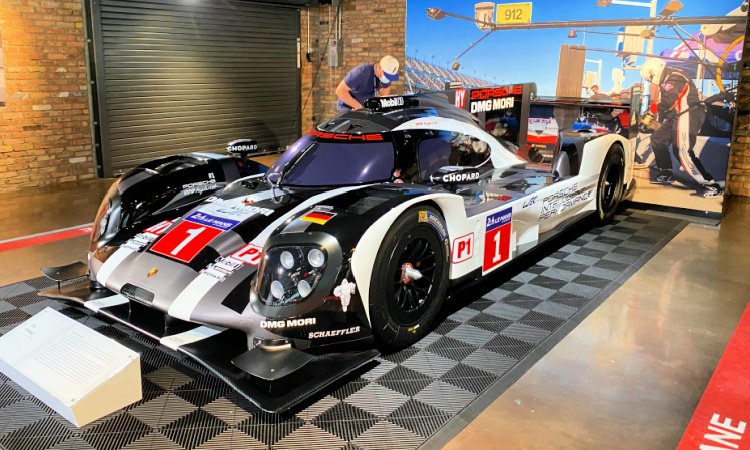 You can tour that history in the Experience Center's gallery of cars. They have an impressive display of Porsche cars from classic to modern-day pieces, and they're all incredibly beautiful and well preserved.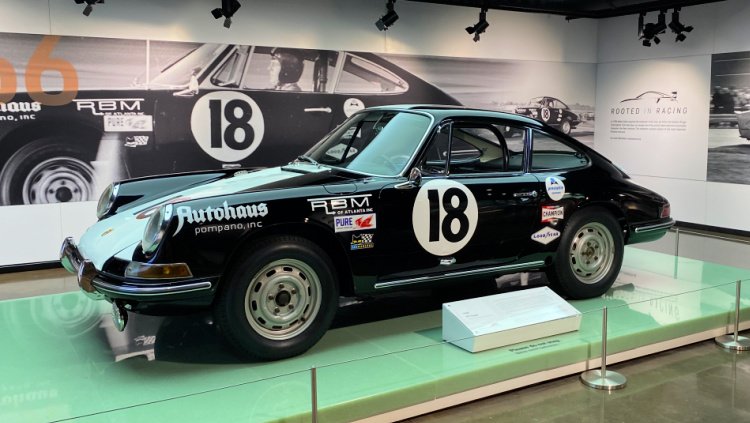 Walking through the gallery is like walking through a Porsche timeline. You'll be able to see where the brand began and where it is today.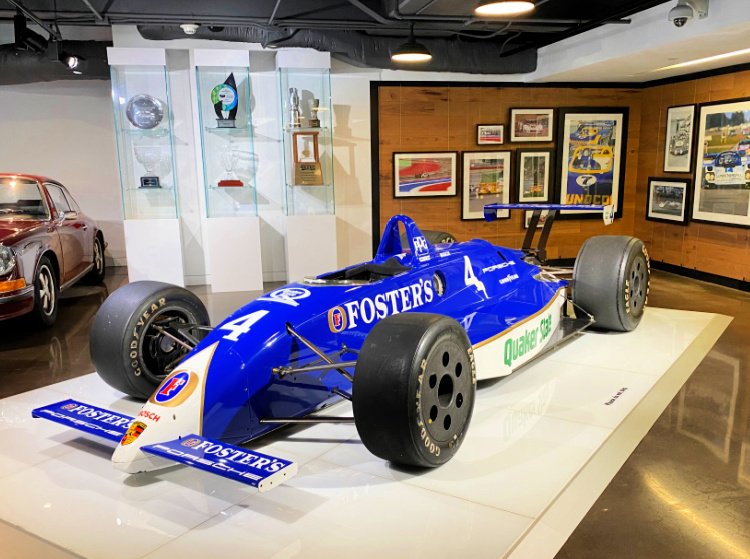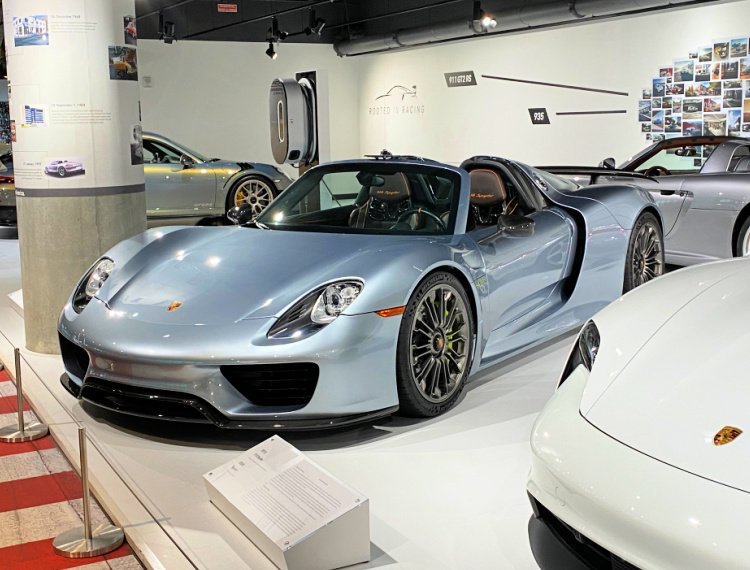 Simulator Lab
If you can't actually drive a Porsche, their racing simulators are the next best things. Using advanced technology to perfectly emulate various Porsche models, complete with authentic physics and performance characteristics, these simulators allow you to drive a Porsche without actually driving a Porsche.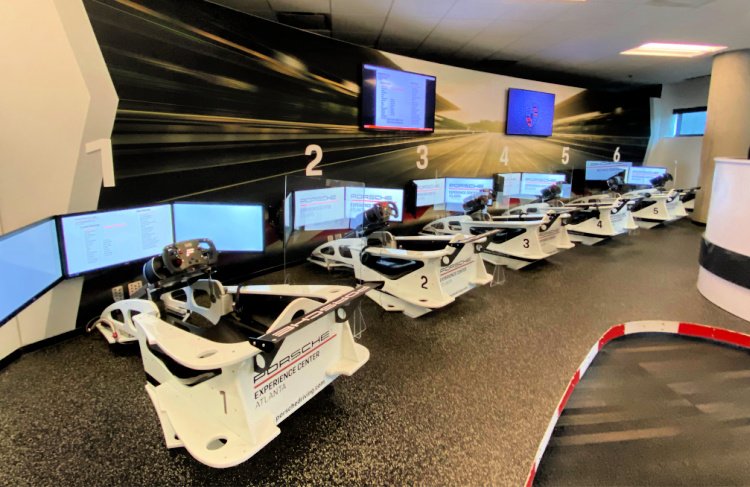 The Simulator Lab is a great way for Porsche lovers of all ages to experience one of the most iconic sports cars of all time. Choose from over 15 different models including the iconic Spyder and Boxster.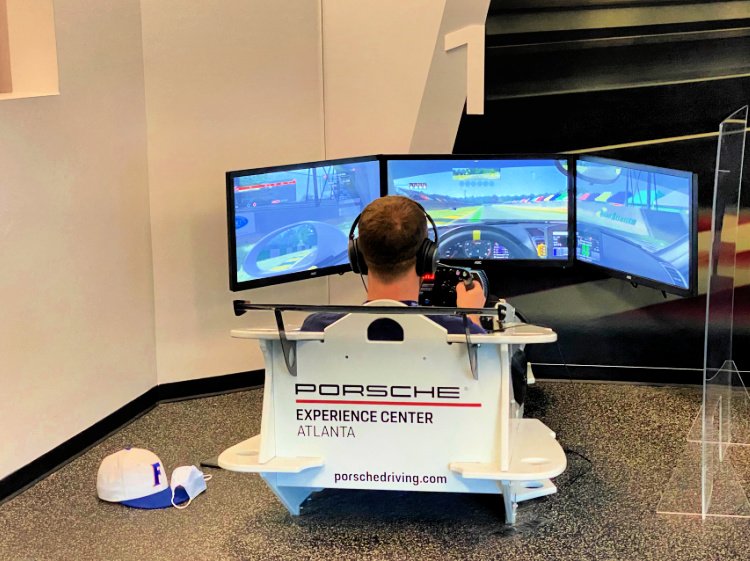 Consider having your next birthday party or celebration here.
If you are under 21, you can still get a driving experience besides a simulator with the Young Drivers Program with details HERE. X
During our recent experience, Social distancing and masking was still being observed and each guest will drive solo in their car, with the drive coach leading in a separate car and communicating via radio. Things change often and you can find full details on their WEBSITE.
Do you dream of owning a customize Porsche (hand raised here), you can schedule an appointment with Porsche Exclusive Manufaktur to build a custom Porsche vehicle. All customer orders are then submitted to an authorized Porsche dealership. You will find a wall of colors and features just waiting to be added to your own design. It's then delivered to you for an overview and driving experience at Porsche Experience Center.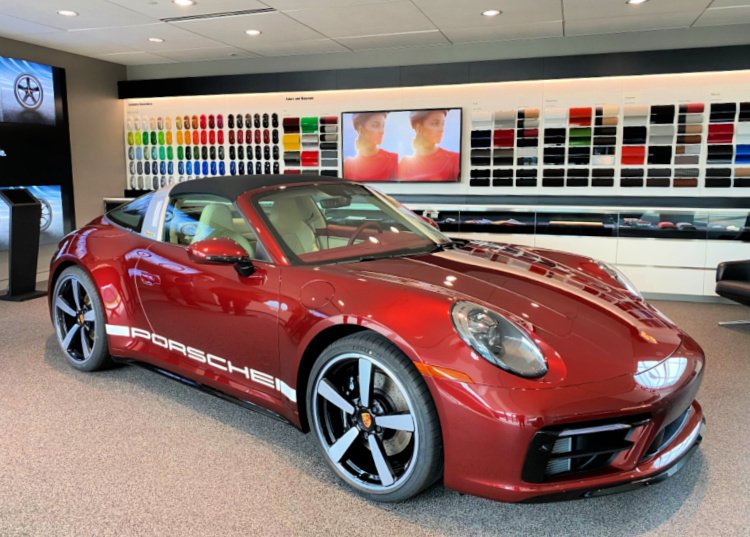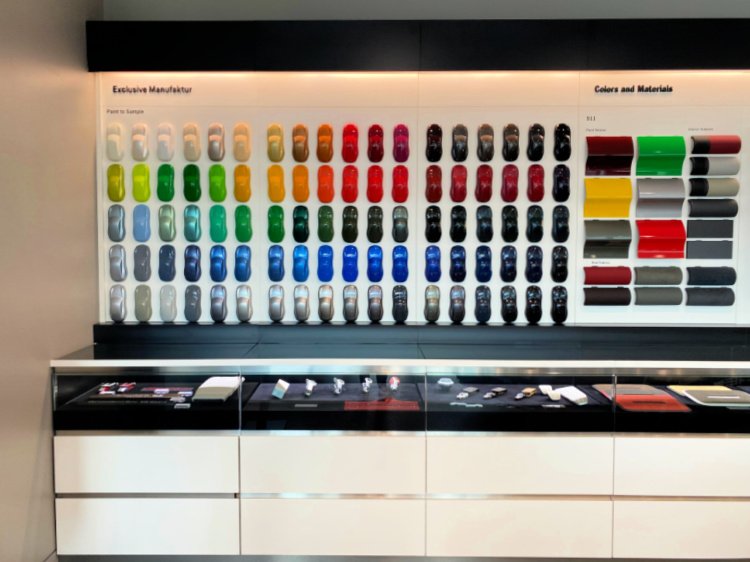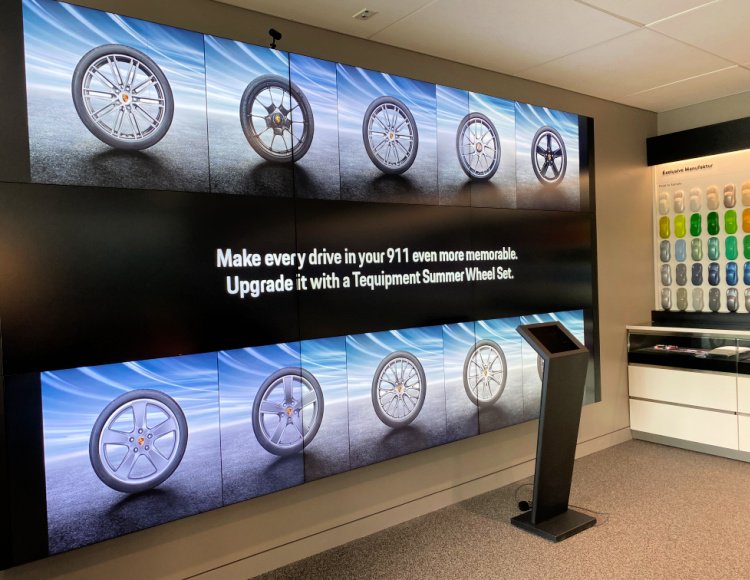 If you have your own Porsche already, you can schedule an experience for taking a drive around the track.
Of course we all need a little retail therapy. The Retail Store at the Porsche Experience Center is the only location to offer all three Porsche brands under one roof: Porsche Museum, Porsche Driver's Selection, and Porsche Design. Select the perfect memorabilia to commemorate your experience with us from an assortment of apparel, accessories, luggage, jewelry, model cars, books, and other great lifestyle products. If you can't take your own Porsche home, you can find a great souvenir or pick up a gift for your special Porsche owner (or wanna be).
What the Porsche Driving Experience is like
Here's a little first hand account of Doug's experience driving on the PORSCHE DRIVING EXPERIENCE track sometimes going up to 100 mph.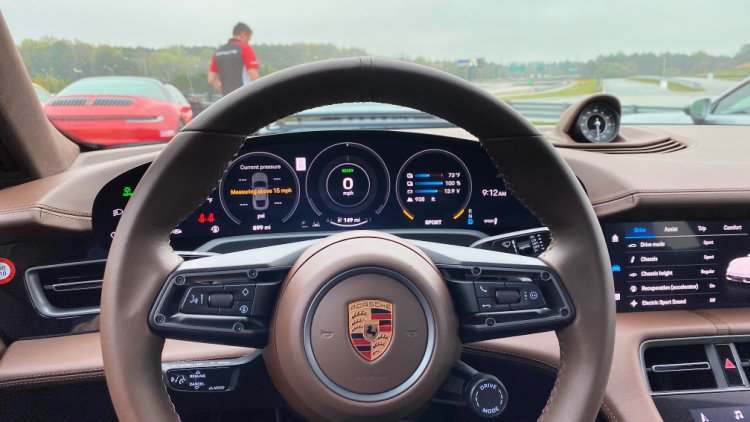 RP: Have you ever had the opportunity to do an experience like this before?
DP: No, this was the first time I have ever been able to drive a car of any kind on a closed circuit track. Driving a Porsche was extra special.
RP: What were you looking forward to the most? Did it live up to your expectations?
DP: What I was most looking forward to was seeing how the techniques I use while driving on my own simulator rig translated to the real world. For the most part I felt very prepared going in and I feel like driving on my sim rig really helped me get up to speed quickly in the car.
It lived up to and surpassed any expectations I had for it. The hospitality of the staff was great all day and the driving instructor, was very knowledgeable and able to dissect and correct any mistakes I was making.
I was in constant contact with my driving instructor by radio. He could offer hints on adjustments to make and let me know what to expect next.
RP: Why would you recommend this to your friends or any driving enthusiasts?
DP: Well most of my friends are car people so they would probably have a blast doing this. But I think this is something that anybody could go out there and have fun, whether you're a car person or not you're gonna have fun not only seeing what one of these incredible cars is capable of, but also how to react when put in inclement driving conditions.
RP: The car you drove, the Taycan Turbo S, was a newer electric car. Did you notice any difference in it and a standard gas model?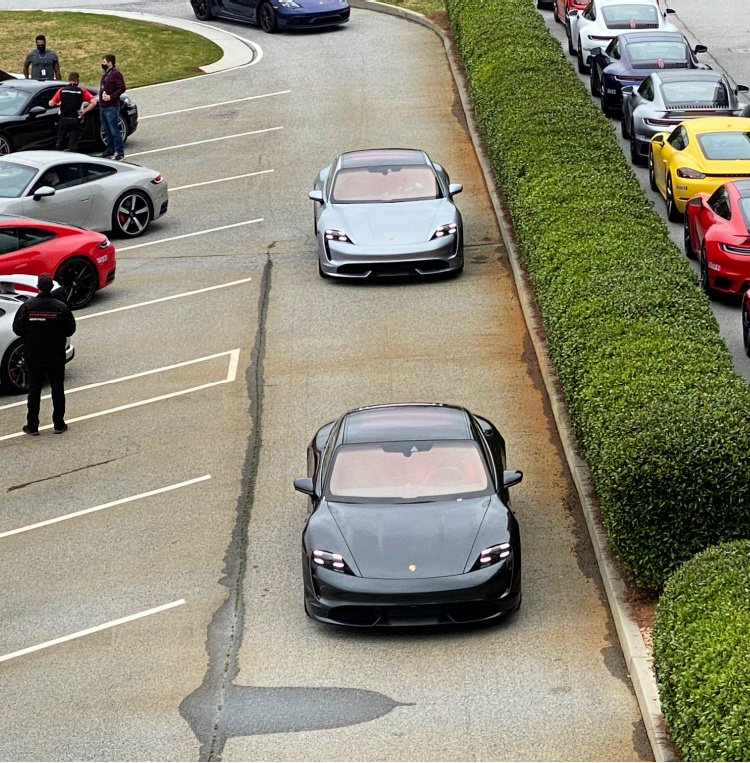 DP: Well I've never driven one of the gas model vehicles before to give it a good comparison, but the instant torque from the electric motors made from a dead stop was insane! For being a heavier car it was still very nimble and you could tell you were in a car of handling anything you could throw at it.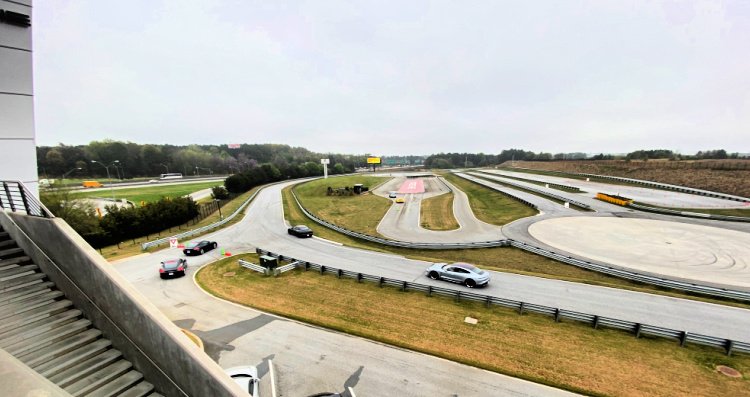 RP: What's the best memory of the experience?
DP: Without a doubt, it would have to be getting to experience the Porsche Taycan turbo S. It was an awesome car to drive and in my opinion is one of the coolest cars you could choose to be an everyday car.
RP: If you had a choice of cars for another driving experience, what would it be?
DP: Any of them, but if I had to choose it would be the GT2RS or the GT3RS.
RP: You do a lot of online racing and on a team, how did this racing simulator compare to your set up at home? Had you raced on any of these courses before?
DP: The setup on the simulator at the Porsche Experience Center was actually the same Fanatec wheel and base I use on my simulator at home. It was fun to get down in the cockpit at the Porsche simulator though so you get a more immersive feel of being in a car.
I was familiar with both of the combinations I got to drive that day. The first was the Porsche Cayman GT4 at Road Atlanta, with the second being the Porsche 911 RSR at Circuit de Spa-Francorchamps. I chose to do tracks I was familiar with to just jump in and have a good time.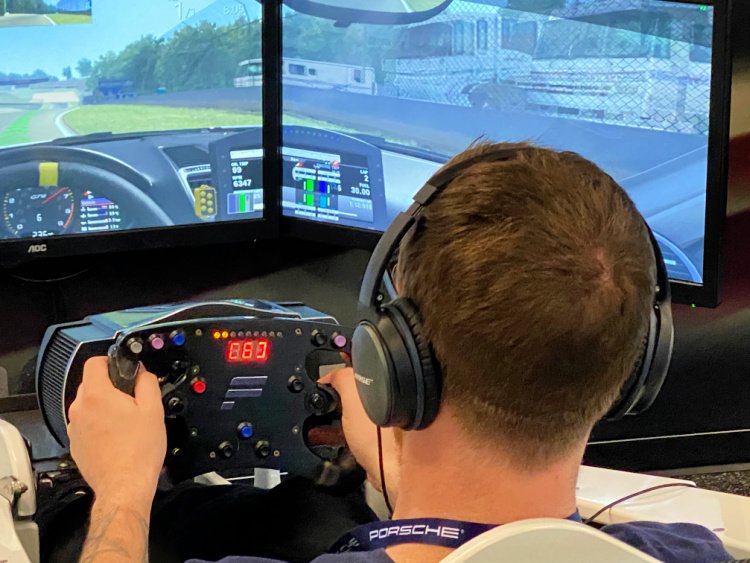 Be Sure You Visit the Porsche Experience Center Atlanta
Now, are you ready to head to Atlanta for the PORSCHE EXPERIENCE CENTER? Taking your Dad for Fathers Day? A guys weekend? Or even no special occasion, you will have a thrill of a lifetime.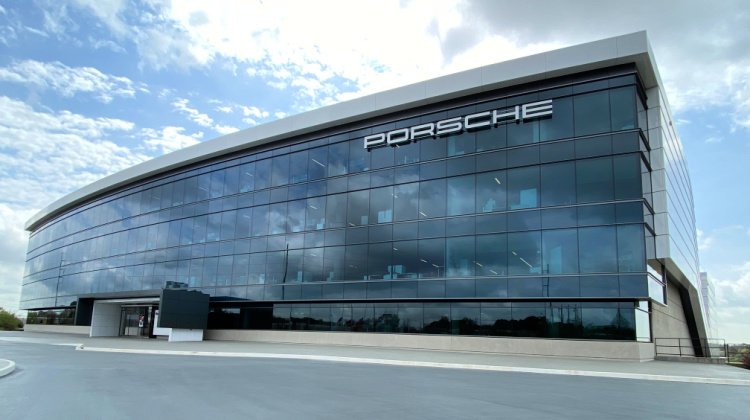 Kimpton Overland Hotel located next door so you don't even have to drive over for your experience. Did I mention you are next to the airport?
The Overland features a signature restaurant, Apron, and a covered, open-air rooftop space as well as 24/7 in-room dining. Apron, located on the hotel's first floor, has 102 indoor seats along with 30 on its outdoor deck, serves breakfast, lunch and dinner and boasts a Mediterranean-inspired menu with signature cocktails, an expansive wine list and local beer selections. Appealing to jetsetters and race enthusiasts, the 8th floor Rooftop at the Overland provides guests with stunning views of the Porsche Experience Center test track and airport runways, hand-crafted cocktails, live music and a small menu of shared plates and desserts.
Holding special events at Porsche Experience Center
One last note, if you are a Porsche lover or not, can you imaging holding a special event here like your wedding? The first of many was held in 2018. SEE IT HERE.
Is this on your travel bucket list yet?