These ideas are based upon what I have learned from my six cruises on Carnival Cruise Lines. Cruising as a vacation is truly the only time I feel like I'm completely on vacation. Maybe my favorite part is no cooking or cleaning – such a great break.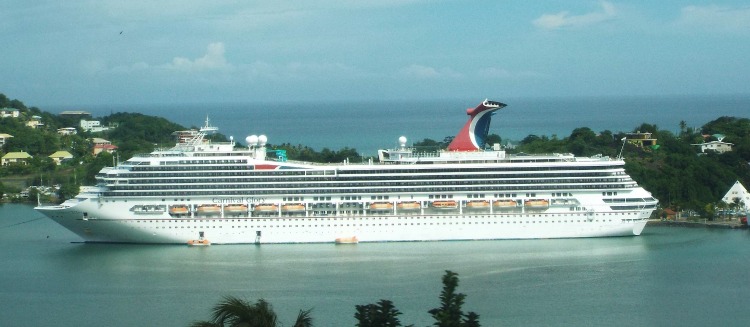 Cruising offers a great value and is budget friendly
It offers almost everything you need for a great vacation – food, accommodations, and entertainment. You can make it more budget friendly with planning ahead – time of year, length of cruise, cruise line, and size of ship can make a difference.
At the top of most cruisers favorite – Carnival's famous Warm Chocolate Melting Cake is offered each night in the Main Dining Room – and it can be addicting. Some like a side of peanut butter with it also. You can order an additional dessert too. I have been known to have Creme Brulee and this.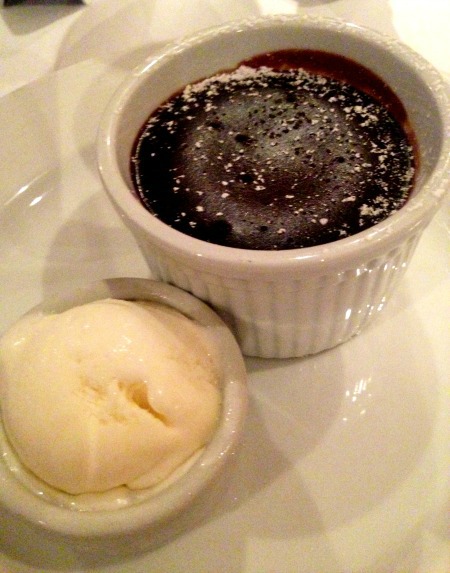 Watch for specials – discounts if you can sail soon, free upgrades, or lower deposits are often offered. It can be paid off over time but it does need to be paid in full approximately 90 days prior to sailing. For example, book your cruise a year out, and you basically have 9 months to pay it off.
Those last 90 days can be used to book excursions and plan and budget for your cruise.
Traveling with family – the 3rd & 4th person in a cabin is usually heavily discounted.
Think about how much your food, hotel, entertainment, and snacks could cost you at a resort for a week. I think you will find cruising a great bargain.
You might say there's unlimited food and ice cream. Buffets are open during normal dining times,* room service*, pizza, and ice cream are available 24 hours a day. All of this is included with the exception of a few room service items, or specialty restaurants. The main dining room is open all evenings, and for breakfast or seaday brunch, depending on if it's a port day. Alcohol, specialty coffee, and Cokes are not included but packages are available. Again, the website can give you all the details.
You only have to unpack once
Think about making a trip of a few thousand miles, visit a few exotic islands, and you don't do any packing and unpacking. Once in your cabin, unpack and forget it until it's time to end your cruise (insert sad face). I still haven't mastered the idea of packing light but I'm working on it. That's another advantage of a cruise, and driving to the port, I can take what I want.
Most mornings you wake up in a new port or enjoy a sea day and enjoy it at your own pace.
For all types of families
We usually cruise during January and February to escape the cold weather, and you will see less kids on the ship at this time. You do tend to see a lot of younger than school age kids though. Most families need to travel during school holidays and summer so these weeks tend to get booked quicker and be a little more expensive.
There are activities for kids ages 2 – 17
Camp Ocean is for 2 – 11 and Club O2 is for the teens. Each group have their own activities and hangout areas. There's even some nighttime activities offered, but there could be an additional charge. Maybe think about a romantic dinner without the kids.
Larger ships will offer more food choices and activities
Cruise ships are getting bigger all the time, and more activities are offered. It's basically a floating city.
It's easy to compare ships and everything onboard through the website.
There's something for everyone – want to spend time in the casino, go to the spa, play basketball, watch a movie on the big screen (we saw Sully while sitting under the stars on our recent cruise), attend a cooking demo, or learn to make martinis. Or, just sit on the deck and enjoy the warm weather and read a book.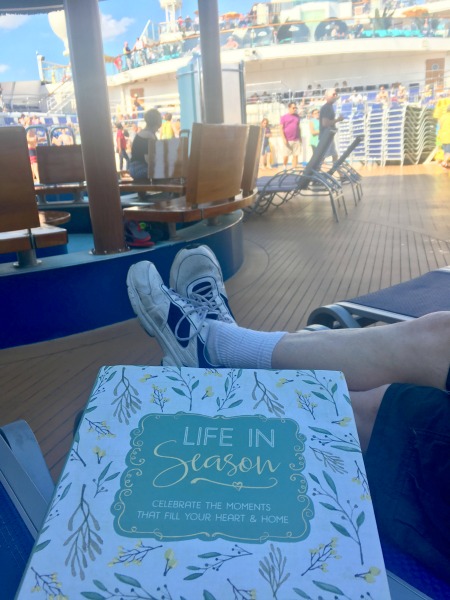 What to do at a port
Again, this is where planning comes in. You can book excursions through Carnival, or even consider local taxis to get around. It's a great time to just spend a little time exploring the area right off the ship, maybe do a little shopping, and spend a quiet day on the ship as the majority of passengers are off.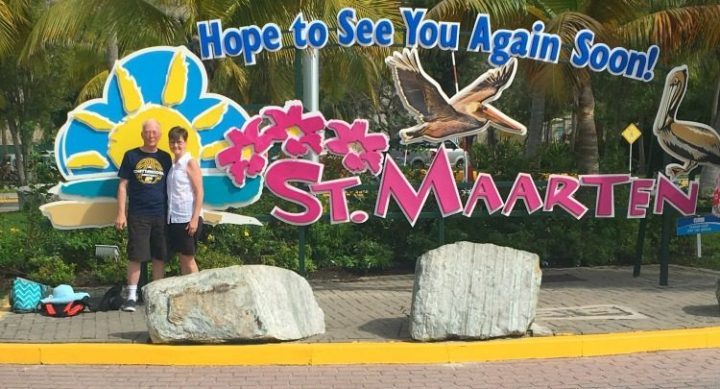 Some of my favorites have been Grenada known as the spice island – touring spice and herb gardens, seeing flamingos in Aruba, exploring of San Juan (Don has found a favorite vintage store for records), Maho Beach at St. Maarten watching a plane land just a few feet overhead, and sampling rum on several islands.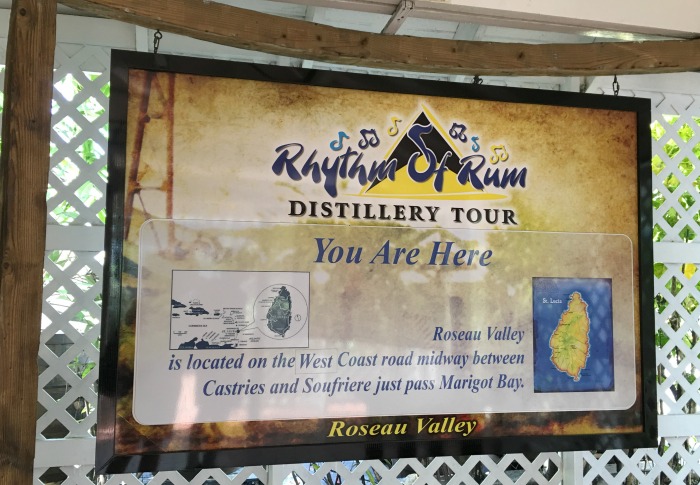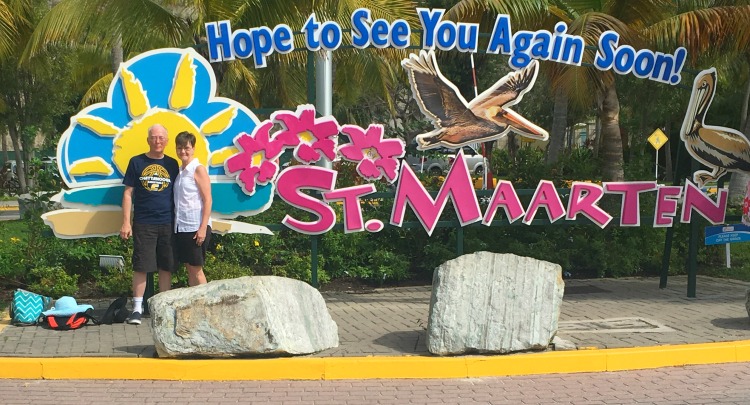 Many enjoy the water – whether it's laying on the beach, scuba diving, snorkeling or swimming with the dolphins. Again, so many choices.
Don't forget your camera. Yes I still tote a camera, or two, around. It's so easy to snap a few thousand pictures. I have never seen such beautiful colors of water. It can go from a light blue to a deep turquoise. This is actually Eric Clapton's home in Antigua.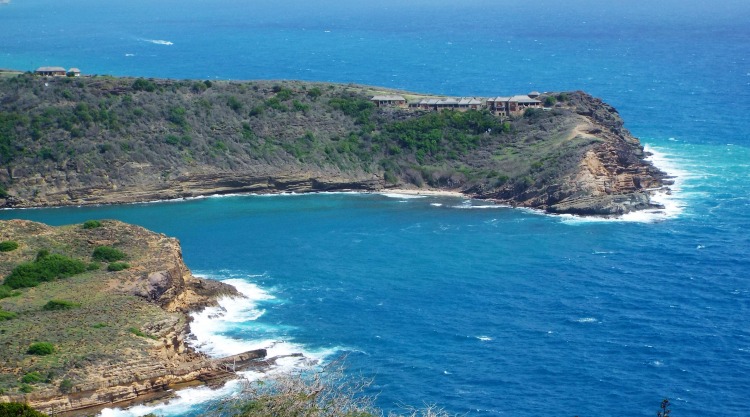 Also the sunsets can be the most beautiful you will ever see. This is an untouched photo somewhere near Grenada.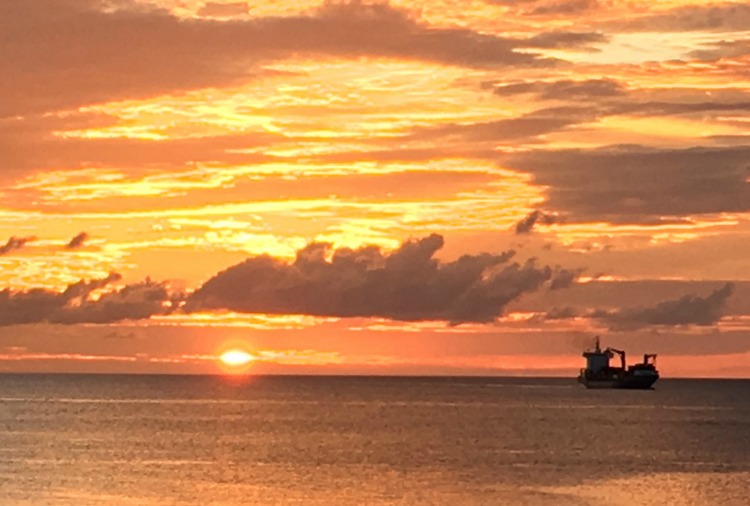 Consider a honeymoon or a getaway
Remember "The Love Boat" – there were always couples on a honeymoon. You can even plan a wedding onboard for a port of call. It's fun to dress up on elegant night for a couple's picture.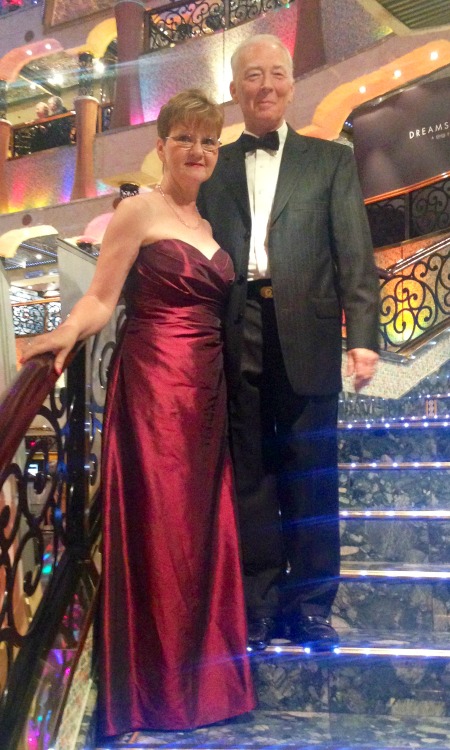 Although ships are very family friendly, it's also a great way to spend time with your special someone. There are cruises starting at just 3 nights so if you don't have a lot of time.
Want to meet new people
We like to be seated at open tables, which means it could be a table for 8 or 10 people. Everyone enjoys talking about where you are from, their favorite cruises or ships, and those experienced cruisers can give you a suggestions on excursions or other activities.
We have met several people who we are still in touch with, and of course FaceBook helps that. A couple of cruises ago we met 2 couples from different parts of Canada. It was very interesting to learn more about Canada and in fact met up with one of them while in Toronto last year. Another couple we are meeting up with on this upcoming cruise.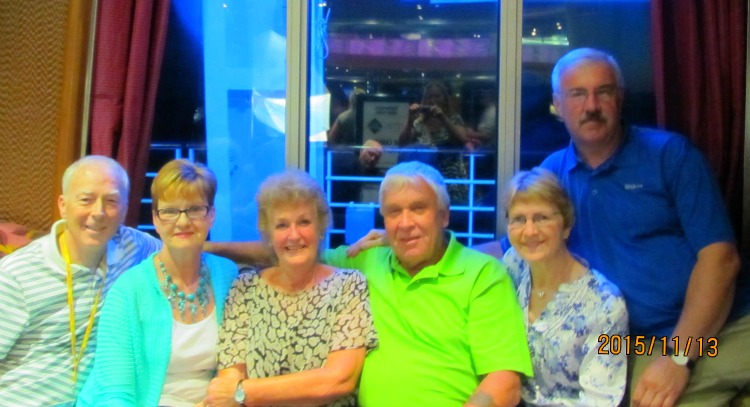 A few more things:
Easy to plan for everyone – it's really a package deal. And, if you are wanting to take a large group, it's easy to coordinate by calling the cruise line.
I've never used a travel agent since booking online is so easy and if you do have questions, just calling customer service gets your answers.
Some people think they will get bored being stuck out in the middle of the ocean. That is one thing I have never experienced. Carnival has a daily newsletter – Funtimes – which gives you a schedule of everything to do daily.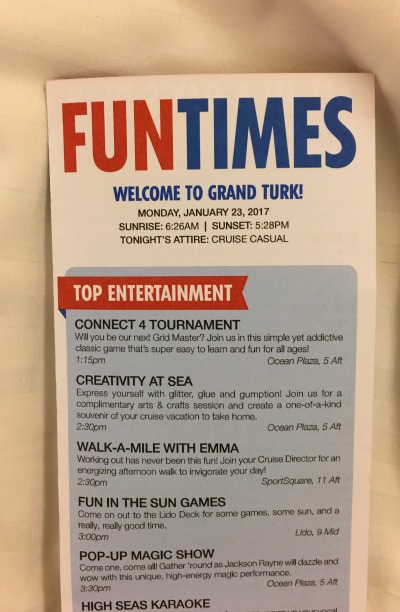 If you don't want to be active, relax
There is Wi-Fi offered for a charge if you just have to stay in touch, and some ships have a Hub app for $5 per device. This makes it great to message each other or keep up with the kids. The ship can be large so finding someone can be near impossible if you don't make plans.
There's usually a sports bar so you can watch your favorite teams, and a few TVs might be on deck bars.
Shopping onboard is a favorite for some or just for convenience in case you forgot something. The FunShop onboard offers some larger bottles of liquor at a discount compared to buying at home but it is kept for you until the last day.
As with any vacation, planning is the key. Check the website, join FaceBook groups, and think about what your family enjoys.
Getting to the port and home are not included in the cruise so that's another item to budget. We have sailed out of Florida on all of our cruises so we try to take advantage of these areas to do a little sightseeing.
Planning on spending a few days before or after your cruise is a great way to extend your vacation. Although we sailed out of Miami a couple years ago, we didn't get to explore the city so that's on our list this time, along with visiting Fort Lauderdale.
Look for special events in port cities
I'm excited there is a Downton Abbey exhibit in West Palm Beach we will be able to visit.
Have you been on a cruise? We leave in a few weeks to enjoy Grand Caymen again and Jamaica for the first time. Cuba is on our list for possibly later this year. Think of exploring a new place, maybe New England or Bermuda is always an option. Alaska is on our list – never heard anyone say they didn't enjoy Alaska.
What did you enjoy most on your cruise? Your favorite ports or excursions?
Wondering what to pack? Ultimate packing list is here. These are suggestions and ideas on things you might need.