Drury Plaza Hotel Richmond is the perfect home base for your trip to Richmond, Virginia. This lovely hotel is clean, decorated nicely, and quite economical. It's the trifecta if you're looking for a comfortable hotel that will keep both you and your wallet happy. We stayed at Drury Hotel Richmond on our last trip to the area, and we were very pleased with both the hotel and the staff.
Do you make Pinterest Boards for your travels?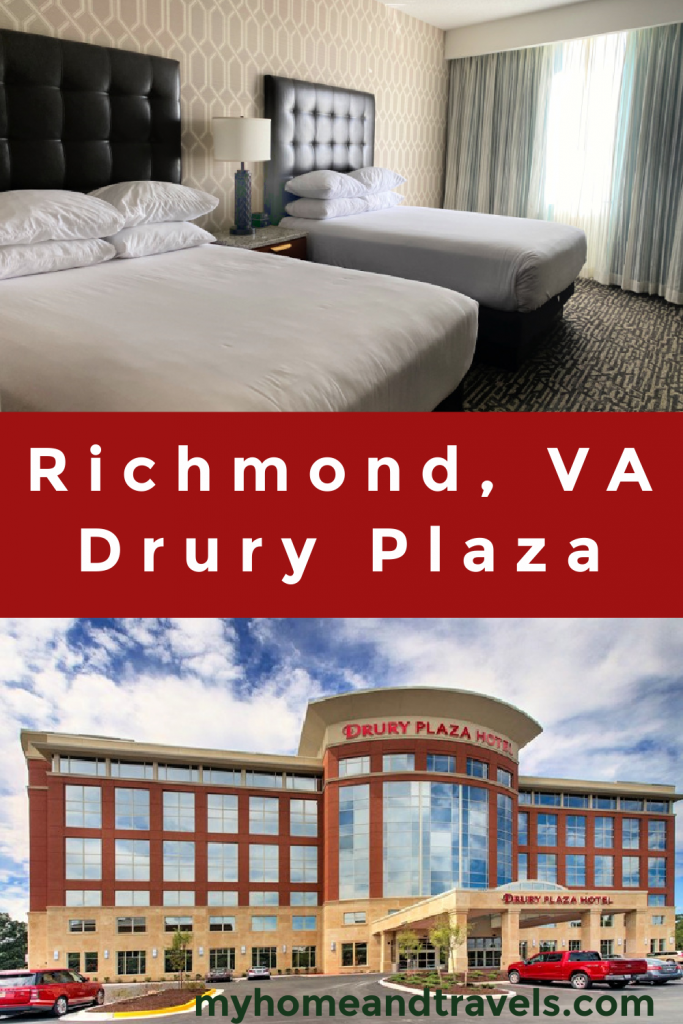 Drury Hotels are always a favorite of ours when traveling. So many locations to choose from. FIND A DRURY
Do you have any travel plans? Always consider a Drury Hotel for your stay.
Drury Plaza Hotel Richmond – The Perfect Starting Point
Located just ten minutes from downtown Richmond, this hotel makes the perfect starting point for any trip to the area. From here, you'll have easy access to everything the downtown area has to offer from dining and shopping to attractions and points of interest in the city. Some of the key spots located near the hotel are:
The Children's Museum
City Stadium
Kings Dominion
Laurel Recreation Area & Skate Park
Lewis Ginter Botanical Garden
Metro Richmond Zoo
Richmond International Airport
Sycamore Creek Golf Course
The Diamond Stadium
Three Lakes Park & Nature Center
Twin Hickory Park
University of Richmond
Virginia Museum of Fine Arts
When you're finished with a day of exploring the city and the surrounding area, you'll come back to a hotel room that is cozy, well-appointed, and waiting to wrap you in relaxation and comfort as you wind down from the excitement of the day.
Drury Plaza Hotel Richmond Rooms
Drury Plaza Hotel offers four different room options – King Deluxe, King Suite, Queen Deluxe, and Queen Suite. Each option features free WiFi, TV, microwave, refrigerator, hairdryer, iron, and ironing board.
King Deluxe
The King Deluxe features one king bed, comfortable seating, and a work desk.
King Suite
The King Suite is a two-room suite offering a bedroom separated from the living area by a door. In the living area, you'll find a pull-out queen sofa sleeper.
Queen Deluxe
The Queen Deluxe offers two queen beds, comfortable seating and a work desk.
Queen Suite
The Queen Suite features two-rooms with the bedroom separated from the living area by a door. The living area also offers a pull-out queen sofa sleeper.
A Suite is our favorite, especially when staying several nights. It allows extra room for lounging, snacking, watching TV, or resting before our next outing.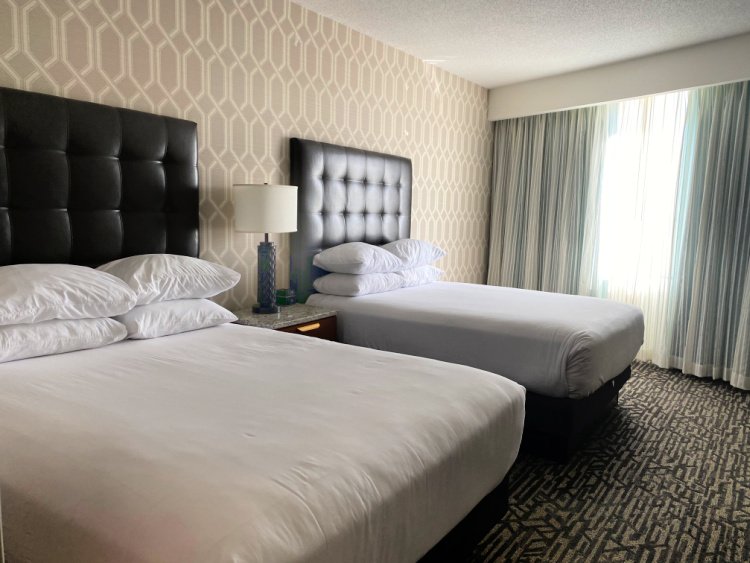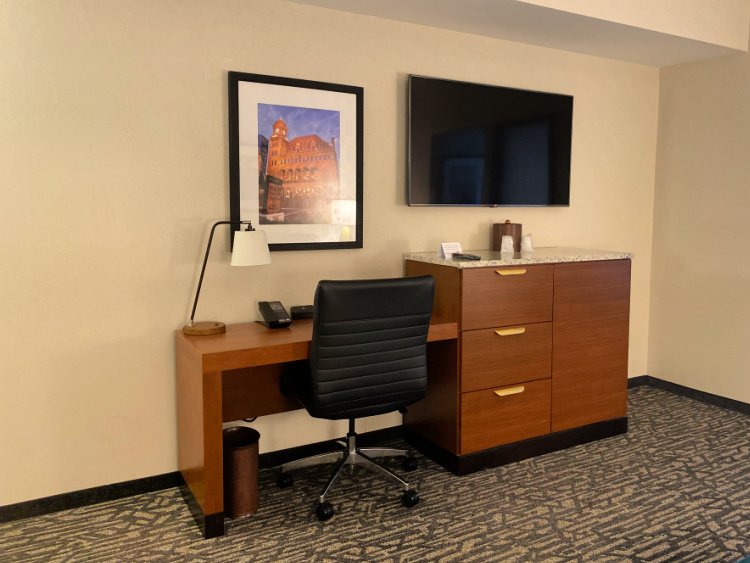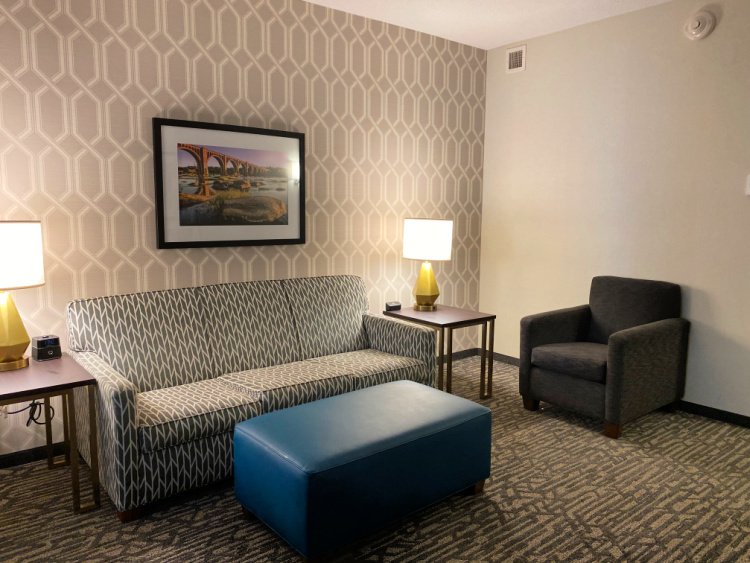 Drury Plaza Hotel Richmond Amenities
All guests at Drury Plaza Hotel Richmond can take advantage of the amenities offered by the hotel. These amenities include free hot breakfast, 24-hour business center, indoor/outdoor pool and whirlpool, free WiFi, free 5:30 Kickback, and a 24-hour fitness center.
Hot Breakfast
The hotel's complimentary hot breakfast includes such classic fare as scrambled eggs, sausage, fresh fruit, oatmeal, biscuits and gravy, KELSO+BROS coffee, and more. Breakfast is offered from 6 – 9 AM on weekdays and 7 – 10 AM on weekends.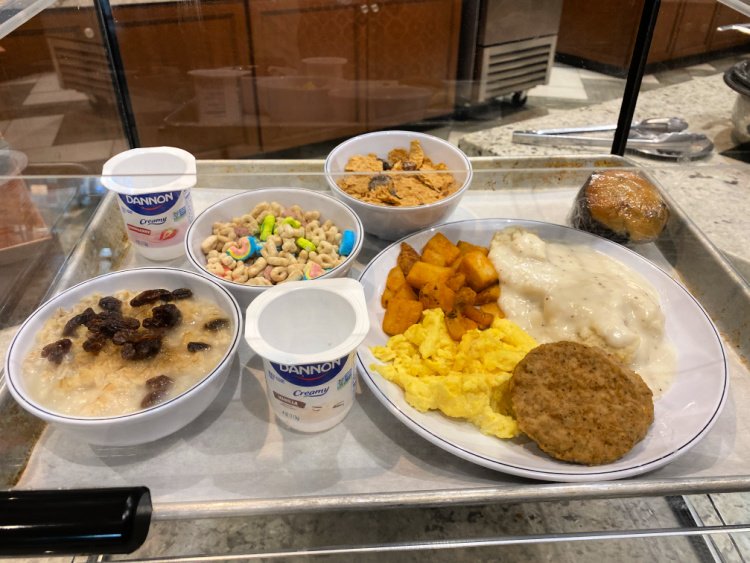 5:30 Kickback
From 5:30 – 7 PM every evening, guests can take advantage of the 5:30 Kickback. During this time, free hot food and cold beverages are served, with a rotating menu of fresh, hot food along with beer, wine, mixed drinks, and soft drinks.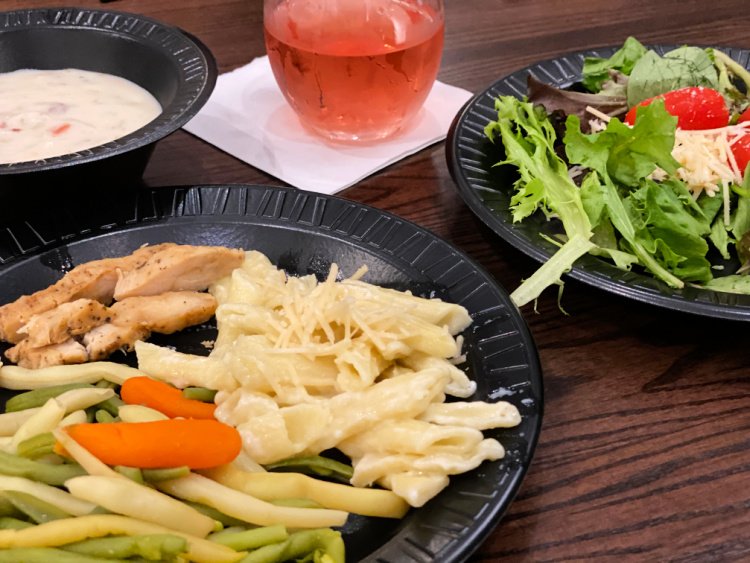 Before Pandemic times, the Hot Breakfast and 5:30 Kickback was served buffet style, but now the host will serve you. Don't worry, you still get all you want to eat or try everything on the menu.
The Kitchen + Bar
The Kitchen + Bar @ Short Pump offers handcrafted cocktails, wine, spirits, and local craft beer along with classic eats like burgers and tots. The restaurant is open from 5 PM – 12 AM Monday through Saturday and 5 – 11 PM on Sunday.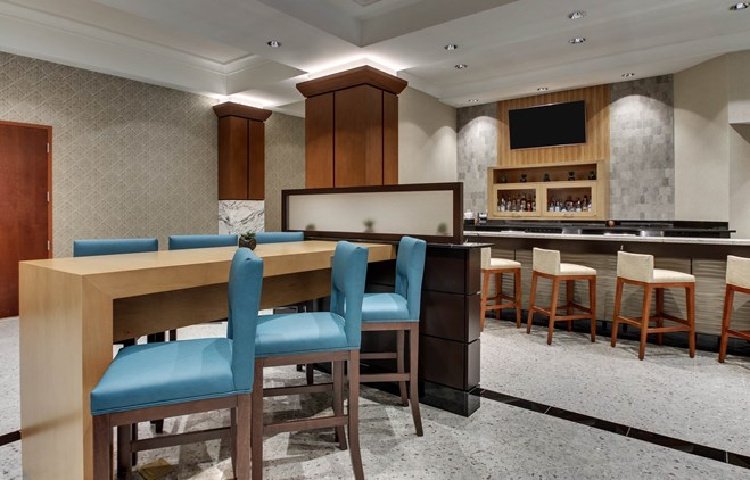 Pet-Friendly
Drury Plaza Hotel Richmond is pet friendly, offering guests the ability to bring their pets with them on their trip. There's a limit of two pets per room with a combined weight of 80 pounds. Rooms with pets will be charged an extra daily fee, however, service animals are free.
At this time the indoor pool and fitness room are open, but it is by appointment.
The large lobby and breakfast/bar area offers a lot of seating so your social distancing can be made comfortable.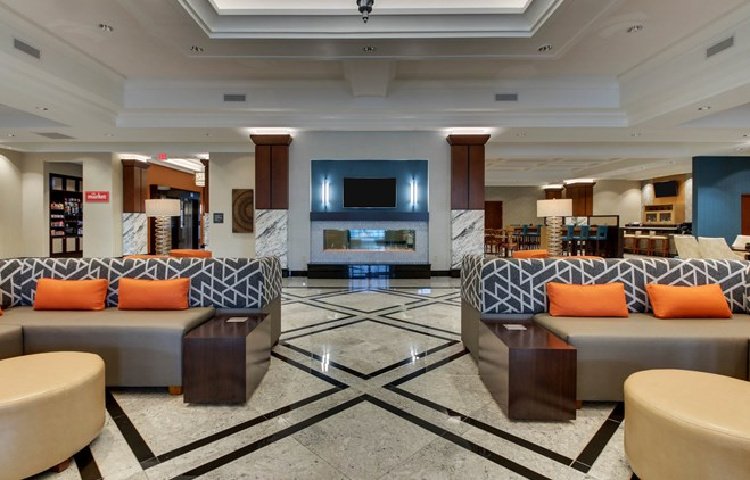 Enjoy a Stay in Richmond at Drury Plaza Hotel Richmond
With close proximity to everything, excellent amenities including free hot breakfast and fitness center, and great rates, Drury Plaza Hotel Richmond makes the perfect hub for your next trip to the city. We thoroughly enjoyed our time there, and I think you will, too.
PLEASE NOTE:
I always advise to check your travel locations for updated hours and closures. Many places have limited hours and capacity.
Laws can also vary from each city, county and state – so check this out ahead of time.
Traveling at anytime, but especially the past year can be a bit different and tricky.
We canceled nine trips last year, but plan on making several road trips this year – a few already in the works to include Texas, Iowa, Indianapolis (Final Four – fingers crossed), and right here near home of Tennessee, Alabama, and Georgia.
Watch soon for my tips on travel.
In the past, we've also stayed at a Drury in…