Is planning meals sometimes dreaded just because you are tired of preparing the same thing? Or you can't think of something new which is easy to make and your family would eat? I got inspiration recently for this Tuscan Style Roasted Chicken from several TV shows.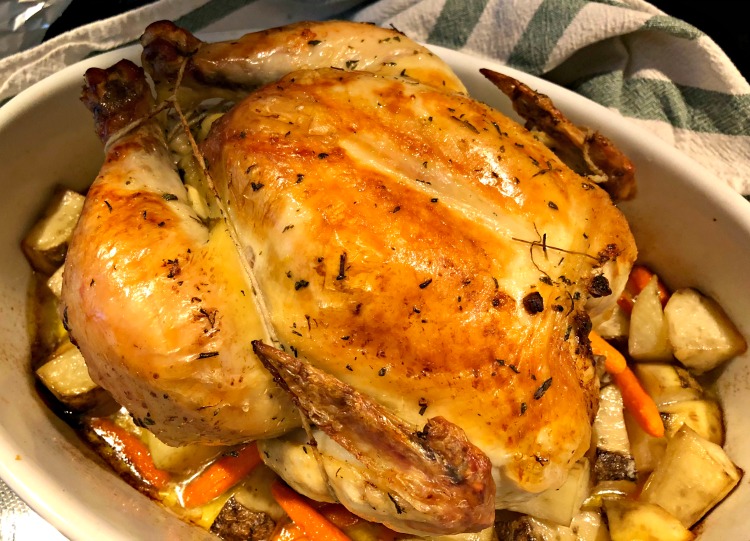 I had the cooking channel on last week, and several shows were talking about Tuscan and Rustic style cooking. I've never described my food that way, but that is changing. After hearing a few ideas, and really getting hungry, I thought this would be a new idea for me to try. There was a whole chicken in the refrigerator so a Tuscan Style Roasted Chicken was on the menu for dinner that evening.
So many times I try these concoctions as my family calls them, and they are anywhere from, needs some work, to it's ok, to that's really good. Well, this one was a home run.
I love using fresh ingredients, especially different herbs. I am so glad it's almost time so I can get my herbs planted outside. I'm not the best at growing things, but am pretty proud I have kept a Rosemary topiary alive and thriving in the house since October.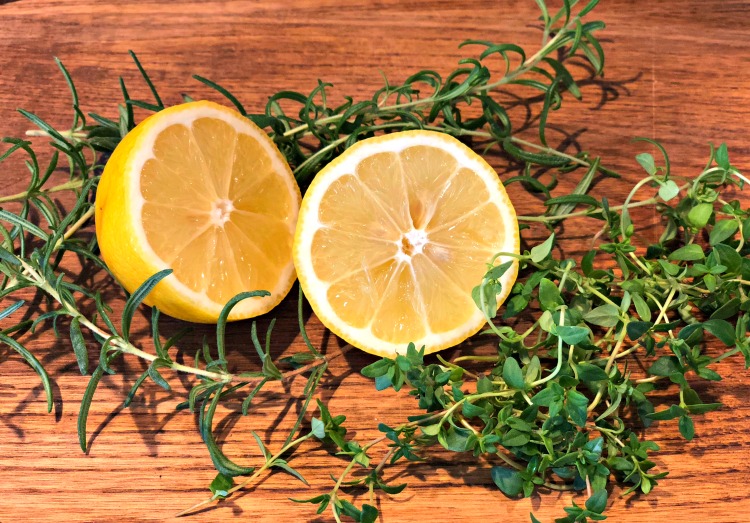 After hearing the marinade ingredients they were using, I adjusted it to make it my own, plus using what I had on hand. They used orange, I had lemon. They used sage, I had thyme. They used lots of black pepper, I used none.
They was spatchcocking (or butterflying) the chicken, I left mine whole. But I have done it before HERE. Have you done this?
The skin being left on chicken has kind of been a no-no over the past few years because of the fat, but when roasting or baking chicken, the skin can add so much flavor, and actually keep the chicken from drying out. I will admit a crispy, flavorful piece of chicken skin is SOOOOO good! Anyone else think it's the best part?
Here's directions and another idea for my ROASTED CHICKEN.
When roasting a chicken, I like to have a pan full of vegetables for it to roast on. For tonight, it was just potatoes and carrots. Again, this was what I had on hand.
The juices from the roasted chicken adds all the flavor to the vegetables, so no additional seasoning is really needed.
Tuscan Style Roasted Chicken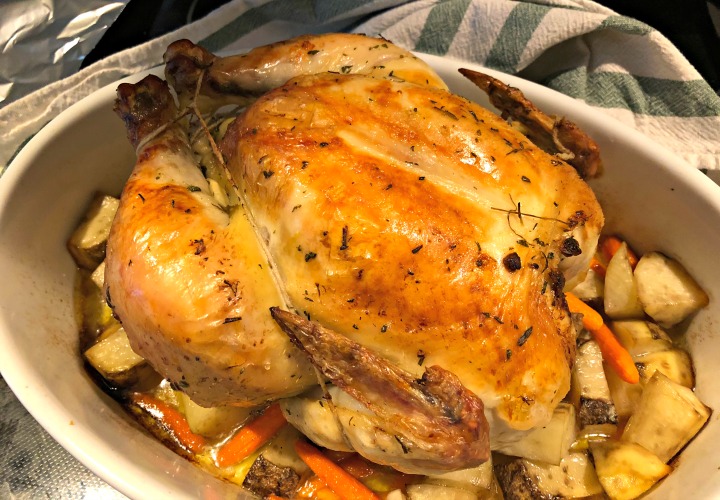 A delicious roasted chicken, perfect for any time of year. Having company for dinner? What about a picnic? Easy to make - perfect.
Ingredients
1 whole chicken, usually 3 - 4 pounds is a good size
Marinade
1/2 cup white wine
1/2 cup olive oil
4 - 6 cloves garlic, chopped
1 lemon, zested and sliced
pinch sea salt
2 - 3 tablespoons fresh Rosemary, rough chopped
2 - 3 tablespoons fresh thyme, rough chopped
Instructions
Marinade
Stir all ingredients together in small bowl.
Place chicken in zip-lock bag and pour marinade over chicken.
Let it marinate at least 2 hours or overnight in the refrigerator.
Rotating the bag will help the flavors of marinade soak into all parts of the chicken.
Roasting
When ready to roast the chicken, preheat oven to 450.
Remove chicken from refrigerator and discard marinade.
Place the chicken on the prepared vegetables in roasting pan.
Turn oven down to 350.
Place chicken and vegetables into oven.
Roast 15 - 20 minutes per pound.
After a minimum of 15 minutes per pound, check the chicken with a meat thermometer.
It should read 165 when inserted into the thickest part of the thigh.
Cook additional time if needed.
When done, let chicken rest at least 15 minutes.
Notes
A few additional hints and tips:
Consider cooking two chickens - one for dinner, one for additional recipes.
Resting any meat after cooking let's the the juices settle back into the meat.
When adding fresh herbs to marinades, no need to chop too fine.
Vegetables, any root type works well such as potatoes, carrots, sweet potatoes, parsnips, butternut squash, beets, or turnips.
Cut each vegetable in uniform sizes, approximately 1" - 1 1/2 " pieces so they all cook at the same time.
Use twine to tie legs together.
Fill cavity of chicken with extra lemon and herbs.


A roasted chicken can be a very easy meal with just a little prep. Leftover chicken, if there is any, is always a good way to have a second meal as is. Or, think about adding it to alfredo sauce, tomato sauce, or make into chicken salad.
After making this marinade, I have come up with a few other ideas for this as a sauce. Can't wait to try it then share with you.
Here's another favorite recipe for Hasselback Chicken.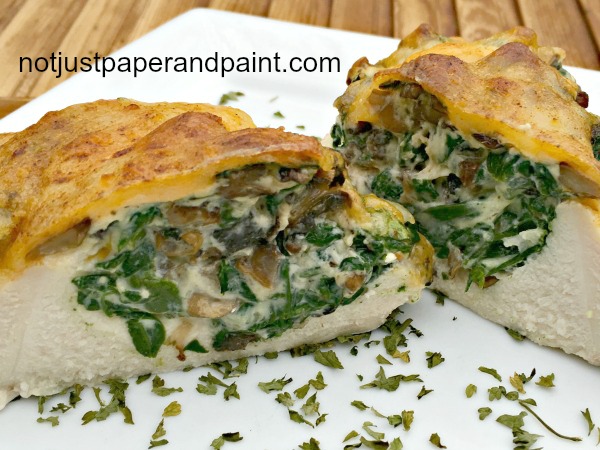 What's your favorite recipes for chicken?