Dessert Charcuterie Board Made With Trader Joe's Desserts 
This Dessert Charcuterie Board Made With Trader Joe's Desserts is pretty simple to put together after a trip to your local Trader Joe's. No Trader Joe's, most of these items are available in some form at most any grocery store.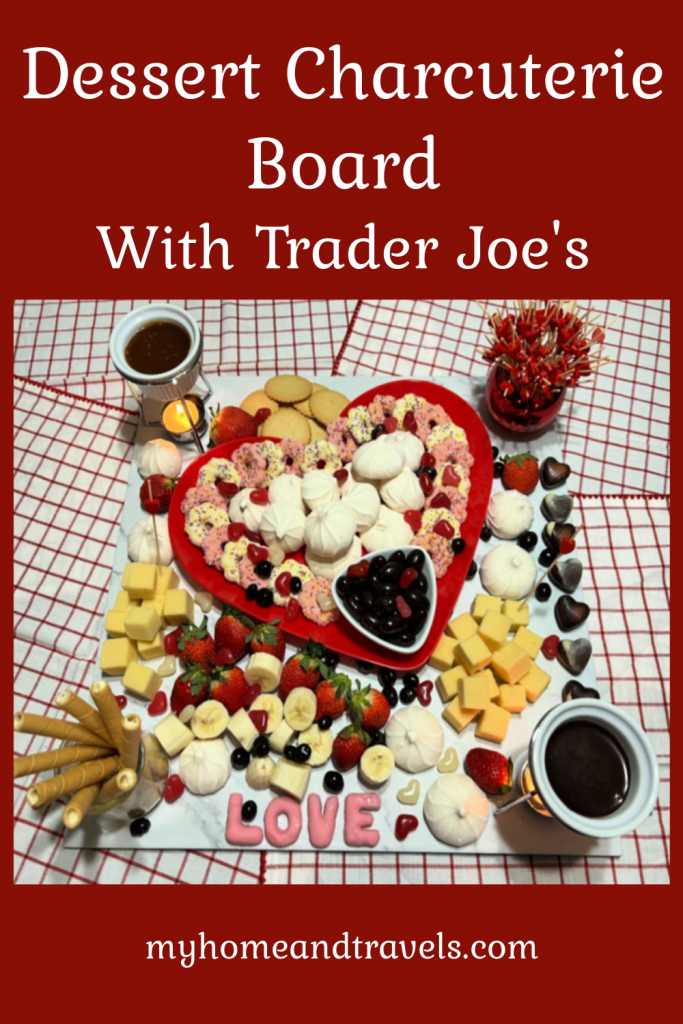 To say I was thrilled when we finally got a Trader Joe's in Chattanooga was an understatement.
Dessert and Charcuterie Boards have been the rage for several years now, so enjoy. Plus, so easy – add what you like.
Sweet treats like this are great for anytime, but especially think about throwing together something like this for Valentine's Day. Whether it's a romantic evening for two, for the whole family, or even a Girls Night. I would love it while watching my favorite basketball team too.
My tray was just a piece of marble tile I had picked up at Home Depot a couple years ago. These tiles make great serving trays or used to contain items on the countertop. DIY A CERAMIC TILE TRAY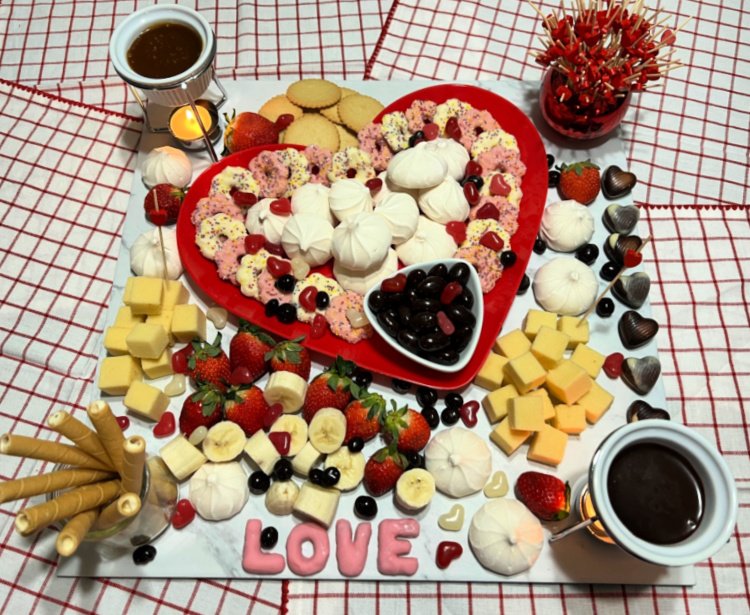 I like small bowls to contain items. Maybe that goes back to not liking my food touching on the plate so much, but it's also a great way to add more color and texture to the board. The small red and white bowls I had on hand. The large red heart was picked up at Walmart. Find a link below for the warmer sets.
The red heard mini skewers are from Amazon – link below.
Dessert Charcuterie Board Made With Trader Joe's Desserts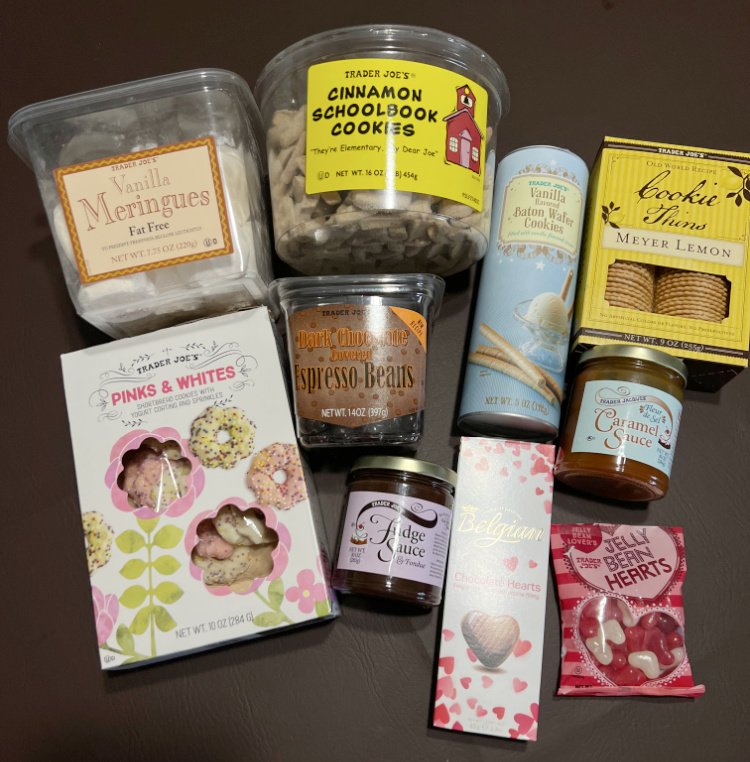 Here's a list of things I used:
Vanilla Meringues
Cinnamon Schoolbook Cookies
Pink & White Shortbread Cookies
Dark Chocolate Covered Expresso Beans
Dark Chocolate Covered Almonds
Fudge Sauce & Fondue
Belgian Chocolate Hearts
Jelly Bean Hearts
Meyer Lemon Cookie thins
Vanilla Baton Wafer Cookies
Fleur de Sel Caramel Sauce
Pound Cake – TJ was out, so I used a Sara Lee from my freezer
Bananas
A few ideas, but couldn't find on my shopping trip:
Macarons
Raspberry Heart Cookies
Mini Heart Cookies
Dark Chocolate Covered Marshmallows
Cupcakes
Chocolate cake
Raspberries
Raspberry rose chocolate bar
Do you love shopping at Trader Joe's?
A few hints – look for anything red, white, or pink. And chocolate.
Go early each day to shop – some items sell out daily.
Ask a member of the Crew – they are always great to help.
The Cinnamon Schoolbook Cookies were covered with a couple of coats of Wilton Pink Candy Melts. Follow directions for melting. Use a toothpick to spread out the candy and to push the extra out between the letters. You could always make your own letter cookies.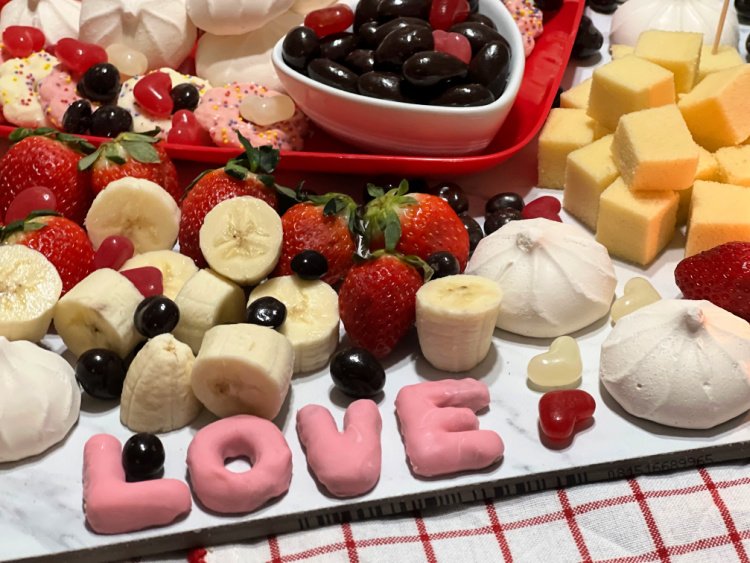 If you aren't lucky enough to have a Trader Joe's near you, it's easy to find many like items at your local grocery store or maybe a candy store.
Maybe add a bottle of wine or sparkling cider.
Of course, any type of fresh flowers could be added as a special gift. Don't think just red roses, I love the variety of flowers and plants offered. Remember, a plant will live a lot longer too.
The Sauces at Trader Joe's are delish
If you haven't tried the Fudge Fondue Sauce or Fleur de Sel Caramel Sauce – you are MISSING out! Both were regular items I bought when I got to visit a Trader Joe's out of town. They are so good, as a topping on ice cream, used for dipping fruit, or as a filling in a cupcake.
Gather up all your items and play around with a look pleasing to you. Like it but not sure, snap a quick picture of it before moving around.
If you don't have a warming ramekin, just microwave the sauces. It doesn't take long so be careful not to burn them.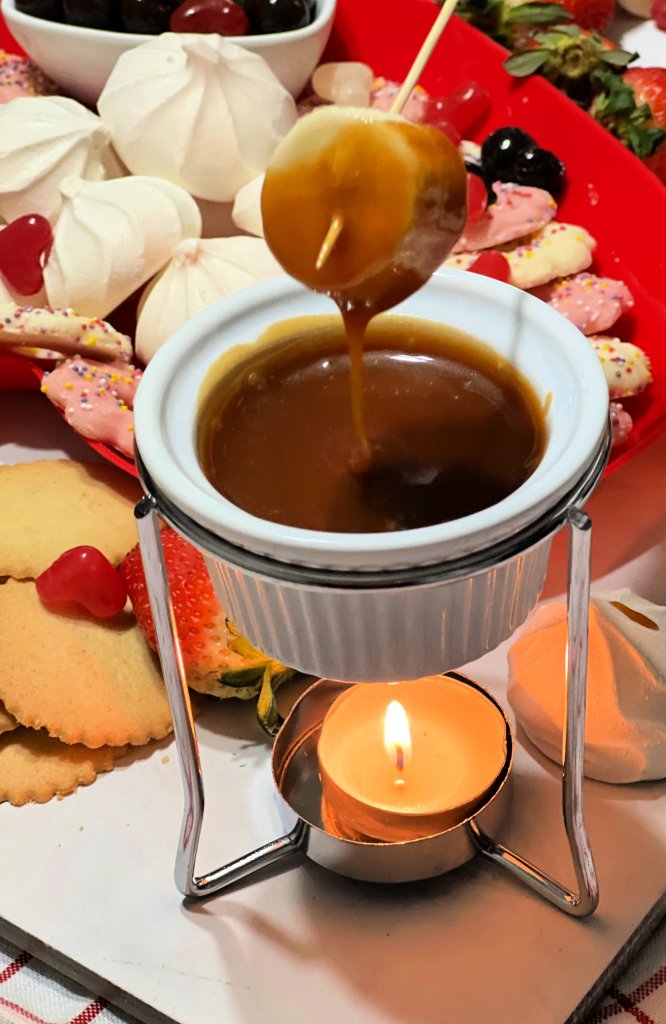 An added item for dipping – Deep Fried Prosciutto. I had made this earlier for a salad and my son had to try it. He had chocolate covered bacon in Florida and loved it. So why not try it? A big YUM!!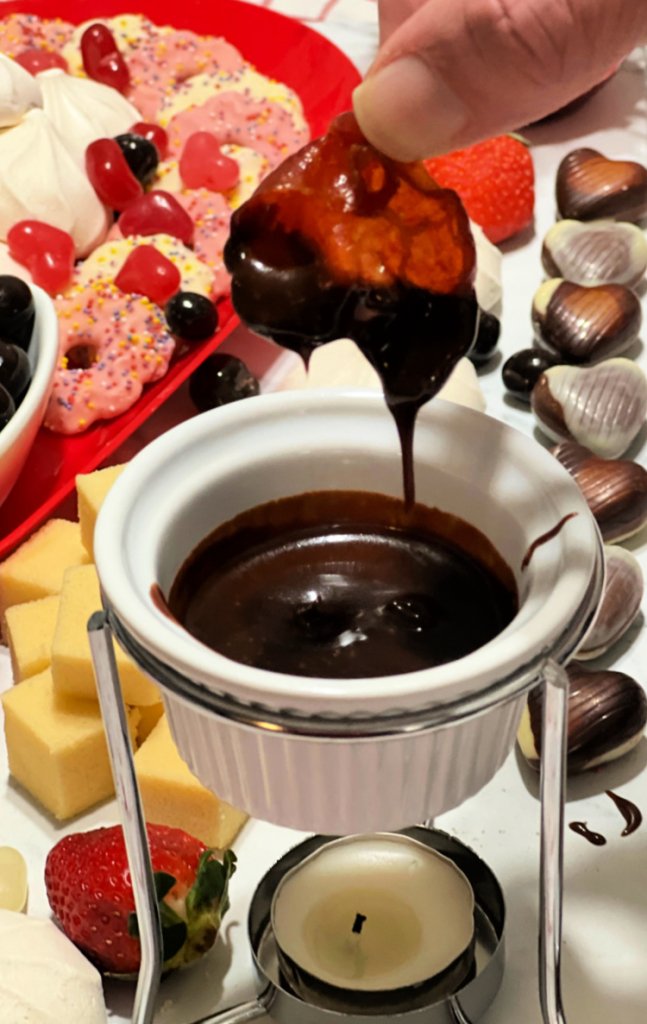 Now let everyone enjoy.
A couple more sweet ideas.
TREATS INSPIRED FROM CONVERSATION HEARTS
COOKIES MADE WITH TRADER JOES COOKIE BUTTER
I've included affiliate links to Amazon for you to find some products easier. I may receive a small commission, but the price is the same for you. It just helps my blog out.
Happy Travels,
Rosemary