What to do with that big blank wall – maybe over your couch, your hallway, or even at your entrance. Make a gallery wall with lots of your favorite pictures, monograms, mirrors, and even architectural pieces. **Please note this is actually a board created for a TV appearance.
Begin by measuring the space you are going to use and gathering up your frames and pictures you want to use. To me it's easier working on the floor so you might want to tape off an area the same size that you want to fill. Remember you are doing what is pleasing to your eye – symmetrical or a random pattern.
This is a great way to use old frames or even those you pick up at a dollar store or a thrift store. Decide if you want to go like I have here and use the same color frame and mat to give it a uniform look.
After deciding on the size you are going to do, arrange your frames and objects in a pattern you like. Take a picture with your camera or phone in case you start to rearrange it and don't like it you can go back to that layout. At this point, you might want to make sure you have all your pictures and frames ready. Print out the size needed for each frame and paint your frames.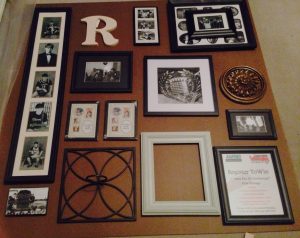 If you want black and white pictures, don't just make a copy of a colored picture as the shades don't come out in true contrast. Use a photo editing program such as Picmonkey.com. This isn't just for making them black and white, but also to edit them, add text to your picture, and have a little fun with color. It's free and simple to use.

Make a rough draft of your frames on newspaper and cut them out. You can use scissors or a rotary cutter and mat works a lot faster. Hint – don't pull all of your frames off at the same time so you can keep your layout.
After you have all of your cutouts placed back on your sample area, you are ready to hang your works of art now using your patterns. Now transfer all patterns to your wall, arranging them as on your layout. Using 3M Painters Tape to hold your patterns will ensure a temporary hold without damaging your painted walls.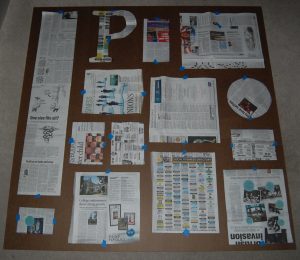 My favorite item to use to hang pictures is 3M Command Picture Hanging Strips, who was nice enough to provide these for my TV appearance. Coming in a variety of sizes, choose the appropriate weight and size for your items. Follow directions on the back of the package for hanging and removing. For large pictures you might still want to use a level. I love not having to guess at where to try to hammer the nails in. Plus not only is it a strong hold, but no damage to your walls.

Hope you enjoy also checking out some of my friends walls they have created. So much variety but what great looks.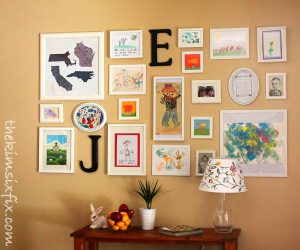 http://www.thekimsixfix.com/2012/08/kids-artwork-gallery-wall-lazy-way.html
www.akadesign.ca/gallery-wall/
http://akadesign.ca/diy-project-gallery-wall-finished/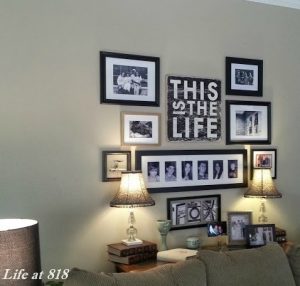 http://kellitfox.blogspot.com/2014/02/my-family-gallery-wall.html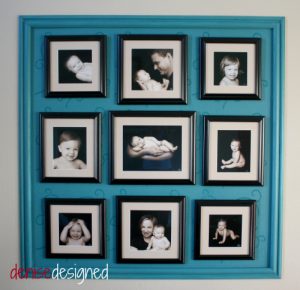 http://denisedesigned.com/wp-content/uploads/2013/10/emmas-wall-design1.jpg
http://www.dwellings-theheartofyourhome.com/2013/01/pb-picture-wall-and-bit-of-wrestling.html
http://www.oursouthernhomesc.com/2013/03/gallery-wall-santa-photos.html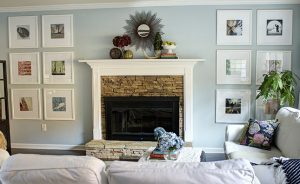 http://www.viewalongtheway.com/2013/11/diy-picture-frame-collage-wall/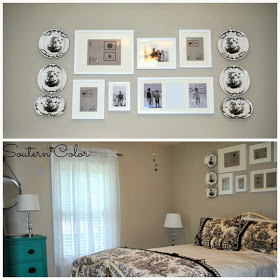 http://southerncolor.blogspot.com/2013/10/how-to-create-gallery-wall-ikea-ribba.html?m=1