14 Ideas To Make Snow Globes Yourself
Day Seven of Twenty Fives of Christmas. If you're looking for some super simple and fun DIY Snow Globes, you aren't going to want to miss these! Here are 14 Ideas To Make Snow Globes Yourself easily in the comfort of your own home.
Once the holiday season officially arrives, I can't wait to start crafting. And even though I might technically craft all year long, I can say with certainty that crafting during the Christmas season is always just a tad bit more exciting.
There's just something in the air that makes me happy and wanting to craft all the time…and this is why I'm so excited to share these snow globes with each and every one of you!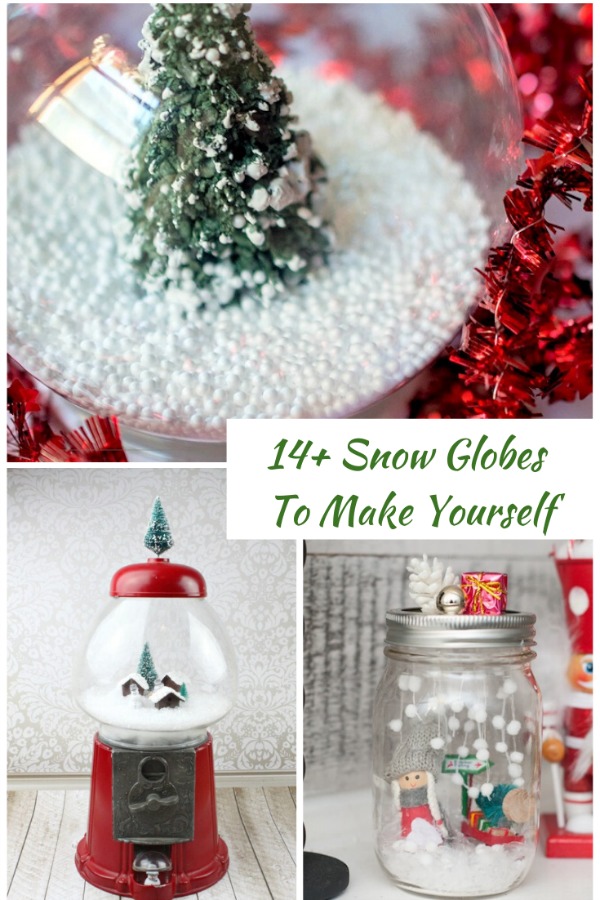 14 Snow Globes to Make Yourself
You're going to have to make each and every one of these for yourself! It's just not possible to have too many snow globes, right?
Snow Globe Ornaments by Amber Oliver
Simple and beautiful, you'll love this one!
DIY Tree Ornaments by Mom Foodie
Who says that you can't decorate your tree with your own ornaments?
Snow Globe Frozen Rings by Ashlee Marie
Give these a try! I think you're really going to love them.
Olaf Snow Globes by Molly Moo Crafts
Do you want to build a snowman?
Gumball Machine Snow Globe by Morena's Corner
This one is just too cute!
Snow Globe Soaps by Kimberly Michelle
I told you that there were so many fun ones to create!
Mason Jar Snow Globes by The Crafty Blog Stalker
I love these..reminds me of farmhouse decor a bit.
Baby Food Jar Snow Globes by Craftaholics Anonymous
Repurpose those old baby food jars!
Snowy Day Snow Globes by Dwell Beautiful
So much fun and really creative, too.
Fall Day Snow Globe by The Country Chic Cottage
I really enjoy this one a lot and I think you will also.
Thumb Print Snow Globe Ornaments by Nellie Bellie
This snow globe is really simple but beautiful.
Santa Snow Globe by Everyday Home
There's always room for Santa!
Hoop Snow Globe Ornaments by Swoodson Says
Check out how fun this snow globe is!
Soap Pump Snow Globes by Creative Green Living
I bet you really enjoy the look of these snow globes!
See how different and unique they are?! Have fun creating them this holiday season as they're certain to make wonderful holiday decor.
Do you have a favorite DIY snow globe from the options above?
I've included affiliate links to Amazon for you to find some products easier. I may receive a small commission, but the price is the same for you. It just helps my blog out.
Happy Travels,
Rosemary