20 Simple and Easy Easter Dessert Recipe Ideas
Not Just Easter Recipes
If you're looking for some great Easter Dessert recipes that are certain to have everyone wanting more, get ready to love all these 20 simple and easy Easter dessert recipe ideas. Not only are these all Easter-themed and fun to make, but they also taste really great, too! Maybe your Easter isn't the normal, but you can always enjoy these recipes. Maybe make your celebration last all month. Is Reese's your favorite candy – check out the recipe below and make your own,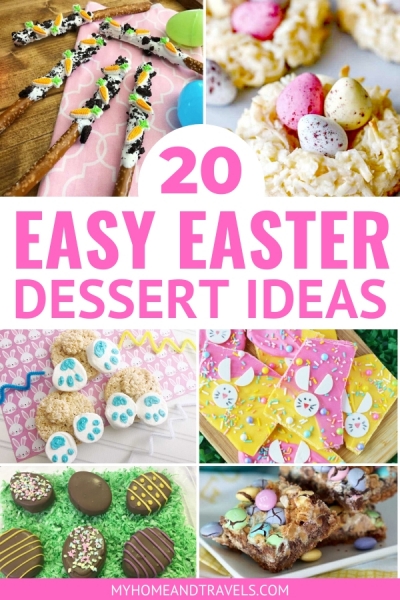 No company this year? Share these Easter recipes with your friends and family so they can make their own. What better way to spread the love than with some of these wonderful homemade Easter desserts?!
Have fun choosing the ones that catch your eye's attention. There really are a lot of great bunny-themed recipes on this list!
Simple and Easy Easter Dessert Recipes
Part of the Easter celebration is snacking on great good. And this year, you can be the star of the show by having these for your family.
Chocolate Covered Peanut Butter Easter Eggs
This is a very popular item at my house since everyone is a fan of Reese's Cups. Find the recipe HERE.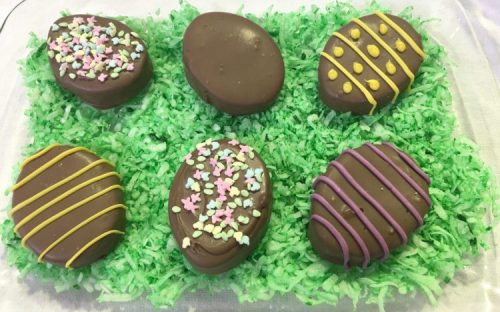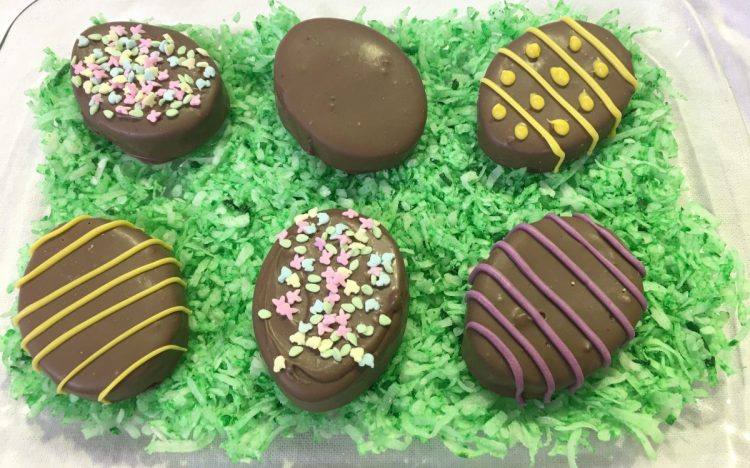 A Variety of Easter Treats and Desserts
Any Easter dessert that has Nutella as a filling is perfectly fine by me. Just make certain to have the napkins handy in case it gets a little messy.
Easter Crackers Filled with Nutella by Kids Activities Blog
These DIY Easter treats are so much fun! While they look like a bird's nest, they really taste like a delicious coconut macaroon.
Coconut Macaroon Birds Nest Cookies by Spend With Pennies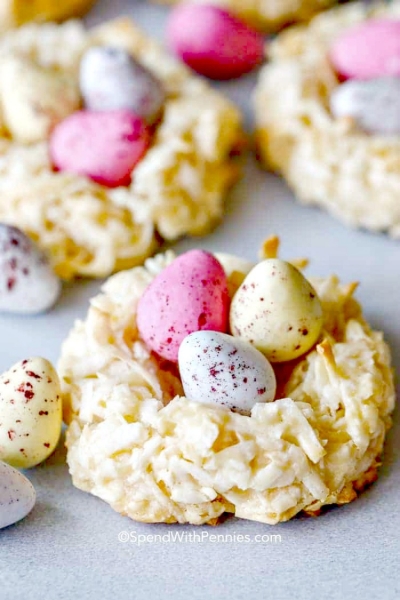 We're all familiar with Rice Krispie treats so it just makes sense to have Rice Krispie Eggs for Easter! Except with these eggs, you don't want to go and hide them anywhere but in your tummy.
Rice Krispie Eggs by The Gracious Wife
These Carrot Patch treats are too cute to eat – almost! You're going to have as much fun making them as you do eating them.
Carrot Patch Easter Treats by Uncommon Designs
Pretzel bites are a delicious food that can easily be whipped up in no time at all. Since these are Easter themed, they're perfect for a simple Easter snack.
Easter Bunny Pretzel Bites by The Country Chic Cottage
You have to love the pastel colors of these treats! They're definitely Easter-themed goodies for sure.
Pastel Rice Krispie Bars by Mom Foodie
If you're looking for some added fruit for your Easter holiday, this fruit pizza has you covered. It's quite delicious and really simple to make.
Easter Egg Fruit Pizza by Today's Creative Life
Talk about adorable! Who doesn't love to see the cutest little bunny butts, ever? These simple treats are a fun dessert to make together as a family.
Bunny Butt Pudding Cups by A Helicopter Mom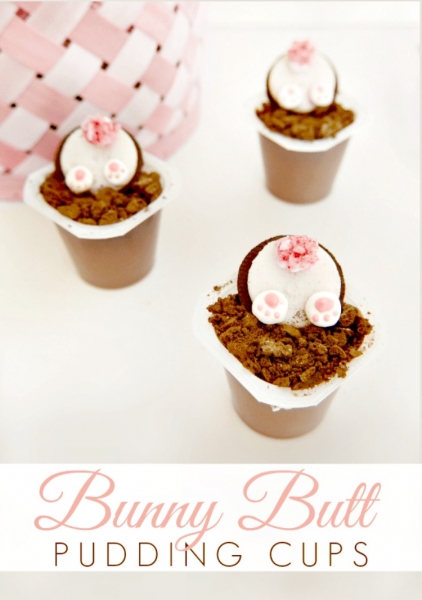 Another adorable Easter treat that you just have to have on your radar. Making these is certain to put a smile on your face.
Bunny Tail Treats by Pizzazzerie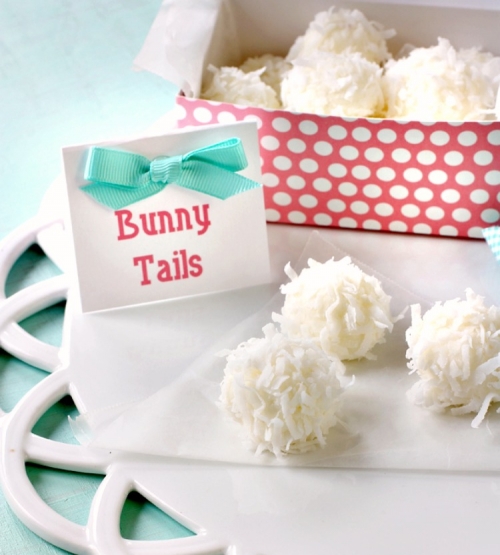 It just wouldn't be an Easter holiday without the addition of Peeps! People either love them or hate them but I think that they're perfectly delicious for this recipe.
Peeps Nests by The Pinning Mama
Count me in. You had me at Butterfinger! That tasty goodness will have my coming back again and again.
Butterfinger Eggs by Centsless Meals
Adding some fun colors to your Rice Krispie Eggs is actually pretty simple! And this recipe will show you how to easily make it happen.
Colorful Rice Krispie Eggs by Almost Supermom
These are the cutest – and most delicious – Easter baskets, ever! I love this new spin that it puts on them.
Powdered Donut Easter Baskets by The Pinning Mama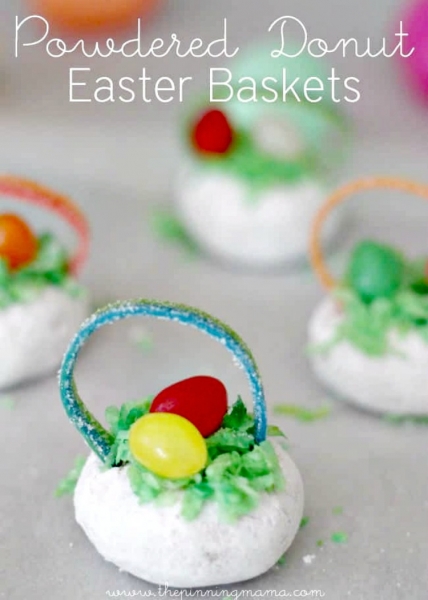 This recipe isn't for the birds…it's for you and your tummy to enjoy. Another great nest recipe that is tasty and easy to make.
Rice Krispie Birds Nests Almost Supermom
Sugar cookies are so tasty so why not have a little fun in creating them a new way? This simple recipe is so tasty, you might just make this a year-round dessert!
Easter Sugar Cookie Bars by Pink When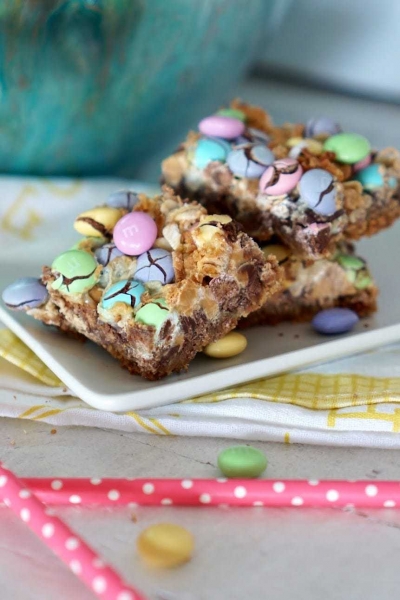 Bunny Butt Rice Krispie Treats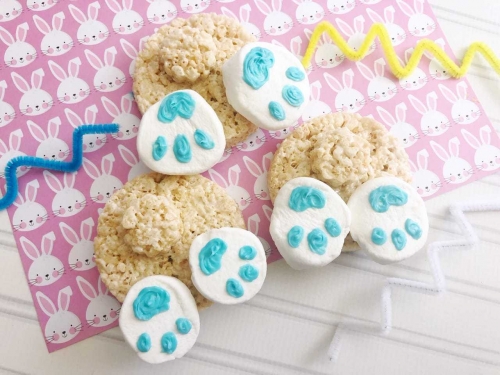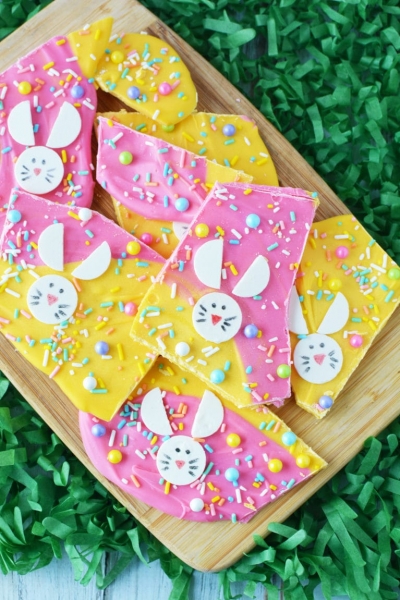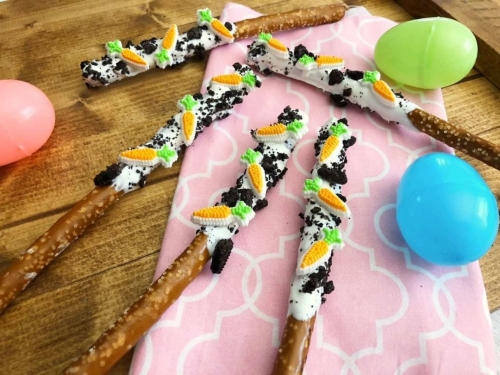 Now that you have this giant list of easy Easter Dessert recipes, you have no reason not to make something adorable and tasty!
If you like these Easter recipes,
make certain to try some of these other Easter-inspired activities and ideas, too:
Easter Eggs Dyed With Coffee, Tea, and Turmeric
Painted Chocolate Easter Bunny
Easy Entertaining Ideas for Spring and Easter
Do you have a favorite Easter dessert recipe from the list above?
I've included affiliate links to Amazon for you to find some products easier. I may receive a small commission, but the price is the same for you. It just helps my blog out.
Happy Travels,
Rosemary