Thanksgiving Tablescape – a little formal and non-traditional
I don't want to scare anyone off thinking there was going to be an excessive number of glasses and forks to figure out. My formal usually means the good flatware, stemmed glasses, maybe silver candleholders, a white or lace table cloth and a little bling.
This year I wanted to do something a little non-traditional and chose teal/turquoise as an accent color. I chose this from a partial set of china I have.
Shall we discuss how many dishes we all own? I had picked up these pieces several years just because I loved the color, and have only used them a few times. I'm not afraid to mix colors, or even use gold and silver together. As with most anything else in your home, make it your own and you and your guests will enjoy it more.
I started with a white linen tablecloth, a runner in my accent color, a mirror, topped with pumpkins and candles and tall vases on each end of the mirror.
The place setting was a charger in my accent color, a white china plate, a patterned salad plate, and a votive holding the napkin. It was finished off with flatware, bread and butter plate, wine glass (gold trim) and water/tea glass (silver trim). White candles usually look a bit more formal than colored ones.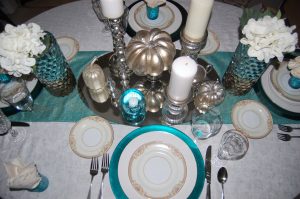 My silver gravy bowl was picked up at an estate sale for $8 and the salt & pepper shakers were in a box of silver pieces which was full of odd pieces and trays for $20. Anything reflective adds to the glamour of a formal setting, including mirrors. Go through all of your china, silver, candle holders and linens. And when I say linen, it doesn't always mean real linen.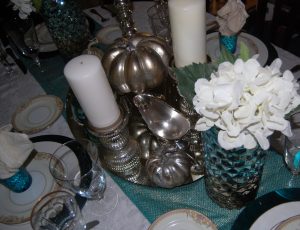 The gold rimmed glasses are Mikasa, but they were purchased from an outlet about 25 years ago, the silver rimmed came from Garden Ridge for $1 each. Mix things up. I usually try to buy everything in sets of 4, but at $1 each, buy a few extra.
A few hints on setting any table
Don't use scented candles as it can overpower the aroma of the food.
If you have a tall centerpiece, you may consider removing it from the table while eating so your guests can see the person across the table.
Did you know Dollar Tree carried stemware? I have wine and martini glasses from there. Kids love the idea of stemmed glasses, then if one breaks, you won't be missing a piece of your expensive crystal.
Now, who's ready for the turkey?