How to Dye Easter Eggs With Coffee, Tea, and Turmeric
Springtime is almost here in Tennessee. Forsythia and daffodils are starting blooming, trees are budding, and there's warm sunshine peeking through the clouds most of the time. Oh, and allergy season has hit most. Yes, spring is here. I'm going to show you How to Dye Easter Eggs With Coffee, Tea, and Turmeric. You'll also find some pretty blue eggs too.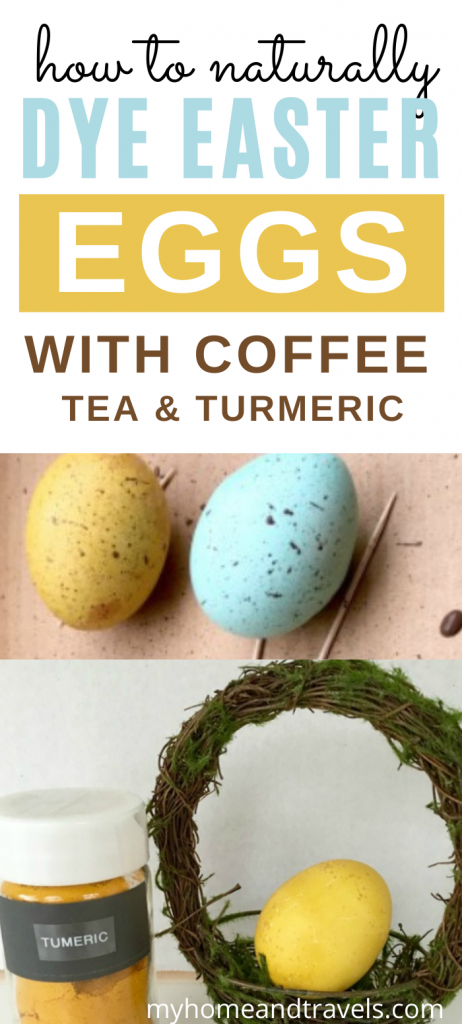 I normally don't decorate a lot for "Easter" as much as spring. I remember the days when Doug was young the house looked like Easter threw up. And I even had eggs hanging from the trees in the front yard. Yes, Don was not happy about that project, but being the good husband he is, he went along with it.
Although the colors usually associated with spring are pastel but Easter eggs tend to be bright, I wanted something a bit different. I'm going for a more neutral color tone this year. Grays and whites are so dominant in decorating, I thought I would go with natural colors.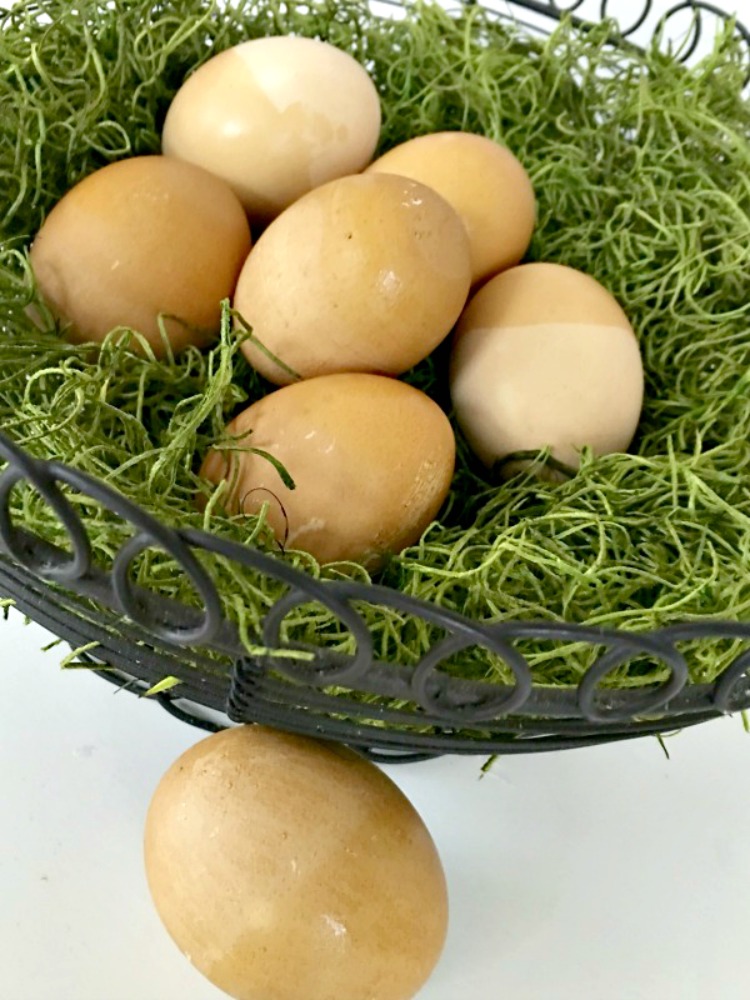 Easter Eggs With Coffee, Tea, and Turmeric
So now how to dye eggs to fill a basket and nests. Coffee and tea should do the trick. I always have food color on hand so if I decided to add any "colors". And, I've been seeing a lot of natural food coloring which I did try.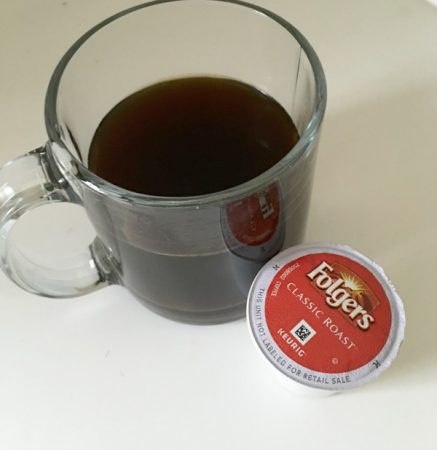 I'll go ahead and let you know about the fails.
After boiling a couple dozen eggs as usual, I let them cool and dry. These aren't going to be eaten so I didn't worry about refrigeration right away. But if any cracked during these processes they were tossed.
I saw people using spinach and zucchini for pretty green. NOT for me. I cooked each of them separately, let them cool, added vinegar, ……….. and so on but barely any color to my eggs.
Now to those which worked for me.
Turmeric did work great. I loved the golden yellow it produced without it being that typical yellow.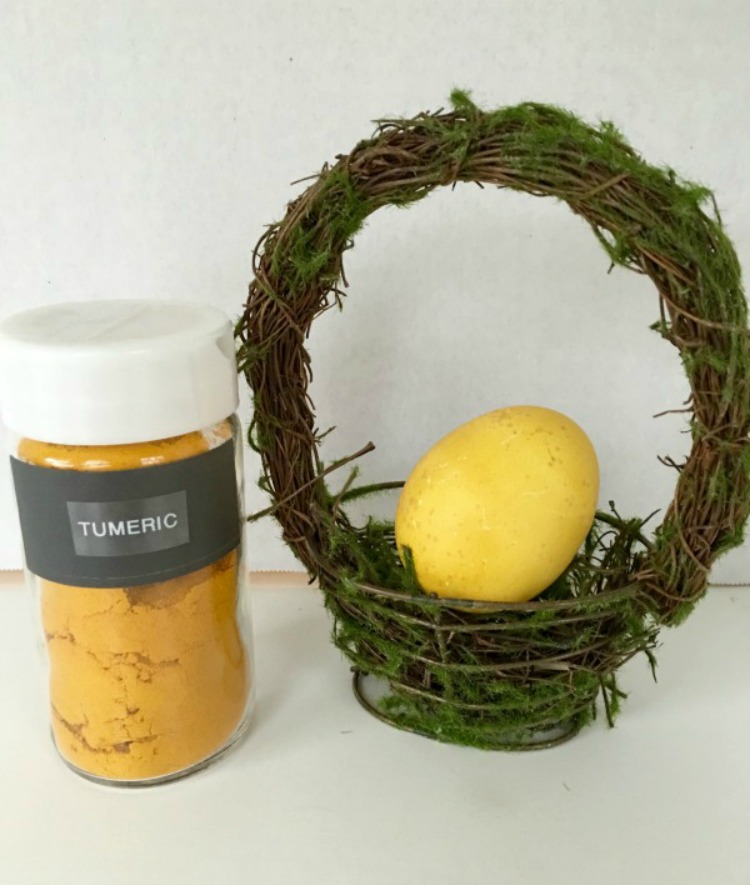 TURMERIC DYE (and yes I just realized my spice bottle is wrong)
2 C boiling water
3 T ground Turmeric
3 t vinegar
Stir well and let this set til almost cool.
Add eggs and let set overnight. There is some spice which settles to the bottom but you can stir it off and on if you want to. This might have caused a few of the speckles, but it was fine with me.
COFFEE & TEA DYE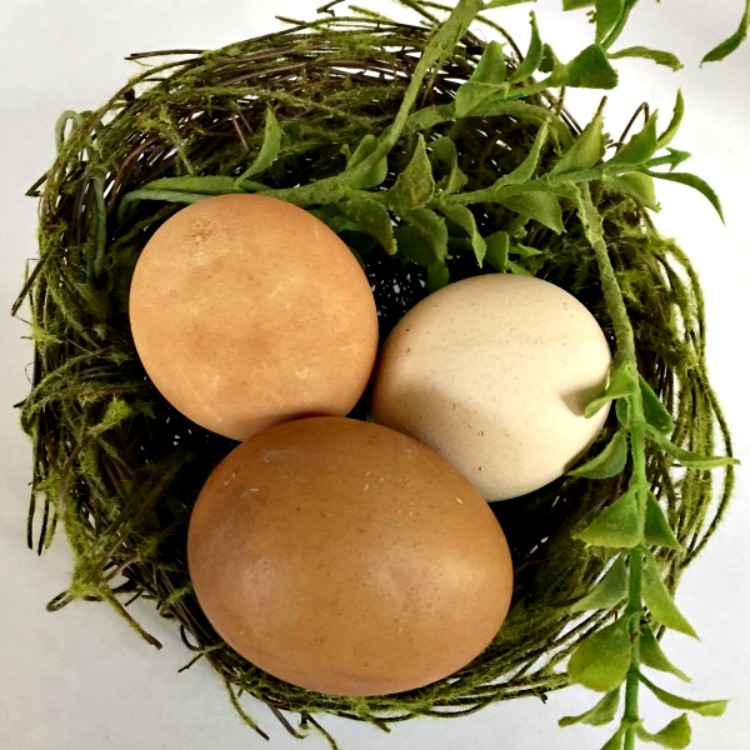 Darkest – 24 hours in coffee ground mixture (1 1/2 C grounds, enough hot water to make 3 cups)
Middle – 24 hours in regular strength tea (Lipton tea bags)
Lightest – 24 hours in regular strength coffee
All had 2 teaspoon vinegar added.
There is a bit of a difference in the browns of the tea and coffee. Tea gave a more beige color.
These weren't being done with any color expectations, so I was happy with the results.
And there's always differences in eggs too – all of these were in coffee grounds for about 5 hours and there is noticeable color variations.
Dyed Easter Eggs
Your color choices are endless – straight up blue, green, red and yellow – or mix a few colors together just for fun (kids will love it).
These were done with just a cup of hot water, a few drops of food color and 2 tsp white vinegar.
I don't have my exact ratio of food coloring since it was just an experiment. I would say though maybe 4 drops of blue and 1 drop of green. They only stayed in the dye about 5 – 10 minutes.
If they aren't dark enough or the right shade, just add another drop or two of food coloring and let set again. Remember, most of the time it's not like you are trying to match paint colors.
Speckled Dyed Easter Eggs
I wanted to have a variety of looks so decided to speckle some and this is where my experimenting was done again.
All you need is:
Brown craft paint
Old tooth brush
Gloves
Do this outside or an an area well covered because paint can splatter.
Pour a small amount of paint onto a paper plate and dip the tooth brush in.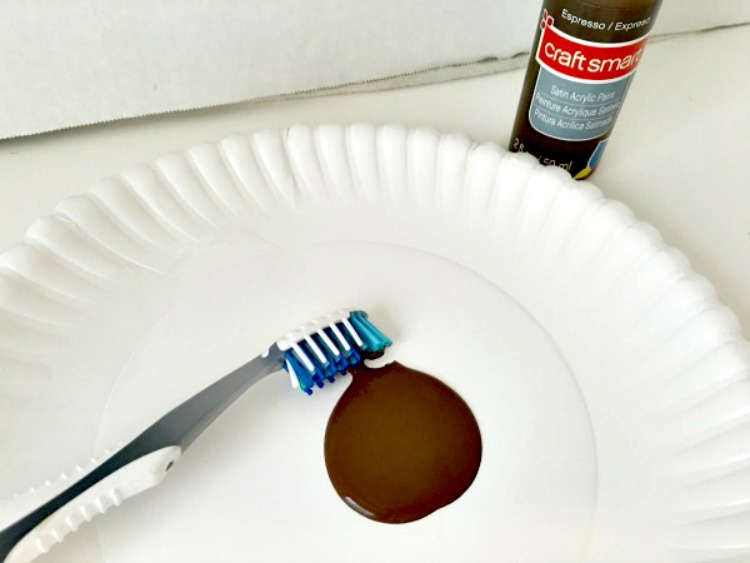 To keep the eggs from rolling around, I made a "'stop" with toothpicks.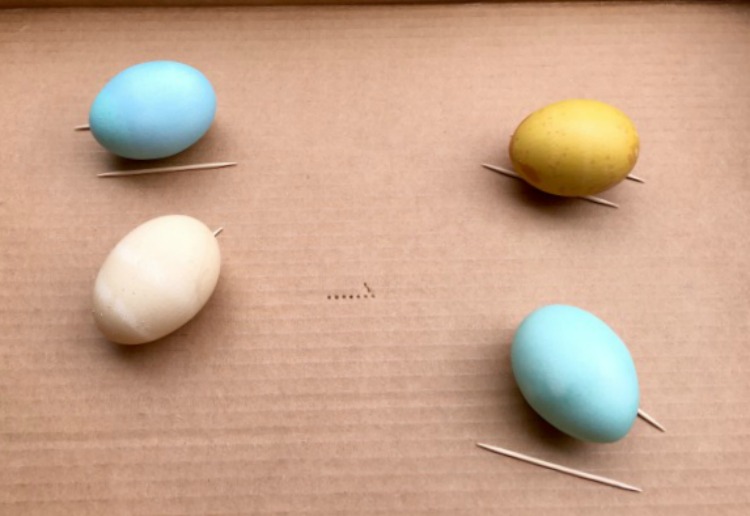 Flick the end of the tooth brush with you finger aimed toward the egg. Add as much speckle as desired.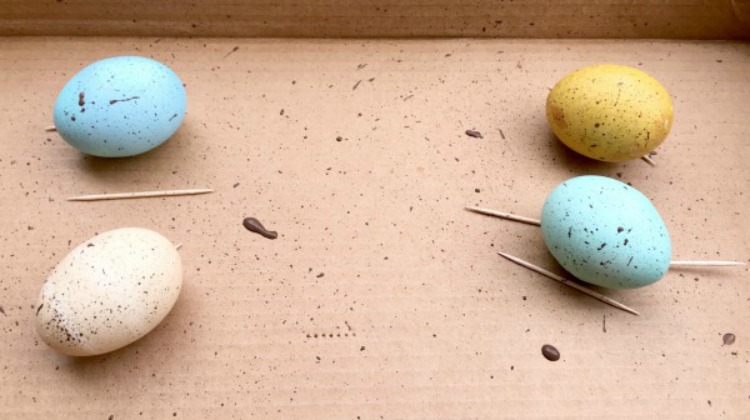 Let dry completely. Do reverse side if desired.
Hint for dipping eggs into dye – especially useful with kids. Place your egg inside a whisk to dip into dye.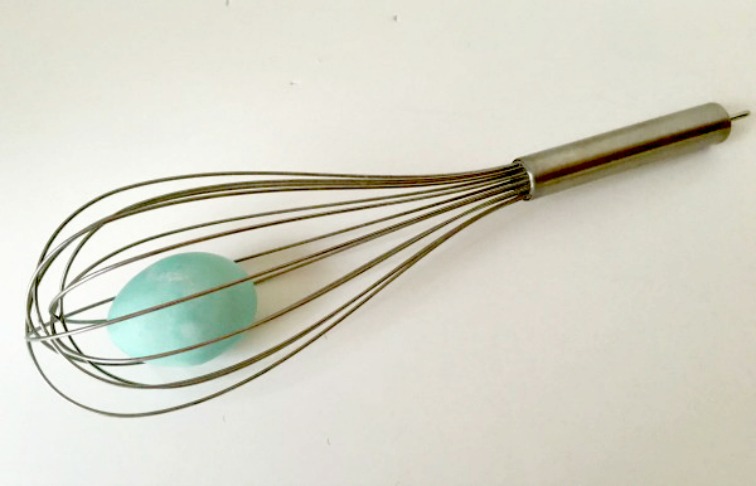 Just be careful when they remove the whisk from the dye to not shake it to briskly as they will splatter the dye, or break the egg.
Marbled Look Dyed Easter Egg
After dyeing the eggs I thought – what else could I do with this coffee. I used a couple of regular coffee filters and dipped them in the coffee until saturated, then wrapped it tightly around the egg, pressing out extra coffee and air. You might want your gloves on for this too.
The filter needs to lay as flat to the egg as possible.
Top was twisted and secured with a clothes pin.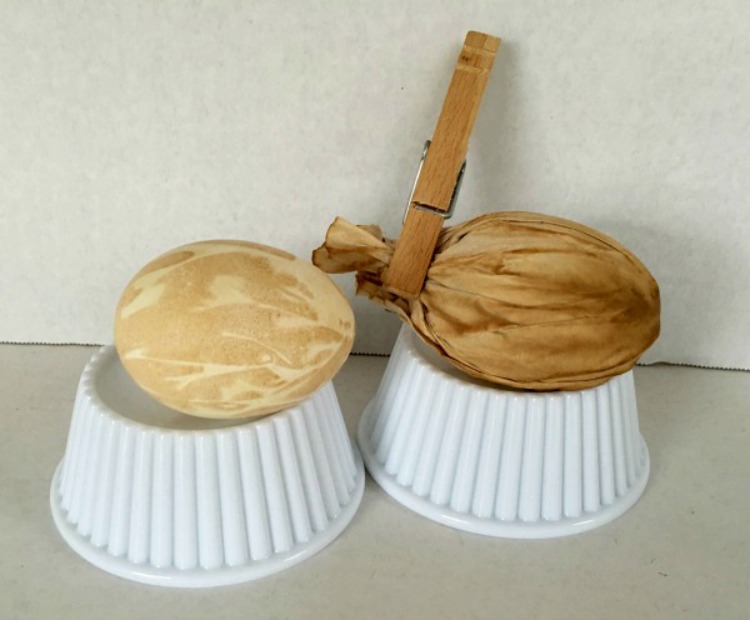 This could work with any color dye.
Now show me some of you favorite Easter and Spring Projects.
I'm loving my Easter Eggs Dyed With Coffee, Tea, and Turmeric and may keep them out a little past Easter.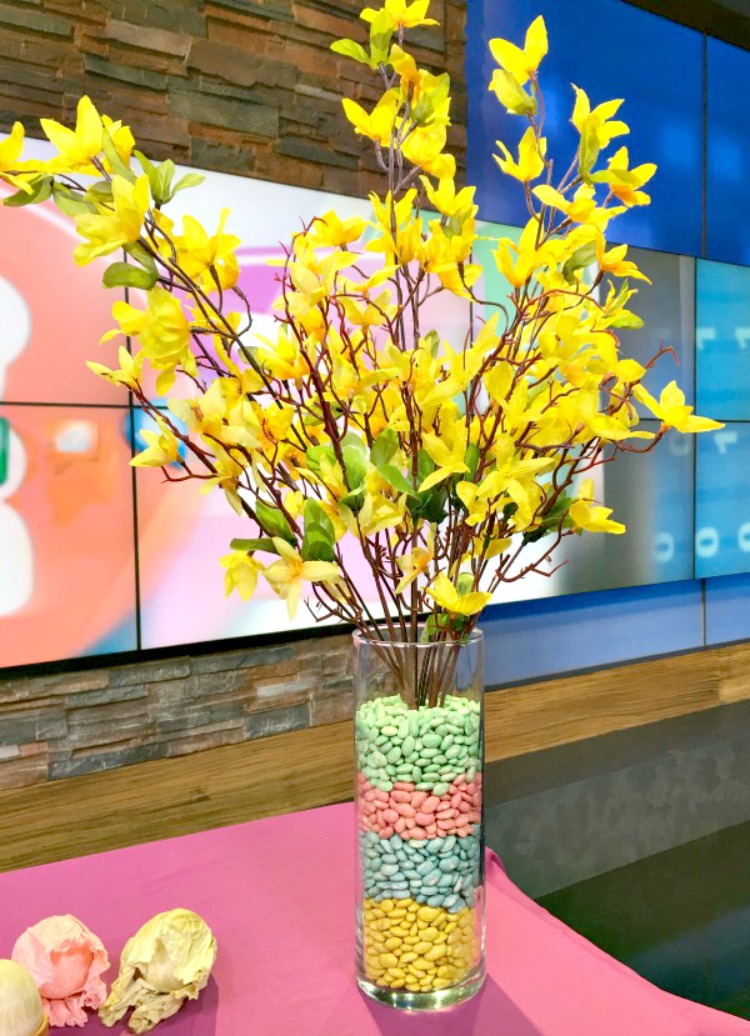 Now you have some of your decor done, lets think of food – fun desserts and treats.
I've included affiliate links to Amazon for you to find some products easier. I may receive a small commission, but the price is the same for you. It just helps my blog out.
Happy Travels,
Rosemary