Touring The Boston Tea Party Ships and Museum
Taking a trip to Boston is full of a lot of amazing sites and activities to do but during our last travels there, we were able to immerse ourselves and Touring The Boston Tea Party Ships and Museum. If you've never been, I highly recommend going.
Did you know making Pinterest Boards for your travels is a great way to check back on ideas?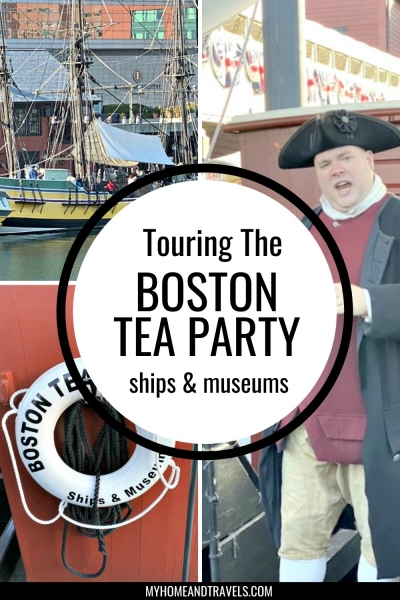 Touring The Boston Tea Party Ships and Museum
The museum is full of amazing details and facts about history that honestly, I'd never known before. You might think that you know the true story of the Boston Tea Party but until you experience everything that the museum has to offer, you can't claim to be quite the expert…yet. I was not one of those excited by History Class in high School, but have enjoyed learning more while traveling. When you are able to experience History, it becomes real.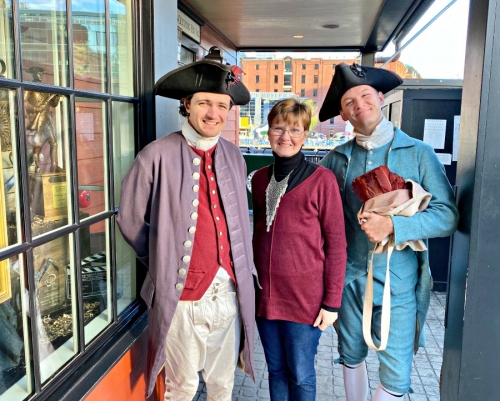 If you're looking for a great place to travel solo or to take the family, the Boston Tea Party Ship & Museum is ready and waiting!
Here are a few of my top reasons why you need to make a plan to go!
Reasons to Tour the Boston Tea Party Ships and Museums
Keep in mind that everyone's experience will differ, but these are just some of the aspects that stood out to me the most during our time and tour.
The museum offers a multi-sensory experience
This isn't just your "regular" museum where you walk around reading facts and looking at artifacts and pictures. While that is part of it, there's actually a lot of fun things happening as well. It is a self–guided tour, but someone is there and you will be encouraged to ask questions.
From interactive exhibits to even live reenactments, it's safe to say that there is always something going on that is going to draw in your attention.
We took part in a re-enactment in the Meeting House where the seeds for the Boston Tea Party were first planned and the citizens were worked up into a frenzy to rebel and throw the tea overboard. You could feel their fury and frustration because they were being taxed without having representation in the Old Country. They had to take matters into their own hands.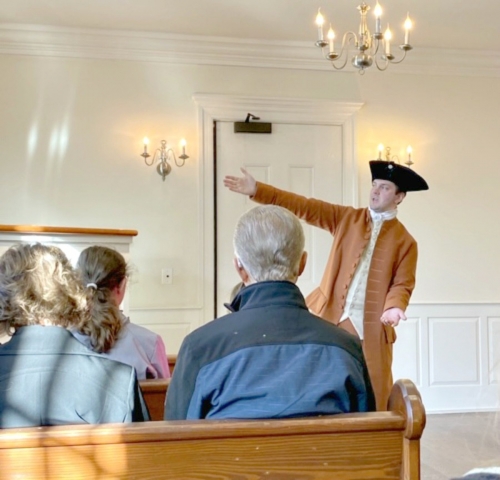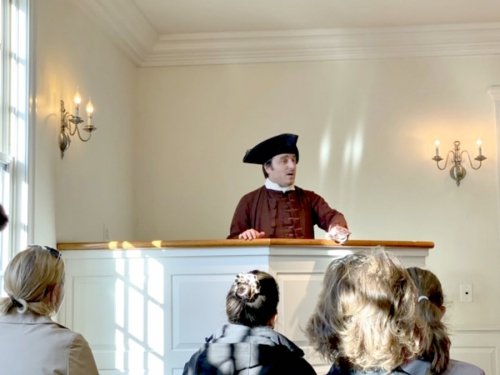 You'll get to throw in some tea
We all know that the tea was thrown into the water and just in case you ever wanted to do that yourself, you'll get to at the Tea Party Ships! This was my husband's second most enjoyable experience at the Tea Party—getting to actually throw boxes into the water. During the re-enactment, your guide tells you what life was really like on the ship.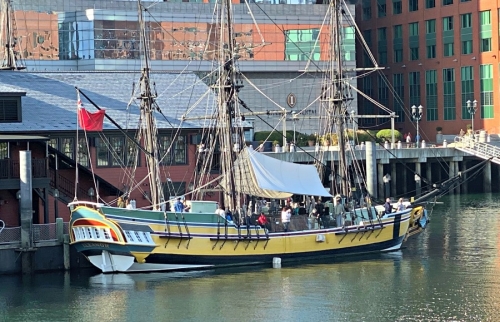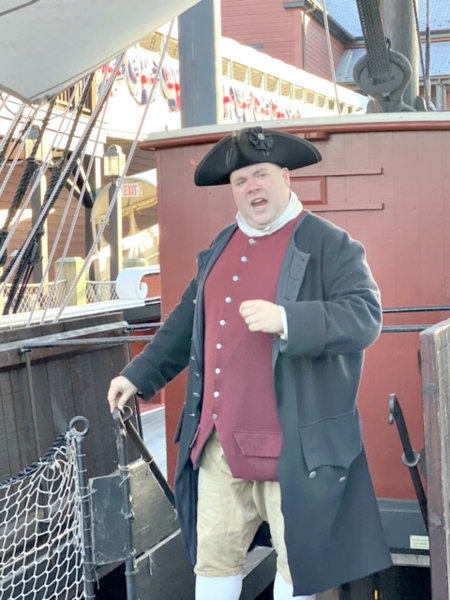 However brief, you still get to feel what it must have been like for the original colonists. It was an act of real defiance.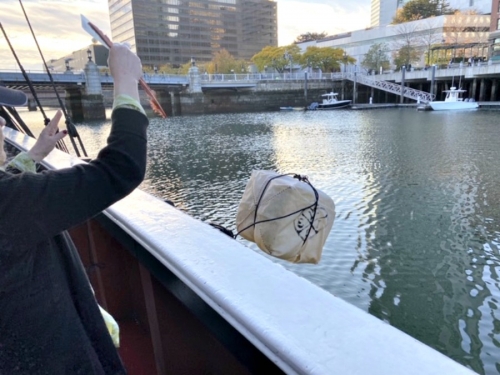 What my husband enjoyed the most, though, was actually going below the main deck to the crew's quarters and seeing the cramped and squalid conditions they had to endure for many days on end. There was hardly room for two people down there, let alone a whole crew. In those close quarters, I'm sure many fights broke out and tempers flared.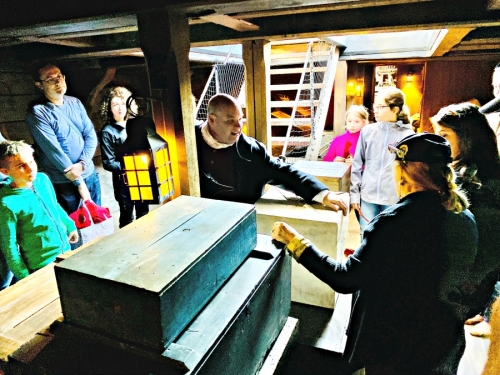 Grab a seat and watch an amazing award-winning documentary
There's a lot of walking and exploring that you'll be doing at the museum so when the time comes to watch the award-winning documentary in the Minuteman Theater, "Let It Begin Here", you'll want to do so! (Plus, it's a really, really great film!)
Sample the 5 teas that were tossed overboard over 240 years ago
What would a visit to the Boston Tea Party museum be without actually stopping and having an actual tea party while you're there? Arrive thirsty because you'll have the chance to taste the same 5 types of tea that were tossed in the water over 240 years ago.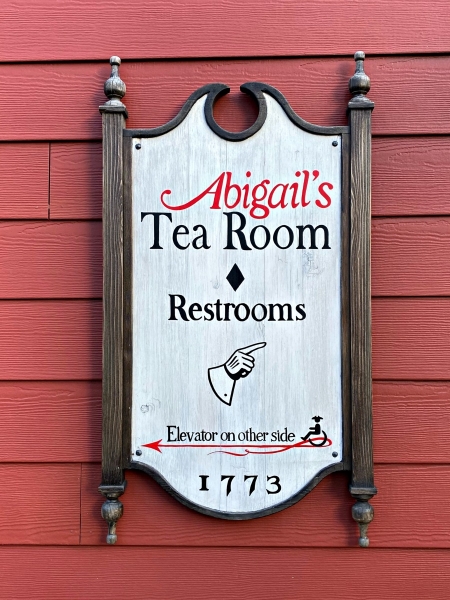 There are also fun food items to eat and enjoy as well and the dining area offers some pretty incredible views, too.
You don't have to be on tour to enjoy an afternoon tea or visit Abigail's Tea Room.
The museum can accompany groups of people or individuals as well
The museum is set up to be a place of history and knowledge for anyone and everyone to be able to attend. They do offer group tours, which would be great for a large family reunion outing, field trips, or even as a great way for home schoolers in the area to plan an outing together and combine it with a large piece of history.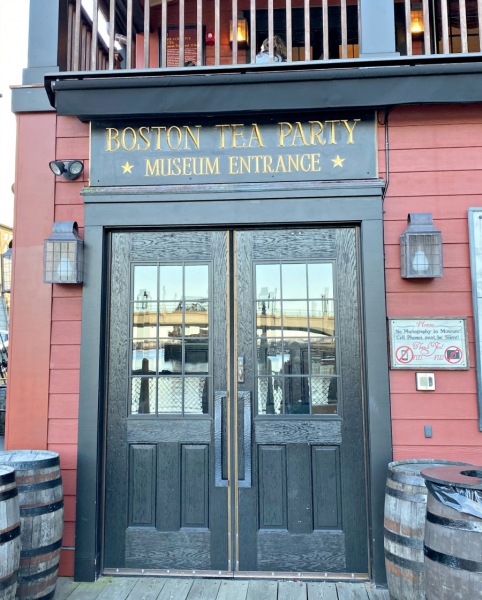 The hours for the museum are from 10 AM – 4 PM (November – March) daily but always make certain to call ahead and verify that they're open during the hours and not closed off for private tours and events. During their peak times of the year, (April – October), the museum is open from 10 AM – 5 PM. You can check the website BOSTON TEA PARTY SHIPS AND MUSEUM for not only current hours, but for a wealth of information before making your visit. As always, if making special plans for this, call ahead.
If you book your tickets online, you can save a tad bit of money as well. This would make adult tickets cost $28. 45 each and children's tickets (ages 5-12) are $20.85. Children under the age of 5 are free. (Call ahead and see if there are group rate discounts available.)
Tour times will be posted and can fill up so if you are short on time, make sure you have your tickets ahead of time. Make certain to allow yourself at least an hour of time to get through and see everything that the museum has to offer.
Make certain to allow yourself at least an hour of time to get through and see everything that the museum has to offer.
Many maps and signs can be seen on deck outlining the journey.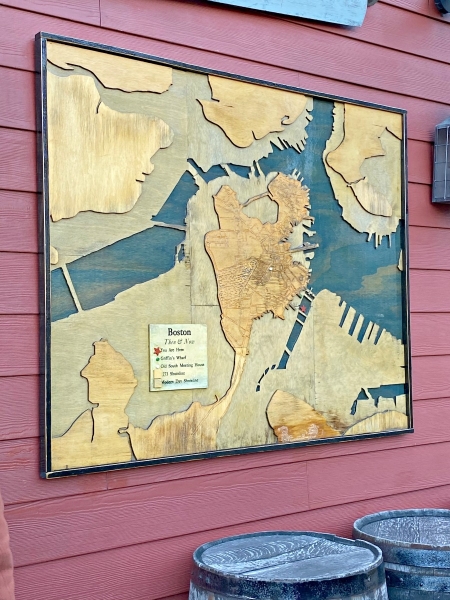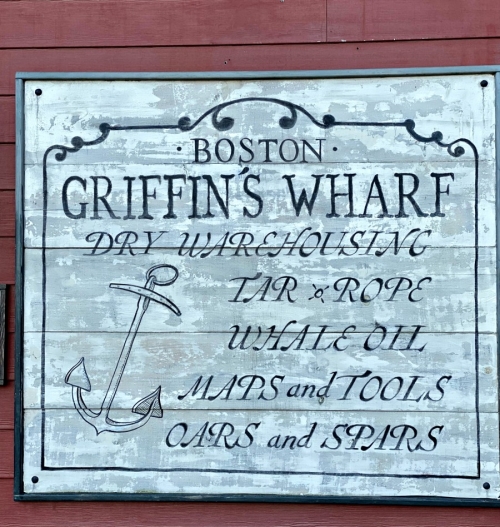 Maybe this was a sample of the first GPS.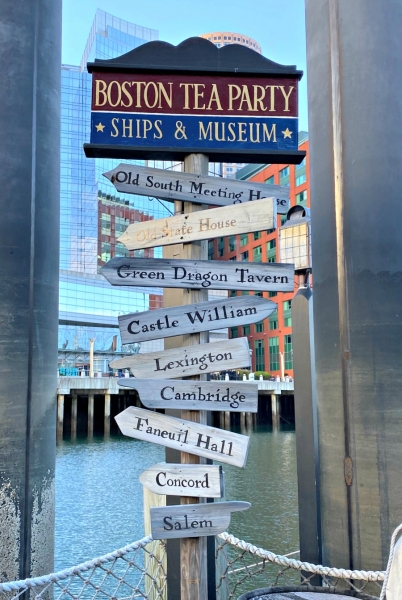 When traveling, there's always those you say "been there, done that", but we were pressed for time and didn't get to spend as much time as we would have liked. It's definitely one of those places we want to visit again – along with so much in Boston. Our day spent in Boston was one day as part of a cruise so time was limited and we couldn't miss the boat (ship).
What about other things in Boston? During our Fall New England and Canadian cruise, our day in Boston was the best weather wise. A bright blue sky and probably 50 – 60 degrees. A perfect picture taking day and walking through some of the many parks.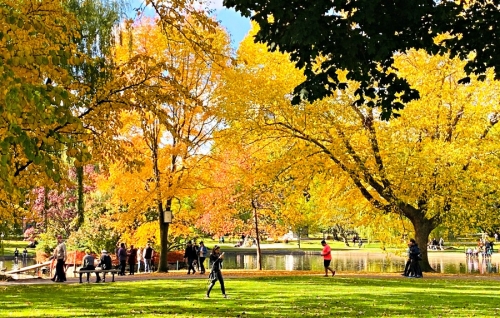 When I think about our short time in Boston, I always describe it as the most perfect fall day. I can't wait to return.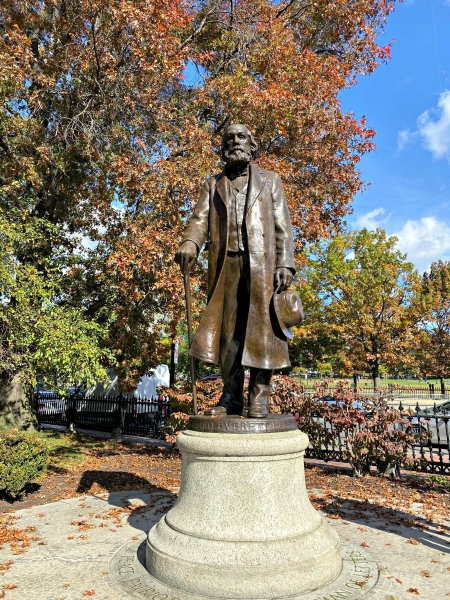 If you haven't visited, do you want to make plans for Touring The Boston Tea Party Ships and Museum?
A few more historic sites from our travels
Gettysburg National Park and Cemetery
George H. W. Bush Presidential Library
Charlottesville, Virginia including Monticello
I've included affiliate links to Amazon for you to find some products easier. I may receive a small commission, but the price is the same for you. It just helps my blog out.
Happy Travels,
Rosemary