Residence Inn Fort Lauderdale Stay
Residence Inn Fort Lauderdale Airport & Cruise Port played a major role in our recent Southern Florida road trip and cruise out of Port Everglades. We decided to enjoy some time in the Fort Lauderdale area and then cruise The Caribbean. As always, we thoroughly enjoyed our time in the area, but what really made our stay in Southern Florida great was this Marriott location in Fort Lauderdale.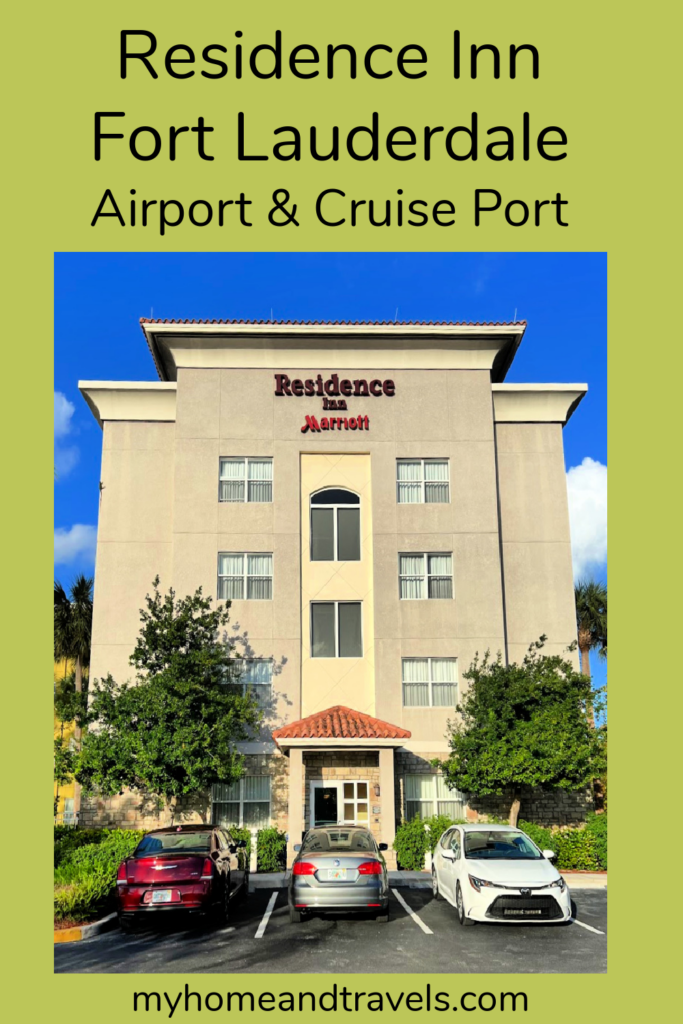 Residence Inn Fort Lauderdale Airport & Cruise Port
A Marriott Hotel, Residence Inn Fort Lauderdale makes any stay in Southern Florida better. This beautiful hotel is equal parts posh and comfort and is situated perfectly for easy access to everything the area has to offer. Thus far, it's been our favorite getaway hub for any trip to the area. It's easy to hop back over to the hotel if we forgot anything, and it makes the perfect comfortable home-away-from-home after a day of exploring and enjoying the area.
Perfect Location for Cruisers
This is a great location whether you are driving yourself, coming in from the airport, and needing shuttle service.
For cruising out of Port Everglades, leave your car at the hotel for only $5 a night – cheapest rate I've ever seen at any hotel. Then you can catch a shuttle to and from your cruise for only $15 per person.
If you are driving to the port, our Saturday morning drive was less than 10 minutes. You might allow a few more minutes during the week, but it's very convenient.
The lobby gives you lots of seating area while maybe waiting on your shuttle, or just having a conversation.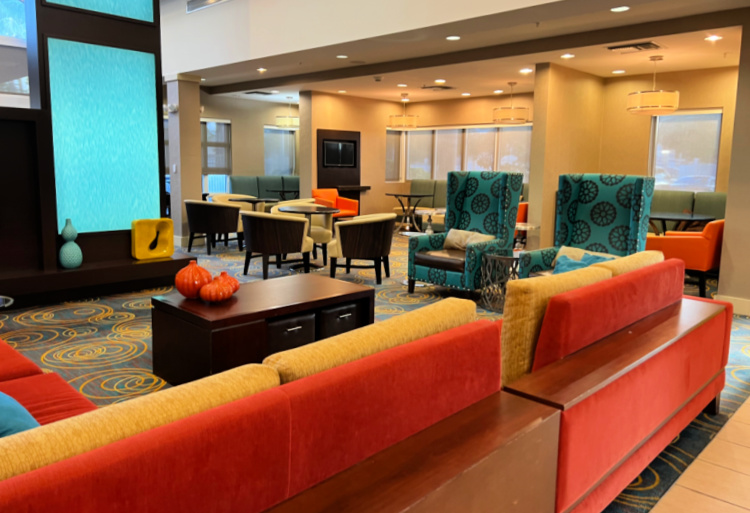 Accommodations
This family-friendly hotel features a studio, 1 bedroom, and 2 bedroom suites, all of which are beautifully decorated with a modern look that is sleek yet comfortable and all the amenities you could ask for. Neutral colors on the floor and walls are accented with pops of brighter colors like reds, blues, and yellows found in chairs and throw pillows to create a relaxing but visually interesting vibe. And every room offers great amenities that all modern travelers needs. In every studio and suite you'll find:
Full kitchens
Free WiFi
Flat Screen TV with Cable – Swivels for better viewing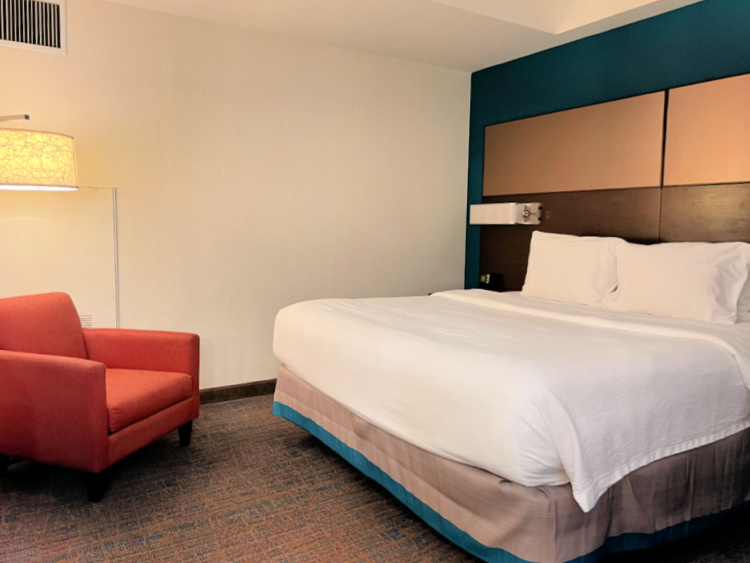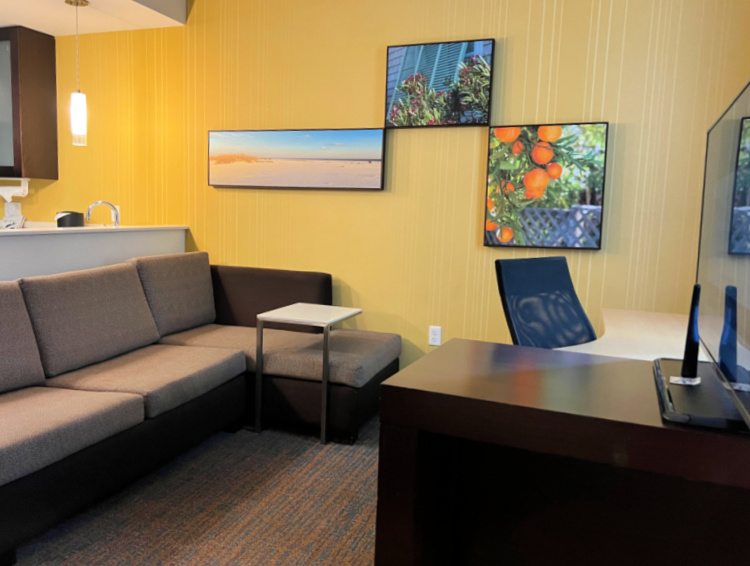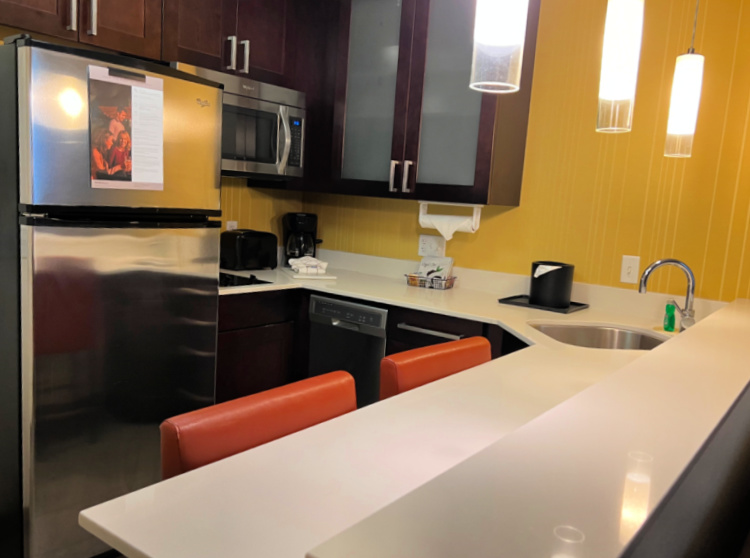 Amenities
In addition to room amenities, every guest also has access to:
Free coffee and tea
Meeting space
Outdoor pool
Free hot breakfast
Fitness center
Dry cleaning service
On-Site Laundry
Pet-friendly with extra fee
$5 parking per night for cruise parking
$15 per person shuttle to and from the cruise port
Full Breakfast
Start the day off with a full, hot breakfast. The offerings can vary day by day, but take note, Thursday is Bacon Day! From scrambled eggs, waffles, fruit, yogurt, biscuits, gravy, and oatmeal, there's something for everyone.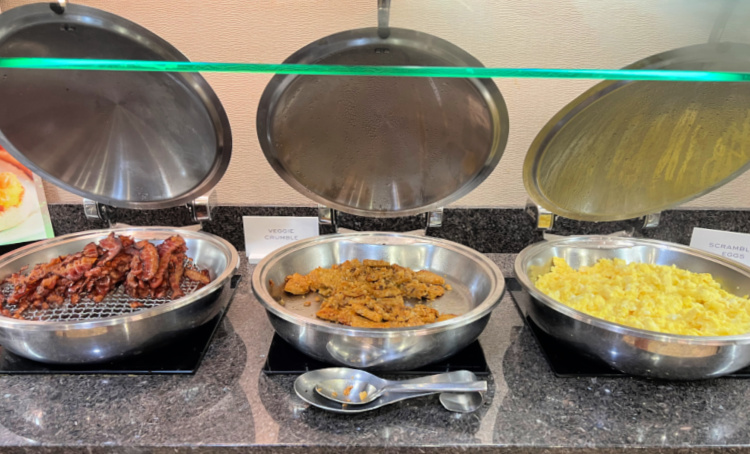 Your Stay
The beautiful rooms combined with full-service amenities left us feeling like we really were at home even though we were on a trip. We had everything we needed right at our fingertips, which took all the worry about of our stay. All we had to do was focus on exploring and relaxing.
Marriott has stepped up their game when renovations occur. I love a walk-in shower for a bit of luxury feeling.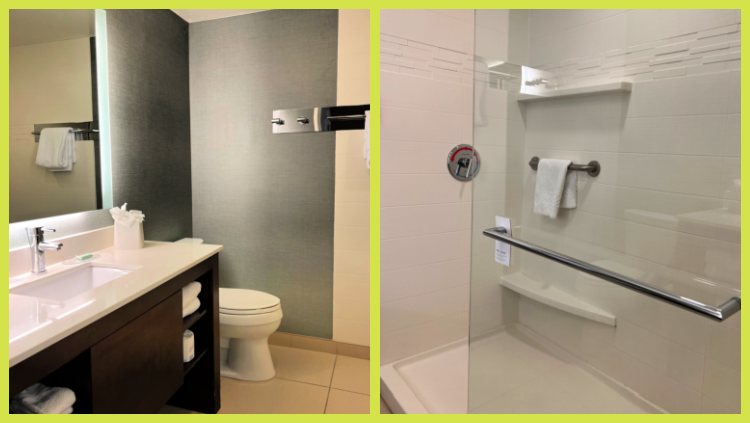 Having a full kitchen helps on the budget too. Breakfast is included, so many times we enjoy a late lunch then have leftovers for dinner. Great excuse for going out later for dessert and coffee.
Great Outdoor Area
You have to take advantage of outdoor areas when you are in Southern Florida. We had great weather, sunny and upper 80's during our stay.
There's even a grill so if you want to do a little cooking while there.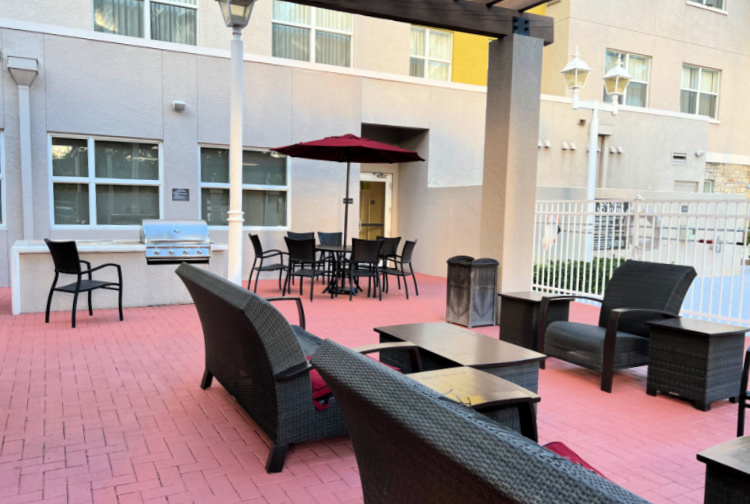 Enjoy breakfast by the pool.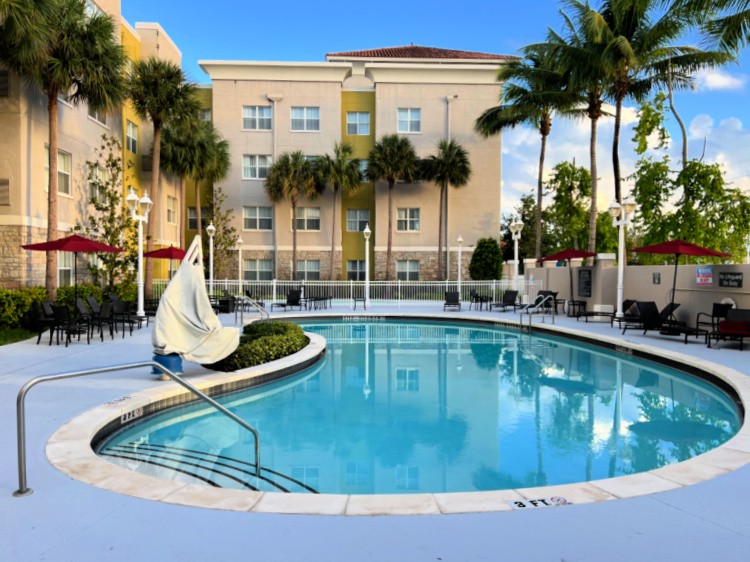 Location
Residence Inn Fort Lauderdale is a winner when it comes to location, as well. It's centrally located just 5 miles away from the beach and within easy walking or driving distance to anything you'd want to see in the area. Explore beautiful Fort Lauderdale by foot, or set off to see the areas around the city. Either way, you'll be in close proximity to the hotel no matter where you are. We love that because it makes travel so much easier. We usually stay 2 to 3 nights, and we'd rather spend that time enjoying everything our destination has to offer than driving because the hotel is so far away. That's never a problem here.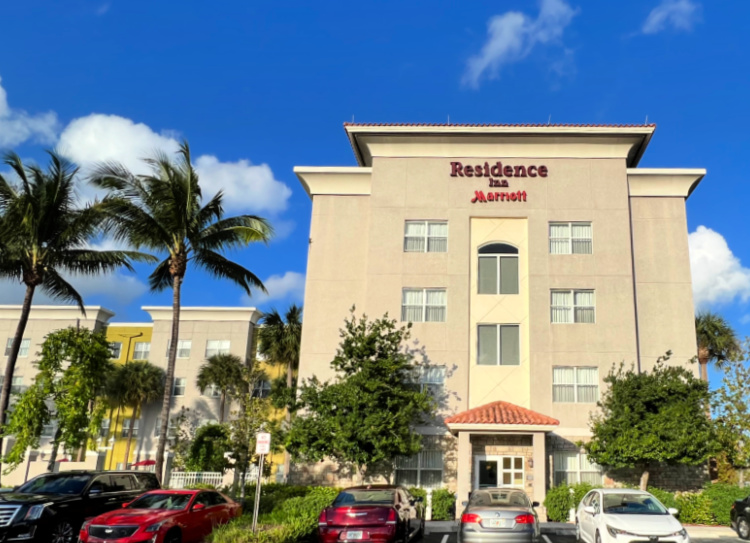 I should also mention that its location makes this beautiful hotel perfect for cruising, access to the airport, and enjoying Dania Beach and Hollywood Beach in addition to the Fort Lauderdale area.
Residence Inn Fort Lauderdale – Perfect for Any Trip
Whether you're road-tripping, cruising, or simply planning a stay to take in everything Fort Lauderdale has to offer, Residence Inn Fort Lauderdale is the place to stay. We're long-time fans of Marriott hotels, and this beautiful spot really highlights everything that makes Marriott so wonderful. With beautiful decor, all the amenities modern travelers need, and an excellent location, there's no better place to stay in South Florida than Residence Inn Fort Lauderdale.
A few other Marriott Hotels we have loved:
I've included affiliate links to Amazon for you to find some products easier. I may receive a small commission, but the price is the same for you. It just helps my blog out.
Happy Travels,
Rosemary