Must See Christmas Displays At Walt Disney World Hotels
With only a one day ticket to Walt Disney World, most of the day would be spent at Epcot, but there was much more I wanted to see.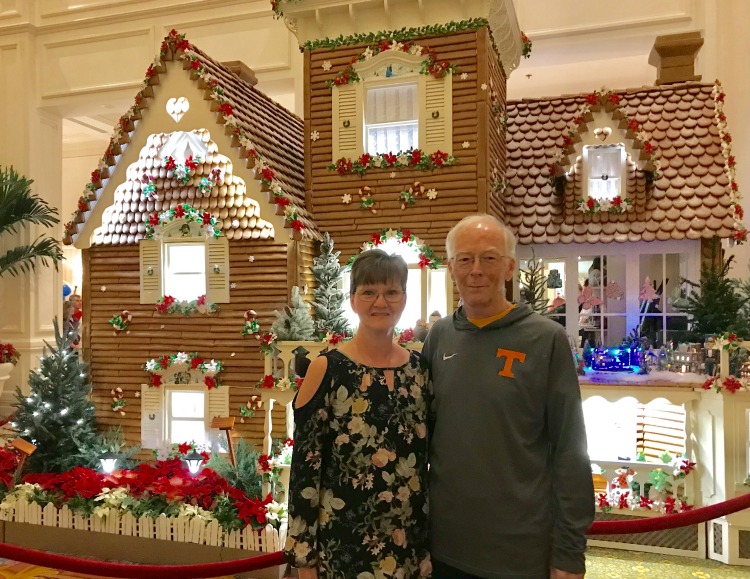 A little pre-planning helps. Walt Disney World is such a huge place and so many modes of transportation are available to get around.
Catching a shuttle at our hotel, we rode to the Magic Kingdom to begin our journey.
It was a short walk from MK through the Polynesian Hotel to ride the monorail.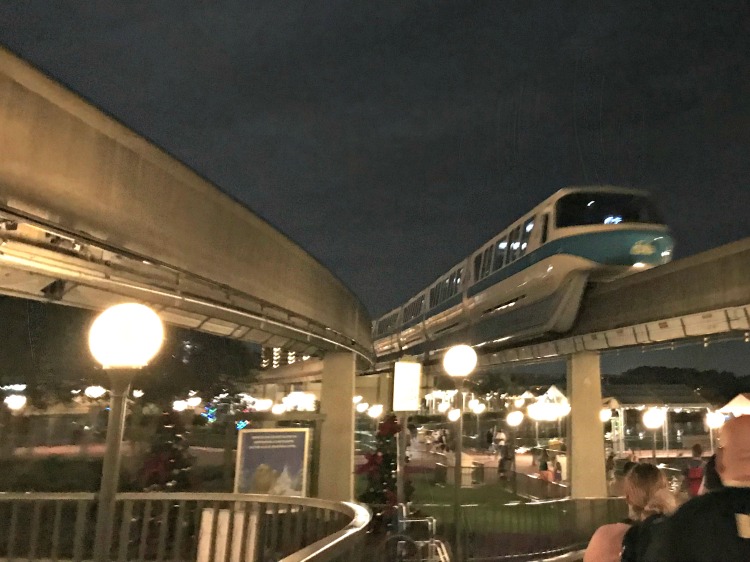 First stop was The Grand Floridian Hotel to view the giant Christmas tree standing tall in the 6 story lobby.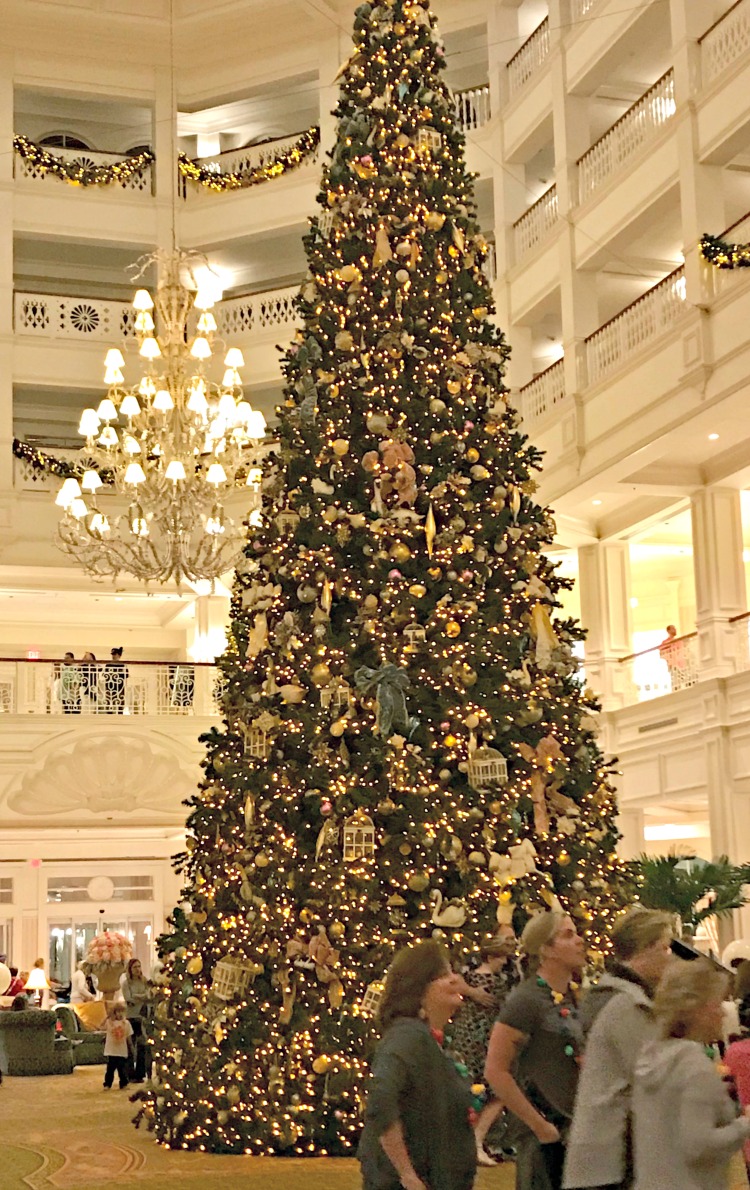 But what I really wanted to see was this Gingerbread House, which is now in it's 19th year. Spectacular and awesome doesn't begin to describe this life size work of art. I did see it a few years ago, but still amazed by it.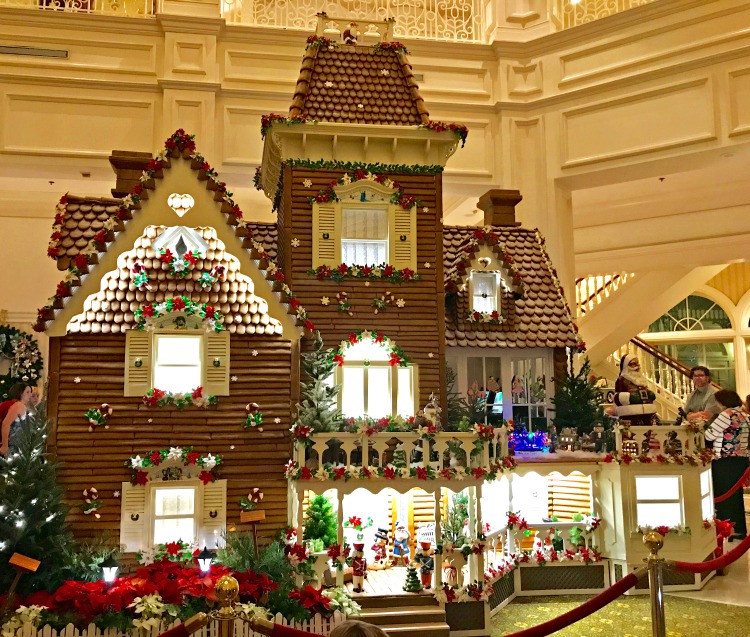 The sheer volume of ingredients is beyond what most of us bakers can even imagine. I wonder how many egg whites would equal to 140 pints?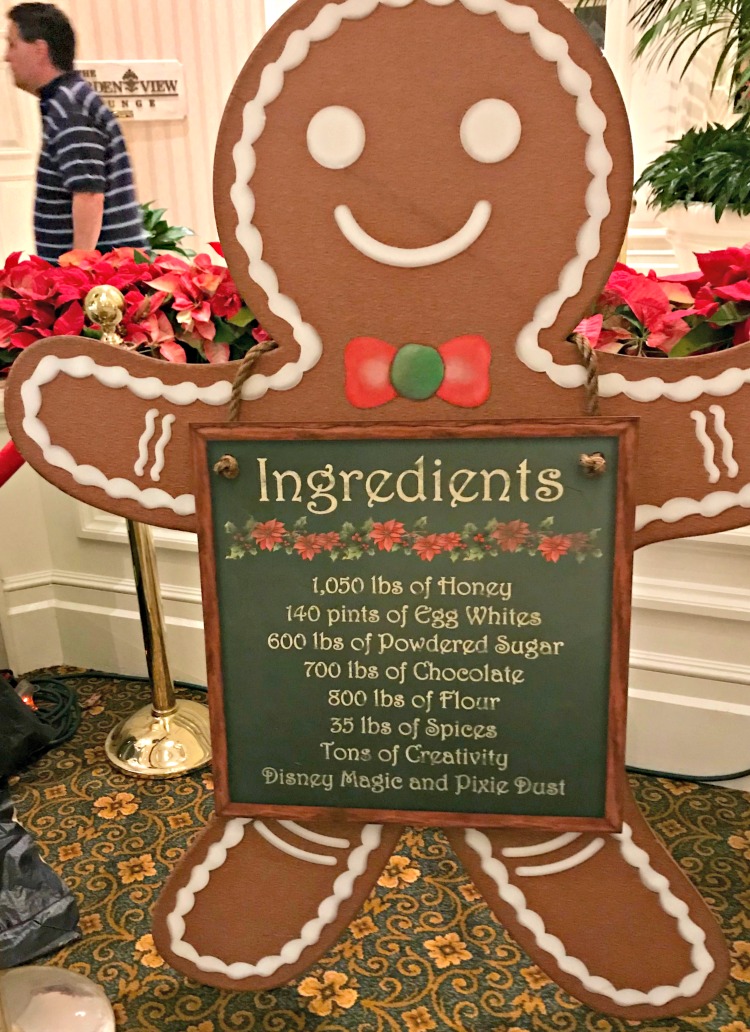 I would love to see behind the scenes of this. The planning, the baking, and assembly takes many people and hours to pull off wit approximately 400 hours of baking and 160 hours for assembly is needed to complete this masterpiece.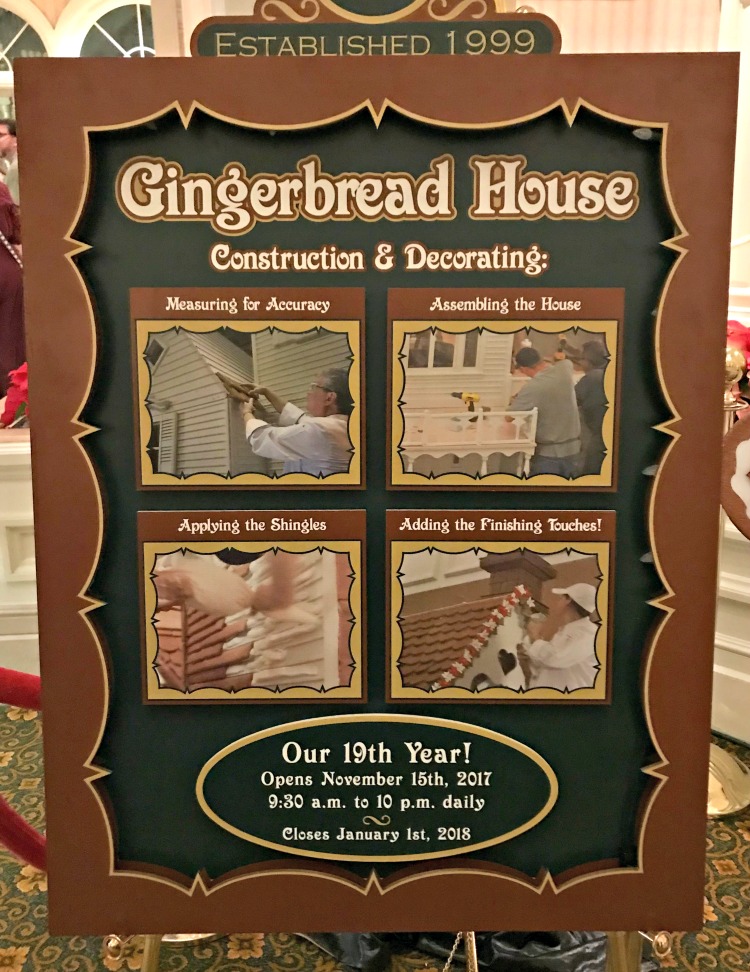 There are demos offered in gingerbread house decorating daily in front of this house but I missed it.
Here's several shots – hope you enjoy them.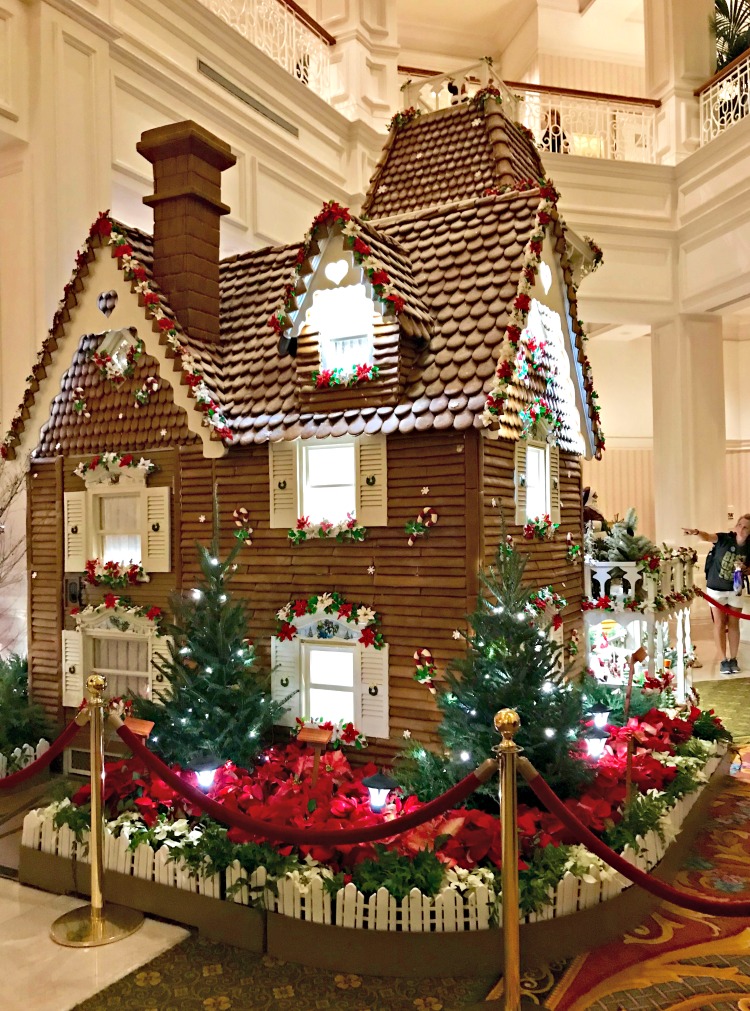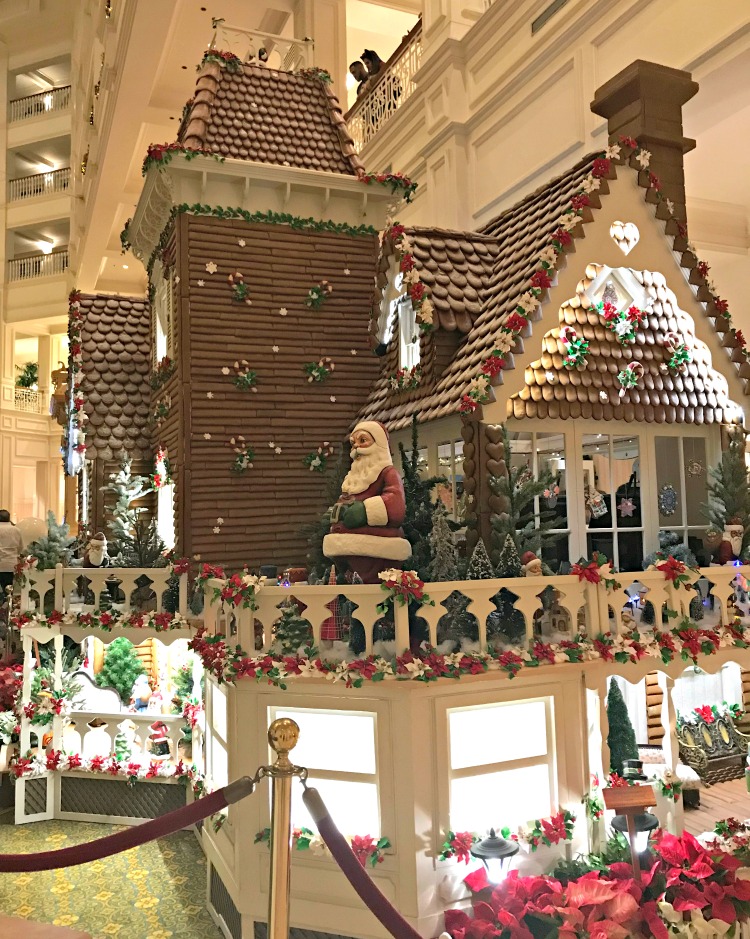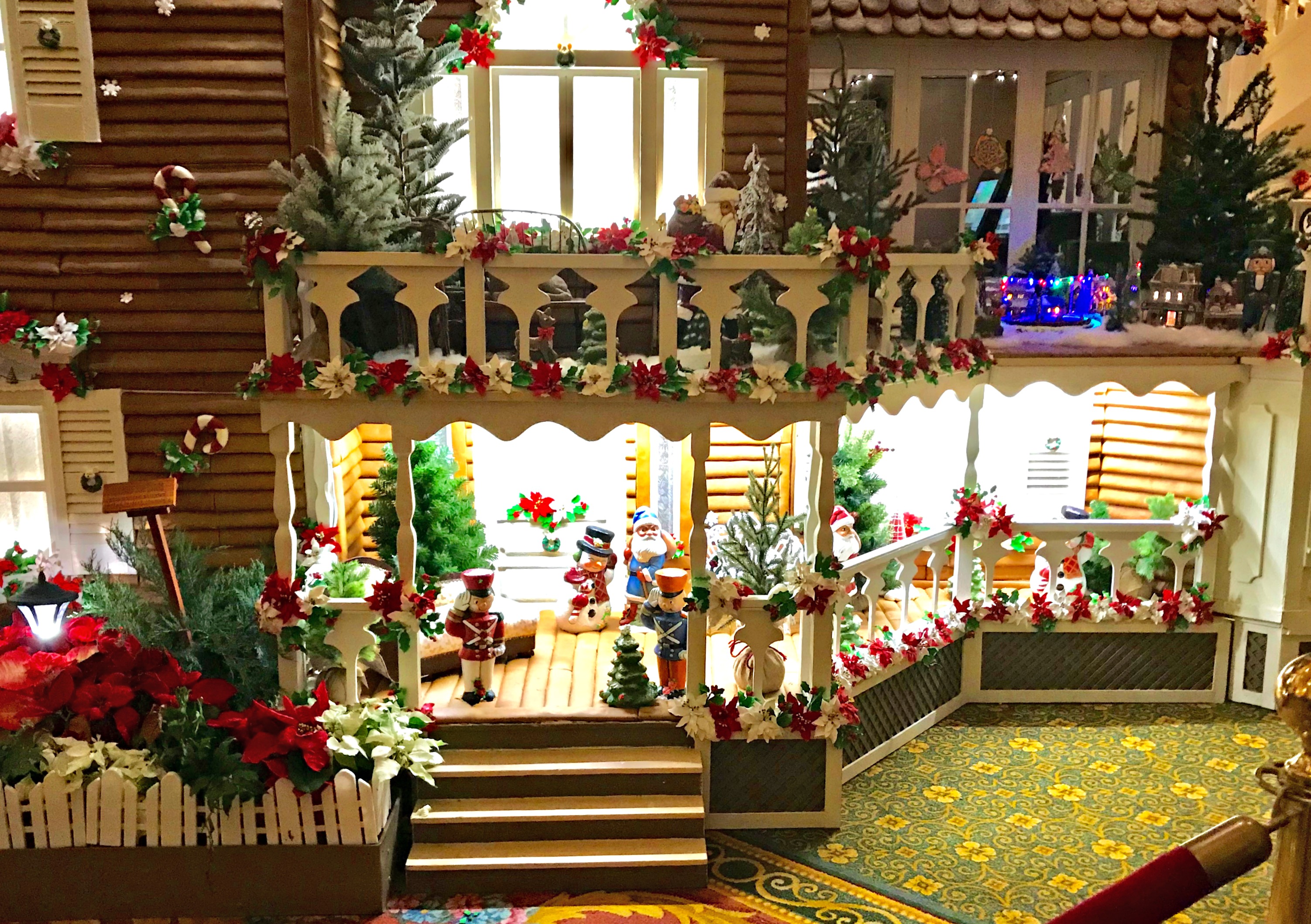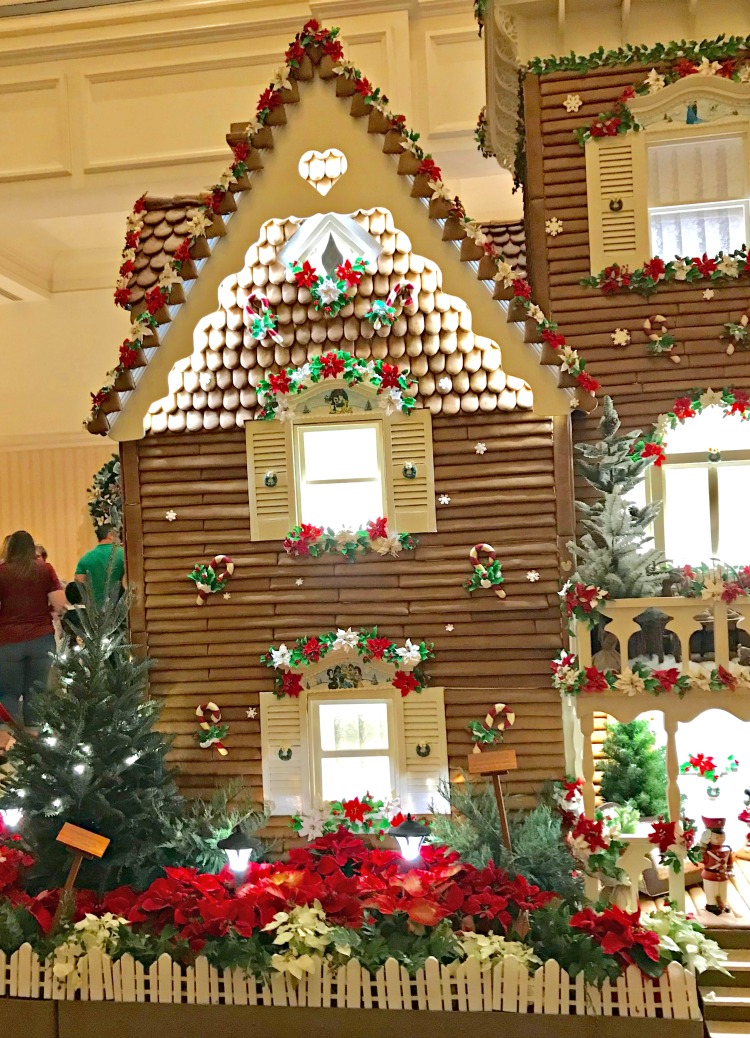 Just look at some of those details in every location of the house and landscape area.
There's a Bake Shop located inside the house where I'm told "the best gingerbread" can be bought. I'll take your word as I'm not a huge fan. I do have a suggestion for them though. As I like to collect ornaments from our travels, WDW should consider an ornament to sell commemorating the Gingerbread House.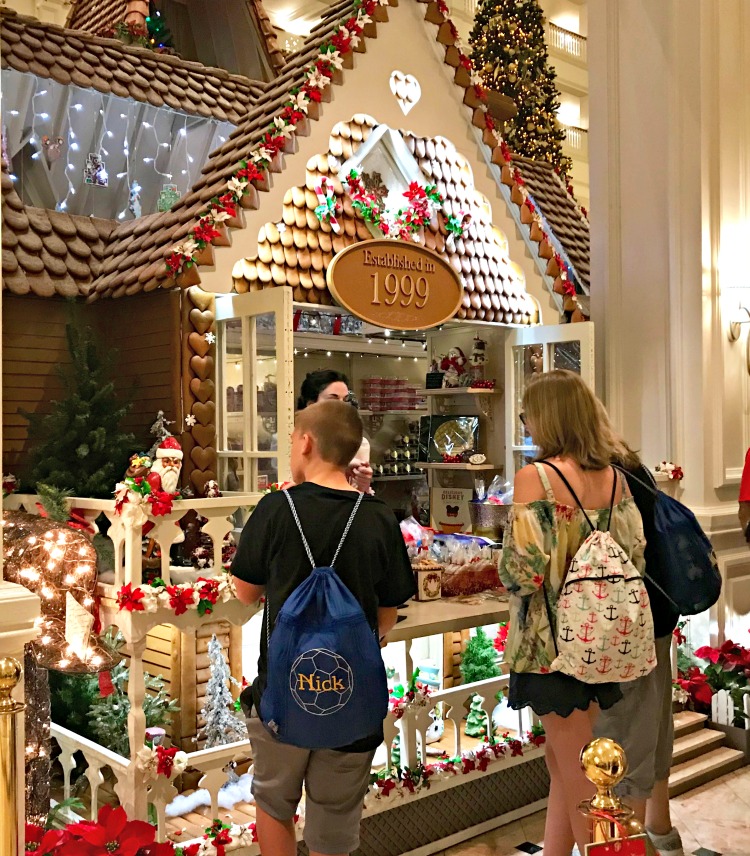 Live music added to the holiday mood from a talented pianist and his grand piano. He was even allowing young children to sing along.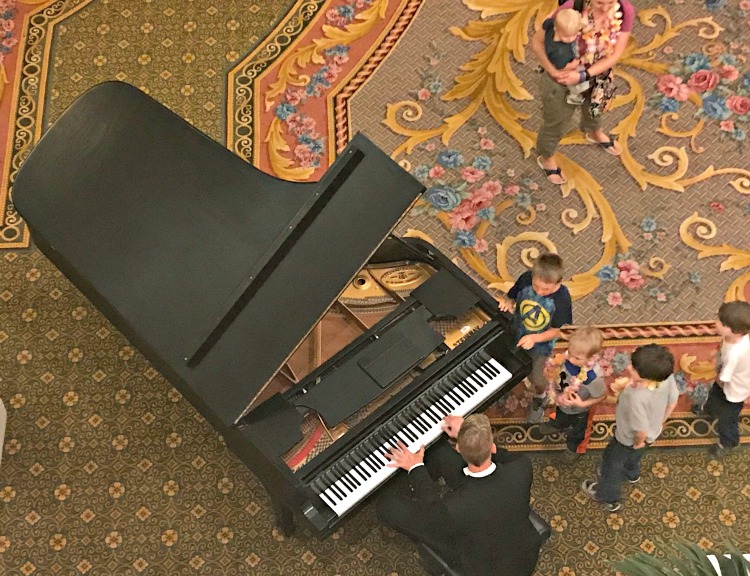 We grabbed a snack at the cafe while there and attempted a selfie with Cinderella's Castle in the background. It's not our worst selfie, but one of these days we will get a selfie right.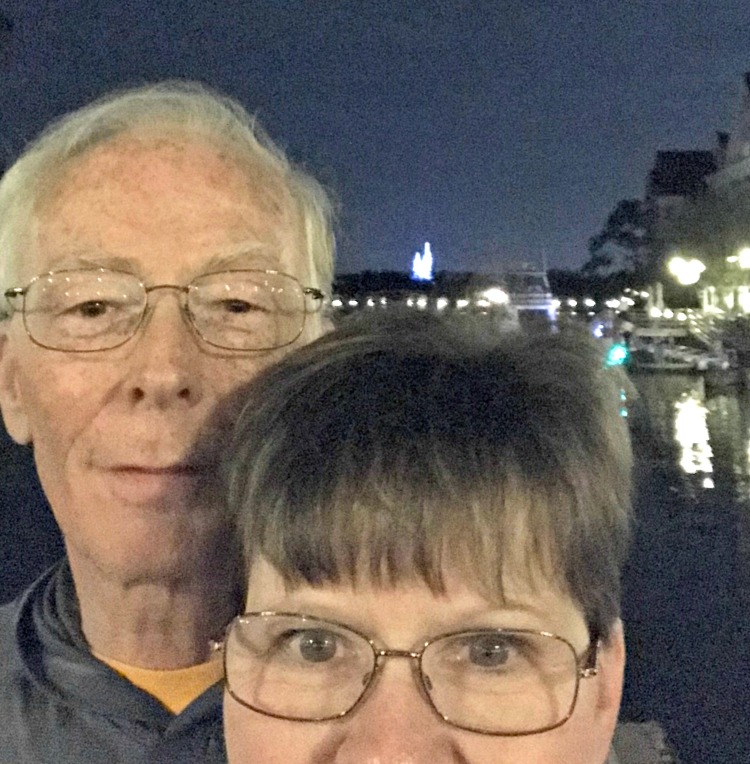 All of these pictures were done with my phone – my camera is still wonky sometimes, and carrying it around WDW isn't real handy.
From the monorail, sometimes a better shot can be taken such as this but you are moving quickly.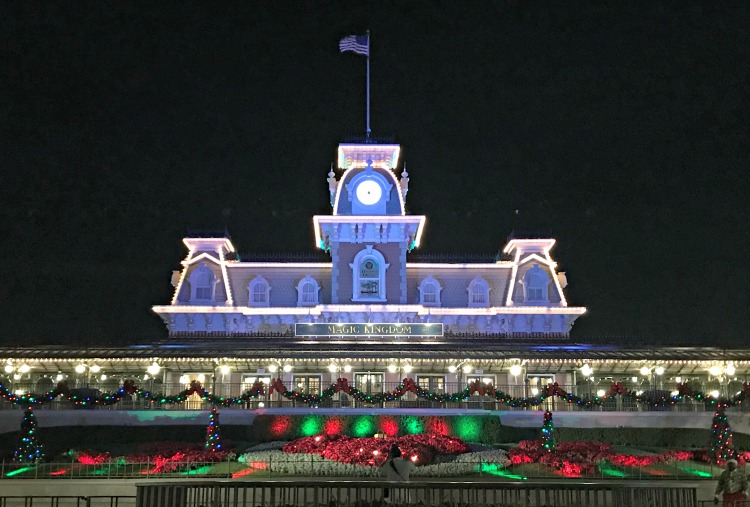 Now off to something I like a little more. Well, LOTS more. Chocolate.
After a shuttle ride to the Swan Hotel, I got to drool over this chocolate – All chocolate. This hotel is just beautiful, including this fountain.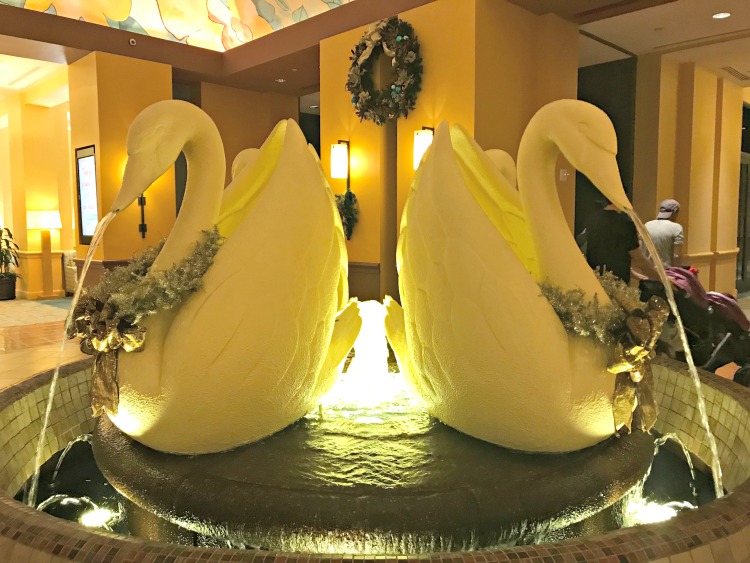 Someone had told me to check out the chocolate Santa, but they failed to mention the full display with about 2,000 pounds of chocolate, fondant, and cocoa butter.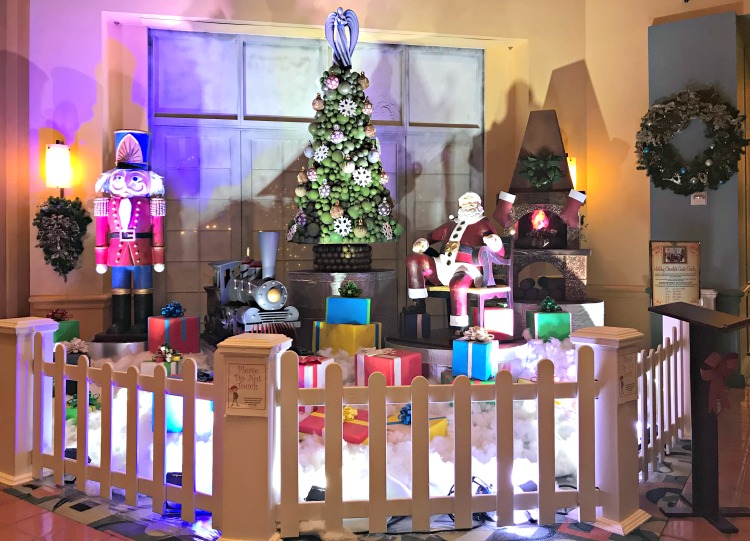 With 480 hours to construct, there's probably three times that amount of time in the molding of this chocolate. Can you imagine? And tempering chocolate isn't always easy.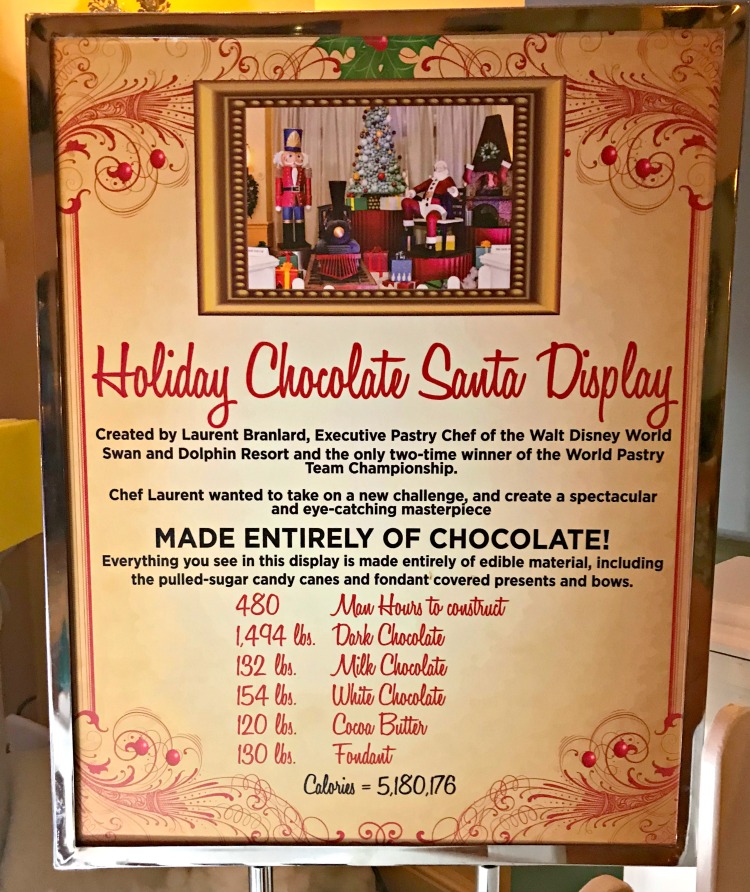 Of course most people wouldn't attempt to snack on this display, but just in case, don't. It's not edible.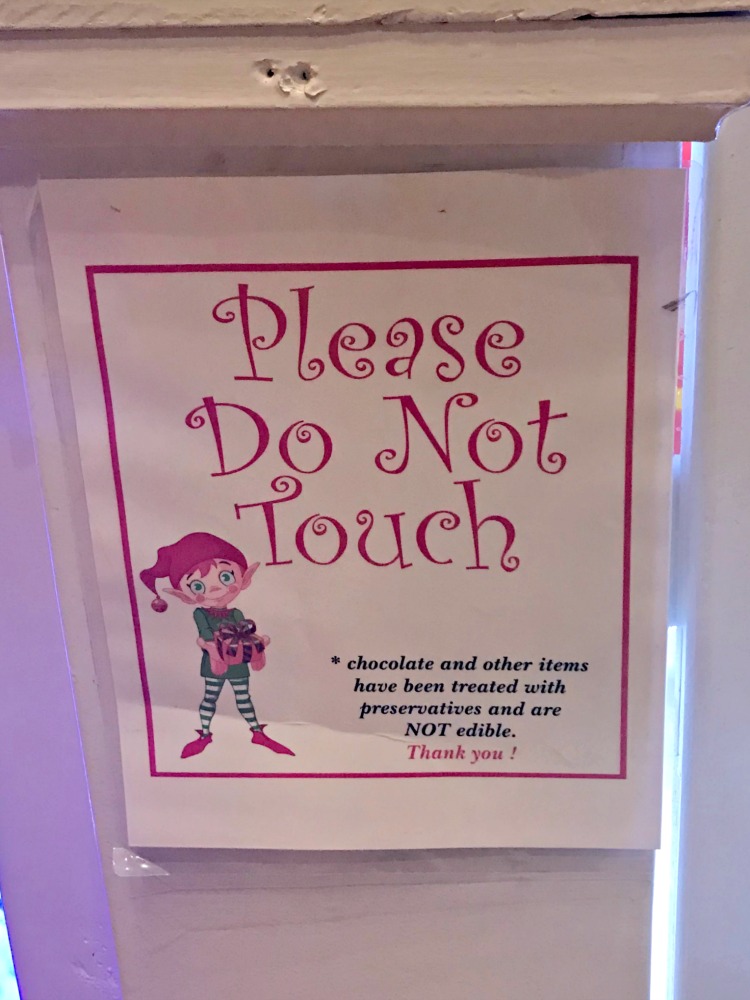 The lighting of this display was multi-colored so very hard to get great shots.
Again the details as only Disney World can do. The nutcracker is magnificent. The tree – glorious. Santa – well, he's Santa.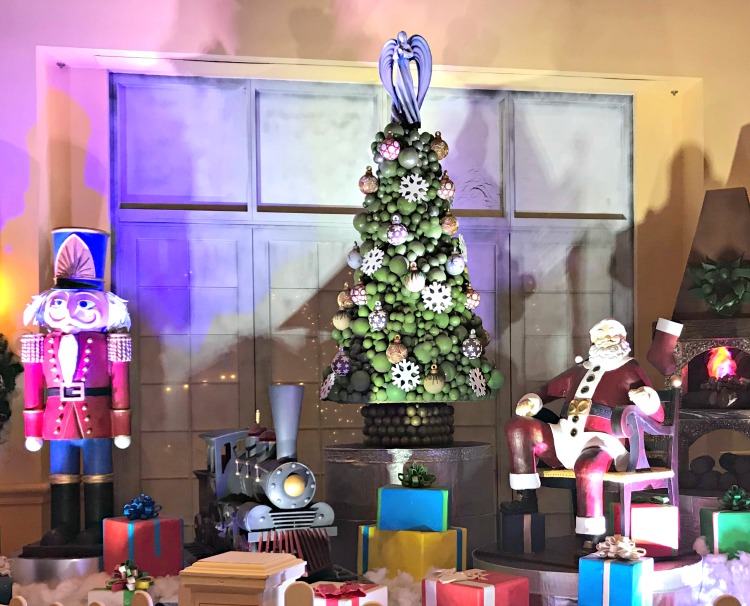 We didn't have time to make it to the Beach Resort to see the Carousel and I'm extremely disappointed we were told there wasn't anything to see at the Contemporary Hotel, when I now find out we missed a gingerbread Cinderella Castle.
You will see a few more post about Disney Springs, Wyndham Hotel, and Epcot soon.
Do I recommend going to Walt Disney World without kids? Yes. And especially at Christmas time.
I am no expert, but make plans. The monorail only goes to certain hotels so shuttles are also used a lot. We stayed near Disney Springs so buses were also available to and from there. Check the schedules.
I've included affiliate links to Amazon for you to find some products easier. I may receive a small commission, but the price is the same for you. It just helps my blog out.
Happy Travels,
Rosemary