Visiting Charlottesville – Our Four Favorite Spots
Visiting Charlottesville is something everyone should do at least once. We recently took a trip to this beautiful city in Virginia, and it was one of the best trips we've taken. Charlottesville is a city rich in culture, art, and history, and it's the perfect place to visit as a couple or a family. Our trip was an adult trip, so I'm focusing on the four spots that we enjoyed the most while visiting Charlottesville.
I love making Pinterest boards for travel – great way to plan.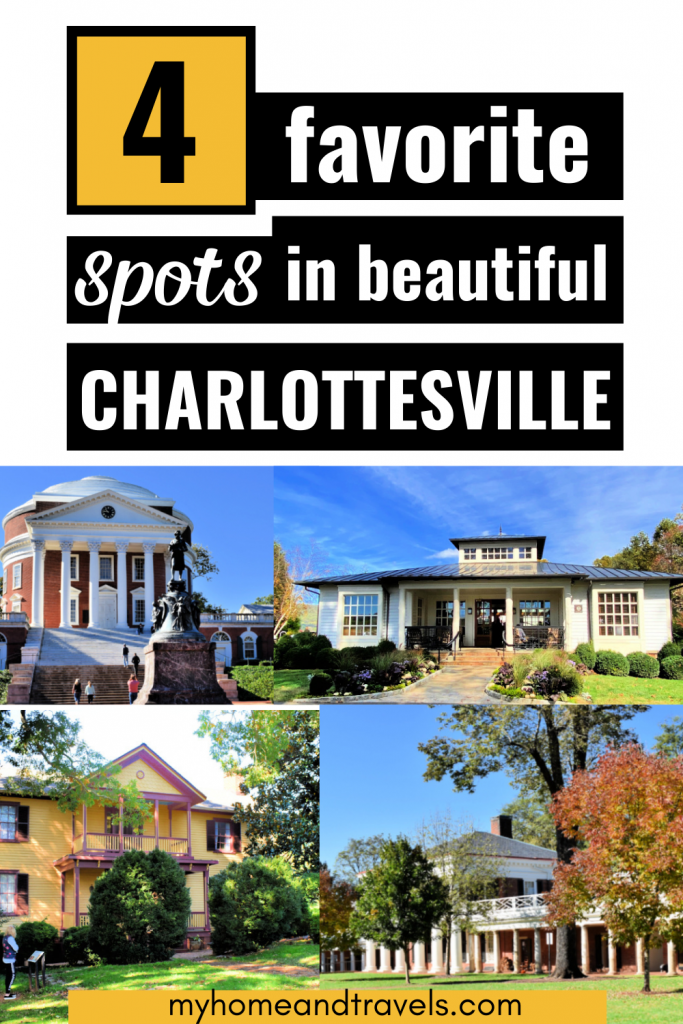 Must-See Spots While Visiting Charlottesville
Charlottesville is a unique city that can't be missed. It is steeped in history, but it also welcomes the modern era with open arms. Home to Thomas Jefferson's mountain top plantation, Monticello, our nation's fifth president, James Monroe, the University of Virginia, and so much more, Charlottesville has rich historical significance. It's also th gateway to Shenandoah National Park which is set along a section of the Blue Ridge Mountains, making it an amazing hub to explore the area's history, culture, art, and natural beauty.
Trump Winery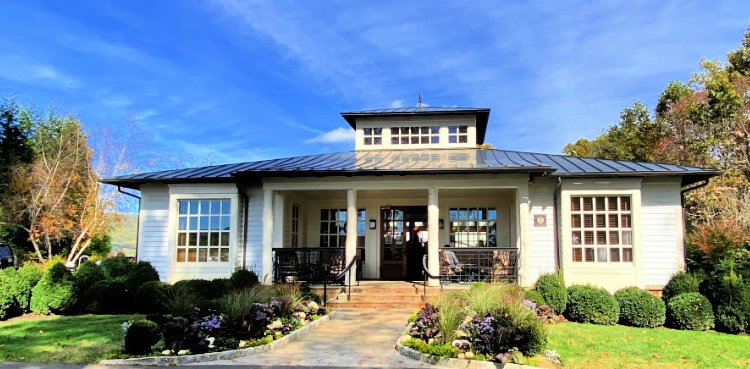 One of our stops was Trump Winery. This beautiful winery is set on Trump Vineyard Estates in the Piedmont region of Virginia, and it's set in both the Virginia and Monticello viticultural areas. One of 23 wineries on the Monticello Wine Trail, this vineyard and winery is the picture-perfect example of wineries in Virginia.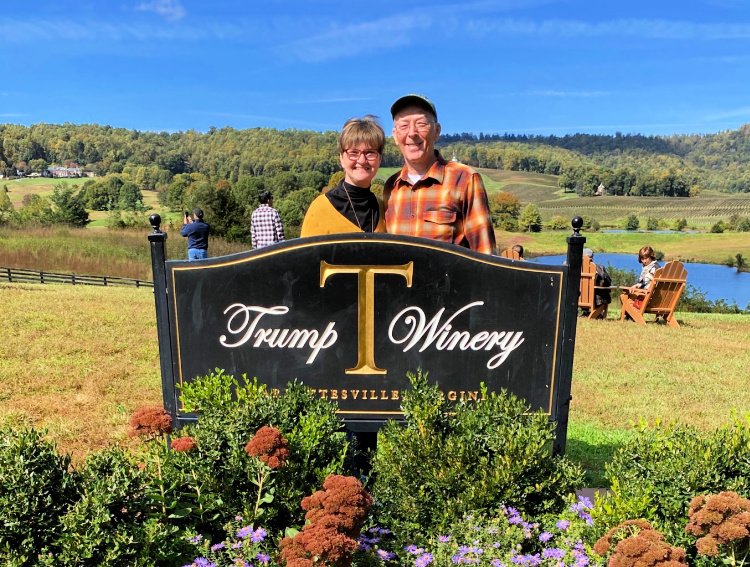 While there, we were in awe of the sweeping views we saw. Vast open spaces with forests in the distance, immaculate landscaping, and peaceful outdoor areas abound, washing away stress as soon as we entered the grounds. On our trip, the day was particularly nice, so we thoroughly enjoyed all the scenery.
From there, we made our way to the tent set up as the Wine Tasting Room, where we were taken in by the warm woods and friendly atmosphere.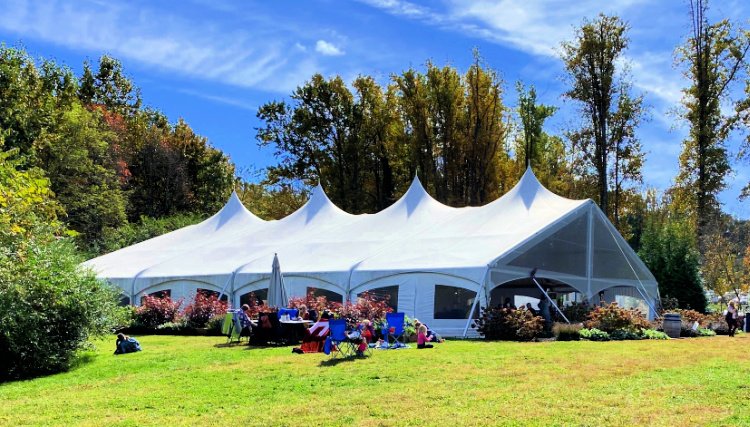 Several flights along with delicious food was offered.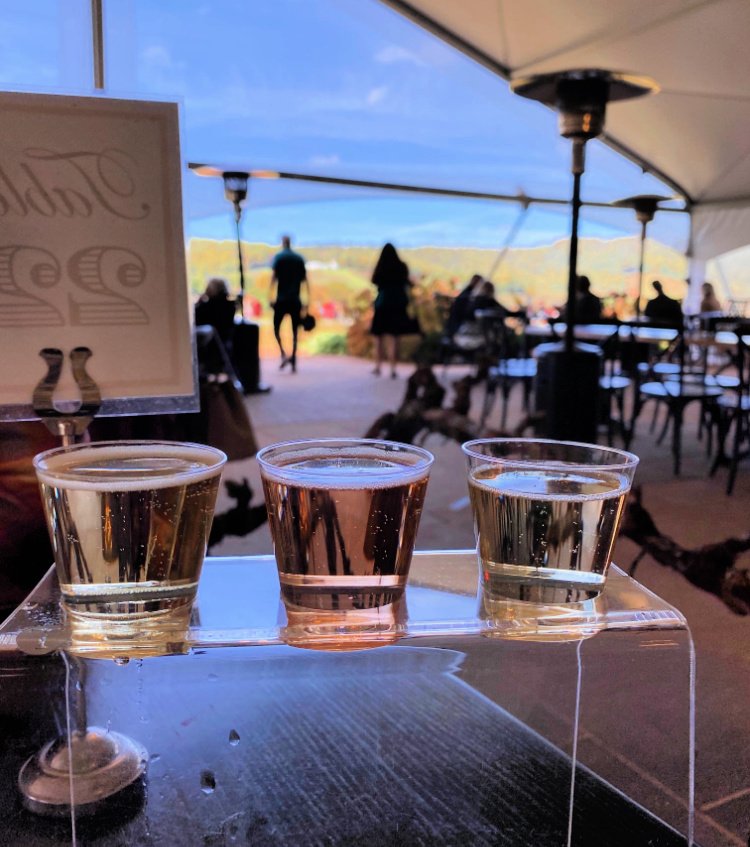 Shelves lined with Trump Winery's signature wines made for a lovely scene, and we were eager to enjoy our wine tasting.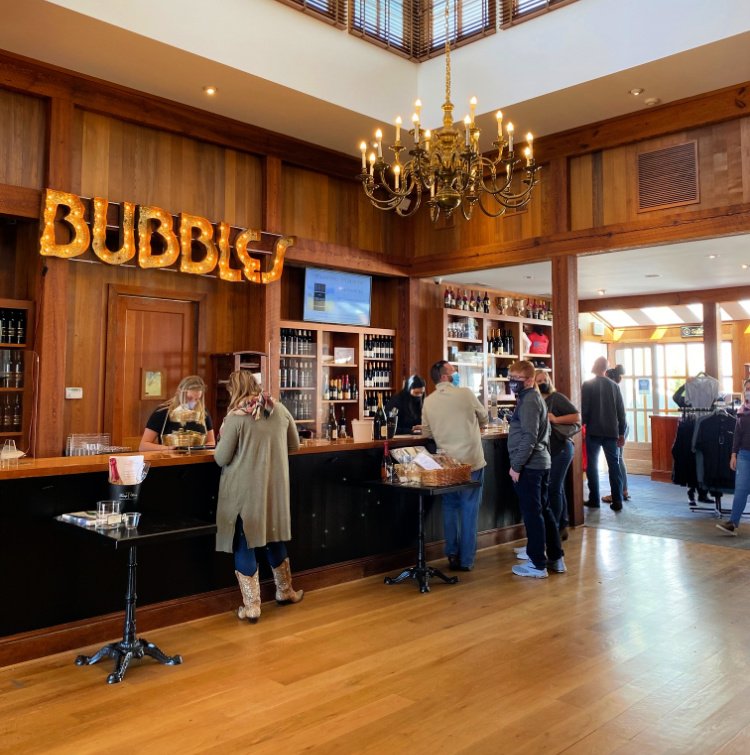 The wines were delicious, and coupled with the atmosphere, it made for a wonderful experience.
Monticello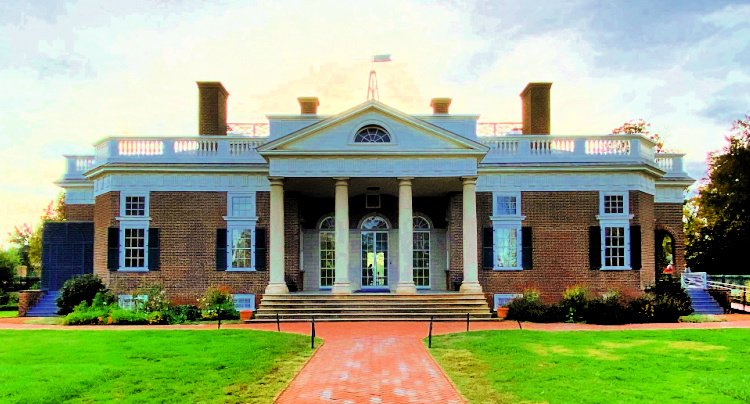 Our next stop was the historic home of Thomas Jefferson, Monticello. The site features the mansion, rebuilt slave quarters, gardens, and more.
These front doors are reproductions of the actual doors designed for Monticello.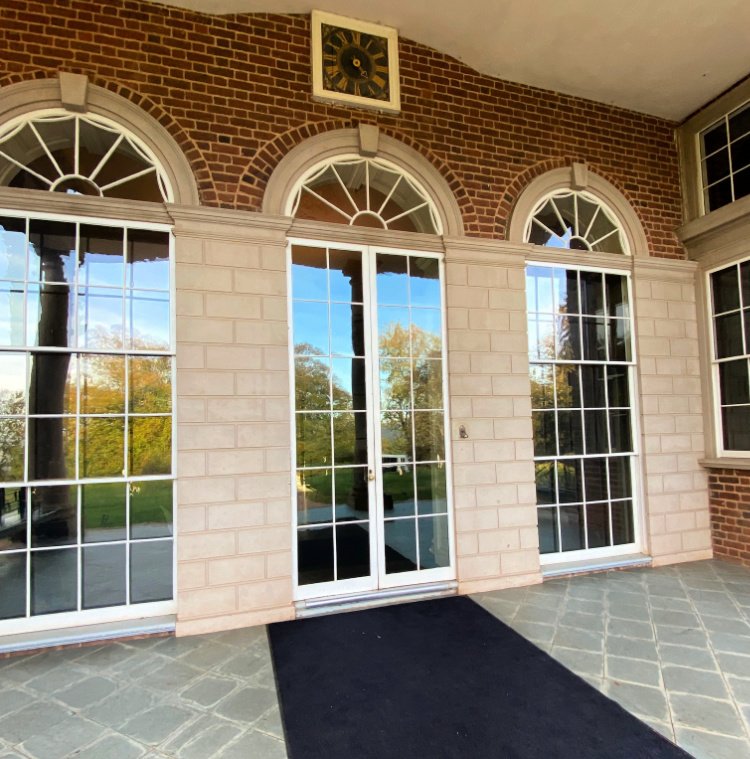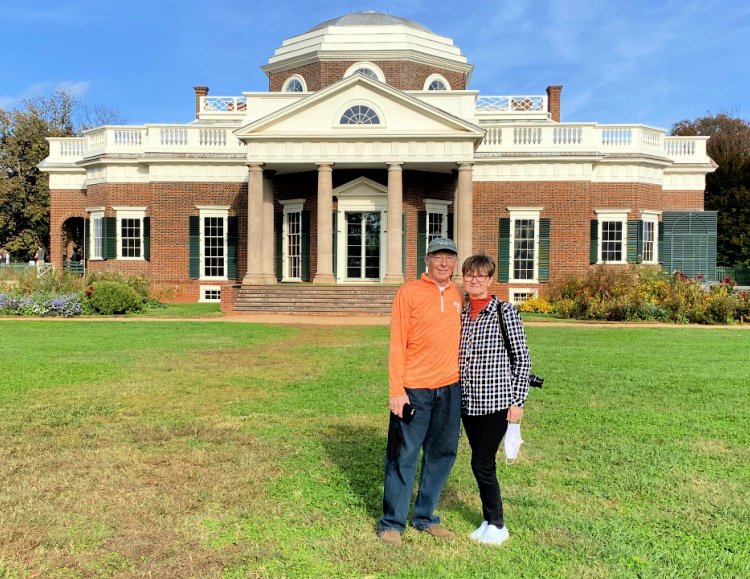 While there, we explored the grounds and the home, taking in both the sights and the history of the place. We also learned how Jefferson designed the estate and his history. We learned that he grew up visiting this mountain area, and eventually, thanks to his gardening acumen, he became known as a master gardener.
A small bedroom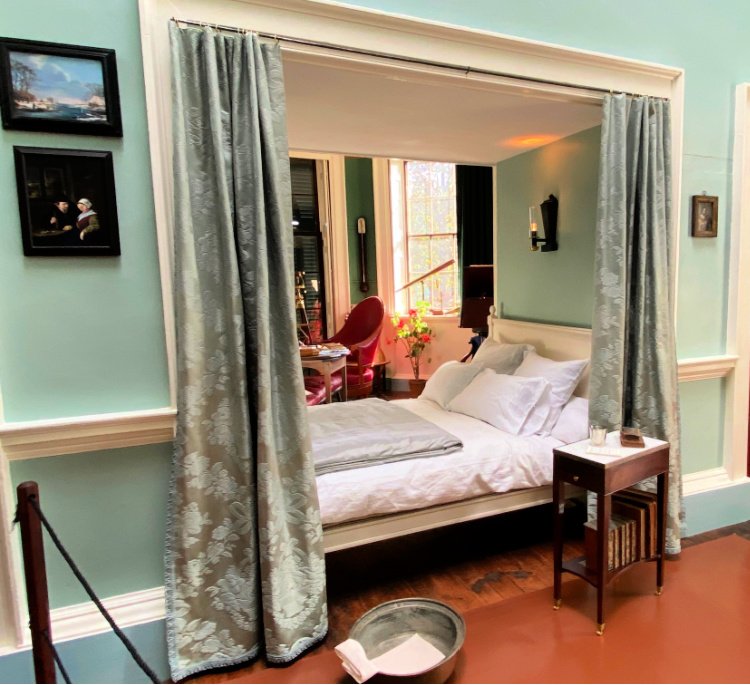 Beautiful, historical colors in the setting room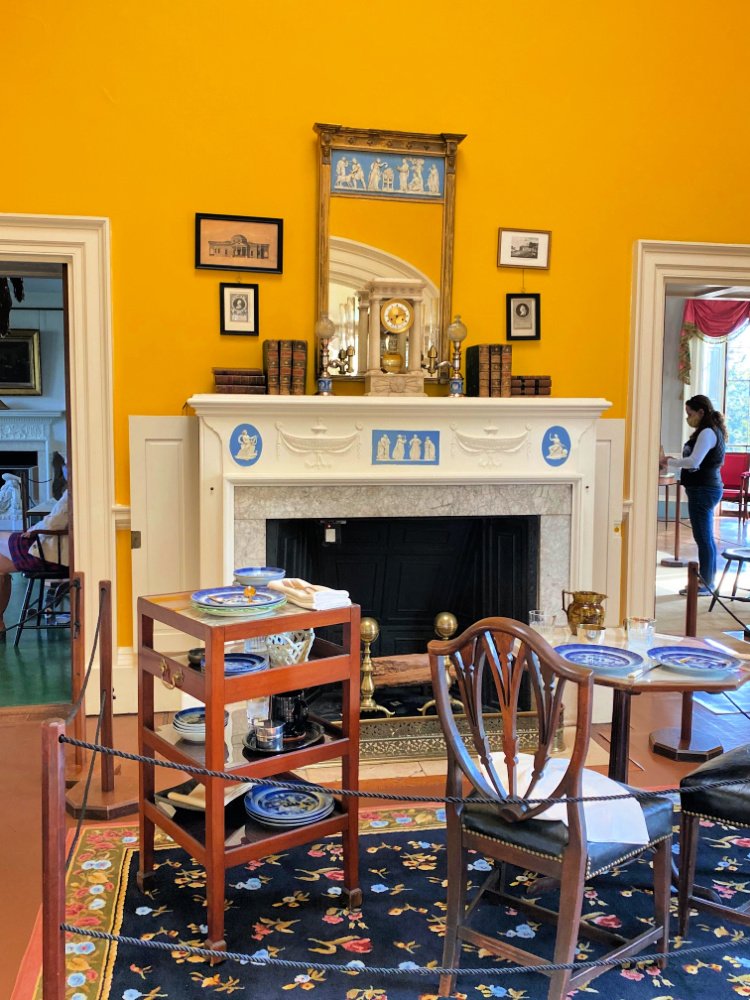 Children's toys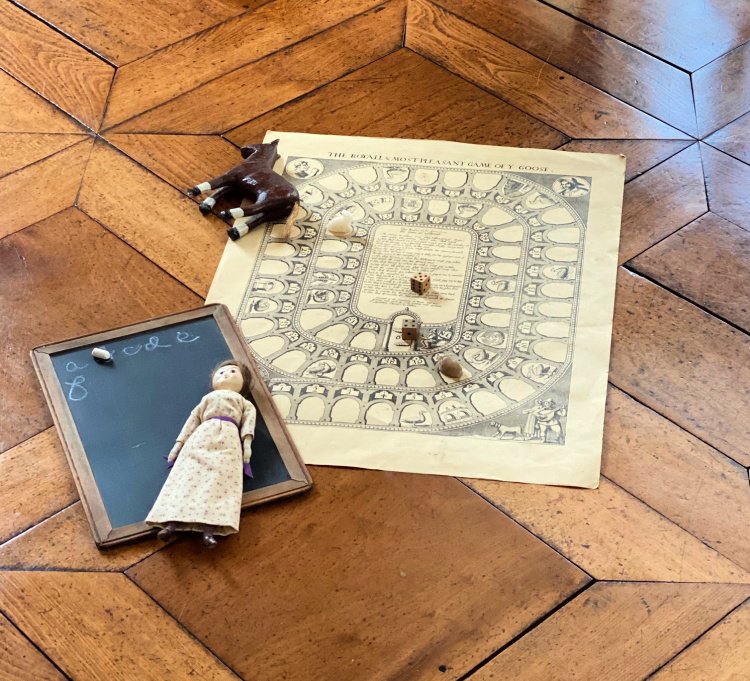 One of the gardeners started explaining to me the process of how cotton is grown and harvested. I then told him about me growing up on a cotton farm and he seemed impressed I knew about cotton.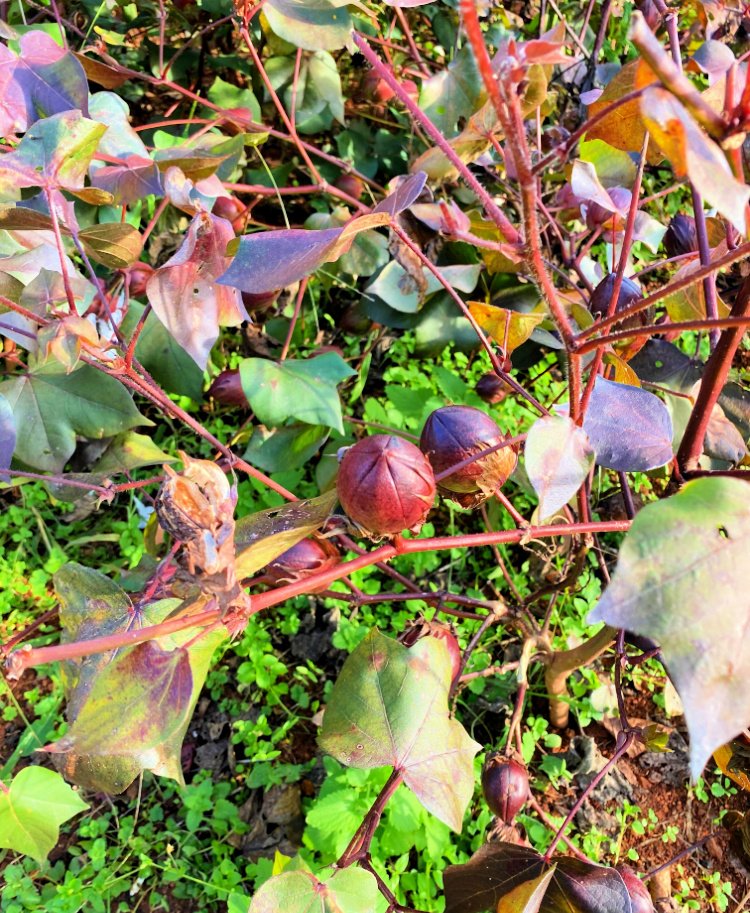 Monticello was a particularly interesting place to visit due to its combination of history, natural beauty, and the overall feel of the place. It really did feel like stepping back in time. What particularly impressed me about Monticello is that it doesn't gloss over the unfortunate aspects of the estate's history. Monticello tells its story in full, including its use of slave labor. It's a place that embraces its historical significance while recognizing that not all of it was good, and I really loved that.
Thomas Jefferson's Burial Site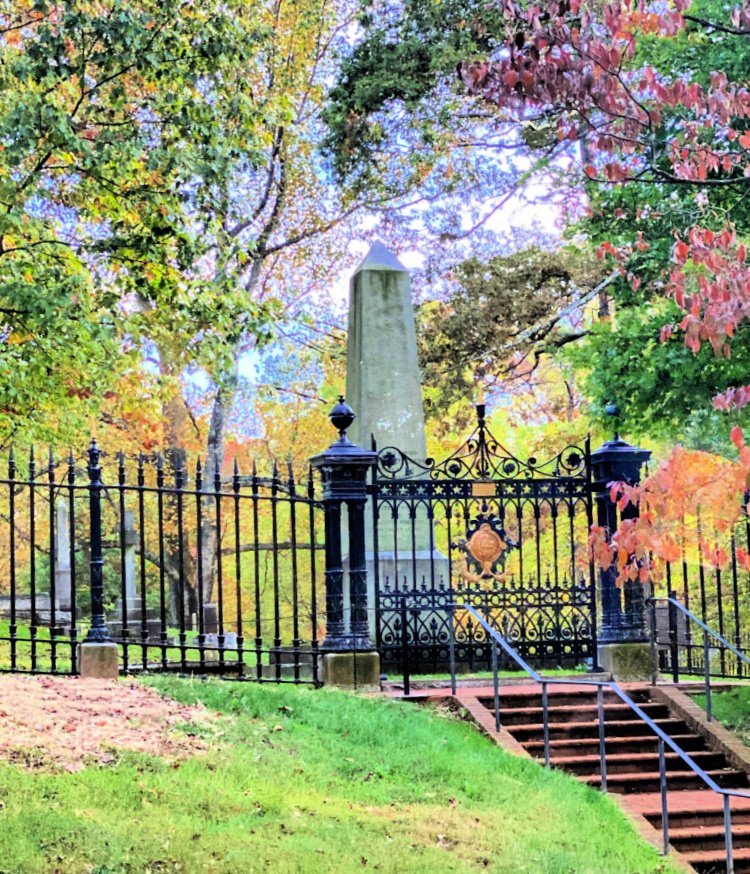 Slave quarters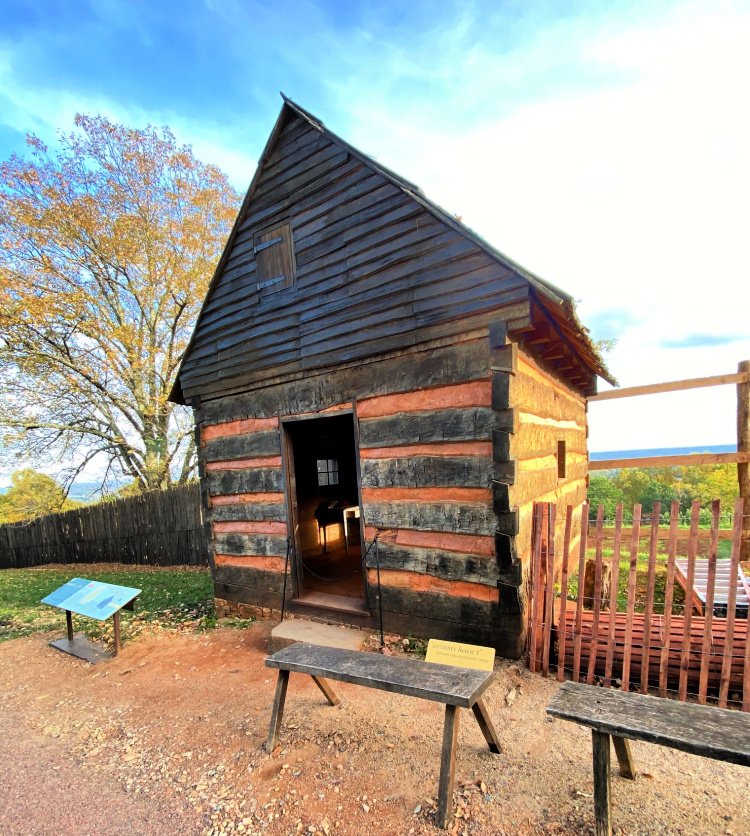 There's a garden on-site which is the length of three football fields. Fall crops were being planted with some summer colors still in bloom. If you've never seen a cotton plant, they have them.
James Monroe's Highland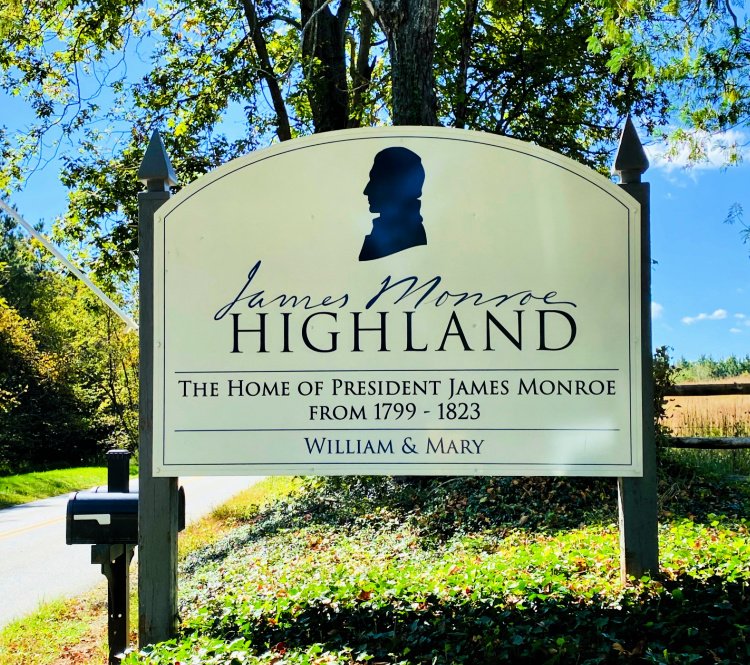 Another historical site we visited was James Monroe's Highland. The estate of our nation's fifth president, James Monroe,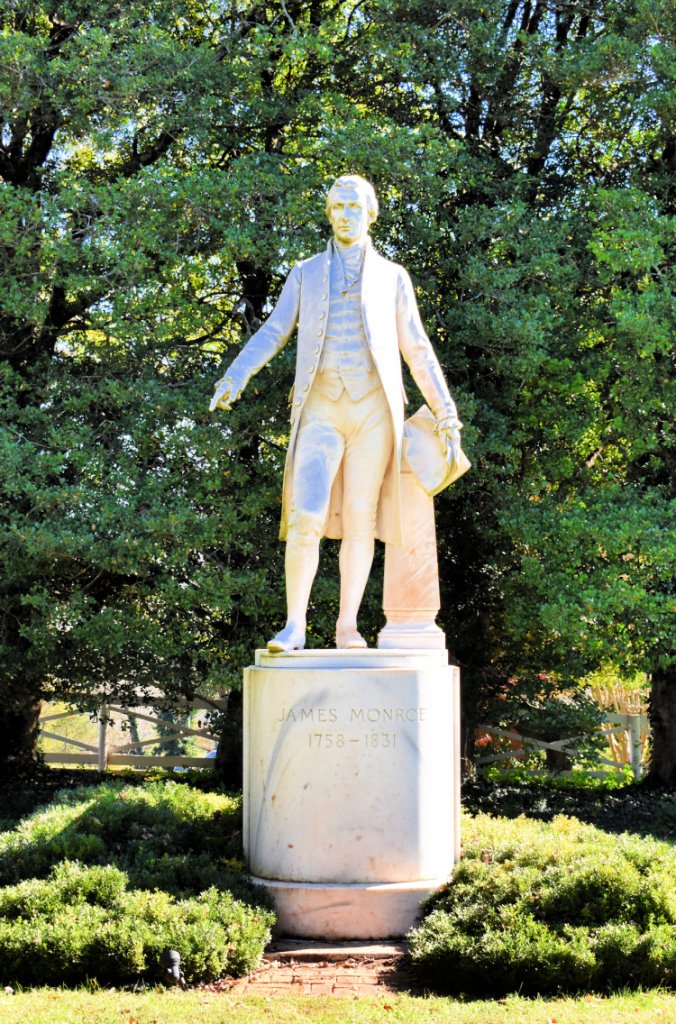 Highland is another spot in Virginia that feels like stepping backward in time. The estate offers up amazing views of the surrounding countryside, the Monroe home and slave quarters, rustic trails for hiking, and much more.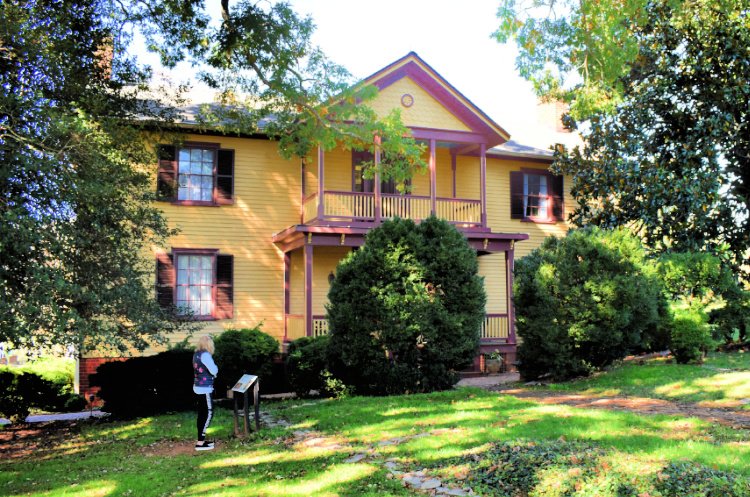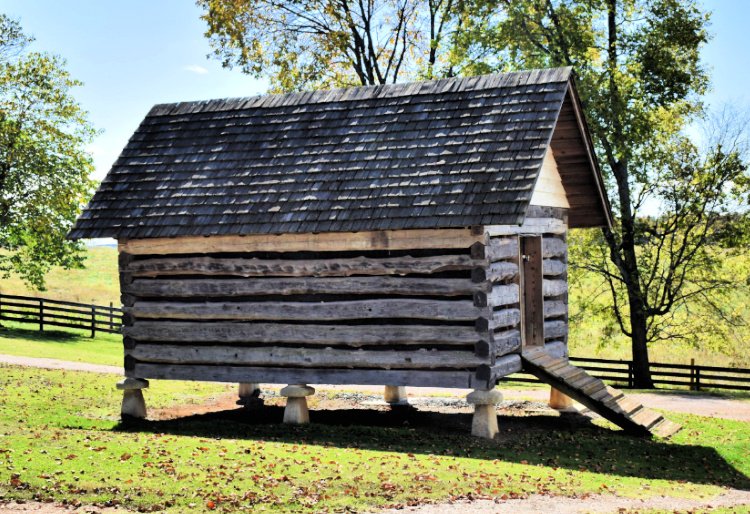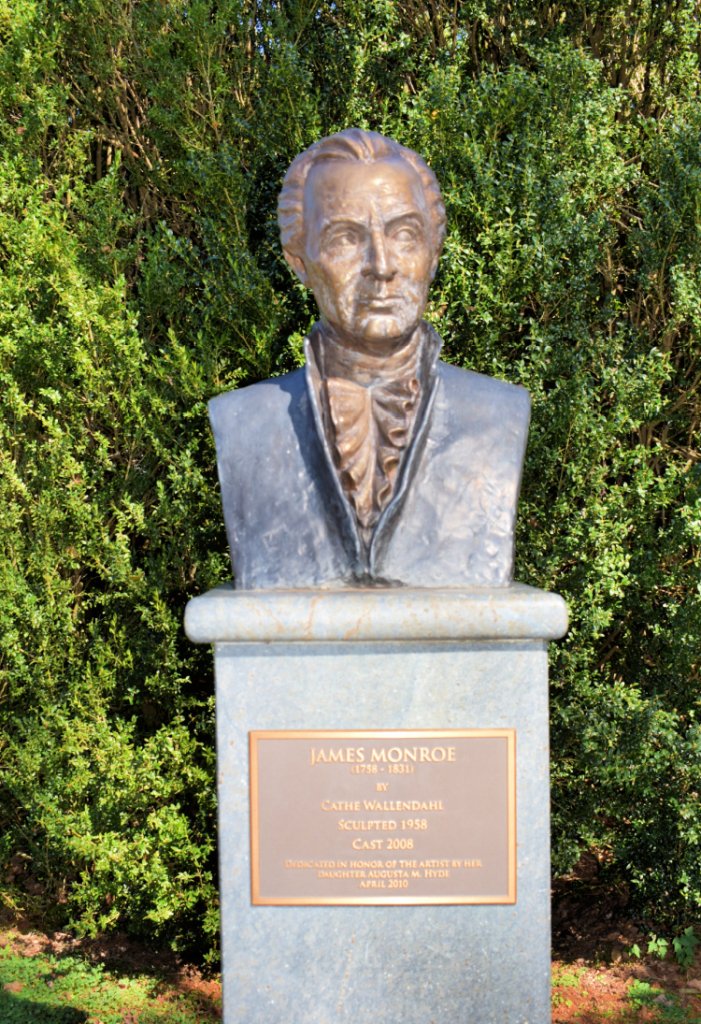 It's an almost surreal experience to know that you're standing in a spot where James Monroe might have stood or where, unfortunately, slaves might have been going about their work. It's a combination of awe, reverence, and somberness very similar to what you experience when you visit Monticello, and it's one that cannot be missed.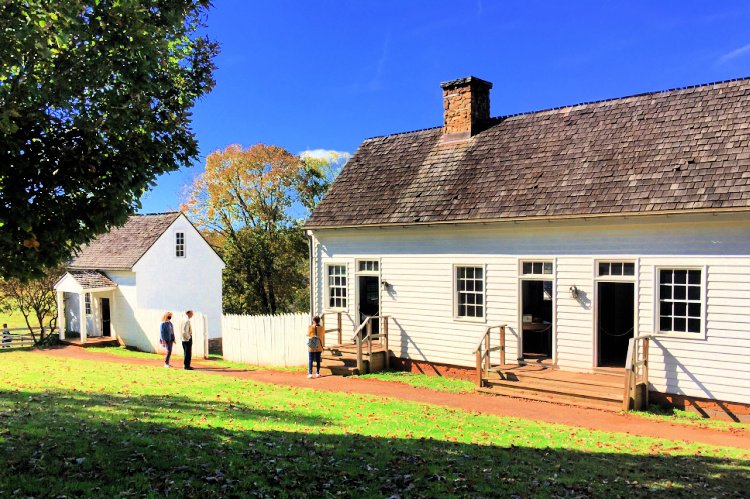 300 year old Oak Tree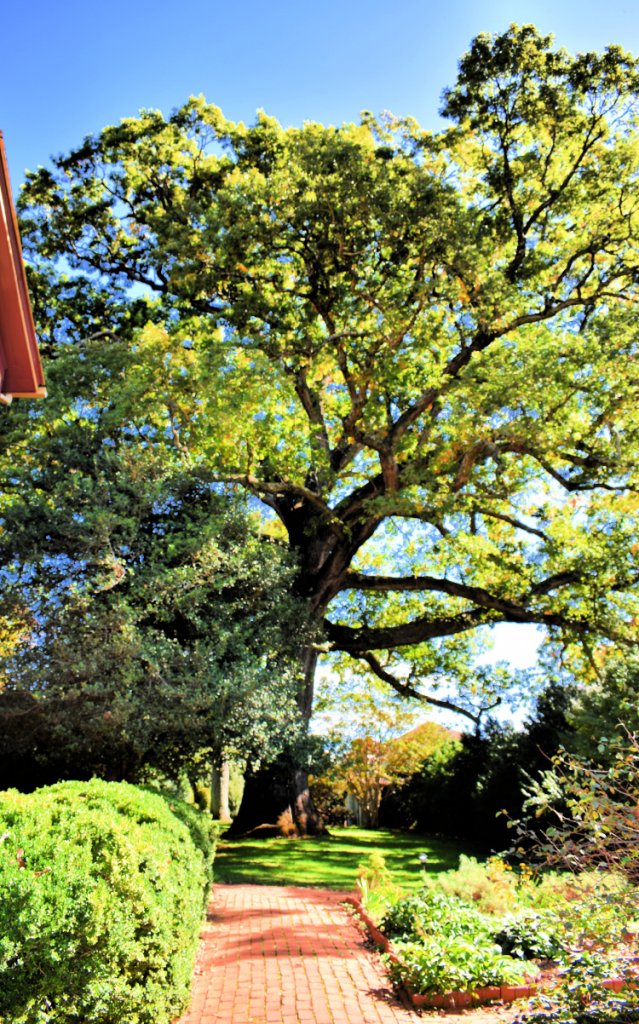 We thoroughly enjoyed exploring the grounds and learning about the history of this site and James Monroe himself.
University of Virginia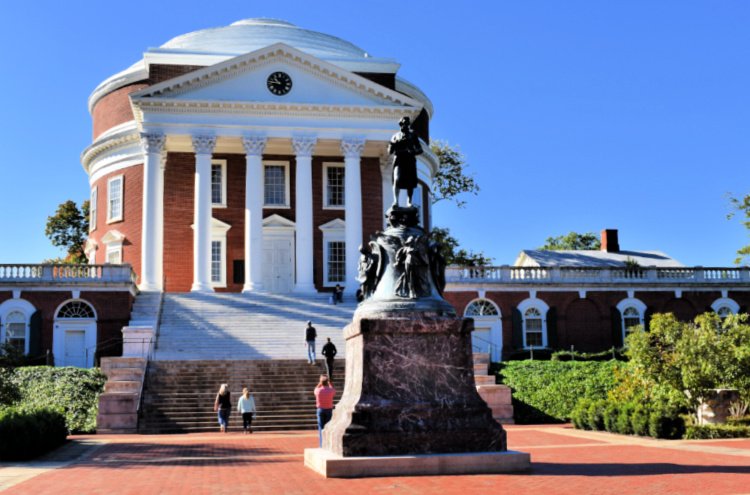 Last on my list of must-see spots when visiting Charlottesville is the University of Virginia. The university was founded in 1819 by Thomas Jefferson, is home to Jefferson's Academical Village, and a UNESCO World Heritage Site. A campus rich in history, touring the grounds was like taking a walking tour of the past. The architecture is absolutely breathtaking, and beautiful towering trees and lovely landscaping can be found wherever you look.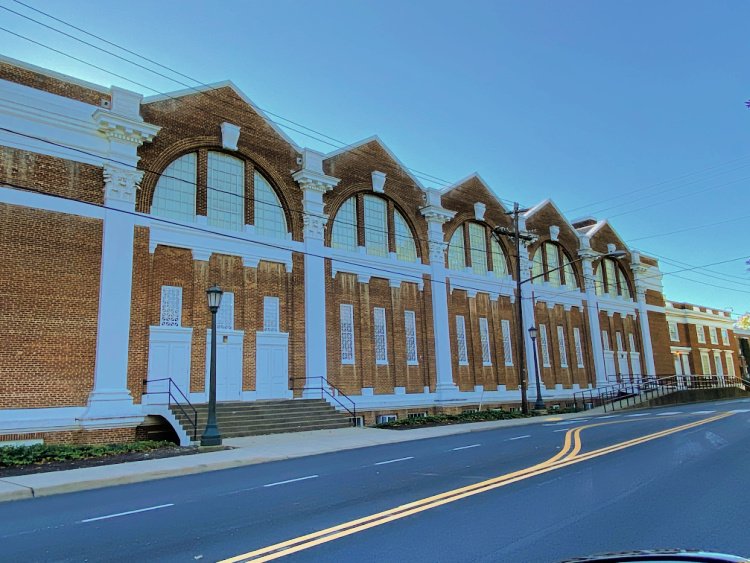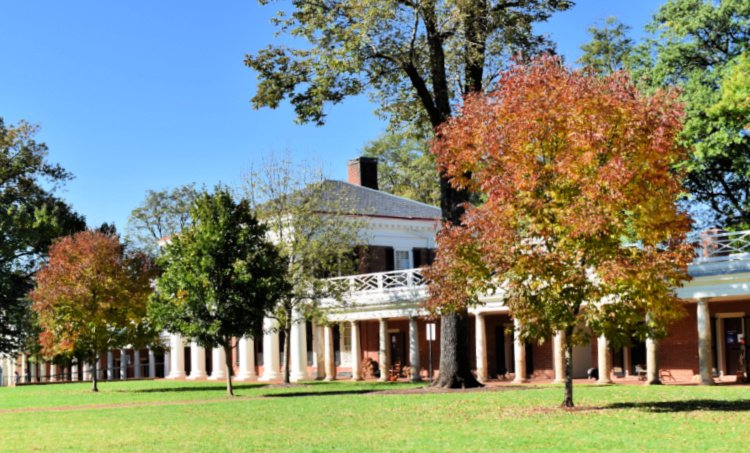 This campus holds on tightly to the past, but it doesn't dwell there. We were amazed at the architecture at every turn, the Jefferson statue, and the generally welcoming atmosphere of the campus. As we walked I often imagined that it must have looked much the same for people walking the grounds in the early 1800s as it did for us.
It's a beautiful campus to just drive through. We did make a stop at the John Paul Jones Arena, where UVA plays basketball. Yes, I was on outlook for Tony Bennett (not the music guy). No luck.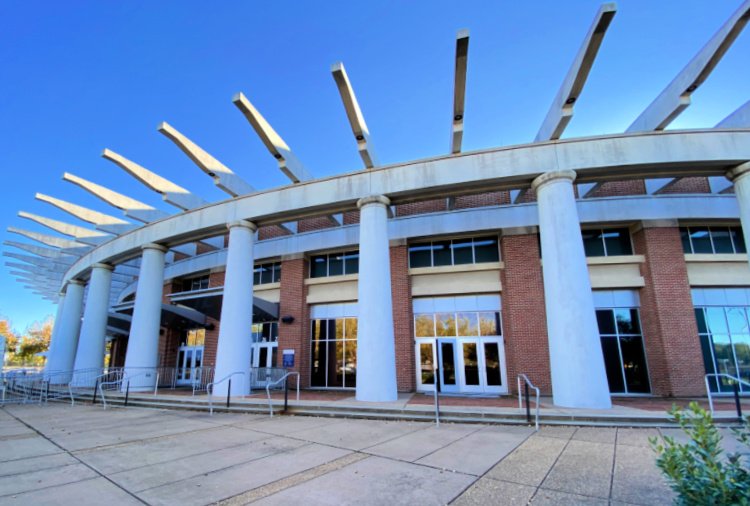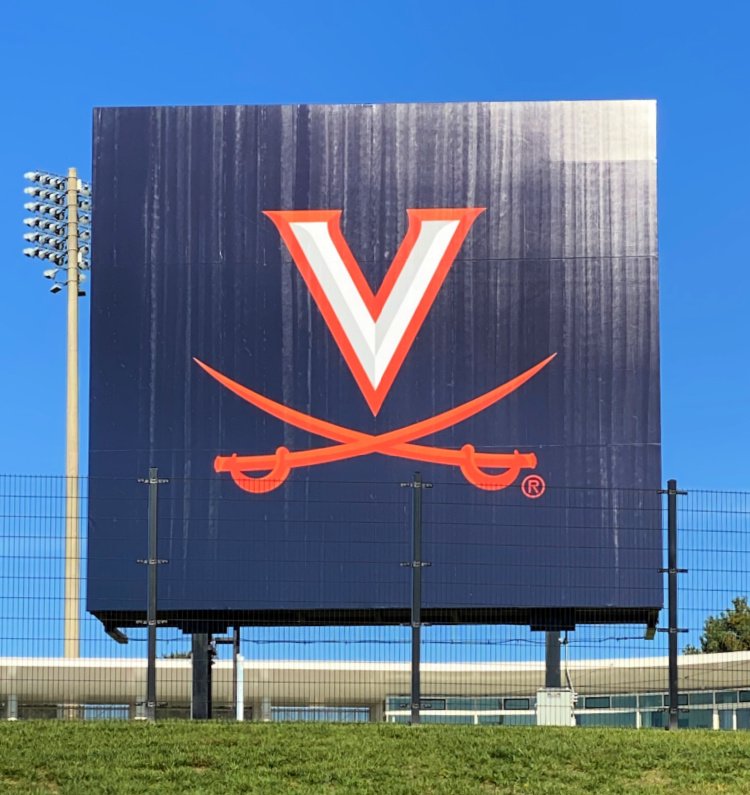 Visiting Charlottesville, Virginia is an Adventure
As you can probably tell from my trip, visiting Charlottesville is an adventure back in time for history enthusiasts. From Monticello to the University of Virginia and so many more spots that I didn't cover here, visiting Charlottesville is visiting the past. The city embraces its history while continuing to move forward, making for a place that offers a unique blend of days gone by and a sensibility that welcomes future advancements.
We had an amazing time visiting Charlottesville, and I think you will, too. If you haven't made plans to visit Charlottesville, start planning your trip today.
Watch soon for more details of our trip to include Richmond, Colonial Williamsburg, and even a few favorite local eateries we visited.
If you are in Roanoke, make sure you stop by and say hi to the gang at Black Dog Salvage.
I've included affiliate links to Amazon for you to find some products easier. I may receive a small commission, but the price is the same for you. It just helps my blog out.
Happy Travels,
Rosemary