To paint or not to paint – that is the question. And sometimes, the controversy begins.
This isn't about brands of paints, or how to paint, but do you want it painted and will it work for you better.
This piece was straight from the 80s and had to have a redo before it could be used.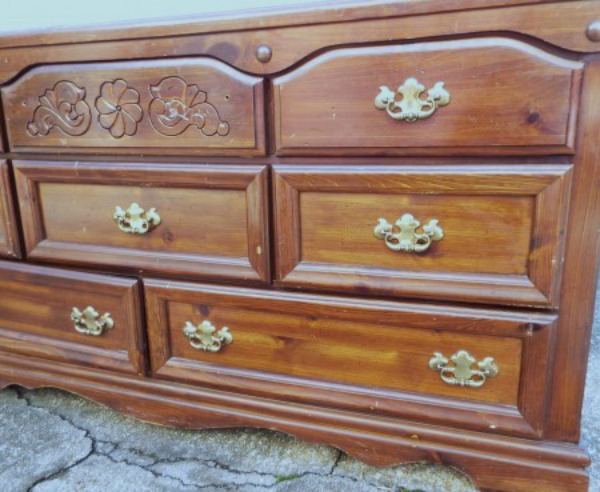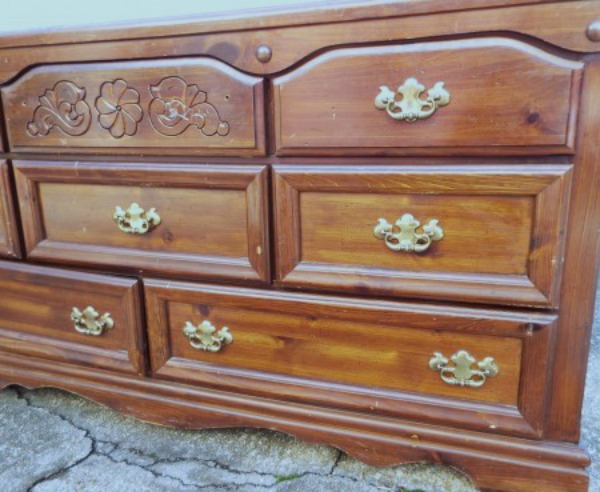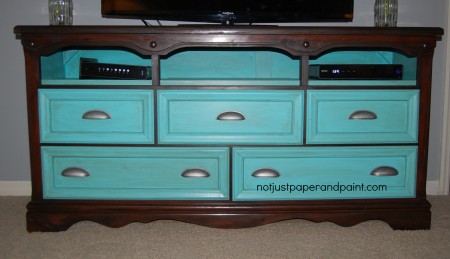 With the saturation of all types of paints on the market right now, it's easier than ever to update some of your old furniture quicker. And not just with paints, but with stains also.
Just a few questions to ask yourself:
How do you determine whether to paint a piece of furniture or not?
How valuable is the piece?
Is it an antique?
Will you use the piece as is?
Would you enjoy it more if it is refinished?
Does it fit your decor as is?
If you don't use it, what will happen to it?
Some people have the opinion that wood furniture shouldn't be painted. My philosophy in general is, if if isn't an antique which has worth as is, and you aren't going to use it, paint and enjoy.
Paint is a very cheap way to update an item, whether it's your walls or a piece of furniture.
And, if you get tired of the color, it's easy to change.
There's not one brand of paint or stain which is best. Although I am familiar with many brands, in no way am I an expert. I seem to use different brands for different projects to achieve the look I'm going for.
When you have a piece you want to refinish, think about the look you want, where and how much use it will get, how much time do you want to spend on it?
If you want to learn more about painting, there's so many options for you, but remember when you ask someone a question, most of the time it is their opinion. There are no right or wrong answers. Facebook groups can be good to find out information, but usually these aren't experts either.
Check any local retailers – most of the time they may have attended extensive classes to know more about the paint and how to use what they sell. Classes are sometimes offered.
Check your favorite blogs (like mine) to get ideas on paints, stains, and ideas for your pieces.
Have proper equipment for the prep work and painting. Brushes, sand paper, lint free rags, etc.
Although so many paints advertise "no prep" – there's always some prep. Maybe it's not the long hours of stripping off the old finish, but you can't just pick up a piece and paint it, then expect it to be beautiful with a lasting finish.
There's not way to tell you how to prep. So many factors determine this, but remember you always have to have it clean. I usually do a little sanding on anything.
Is the piece already painted, stained, unfinished, have a lacquer finish? These all determine how to get it ready to paint.
So when someone asks me, what paint should I use – I go back to all of the above factors.
What's the difference in paints – chalk, chalk type, milk, acrylic, latex? Although it's easy to tell you the difference, it's not always easy to tell you which type is best for you without knowing what your are doing and how you are using it?
Also, you have so many choices for trims, new hardware, and painters tape to really change up your piece.
So now are you confused more than ever? Yes – it can be.
Now – to paint or not to paint? What are you going to to do?
Here's a few of my favorite projects.
Striped Nightstand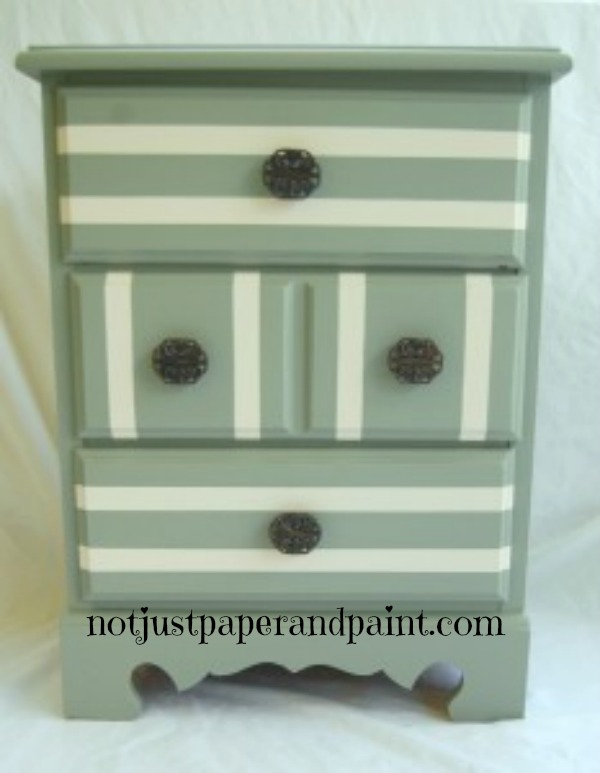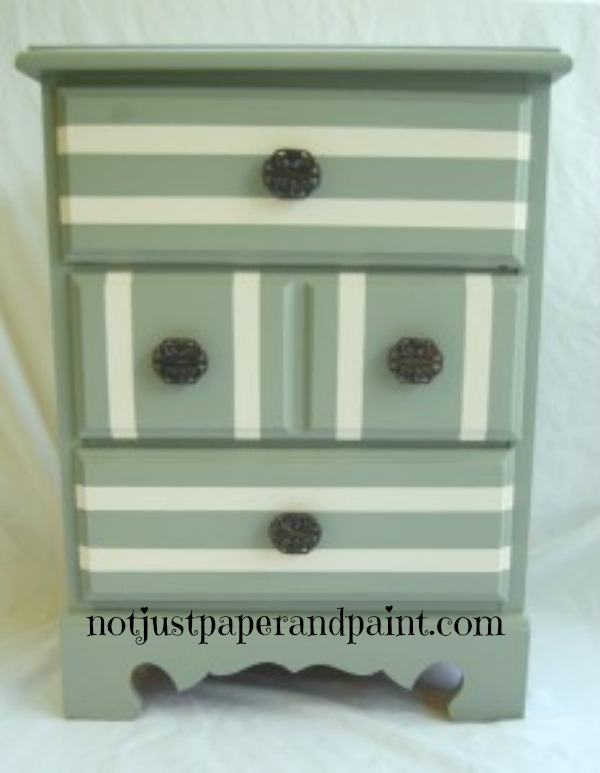 To keep up with all of my current projects,