What's your least favorite part of taking a vacation? Most would probably say packing and unpacking. If you're needing tips on packing for a cruise, I've got you covered!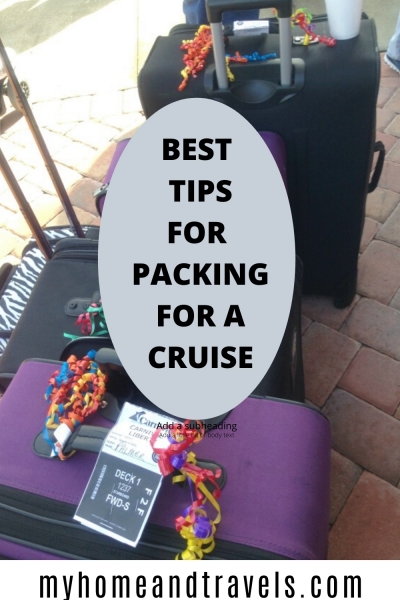 Of course, when I think unpacking, I think laundry. And I'm not one of those who unpack immediately. You might even find things a week later still in a bag.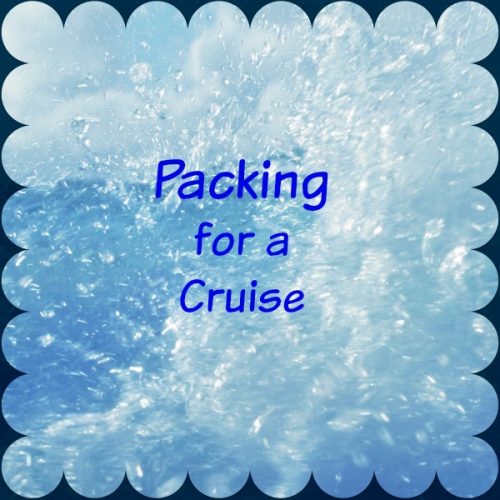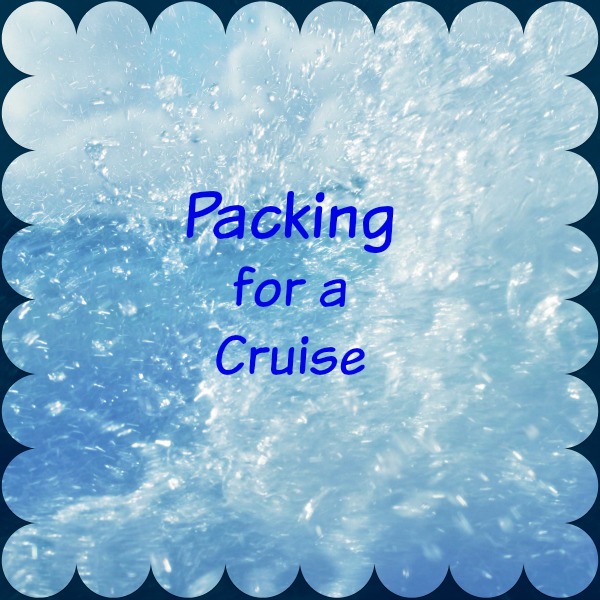 I am a list maker and list keeper. I have several saved to include vacation, cruise, grocery, goals, and housecleaning. Some are used more than others but we won't talk about that.
We will be heading out on our 5th
Carnival Cruise
soon – this time for 14 days. At first, I thought it would be a packing nightmare since I tend to overpack anyway, but we will do laundry (by that I mean, it will be sent out, done, and returned to our cabin). It is a vacation, right?
When the 3 of us took our first cruise, we had a total of 9 suitcases, but in my defense, it was our first cruise and I used the luggage we had, which wasn't very large. Over each cruise, I've got better about packing and have got larger luggage.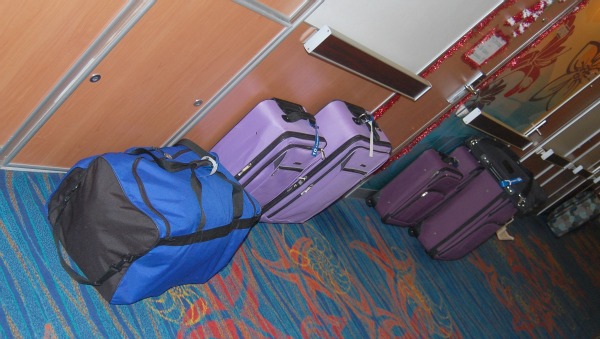 I see people with 1 suitcase for a week and just can't figure out how they do it. Sometimes I need that for shoes. At least we have traveled to warmer climates so no bulky sweaters are needed. Although a sweater or jacket is needed some evenings or early mornings, and the dining room.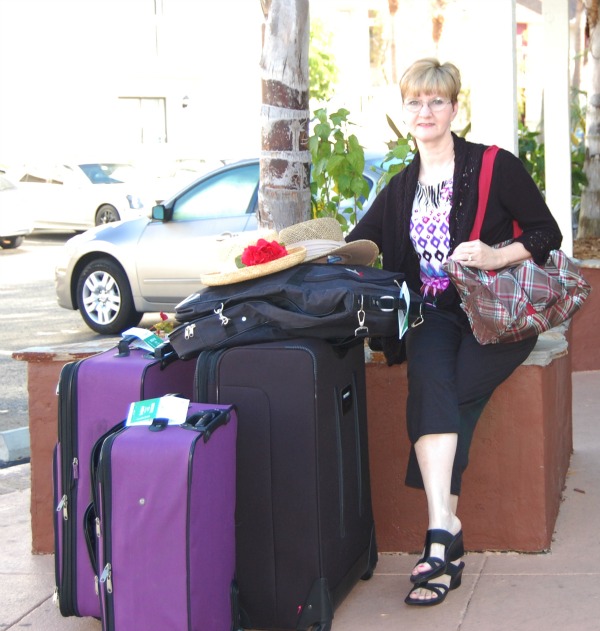 Tips for Packing for a Cruise
Big hint – don't wait till the last minute to pack. Start gathering everything together a couple of weeks ahead of time. Regulations change, so always read on the web site about possible changes to what you can carry on or have in your cabin.
Travel size is great but on most cruise ships shower gel and shampoo is provided if you don't mind using it. It's fine for me. Anything liquid is always placed in a ziplock bag just in case of any spills. That even includes pump bottles.
My cruise packing list is actually 5 lists:
Pre-Cruise
House Sitter/Emergency
Day of Departure
Extra Overnight
Carry On – Paperwork
Cruise
And again, these are mine so you can customize it for yourself. Then make sure you save a copy.
PRE-CRUISE PACKING LIST
This is everything to prepare for the cruise after you have booked it. Is your passport current? Or do you need to renew? Allow time for this!
Do your online check-in
Gather and print all paperwork
Hotel confirmation
Parking confirmation
Boarding pass
Luggage tags
Check luggage
Check car – oil change, tires
Refills of medications
Hire House Sitter
Boarding for pets
Check with cell carrier for coverage areas
Stop the paper
Bills paid
Notify neighbors
Notify bank/credit card co
List of emergency numbers to neighbors & family
Check electronics – need batteries, new charger
Luggage tags
Explore and book excursions
Appointments
hair cut
manicure & pedicure
doctor
Shopping Lists
clothing – elegant night, special occasions, special events
personal
medical
HOUSE SITTER – EMERGENCY
Phone numbers of family members – in and out of town
Itinerary of trip
Will cell phone be available
Will email be available
Pet information – vet name & number
Who to contact in case of emergency
DAY OF DEPARTURE CRUISE PACKING LIST
*Make sure you have all luggage and needed items in car* Don't ask how I know this.
Carry out garbage
Check water
Check locks on doors
Set thermostat
Check commodes
Unplug unnecessary items
List for Housesitter
Leave emergency list
Paperwork – hotel, parking
EXTRA OVERNIGHT TIPS
We always get to our destination the day before. Pack a small bag for just what you need for one night, but make sure you include the outfits for boarding the ship. We try not to bring anything with us that won't be needed on the cruise.
Sometimes a heavier sweater or coat has been needed to leave town, but I will leave this in our parked car while we are gone.
CARRY ON – TIPS FOR PACKING FOR A CRUISE
For carry on, make sure to have all your medications, electronics, paperwork for boarding, cash, credit cards, photo ID. I have a plastic folder with copies of all of the necessary paperwork needed for boarding and my originals in my purse. Neither one of these items ever leave my side.
My carry on is actually a rolling makeup case. Just make sure it's not too heavy if you have to lift it up an escalator or walking up steps.
Your luggage may not arrive in your room right away so think about if you want to spend the afternoon on the deck or the pool and what you would need.
Think of your carry on as anything you absolutely couldn't do without in case your luggage was misplaced or lost.
Medications
Sunscreen
Hat/visor
Paperwork
If laying by pool, swimsuit
Sunglasses
Electronics
cameras
phones
laptop
extra batteries
cords & chargers
On Carnival, each guest over the age of 21 is allowed 1 bottle of wine and 12 cans of drinks – juice, Cokes, etc. Again check the website.
PAPERWORK
Passport
Photo ID
Boarding pass
Confirmation of cruise
Insurance cards
(some of these will always be in your wallet)
BIGGEST PACKING FOR A CRUISE TIP
Ok – here's the biggie. It might sound long but think to remember, take what you think you might need. Plus my list has got updated from each cruise. Although I seem to have a whole medicine cabinet with me, I got a rash from the sun once and had to pay $7.50 for 1 Benadryl tablet from the ship's medical center. You know this is on my list now.
Always check the website for any changes or notifications. There's an island that does not allow camo clothing to be worn. This will just keep you from having to go back and change and possibly missing an excursion.
I have my own specific list for clothing for both of us and personal items, including makeup. Think about what you use every day to get dressed, make a list over a week of time and you should have it covered except for cruise specific clothing.
MEDICATIONS TO REMEMBER WHEN PACKING FOR A CRUISE
Allergy meds
prescription meds
Aloe spray
caladryl lotion
aspirin – tylenol
benadryl
chapstick
cold meds
ear drops
first aid kit
Insect repellent
medications – over the counter
nasal sprays – both
sea sick meds
pepto bismol tablets
sun screen
eye drops
I will pack most of this in a couple of ziplock bags so it's all together.
MISC ITEMS
bacterial hand wipes – carry these on excursions
back pack or tote bag for excursions or going to pool
clear pocket shoe bag – use over a door to hold shoes, jewelry, toiletries.
binoculars
clothes pins – good for hanging up wet items in shower
cord for sunglasses (I have to switch mine out constantly so having them around my neck helps)
corkscrew (if you forget, ask your steward – they will also supply glasses for you)
flashlight – or use your phone
nightlight
lanyard – your sign & sail card (is your name tag & door key) Keep with you at all times
cash – small bills for tips (for room service) & excursions. I don't recommend using a credit card in foreign country
deodorizing spray – although cabin in cleaned twice a day
door decorations – good if you are celebrating an occasion or to let people know where you are from
3m poster strips for adhering these decorations. Tape is not allowed.
highlighter – mark Fun Times (this is the daily newsletter) for events not to miss and to plan
laundry detergent – pods work great
dryer sheets
lint brush
post it notes – to leave your steward notes or to let each other know where you are going
power strip
shout wipes
powdered drink mix – if you like flavors
coffeemate (I'm addicted so it goes everywhere with me)
suction cup for mirror – throw your cards in them, receipts
umbrella
water bottle
sewing kit
First Aid kit
wrinkle release spray
Ziploc bags
disposable ponchos – for those rain showers during port days
business cards – great way to connect with others
A FEW MORE HINTS AND TIPS ON PACKING FOR A CRUISE
This would be a great list to modify for a vacation or weekend away.
Always check the website for any changes or notifications. You can sign up for email and text notifications in case of changes made by
Carnival
.
Robes and beach towels are provided to use but if you plan a beach excursion, take your own towel.
A couple things I have learned is that on sea days, it's very casual. The uniform for the day is a bathing suit, cover-up, shorts and t-shirts. But, in the afternoon tea is served in the dining room, so a quick change into a sundress is easy. Everything is pretty casual during the day but getting a little dressed up at night makes "going to dinner" more fun.
Counter space is limited. As are plugins. A power strip is great to have.
START THINKING NOW ABOUT WHAT YOU'RE PACKING FOR A CRUISE
Just think about EVERYTHING you use or might use. There is a gift shop onboard, but things will tend to be a bit expensive so I would rather take it with me. Most ports have stores, I've seen Kmarts and Walgreens in most. Things like medicine though I feel safer having my own.
We have always driven so some of these might not work if you are flying. Check with the airline.
Clean out your purse and wallet – I take out all those customer cards which won't be needed.
Leave any work keys at home.
MORE SIMPLE TIPS FOR PACKING FOR A CRUISE
A few more hints – don't rush. You are on vacation.
Tie some colorful ribbons on the handles of your luggage. Probably 75% of the luggage is black so it will make it easier for you to spot at pick up.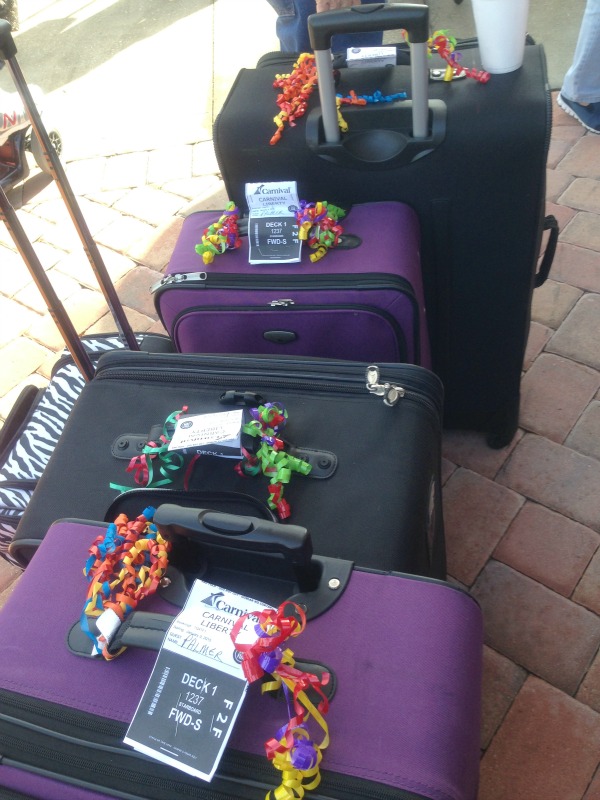 Take a picture of your luggage before it goes on any shuttle.
Take a picture of your luggage on the luggage cart that is going to the ship. It makes it easier to identify and to make sure it all got off the shuttle.
If this is your first cruise, make a note of things to do or bring next time. And, YES, I bet there will a next time. We usually have our next cruised booked while onboard. There are usually a few incentives for doing this.
So let me know what you love about cruising. We have only cruised on
Carnival
but have always had a great time, enjoyed the food, appreciate the cleanliness so I think we will keep going with them.
MORE TRAVEL POSTS
I've included affiliate links to Amazon for you to find some products easier. I may receive a small commission, but the price is the same for you. It just helps my blog out.
Happy Travels,
Rosemary