Anyone can put a pumpkin out and decorate around it, but there's no plain pumpkins here.
One of my favorite pumpkins to use are these from Dollar Tree.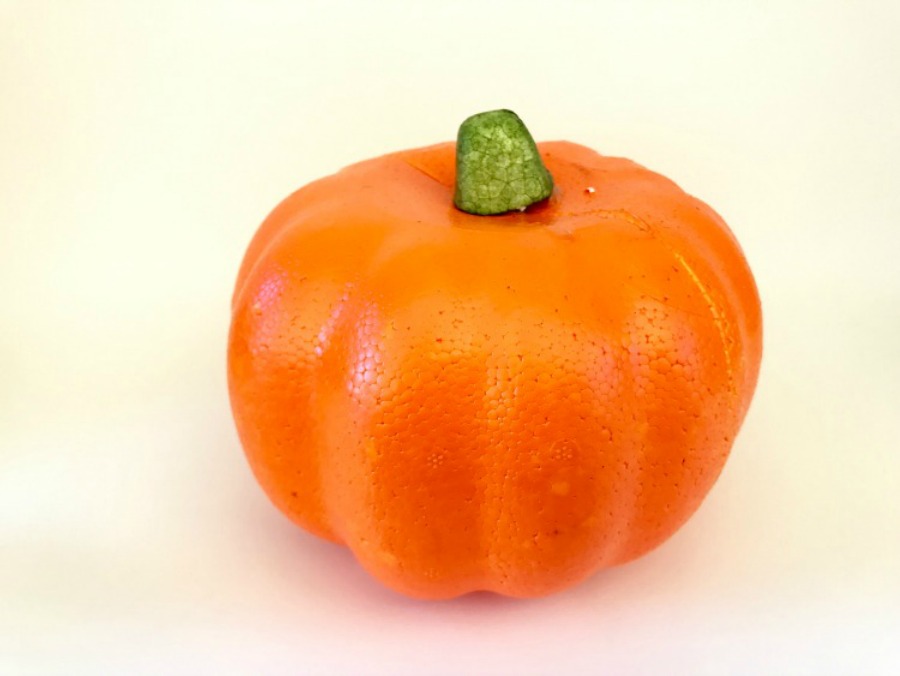 Always use a paint or finish designed for the surface you are working on and follow their directions. Regular spray paint doesn't work on most of these foam pumpkins.
Another little hint, I like to paint the bottom of any item first then let dry completely. Keeping a few old cans around make great supports.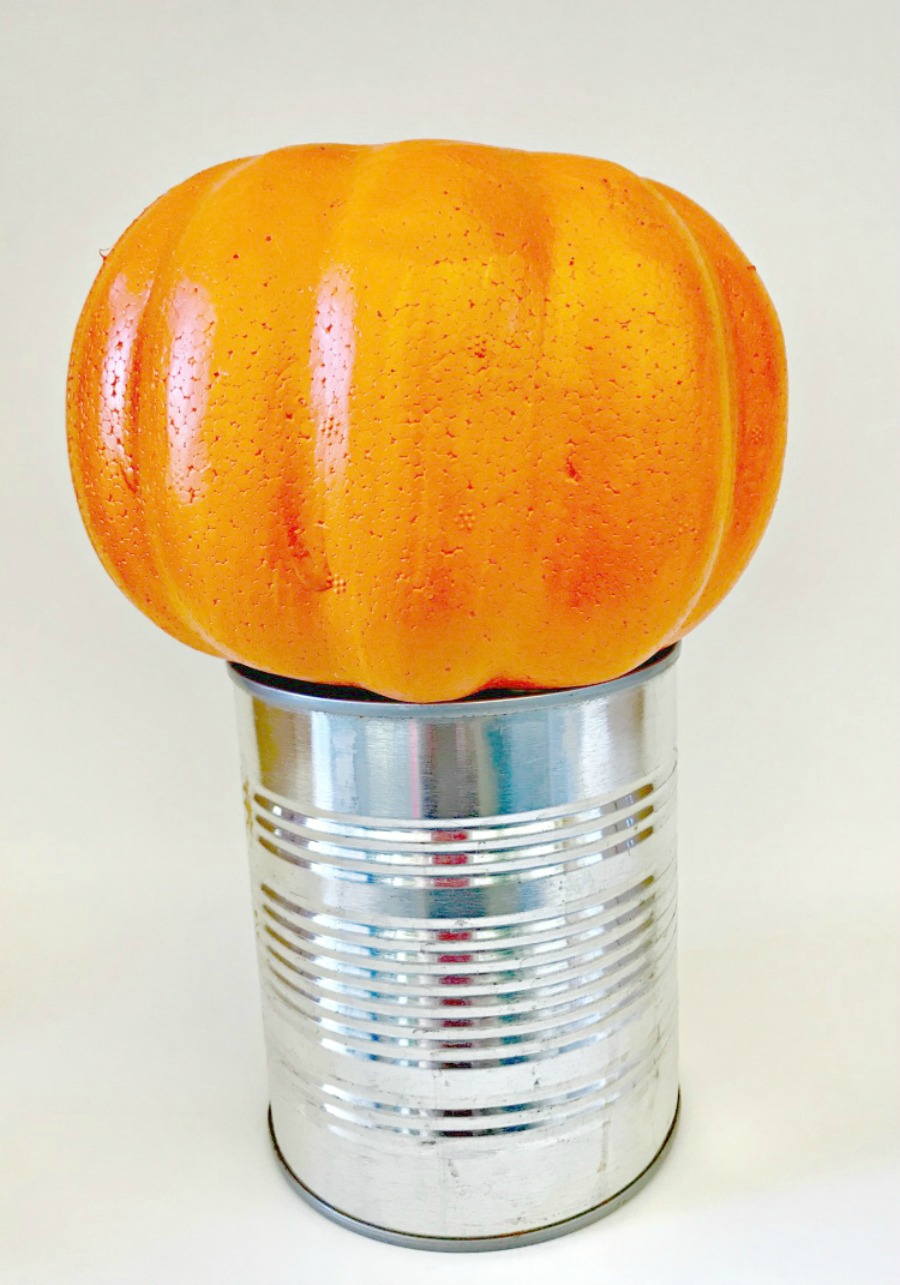 CONCRETE FINISH
I LOVE this Painted Finishes Concrete. I used it in the spring for a planter you can find HERE. This was done with the two-step method of a lighter base coat then using the darker to give it a realistic look.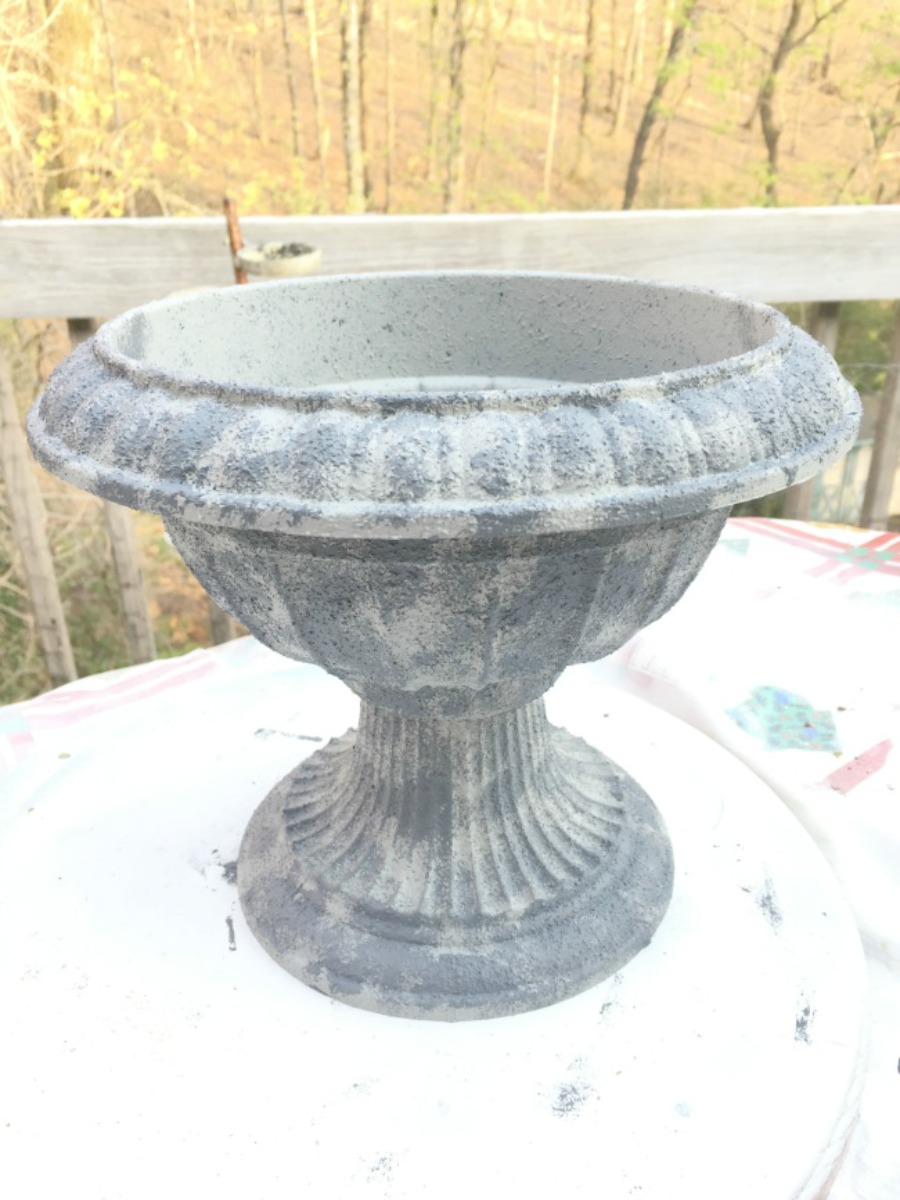 This time I mixed the dark and light on a paper plate just slightly by pulling a toothpick through the two colors. It was then painted all over with the shortie brush in a stippling motion.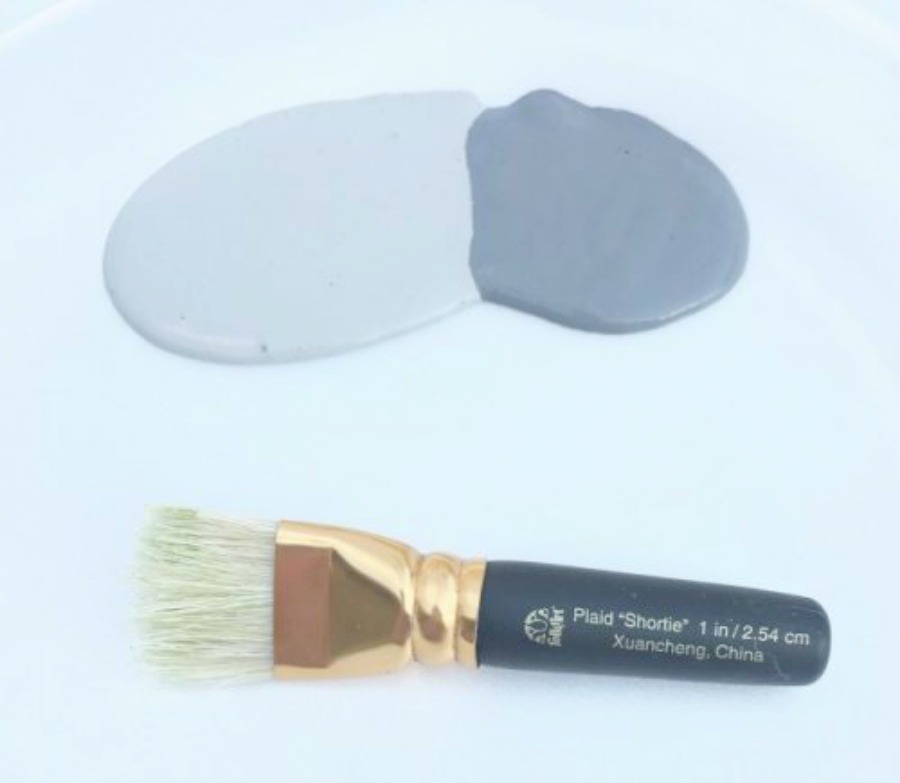 Remember the Painted Finishes Faux Concrete is great for the outdoors if you have it covered completely. I'm thinking this might be added to one of my large planters.
How about this for a before and after?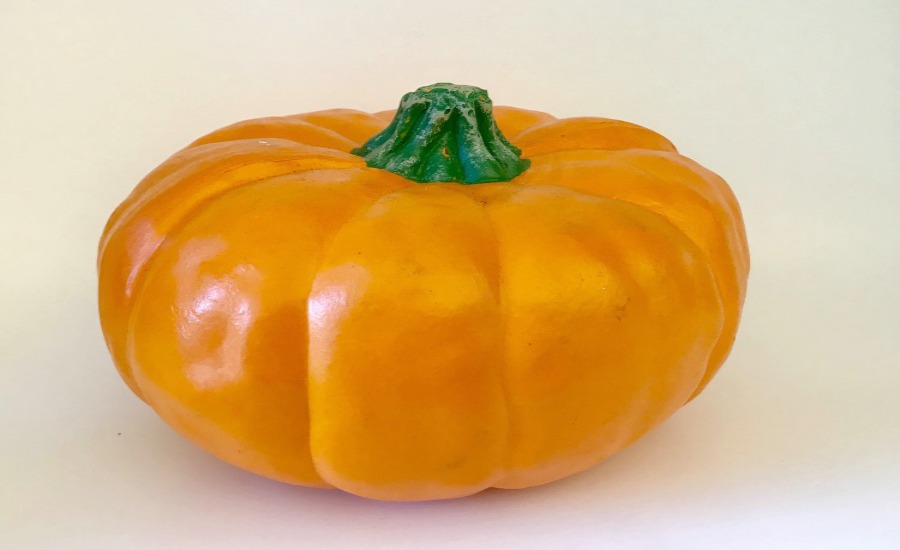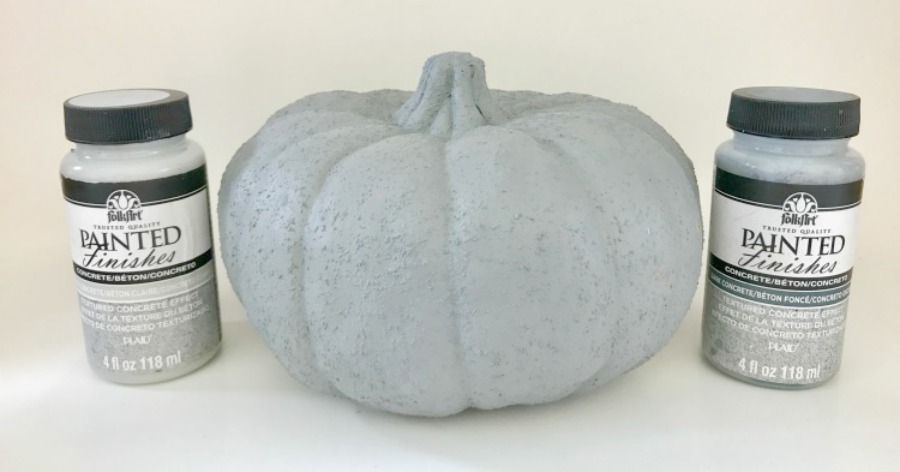 CASCADE CHALK PAINT AND GOLD LEAF
You have probably discovered how easy it is to change the look of most anything with paint, but Liquid Leaf Classic (Gold) is another quick way. You can find this in liquid or sheets, and in a multitude of colors.
After this faux pumpkin was given two coats of Home Decor Cascade Chalk Paint then let it dry overnight to cure.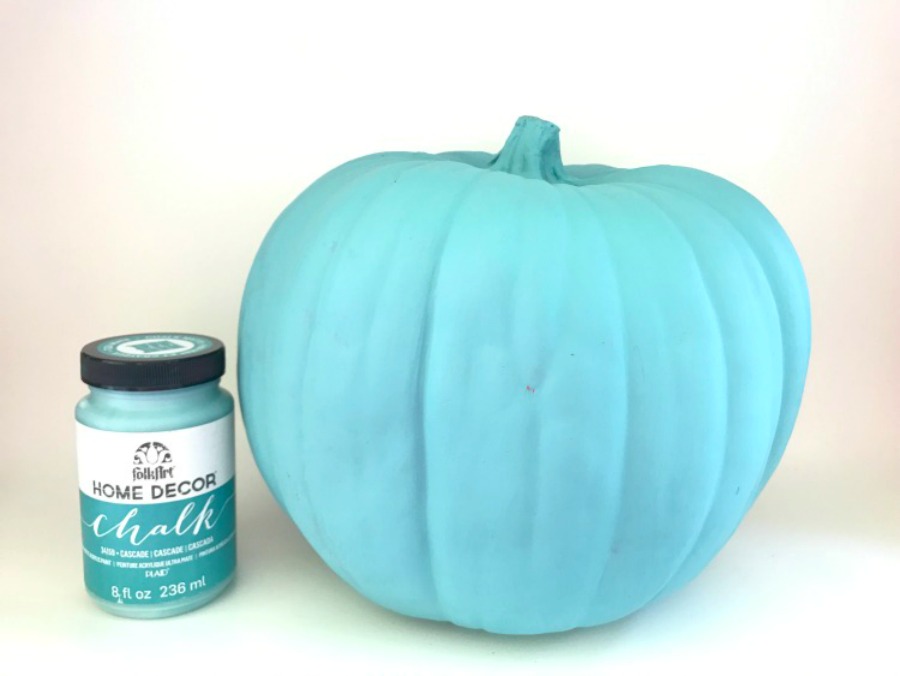 For this step I recommend wearing gloves. Using an old cotton, lint free rag, apply the Gold Leaf in an up and down motion on the pumpkin. Add as much or as little to achieve the look you desire. Use a second cloth to wipe away the excess.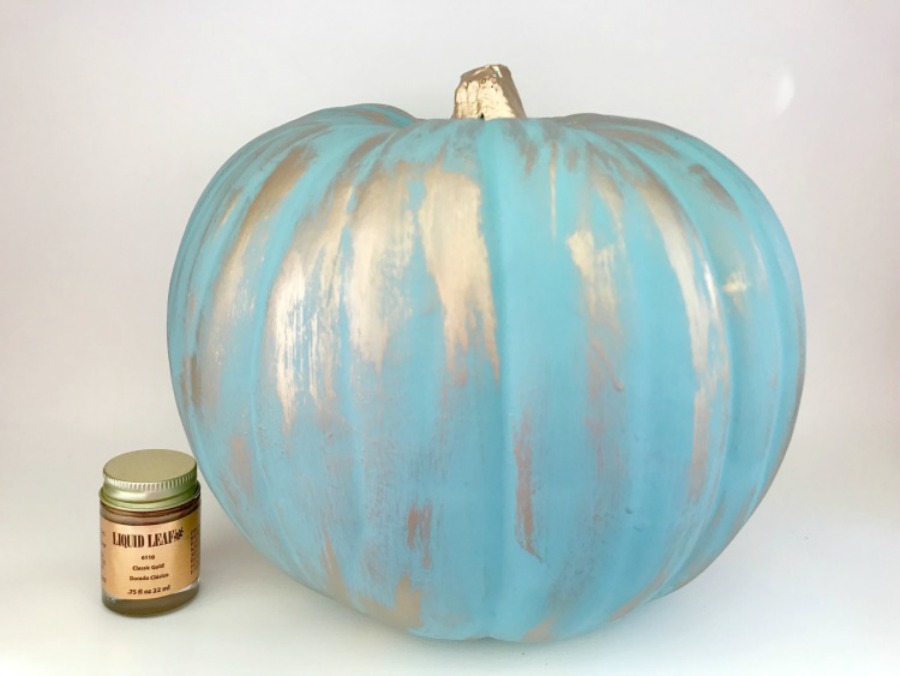 Getting it into the grooves of the pumpkin can add a little more dimension to these.
Click on the video link below to see my demo recently on a TV segment.
PAINTED STEMS
One of the easiest ways to transform a pumpkin. Just paint the stems. Just remember to look for pumpkins with a longer stem when you buy them.
I used Gold Metallic and Cascade Chalk Paint on these. It will usually take two to three coats, depending on your desired finished look.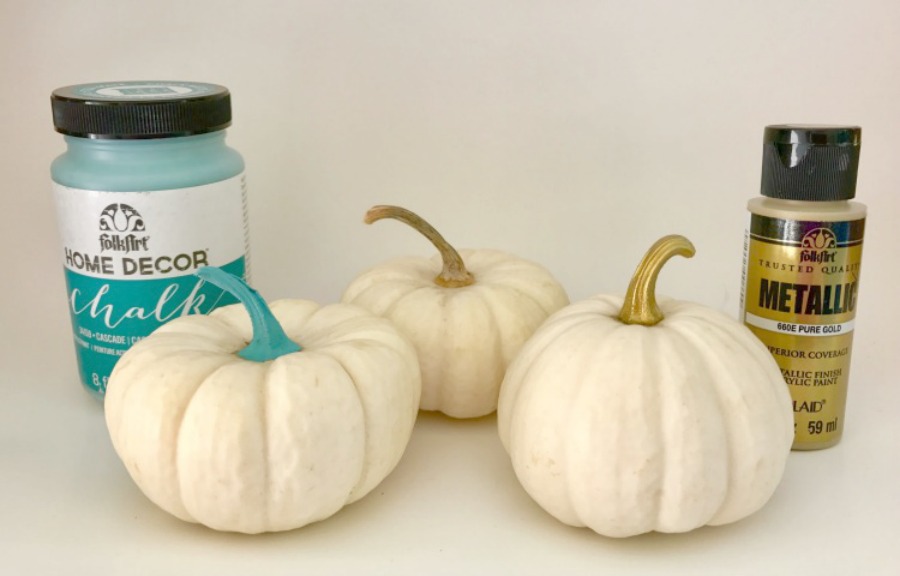 Using a smaller Plaid angled brush makes it easier for projects like this. Buy good brushes and take care of them and you will find you get better results on your painting projects.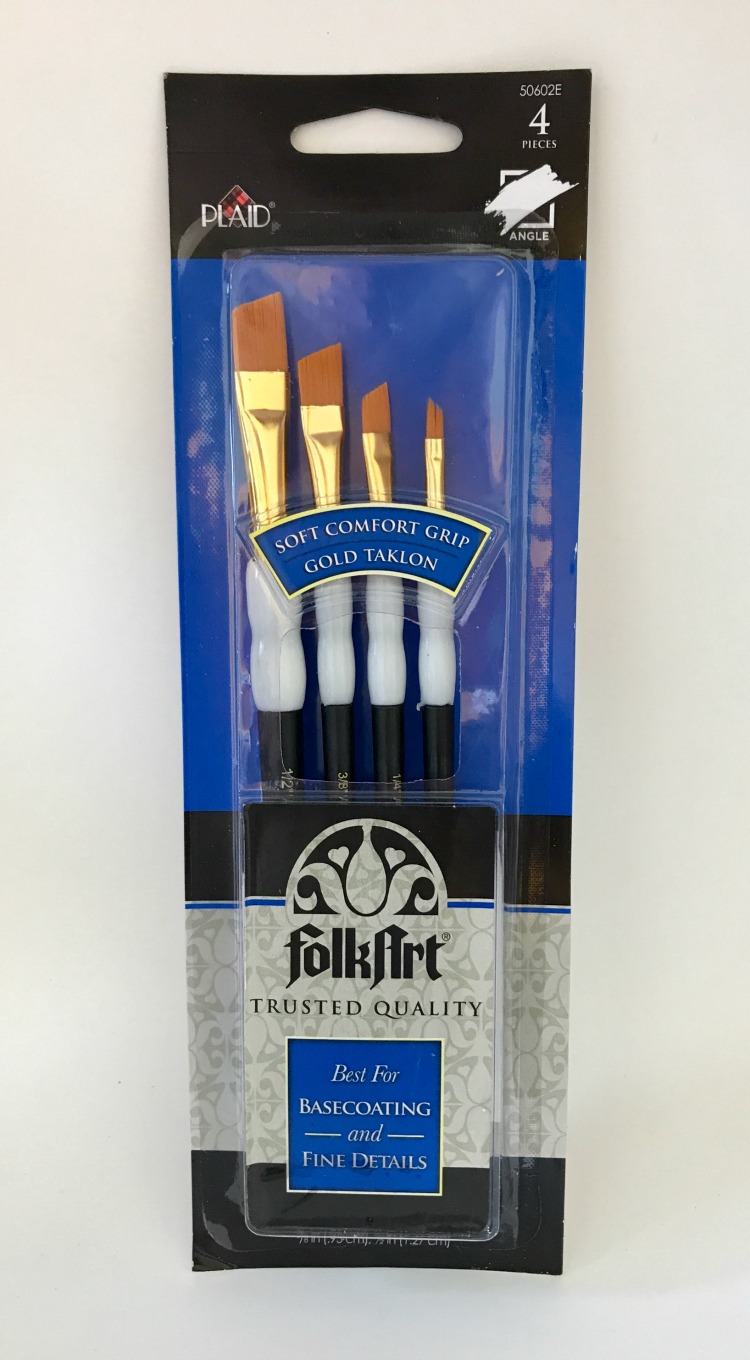 OATMEAL CHALK PAINT AND WAX
Overall one of my favorite pumpkins I have painted this year is this one. I love the results.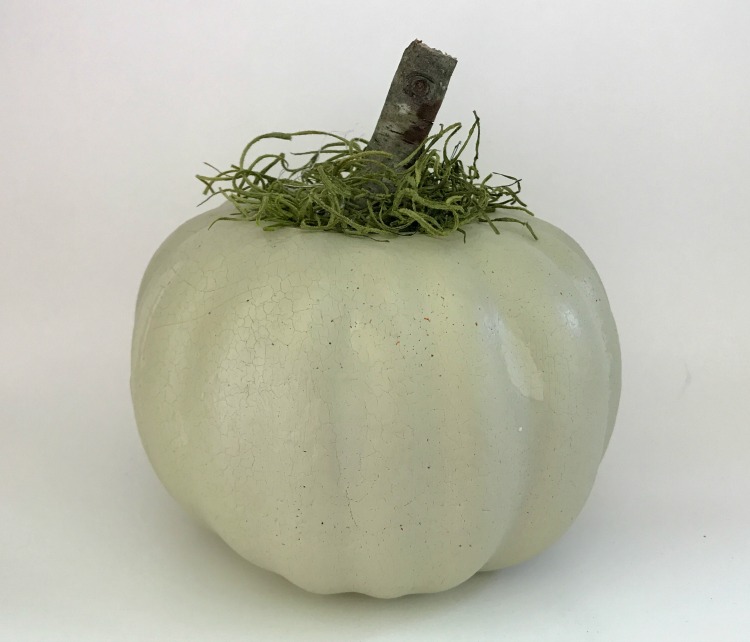 It started with the $1 pumpkin I mentioned above and given two coats of Home Decor Oatmeal Chalk Paint and allowed to dry overnight. The old stem was removed.
Chalk paint dries pretty quickly, but just to make sure it cures, I like to give it extra time.
Home Decor Clear Wax is used as a sealer over chalk paint, but it also adds a little sheen to it.
All I did to finish this was to find a stick from the yard and glue it and a little moss with my Ryobi Glue Gun. Be careful and only use a small amount of a low-temp glue as it can melt the styrofoam. If needed, you can use a serrated knife to cut a whole in the top of the pumpkin.
This one is unwaxed with Brushed Metal Silver added to the stem.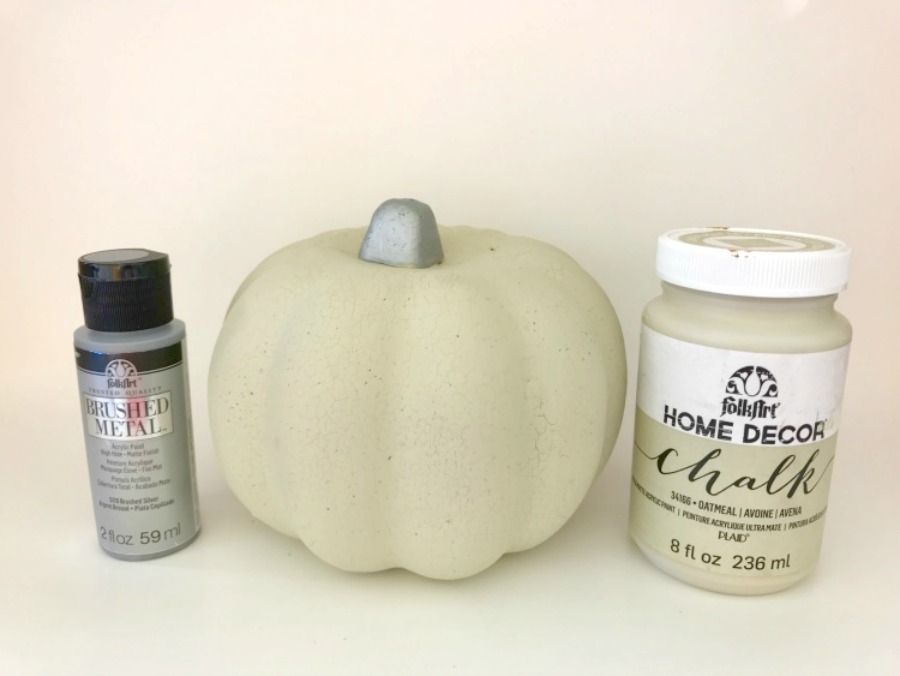 It's really amazing what mixing different types of paints and finishes can do to just a plain orange pumpkin.
Here's a link to my recent TV segment on Good Morning Chattanooga Weekend talking about these methods.
For all paint descriptions and project ideas, check out Plaid.
How are you decorating for the fall? You will have to watch to see how I use all of these in my home.
Always save ideas to Pinterest for later when the inspiration hits.