Tennessee is the undisputed king of country music, including being the birthplace of country music. Best known for the many contributions of its resident songwriters, iconic artists, and talented musicians that call and have called it home, Tennessee boasts some of the best musical roots to be found anywhere in the country.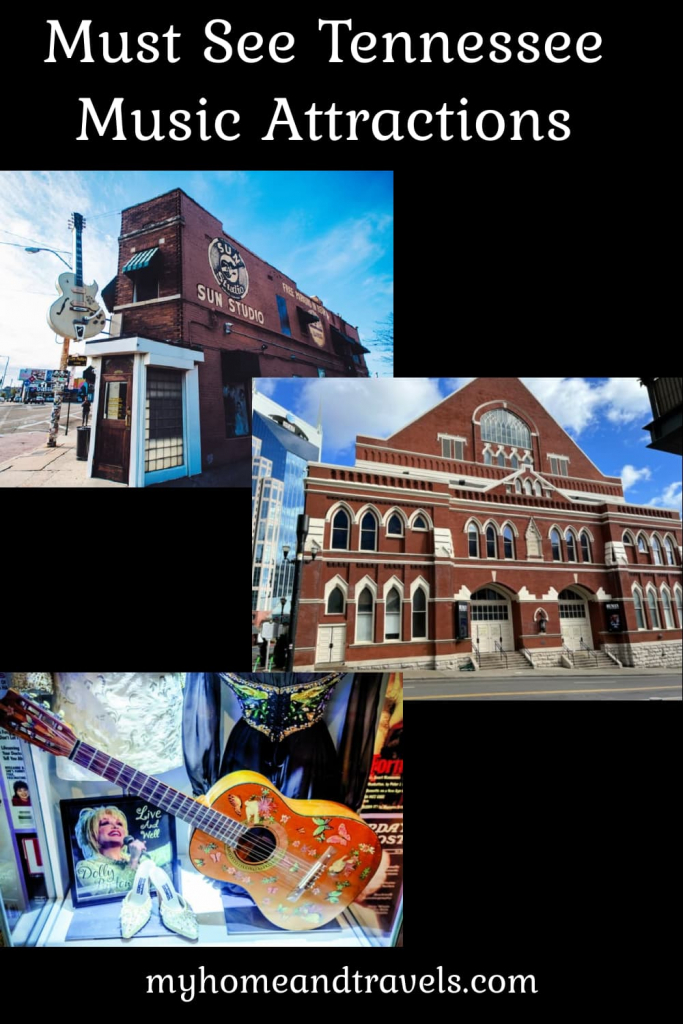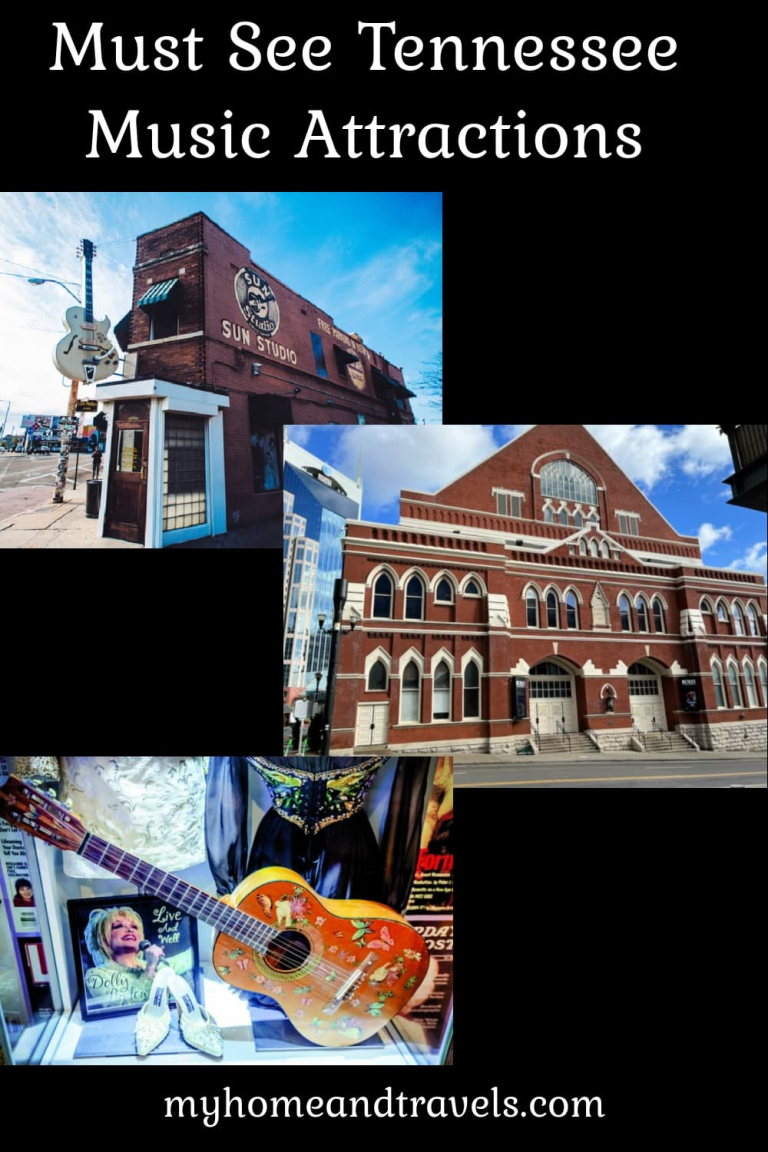 In fact, it's been said that the state and its musicians produced sounds that changed the musical world. This guide to Tennessee music attractions will show you the best of the best of all the music that the state has to offer.
Tennessee Music Attractions
While Tennessee is known around the world as the best place for country music, there's so much more to its musical heritage than southern twang. In fact, Tennessee boasts a rich tapestry of musical talent and history, and you can discover it all at these fantastic spots and excursions.
Tennessee Music Pathway
Did you know that Tennessee is home to seven different musical genres? You'll find blues, bluegrass, country, gospel, rock and roll, rockabilly, and soul throughout the state. The Tennessee Music Pathway takes you on an epic journey through all of them. It connects visitors to the places and events that helped make Tennessee the musical giant that it is today.
Winding through the entire state – all 95 counties, in fact – the pathway offers the chance to see the hometowns of legendary artists, musical venues and museums devoted entirely to music, and much more. You'll travel from east Tennessee all the way to its western end as you explore the landmarks, historical sites, and more that make up this journey through the state's musical past.
Walking Tours
Some of the best Tennessee music attractions are the walking tours that you'll find in the state. There are two that are especially noteworthy. These tours explore the history of some of the most iconic spots in Tennessee's musical history.
Historic Music Row Walking Tour – Nashville
A walking tour along the iconic Music Row offers 15 sites of amazing musical history. Along the way, you'll see the famous RCA Studio A & B. You'll also experience several other prominent fixtures of Nashville's music scene that made it what it is today and continue to make it great. Find this and other tours HERE.
Cradle of Country Music Walking Tour – Knoxville
If you didn't know that Knoxville played a major role in the development of country, blues, and jazz, you're not alone. In fact, Knoxville is a bit of an unsung hero when it comes to Tennessee's musical history. The Cradle of Country Music Walking Tour, a self-guided walking tour of the city, leads to 15 different markers around the city that tell the story of its ties to Dolly Parton, Roy Acuff, and Hank Williams.
Tennessee Music Museums
There are several fantastic museums devoted to the musical history of the state that are must-visits for any music lover. These Tennessee music attractions tell the stories of famous performers, showcase tons of memorabilia, and even tell the story of how African Americans heavily influenced the music that has made the state so famous.
Tina Turner Museum in Brownsville
You may not know this, but Tina Turner grew up in rural Tennessee. In fact, her famous song, Nutbush City Limits is about her hometown, Nutbush. Housed in a one-room schoolhouse that the iconic singer attended as a girl, the Tina Turner Museum is overflowing with costumes, awards, and more from her childhood all the way through her adulthood.
Sun Studios in Memphis
Sun Records and Recording Studio is like the Holy Grail destination of rock and roll for any music lover, especially those growing up around the South. But it's also important the influence it had and history to the entire music world. What if Elvis Presley didn't want to make a recording for his Mother? As they say, the rest is history.
You will find music memorabilia from posters to recording equipment, and even a replica of a local radio station. Look for the broken records on the floors which didn't make it on air.
Read about our visit below.
Legends of Tennessee Music Museum in Jackson
Housed in the first-ever Hard Rock Cafe in Jackson, Tennessee, the Legends of Tennessee Music Museum is home to an impressive collection of musical items and memorabilia, including the largest collection of Carl Perkins memorabilia. For those who don't know, this iconic musician wrote Blue Suede Shoes. You'll also find a treasure trove of items from other artists like Tina Turner, Sonny Boy Williamson, and W.S. Holland.
Country Music Hall of Fame and Museum in Nashville
One of the most famous of all Tennessee music attractions, the Country Music Hall of Fame and Museum serves as a conservatory of both the legends of country music and the items associated with them.
Enter the doors, and you'll find yourself taking a musical journey throughout the history of the iconic music of Tennessee. Make your way through interactive exhibits that contain a mind-boggling 2 million items including more than 500 instruments, and close to 2,000 pieces of clothing, accessories, and stage costumes.
Find a link to my visit below.
Memphis Music Hall of Fame
Memphis is known as the Home of the Blues for a reason. It was here that some of the best and most famous blues musicians plied their craft before moving on to national and worldwide fame. Along the way, these iconic musicians shaped not only the blues but modern music, as well. At the Memphis Music Hall of Fame, you'll be able to enjoy interactive exhibits, instruments as legendary as the people who played them, and items you can't see anywhere else.
The Johnny Cash Museum in Nashville
If you're a fan of The Man in Black, or just good, old-fashioned country music in general, then The Johnny Cash Museum is not to be missed. Ranked as the number 1 music museum by both Forbes and Conde Nast, it boasts the largest and most complete collection of Johnny Cash items anywhere in the world. I could relate to many items, including his cotton-picking sack, as he grew up in Arkansas like I did.
We happened to meet one of his grandsons on a visit, several years ago.
Dolly's Chasing Rainbows Museum in Pigeon Forge
Get one of the most complete looks at Dolly Parton's life you'll find anywhere at her Chasing Rainbows Museum. Located in Dollywood, the museum uses interactive exhibits, collections, and memorabilia of Dolly's life and career to tell her story from her humble childhood beginnings to becoming the beloved superstar that she is today.
It's a great way to round out your Dollywood experience.
The Grand Ole Opry House & Museum in Nashville
No list of Tennessee music attractions would be complete without The Grand Ole Opry. You may not know this, but the Opry is both a music venue and a museum. Here, you'll find some of the best artists across a variety of genres playing that hallowed stage. You'll also find the museum it houses that showcases the past and present of country music while maintaining its position at the cusp of country music's future. Step through the doors and take in a performance by one of the legendary artists who often play there, explore the museum, or both. I recommend the latter.
National African American Music Museum in Nashville
There's no denying the impact that the African American community has had on music in this country, especially in Tennessee. Hank Williams was the first country music artist to use a backbeat, which he discovered thanks to the blues.
From old-school country to modern soul and everything in between, the National African American Music Museum showcases such artists as B.B. King, Aretha Franklin, Beyonce, and more, honoring their contributions to the music industry through interactive exhibits, videos, photos, memorabilia, and more.
Songbirds Foundation in Chattanooga
Undergoing a few changes the past year, you will find a premier music venue for intimate concerts along with a lot of history inside Songbirds. From rare and celebrity guitars on display including Roy Orbison, Les Paul, and Check Berry to the history of the electric guitar.
Giving back is at the forefront of Songbirds, providing music lessons and guitars to kids across the state.
Historic Sites
We're not finished yet. These last Tennessee music attractions are a combination of historic sites, museums, and "slice of life", as it were.
Loretta Lynn's Ranch in Hurricane Mills
This massive ranch of Loretta Lynn looks at the decades of music produced by the Queen of Country Music herself. Across this sprawling, 3,000-acre ranch, you'll find cabins to camp in, ranch tours, the charming Western Town located right on the ranch, and so much more. While you're there, be sure to visit the Grist Mill Museum, Loretta's Frontier Homestead, or hit Loretta's Shop for souvenirs.
Although it was damaged by the devastating floods in central Tennessee last year, it is back up and running.
Graceland in Memphis
Elvis was more than a musician; he was an icon. The King of Rock and Roll, Elvis was a superstar from his first performance to his last, and you can learn about this icon's life at his world-famous home, Graceland.
Walk through the doors of the lavish mansion, and you'll be stepping back in time. Largely unchanged since the 1970s, the mansion allows guests to experience some of the most famous parts of the home, including the Jungle Room.
For a deep dive into the singer's life, head to Elvis Presley's Memphis Experience, where you'll explore his career museum boasting hundreds of items including costumes, cars, and even his military uniforms. You can also find the three Grammy Awards he won, all for gospel music.
Ryman Auditorium in Nashville
The Ryman Auditorium is one of the most famous, revered music venues in history. In 1943, The Grand Ole Opry began in this hallowed performance hall, attracting performers like Elvis Presley, Johnny Cash, Hank Williams, Minnie Pearl, and Patsy Cline. This iconic historical spot is also the birthplace of bluegrass.
Although the Opry changed locations in the 70s, the Ryman continued as a premier music venue, and it's still a major draw for performers and the people who love their music today.
Don't Miss These Tennessee Music Attractions
Tennessee is home to some of the richest musical history you'll find anywhere in the country – or the world, for that matter. With its deep roots of country, bluegrass, gospel, and more, the state is practically humming with music no matter where you go. If you're a fan of music, history, or both, don't miss these Tennessee music attractions.
I always encourage you to check the website for ticket information and hours. Even think about giving them a call ahead of time. It's never fun to show up and not have a ticket or the venue is closed.
Here's a few I've actually written about on the blog
BRISTOL – BIRTHPLACE OF COUNTRY MUSIC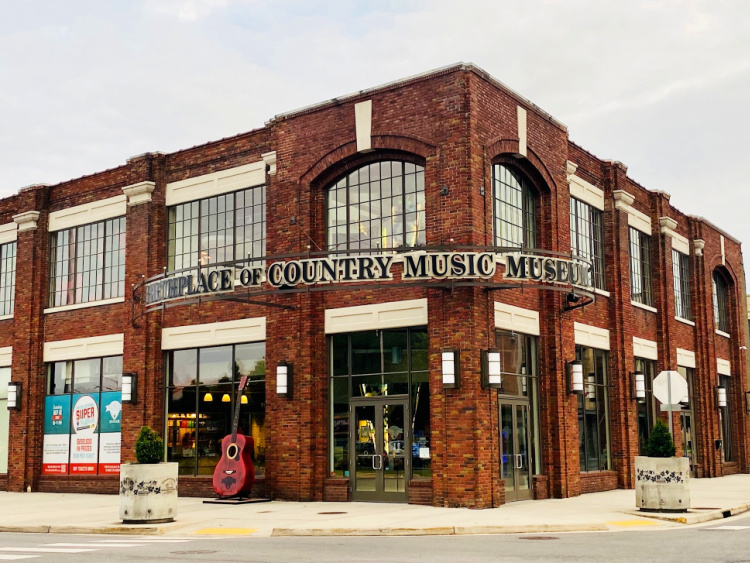 Birthplace of Country Music
A VISIT TO THE COUNTRY MUSIC HALL OF FAME