Making Sheet Pan or One Pan Chicken Fajitas
If you're looking for a simple dinner recipe that takes little to no time at all, you're going to love these simple Sheet Pan Chicken Fajitas. It's a simple recipe that packs a huge punch of flavor!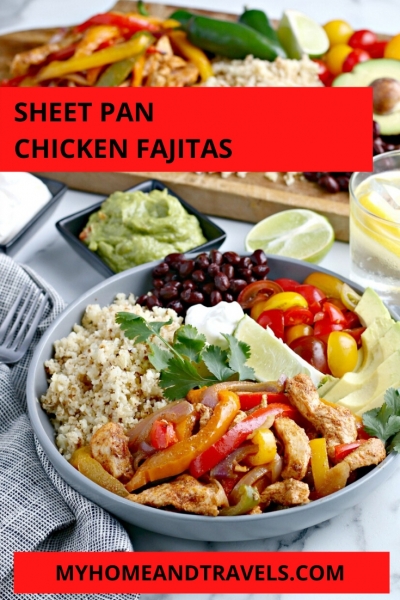 Cooking with chicken as the main ingredient means that you know it's going to take on the flavors and spices of the dish really, really well. Plus, it's a great option to eat a leaner cut of meat while getting a big dose of protein, too.
Do you meal prep for the week?
This is a great recipe for that too. After preparing and cooling, divide this among your meal containers. Using a scale like I have a link to below is a great way to portion out your meals.
It's time to make dinner super simple tonight and give these Sheet Pan Chicken Fajita recipe a try! Sheet Pan or One Pan cooking has become more popular as you can prepare almost your whole meal in the one pan. Cuts down on cooking and clean up.
Can I prepare this ahead of time?
Yes – although it's a simple dish, the slicing and prepping can take a little time. Slice everything ahead of time and store in the refrigerator separately. Especially your chicken. You could even add the oil and spices a couple of hours ahead of time to let the flavors marinate.
How easy is Sheet Pan Chicken Fajitas?
Really simple. Slice your chicken, peppers and onions. Toss with oil and seasoning.d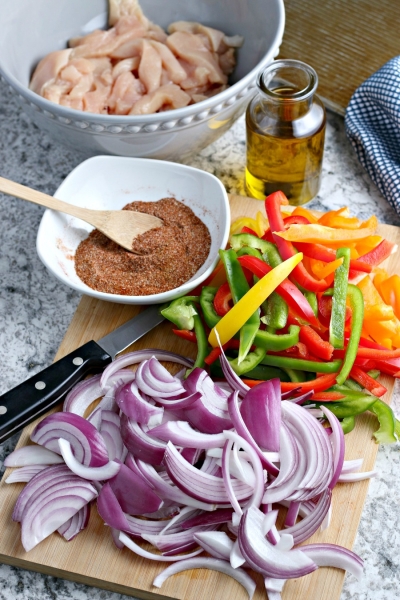 Bake. Isn't that simple?C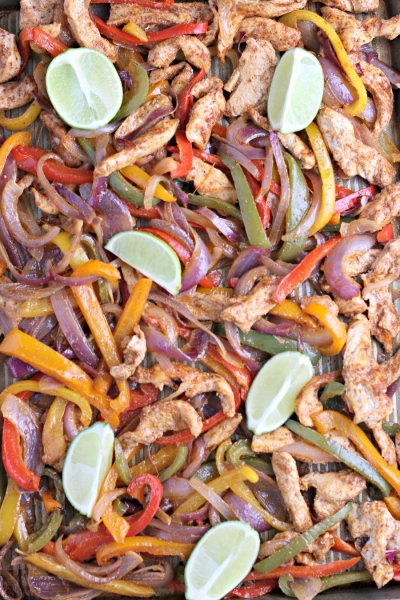 Sheet Pan Chicken Fajitas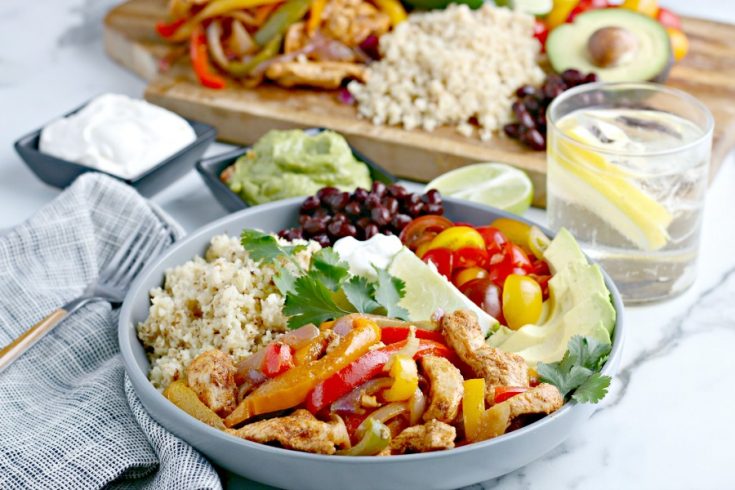 An easy dinner or meal prep made in one pan - add your favorite toppings for a fajita or fajita bowl.
Ingredients
2 pounds skinless boneless chicken breasts, sliced thin
1 each bell peppers - orange, yellow, red and green or a combination, sliced thin
2 red onions, sliced thin
3-4 Tbsp olive or avocado oil
3 Tbsp Southwest Seasoning, find link below
Instructions
Preheat oven to 425 degrees
Set out a large sheet pan and line with foil if desired
Slice chicken into thin strips and place in large mixing bowl
Slice peppers and onions into thin strips, and add to chicken
Toss chicken and vegetables together
Drizzle with oil
Sprinkle with seasoning
Mix well
Pour onto sheet pan in an even layer
Bake for 25-30 minutes or until chicken is no longer pink and the vegetables are tender.
Notes
Lining your sheet pan cuts down on clean up time
If you like a little more spice or heat, add a little black pepper or cayenne pepper
Always store leftovers in the refrigerator

How do I make the Southwest Seasoning?
Find the link HERE but it's simple with smoky paprika, onion powder, garlic, salt, sugar, and cumin. Make up a large batch to have on hand. Use a little in your corn or black beans for extra flavor.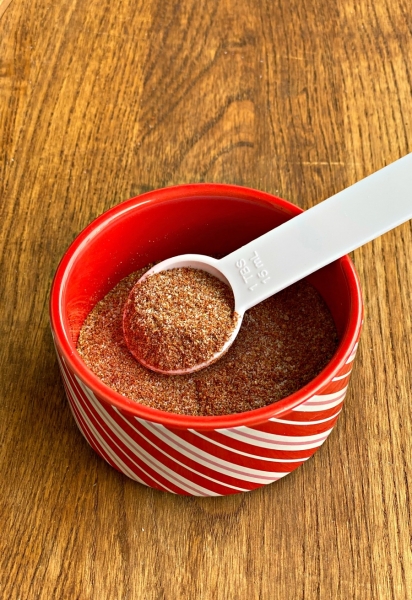 How do I serve Sheet Pan Chicken Fajitas?
The beauty of this recipe is that you have several options. You can serve on tortilla shells as a regular fajita, in a bowl, or make a lettuce wrap.
With the base of chicken, peppers and onions, everyone can make it their own with their favorite toppings. Maybe some love sour cream while other prefer guacamole.
What kind of toppings can I add?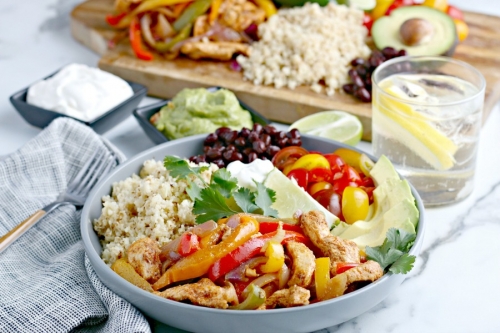 A few suggestions include:
Cauliflower Rice
Cooked Brown Rice
Limes
Salsa
Sour cream
Avocado
Guacamole
Black Beans
Corn or Corn Salad (see recipe below)
Chopped or sliced Jalapenos
Cheese
Chopped Cilantro
Black beans – you can cook your own, or just open a can. Remember to add a little Southwest Seasoning
Corn – drain a can of whole kernal corn and roast in a skillet, preferably an iron skillet for about 5 minutes
Make your favorite Guacamole or purchase it
Corn Salad – HERE's the recipe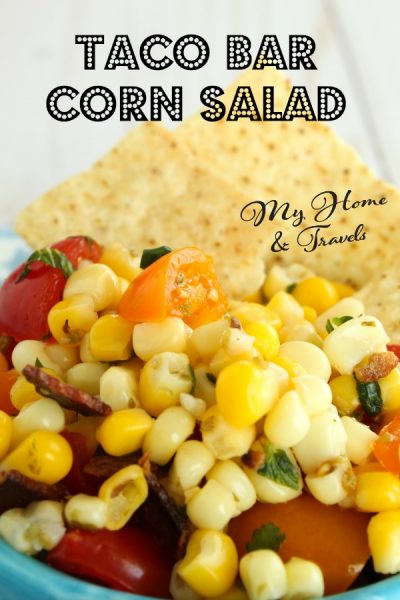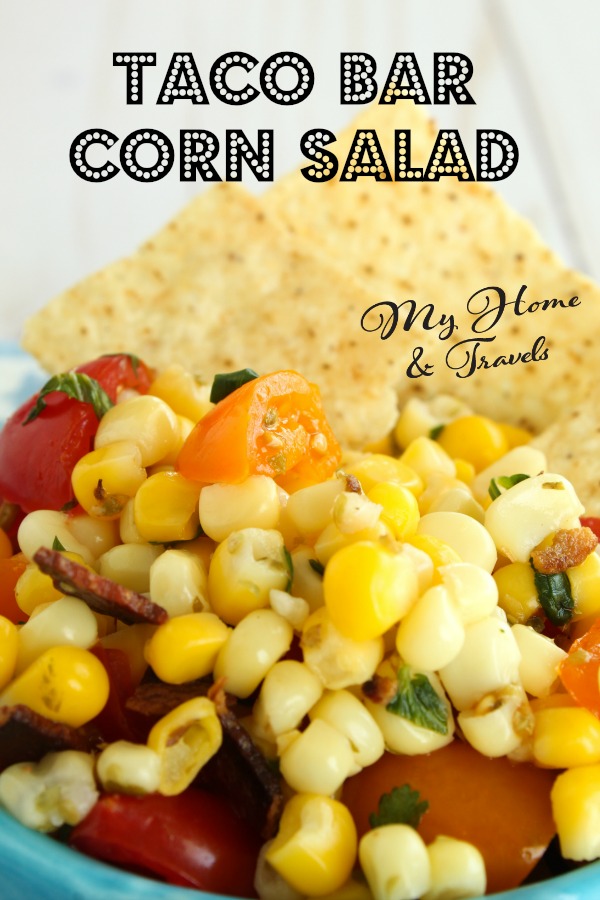 How do you store leftovers for this dish?
All you need to do for leftovers is add it to a container with a lid and store them in the fridge. I try to eat all leftovers within 48 hours so that they're as fresh as possible. Use these leftovers to make lunches so they don't go to waste. I hate having to toss food because I forgot it.
Using a Scale
I use a scale like this for many things including weighing ingredients or portioning out food for meal prepping.
More delicious recipes to consider: