DIY Easter Wreaths – For Your Front Door Spring Decorating
Easter Wreaths for Your Spring Decorating
If you're looking for some fun Door Wreaths to Make for Spring and Easter, you're going to find some great ideas here! Spring, summer, and Easter wreaths are a great way to spruce up the look of your home in no time at all.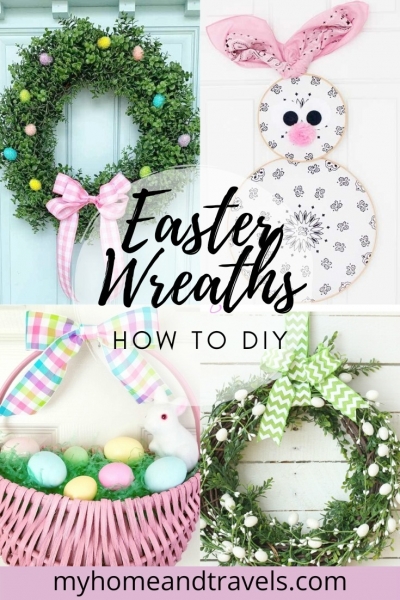 All of these decorative wreaths can be hung on a door, on a window, or even as a fun piece on your wall or over your mantle. If you're looking for a simple DIY wreath that is fun and festive to make, check out some of these great options and choose the one that will look the best in your home.
Door Wreaths to Make for Spring and Easter!
These door wreaths are fun to make and are all beautiful and unique!
Easter Cross Wreath by It Happens in a Blink
If you're looking for a simple cross wreath to showcase your faith and the Easter holiday, this DIY wreath is a simple solution to get both easily.
Simple and Sweet Easter Wreath by The How to Mom
Simplicity at its finest. These wreath is easy, simple, and straight to the point.
Easter Basket Wreath by Sadie Season Goods
This wreath offers a fun and unique look that is certain to be a eye-catcher in your house.
Banana Bunny Wreath by The Country Chic Cottage
Who loves cute little bunnies? You can have one in your home with this simple wreath!
Mini Easter Wreath by Create Craft Love
This little wreath might be small on your door but it's mighty in festive fun!
Loop Yarn Carrot Wreath by The Tiptoe Fairy
How to make an Easter Wreath with Yarn
Do you love using yarn? This simple carrot wreath is a great craft to showcase how versatile creating with yarn can be.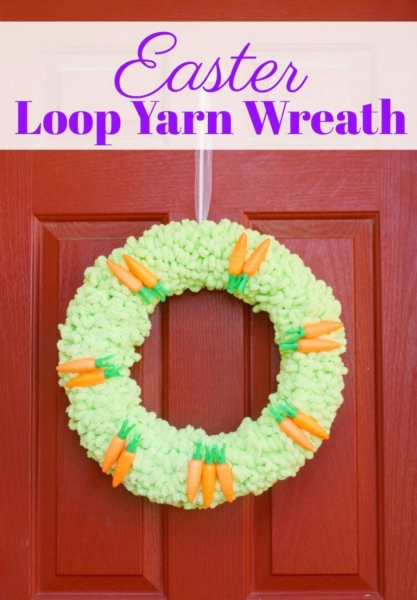 DIY an Easter Wreath with Pom Poms
Pom Pom Easter Wreath by Real Coake Family
Check out all the pom-poms! The fun texture and color bring a bright pop of happiness to your home.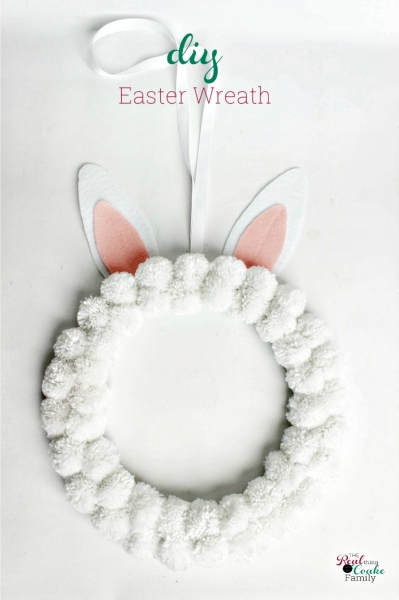 Colorful Easter Wreath by Giggles Galore
You're going to love all the colors in this fun Easter wreath. The more colors, the better!
Simple Egg Wreath by Live Laugh Rowe
Another simple wreath option that highlights Easter fun.
Washi Tape Egg Wreath by Tatertots and Jello
Who knew that tape could be used to create something this beautiful?
Marimekko Easter Wreath by Pillar Box Blue
You can't ever have too many Easter wreaths to hang, right?
Boxwood Easter Wreath by The Scraps Shoppe
Why not hang one on your front door and your back door as well. That way, no matter what, a wreath is there to greet everyone who visits.
Peep Easter Wreath by Tried and True
Everyone loves Peeps! Showcasing them on a wreath is such a cute idea!
Making Easter and Spring Wreaths for the Front Door
Dollar Store Spring Wreath by The Happy Housie
The best part about creating this simple homemade wreath is that everything that you're wanting to use to make it can be bought from your local Dollar Store.
Burlap Ribbon Wreath by Uncommon Designs
If you're looking for a farmhouse look and feel, this ribbon wreath covered in burlap is calling your name.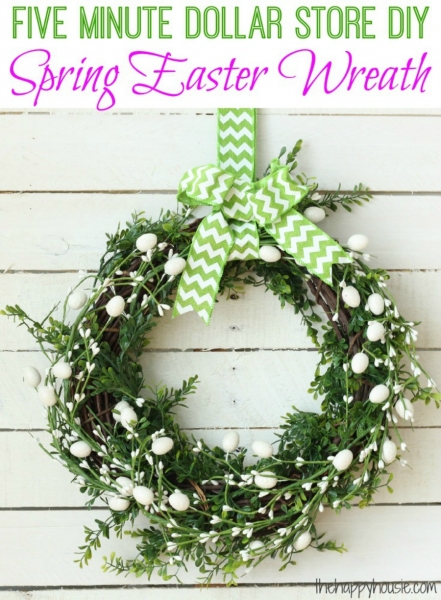 If you're ready to create door wreaths for Spring and Easter, these simple ideas are certain to be a hit. Since you likely have two doors that you're going to want to fill, pick at least two of these DIY wreaths to have and to hang.
Do you have a favorite Easter wreath from the list above?
I've included affiliate links to Amazon for you to find some products easier. I may receive a small commission, but the price is the same for you. It just helps my blog out.
Happy Travels,
Rosemary