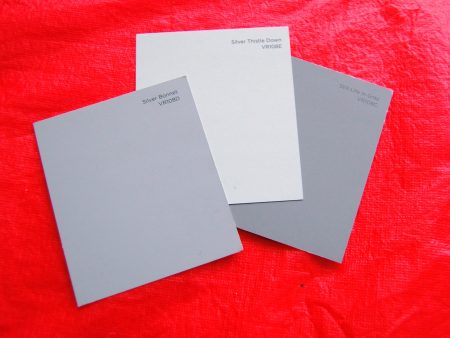 With all the talk about THAT movie coming out today, I thought this was the perfect day for me to talk about the perfect shade of gray I chose for the apartment.
If you have ever toured apartments, you will find one thing in common – everything is beige. This beige wasn't the pretty taupe beige, or tan beige, it was the yellow, creamy UGLY beige. So, I knew the first thing to be done in the apartment before moving was to get some painting done. We ended up moving in a really short time frame so I hired someone to paint the living room, halls, and master bedroom. There are 9' ceilings so that was going to make it just a bit more difficult and time consuming for me, so I think this is only the 2nd time I've ever hired a painter.
Now to choose the color. I went to my friend Kim at Elder Ace Hardware for some advice, plus I had to consider I was buying a new sofa, so I wanted to get those matched up. I figured it would be easier to change the paint color up a bit, after picking out my sofa. She is great when I tell her the tone of the color I want, such as this gray. Not a blue gray or a lavender gray, but a real gray. She knew exactly which samples to show me. We chose Silver Thistle Down, Silver Bonnet, and Still Life in Gray, so I had a light, medium and dark to choose from. I originally thought I wanted a very light gray, but we decided to go with the medium tone. Since the room was large with 9' ceilings and has a lot of natural light, the light might have not given enough color. So Silver Bonnet it was.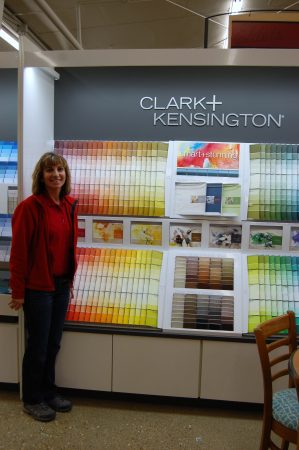 For cost reasons, I chose to go with Ace Premium Royal Latex in eggshell finish. I have used this before and had been very satisfied with the results. This runs about $12 – $14 a gallon cheaper than some of the other types and with buying 6 gallons, this helped the moving budget.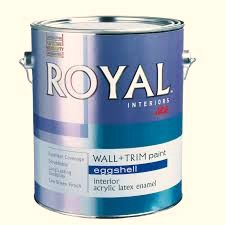 Taking my paint chips, I went the next day to see if it would match with the couch I had seen. It did. Ok – things were falling in place. Now to buy the paint and let the painting begin.
I checked in with the painters after they had been painting for about an hour. LOVED it. We were extremely happy with the color. There was such a difference in the creamy beige and this lovely gray.
Three evenings later it was done and I was excited about working with gray. I had actually been thinking of painting our old living room in a gray before we moved, but that was just one of those things that never got done.
Now to get the couch moved in and things on the wall… That's the next part you will hear about and see.